eBike News: 26 Pound Gogoro, Cannondale eGravel, New eCargo, eBike + eBoat, Tesla Charged by Bikes, & More! [VIDEOS]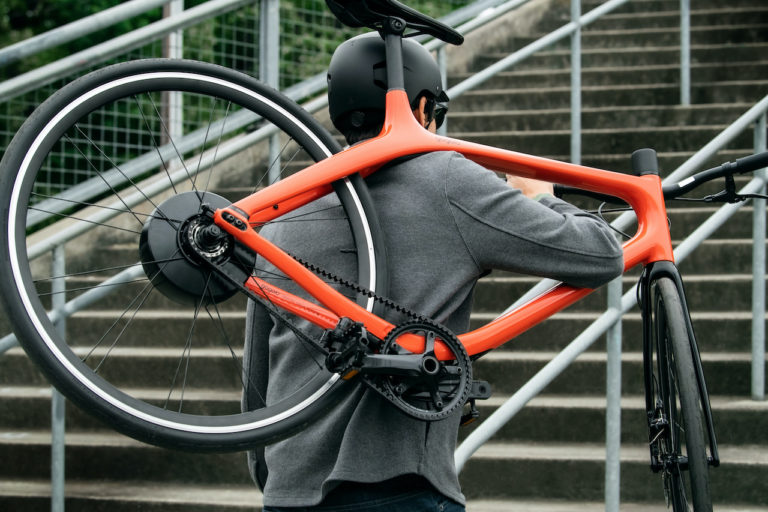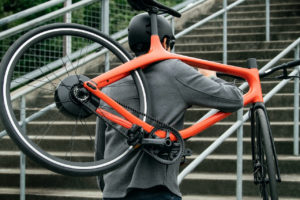 In this week's news:
26 Pound Gogoro Eeyo Carbon eBike
Cannondale Full Suspension eGravel
Carqon's New eCargo Bike
Zeltini eBike, Boat, & Hotel!
Falco eDrive
Velosione Carbon-Molded Frames
Bikes Charge Tesla
London Cycling Booming
Bikes to Boost Shops?
Jump Bikes Junked
And Much More!
New eBikes & eBike Systems
26 Pound Gogoro Eeyo Carbon eBike

Gogoro has been in the eScooter business for many years with their swappable battery system and now they have just launched their new 26 pound carbon fiber eBike with all-in-one hub.
From Gogoro 'Half the weight of typical e-bikes, the Eeyo 1 is built with kevlar-reinforced carbon fiber in an iconic open-frame design for lightweight, electric-assisted city riding and commuting. At the core of the nimble, responsive bike design is the new Eeyo Smartwheel, an all-in-one digital drive that fully integrates the motor, battery, sensor, and smart connectivity into the compact self-contained rear hub.'
"E-bikes don't all need to be heavy cargo haulers or feel like you're riding a battery, so we created the Eeyo 1 to be ultralight, quick, responsive, and fun," said Horace Luke, founder, and CEO, Gogoro Inc. "With its iconic open-frame design and new powerful Eeyo Smartwheel, Eeyo 1 is an adrenaline time machine bringing back the pure joy of riding we all once had."
Additional Feature Highlights:
Two models:

Eeyo 1s ($4599) features a fully carbon frame, fork, seat post, handlebars and rims, weighing in at a mere 26.4 lbs.
Eeyo 1($3899) features a carbon frame and fork, with alloy seat post, handlebars, and rims, and weighs 27.5 lbs – still half the weight of typical e-bikes.

Forward-leaning sport geometry that is extremely nimble for handling city streets, bike lanes, and bridges.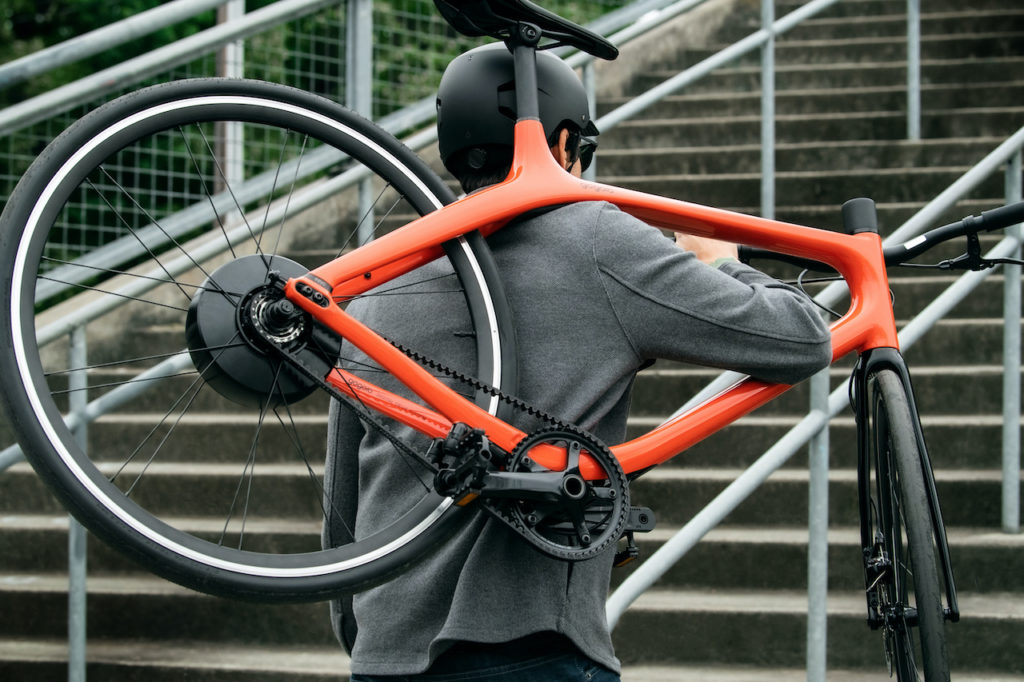 Open Frame Design – strong, lightweight and smooth, and is easily carried on a rider's shoulder into an apartment, subway station or on and off public transportation.
Intelligent Power Assist that detects a rider's pedal-power and provides increased control, power, and speed.
Two assist modes – Sport and Eco – that deliver a 40-55 mile riding range on a single charge.
Gates Carbon Belt Drive in place of a traditional chain offering grease-free and long lasting durability with little to no maintenance.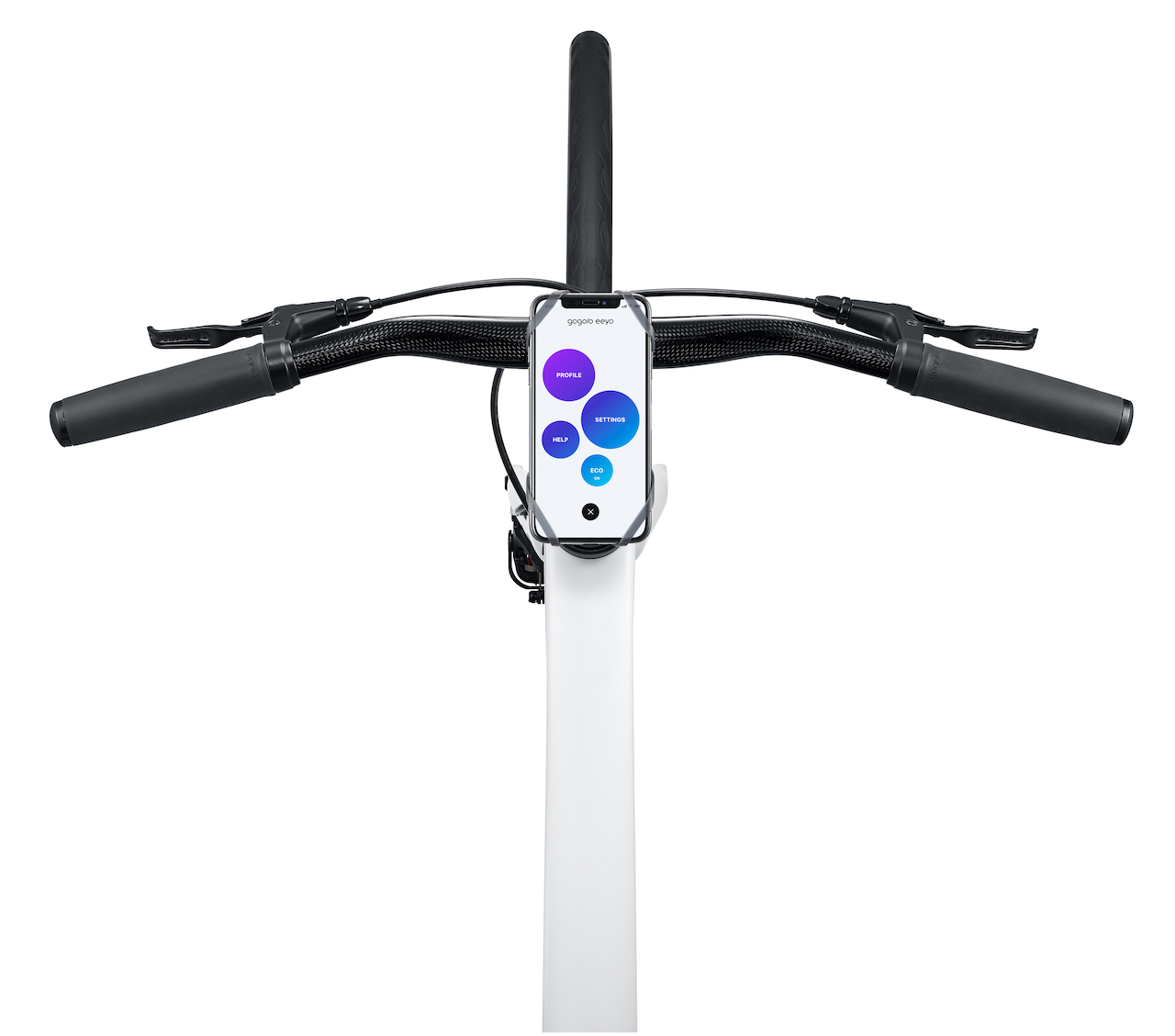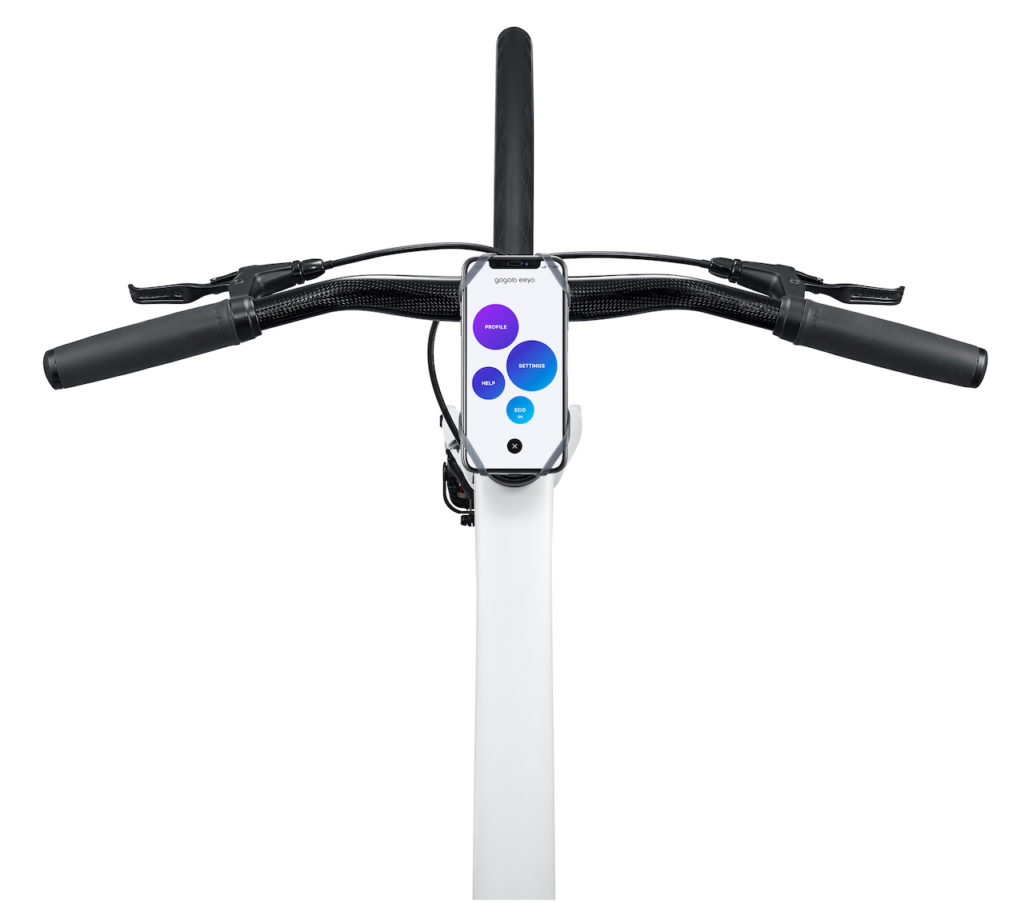 Wirelessly integrated within the Eeyo Smartwheel, the Eeyo app optimizes the ride with a simple and intuitive interface.
Here is more information about the new Eeyo.
Cannondale's Topstone Neo Carbon
There's stacks of new technology on Cannondale's new full-suspension e-gravel bike, the Topstone Neo Carbon Lefty 1, and a lofty price tag to go with it as you might expect.
It features a top of the line Bosch Performance Line CX mid motor but what really stands out is the one sided front suspension fork (known as a Lefty) with 30mm of travel and the tiny rear suspension element hidden in the seat tube.
This makes it the only full suspension e-gravel bike that EBR are aware of – though readers may know better! There is also a version with a regular carbon fork.
The 500 Wh battery is integrated into the carbon frame and there is also a top of the line Bosch Kiox display.
Prices range from US$5800-US$9000 / £5000 to £8000
For more tech background on the suspension used on the electric and non electric versions of this bike check out this video which also includes a brief video review of the e-bike version.
Carqon to Roll Off Production Line in June
We have mentioned Carqon cargo bikes before but only as a concept e-cargo trike introduced in 2016.
A new production version is modeled on the traditional two wheeled 'bakfiets' or box bike popular in the Netherlands and it is set for delivery to customers in June.
Perhaps the most novel feature is the side entry door. It also packs the latest Bosch Performance Line CX Cargo mid drive and dual batteries.
The Verge has this in depth review of the bike and canvasses opinions comparing it to one of the most popular bakfiets style e-bikes in the Netherlands, the Urban Arrow.
Due to the outbreak of the coronavirus, Carqon will start off with a limited product run. The first cargo bikes will be distributed to premium bike shops in the Netherlands, Belgium, Germany, France, and Denmark 4-6 weeks after the launch.
An up-to-date overview of available test locations can be found at www.carqon.com. Carqon's production will be scaled up gradually over the coming weeks.
Prices range from 4,999 to 6,499 euros depending on spec.
Zeltini – eBike, Boat, Home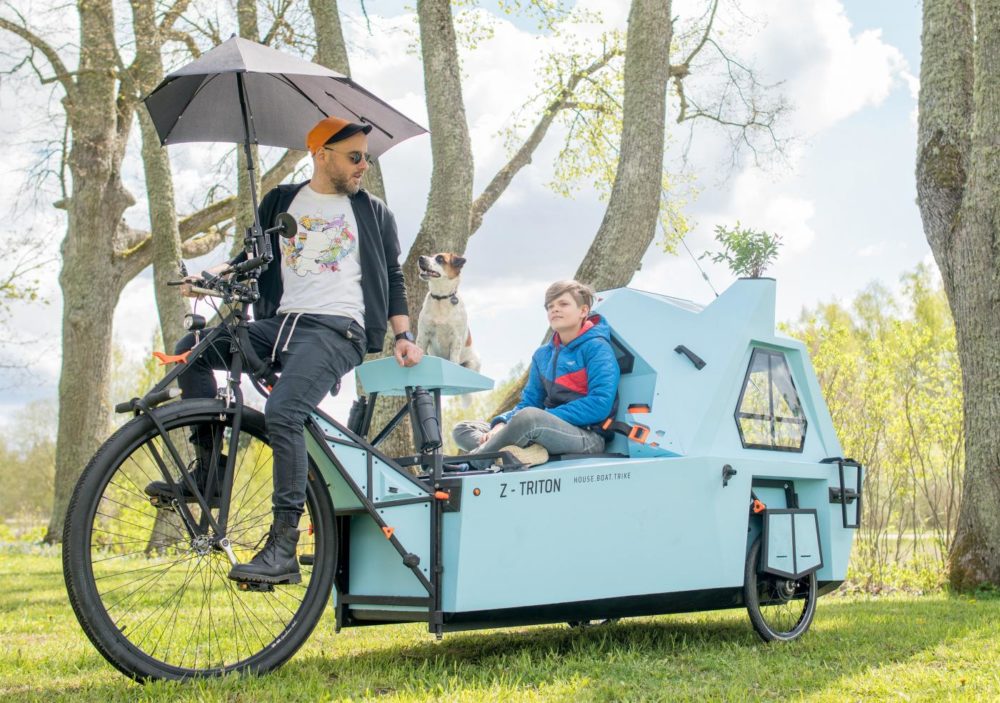 Zeltini is a design and prototyping workshop based in Latvia and they have combined e-trike, boat and sleeping pod for two into one vehicle!
Oh, and there's seating for a child and a dog too.
It features retractable wheels and propeller and floats as well as lighting including turn signals, a fan for air conditioning and internal storage space.
The boat cockpit area also doubles as sleeping for two.
Meet the Z-Triton…
Falco eDrive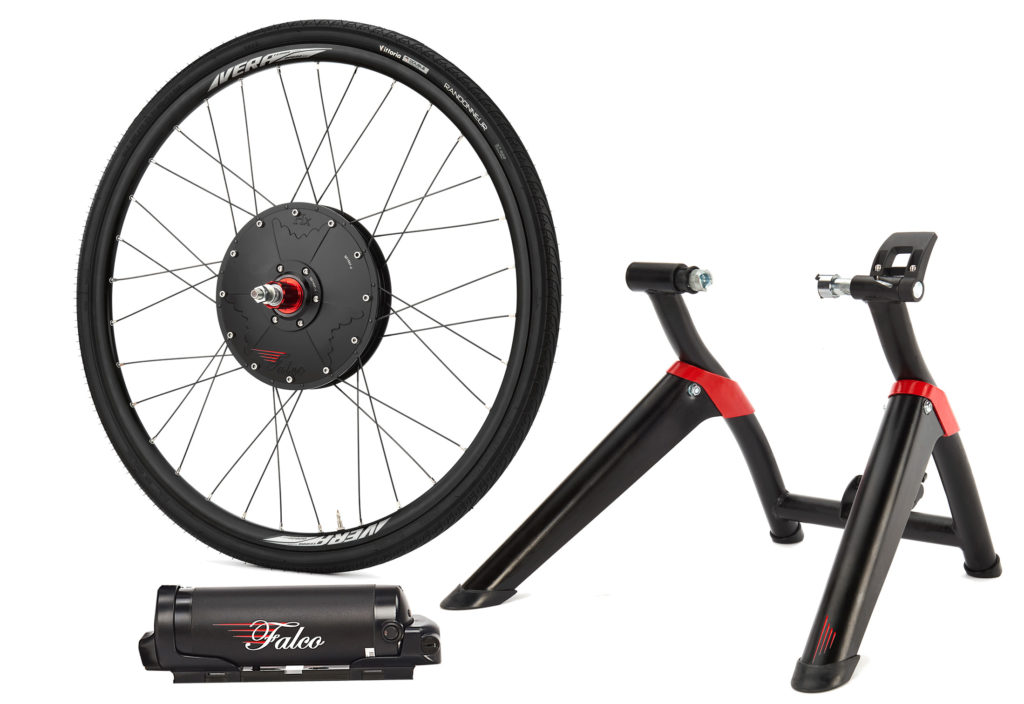 The World's First Indoor/Outdoor eDrive delivers leading connected fitness experiences within the walls and on the road. The new technology features an open platform, so users can connect with third-party cycling apps such as Zwift®.
Users can create a custom fitness program with Zwift, Trainer Road, or any favorite apps, or use Falco's intuitive smartphone app and set performance limits based on individual metrics.
"Our new Falco eDrive system is a game-changer in the eBike space. At almost zero cost, we're giving eBike riders access to an unmatched connected indoor fitness experience. While we love the outdoor performance of our eBike system, indoor fitness capability and amazing integration elevate the ride and the rider both," says Falco eMotors, Inc. CEO Rakesh Dhawan. "Our customers want the limitless technology and options, which is why we offer this amazing Falco eDrive platform, so they can ride outdoors and use their preferred digital training choices indoors for free. We also know from research that variety and freedom of choice play a role in keeping riders engaged, motivated, and ultimately fulfilled."
The introductory offer includes $2195 for the wheel, battery, trainer bundle, and $2,995 for its eCiti eBike. The limited-time offers include a 5-year warranty at no charge. The eDrive delivers a 40+ mile range and can achieve speeds of up to 28 mph outdoors. With its lightweight lithium batteries mounted to the frame, a rider experiences unprecedented power in the ride.
New Cycling Products and Accessories
Velosione Starts Production of Injection-Molded Carbon Frames
For many years by far the commonest way to make a bike frame was to weld steel tubes together.
With the advance of aluminium welding technology and hydroforming fancier alu frames began to overtake steel.
Still, welding was at the heart of the process. Carbon fibre remains a lightweight but relatively rare option, especially so on e-bikes.
Could that be set to change? Bike Europe reports that Velosione recently celebrated the commercial launch of its first injection-molded open-mold carbon city e-bike frame in Germany.
Get Inspired
Bikes Charge Tesla
Whilst this Finnish TV feature is a bit of fun it also shows quite dramatically just how efficient bikes are when compared to relatively extremely inefficient electric cars.
It took nine racing cyclists 20 minutes to add just 2 kilometers / 1.25 miles of extra range to a Tesla electric car, with their pedal power of course being converted to electricity via a clever bit of electrical kit.
It doesn't say what speed the cyclists would have been doing on the road so we don't know how far they would have gone in the 20 minutes – but certainly several time more than the 1.25 miles the car would have travelled – and the Tesla wouldn't have accommodated nine people!
London Cycling Booming
Alright, it is wonderful sunny weather and people are being exhorted by their government to cycle.
Still, judging by this video from regular London Cyclist @streetcamlondon, cycling levels on some London routes are reaching almost overwhelming levels…
Incredible number of people cycling in Central London today. The Superhighway #CS3 is almost overwhelmed by the number heading west through Westminster. #Cycling #London #Westminster #Cycleway pic.twitter.com/Sv16YbcHpD

— Streetcam London (@streetcamlondon) May 25, 2020
eMicromobility & Infrasructure
Can Bikes & eBikes Help Retail Back on its Feet
There has been much coverage about how cycling is great exercise during lockdown and also how it can play in role in helping people get back to work and help ease public transport crowding in the process.
Carlton Reid makes a neat point in his recent Forbes article – it can also help shops get back on their feet as they gradually reopen around the world.
Reid revealed that 'Westminster Council said it is to protect cyclists and pedestrians to "fire up London's economic engine." This is a clear recognition that many politicians now understand the economic potential of active modes of transport.'
Reid also quotes research from Transport for London in 2018 which 'found that people walking, cycling and using public transport spend more than motorists in local shops. Conducted by Matthew Carmona from University College London's Bartlett School of Planning, the research revealed that those not in cars spend 40% more each month in neighbourhood shops than motorists.'
Jump Bikes Junked
'Over the last few weeks, thousands of perfectly good Jump electric bikes and scooters have been dropped off at a recycling facility and will be shredded' says this Motherboard article.
Here at EBR we have recently reported on the consolidation taking place in the e-micromobility market and this example of is one example of the crazy boom and bust style economics the area has been subject to over recent times. EBR recently covered the sale of Uber's Jump share e-bike business to Lime.
This FT article also covers how 'While Lime plans to put tens of thousands of Jump bikes back into service in cities such as Denver, Washington, DC, and Seattle, tens of thousands more will be dismantled, including some that are only a few months old.
It quotes an Uber spokesman as saying "We explored donating the remaining, older-model bikes, but given many significant issues — including maintenance, liability, safety concerns, and a lack of consumer-grade charging equipment — we decided the best approach was to responsibly recycle them."
Stay tuned for more e-bike news and reviews and thanks for reading!
-Rich
P.S. Don't forget to join the Electric Bike Report community for updates from the electric bike world, plus ebike riding and maintenance tips!
Reader Interactions