E-bike News: Walmart goes sub-$1500 full-sus, Afreda 3-wheeler and Much More!
How cheap should cheap e-bikes be? That's the question asked by the Hyper E-ride, a full-suspension off-road e-bike now stocked by Walmart. At $1498 it certainly looks a bargain as you would expect – but since there are very few full-suspension e-bikes available at this price it would certainly be interesting to see what compromises have been made by the manufacturers to achieve that price.
Elsewhere the search for e-bike innovation continues in the shape of the interesting looking Skarper 'it' slated for arrival in 2023 with interesting looking disk brake drive technology and the remarkable looking 'reverse three wheeler' with independent front suspension from Afreda.
In this week's e-bike news:
Walmart stocks sub $1500 full-sus e-bike

Skarper – newly announced 'disk rotor drive' kit

Meet REI Co-ops' new compact style e-bikes

The incredible three-wheeled Afreda F6

Gecko cellular puncture proof tyres to crowdfund their lightest tires yet

More Bosch charging points for the UK's National Cycle Network
WALMART'S FULL SUS 'E-MTB'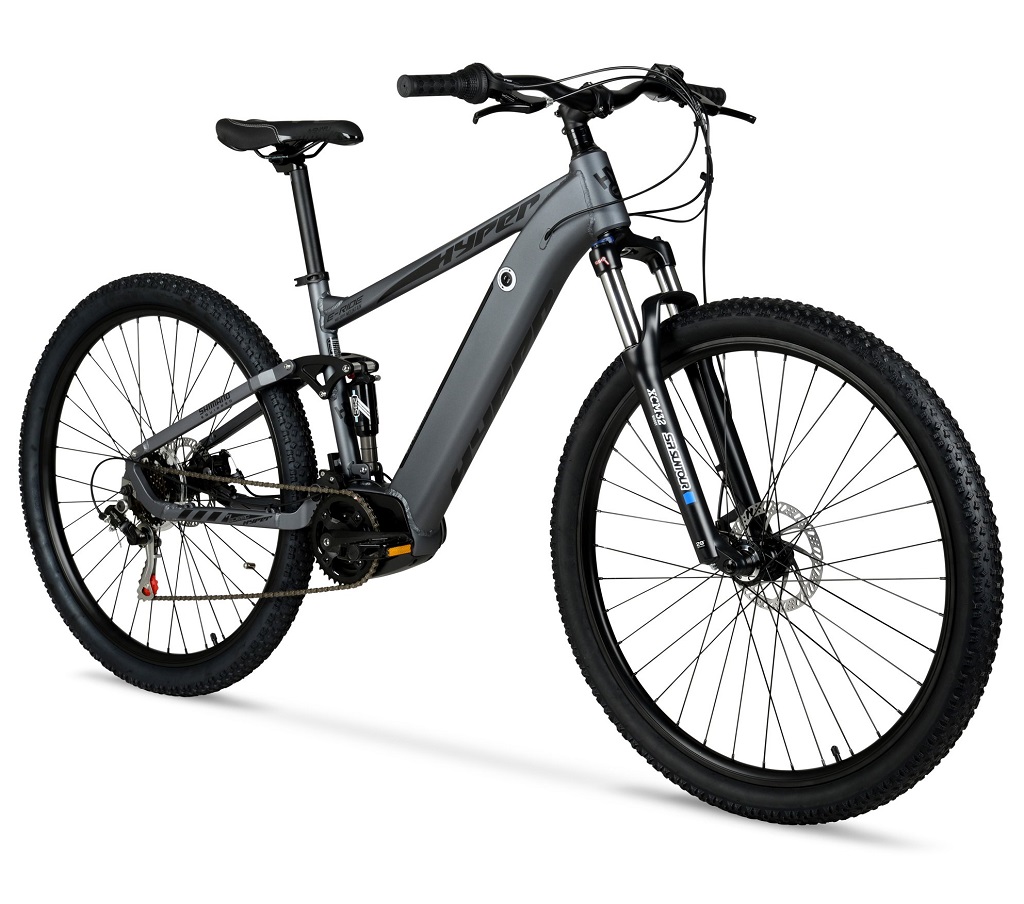 Walmart is now offering a full-sus off-road e-bike with mid-drive for $1498, the Hyper E-ride. Budget, mid-drive, full-suspension off-roaders are rare (I hesitate to call them e-mtbs as that implies they will be able to deal with really tough off-road conditions).
It comes down to two issues really – mid-drives tend to be pricier than the hub motors favored on most budget e-bikes and the very well-made and high spec components like good wheelsets and wide-range gearing on high quality e-mtbs also cost a pretty penny.
Of course the spec appears pretty basic as you would expect; an unbranded mid drive, 360Wh battery (claiming a 20+ mile range), Suntour budget fork and a budget seven-speed Shimano derailleur gear unit.
Still, it's good to see something genuinely a bit different enter the ranks of budget e-bikes and there will be some riders out there who want the benefit of full suspension at a rock-bottom price.
SKARPER – OLYMPIC CYCLING CHAMP HOY BACKS DISC BRAKE DRIVE
It might be surprising to see six-time Olympic cycling champion Chris Hoy backing electric bikes but that's just what he is doing with Skarper, a self-contained system that is designed to click onto the bike frame and drive through the rear disk brake rotor.
It's in development at the moment so there aren't too many details. Claimed weight is 3.3kg, battery size 202Wh and claimed range 37 miles (pretty optimistic from that small battery).
According to some media reports the Skarper aims to be on sale sometime next year, at a price of approximately £1,000 (US$1,217).
It's not the first time that the idea of driving via the rear disk brake rotor has emerged; EBR took a test ride on the Bimotal Elevate conversion kit at Sea Otter Classic 2021 and were impressed.
REI'S NEW SMALL WHEEL, GOOD VALUE 'LIFESTYLE' BIKES
Bicycle Retailer and Industry news (BRAIN) reports on two new e-bikes from REI Co-op:
'Members have early access to the Generation e1.1 now and the Generation e1.2 later this summer before both models are available for non-members. The Generation e1.1 and e1.2 are one-size-fits-most e-bikes to join the brand's existing line of electric models, the CTY e2.2 and CTY e2.2.'
Although described as 'lifestyle' e-bikes in the article, they most resemble a Cube Compact in frame design with a slightly stretched rear rack – add in the fact they have high volume tyres and they actually look pretty capable cargo carriers, although the geared rear hub motors are not likely to be as effective as a good mid-drive (which always adds to the price of course…)
There are 36V and 48V versions at $1499 and $1899 respectively.
AFREDA F6 – THE QUICK-FOLDING, SAFETY-MINDED THREE-WHEELER
The Afreda F6 might be pushing the definition of an e-bike as it lacks pedals but as it's a relatively low -powered light electric vehicle and it features interesting technology, we thought you might be interested…
If you had to sum it up you might describe it as a small-wheeled trike moped with independent front suspension and a very quick looking fold. That's about as concise a summary as you get of this distinctive looking vehicle (well actually Afreda call it 'the world's first reverse three wheel folding electric scooter'…but I wasn't too sure what that actually meant.
Interesting features include:
– Tilting and independently suspended front wheel that look to give a safe and stable ride but under performance conditions (as the video below seeks to show).
– Afreda say it has a 'one step, one second fold' triggered by simply lifting the seat.
– The suspension lock on Afreda makes it possible to switch to two different riding modes: free riding mode and self-balancing mode. Afreda say 'For a skillful rider, the former can provide utter freedom and the best riding experience, while the latter is compatible for beginners, the elderly, and kids, which guarantees the stability along the way.'
It's crowdfunding now on Indiegogo.
GECKO'S LATEST AND LIGHTEST PUNCTURE PROOF TIRES ABOUT TO CROWDFUND
We tried several iterations of Gecko's totally puncture proof tires and really like them – see our reports here and here.
Now comes the news that their latest versions – apparently offering higher levels of comfort at a low rolling resistance (for an airless) and half the weight of previous versions – are soon to launch on Kickstarter – Gecko say by 28th June.
E-BIKE CHARGING STATIONS FOR THE UK's NATIONAL CYCLE NETWORK
The UK's Ebiketips reports that 'Sustrans has partnered with Bosch eBike Systems to introduce e-bike charging stations at key locations on the National Cycle Network. All of the charging stations will be free to use.'
The report tells us 'Six PowerStations have been installed so far: one at Eastside Community Trust on the Bristol and Bath Railway Path; one in Sherwood Forest on National Route 6; and four in Scotland on the Caledonia Way, the 234-mile route that runs from Campbeltown to Inverness.
In June last year, the same website reported on a similar move by Bosch – this time in partnership with Highland Perthshire Cycling – where charging stations were installed within a network of cycling trails put together for the Perthshire Gravel project.
At present, only Bosch batteries are compatible with the PowerStations, but the firm says future charging points will be compatible with other e-bike battery systems