E-Bike News: High-Tech eBikes, NY Times, Economical Kit, & More! [VIDEOS]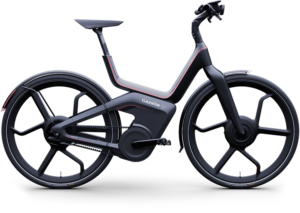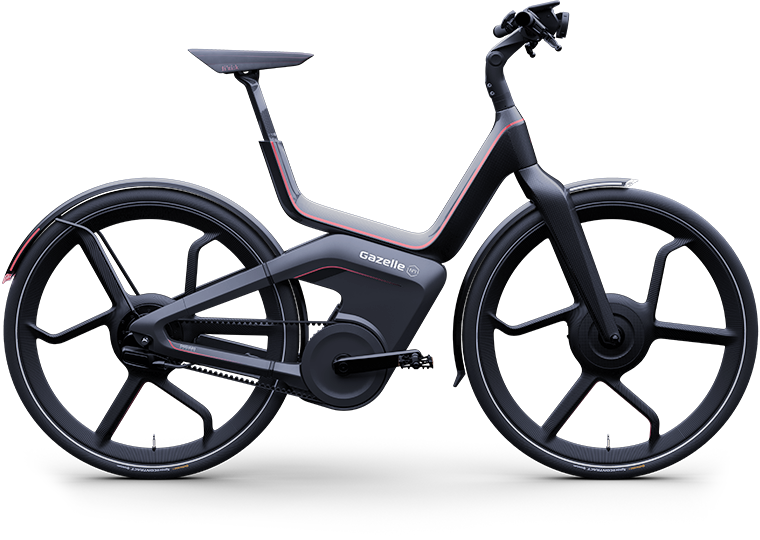 By Richard Peace
New E-Bike Launches
Dutch e-bike manufacturer Gazelle has publicised what it sees as the future of e-bikes in the shape of the carbon fibre-framed No1.
Currently a one-off, with many parts hand made, the No.1 is perhaps most notable for its COBI interface and lighting system, undoubtedly one of the smartest of 'smart' devices for e-bikes.
If you want to learn more about how it was made see the video:
And here is a teaser of the new Pininfarina E-Voluzione electric bike that will be launched soon at Eurobike. This is an eBike collaboration with the high performance Italian car design firm Pininfarina and Diavelo electric bike company.
This eBike features a carbon fiber frame (and handlebars, seat post, wheels), Brose mid drive motor, 36V 13.6ah Panasonic battery integrated in the frame, belt drive, and other high end components for a stated weight of 35 pounds (16 kg)!
The focus of the Pininfarina E-Voluzione is full integration of all of the components and systems and the bike has even had wind tunnel testing to refine the design. Stay tuned for more info on this high-tech eBike!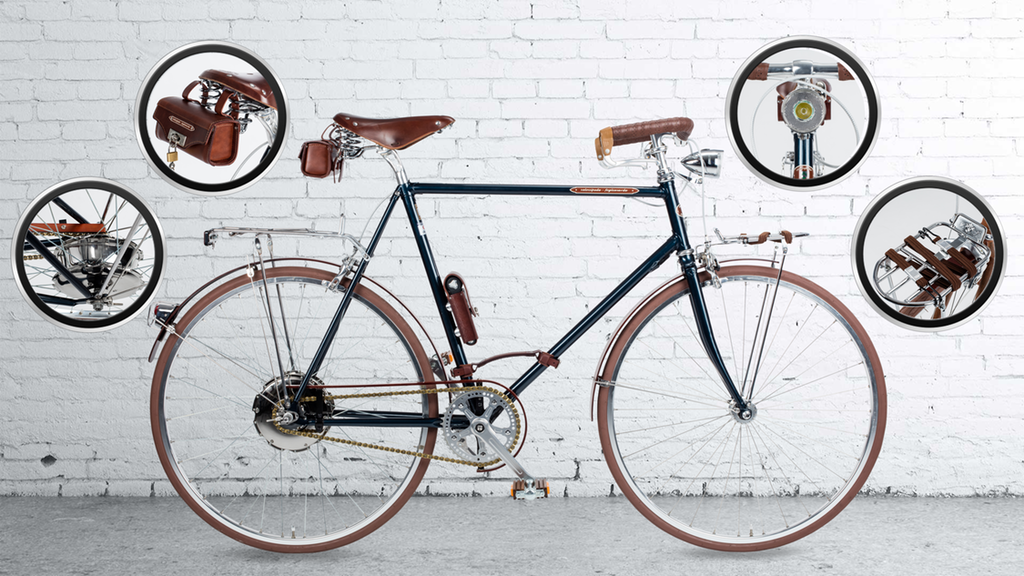 A new lightweight city e-bike with classical good looks has just hit the market. Swiss company Velocipede-Fogliaverde
uses the latest technologies but has a definite retro look.
With a Zehus motor and battery 'all in one' hub the 'stripped-down' version of the bike weighs only 33 pounds (15kg) and by adding lock, light, tool kit and bamboo fenders the claimed weight is still only 40.5 pounds (18.4kg).
Unusually the frames are handmade with steel Italian Columbus tubes (almost all classic bicycle frames made in Italy and southern Europe between the 70s and the 90s were made of Columbus steel tubing).
GoCycle has been around in electric bike shops since 2009, so its not surprising the latest version rolling out across Gocycle dealers, the G3, shows numerous changes from the original.
There is a larger battery (13.75Ah) but most striking is the introduction of daytime running lights (DRL) alongside the more familiar nightime lights. DRLs are standard on new cars sold in the EU but certainly not on electric bikes.
There is also a 'docking station', allowing the disassembled bike parts to be clipped together in a more compact format for easy storage or carriage by car or public transport. GoCycle say there are in fact more than 60 changes to the new model compared to the previous G2. Here is the full review of the GoCycle G2 electric bike.
US Govt Funds to Fuel Electric Future and Keeping Fit on E-bikes
Columbus, Ohio has been declared winner out of 78 cities that entered the Smart City Challenge and will receive up to $40 million from the Department of Transportation to prototype the future of urban transportation. According to the Whitehouse website it is 'part of the Obama Administration's efforts to accelerate game-changing technologies from self-driving cars to smart traffic lights to vehicle to vehicle communications.'
Whilst electric bikes weren't pushed to the fore in many of the cities applications, this has to be good news for e-bikes; the future for US cities is clearly one that is both electric and digital so if you want to see more electric bikes in US cities the Smart City Challenge investment can only be good news.
Another good news story from the US comes via the New York Times' health blog 'Well'.  It picks up on the results of a research study in Boulder, Colorado where the effects of riding e-bikes for first-time, out of shape users was studied. Interestingly the study looked at pedelec users only (i.e. throttle-only was not allowed) and 'before and after' fitness data was compared once the riders had been riding for a month using power power settings and human input that felt comfortable for them.
In summary, the scientific measurements proved they were healthier and fitter.
The issue of e-bikes on publicly managed land in the US raised its head yet again, this time on a Wyoming news site. As in other areas of the US, the Bridger-Teton National Forest classifies electric bikes as motorised and as such they are not allowed on trails classified specifically as non-motorised; miscreants face a potential fine of $225 in this case.
Country Roundup
Bike Europe has recently reported what it calls the 'vast growth' in the European electric bike market during 2015. Comparing 2014 and 2015 electric bike import figures into France, Germany, Italy, Netherlands and Spain shows an almost 50% rise they say.
The 2016 updated EBWR (Electric Bikes Worldwide Reports) is now available to buy. Bike EU gave a brief summary of the very detailed report, identifying 'paradigm shifts' underway in the world e-bike scene. One of those is that auto makers are definitely making greater moves into the world of e-bikes – perhaps not surprising given that both crash avoidance and 4-wheel EV technology appear to be starting to converge with e-bike tech. The full report can be ordered here.
One example of a '4-wheeled e-bike'  is the prototype Schaeffler Bio-Hybrid. Despite having four wheels it uses plenty of conventional e-bike technology, including a 250W rated pedelec drive capped at the European limit of 15mph. This test rider from the UK media was pretty impressed; especially with the non-bike features such as weather-protection, reverse gear and coat hook! Check out the full spec here.
Whilst electric bikes in Europe are most definitely on the up, Beijing, home to some 4 million e-bikes, is cracking down on their use. As this article reveals, the 31,404 accidents involving e-bikes last year are certainly a factor, though it is also keen to point out that it's not the e-bikes per se that are dangerous but a lack of clear rules and poor road conditions that are most likely the real problems.
Back to the Future?
Back in 1973 there was an oil crisis and companies began to look for alternatives to gasoline power; electric bikes started to appear on the scene and one of these designs used a friction drive (actually from Palmer Industries of Endicott NY). The idea was also later taken up in the UK by inventor Clive Sinclair, though friction drives have never really caught on. Now Semcon are developing a model that incorporates digital features alongside the basic principles:
A more low key but still futuristic approach, and one that must qualify as one of the best student projects ever, comes from Coatia. Here Ivan Golubic has been working on an e-bike that, amongst other things, responds to voice control. Remarkably the whole development team is made up of high school students and young innovators. Here's a full report from the Croatian media.
Stay tuned for more e-bike news.
P.S. Don't forget to join the Electric Bike Report community for updates from the electric bike world, plus ebike riding and maintenance tips!
Reader Interactions