E-Bike News: Denago eMTBs, Norco Go Bosch SX & More!
This week's news has a great batch of new e-bike announcements, clearly demonstrating various current trends in the e-bike world. Denago was founded in 2022 by a group of e-bike industry veterans. The brand places a major focus on providing quality products at an affordable price point, backed up by excellent customer service – and they are looking to further that mission with the launch of a couple of hardtail e-mtbs that use Bafang mid-drives, adding to their range of established keenly-priced and well-specced hub motor models.
Norco and Santa Cruz are well known for making premium e-bikes and have both moved into the lightweight space by taking advantage of a new breed of lightweight mid-drive motor. Premium bike company Specialized have made a further move into the e-cargo bike market with a long tail model to go with their previously announced shortail Globe Haul model. And if e-cargo models appeal but are just too expensive for you then Wombi is bringing the chance to subscribe to Tern e-bikes to the US.
In this week's e-bike news:
Denago's eXC mid-drive e-mtbs now in stock

Norco spec Bosch's Performance Line SX mid-drive on new lightweight full-sus e-mtbs

More detail of Specialized's Globe Haul LT revealed

Santa Cruz Skitch uses Fazua Ride 60 mid-drive for lightweight gravel / commuter style e-bike

Wombi offering Tern e-bike subscription in LA
Denago Releases New eXC Mid-drive eMTB Line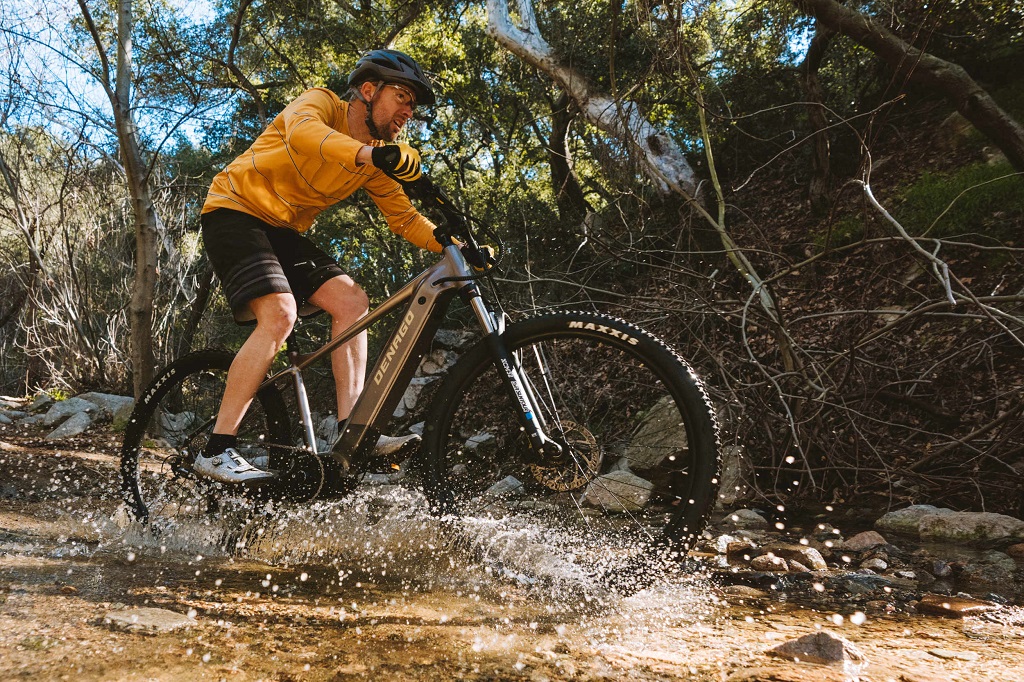 Denago says it has just released a new eXC line of mid-drive motor eMTBs, the eXC1 and eXC2. Denago add 'The eXC line includes two 29'er hardtail eBike models, both equipped with aluminum frames, Bafang mid-drive motors with torque sensors, Suntour suspension forks, hydraulic disc brakes, and Shimano drivetrains. These new models are Denago's first Class I eBikes: up to 20 MPH on pedal assist, without throttles.'
Denago's Head of Sales, Jeff Weiss says "Our partner bike shops asked us for better value than competitors were offering, and we're proud that these new bikes deliver class-leading specs and features."
More detail on the relative specs: the eXC1 has a Bafang M410 mid-drive, 499Wh battery, and Suntour XCM32 suspension fork (MSRP: $2,749) whilst the eXC2 has an upgraded M510 motor, 720Wh battery, Suntour XCM34 Boost suspension fork, digital LCD handlebar display, and dropper seatpost (MSRP: $3,199).
Denago's website has the eXC1 and eXC2 are in stock now and available for direct-to-consumer shipping.
Norco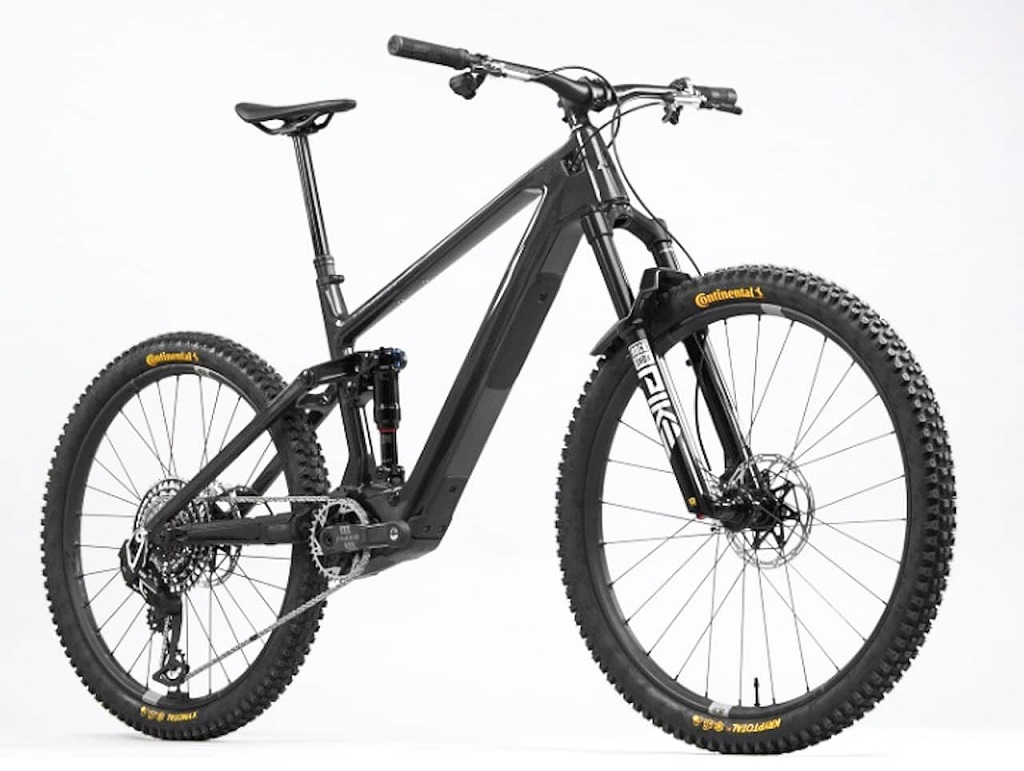 Norco Bikes is updating its portfolio of eMTBs with the newly revised, carbon-framed Fluid VLT 2024, launching its first model with the new and relatively lightweight Bosch Performance Line SX drive system (with an overall weight of around 8.8lbs / 4kg for the whole drive system and a motor weight of around 4.4lbs / 2kg it's impressively light).
The weight range of the Fluid VLT 2024 lineup is 38 – 44lbs / 17.2 – 19.9kg which is very impressive for a full suspension e-mtb, especially when you consider you get a 400Wh battery (250Wh range extender also available). The motor itself is rated at 55Nm torque – not as powerful as many other Bosch mid-drives but that is the price you pay for a lighter and more responsive e-MTB. Availability is slated for spring 2024 but we don't have price details yet.
Specialized Globe Haul LT – More Spec Revealed
We have already looked at Specialized's remarkable new longtail e-bike, the Haul LT although full details weren't available when the original article was written. Now Specialized have revealed more detail including a full spec list. Just a quick recap first; the Globe Haul LT is a utility e-bike that can carry up to three people or up to six panniers, or some mix therein. EBR has already taken a close look at short tail version, the the Globe Haul ST.
We correctly deduced a lot of the spec in our first look at the Globe Haul ST, but the weight is one new fact just revealed, with the sizable e-cargo bike weighing in at 88 lb, 3.0 oz / 40kg. Specialized have also detailed a large range of accessories that will allow you to carry just about anything and everything.
As we noted in the original article '….retail price will be $3500. That's a noticeable jump from the $2800 of the Globe Haul ST. That may not qualify for the budget-oriented shopper, but considering that long-tail cargo bikes typically start at more than $4000, Specialized will shake up the market with this e-bike.
Parents who want to drive less, ride more and not have to get the car every time they need to drop kids off or need to pick them up somewhere will find the Specialized Globe Haul LT to be a cost-effective alternative to driving. It's a good deal more fun, too.'
Meet the Santa Cruz Skitch – a Lightweight Electric Off-road Capable Commuter with Mid-drive
Santa Cruz debuted their latest: The Skitch. The latest model takes the recently-updated Stigmata….and adds a bit of assistance courtesy of a Fazua Ride 60 drive unit.'
The California-based brand has produced two versions of the Skitch, a gravel, drop option and the straight bar 'street' option. Both feature the lightweight and relatively new Fazua Ride 60 mid-drive as well as a carbon frame, 700c wheels with knobbly gravel style tires and a frame-enclosed 430Wh battery.
The Skitch is impressively light (29.8lbs/13.53kg to 30.1lbs/13.67kg) but that light weight comes at a cost ($5999 tp $7299).
Gocycle's End of Summer Special
Electric folding specialist Gocycle have just announced a US End of Summer Special Offer that will enable individuals to make huge savings on our award-winning Generation Four Range. We've already tested this iconic folder and rated it highly.
Riders can save $500 on the purchase price of the G4 and G4i until 14th September by purchasing through the GoCycle website. The G4i now comes with mudguards and lights (previously $349) as standard which adds to the value proposition of that model. Here's a summary of the sale for both models:
Gocycle G4 MSRP: $3,499
Gocycle G4 Summer Special MSRP: $2,999
Gocycle G4i MSRP: $5,499
Gocycle G4i Summer Special MSRP: $4,999
Wombi Brings E-bike Subscription to LA
Wombi e-bike subscription service started in Australia but has just expanded into Los Angeles and offers high quality Tern e-bikes on subscription that are great for child and cargo carrying. There's a big choice of Tern bikes all specced differently just depending on what and how much you want to carry. You can even spec accessories and enjoy free delivery if you live near enough the Wombi store. The subscription includes full bike maintenance, insurance, and the flexibility to adapt to changing needs, such as adding child seats or pet carriers. Monthly prices range from US$99 to US$180.
Reader Interactions