Santa Cruz Skitch First Look
Santa Cruz, California-based Santa Cruz Bicycles introduced their first e-bike models, the Heckler and the Bullit in 2020, just as the pandemic turned the e-bike industry upside down. They've now added another e-bike to their lineup, the Skitch, which straddles two worlds.
The Skitch is pitched as an e-bike that can be set up as either a gravel e-bike or a commuter. In truth, it's more versatile than that, but marketing an e-bike as either appropriate to paved roads or dirt roads is a good way to say it's made for all roads, and that's where the genius of this e-bike blossoms.
What sets the Skitch apart from the Heckler and the Bullit goes to the heart of this e-bike's identity. It's made for 700C wheels, features no suspension—front or rear—and can be set up with either a flat bar or a drop bar.
Overview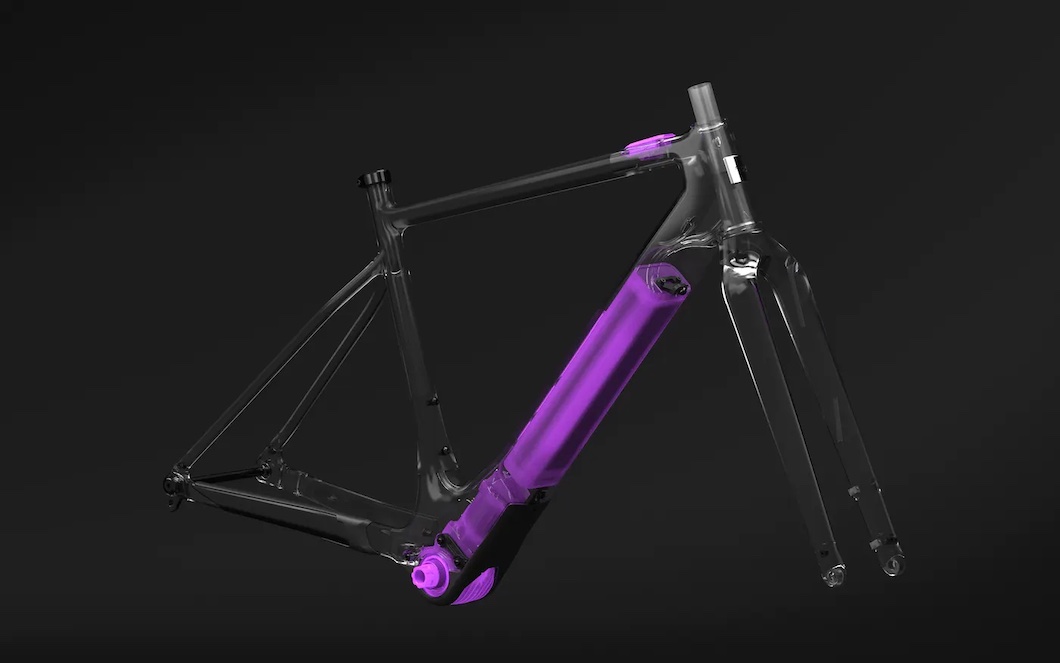 Santa Cruz suggests in their marketing materials an either/or identity for the Santa Cruz Skitch. Is it a gravel e-bike or is it a commuter e-bike? It's both! It's neither!
The backbone, literally and figuratively, for the Skitch is the Fazua Ride60 system that integrates both the motor and the battery in the frame's down tube. This is a 250W mid-drive motor that is easily missed due to its size.
The Ride60 motor is powered by a 430Wh battery which is estimated to give riders 60 mi. or more of range per charge.
Most high-end e-bikes are eMTBs, which are produced as Class 1 machines with a maximum speed of 20 mph and do not include a throttle. This is because not all trail systems allow e-bikes and the ones that do almost always specific only Class 1 e-bikes with a maximum speed or 20 mph. The legacy bike brands, knowing that many trail systems don't permit e-bikes yet, choose not to poke the bear with an e-bike that breaks all the local trail rules, not just some of them.
The Skitch, because it isn't an eMTB, takes a different approach. Because it's aimed at roads, they've made this a Class 3 e-bike with a maximum pedal-assist speed of 28 mph. It does not include a throttle.
Specs and features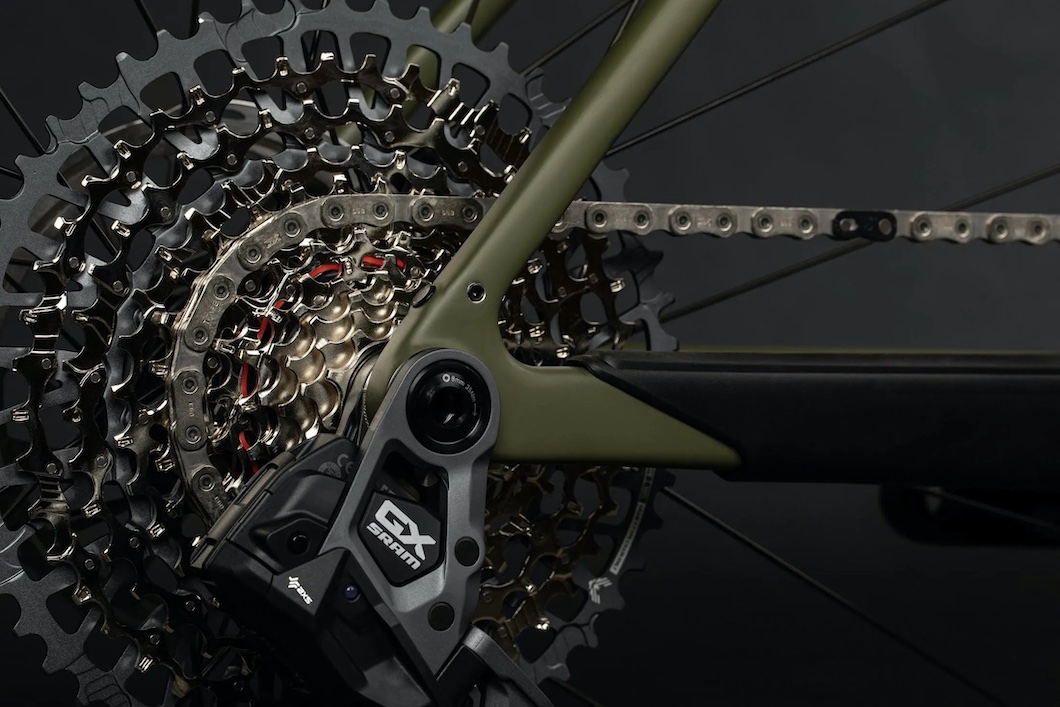 Motor and battery
The Fazua Ride60 is one of the stealthiest e-bike setups we've seen. Both the motor and battery are hidden in the down tube. A small panel on the underside of the down tube, just above the bottom bracket can be removed in order to service the motor and/or the battery.
While the Fazua Ride60 is rated as a 250W (nominal) mid-drive motor, it offers 350W at peak power, but with a catch. Fazua offers a boost feature that will allow the Ride60 motor to produce as much as 450W for short bursts. And despite its small size, the motor produces a very respectable 60Nm of torque to give it impressive acceleration and terrific climbing ability.
The estimated 60+ mi. range may seem optimistic at first glance for the simple reason that we usually see range numbers like that with batteries that feature a 720Wh capacity, or more. It's important to bear in mind that the 250W mid-drive motor can accomplish more with a 430Wh battery than bigger motors can, as explained in our guide to e-bike batteries.
Frame and fork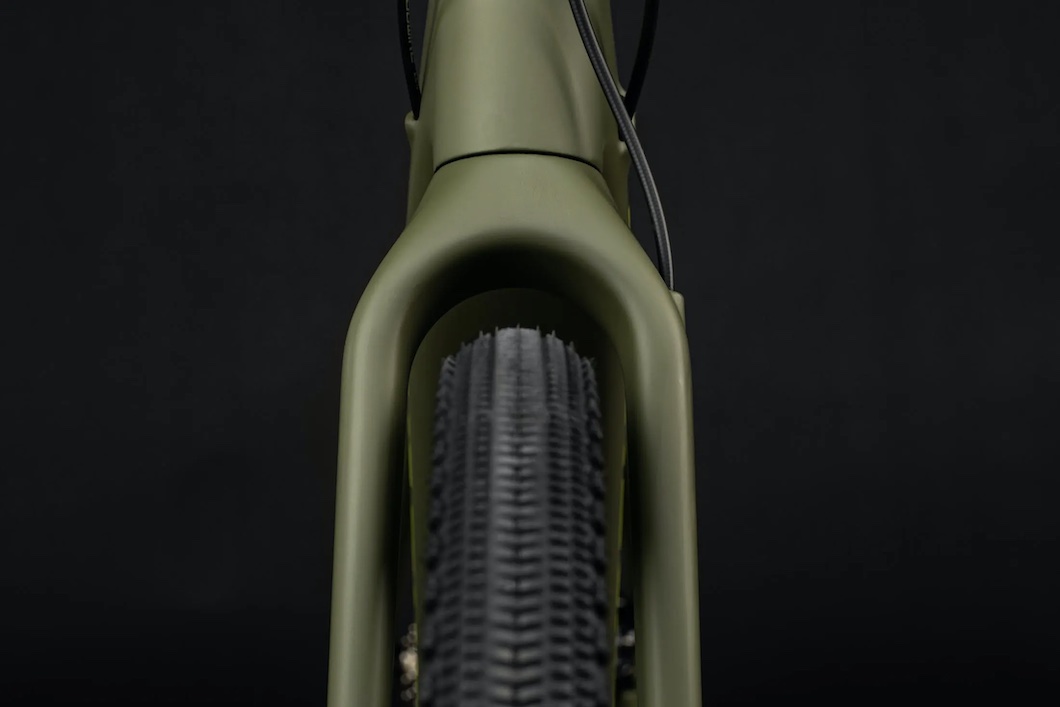 The Santa Cruz Skitch features a carbon fiber frame and fork, which, while more fragile than aluninum, offers an incredible strength-to-weight ratio and can help a manufacturer shave pounds from an e-bike.
Without producing the Skitch from carbon fiber, like nearly every other model Santa Cruz makes, the Skitch would be much heavier. And that's one of the more amazing details of the Skitch: Santa Cruz offers the Skitch in four different builds and all of them weigh 30 lbs., give or take an ounce or two.
Santa Cruz produces the Skitch in five different frame sizes, small through XL. Santa Cruz estimates each size will accommodate a range of 5 in. in height per size, given them a credible reason to claim that the Skitch can fit riders as small as 5 feet 1 and as tall as 6 feet 6.
Components
As we mentioned at the beginning of our review, Santa Cruz is known for producing high-end bikes and e-bikes for enthusiasts. Broadly speaking, Santa Cruz produces the Skitch in two versions—one with a flat bar for commuters and one with a drop bar for gravel riders. Each of these two versions is available at two different price points, making for four total variants.
In truth, none of these four is more appropriate to gravel riding or commuting than the other. A rider can easily tear off down a gravel road on either of the flat-bar editions of this e-bike, just as they can commute to work with the drop-bar versions of the Skitch.
The four different builds the Skitch is offered in feature SRAM's Rival AXS, Apex and GX AXS groups. These are relatively pricey e-bikes, and the Rival AXS and GX AXS groups help drive that point home with their wireless electronic shifting and 12-speed gear clusters (cassettes).
Common to all the variations of Skitch are hydraulic disc brakes paired with 160mm rotors. While we often champion 180mm rotors, 160mm rotors are a great touch in this setting because they give the rider greater ability to modulate braking and scrub speed before turns because hydraulic disc brakes are less grabby with a smaller rotor.
The Skitch also features a solid go-anywhere tire in the Schwalbe G-One Overland Evo, a 700C x 45mm (1.9 in.) tire with a relatively low-profile tire that is terrific for roads, whether paved or not.
The other components include Praxis cranks, either Zipp, SRAM or Race Face bars and stems, WTB rims and saddles and DT Swiss hubs. These are premium builds that won't hold a rider back from going where they want, a point which is reinforced by the 12-speed drivetrains.
Electronics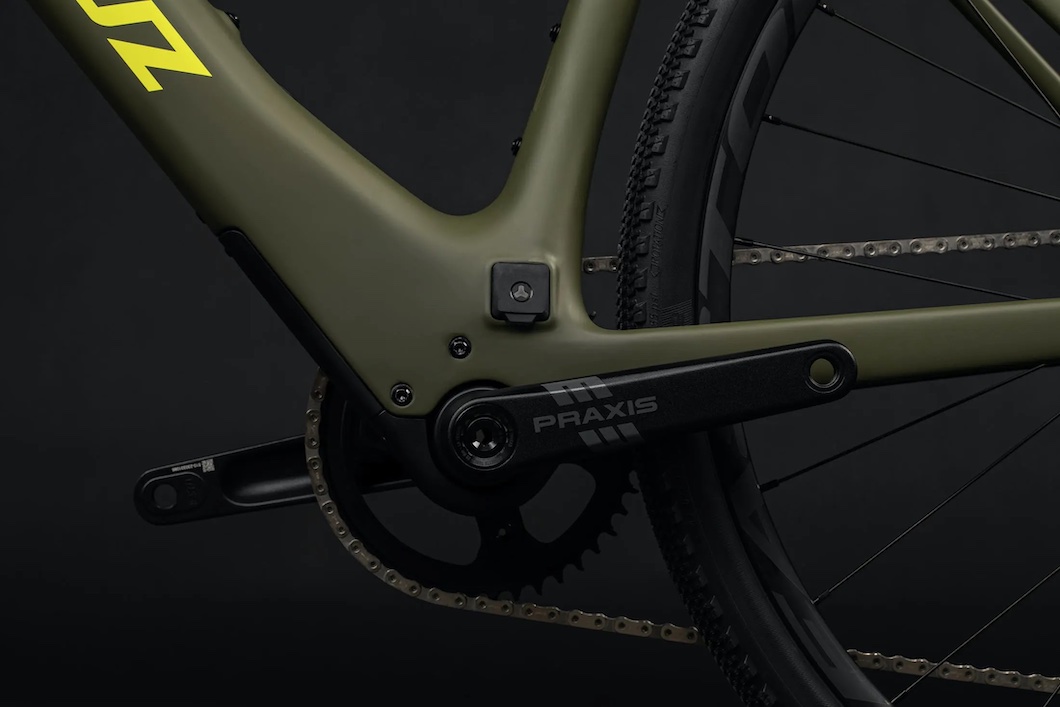 The Fazua Ride60 system gives riders three modes for riding. "Breeze" is the all-day setting for when you want to be out 60 mi. (or more). "River" is the medium setting that splits the difference between endurance and eye-popping power. "Rocket" is the setting that needs no explanation.
One of the selling point for Fazua systems is their assertion that the motor introduces no drag into the drivetrain, so if someone wants to pedal without the battery for a while—in order to save it, perhaps—or if they drain it before reaching home—the motor's interface with the drivetrain won't slow the rider down at all.
There's a battery indicator on the top tube that will show not only how much of the battery is left, but also which mode the Skitch is in. It can be flipped up to expose as USB charging port for electronics, while the charging port for the battery is molded into the carbon fiber, just above the bottom bracket.
EBR's take on the Santa Cruz Skitch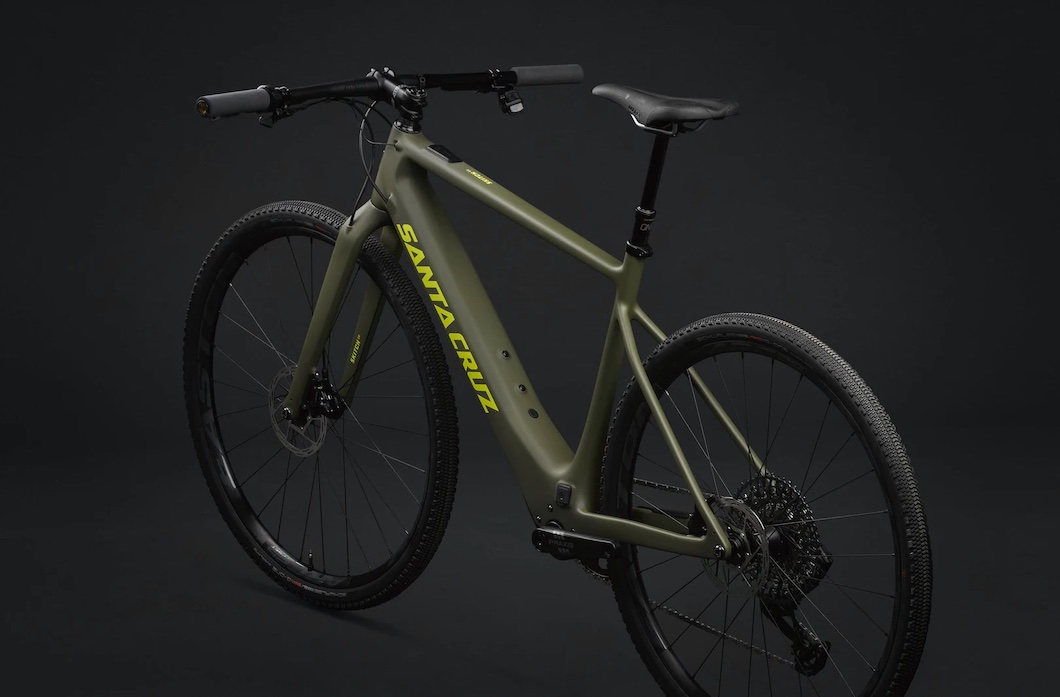 There's a moment in Santa Cruz's video introducing the Skitch when Garen from the brand's marketing team pushes back on the idea that this e-bike is faster. He mentions a notorious climb near Santa Cruz—Empire Grade—and says that what he finds attractive about the Skitch isn't that he can climb Empire faster, it's that he can climb the road without the experience turning into an "ordeal."
For many dedicated cyclists who have contemplated adding a high-performance e-bike to their quiver, that's the appeal in a nutshell. Go all the places you like to go. Do all the riding you've always done. Just eliminate the suffering.
Because the Skitch features a mid-drive motor that uses a torque sensor rather than a cadence sensor and doesn't allow for a throttle, the Skitch is going to appeal to riders who enjoy pedaling and don't need a throttle to rescue tired legs. Acceleration is instant, as is the smile.
Riders who want a high-performance e-bike that will allow them to take in their favorite terrain and double as an around-town errand-runner, the Skitch is a rare hybrid, as at home on city streets as it is on backroads.