E-Bike News: Adventure, New Folding & Cargo eBikes, eMTB, & More! [VIDEO]
By Richard Peace
E-Bike Adventure 
On a truly spectacular note, the German team behind Pedelec Adventures has just completed their USA trip after 3,100 miles in the saddle on Haibike S-duro e-bikes.
Their Sand to Snow tour covered National Parks from Yosemite to Death Valley and endured temperatures from 23 to 106°F (-5 to 41°C) degrees C.
Extolling the virtues of their low energy trip, team member Susanne Brüsch summed up the experience nicely, 'Dry your laundry in the sun, get yourself a nice pedelec and ride 3,000 miles. You will be much happier.'
One area you don't often hear mentioned in the same breath as e-bikes is Africa. This piece in AFK Insider tells how Henry Gold, organiser of the legendary Cairo to Capetown bike expedition, sees trends such as greater battery range, more powerful motors and tougher tyres as ones that mean e-bikes could catch on in a continent where the bike's value is as a practical, economical workhorse.
Gold's company, TDA, which operates tours around the world, is planning to experiment with e-bikes.
Speaking of electric bikes in Africa, Ebike Africa is an 18,000km expedition from Glasgow to Cape Town that Bruce MacLeod and Susanne Brüsch (from Pedelec Adventures) are currently doing. Ebike Africa is a global awareness raising action on climate change. It's been organised by the Purple Heart Network and Pedelec Adventures.
They are using trailers with solar panels for battery recharge! Find out more at the E-Bike Africa site.
New E-Bikes
Folding bike manufacturer Tern has hinted that it may launch non-folding e-bikes at Eurobike. The folding bike specialist issued a 5th birthday press release it clearly states it wants to branch out into four bike categories, folding bikes, electric bikes, cargo bikes, and urban lifestyle bikes.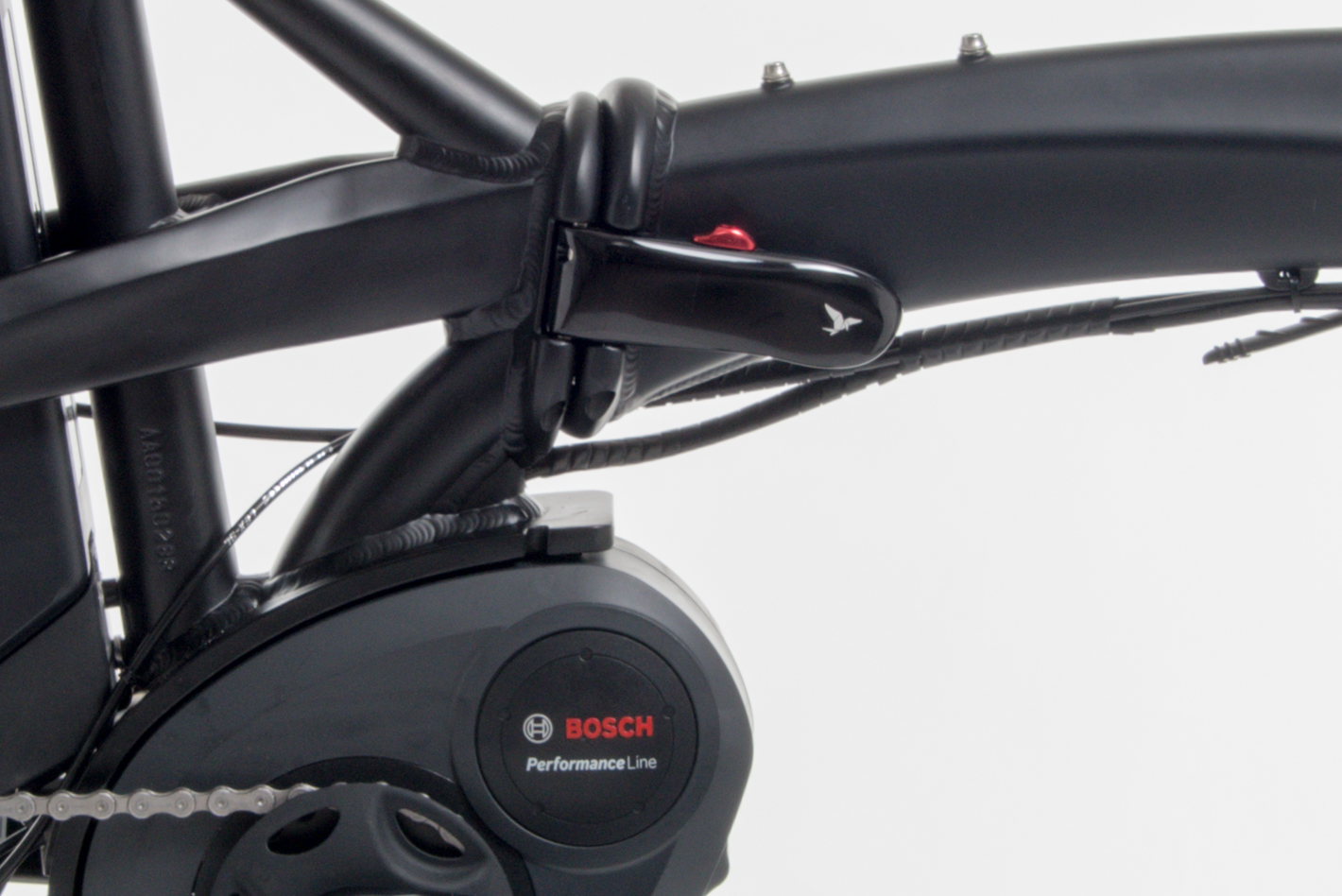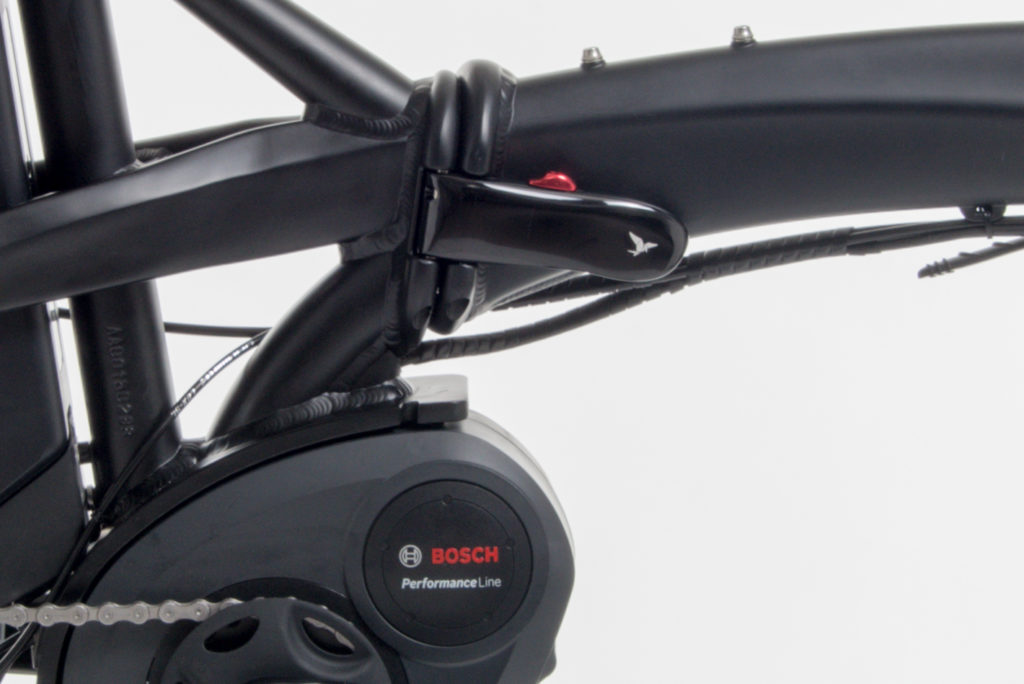 Certainly a Bosch-powered folder is on the way, but other than a sneak preview close-up Tern remain tight-lipped for now.
Cargo bikes may be ultra practical but they're not really built for speed, right? Not true in the case of the Harry vs Larry Bullitt from Denmark. Their latest incarnation of the superfast cargo carrier is a Shimano STEPS powered version.
Ride a Felt e-bike or know someone who does? Felt have just issued this recall notice relating to internal cable routing via the headtube.
Is it a scooter? Is it an e-bike? It's actually a Flykly scooter. While it looks like a conventional scooter with large wheels and a huge rear hub, this video from New York's NYCEwheels implies that it is deemed legal as it maintains your kick speed and doesn't accelerate.
Just one kick and ride for as long as you like! Check out Nycewheel's video report:
Showtime
Electric Bikes at LA autoshow? That's what PR Newswire suggests in their preview of the Los Angeles autofest which is set to feature an 'all new destination' entitled GO, where trade and public will be able to 'encounter many of the latest innovations that people are using to get from point A to B'. The shows runs from mid to late November 2016.
Now Hiring 
Scots newspaper The Courier reports hilly Scottish city Dundee is to get an e-bike hire scheme courtesy of Electric Bikes Scotland. Currently the hire costs £15 per half day, although it sounds as if the ultimate aim is for shorter term hire at public stations, rather like the famous (but non e-bike) Boris Bikes of London (named after former mayor Boris Johnson).
It's encouraging that it comes on top of Dundee City Council announcing earlier in June that 5% of the road budget will be spent on maintaining the city's cycle and walk-ways, and a new cycling "tsar" for Dundee will be created.
What's trending? 
According to Germany's Elektrobike-online, in Germany at least the popularity of e-bikes is spreading far beyond its traditional audience of older bikers. (Presumably younger) mountain bikers in particular are discovering that you can still get a good workout by swapping from a regular MTB to an e-MTB, you will just be able to go places you couldn't before and you'll go further on your ride.
In the early days e-MTBs were mainly hard tails, but with the concept's increasing popularity has come more variety. There are more full-sus e-MTBs in 2016 and more experimentation in general.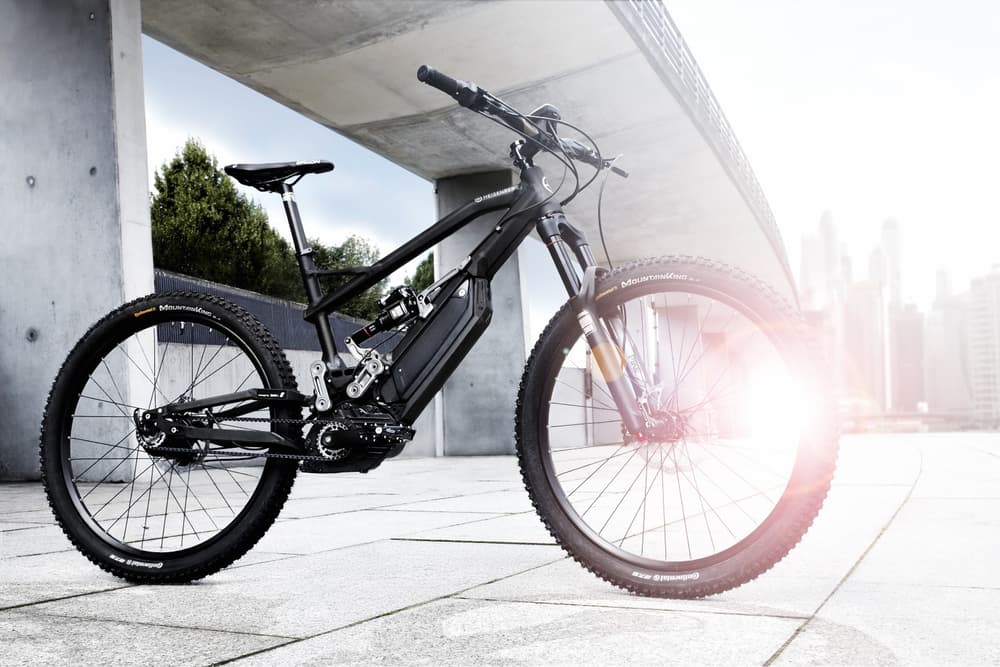 Elektrobike quote the HNF Heisenberg XF1, with a Rohloff hub gears and Gates carbon belt drive. Other strong areas are sales to commuters – in particular compact electric bikes which can easily be stored in the home or office.
As is to emphasise their growing acceptance and variety, longstanding UK MTB mag Singletrackworld has just published an interview with Gilles Lapierre, a third generation French bike manufacturer, who talks about the growing appearance of e-MTBs out there on the trails, and the fact Lapierre have expanded their e-MTB range to include alloy, carbon and women-specifc models.
Research
A new report from Navigant Research predicts the decline of the e-bike in China. Some 35 million e-bikes are projected to be sold this year worldwide they say, and looking ahead to 2025 they predict a compound growth rate of some 0.4% over that period, with a decline in Chinese sales due partly to major city e-bike bans.
On the upside huge growth in Europe and other parts of Asia is predicted, as e-bikes move from being a commuting option to a 'standard bicycle form'. The report also cites low gasoline prices in the US as one factor holding back the market there.
Stay tuned for more e-bike news.
P.S. Don't forget to join the Electric Bike Report community for updates from the electric bike world, plus ebike riding and maintenance tips!
Reader Interactions