E-bike Industry Leaders: An Interview with Aventon Bikes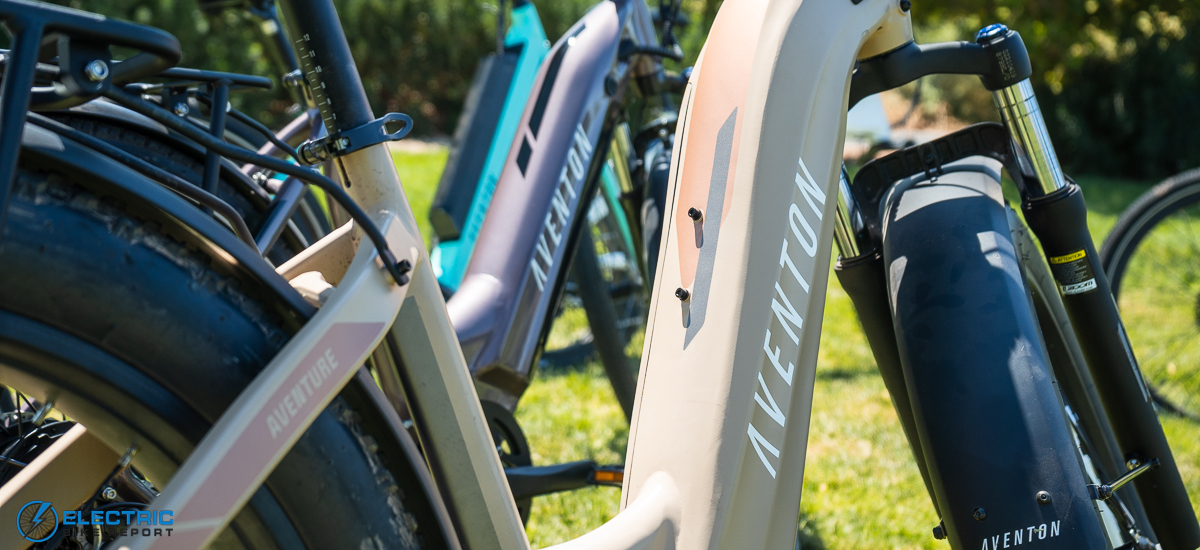 Aventon is fast becoming one of the most popular makers of electric bikes in the U.S. Known for their stylish bikes and disruptive designs, the California-based company has one advantage few others in the e-bike game have: Their own factory.
That asset has helped Aventon create some of the best bikes we've reviewed, including the popular Aventon Level commuter bike and the fan favorite Aventon Aventure electric fat bike.
Electric Bike Report sat down with Adele Nasr, Aventon's chief marketing officer, for a conversation about the Aventon brand, the company's passion for cycling and how owning their own manufacturing process helps them ensure quality and build better bikes.
What sets Aventon apart from other e-bike manufacturers?
Well, we have a very unique position in the marketplace in that not only do we own our own factory, but because we manufacture many other (cycling and other) products in our factory in China. We know and understand manufacturing differently than the rest.
We have an advantage in understanding the landscape at a global level. So that advantage really sets us apart in not just understanding the U.S. market but really understanding all other markets because we are supplying and working with markets like Australia, Europe, the U.K. and South America.
So that really gives us a very unique advantage in really knowing those markets and almost being ahead in what the US may be looking at next. The U.S. is a little behind in adoption, so knowing some of those more progressive e-bikes and e-mobility markets gives us that foresight and understanding of what's to come in the future. I would say at a higher level than most.
Tell us about Aventon. How did the company get started?
Aventon started as the brainchild of our CEO, JW Zhang. He was attending California State University, Long Beach here in the U.S. — he's been here over 15 years — and saw there was an immediate need for affordable road and fixed-gear bikes college students could afford.
He became kind of obsessed with the idea of creating a road bike or a fixed-gear bike that was affordable but had high quality components. So his initial vision was: How do I make a bike that's as great as a Giant or a Specialized but at a price point college students could afford? And so that became what drove this entire, you know, company.
He initially sourced some products through another factory but was really disappointed with the quality and decided to pivot immediately. So he then thought, you know what, I'm gonna use my own factory and find some of the best designers and engineers in the industry and really do this myself and that was what he did. He ended up disrupting the fixed gear space and, fast forward to now, we have a cult following for that side of the business.
Although we're no longer manufacturing fixed-gear bikes here in the U.S., they're still extremely popular in other parts of the world. It's a global brand now and we're known for creating really great quality fixed-gear bikes like our Mataro or Cordoba, and we're very proud of that.
Zhang lives and breathes cycling. It's not just a fad for him; he didn't just jump on the bandwagon. It really is something that he was very passionate about, and for us cycling is something that we know well; that we're proud of; that we've been able to evolve with the marketplace on. The marketplace needed change, and as e-bikes became popular we were very fortunate to be in a position to pivot quickly and in 2018 we introduced our Pace e-bike — which looked and felt like a real bike, but had the electric components to make it an e-bike. It won a lot of accolades for entering the market differently than other e-bikes that were a little more bulky at the time. This was the catalyst for where we are today as a leading electric bike brand.
What is Aventon's target demographic? How do you want e-bikes to play a part in the lives of regular people?
Our target demographic is really anyone who wants a life changing experience. We are not limiting ourselves to a specific age or category; it really is a product that defies all genres.
It doesn't matter where you are in your life, where you reside or what you choose to do with your day — it could be that you're an outdoors person or you could be a mom that just wants a way to get out of the house with the kid. That's what I love about e-bikes, they've really allowed us to cross so many demographic boundaries and bring a product to market that is so accessible and usable by so many people.
What's important to the brand and where we want to go is not just e-bikes. E-bikes are just one element of Aventon and, while it's a critical element that brought us into the forefront, we want to become known as an e-mobility brand that really takes people's lives and enhances them with affordable mobility and outdoor electric products that impact the environment in a better way. So that's the exciting part about our trajectory and our evolution, as a brand we are now saying: "Join the movement, the mobility movement" because we so wholeheartedly believe in it.
Tell us about Aventon's design and manufacturing process.
Aventon is fully integrated from end to end. That means that all of our designers and engineers work for us; they are employees of the company. They all live and breathe the same air in our factory together, and they really are able to walk across the factory and say, "Hey, what about this; let's do this; let's try that." It's wonderful to see how collaborative they are.
So when I say end to end, I truly mean it. There's nothing outsourced from that part of the business. We've actually expanded our factory even further. We just broke ground on new space, so it's going to be even bigger and better — we've got an entire campus. And so we've really built this fully integrated and seamless partnership with every single department within the factory, but also fully integrated between our U.S, and China team.
I can't tell you how exciting it is to be a part of that; we don't speak to our factory team as if they are a separate entity but rather as an extension of us here in the U.S. They get just as excited about all the stuff they see on social media and all the customer reviews because they played a part in building that product and bringing it to life. The entire company feels that excitement.
We are also investing in continued improvements and enhancements on the manufacturing side with new machinery, new technology, improved quality assurance guidelines and have really high standards we are all very passionate about.
2020 and 2021 have been crazy years for e-bikes. Do you have any predictions for the future?
Oh boy, that's a tough one; it is a really interesting time. I will say this: For us, we have the advantage of having our own factory and having our own relationships with many of our suppliers like Shimano and Bafang.
We know their factory teams intimately because we're also a factory, and that gives us the ability to work hand-in-hand to ensure that we're getting the products we need to our consumer. We're also partnering with many other brands that are lesser-known but also have amazing quality like Zoom and others so we can continue to bring you products when there is a shortage in parts among those more known brands. For example, with Shimano, we can pivot to Zoom, and so we're really about the idea of making sure that we can source parts but ensuring that quality never suffers. So we put every single partner that we onboard through a very rigorous testing process and certify everything that gets put on our bikes to ensure our customers are getting a great product.
Now, in terms of the future of the industry, the industry is really going to continue to evolve in many ways. We're going to start to see a lot of new battery technology within a five to ten-year trajectory and we're already seeing some of that in the electric car space.
It won't be as easy to do for e-bikes, but there's going to be a ton of changes in the space. Think of cell phones: The cell phone started off really bulky and big and really just cumbersome and, for lack of a better word, ugly, right? They've evolved since then to become very sleek, very user friendly and extremely smart systems that are an extension of you, the user. I think the e-bike space and e-mobility space in general is moving in that direction, so we're going to continue to see sleeker, better products and we're going to see better technology. Technology that's fully integrated from end to end that connects with all your other products that you use on a day-to-day basis. Things like your phone, Bluetooth, your home — it's going to be smart in that way. That's where I see the future going.
Have a question about Aventon electric bikes? Drop us a comment below and we'll do our best to get it answered.
Reader Interactions