Aventon Level Step-Through Review 2022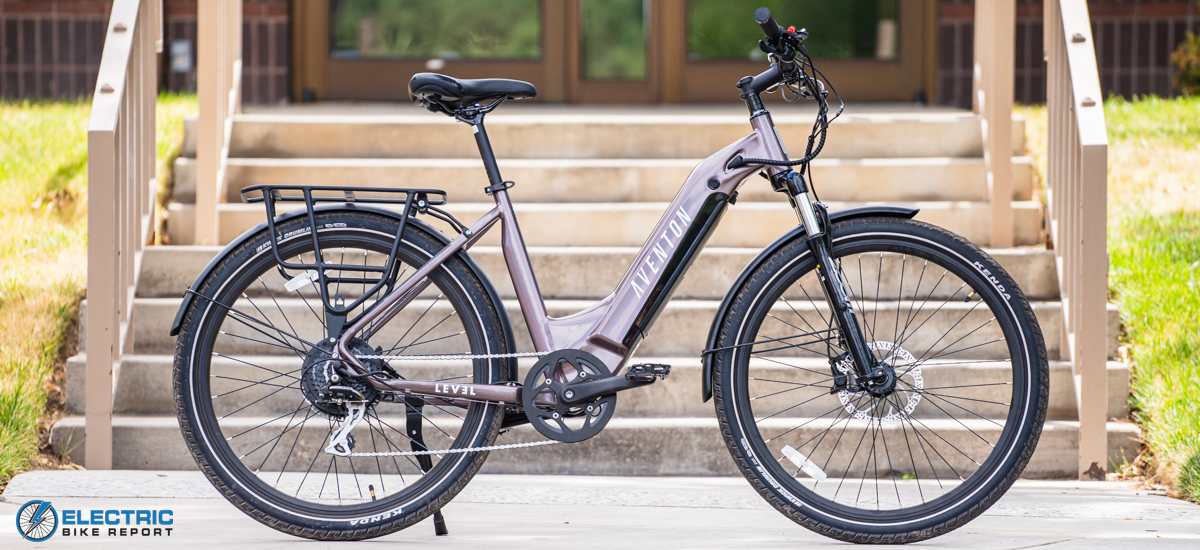 Aventon Level Step-Through Review: Overview
*For current pricing of the Aventon Level Step-Through click here.
The Aventon Level Step-Through is a Class 3 commuter electric bike that combines sleek looks with a powerful motor and battery. The end result? A smooth riding commuter e-bike with fast acceleration and high average speeds, making for an efficient and exciting ride experience.
Our team has been familiar with Aventon for quite some time. Earlier this year we reviewed several other Aventon e-bikes – The high-step Level, Aventure, and Pace 500 – all of which proved themselves to be quality electric bikes.
I was eager to review the Aventon Level step-through to see how it's different from the standard Level we reviewed in March.
Nearly identical to its standard counterpart, the obvious change made to the step-through Level is the absence of a top tube on the frame. This can change a bike's handling characteristics, so that, combined with a handful of small changes Aventon made to the bike since we last reviewed it, left me wondering how the step-through would ride.
In short, despite their similarities, I quickly realized during testing that the step-through version of the Level has its own personality and characteristics that are notably different from the version we reviewed earlier this year.
Bike Category: Commuter
The step-through Aventon Level is a comfortable, smooth sailing commuter style e-bike
Bike Class: Class 3
Class 3: Throttle assist, up to 20 mph | Pedal assist, up to 28 mph
Aventon Level Step-ThroughVideo Review

Pro's
The Level step-through is easy to get on and off of. It provided us with a smooth and pleasant riding experience.
The visuals of the Level step-through are great. The rose gold paint job, the curvature in the frame and the internal battery in the downtube all add up into one good looking bike.
The 500W motor and eight gear range kept all of our test riders fresh. There was a pedal assist level and gear for every scenario.
The geometry and contact points kept our test riders comfortable over the span of their rides, regardless of how far.

Con's
I would like the option to mount a water bottle cage or hand pump to the bike, but it doesn't have any mounting brackets despite plenty of room for them.
We think the display is just fine but it would be nice to see an option to upgrade to the full-color LCD that comes with the Aventure.
ELECTRICAL SPECS & FEATURES
Battery: Internal and removable 48V, 14Ah battery
Display: M5 LC easy read smart display with backlight
Motor: 48V 500W brushless rear hub motor
Peal Assist: Levels 1-5
Manufacturer claimed range: 25-57 miles
Throttle: Lever throttle on demand
Weight & Dimensions
Battery weight: 8 lbs
Claimed weight: 62 lbs
Real weight: 62 lbs
Maximum rider weight: 250 lbs
Maximum load on rear rack: 50 lbs
Dimensions: 1130mm x 455mm x 404mm (Wheelbase x Standover Height x Reach)
Components & Accessories
Brakes: Zoom hydraulic disc brakes with 180mm rotors
Fenders: Alloy fenders front and rear
Fork: Zoom 75mm coil spring fork with thru-axle and lockout
Frame: 6061 double-butted aluminum alloy
Gearing: 8-speed Shimano Acera
Grips: Lock on rubber ergonomic grips
Saddle: Aventon branded Velo saddle
Handlebar: 31.8mm x 680mm alloy handlebar
Kickstand: Rear mounted adjustable kickstand
Pedals: Alloy 9/16" pedals with reflectors
Tires: 27.5" x 2.2." Kenda Kwick Drumlin
Aventon Level Step-Through Review: Performance
Acceleration / Speed
The Level step-through accelerates pretty quickly, but not to the point where it ever felt dangerous or unpredictable. When riding the Level It was easy for me to get to, and maintain the top speed of 28 mph.
This step-through variation of the Level felt a little more powerful than the standard Level I tested back in March. While both bikes have the same top speed of 28 mph, the step-through seemed to get up to that speed a lot quicker.
Aventon did make a slight change to the Level's throttle, changing from a throttle that would only engage after a few pedal strokes to an on-demand system, but aside from that there's no obvious changes to the Level's drive system. Electric Bike Report has reached out to Aventon for clarification if there's been any other changes that would account for the quicker acceleration, but we haven't heard back yet. We'll update this review when we do.
For being a commuter oriented bike I think the Level step-through is set up really nicely for its duties, I was able to accelerate quickly and it also was no issue maintaining the speed I had gained.
The Level feels stable and in control at speed too, which gave me confidence to ride faster without feeling like It was dangerous or out of the bike's comfort zone.
Range Test
To get a feel for how far you can ride the Level step-through, we conducted two range tests using the highest and lowest power settings, riding the bike until the 48V, 14Ah battery died.
Not only does this help us test the range claimed by the manufacturer, it gives a real world example of how far the Level step-through could theoretically go. Keep in mind that this isn't a perfect test; variables like traffic, the fitness of our test riders and even the weather can impact a bike's range. It's likely you'd have slightly different results if you tried this test on your own.
On pedal assist level 1, the lowest power setting, our test rider rode 42.33 miles before the battery died. This is about 14 miles short of the Level step-through's claimed maximum range of 57 miles. In pedal assist level 5, the highest assist setting, our test rider reached 23.31 miles before the battery ran out. This was pretty close to Aventon's claimed minimum range of 25 miles, and I could totally see myself getting that far if I were to do a range test with less elevation change.
Looking back at the high-step version of the Level we tested back in March, both of these results are short of the 65.82 mile maximum range (on PAS 1) and the 29.4 mile minimum range (on PAS 5) we recorded conducting these same range tests with that bike. As we mentioned before, the only change to the drive system we know about was to the throttle, which we didn't use in any of the range tests. We've reached out to Aventon to find out if any other changes have been made, but haven't heard back.
While the results may have been less than Aventon's claimed range for the bike, the Level step-through still demonstrated a really solid battery life right on par with its competitors.
Circuit test
Our circuit test is a 1 mile loop that gives us a good idea of how the bikes we test ride in each assist level. The loop — which features a hill, a descent and a fair amount of flat ground — demonstrates the bike's power, overall feeling and average speed in each power setting.
From level to level (no pun intended) a majority of the jumps seemed to be around 3 mph. The smallest jumps being from level 0 to 1, and level 4 to 5. Both had an average speed change of only 1.1 mph.
The motor really seemed to take over in pedal assist level 3 onwards; I didn't feel like I had to put down any sort of effort to keep the bike moving quickly, all I had to do was spin the pedals.
The step-through Aventon Level proved itself to be quite the burner as we had one of our highest average speeds to date around the loop of 24.9 mph.
Hill Test
As a commuter e-bike, it's important the Level step-through can tackle a hill. Commuters aren't going to want to get to work sweaty.
I bring that up because it was important to me that the Level step-through was a good hill climber; I was eager to see if it was going to be just as fresh at the top of the hill as I was at the bottom.
Turns out the Level well… leveled the hill with relative ease.
Electric Bike Report conducts two hill climb tests to capture the climbing ability of our test bikes. The first is a maximum assist (PAS 5) test and the second is a throttle-only test where we do no pedaling and let the bike's motor do the talking. Our test hill is a third-of-a-mile steep shot that averages over 12 percent — much steeper than a typical hill you'd find in most cities.
The bike clocked a very respectable 1 minute and 16 second time during the maximum assist hill test, and I never really had to add much effort on top of the Level's motor. The bike also handled the throttle-only test just fine, clearing the top in 1 minute and 46 seconds, though the motor did make some noise. That's to be expected considering it is one of the steepest hills we could find.
The 8-speed drivetrain also helped quite a bit with the maximum pedal assist hillclimb, the wide gear range is what allowed me to avoid any serious effort or strain when pedaling uphill.
Handling (cornering, slow speeds, safety on bike, etc.)
I am a big fan of the way the Level handles. I was confident at higher speeds and it was easy for me to hold my speed around corners. The 75mm suspension fork does wonders for the smoothness of the ride, and I think that's part of the reason I didn't have a problem riding this bike at high speeds.
Had Aventon decided to make this bike fully rigid I see myself getting bucked around and being less comfortable than I am with the suspension fork. To me it makes it that much more of a capable commuter.
The bike is lowstep so it was very easy for me to get on and off. In the instance of a crash or having to slow down quickly the Level step-throughs design makes it easy to hop off the bike and get your feet on the ground. There's also no top tube to fall on.
Ride Comfort
I'm a big fan of the comfort the Level provides. The saddle is great for long rides and the geometry of the frame allowed me to sit a little more upright than what I'm used to on a conventional commuter.
The 680mm handlebar and ergonomic grips made for a great place to hold onto throughout the ride. These handlebars felt a little wider and flatter than I'm used to on a bike like this. The combination allowed me to absorb bumps that would feel a lot more harsh on a thinner handlebar.
The low step frame design also adds loads to the comfort of this bike, especially when getting on and off. Regardless of who you are, the low step frame is going to be extremely convenient. Not having to swing a leg over the top tube is not only easier, it may save you from ripping your nice dress pants on the way into work. The low step frame with no top tube also allows riders to dismount the bike a little easier.
I found the Level step-through to be very comfortable even during my 20-plus mile rides. This is mainly due to the contact points and the bike's overall positioning. I sat a little more upright on the Level, and ultimately the combination of riding position and componentry kept me fresher for longer.
Aventon Level Step-Through Review Specs/Features: Electrical Components
Motor
The 500W brushless geared hub motor gives the Level a healthy dose of power and speed.
The motor feels really well built, and it takes an extremely steep hill to really push its capabilities. The motor never felt like it was trying to outdo itself, I just noticed it making a little more noise on steep hills than it did on flat ground. Aside from the noise nothing really changed from flat to steep, and the motor feels ready for anything commuters may face on their way to the office.
Battery
The Level comes with a 48V, 14Ah battery that's integrated into the frame.
We've mentioned a few times in this review that the Level step-though felt quicker and depleted its battery faster than the high-step version of the bike we tested last March. Though its range is still solid — and we've got no complaints about this bike's added pep — we do have questions into Aventon on if anything's been changed on this bike that we don't know about. Stay tuned for their response.
I'm still impressed by the Level step-throughs battery life and feel it provides ample range for commuting. I don't think this is a big deal especially when considering the fact that the step-through Level seems to ride a little quicker than the standard one we tested.
Pedal Assist / Throttle
The most notable change Aventon's made to the Level since we last looked at this bike is implementing an on-demand thumb throttle
The Level has always had a throttle (located on the left side of the bar near the grip) but that throttle would previously only work after a rider started pedaling the bike. Now, you can use the throttle from a dead stop.
Aventon does have a built-in safety feature for the throttle that I'd like to see implemented on more e-bikes: It only works when you've selected PAS 1 or above. Like many bikes, the Level defaults to its no-assist setting when you start the bike. You then have to use the touchpad on the handlebars to select your desired assist setting and get the motor to kick on.
By not allowing the throttle to work in the no assist setting, Aventon is preventing a rider from accidentally hitting the throttle and applying power when they don't mean to. We run into this issue occasionally on other throttled e-bikes while moving them around the office: We'll start the bike to check the battery and then put our hands on the grips to start walking the bike towards the front door. We accidentally hit the throttle and boom! The bike's motor kicks on and tries to take off while we're walking beside it.
Other than the throttle, the Level step-through comes with 5 pedal assist settings you can adjust using buttons mounted on the handlebar.I think that Aventon has done a good job calibrating the different pedal assist levels, and the jump in between them.
Display
The LCD display sits right on top of the stem and fits the theme of the bike nicely. The display showed me just about everything I wanted to know, such as range, pedal assist, speed and distance. I would have liked to have a wattage meter on the display too, as I find it helps me conserve the battery better when I can see how many watts are being expended.
Aventon Level Step-Through Review: Components and Accessories
Brakes
The hydraulic Zoom brakes come with 180mm rotors front and rear, these are a different make and model than the brakes that came on the standard Level we tested last March.
Surging interest in bikes during the COVID-19 pandemic has made inventory hard to come by. Brands have been forced to find substitutes for components they can't source, and Aventon is no different. The Zoom brakes that came on the step-through version of the Level aren't a "downgrade," but are rather a substitution.
Now that we have gotten that out of the way, how did they perform?
Pretty dang good if you ask me, the Zoom brakes out performed the Bengal brakes that were on the standard Level by over 3 feet.
During our brake test it took us an average of 14'10" to stop. That's not very far when you consider the fact we were braking from around 20 mph every time. With the Level being designed for commutes I am happy to see that the stopping power is there.
The Zoom brakes make the Level a lot safer going down steep hills at speed, and in scenarios where you may have to lock up the brakes to avoid something like an intersecting car.
Frame
It's good looking isn't it? I think Aventon nailed it with the way they designed their 6061 alloy double butted frame. The battery integrates nicely and overall it just it feels very strong and stable, even without a top tube. The frame also has internal cable routing.
I also am a fan of their branding and choice of colors on the frame. Neither the color, or the Aventon logo scream "hey look at me" while still managing to look great. As somebody who has always been a fan of lower profile bikes, I appreciate the subtle yet visually appealing design they've gone with on the Level step-through.
Fork
The Level step-through comes with a Zoom 75mm spring suspension fork that helps with road and trail chatter and overall riding comfort. The fork comes with a lockout too if you are looking for a little bit of extra pedaling efficiency.
The fork adds a lot of value to the Level, and it was very much appreciated when riding on rougher roads throughout town. When you take the 28 mph top speed of the Level into account, I think it's a really good thing they included a suspension fork.
Not only does it soak up chatter, I think it makes the bike safer too. If your front wheel runs into a rock it's a lot less likely you'll be taking a spill when you have a suspension fork to soak it all up. With that being said, I found myself riding faster than I think I would have with a rigid fork.
Drivetrain / Shifting
The Aventon Level comes with an 8-speed Shimano Acera drivetrain that was plenty to cruise around town at high speeds and manage steep hills without having to push too hard. In true Shimano fashion, the shifting is very crisp and consistent.
It's also got an underbar shifter, which we like much better than the overbar setup on some other e-bikes.
Contact Points
I tried to imagine myself commuting to work in full professional attire when taking the Aventon Level's contact points into account.
I asked myself questions like: "Is this bike comfortable enough to commute with every day?" and "Does the Level step-through truly have ergonomic contact points?" After lots of miles on the Level, I can say "yes" to both of these questions with confidence.
The Aventon branded Velo saddle is a good size for a commuter. It's wide enough to distribute your weight evenly and thin enough that it isn't in the way when you're pedaling out of the saddle.
The 680mm alloy handlebar was a comfortable width for me. It felt stable and wide enough that I was able to use my arms to absorb bumps in the road and the occasional jump off of a curb. It also is connected to a stem with a 7 degree rise which allowed me to sit a little more upright.
The pedals are fairly standard 9/16" alloy platforms with reflectors. I think they are a good width for keeping your foot on the pedal, and since they are alloy they're able to withstand pedal strikes pretty easily.
As a whole, I believe the Aventon Level step-through to be a comfortable enough commuter bike that I think most people could commute on it without any discomfort at all.
Tires
The Level step-through has 27.5" x 2.2" Kenda Kwick Drumlin tires with puncture resistant technology and reflective sidewalls. These tires held enough air that I felt like a lot of the "micro chatter" on the roads and paved trails I was riding was absorbed by the tires, making for a smoother ride overall.
The Kwick Drumlins gave me confidence to get lower on corners and to take the occasional off-road shortcut when riding. While these tires are definitely intended for on road use, the width and puncture resistance allows you to get away with rolling over debris and off-road surfaces if need be.
Extras / Accessories
Aventon offers quite a few different accessories and extras on their website. They also offer 10% off accessories with the purchase of one of their e-bikes.
I was actually pretty impressed with the amount of inventory they have for purchase on their website making it much easier to set up your Aventon the way you want it.
Aventon Level Step-Through Review: Summary / Where to Buy
Aventon packed a lot into the Level step-through, especially when you take its $1700 price point into consideration. The geared hub motor feels tuned with commuting in mind and it kept me riding at a high average speed over long distances.
The step-through model may not have made it as far in our range test as the standard Level we reviewed did, but it definitely made up for it in overall average speed. The 23.4 mph average speed I received on my range test was really impressive. Based on my results I'm confident that I could make it to work with time to spare if I commute on the Level step-through.
The front end of the Level is one of the main factors when talking about speed and handling, I simply felt at home behind the handlebars on the Level. The 75mm suspension fork and 680mm handlebar width make for a confidence-inspiring combination that allowed me to go faster without feeling out of control.
The 8-speed Shimano drivetrain was a major factor in me staying fresh over the span of longer rides. It paired up nicely with the 500W motor and I always felt like I had a gear for the section of road or trail I was riding no matter how steep. With that being said, pedaling up hills with the bike turned off or dead may prove to be a bit of a challenge, but it is still doable if you're in a pinch.
Aventon does most of their sales direct to consumer. For current pricing on the Aventon Level Step-Through click on the button below
Aventon has been making bicycles for nearly a decade now and it shows. The fine details such as the internal cable routing and low profile welds really add up into a well built commuter e-bike. Regardless of if you're a commuter or somebody who just wants an e-bike to explore around town, I think you're going to find a lot of value in the $1700 Aventon Level step-through.
It's affordable, it's quick, it rides smooth, and it looks pretty dang good if you ask me.
Happy riding! What are your thoughts on this bike after reading our Aventon Level Step-Through review? Which e-bike would you like to see us review next? Let us know in the comments below.
Reader Interactions