DT Swiss Launches HYBRID Wheels for Electric Mountain Bikes
By Susanne Brüsch
Ride further, ride harder, share the ride––this is how Daniel Berger, godfather of e-mountainbiking at DT Swiss bicycle component manufacturer, described the benefits of e-biking at the recent "MissionHybrid" press event in Biel, Switzerland.
The extra power that e-mountainbikers get to experience, poses a whole new set of challenges to ordinary bike components – more miles, more vertical, more weight and more torque.
DT Swiss has developed a series of extra strong, yet light weight components, including rims, spokes and hubs, to "unleash the full potential" of eMTBs.
The brand-new series of system wheels called "Hybrid" is going to be launched in the US at the Sea Otter Classic in Monterey, California, on April 20, 2017 and will be available at dealerships in May.
Extend Your Ride
Late last month, a group of journalists had the chance to test ride the new Hybrid wheels in the Swiss mountains around the city of Biel, where DT Swiss is based.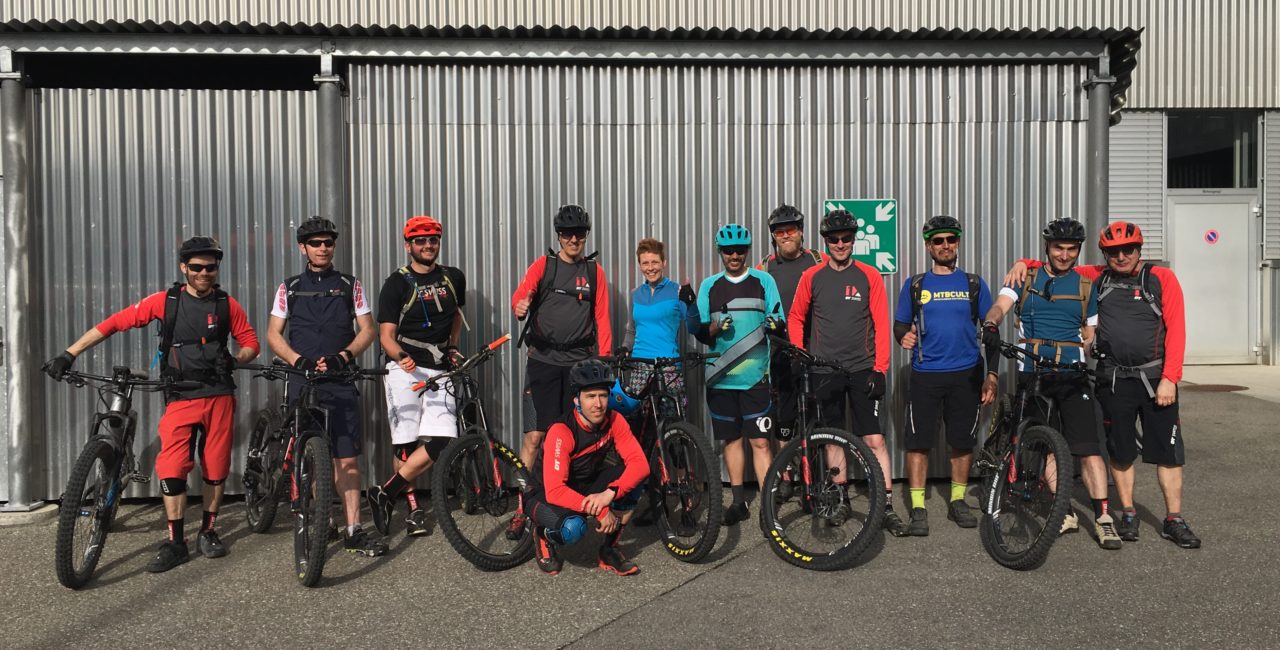 I was one of them and had great pleasure riding heavy duty Bosch-powered eMTBs using the new Hybrid wheels a on a 21-mile-ride with over 6,500 feet of climbing in barely 2 hours.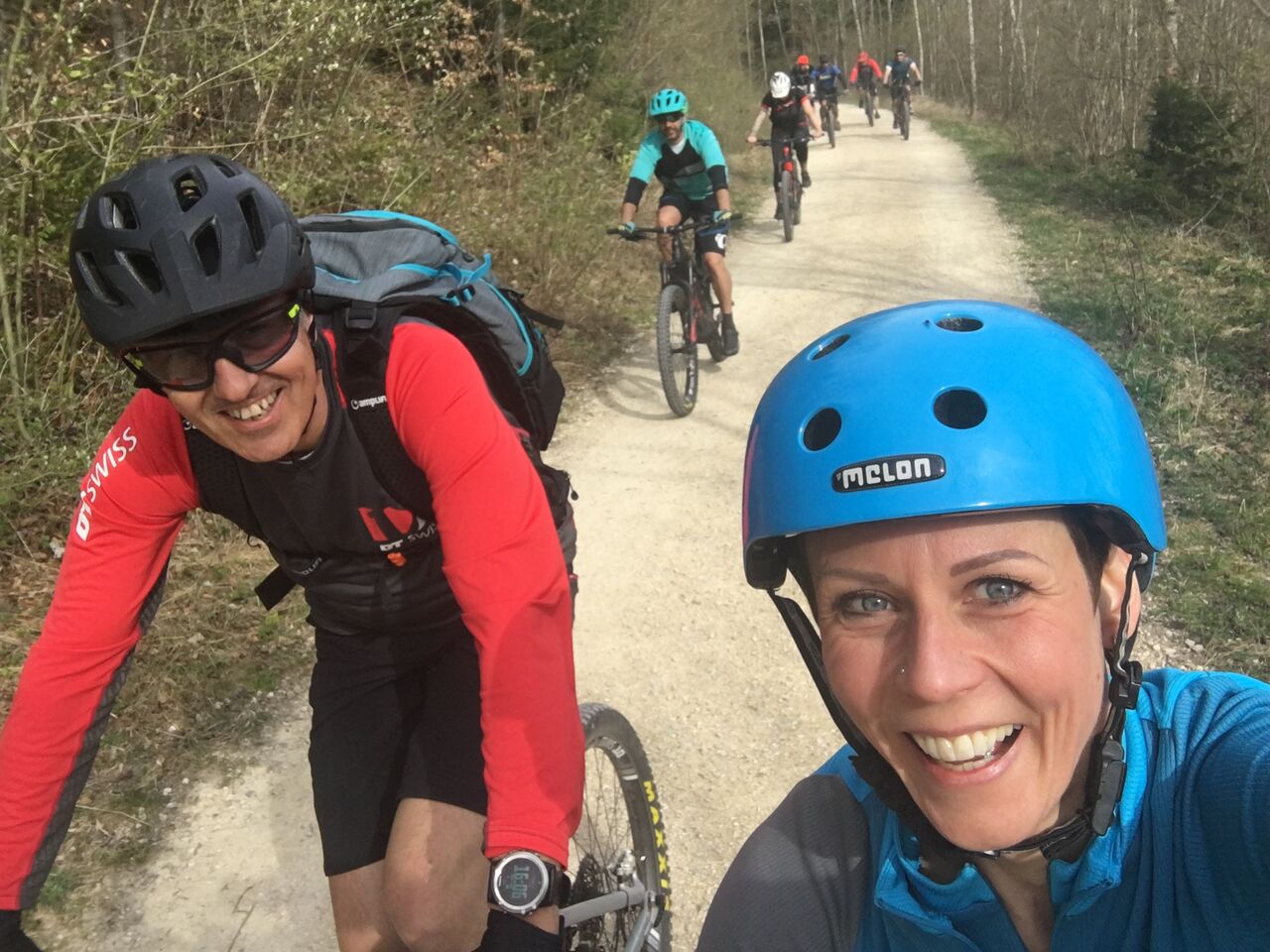 Following single tracks most of the time, we climbed steep and technical uphills, enjoyed amazing views of the snow-covered peaks of the nearby Alpes before we hit a long, rocky downhill.
After climbing the Sierra Nevada and the Rocky Mountains on my latest Pedelec Adventure trip, the Sand to Snow e-bike journey through Western USA, I am still amazed every time how far, how steep and how fast you can go on an eMTB, ever again expanding your own limits.
"This personal experience is exactly how the Hybrid idea started at DT Swiss," said Vice President Daniel Berger who has been with the company for 22 years. "I started e-performance mountainbiking 1.5 years ago and immediately felt – wow, this is my new big thing. I have done mountainbiking for over 30 years, big and long tours, but in the meantime with the job, with family I am not on the former fitness level any more, yet I still love to do all this. E-mountainbiking for me, today, turns pain into fun and I think for other people, too." said Berger, lately nick-named E-Berger.
The team at DT Swiss tracked their riding patterns on eMTBs over an entire season and reached an average of 1,175 miles, 180 nm peak torque, 230,000 feet elevation gain, 400 watts average power output and an average speed of 13 mph.
This data made very clear –– its a hard life for wheels. "While riding eMTBs over long distances and in difficult terrain, we felt that standard components were not good enough," said Hybrid Product Manager Nick Balla. "To bring eMTB riders the components they need, we developed the Hybrid line".
He further explained that the new wheels will unveil their true benefit in life span and durability over time, rather than on a day's ride. "Extend your ride, that's our Hybrid mission," Nick Balla added.
In-house testing
In addition to extensive personal eMTB experience combined with highly specialized know-how, the DT Swiss team has done intense in-house testing in order to offer products for any eMTB, under any rider.
How strong is strong enough? "Not even the strongest rider or the strongest eMTB motor out there will challenge the wheel as much as our test machines do," was the answer of Prototyping and Testing Manager Philipp Lüdi.
"To find the perfect strength to weight ratio, many iterations are needed. To do these product development iterations, you need the ability to quickly prototype products. We have set up a global network of in-house and external specialists that make this happen. At the same time as these wheel prototypes are tortured on the test benches, we make sure they hit the dirt as quickly as possible, because in the end, what a rider feels through his arms, legs and butt is what ultimately counts," Lüdi explained.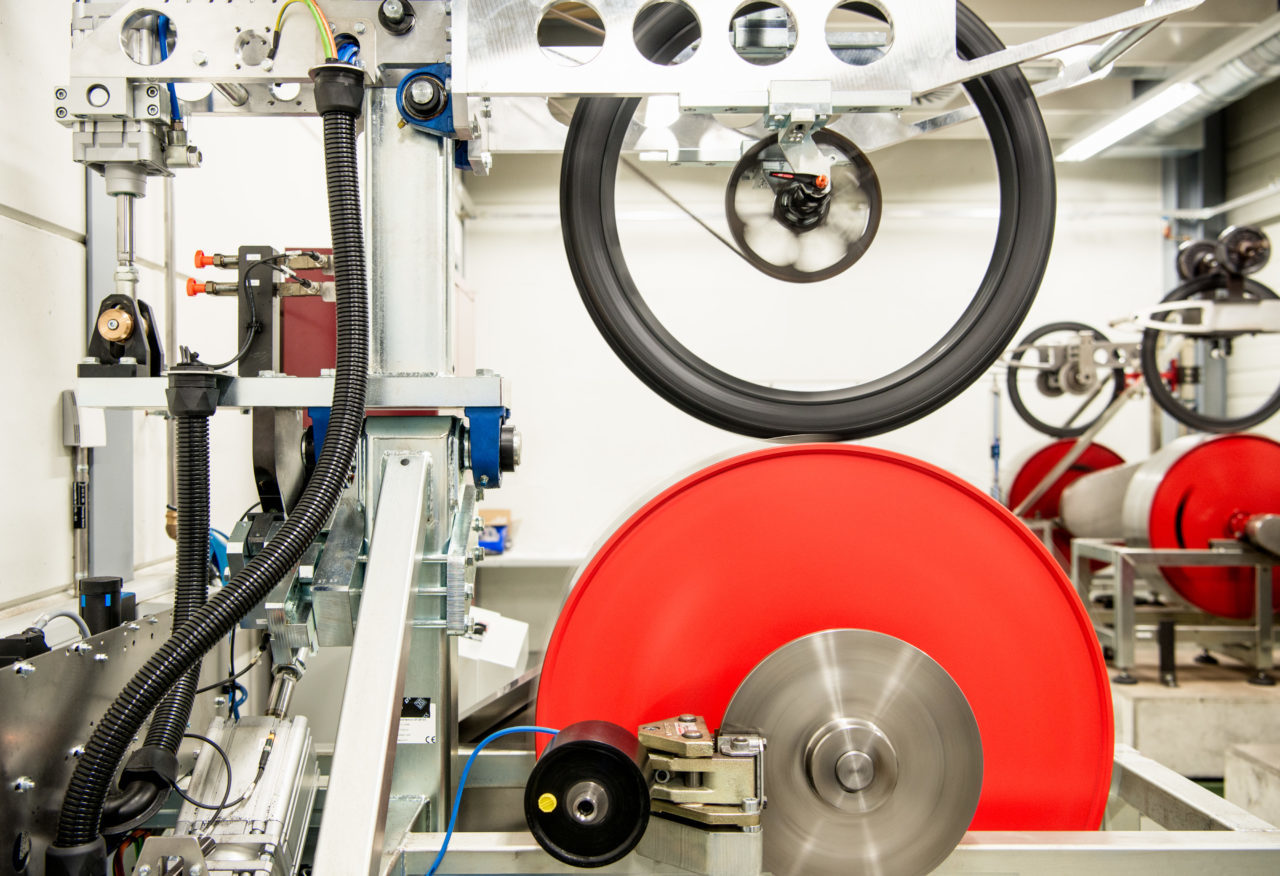 On a guided tour through the test lab he gave us a close insight into the testing and prototyping procedures. We had the chance to see some of the tests done on Hybrid and regular wheels for comparison.
Rims
The Hybrid rims stick with the DT Swiss signature profile designs and are engineered with increased wall thickness for increased traction and comfort. "We have added strength and material where it makes sense in order to deliver tough, eMTB specific rims that are offered in a range of widths (25, 30, 35 mm) to match any type of riding on any type of terrain," so the claim of DT Swiss.
Just to give you some test data of the Hybrid rims compared to standard MTB rims:
The spoke pullout resistance increased by 20%. The approved system weight could be increased from 265 lbs (120 kg) to 331 lbs (150 kg). And the durability test showed 27 life cycles compared to 13 on an ordinary rim.
Hubs
The Hybrid hubs feature increased wall thickness in the oversized shell, high load axles and oversized spoke interfaces. This is complimented by new hardened steel 24T ratchets, oversize bearings and steel rotors.
Via this optimization DT Swiss engineers have achieved a 331 lb (150 kg) system weight classification with a weight increase of only about 10% compared to same level MTB hub.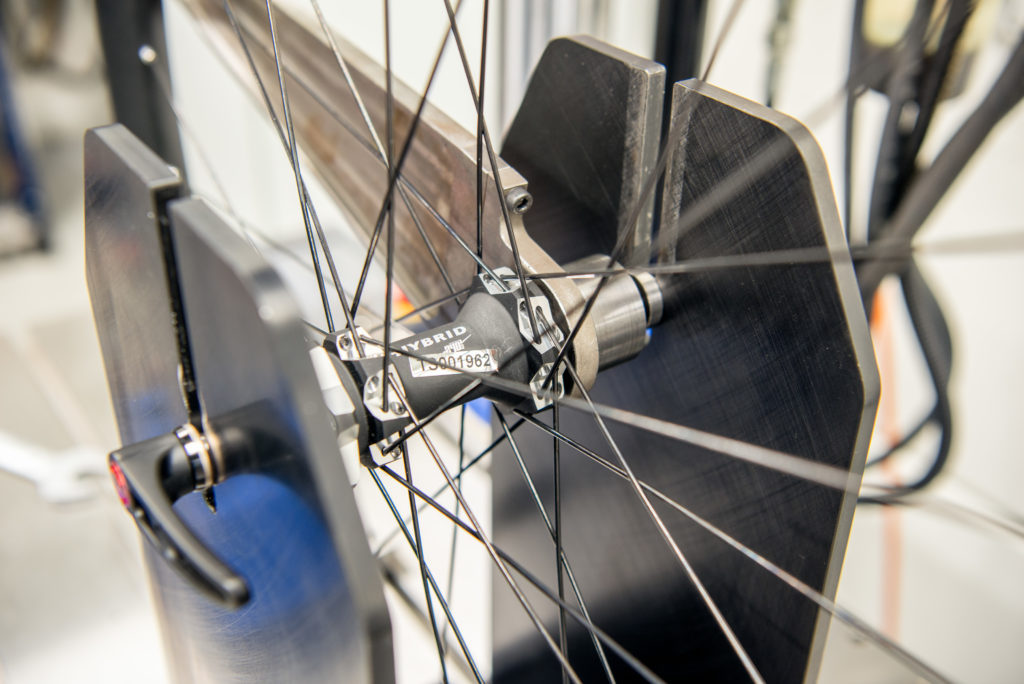 The hybrid hubs withstand torque load tests of up to 500 nm (compared to 400 nm on a regular hub) while the bearing load has almost doubled in order to create an extremely robust wheel as the test data show.
Spokes
To complete the Hybrid system, the spokes needed to withstand the increased weight and torque of a modern eMTB, and also pair perfectly with the oversized dimensions of the Hybrid hubs.
Specially designed straight pull spokes feature reinforced and oversized straight pull heads that together with DT Pro Lock® Squorx nipples help transfer all the power the rider puts into the hub into forward motion.
The tensile strength was tested to exceed the normal MTB standards by up to 35%.
Four Hybrid Wheel Sets on Offer
DT Swiss offers four Hybrid wheel sets at a wide price range in order to address every eMTB rider, no matter how he or she rides and what the bank account says.
The top of the line is the HXC 1200 Spline wheel set that comes with 30mm wide carbon rims in the dimensions 27.5 and 29 inch. Classified for a max. load of 265 lbs (120 kg), the 27.5 inch wheel itself weighs 1,678 grams. A wheel set of this type costs $2,962 USD.
The next model in the line, the HX 1501 Spline, uses aluminum rims which adds 220 grams (total 1898 g) to the total weight. At the same time aluminum increases the system weight classification to 331 lbs (150 kg). The 27.5 inch version will be available at $1,420 USD.
Hybrid H 1700 Spline and H 1900 Spline cover the price range under $1,000 USD. Just like the HX 1501 they are available in 25, 30 and 35 mm width with the 30 mm version being offered in both, 29 inch and 27.5 inch.
The entry level H 1900 Spline comes at $512 USD per wheel set and weighs slightly over 2000 grams.
It All Started With Wire Production
The history of DT Swiss dates back to the year 1634 when United Wire Works (Vereinigte Drahtwerke) produced wire for telecommunications in Biel.
In 1994 a management buyout resulted in the foundation of the DT Swiss AG by Frank Böckmann, Maurizio D'Alberto and Marco Zing with the first two still owning and managing the company today.
The "D" in the name stands for "Drahtwerke" – the German word for wire works – and "T" for "Tréfilerie" which means wire works in French. The company name thus reflects with the bilingual status of the city of Biel.
Today, DT Swiss has established itself as a leading manufacturer of spokes, nipples, hubs, rims, complete wheels, and suspension systems.
The company, headquartered in Biel, Switzerland, runs subsidiaries in Colorado, Taiwan, Germany, France, and Poland and counts 800 employees worldwide.
By Susanne Brüsch
Check out her electric bike adventures at Pedelec Adventures.
P.S. Don't forget to join the Electric Bike Report community for updates from the electric bike world, plus ebike riding and maintenance tips!
Reader Interactions