Colorado Divide Electric Bike Adventure to 11,500 ft.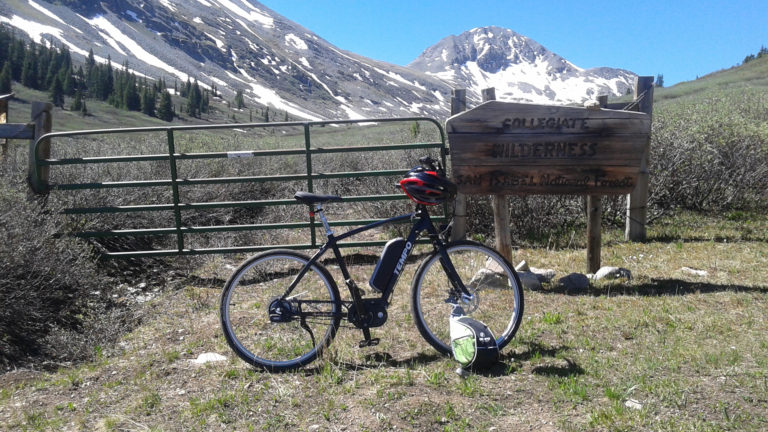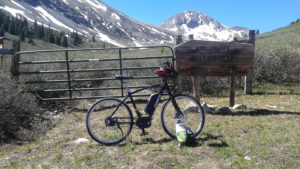 By Charlie Gandy.
There is a place at 11,500' elevation, deep in the heart of the Colorado Rockies, that I want to tell you about.
This place requires some mountaineering chutzpah to get to, and some high altitude attitude to thrive in.
So this time I got there, and back, on Tempo's Carmel electric hybrid bike, and am inspired to share this story.
Mile 1
Frankly I didn't know what to expect. Worst-case scenario – bike fails and I walk back.
It's a full-blown jeep trail on the Continental Divide at 11,500'. And it's downhill the whole 6 miles back. So I wore a helmet, just in case.
I have been up and down this valley passage since I was 10 years old, living in Denver in 1968. By pickup truck stuffed with a big family sized cotton tent and 5 sleeping bags when we first went up to scout out an amazing opportunity.
In 1968, Chaffee County, high up in the middle of Colorado's most majestic mountains, was still giving away free land to homesteaders. So our family started homesteading 120 acres up this valley, making several intrepid trips each summer to camp and make improvements on our land.
Today with my Tempo Carmel I think I get to make a little history by being the first person to ride up the South Fork of Lake Creek Road on an electric bike.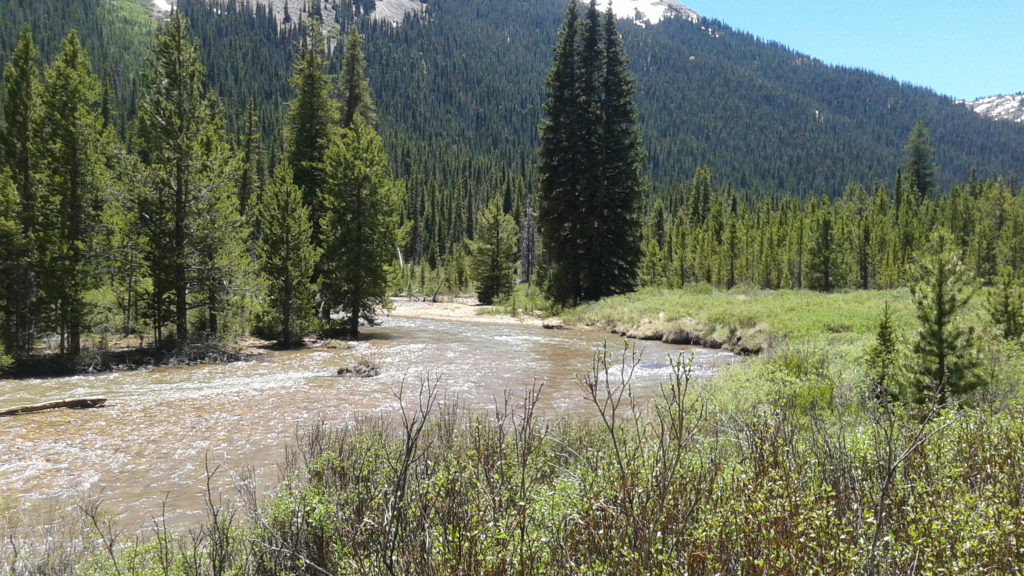 Starting from Hwy 82 the route crosses Lake Creek, which is running high and fast, like all the creeks in the area now due to snow melt runoff.
After featuring large mud puddles of mysterious depth, the jeep trail starts to climb. It is dry and rocky but most of the rocks were fixed and so traction is pretty good.
I didn't really know what to expect out of this Carmel. Almost all of my experience on it has been on paved, level ground, framing the testing as a commuter.
So as I dove into the task of climbing this hundred-foot hill – increase cadence, breath, pick the right route, keep spinning, out of saddle if need be, keep the momentum forward – I could feel the NuVinci hub doing its magic in finding a nice climbing gear as the MVF motor suck up power from that 36 volt battery and provided the angel like wings under my pedals as I confidently conquered that hill.
Mile 2-3
How sweet is was to come up into the South Fork Valley and see the long view up to Middle Mountain and ride along the creek that forms just up valley.
In winter this valley fills with snow and the mountains provide avalanche drama starting in January, ending in April.
By mid-June when I did this ride the trail was mostly dry accented with spring runoff in one track or the other, muddy puddles, stream crossings and wildflowers.
Imagine my pleasure as I got to meander up the valley on a civilized incline at an almost effortless pace. My Carmel read the conditions and responded nicely.
The relative ease of these two miles gave me an opportunity to simply look around. If you look closely at the this photo, you'll see two mule deer posing across the creek with the bike.
Mile 4
To get to the cabin pictured below you have to cross this creek. It was running too high and fast to ride any bike through, so I picked it up and carried the Carmel across and stopped at my favorite cabin for a break and the memories.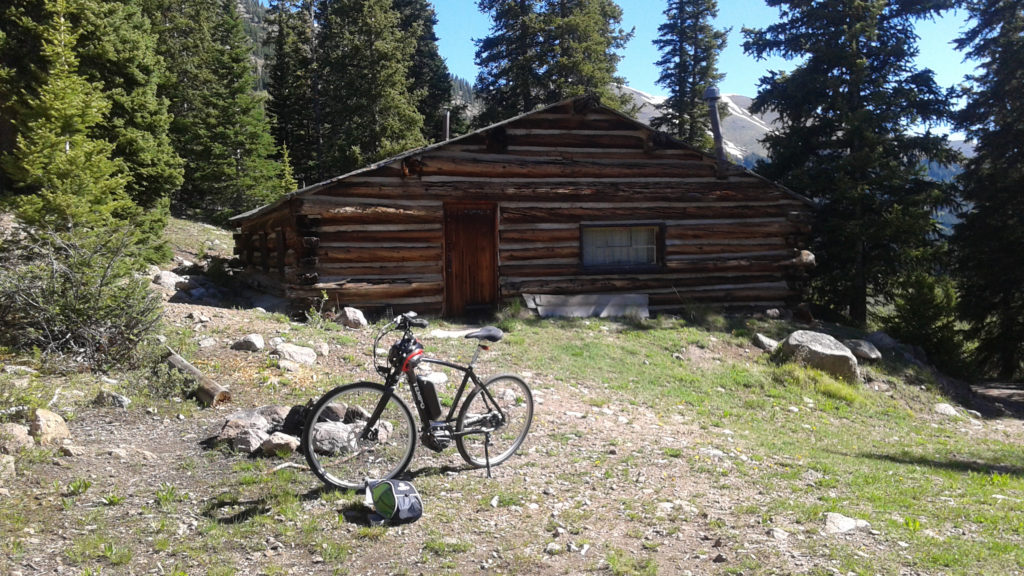 This cabin was built around 1900 and is owned by our neighbors. We stayed in it once when I was about 12 years old and it was here I learned a very valuable lesson about heat. It hurts and is invisible.
That stove pipe on the right side of the cabin is connected to the wood burning stove that burned my hand SO bad when I was reaching for something in a cabinet above it. I can still feel it burn, can you?
We, my bike and I, made it to our promise land, our homestead. On a 72-degree summertime day at 11,500′ altitude, deep into a special valley off Independence Pass, we made it back to my childhood playground and adventure land.
Yes for me getting back here almost every summer is a sojourn. I get to reset, think out loud, remember and take account, and look ahead and dream.
Mile 6
A mile beyond our homestead at about tree line is the end of the road and the start of the Collegiate Wilderness. Our homestead is happily a part of this wilderness area now and open to you and me for free, forever.
This last mile is steeper and rougher than the others. The Carmel performed beyond my expectations. In fact by the time I got here I had stopped coddling the bike and was putting it thru its paces.
It took everything I threw at it admirably. I took a break here and contemplated the payoff for this just completed six-mile climb – six miles back down fast.
I like risk taking. Calculated and considered risks. So today after a timid start to test the disk brakes and handling this 53cc Carmel in the gravel on steeper runs, I gradually let go.
In a couple of the longer stretches of less steep I was reaching speeds that guaranteed problems should I go down, therefore focusing my attention on the immediate issues ahead.
And in the steeps, even the wet ones, the bike stayed the line, the brakes stayed dry and tight. Even the tires surprised me with their grip in wet and dry gravel.
Overall this Carmel performed closer to a traditional mountain bike than I expected. Uphill at full power gives the ebike rider a power boost that would exceed that of a normally geared traditional mountain bike. And the power can be adjusted down to achieve longer range or more of a workout for the rider.
On the downhill the Tempo Carmel was a sweet ride that had the feel of a traditional mountain bike. It was agile on the steeps and sure footed at speed.
So what an adventure day – at altitude, in paradise, and finding my Tempo.
About Charlie Gandy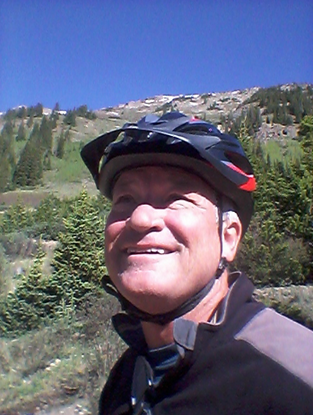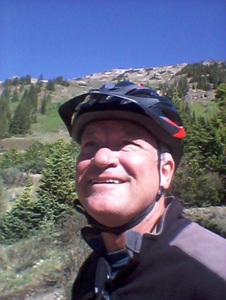 Charlie is a special Ambassador for Tempo Bicycles. He's a nationally recognized expert in bicycle and pedestrian advocacy, and a popular consultant and speaker known for sparking innovation.
Charlie founded Bike Texas, created the Thunderhead Alliance retreat for biking and walking advocates, played a key role in raising funding for and running the original "Bikes Belong" national political campaign to fund biking, walking and public transit at the federal level, and originated and developed the Bike Friendly Business Districts program in collaboration with Bike Long Beach for the City of Long Beach.
Charlie is currently section hiking up the California Coastline. He's finished the Southern half from Tijuana to Santa Cruz and is avoiding the satanist poison oak as he works his way north to Oregon. Learn more about him on his blogs Walking California's Edge and  "Travels with Charlie" here.
Stay tuned for more eBike adventure stories on Electric Bike Report!
P.S. Don't forget to join the Electric Bike Report community for updates from the electric bike world, plus ebike riding and maintenance tips!
Reader Interactions