Choosing Between the Bionx or eZee Electric Bike Conversion Kits: A True Story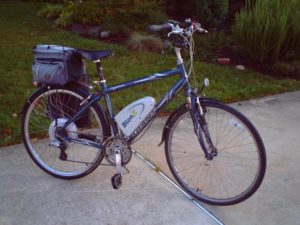 This is a guest post from Peter Rosenfeld; not to be confused with me!  Peter Rosenfeld is a research engineer who lives in New Jersey just outside of Philadelphia. A long-term Vehicular Cyclist, he started using a Bionx ebike three years ago after medical problems made it difficult to continue bicycling.
I'm on my third year with an ebike. I'll talk about my motivation for getting an ebike in a later post. This is about how I selected my ebike solution.
As an experienced bicyclist with 30+ years of commuting, touring and club riding, I had some firm ideas about what would be acceptable to me in an ebike. Because I love riding bicycles, the most important aspect to me was that the ebike felt like a bicycle. I had never, at this point, ridden an ebike, so I had a lot of research to do.
I already had a decent hybrid bicycle, so didn't want to buy a separate ebike. Instead, I wanted a kit that I could add to my existing bike. But I wanted the bike + kit to be: reasonably light; ridable even without battery power ( newbie range anxiety); and have a good battery range so I could still bicycle all the routes I had been doing in the past.
I ended up deciding I needed a lithium polymer-based battery system to achieve these somewhat contradictory goals. I also wanted a kit that was easy to install and not make the bike too "klutzy" looking. After much research, I decided it would be between a eZee or Bionx kit. Both offered a range of motor powers, so I decided to go with the slightly more powerful 350 watt motor just in case I eventually found the lower power no match for my rather large 190 lb frame.
The only decent ebike shop in my area at the time was NyceWheels on the upper east side of Manhattan in NYC. They offer several kits and have the kits mounted on various demonstration bicycles. They also have a large selection of complete ebikes.
I talked to their very knowledgeable people several times by email and phone and they confirmed that the best solution to my needs would be the Bionx and eZee hub kits. So I hopped a train from Philadelphia to NYC to test ride their bikes before deciding which kit to purchase from them.
The shop was very helpful and let me test ride to my heart's content. They had a Bionx PL350 kit mounted on a Dahon Mu folder. They don't have the Ezee kit on any bikes, but I tried two eZee bikes which use the same 350W hub that I was interested in, the Forza and the Torq II. One had a grip throttle on it and the other used the Ezee Assist Dial.
Because I do a lot of city riding and wanted to see how the controls worked for this type of riding, I test rode all three bikes on the Upper East Side streets around NyceWheels. A lot of stopping and starting in moderate to heavy traffic. Then a brief speed run in Central Park.
The Bionx was incredible. I used the thumb throttle when pulling out of stops and could easily accelerate with all the cabs and cars around me. Then I could just let the pedal torque sensor handle things and cruise along. I found assist level 2 (out of 4) was more than enough to easily cruise at 20 mph. There's a short, moderate hill on York Ave that I could fly up at this assist level.
The eZee bikes were very elegant looking, with the electric assist system seamlessly integrated into the bikes. The eZee bike with the grip throttle was OK. But I found it harder to have a really smooth experience as I was always adjusting the throttle position to maintain the proper speed. I imagine once I was more experienced I wouldn't even notice this. But the throttling was somewhat non-linear. It felt like I had two speeds – high and low – and not much in between. Again, this could have been my inexperience.
Then I tried the Ezee with the dial assist which is apparently also an option with the hub kits. The dial box had a sort of a retro 50's dial look. As I understand it, the system uses a pedal rotation detector. When it detects pedal movement, it supplies pulses of power. The length and strength of the power bursts is determined by the assist dial setting. So you'll be pedaling and feel a pulse of power every few seconds. It actually works better than it sounds when you are cruising. The momentum of the bike smooths the pulses and it ends up feeling pretty smooth.
However, I was braking a lot and I found myself fighting the pulses a lot during the braking. A pulse would start just when I needed to brake and continue even after I started braking. I suspect I was slowly turning the pedals as I braked and this is why the pulses continued into the braking. I do tend to slowly pedal even when I'm stopping to position the pedals for when I kick off again. So I could probably learn to always stop pedaling before braking and avoid this effect. Don't know.
In the "open roads" test I did in Central Park, I got on a long stretch of park road and opened them up. They all did about the same, although the Bionx had the best acceleration. But that's probably because the Bionx bike setup was much lighter than the Ezee bikes. The Ezees weighted 60+ lbs while the Bionx bike was around 40 lbs. But they would all weigh about the same if used as kits on the same bike.
I briefly rode another eZee bike with a 250 watt motor. It was adequate but I liked the extra power of the 350W systems.
They all seemed like very decent systems. And these tests were run three years ago, so the eZee control systems may have been improved since I tested them. But overall I just really, really loved the torque sensor mode of the Bionx. It is so transparent to the bicycling experience. The bike feels just like a bike always does, but my legs are suddenly much stronger. Plus you can also use the thottle with the Bionx PL350, which seems like the best of both worlds.
Too bad the Bionx is the most expensive system! The Bionx is the "Cadillac" of the kits and you pay for it. The eZee kits, at a price 2/3rds or less than the Bionx, would certainly work as very decent kits. All these kits are much higher quality than the large number of economy ebike kits you can find on the internet. And if I was in the market for a complete ebike, I would certainly consider the eZee bikes due to their good looks and seamless electrical integration.
I'm very happy with my choice, though. Three years later and with about 9,000 miles on the Bionx, it is still running perfectly and I'm still enjoying the ride.
End of Guest Post
What do you think?  Do you have any questions for Peter?  Do you have any experience with the Bionx or eZee electric bike conversion kits?  Please leave you comments and questions below.
Thanks!
-Pete
P.S. Don't forget to join the Electric Bike Report community for updates from the electric bike world, plus ebike riding and maintenance tips!
Reader Interactions