BULLS Grinder EVO Lite Review 2023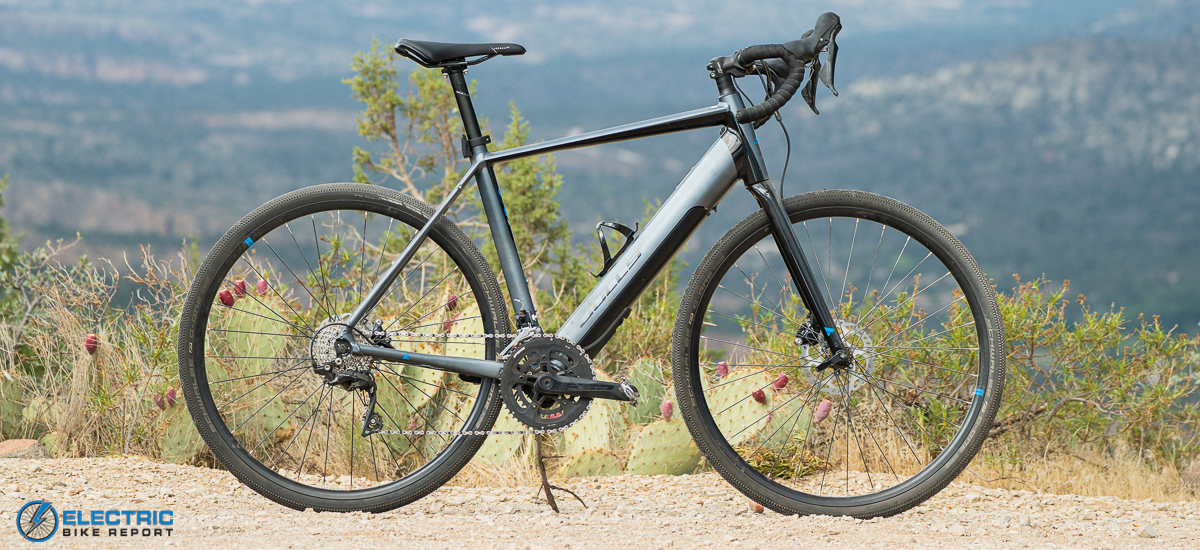 BULLS Grinder Evo Lite Review: Overview
I love electric bikes that make me forget they're electric bikes.
It's not that I'm one of those cyclists who dislikes e-bikes or even remotely thinks they are cheating, but I am a person that identifies as a "cyclist." I'm a bona fide, lycra-wearing endorphin addict who not just appreciates, but craves the feeling of physically taxing myself on a bike.
I'm also the type who's grown to appreciate the help of an e-bike, especially the stealthy superlight variations that've grown more popular over the last few years.
That's why I loved reviewing the BULLS Grinder EVO Lite, a hybrid road and gravel electric bike designed to be an affordable do-it-all e-bike with a motor that compliments your pedaling, but doesn't overpower it.
It's got fatter, knobbier tires and disc brakes, but it's not designed to be a thoroughbred gravel bike. The Grinder is designed for the gravel curious, who maybe want to dabble on gravel roads but also want an e-bike that'll be equally at home on pavement.
In some circles — probably the same people who thought up the *great* idea of calling non-motorized bicycles "acoustic" bikes — this sort of bike is called an "allroad" bike. This hybrid road/gravel ethos is further evident in the bike's geometry, which more closely matches that of a comfort road bike than a longer-wheelbase gravel bike.
It's also designed to be affordable. The Shimano 105 groupset is solid and reliable, but not over the top, and the frame is made of aluminum, helping to keep the cost below the $4,500 mark — pretty cheap for a performance e-bike.
But the Grider does not ride cheap. The component package is utilitarian but solid, even featuring such luxurious technology as hydraulic disc brakes and great tires from Schwalbe.
The cherry on top of this bike, however, is undeniably the Fazua Momentum drive system. This is the second BULLS I've reviewed with this lightweight and lightly-powered motor — the BULLS Alpine Hawk EVO was the other — and I'm a very big fan.
Bike Category:
Electric gravel bike
Bike Class:
Class 1: Pedal assistance up to 20 mph
BULLS Grinder EVO Lite Video Review

Pro's
The Fazua drive system is awesome. We love how it delivers power, its light weight and that it's removable.
Though it has an aluminum frame, the bike still feels compliant over rough roads.
The Shimano 105 drivetrain helps keep things affordable without sacrificing performance.
Hydraulic disk brakes on a bike this affordable is a nice touch.
At just over 36 lbs, the Grinder pedals very well without help from the motor. It's a very efficient bike.

Con's
Like its sibling bike the Alpine Hawk, the Grinder is only available in two frame sizes — 54 cm and 58 cm.
The wheels are not tubeless ready.
ELECTRICAL SPECS & FEATURES
Battery: 36V, 7Ah (252Wh) Fazua battery
Display: No handlebar display. Just a touchpad located on the downtube of the frame.
Motor: 255W Fazua Evation Black Pepper motor
Headlight: N/A. Stem is compatible with the magnetic Monkeylink light
Taillights: N/A. Seat collar is compatible with the magnetic Monkeylink tail light
Peal Assist: 3 PAS settings: Breeze, river and rocket modes
Range:50 Miles
Throttle: None
Weight & Dimensions
Fazua Drivepack Weight: 10.3lbs
Claimed weight: 36.3 lbs
Components & Accessories
Brakes: Shimano 105 hydraulic disc brakes with 160mm front and rear
Fenders: None
Fork: Carbon fiber
Frame: Aluminum
Drivetrain: Shimano 105, with a 11-34t cassette and 50/34t front chainrings
Grips: Standard cork bar tape
Saddle: BULLS
Handlebar: BULLS branded alloy
Kickstand: None
Pedals: Wellgo alloy
Tires: Schwalbe G-one Allround with RaceGuard — 700x38mm
BULLS Grinder EVO Lite: Performance and handling
How the BULLS Grinder EVO Lite rides
Though the Grinder is built to go off-road, it's really hard to deny just how similar it is to its pavement-only sibling, the BULLS Alpine Hawk EVO.
Both bikes share the Fazua drive system and even share the exact same geometry, though the Grinder is aluminum and the Alpine Hawk is carbon. But the similarities between the two bikes stop there. BULLS has made some smart changes to the Grinder's component package and cockpit that make it remarkably capable on gravel roads while still retaining the more upright and relaxed body position we liked so much on the Alpine Hawk. Those changes, which we'll get more into below, also helped keep the cost of the bike down — which BULLS said was a goal with the Grinder.
While the bike does share the same frame geometry as the Alpine Hawk, BULLS did fit the bike with a notably shorter stem on the Grinder, further shortening the reach and giving the bike slightly quicker steering — a nice touch on bumpy dirt roads.
Like its sibling the Alpine Hawk, the Grinder is a member of the budding "superlight" category of e-bikes that prioritizes fitness, stealthiness and weight by using smaller motors and batteries.
Though it places an emphasis on pedaling, the 255W Fazua motor gives one hell of a push — particularly on steeper hills. Think of it as taking the edge off some of the more unpleasant parts of cycling. That's largely been the theme we've noticed from BULLS bikes that EBR has reviewed
Range Test
We conducted two range tests on the Grinder to get a picture of how far you can ride the bike on a single charge. One test was on the lowest pedal assistance level — the "breeze" mode with access to 100W of the motor's power — and another test on the 255W max-power "rocket" mode.
These tests should be taken with a grain of salt, as a myriad of variables can impact how far a battery will last, but they do give an example of what range is possible from this Fazua powerplant.
On the minimum assist setting, our test rider made it 50.41 miles before draining the battery — a solid result from the 255W battery that's almost identical to the range we got on the BULLS Alpine Hawk, which uses the same motor and battery system.
On the maximum assist setting, our test rider was able to go an impressive 42.86 miles before the battery died. That's a substantial range considering "rocket" mode gives full access to the motor's 255W. It's also quite a bit further than the 25.53 mile maximum assist range we got on the Alpine Hawk. Though notable, this is an example of a range test that might need to be interpreted cautiously, especially considering it was so different from a bike with an identical motor and battery system.
Why should that max assist result be taken with a grain of salt? Mainly because it was done by a different test rider who's fitter than I. Thanks to a broken wrist, I was unable to do the maximum assist range test on the Grinder and had to pass on those duties to my EBR colleague Pierce Kettering, who's a pretty capable bike rider. His chosen range test route was also fairly flat, which alone would increase the bike's range, but I also suspect he's fit enough to easily pedal the bike faster than its Class 1 motor assistance limit on flat roads, which would also utilize less energy. That's just my theory, but either way a 40-plus mile maximum assistance range is remarkably impressive.
Circuit Test
Circuit test results of the BULLS Grinder EVO Lite may not — at least at first glance — appear to be the most compelling, but with a little context they actually paint a great picture of this bike.
For this test, we did three laps on the Grinder around our official Electric Bike Report test track in each of the bike's three pedal assistance levels — breeze, river and rocket — to demonstrate how the bike performs in each. We also did a lap with no assistance to set a baseline for how the bike pedals with no help from the motor.
On many e-bikes we review, this test yields a nice speed curve ranging from a relatively low no-assist speed that climbs incrementally in each PAS setting until it climaxes near the bike's maximum motor-assisted speed in the highest setting. But the Grinder and other performance e-bikes we've tested typically yield a much flatter curve.
The Grinder's average speed around the 1.04 mile loop, for example, only fluctuated by a few miles per hour from the no assist lap to the full-power "rocket" mode lap. There's one primary reason for this:
The Grinder is a bicycle first and an e-bike second, meaning it's built to be pedaled with no help from the motor. It's incredibly efficient and capable of high average speeds under human power alone. The motor is mainly there for help on hills and low-speed accelerations.
This point is well illustrated in the result from the Grinder's no assistance lap around our circuit, which yielded an 18.9 mph average just below the bike's Class 1 limit of 20 mph. By the next lap, on the low-power "breeze" mode, the bike crested that Class 1 limit and averaged 20.2 mph. It again clocked a 20.2 mph average in "river" mode and the average speed crept up to 21.1 mph in the highest assist setting.
So what's this test tell us? Mainly, it demonstrates just how well this bike pedals without help from the motor. It easily cruises on flat (paved) ground close to its maximum assistance speed of 20 mph, and that motor kicks in some additional watts on hills and while accelerating out of corners. If you want a better picture of just how much help this motor can give, jump down to the hill climb section.
Hill Test
As I've mentioned before, hills are really where the 255W Fazua motor really comes to life.
To review the BULLS Grinder EVO Lite's hill climbing prowess, we took the bike to some gravel backroads in the mountains above St. George and found a 1.58 mile hill with an average grade of 7.5 percent to test it out — a pretty typical length and pitch for a larger gravel climb.
Thanks to my injured wrist and inability to ride, I again enlisted Pierce Kettering to take the Grinder on two laps up the hill —once with the motor off and once on full power — to show just how much help that motor gives.
Like the Alpine Hawk I reviewed a few months ago, the results were impressive.
Pierce put in a solid dig on the hill without the motor's help, clearing the top in 12:46 with an average speed of 7.4 mph. To the Grinder's credit, that's a good time for a 36.3 lb bike. But it was a big effort on Pierce's part that left him gasping for air at the top.
With the motor on its maximum assist level, the Grinder shaved over four minutes off that time for a blazing fast time of 8:35 with an average speed of 11.1 mph. Pierce still laid down a good effort, but his breathing was much more controlled at the top and he recovered much quicker.
BULLS Grinder EVO Lite Specs/Features Review: Electric Components
The e-bike parts: Motor, battery, display and pedal assist
Powering the Grinder is the 255W Fazua Evation Black Pepper motor, a unique power plant that's lightweight and fully removable from the bike.
A 36V, 7Ah (252W) battery is also housed inside the removable drivepack and sits just on top of the motor. It's not the largest battery, but it pairs nicely with the 255Wh motor. The motor and battery combo couples with a mechanical gear box in the bottom bracket that transfers power through the cranks and into the rear wheel. Should you choose to ride the Grinder as a non-motorized traditional bike, this entire drivepack is removable and can be replaced with a hollow shroud — a swap that makes the bike about 8 lbs lighter.
I'm a really big fan of this motor. This is the second BULLS bike I've ridden and reviewed with the Fazua system, and I love how stealthy it looks and how well it matches your natural pedaling. As I mentioned before, I like e-bikes that make you forget they have a motor. The Fazua does this very, very well.
BULLS built the Grinder as a member of the budding family of "super light" e-bikes, which employ smaller motors and batteries in a drive system designed to emphasize fitness, ride quality and stealthy looks. The e-bike portion of the bike is designed to supplement a rider's pedaling instead of overpower them. To accomplish this, they took a less is more approach to the motor and battery, allowing them to conserve weight and achieve a very natural ride feel.
The Grinder is a Class 1 e-bike with pedal assistance to 20 mph. Fazua motors have three pedal assist settings starting at "breeze," or the lowest power setting with 100W of aid, then "river" or the mid-power setting with 210W of assistance and "rocket," the 250W highest power setting.
The "river" mode was my happy place — It's where I spent most of my time on flat roads and small-ish hills, though I did find myself toggling up to "rocket" mode on steep or long hills and I'd frequently drop down to "breeze" to conserve battery on downhills or pancake-flat sections. Despite its emphasis on fitness and a rider's pedaling, it's incredible just how much power this bike has. On steep hills, the "rocket" mode is aptly named; there were few steeps this bike couldn't fly over.
Like BULLS' other lightweight e-bike the Alpine Hawk, the Grinder is lacking a handlebar display or touchpad. Instead, the bike uses a remote discreetly mounted on the downtube.
This remote has five LED lights that show battery life and change color depending on your chosen pedal assist level. There's just one button in the center to turn the bike on and off, and touch-sensitive pads on the top and bottom of the remote allow you to cycle through the assist settings. This ultra-discreet display is another testament that the Grinder is a bicycle first and e-bike second. Sure, the lack of display and slightly hidden remote took a little getting used to, but I appreciated not having the handlebars cluttered with a big display and some buttons.
BULLS Grinder EVO Lite Review: Components and Accessories
Drivetrain and brakes
The impressively affordable yet capable Shimano 105 groupset is the chosen drivetrain for the Grinder, serving as another reminder that this bike has one leg in the road realm and the other in gravel.
The 11-speed 105 groupset is the most affordable of Shimano's performance road drivetrains, sharing much of the same tech found in the mid-level Ultegra groupset and the ulta-lux Dura Ace groupset. While it doesn't have some of the more rugged features found on mountain bike or gravel drivetrains — such as a chain-keeping clutch or a super wide gear range — it serves this bike well. The 11-32t cassette had a solid range for hill climbing and BULLS gave the bike a compact 50/34t crankset, giving the bike even more low-end oomph.
Braking is handled by a set of matching Shimano 105 hydraulic disc brakes with 160mm rotors front and rear, a solid and affordable setup.
Contact Points
All the parts your body connected with the bike were comfortable. Supporting your bum is the Selle Royal Asphalt GF saddle, which was narrow but fit me well. There's also a set of BULLS-branded aluminum drop bars for your hands and a BULLS-branded aluminum seatpost.
BULLS also spec'd the bike with a slightly shorter stem, reducing the reach and making the body position more upright. For those unfamiliar with drop handlebars, this change will likely make different hand positions a little more accessible by bringing the hoods and drops closer to the rider. The shorter stem does make the handling slightly quicker, though I quickly adapted to it.
My one gripe with the Grinder's fit is that it's only sold in two frame sizes — 54 cm and 58 cm. We reviewd the 54 cm BULLS Grinder EVO Lite frame and, while it was the correct size for me, according to BULLS, it felt a little cramped and I found myself putting a lot of pressure into my hands on the handlebars.
Keep in mind that all these parts are easily interchangeable with ones that better suit your body and riding style. In fact, it's incredibly common for people to swap out handlebars, stems and seats with ones they trust and know. Had this not been a review bike that we are returning to BULLS, I likely would have made some adjustments to make the bike fit my tall frame better.
The Grinder does come with a pair of alloy Wellgo pedals, though I imagine most people riding this bike will likely use clipless pedals. I personally rode the Grinder with a set of Shimano XT mountain bike pedals.
BULLS Grinder EVO Lite Review: Summary / Where to Buy
BULLS set out with the Grinder to build an e-bike that was approachable, affordable and versatile on and off-road. They wanted to make it light, fast and appealing to the traditional cyclist who wasn't opposed to e-bikes, but didn't want to give up the feeling of pedaling a bicycle for a little motor-assisted help.
I think they nailed it.
At just $4,500, the Grinder is one of the most affordable and best equipped performance e-bikes on the market. It's clear BULLS made smart choices on where to cut costs and where to splurge on a little performance. The Grinder is also just a remarkably well riding bike. It's light, handles well and applies power in a way that feels more like a gentle tailwind than help from an e-bike motor.
I think many, many people are looking for the perfect one bike that will do it all — but unfortunately few bikes are up to that task. The Grinder is the rare exception to that rule; it manages to balance road performance with off-road capability.
You can buy the BULLS Grinder EVO Lite at one of the many BULLS dealers speckled across the U.S. or you can buy the bike online and have it shipped to a bike shop near you for assembly.
'Happy Riding, make sure to let us know if you have any questions down in our comments section or if you think we left anything out in this review of the BULLS Grinder EVO Lite.
Reader Interactions