BULLS Alpine Hawk EVO Review 2023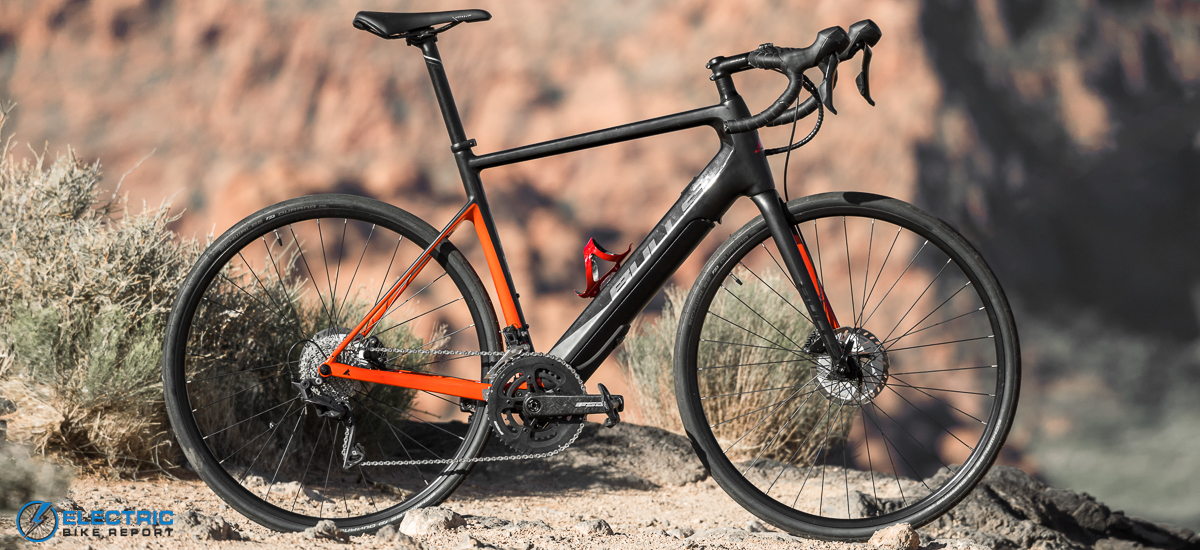 Summary Review: BULLS Alpine Hawk EVO E-Bike
If there's one thing I'd like you to keep in mind while reading through this review of BULLS Bikes' Alpine Hawk EVO electric road bike, it's that subtleness is the name of its game.
Part of the emerging category of super light electric bikes, the BULLS Alpine Hawk EVO blends the pedaling performance of a traditional road bike with a small and lightweight motor and battery, packing just enough punch to take the edge off the more difficult parts of road cycling. Think steep hills and hard, low speed accelerations. With a slim 250W Fazua power plant tucked inside the frame and few obvious buttons or LED lights, it plays coy that it's an e-bike. Even in the highest pedal assistance setting, I never felt like my legs were being overpowered by the motor and it was easy to forget I had some extra wattage backing up my pedaling.
That's not to say this is an underpowered e-bike, because it absolutely is not. But bear in mind this is an e-bike for people who still want their legs, lungs and heart to produce the lion's share of the force that drives them forward. The motor's power delivery is subtle; it's just there to take the edge off.
There's been lots of debate on where these lightweight and lightly-powered e-bikes fit into the larger e-bike ecosystem. From the perspective of a human-power traditionalist, the Alpine Hawk's 33.5 lb weight is high for a performance road bike; and from the e-bike perspective, it's modest motor and battery combination can be construed as underwhelming. It seems to have one foot in the traditional bicycle world and the other in the e-bike world.
So, with one foot in two worlds, the Alpine Hawk begs the question: Is it a good choice for the e-bike enthusiast or is it best suited for the serious road cyclist?
I spent the month of May pedaling the Alpine Hawk EVO on Electric Bike Report's home roads in southern Utah to find out.
Bike Category: Electric Road Bike
Built for performance, speed and exercise
Bike Class: Class 1
Pedal assistance up to 20 mph

Pro's
We've been very impressed with the Fazua drivepack. It's relatively light, quiet and is incredibly responsive.
This bike is incredibly compliant over rough roads; BULLS clearly had comfort in mind and built a bike that doesn't sacrifice comfort for performance.
The full Ultegra 11-speed groupset (plus the matching hydraulic disc brakes) works spectacularly well and compliments the do-it-all, ride-it-anywhere spirit of this bike.
At just 33.5 lbs, this bike pedals really well even with the motor turned off. We tested it quite a bit with no pedal assistance and it just felt like a normal road bike.
The Fazua drivepack (which includes the motor and battery) is removable and can be replaced with a blank cover, so you can ride this e-bike as a traditional road bike and shave over 10 lbs off the weight.

Con's
The minimalist touchpad remote on the downtube took some getting used to, and was a bit of a throwback to the days of downtube shifters. However it does keep the cockpit very clean and simple.
The Alpine Hawk is only available in two sizes — a 54 cm frame and 58 cm, which is pretty limited in the road bike world. It would be great to see more sizes so riders can more finely tune their fits.
ELECTRICAL SPECS & FEATURES
Battery: Fazua 36V, 7Ah (252Wh) fully integrated into the frame
Display: No handlebar display. Fazua remote integrated into the downtube with a power button and touch-sensitive controls
Motor: Fazua Evation 250W
Headlight: None
Taillights: None
Peal Assist: Three settings: Breeze (100W), River (210W) and Rocket (250W)
Range: Unpublished
Throttle: None
Weight & Dimensions
Fazua drivepack weight: 10.14 lbs
Bike weight: 33.5 lbs
Components & Accessories
Brakes: Shimano Ultegra hydraulic disc brakes, 160mm rotors front and rear
Fenders: None
Fork: Carbon
Frame: Carbon
Drivetrain: Shimano Ultegra R8000 11-speed
Gearing: 11-speed, 11-32T
Grips: Handlebar tape
Saddle: Selle Royal Asphalt GF
Handlebar: BULLS
Kickstand: None
Pedals: Wellgo
Tires: Schwalbe Durano 700x32C
BULLS Alpine Hawk EVO Review: Performance
Acceleration / Speed
I forgot the Alpine Hawk was an e-bike more often than I'd like to admit. Or, at least, I frequently underestimated how much the Fazua motor was aiding my lungs and legs.
Its power delivery is gentle, and almost perfectly compliments the torque you're pushing through your legs. The Fazua motor does a spectacular job of giving a measured and proportionate amount of power relative to how hard you're pedaling, especially in the lower two assist settings. The only exception to this is in the "rocket" mode, or the motor's highest power setting, where you can feel the motor's full 250W clearly going above and beyond what at least my legs are capable of. I found the breeze and river power settings plenty powerful for 90 percent of what I rode on this bike, reserving the highest assist setting for really steep hills or when I was worn out and just wanted to get home.
Considering the Alpine Hawk is the type of e-bike that prioritizes light weight, stealthiness and rider fitness over raw power, I was super impressed with how quickly it got me around. I regularly averaged 19 mph on rides, which is a respectably high average speed considering I'm no longer an ultra-fit roadie. I flicked the motor back and forth between the medium and low assist settings pretty frequently on those rides (mostly to get more help on the hills), but most of my time was spent in the lowest assist setting to conserve battery. Obviously the motor is partially to thank for that speed, but I've got to give credit just to the pedalability of the BULLS: It's a quick and great riding bike even without the help of the motor. At a little over 33lbs it's respectively light and poppy and the carbon frame responds super well to hard rider input like sprints or standing on a steep climb.
Range Test
BULLS doesn't publish a claimed range for the Alpine Hawk, but, based on the 250W motor and 252Wh battery, some simple math can give you an idea of how far the e-bike will go.
The 252Wh battery will theoretically power the Fazua motor for one hour at full power before it dies. It's a Class 1 e-bike with a 20 mph maximum pedal assisted speed, so we expected maybe a 22 mile range and about an hour ride time before it died. And on the lowest assist setting, which is limited to 100W of power, we expected a 2.5 hour ride time and between a 40 mile and 45 mile range, depending on how hard we pedaled.
Our educated guesses proved surprisingly close, though the Alpine Hawk slightly outperformed our expectations in the end. In the "breeze" setting, the bike lasted 50.37 miles before the battery ran out. And on the "rocket" setting, the motor aided my legs for 25.53 miles before calling it quits. Those are some great results for a modest 252Wh battery.
It is worth noting that our max assist and low assist range tests are not super indicative of how the Alpine Hawk will likely be ridden. Think of those results as the maximum and minimum distances the bike could theoretically go, though your results may differ since a bike's range is extremely dependent on rider weight, fitness and even environmental variables. In reality, a rider on this BULLS will likely toggle between the power settings as they traverse climbs, downhills and flat stretches on their route. At least, that's how I spent most of my time riding the bike. On those rides, I typically got 35 miles to 40 miles of range, depending on how big the hills were and how much physical effort I felt like throwing in.
Circuit Test
Before we put the BULLS Alpine Hawk EVO through the EBR circuit test, we weren't sure if we'd actually use the data in this review. It's a fine test, one that we've done for other BULLS e-bikes we've tested, but it doesn't fit the spirit of an electric road bike particularly well. The power settings on bikes like this are more for tailoring how much of a workout the rider wants, and less for controlling a bike's overall speed.
But we did the test anyway, and we've decided to keep the data because it helps illustrate an important point about this type of e-bike: On a bike that's designed to go fast without the help of a motor, a little wattage goes a very long way.
This rule is especially true with Class 1 electric road bikes like the Alpine Hawk, which can go extremely close to the bike's 20 mph pedal assist limit under human power alone.
We tested the BULLS around our roughly 1 mile circuit on all three pedal assist settings plus a lap with the motor off. I was also clipped into the pedals and using road shoes, which we think is typical of the average person who'd be riding this bike.
With no help from the motor, I pedaled the Alpine Hawk around our circuit at an average speed of 17.4 mph, a predictably quick lap from a bike that's built for speed and pedaling performance. On "breeze" mode, the lowest assist setting with just 100W of power available from the motor, the speed lept to 19.8 mph, which is right up against the bike's maximum motor assisted speed of 20 mph. By the middle assistance setting the bike clocked a 21 mph lap, which is faster than the motor's top speed. The average speed increased slightly more on the highest assist setting.
What these results tell us, is that on a relatively flat and consistent course, the bike will quickly exceed the speed at which its motor will give you help. The biggest differences between the three pedal assist settings are how quickly the bike accelerates from a stop and how it climbs hills. But keep in mind that's what this e-bike is built for: The motor is meant to compliment your pedaling and give aid while climbing or at low speeds.
Hill Test
As I mentioned above, hills are where this bike really comes alive.
To get an idea of how much help the Fazua motor gives on climbs, we took the Alpine Hawk out to one of the steeper climbs on the locally-famous Veyo Loop — a 0.87-mile pitch called "the wall." At 7.4 percent on average with ramps upwards of 12 percent, it's a fairly serious hill. We rode it twice to demonstrate the Alpine Hawk's climbing ability; once with no help from the motor and a second time in "rocket" mode.
The result was pretty humbling.
With no assistance, I climbed the hill in 6 minutes and 15 seconds at an average speed of 8.4 mph. It was a solid effort on my part that left me wheezing by the top, but I was really impressed with how the BULLS rode as an analogue bike. I didn't really notice its 33.5 lb weight and it felt lively when I stood on the pedals. Good carbon road bikes feel like they want to shoot out from underneath you when you stand and pedal hard, and I certainly got that sensation while climbing on the BULLS. It's a solid climbing bike on its own accord; no motor needed.
But turn the motor on, and that solid climbing bike becomes an absolute space ship. In rocket mode, with access to the motor's full 250W, I climbed the wall in a scorching 3:49 at an average speed of 13.8 mph. I still laid down a considerable effort, but this time each pedal stroke was backed up by what felt like the strongest tailwind I've ever experienced. Never once did the bike feel like it was doing the work for me. Rather, I just felt more efficient; like I was getting more out of my legs and my fitness.
And, just to get ahead of the inevitable fulminations from the "e-bikes are cheating" crowd: I did track my heart rate data during both tests to get an idea of how the motor changed my physical exertion.
On no assist, my heart rate maxed at 184 bpm and averaged 167 bpm. I no longer keep track of my max heart rate, but that's pretty close to the 187 bpm max I had when I used to keep tabs on that type of thing. Then, on rocket mode, my Garmin recorded a 179 bpm max and 161 average heart rate. Again, those are big numbers for me.
The main difference between the two runs are the no assist effort left me gasping near my maximum heart rate, and rocket mode let me make a bit more of a measured effort (but I still worked really hard). Was one run much faster than the other? Absolutely. Does that make it cheating? Not unless we're racing.
If I'm being honest, the motor just made it more fun. I still grit my teeth and fought the hill, but my pedaling felt less desperate and my morale less shaken at the top. Fun is all this is about at the end of the day, anyway.
Handling (cornering, slow speeds, safety on bike, etc.)
There's no better feeling than railing a corner at warp speed on a road bike.
There's definitely a technique to it, at least if you'd like to avoid leaving a strip of lycra and skin on the pavement. But more important than technique, you need to trust your bike — that it's stable enough to lay over; that it'll react positively when you throw your weight to drive the tires into the ground; and that it won't do anything you don't expect it to.
It's been a bit since I've spent any serious time on a road bike, and I've grown to miss that feeling. Thanks to doing this BULLS Alpine Hawk EVO review, I felt it again.
Stability is the name of the game with this bike. The riding position is very neutral and comfortable, which puts you in a good position to push the envelope on how quickly you can go around corners or navigate obstacles.
Ride Comfort
As far as sporty, performance-oriented electric road bikes go, the Alpine Hawk is definitely built for comfort.
The top tube isn't so long that you're stretched out on the bike and, even with the stem slammed, the handlebars aren't so high that you feel like a yoga regimen is required just to be comfortable on the bike. It's a stiff and responsive bike, but the frame is very vertically compliant. We've got some uncomfortably rough paved roads out here and I felt the bumps but it wasn't bone-jarring.
The Alpine Hawk comes in 54cm and 58cm frame sizes. We reviewed the smaller size, which BULLS says fits riders up to 6-foot-2. I typically ride a 58cm road bike, or, if it has a particularly long top tube, a 56cm. But I was pleasantly surprised at how comfortable I was on the 54cm frame. The only issue I had — thanks to my abnormally long legs — was with the seatpost height: I got it mostly high enough, but I had to set it right on the "MIN INSERT" line. So if you're approaching the maximum height on the smaller frame, it may be wise to size up to the 58cm.
Bulls Alpine Hawk EVO Review Specs/Features: Electrical Components
Motor
The Fazua Ride 50 Evation is a unique take on a mid-drive e-bike motor.
Both the 252Wh battery and 250W motor are encapsulated inside a "drive pack," that can be removed from the downtube of the bike. On the bottom of that drive pack is a coupler that mates with a mechanical system in the bottom bracket, that then transfers power from the motor, through the bottom bracket and into the rear wheel. It's a really cool system, and aside from being removable, it's really stealthy. Moving the motor up into the downtube makes the bottom bracket area of a Fazua-equipped bike much smaller than many other mid-drive motors on the market. Aside from a slightly enlarged downtube, there's no bulbous areas of the frame that clearly mark the Alpine Hawk as an e-bike.
The motor also lays down really great power in all three of its pedal assist settings. Motor assistance is delivered very subtly, particularly in the lower two settings, and really nicely matches the amount of force your legs are putting into the pedals. It's an extremely sensitive system, with virtually no delay between when you start or stop pedaling and when the motor kicks on or turns off. It's the type of performance you'd expect from a high-end e-bike.
Battery
The lithium-ion battery inside the drive pack is a lightweight 36V, 7Ah battery that makes for 252Wh of energy. It's certainly on the smaller side of e-bike batteries, but it works extremely well with the 250W motor.
This bike is a member of the new "super light" breed of e-bikes, which are a balance of weight, power and range. The power from the motor is meant to be a gentle compliment to a rider's natural pedaling, and, when ridden like that, this relatively small battery lasts a surprisingly long time. With a little smart battery conservation, I had no problem knocking out 35 to 40 miles on a single charge.
It's also removable from the drive pack and can even be replaced. So not only is it easy to carry a spare on longer rides, but you can replace it easily should something go wrong.
Pedal Assist
This is a Class 1 e-bike, so there's no throttle and the motor will aid your legs until 20 mph. There are three pedal assistance settings — "breeze," which gives 100W of assistance; "river," the medium mode with up to 210W of aid; and "rocket," the high-power mode with access to the motor's full 250W potential.
I found myself spending nearly all my time in the river and breeze modes. The available 100W from the river mode were more than enough to cruise at 20 mph or more on flat ground and the river mode had ample energy to do nearly the same speed up most hills — particularly the longer, more shallow ones. I almost exclusively reserved the rocket mode for steep, longer pitches or when I just wanted to get home quick. It's hard to understate how eye-poppingly quick rocket mode is on big hills, and it was especially noticeable when we back-to-back hill tested this bike with no pedal assistance and then again on full power. Let's just say it served as a sobering reminder that I need to spend more time on my bike and less time on the couch.
Display
There's no display or handlebar-mounted control pad on the Alpine Hawk, a testament to the fact that BULLS built it as a road bike first and e-bike second.
Fazua does make a drop bar-mounted touch pad for their motors, but BULLS instead opted to mount a remote on the upper portion of the downtube. This choice does a couple of things: By keeping the cockpit free of e-bike controls, it makes it extremely easy to forget you've got a motor helping you (which I grew to really like). But it also does take some getting used to when you're trying to quickly change settings while on the bike. At first, it was a bit of a throwback to the days of blindly fumbling with downtube shifters, and I found myself often peering around the top tube to make sure I'd changed the assist setting correctly or to check how much battery I had left. That said, it didn't take long to get used to and I really liked not having any electronics on the handlebars. This isn't something I'd necessarily change about the bike, but is something to keep in mind depending on how comfortable you are with taking your hands off the bars and fiddling with things.
Bulls Alpine Hawk EVO Review: Components and Accessories
Brakes
I've got nothing but praise for the Ultegra hydraulic disk brakes. They're solid, stop exceptionally quick and are confidence inspiring on high-speed descents.
Also credit to BULLS for building the Alpine Hawk with front and rear thru-axles. Not only does it stiffen up the bike in a very positive way, it also makes the interface between the wheels and the frame much more stable. This helps with preventing the brake rotor from flexing side to side inside the caliper and rubbing on the pads when you're standing or otherwise torquing on the bike.
Frame
The frame is full carbon and has a nice, understated design.
It's comfortable, stable and is stiff enough to feel poppy and responsive to rider input but not so stiff that it's uncomfortable on rough roads. I'm a big fan of the simple red and black colorway and the overall look of the bike is very low-key. My only gripe is that the frame comes in just two sizes — 54cm and 58cm. That's slim pickings considering most high end road bikes come in a half-dozen sizes or more.
Fork
The fork is your pretty standard carbon road bike fork. It does sport a 100x12mm thru axle for some added stiffness.
Drivetrain / Shifting
Ultegra is the middle child of Shimano's performance road groupsets and has earned a reputation as a dependable and high performing groupset that doesn't cost an arm and a leg. To put it short: There's little I don't like about it.
The R8000 series Ultegra that comes on the Alpine Hawk is mechanical (not the Di2 electronic version) and has 11-speeds. It shares a lot of the same technology found in the top-of-the-line Dura Ace groupset but with a few tweaks that make it more affordable and more usable for everyday riders. Namely, it's a bit heavier and can accept a wider gear range. The Alpine Hawk, for example, comes with an 11-32t cassette that's a slightly wider range than what you'd see on a typical road bike.
Contact Points
Everywhere your body touched the bike — what we call the contact points — was comfortable. The Selle Royal Asphalt GF saddle felt cushier-than-average and the BULLS-branded drop bars were comfortable. The bike does ship with a set of alloy Wellgo pedals, though I'd imagine most people on the Alpine Hawk would opt for some sort of clipless pedal. I personally reviewed this bike using a pair of Shimano 105 SPD-SL road pedals.
Tires
The Alpine Hawk Rolls on a pair of 700x32C Schwalbe Durano road tires, which have proven supple, grippy and flat-resistant.
The 32C tires on this bike are slightly wider than what you'd typically see on a road bike and it's clear the frame can easily accommodate even wider tires. More width equates to a little more comfort on rougher roads and a larger contact patch, giving greater traction.
Bulls Alpine Hawk EVO Review: Final Thoughts / Where to Buy
Riding the Alpine Hawk was like riding in a peloton of one. My overall average speed was higher and — while I still got a great workout — I covered more ground faster and with less effort.
This, obviously, is due in part to the spectacularly well tuned Fazua motor, but I've also got to give credit to BULLS for building a really quick and responsive bicycle: The Alpine Hawk pedals well and rides fast without the help of its motor. Add in the additional 250W of energy, and you've got a bike ready to crush hills and cruise flats.
So, returning to the question posed at the beginning of this e-bike review: Who is this bike for?
After a month of riding the Alpine Hawk, I think this bike was built for the traditional cyclist who's on the fence about e-bikes. They're not categorically opposed to them, but they're not willing to sacrifice weight, ride quality or the feeling of riding a bicycle for some pedal assistance. They want a bike that's going to feel like a normal road bike 95 percent of the time, but they wouldn't mind a little help when things get steep, windy or they just need to get home on time.
So, if BULLS built the Alpine Hawk EVO to make converts of the e-bike curious, I think they nailed it.
I've got a strong background in road riding and racing, but the truth is I do very little of it nowadays. Living in the mountain bike mecca of southwest Utah, I typically choose dirt, pads and knobby tires over lycra and pavement. So, when the BULLS came in, I didn't really know how my reentry into the roadie world would go. To put it short, I had an absolute blast. And, if I'm being honest, I don't know if I would have had as much fun had it not been for the motor. The power from the Fazua motor perfectly complemented the stiff and efficient carbon frame. On flats, the bike pedaled so well I felt like I hardly needed the help to cruise at the motor's 20 mph max pedal assisted speed. And when the road got steeper, the motor perfectly mimicked my pedaling — it felt less like there was a motor and more like I was having a stronger-than-average day on the bike.
I also really liked the bike's subtle styling and very stealthy look. Thanks to the Fazua drive system, the downtube and bottom bracket weren't obnoxiously oversized and the lack of electronic buttons or displays on the handlebar really grew on me — I often forgot I was on an e-bike. The 252Wh battery gave me a 35 to 40 mile range, which is about perfect for an early-morning ride before work. And at just 33.5 lbs, I had no problem turning the motor off and cruising under my own power (especially on the flats) to save battery on longer weekend rides.
The BULLS Alpine Hawk EVO can be bought or test ridden at one of the manufacturer's many dealers across the U.S. Or, if you're already enamored with the Alpine Hawk, you can also buy their bikes online and have it shipped to your local BULLS dealer to have it professionally assembled.
Reader Interactions