Bionx Electric Bike Kit Review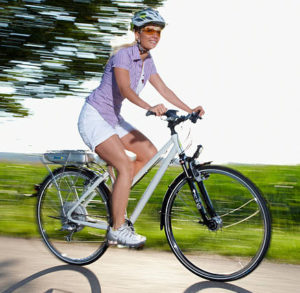 I have ridden many different bikes with the Bionx electric bike conversion kit and I have to say that it is probably the most refined ebike kit that you can buy.
To compare it to cars, it is like the Mercedes Benz of electric bike kits.
This is a review based on a number of rides on the Bionx electric bike kit.  This is not an in depth review based on hundreds of miles of use, etc.
I just wanted to let you know what I think of the system based on some ride experiences.
Here is a video about the Bionx system:
What I like about the Bionx ebike kit:
The way the system adds assistance is so seamless it just feels like you have a strong tailwind the whole time you are riding
The motor is nearly silent
The Bionx ebike kit is relatively light weight compared to other kits out there. They have a few different models to choose from with different weights.
The quality of the components are very good.  It makes the kit feel "solid".
It is a very "clean" kit.  There is not a mess of wires going everywhere
It is very easy to install for the do it yourselfer
The LCD display is very easy to see and understand and provides 4 different levels of assist



The battery is housed in  a nice plastic case that can be locked to the bike, yet easily removed.  Can be on the downtube of the bike frame or the rear rack.

There is a way to plug the system into a computer and run a diagnostics program on the kit to see how everything is performing
You can have the option of pedal assist and/or throttle (throttle only available in US & Canadian markets)

It has regenerative braking (the battery is charged when you use the brakes) and the display shows you how much the battery is being charged
Uses a lithium magnesium battery chemistry, which according to Bionx is the safest battery chemistry available
You can charge the battery by switching the system to training mode where you have to pedal harder to charge the battery. Great if you want an extra tough workout!
Bionx is a kit that can be used well for sport cyclists that may want to add some assist to their mountain or road bike for a little extra help on the hills and wind in the wind.
What I don't like about the Bionx electric bicycle kit:
The price!  Bionx is a well refined electric bike conversion kit, but with that comes the price tag. You can buy a whole electric bike for the price of just this kit. But if you want the best, most streamlined kit, the higher price is all part of the deal.
If you plan on hauling heavy loads up steep hills with a cargo bike or trailer then the Bionx system may not be as helpful as a mid drive kit.  A mid drive electric kit positions the motor so that it can power your bicycle through it gears (drivetrain).  This allows you to get the electric assist in the lower gears of your bicycle to pull heavier loads up hill more effectively.   Checkout this guide if you are interested in mid drive electric bike kits.  The Bionx kit will still help with hauling heavier loads, but if you see yourself hauling heavy loads consistently then you may want to consider a mid drive kit.

Other notes:
Bionx is owned by Magna which is a big automobile parts manufacturer.  Nice to see ebike funding from the auto industry.
Bionx is the kit being speced on a lot of new electric bikes from Trek, Ohm, Kilowatt, Villiger, KTM, BiXS, Diamant, Matra, Wheeler, riese und müller
Bionx has been making electric bike kits since 1998.
Conclusion:
To wrap it up, you can see that I like the Bionx kit.  I think it is a great kit if you want a solid dependable system that is very clean and can quietly give you that extra assist.  You will pay a premium for a kit like this, but it is what you can expect to pay for this level of quality components and a well refined electric bike system.
If you are interested in buying the Bionx kit you should check with your local bike shop.  If they don't offer the kits you could purchase the Bionx system online.
Do you have any comments or questions about the Bionx electric bike kit?  Please leave them below.
Thanks!
-Pete
P.S. Don't forget to sign up for updates from the electric bike world, plus ebike riding and maintenance tips! (upper right hand corner of this site)
Reader Interactions