Biomega OKO Electric Bike w/ Carbon Frame, Fork, & Fenders!
The Biomega OKO is one of the latest innovative e-bikes to hit the market with a carbon fiber frame, fork, and integrated carbon fenders!
In addition it features an integrated frame battery, a Gates Carbon Drive belt, internally geared rear hub, and it starts at $2,295.
Last Thursday Biomega launched the OKO in Copenhagen Demark (headquarters to Biomega), and in New York almost simultaneously.
For the New York launch, many of the mainstream media were in attendance.
The OKO is the first in a series of electric bikes being designed by Jens Skibsted, and the design team at KiBiSi, the company he co-founded with Bjarke Ingels and Lars Larsen in 1998.
The bike has been engineered so that its 40-pound weight (stated) is distributed evenly, and all the electronics are integrated into the frame.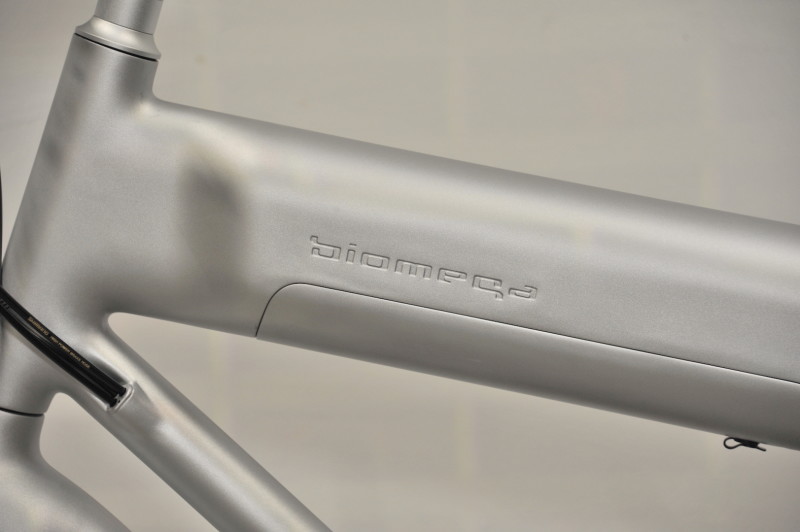 To accomplish the clean look, Biomega custom manufactured many of the parts, specifically for the OKO—down to the pedals—for a uniform presence. The integrated lithium frame battery utilizes the Samsung 18650 cells putting out 36 volt and 9.9 ah.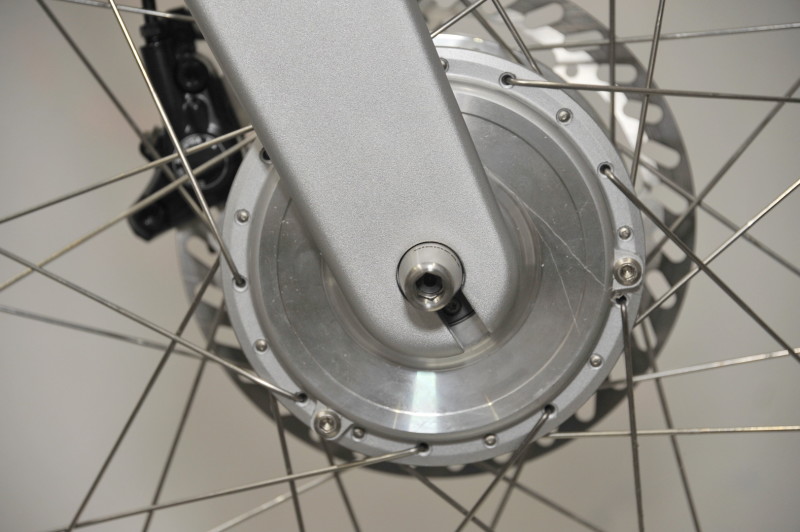 A front hub 350-watt motor propels the bike and depending on how you ride, has a stated range of about 25 miles per charge. There are two levels of assistance—economy and boost mode—to make pedaling easier. The top speed is 20 mph for the US market, 25 km/h for the European market.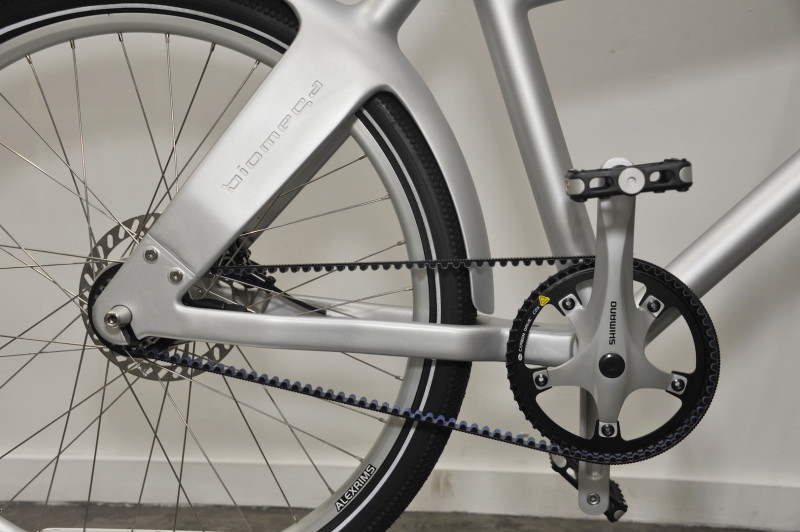 Keeping with its design of its urban bike line, the OKO incorporates a Gates Carbon Belt and the choice of either a SRAM two speed automatic option ($2,295) or the Shimano Alfine 8 speed internal hub option ($2,695).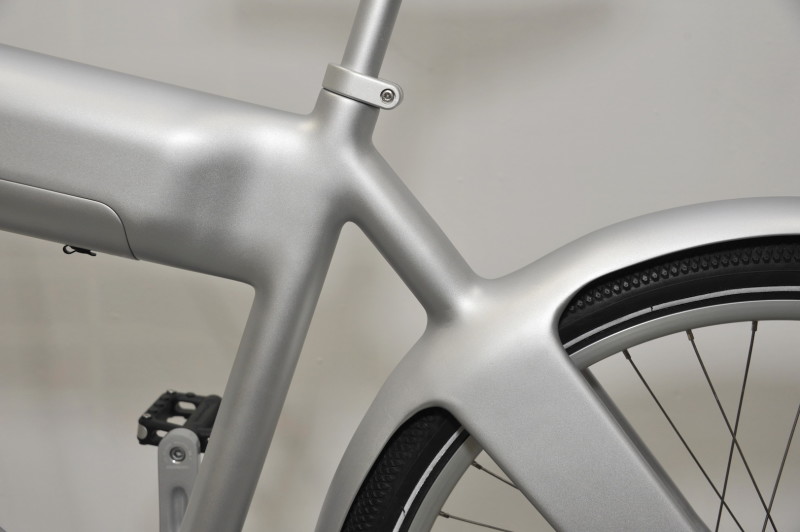 A stylish and utilitarian design feature are the front and rear fenders that are part of the carbon fiber frame and fork!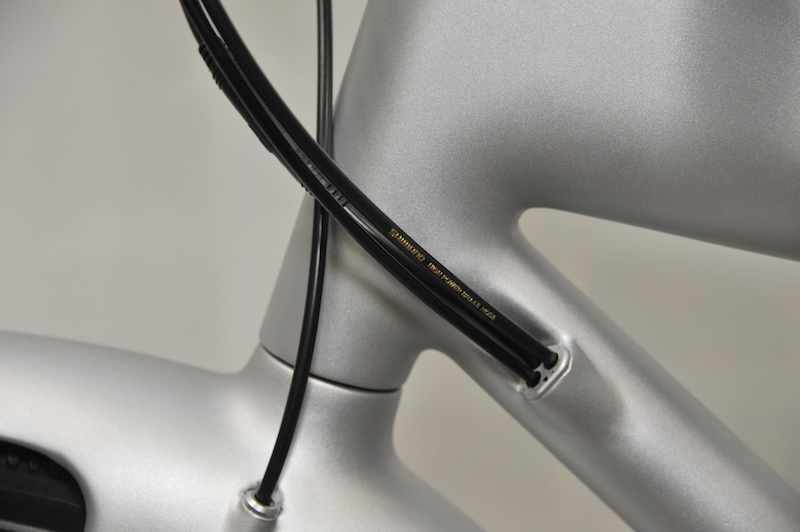 The cables and wiring are routed through the frame and fork for a clean look.
Here is a look at the while color option.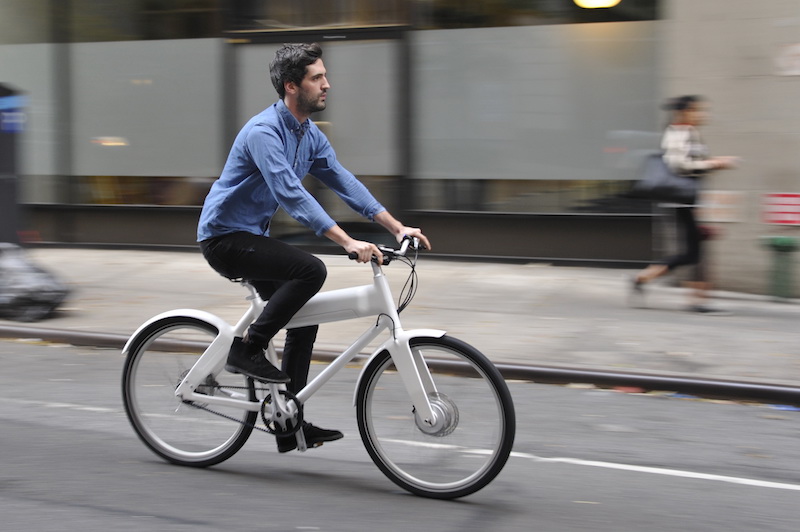 The Biomega OKO will begin shipping in December.
Here are links to the Biomega OKO 2 speed and the Biomega OKO 8 speed electric bikes for more information.
P.S. Don't forget to join the Electric Bike Report community for updates from the electric bike world, plus ebike riding and maintenance tips!
Reader Interactions