Best Electric Bikes for Seniors 2023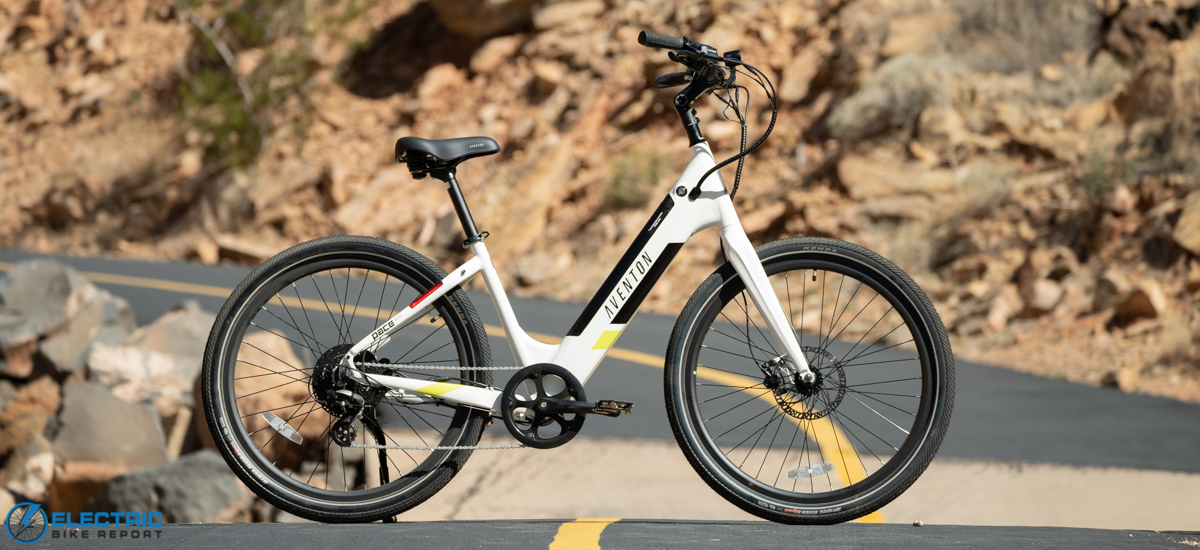 *Electric Bike Report aims to help consumers find the right electric bike for their needs. When you buy a product we recommend, we may earn a commission.
Whether you're looking to get back on a bicycle for the first time in years or you're just looking for a forgiving way to get back in shape, the number of seniors getting into e-bikes has exploded over the past several years.
The team at Electric Bike Report is often asked for our opinion on the best electric bikes for seniors, enough so that we put our heads together and came up with this list of our favorites.
Electric bikes have fast emerged as one of the most low-impact and most senior-friendly modes of exercise. While the small motor helps take the edge off obstacles — like hills — that may have kept some seniors off traditional pedal bikes in the past, they still require enough physical effort to make for a great workout. They've also been proven to help maintain cognitive and mental health among older riders — the light assist from an e-bike, according to one study, can inspire confidence and improve self-esteem in older people who may feel limited by mobility issues.
Thanks to the assistance of a motor and battery, there's a laundry list of e-bikes that work well for seniors. This list is a selection of our favorites.
Our picks for the Best Electric Bikes for Seniors, 2023
How we picked the best e-bikes for seniors
There are undoubtedly many seniors who read the above list and scoff because the bikes we chose are too laid back or aren't fast enough.
That's fine, we've got recommendations for other e-bikes (like electric fat bikes and high-speed commuters) that might suit your tastes better. But while what makes someone a "senior" is nothing more than their age, there are certain considerations that often come up when we get asked for our opinion on the best e-bikes for older riders. Those considerations often involve mobility constraints, concerns over balance and flexibility and whether a bike's riding position is too aggressive. Oftentimes, on top of any one of those considerations, this is that person's first time back on a bicycle in a long, long time.
This list was made with those seniors in mind.
We used a few key criteria to compile this list, mainly:
Stability and comfort: Comfort and how stable they feel on the bike is often high on the mind of older riders. Bikes that earn a spot on this list shouldn't just be supportive, they should invoke a feeling of confidence in corners and over varying terrain.
Quality and components: We evaluate each bike's spec sheet to make sure manufacturers are making good component choices; a good bike is much more than its frame.
Value: What are you getting for your money? Are the components better than average and is the craftsmanship on par? We also account for things more intangible than parts bolted to the bike, such as quality customer support, brand reputation and the availability of good in-person service.
Power and range: How fast does the bike go and how far can I ride on a single charge? These questions are often the first on the mind of someone shopping for a new e-bike so they're at the top of our mind, too.
Was it built specifically with seniors in mind?: This may seem like an obvious one, but we tried to find e-bikes built specifically for older generations of riders. Do these design characteristics make sense and are they executed well?
This list does not cover every single bike on the market today that would be a good option for seniors and older riders. In fact, I think most of the EBR staff would argue that almost any e-bike would be a good option for seniors. But, based on a plethora of reader questions (we get TONS of questions about e-bikes for seniors), we compiled this list of our recommendations that we feel are suited best for the fast-growing demographic of older e-bike enthusiasts.
Rad Power Bikes RadCity 5 Plus ST
When considering our list of the Best Electric Bikes for Seniors, the Dutch-inspired RadCity 5 ST (step-through), has the "whole enchilada." This user-friendly e-bike from Rad Power Bikes has the main features and components – comfort, stability, power and quality – that are preferred by older riders.
Classic design and exceptional performance are two distinctions not always found on electric bikes. The classic Dutch style provides a posture for comfortable riding, and the step-through frame produces rider stability. Powered by a 750-watt rear hub motor, the RadCity 5 ST cruises with distinction, and never feels like it wants to jump out from under you.
Energizing the sleekly integrated 12.3-amp hour battery, sleekly integrated into the frame bottom tube, to help you travel up to 50 miles between charges. Helping you maintain good looks while in a logjam, the half-twist grip throttle gives you the quick acceleration you need to dart ahead.
As this bike makes you look good as you go, it also confers an air of eminence as you stop. The hydraulic brakes perform well and the suspension forks keep you in control. The medium size aluminum frame can accommodate riders ranging in height from 4'8" to 6'0". The tires are 27.5" x 2" puncture-resistant tires and you get riding experience that makes you feel in full control.
With its 15-inch seat post tube, this bike is sure to be a hit with shorter riders. The 275 lbs capacity allows for heavier riders or riding with cargo, using one or more of the optional rack accessories.
Looking at all the features this e-bike includes, the RadCity 5 ST is a great deal.

Pro's
Stable, comfortable posture makes it easy to climb aboard and ride for miles.
Predictable handling, the power from the 750W motor is nice and moderate at low speed with plenty of torque for climbing.
Rad's reputation in the affordable customer service
Looks
The NUTT hydraulic disk brakes are spectacular under hard braking. This bike set a new record for the best stopping distance of any e-bike we've reviewed.
Rear rack capable of carrying __ lbs of cargo.

Con's
The cable tidiness from the handlebars can be better. Instead of shortening cables where needed, they're managed in zip-tied clumps that detract from the overall finish of the bike.
The dual display setup is a unique and useful design, but the left-hand display can be tough to read in direct sunlight.
Aventon Pace 500 Step-Through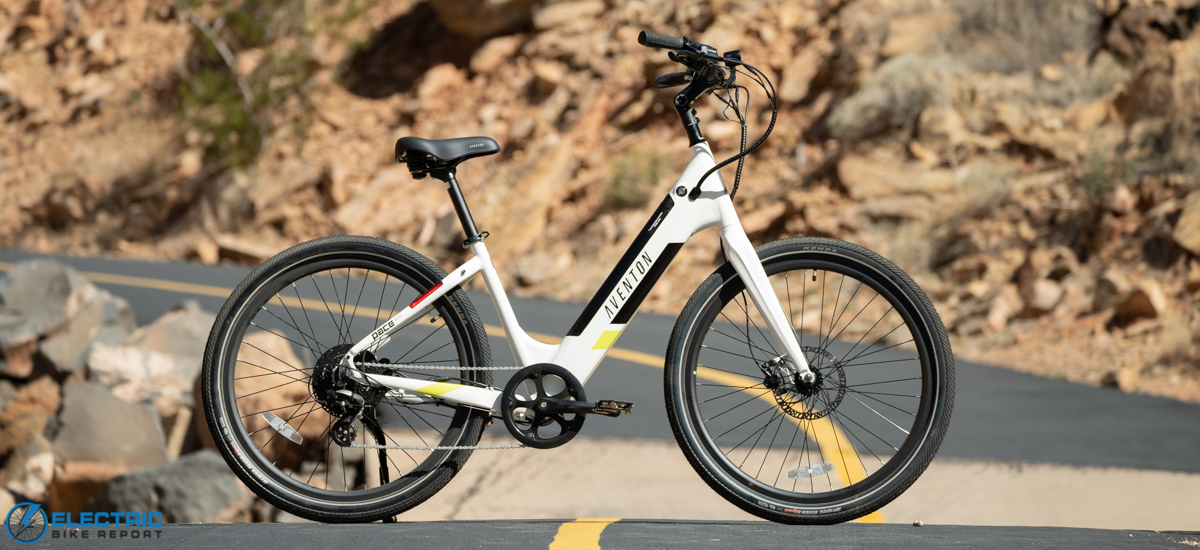 For the record, we're rolling with the Aventon Pace 500.2 here. The Pace 500.3 is awesome, but the savings right now on the second iteration are hard to pass up.
Seniors looking for a casual cruising bike that packs power will like this e-bike. With its upright cruiser frame, this Class 3 (throttle and PAS up to 28 mph) e-bike offers a good balance of comfort and power. The 500w motor dishes out power when you need it, and the 48-volt 12.8-amp hour battery will take you up to 60 miles.
The Pace 500 ST's 500-watt rear hub motor, 5-level pedal assist system and throttle offer a great mix of cruising speed and acceleration – when you need it. We never felt like the bike wanted to storm ahead and shake us out of our seats – something less experienced riders will definitely like. The Zoom hydraulic disc brake system
The upright positioning and nimble handling made this bike feel more like a city commuter as we maneuvered around sharp corners and obstacles. The Shimano Acera 8-speed makes pedaling pretty pleasant in every gear. Stylish but simple looking, the Pace 500 ST has two frame sizes – medium and large, in four available colors.
Rolling this 53 lbs lightweight down the road on 27.5" x 2.2" Kenda multi-purpose tires, stopping is managed with the help of Tektro hydraulic disc brakes, which automatically shut of the motor when in use. Also keeping you safe are the integrated headlight and taillight.
This e-bike satisfies the needs of most senior riders with its reliable performance, good design and a comfortable ride. Whether you're an experienced rider looking for something more casual, or someone getting back into riding after a long hiatus, we think you will have fun riding this e-bike. Aventon has dealers throughout the US and also ships bikes to buyer's homes. Some assembly is required.

Pro's
Powerful 500w motor engages smoothly with the rider's pedaling
Upgraded 12.8 Ah battery can take you up to 65 miles on a single charge.
Great ergonomics providing a comfortable ride.
Adjustable stem makes sizing a snap for different size riders.
Zoom hydraulic brakes provide safe stopping power.
Shimano Acera 8-speed gives good range with no ghost pedaling.
Rear rack can carry 55 lbs of cargo.

Con's
Pedaling in turns might cause the pedal to scrape the ground, due to the low bottom bracket and 170mm long crank.
Suspension forks and seat post would be nice to round out rider comfort.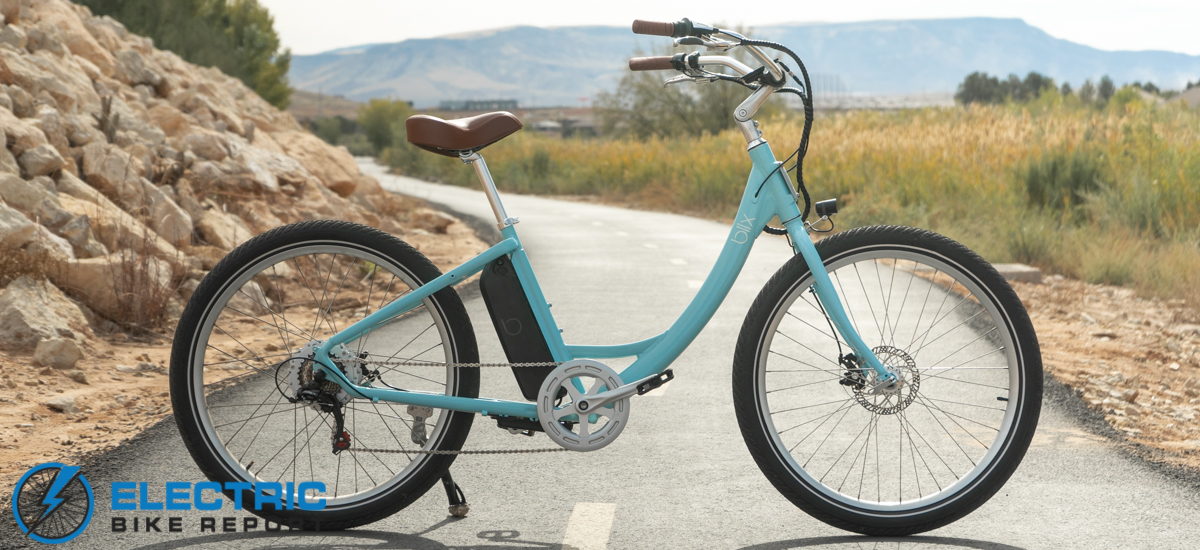 Many senior riders will appreciate the Blix Sol Eclipse as a classic step-thru beach cruiser. It's comfort, control and stability will make you want to ride it often. Its stylish looks are enhanced by its powerful 750-watt motor that can really climb hills.
This Class 2 e-bike has a throttle that gives you that extra oomph when you need it. The motor is managed by the pedal assist system (PAS) featuring 5 levels that will take you up to 20 mph. Energy is provided by the 48-volt, 12.8 amp-hour battery that will take you up to 45 miles between charges. The 17.8" medium/large frame accommodates riders between the height of 5-1 to 6-2. Enhancing riding comfort is the comfy wide seat.
Designed to provide an upright riding position, this bike is great for casual cruising down any street, path, or trail. The Sol Eclipse comes with a front cargo rack (50 lbs capacity) and a rear rack (55 lbs capacity) that will help carry groceries, or a little one in style. The total capacity is 270 lbs, and most child bike seats can be mounted on the rear rack. Total weight of this e-bike is 56 lbs, which makes lifting a little easier than other cruiser e-bikes.
A great feature is the USB charging port you can use to charge your smartphone or other electronic accessory. The Blix Sol Eclipse is a quality bike at a budget-friendly price, so if you're looking for a simple e-bike that is easy to ride and will provide you tons of fun, then you should consider this as your next e-bike.
Blix sells and ships their bikes directly to consumers. Some final assembly is required after the bike is delivered to you. They offer assistance with in-home assembly.

Pro's
Great for easy, leisurely rides – you'll want to ride this e-bike a lot!
RetroShift makes it easy to change gears.
Good gear range with the 14-28T cassette and 48T chainring.
Powerful 750w motor, great hill climber.
Quality components, competitively price
Comfortable seat & ergonomics during our 100-plus mile series of test rides.
Stylish looking beach cruiser, available in 4 colors.

Con's
Throttle still active at PAS 1, safer to have auto shut off.
PAS 1 and 2 are underpowered, mostly used PAS 3 – 5.
Lectric's XP 3.0 is a great e-bike for seniors due to it's comfort, stability, and value, But it also has a feature most other e-bikes don't have – it's a folding e-bike. The folding frame is convenient for storing, whether it be an RV, car trunk or small apartment, and is convenient to transport, which is great for seniors who want to take their e-bike when they travel. This e-bike has a simple design, is easy to ride, and very affordable.
The XP 3.0 is a Class 2 e-bike, which means the throttle and pedal assist system (PAS) will help this bike reach a top speed of 20 mph. It's a little heavy for its size at 64 lbs, but it can carry 150 lbs of cargo on its rear rack, which means you can carry a passenger larger than a small child. The overall capacity for this e-bike is 330 lbs.
The 500-watt motor has more than enough power to move this bike, and the 48-volt, 10.4 amp-hour battery offers a range of up to 45 miles on a single charge. Rolling on 20" x 3" all-terrain tires, the short wheel base and low profile provides good handling and good overall control. This e-bike can accommodate rider heights from 4'10 to 6'1."
This e-bike is well-suited for senior riders in its ease at shifting, thanks to the Shimano Tourney 7-speed shifter, and the easy pedaling provided by the efficient gear range. With this being a more affordable ebike, the XP 3.0 uses mechanical brakes that stop almost as well as hydraulic brakes. One of the benefits of having less expensive brakes is the lower cost in fixing and replacing them as well.
Considering all the options that come on this bike, such as folding frame, good power and range, and cargo capacity, the XP 3.0 is competitively priced. Selling for under $1400, this is the most affordable e-bike on our Seniors list.

Pro's
Great hill climbing from the 500.2w motor's peak output of 1000w and 55Nm of torque.
Gearing range from the 11-28T cassette is in balance with motor engagement and no awkward pedaling.
180mm rotors and mechanical brakes stop superb, while keeping costs down.
Coil spring fork, with 50mm travel, absorbs bumps well.
Rear rack has 150-lb capacity, accommodates a child passenger heavier than the 55 lb average on other e-bikes.

Con's
Can't remove the battery key when riding, which increases the risk of losing the key when parked.
Rad Power Bikes' new RadTrike made our list of Best e-Bike for Seniors because it is the most stable and well constructed trike that's available at an affordable price. Also consider Rad has been around since 2007, is an authority in e-bike manufacturing and is one of the leading e-bike distributors in the U.S., and you can see why we picked their e-trike for our list.
The RadTrike's load capacity is 415 lbs, which includes 325 lbs for the rider, 60 lbs for the rear rack, and 30 lbs on the front rack. The frame dimensions can hit a wide variety of rider heights, with its low 13.4" bottom tube, 28″ – 35.4″ seat height, and 18.1″ handlebar reach riders as short as 4 '10" to as tall as 6′ 4″ can adjust the Trike to accommodate their size.
RadTrike is designed to be stable and allow the rider to be in control at all times. Its maximum speed is capped at 14 mph. The 750-watt front hub motor climbs hills exceptionally well. The pedal assist system (PAS) has five levels, 1 – 5, and comes with a throttle when you need quick bursts of power when starting from a stop.
The 10 amp-hour battery can take you up to 50 miles between charges. The drive train consists of one single 16T gear rear axle and only distributes power to the right wheel. The left wheel spins freely. That allows for both rear wheels to spin at the speed they need to spin at to make safe turns. Trikes that had mid-drive or rear hub motors make both rear wheels spin at the same speed, which can make the bike tip over or crash.
Stopping is provided by the reverse pedal activated coaster brake on the rear wheels, and the front mechanical disc brake. The Trikecan folded and transported in the back of most SUVs. The strong steel frame gives it a total weight of 82 lbs, which means for most, lifting the RadTrike. is a two-person task.
Rad has a good shipping and customer service history as a direct-to-consumer seller. They can ship your RadTrike to your home or mailing address, with only minimal assembly required. If you aren't sure you can do the necessary finishing work to make your RadTrike. road ready, then be sure to find someone local who will either come to your house to complete, or have the RadTrike. delivered to a shop that will do the work. Rad offers buyers a 14-day trial, so you can make sure this e-bike is for you. Purchase includes a limited 1-year warranty.

Pro's
One of the most affordable, quality electric trikes on the market.
Designed with safety in mind, capping top speed at 14 mph.
Unique free wheel design makes this trike handle better and much safer in turns.
Great ergonomics: seat, back rest, grips, handlebar reach, leg extension to the pedals – all designed for max comfort.
Powerful 750w motor overtook every hill we needed to climb.
Depending on your speed and reliance on the motor, range is between 25-59 miles.
Size convenient for getting through doorways and storing at home or in car.
Folding design makes it easier to transport and store when not using

Con's
This trike deserves a torque sensor to better manage motor engagement with the pedaling, and efficiently manage battery use.
Specialized Turbo Como 3.0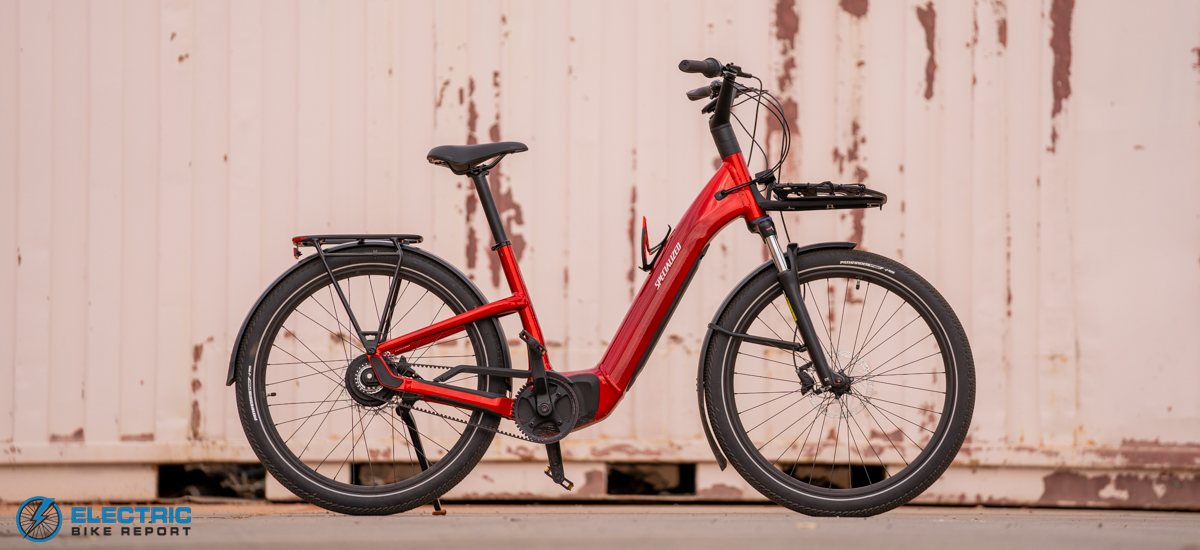 The Specialized Turbo Como IGH 3.0 is among the best as a high quality top performing commuter e-bike. With its comfortable geometry, sleek and stylish design, and lightweight aluminum frame, this e-bike is perfect for the senior rider looking for a bike that needs less maintenance and can better withstand outdoor conditions.
Propelling this Como 3.0 is the Specialized proprietary Rx Street Tune 250-watt mid-drive motor. With its smooth, silent running, free of vibrations, this throttle-less Class 3 motor has a pedal assist system (PAS) that will take you to a top speed of 28 mph. Rather than using a cassette and derailleur like most bikes, Specialized uses the Enviolo CVP Multi-Turn internal gear hub [IGH], which provides smooth, trouble-free shifting.
Powering the motor is the 10.4 amp-hour battery, frame integrated and removable for re-charging and storage.
The 2.2-inch LCD display has a USB port for you to recharge your smartphone. The 27.5" x 2.3" Pathfinder Sport Reflect tires handle great and keep you in control. You can use this e-bike for commuting and for cargo. Front and rear cargo baskets can enable you to carry up 75 lbs (30 lbs front, 45 lbs rear) for a total of 275 lbs.
The Specialized Como 3.0 IGH is like the Cadillac of commuter e-bikes for seniors. That means the quality build and components are reflected in the total price. But you know you're getting a high quality e-bike when you buy from them, which says a lot about the overall value.

Pro's
High quality design, build and components from a top bike company.
250w proprietary mid-drive motor produces great power, and 50Nm of torque while economizing on energy.
Ergonomically designed for ride comfort will keep you on the seat longer than you thought.
Custom frame-integrated 48v, 10.4Ah battery will take you up to 90 miles on a single charge.
High quality gearing with internal gear hub to withstand elements, no greasy sprocket
Awesome stopping power with the Shimano BR-MT200, hydraulic disc brakes, 180mm front and 160mm rear rotors.
Built-in lift handle for easy maneuvering.

Con's
High quality comes at a price, the price on this e-bike is around $3400.
Most American riders will encounter a learning curve when first riding on the internal gear hub.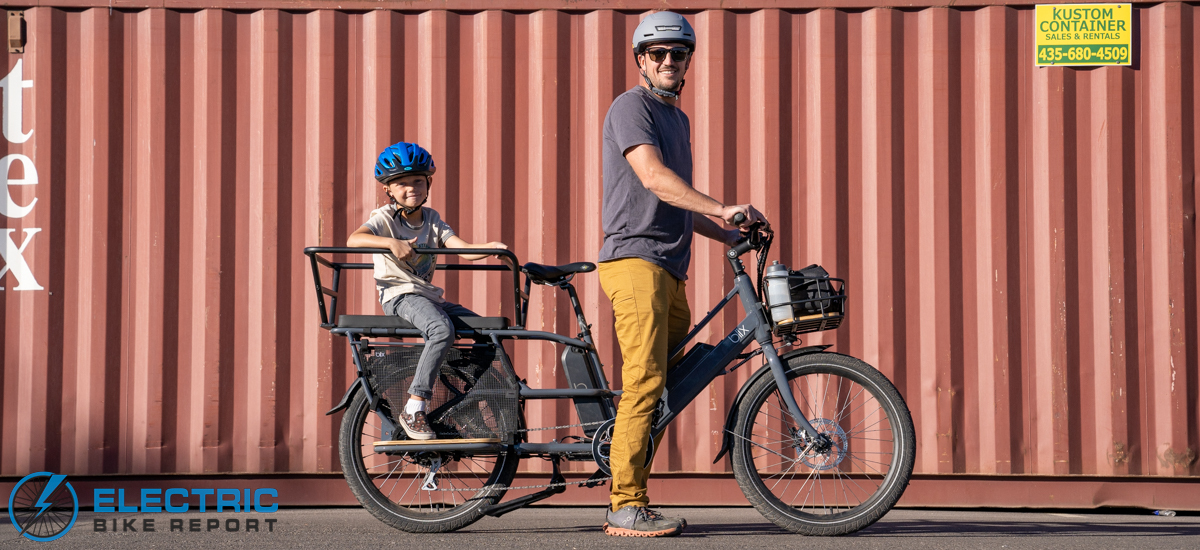 The Blix Pack Genie e-bike is a one-of-a-kind, built to carry cargo like no other cargo e-bike we've tested, which is why it's on our list of Best e-bikes for Seniors. The stability and control this bike offers is surprising when considering its size. The rear cargo capacity allows you to carry 150 lbs, which could be groceries and a grandchild – amazing!
The step-through frame and 23" height between the ground and step-over point makes it easy to climb on and off the bike (if you need a boost up, there are inexpensive folding step stools you can use and carry on one of the racks). Riders ranging in height from 5'1" to 6'3" will find they fit this cargo bike very well.
You get a lot of power from the 750-watt rear hub, which really matters when you're carrying the extra passenger or cargo. Energy for the motor comes from the 48-volt, 12.8 amp-hour battery.
Stopping ability is provided by the Bengal hydraulic disk brakes. Changing gears is through the Shimano Acera 7-speed, making pedaling easier and the ride more fun. The 24" x 2.4" puncture-resistant tires cushion you from the bumps and rough parts of the road. This bike can take a 250 lbs rider weight, and its total weight is 75 lbs.
But aside from that, the Blix Packa Genie really offers a lot of value for your money, especially when you consider the basic one-battery e-bike which sells for under $2000.

Pro's
Good quality, value-priced e-cargo bike that lets you carry up to 400 lbs (up to 200 lbs of cargo)
Great handling for an e-cargo bike. Riding around I easily forgot that the bike is 81" long
Lots of accessories, making it easy to load the bike up with cargo and/or kids
Very long range with dual battery setup (up to nearly 80 miles in our real-world range test)
Powerful climbing hills, even when loaded up with weight
Good, quality components (hydraulic disc brakes, Shimano drivetrain)
Easy to get on/off thanks to 24" wheels and low, 19.4" step-over frame

Con's
This is me being super nit-picky, but I'd like to see a slightly larger front chainring. On PAS 5 you really don't have to pedal much at all to get the bike cruising at 20 MPH.
You can do so much with this bike, and there are a ton of accessories already. I just want more – specifically some type of large cargo basket for the rear rack.
Denago Commute Model 1 ST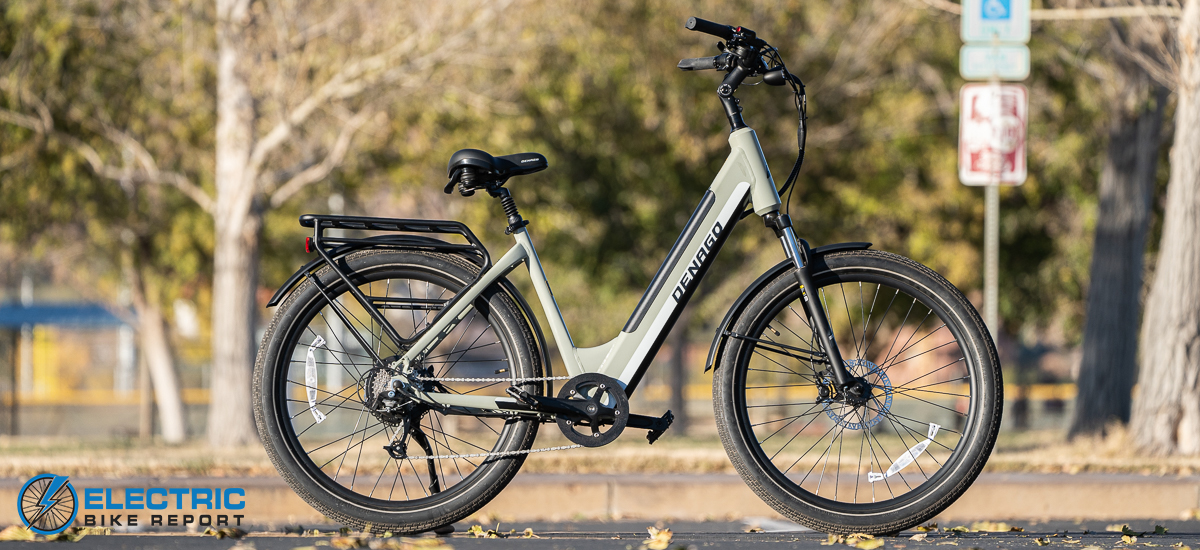 Denago Commute Model 1 ST makes our list of best step-through e-bikes for seniors based on its user-friendly acceleration, riding comfort, and overall value. The Shengyi 500w motor makes this a Class 3 e-bike (throttle and PAS limited at 28 mph). The motor is calibrated to give the senior rider a happy medium with its tempered acceleration. This bike will make you feel like you're in control at all times.
Power to the motor comes from the 48v 13.6 Ah battery which will take you up to 45 miles between charges. Using the Microshift 8-speed, this bike has a gearing setup that is senior-friendly, providing gear options that work with your pedaling efforts and the road conditions. Whether you're going uphill, or using PAS 5 on a straight away, this e-bike won't leave you feeling under-powered or out of control.
The Commute is 66 lbs, a little heavier than similar style e-bikes, but the Zoom hydraulic disc brakes work well bringing it to a stop. The Zoom suspension seatpost and suspension forks do a good job absorbing the bumps. Riding atop 27.5" x 2.6" puncture resistant tires gives you positive traction and good overall handling in pavement, gravel and dirt roads.
Denago has priced the Commuter 1 for under $2000. When looking at the quality components and overall design, this bike has a lot of value with its price. Taking into account its stability, comfort and reliability, it is also a good e-bike option for seniors.

Pro's
Good mid and top end power from 500.2w Shengyi hub motor Class 3 (PAS limit 28 mph).
48-volt, 13.6Ah integrated battery has a low-key look and provided 27 mi. of range in PAS 5.
8-speed gearing great for top speed and climbing hills.
Good traction from 27.5 x 2.6-in.-wide tires.
Frame size and reach well-suited for taller riders, too.
Theft protection provided by PIN lock.

Con's
We would like to see a new display unit, more modernized in use and data appearance.
Rad Power Bikes – RadRunner 3 Plus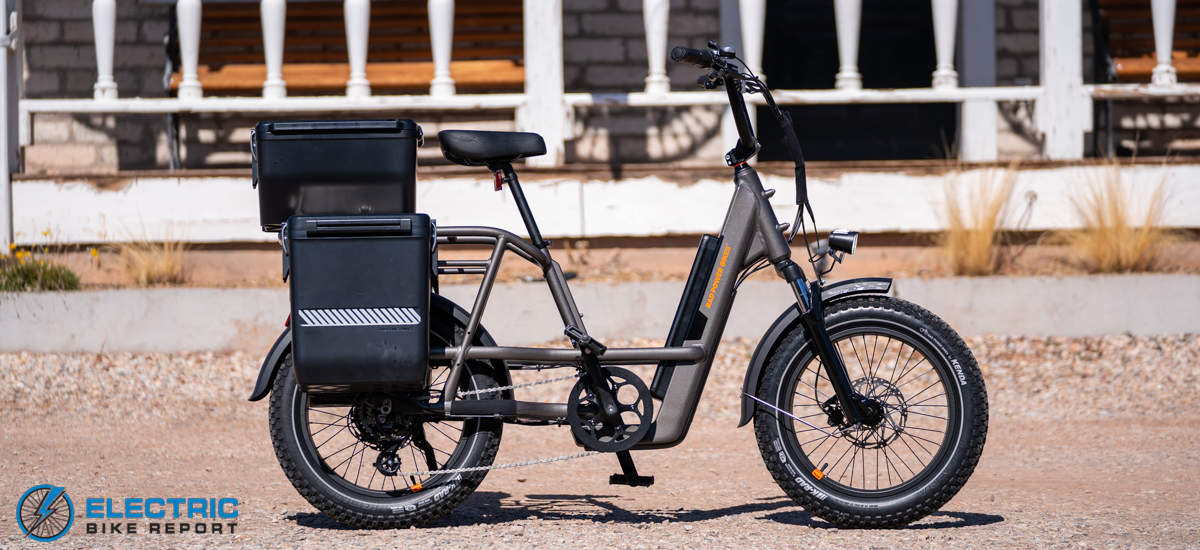 Whether you're a senior looking for an alternative to your car, a good small cargo bike or an electric bike that will seat another person, the RadRunner 3 Plus, from Rad Power Bikes, could be the e-bike you're looking for. This Class 2 e-bike features a well thought out frame design and a powerful 750-watt motor that will power you and your goodies all around town.
The RadRunner 3 Plus has a newly designed frame with a hauling capacity of 350 lbs. There is tons of versatility with what you can carry when using the optional rear passenger seat, front and rear racks with plenty of optional accessories, and an optional trailer.
The 750-watt motor is also newly designed and really wowed us with its performance. Distributing power from the bike chain is the 7-speed Shimano Altus shifter/derailleur, which worked well with the motor when pedaling in low gears, on hills, and flat straightaways. This bike has a right grip twist throttle. Providing greater safety and sure-footed stopping power is the upgraded hydraulic brake system. The brakes worked well for us when carrying cargo.
Considering all the features on the RadRunner 3 Plus, you definitely get a great bang for your e-bike buck. To learn more about this e-bike, or for information on price and availability, please click the link below.

Pro's
Thanks to its weight capacity, frame style, and 350-lb weight capacity, the RadRunner 3 Plus is hugely versatile e-bike.
Tons of optional accessories, like additional seats, lockable hard-shell panniers, and even the new Rad Trailer, allow the bike to carry kids and pets, or haul just about anything.
With a cargo rack significantly longer than previous models, the RadRunner 3 Plus has plenty of room for passengers or gear.
Compared to earlier models, the bike's frame is stronger and more maneuverable, while still accommodating riders between 4′-10″ and 6′-2″.
The RadRunner 3 Plus feels great and handles well thanks to its improved motor, 3.3″ tires, and BMX-style handlebars.
The bike's PAS system offers a wide range of assistance levels to match the preferences of a wider range of riders.
Comfort is at the forefront, with the bike's upright positioning, improved saddle, suspension fork with 60mm of travel, and 17″ standover height.
Currently in development, a second battery will be available soon to double the RadRunner 3 Plus' range!
The bike's updated frame design and semi-integrated battery are welcome sights that also look great!

Con's
We love the overall visual redesign, but still wish the bike had better cable management and came in more than just one color – but these things are pretty minor when considering all of the Pros!
The single-leg kickstand is a bit of a downgrade from previous models that used a dual-leg one. This version is easier to use, but isn't quite as effective when loading cargo.
Electric Bike Company Model S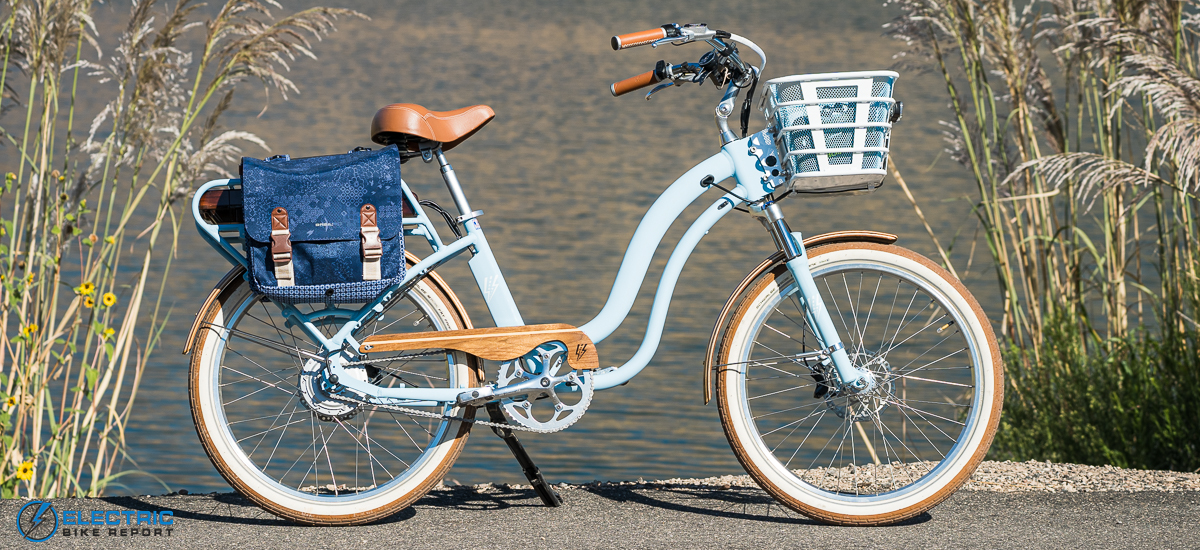 The Model S, from the Electric Bike Company, is great for seniors, combining a classic look with quality components on a bike virtually anyone can ride. Its welded rear rack, with a 55 lbs capacity, is great for carrying groceries, picnic goodies, and even a bike seat for the grandchild. Add an optional front rack, and you can carry another 45 lbs of fun.
Powering you along with goodies at hand is a powerful 500-watt motor, claimed to be the best e-bike motor in the world. It has a 10-year warranty, which is the best in the industry, and gives the buyer greater value. The 12 amp-hour battery can provide enough energy for 60 miles of riding in between charges.
Designed to offer great ergonomics for comfortable posture, the 27" wide handlebars are easy to reach. The super comfy seat is great for longer rides, and the 7-speed shifting and pedal assist adjustments on the LCD display safely control your speed. The aluminum frame will accommodate a rider height range of 5'2" to 6' 10" and the total weight capacity is 420 lbs, making this bike very inviting to almost anyone.
Optional anti-theft alarm is available, as well as numerous accessories, including a suspension seat post for smoother rides, and a variety of cargo carrying items. The Electric Bike Company sells directly to consumers, which means this bike arrives fully built, making it convenient for seniors who aren't comfortable using tools.
All in all, you get a lot of value with this superbly built e-bike.

Pro's
10-year warranty on motor – great value.
Great riding control and stability for new and returning riders.
Smooth, reliable power from the 500w motor.
Impressive 65 mile range from the 48v 18Ah battery.
Color LCD display was easy to see while riding, giving pertinent details.
Good stopping power from Tektro Dorado hydraulic disc brakes.
Weight capacity 420 lbs, welcomes most riders, regardless of weight.
Optional suspension seat post smooths the bumps, and many accessories for customizing rider needs.

Con's
We would like to see an optional suspension fork for smoother rides.
High priced bike (but it does feature high quality components.)
Senior riders who are more active and who want an e-bike with innovative features will really like the Evelo Galaxy SL. Featuring its state of the art Enviolo gear hub and 500-watt Dapu mid-drive motor, the Galaxy comes packaged with nifty components that provide unique riding experiences and add value to your purchase.
The Enviolo continuously variable transmission (CVT) is a new take on the old internal gear hub that you see on Dutch bikes. With a manual twist shifter, you can change gears when you're not moving and the unit needs very little maintenance throughout the life of the bike.
The Dapu 500-watt mid-drive motor is of higher quality than most motors you see elsewhere, and it complements your pedaling, rather than replacing it. When climbing hills you will appreciate the 95 Newton-meters of torque it generates – something mid-drive motors are known for. This e-bike comes with a throttle and is chain-driven.
The rear rack-mounted 36V, 13Ah battery allows for the shorter step-through frame, and is super easy to remove for charging and security. The battery should last for 50 miles between charges, depending on your shifting and pedaling.
The SL has rigid suspension, which helps keep the weight down, and the Zoom hydraulic brakes provide good stopping power. Complementing the shorter frame height are the 24" x 2.4" wheels, providing good traction and handling on pavement and gravel roads. The 350 lbs capacity allows you to take advantage of the cargo-carrying accessories that are available. But if you just want to ride this e-bike as is, then you will appreciate its light 52-lb weight.
So, in conclusion, the Evelo Galaxy SL is a unique e-bike more suited to active senior riders. But the technological features can help elevate your riding experiences to new levels. Evelo sells and ships e-bikes directly to consumers, and their bikes are delivered with some final assembly required. Shipping is included in the price of the bike, and they offer a 21-day at home trial offer, allowing you to make sure this is the e-bike for you.

Pro's
Enviolo's continuously variable planetary transmission provides effortless gear changes and low maintenance.
Peppy 500-watt mid-drive motor still provides a traditional riding experience.
Low step-over makes it easy to hop on.
Lightweight build, easy to maneuver, transport and store.
Quality components give added value, especially Evelo's 4-year, 20K mile warranty.
Smooth, predictable motor engagement with pedaling, enables safe speed selections.
Classic styling harkins to an earlier era of bicycling, but with modern amenities.

Con's
More expensive, but you're getting a higher quality electric bike.
Riders unfamiliar with CVT gear hubs may face a learning curve; plus upshifting is difficult in the first 500 miles.
Summary: Electric Bikes Keep Seniors Active, Happy And More Healthy
I've spent most of my life riding bicycles, and I like knowing that electric bikes are there to keep me riding no matter my age.
E-bikes are sometimes called the great equalizer of cycling. Cycling, as a sport and a mode of transportation, was formerly reserved for the (relatively) young and fit; those unfazed by hills and long durations of physical exertion. But e-bikes, thanks to their small motor and battery, make it so that anyone — no matter their age, fitness level or ability — can enjoy going for a bike ride. E-bikes make hills feel flatter, accelerations easier and give riders the power to choose exactly how much they want to ask of their bodies when riding a bike.
I like to think of it as the democratization of bikes.
Few demographics have been more impacted by e-bikes than the older generations of riders. Not only do they give existing cyclists the power to continue riding at any age, it's helping people who haven't ridden a bike in years rediscover the sport. They're less intimidating, more forgiving and can give you the sensation of turning back the clock to a version of you that used to do laps around the neighborhood on a one-speed bicycle.
We've spent hours testing with many of the bikes on this list, testing their braking, handling and acceleration to demonstrate how they handle in the real world. So if you're a senior on the hunt for an e-bike, you've come to the right place.
Now you've seen all our picks for the best electric bike for seniors in 2023. Are there others you think should make the list? Let us know down in the comments section below!
Reader Interactions