Best Electric Bikes for Seniors 2023
*Electric Bike Report aims to help consumers find the right electric bike for their needs. When you buy a product we recommend, we may earn a commission.
Whether you're looking to get back on a bicycle for the first time in years or you're just looking for a forgiving way to get back in shape, the number of seniors getting into e-bikes has exploded over the past several years.
The team at Electric Bike Report is often asked for our opinion on the best electric bikes for seniors, enough so that we put our heads together and came up with this list of our favorites.
Electric bikes have fast emerged as one of the most low-impact and most senior-friendly modes of exercise. While the small motor helps take the edge off obstacles — like hills — that may have kept some seniors off traditional pedal bikes in the past, they still require enough physical effort to make for a great workout. They've also been proven to help maintain cognitive and mental health among older riders — the light assist from an e-bike, according to one study, can inspire confidence and improve self-esteem in older people who may feel limited by mobility issues.
Thanks to the assistance of a motor and battery, there's a laundry list of e-bikes that work well for seniors. This list is a selection of our favorites.
*Editor's Note: Last updated November 16th, 2023 with the latest picks for the best electric bikes for seniors.
Our picks for the Best City and Urban Electric Bikes of 2023
Rad Power Bikes RadCity 5 Plus ST
Top quality e-bike for seniors, from one of America's largest DTC manufacturers
When considering our list of the Best Electric Bikes for Seniors, the Dutch-inspired RadCity 5 ST (step-through), has the "whole enchilada." This user-friendly e-bike from Rad Power Bikes has the main features and components – comfort, stability, power and quality – that are preferred by older riders.
Classic design and exceptional performance are two distinctions not always found on electric bikes. The classic Dutch style provides a posture for comfortable riding, and the step-through frame produces rider stability. Powered by a 750-watt rear hub motor, the RadCity 5 ST cruises with distinction, and never feels like it wants to jump out from under you.
Energizing the motor is the sleekly-integrated 672Wh battery to help you travel up to 50 miles between charges. Helping you maintain good looks while in a logjam, the half-twist grip throttle gives you the quick acceleration you need to dart ahead.
The medium size aluminum frame can accommodate riders ranging in height from 4'8" to 6'0". The tires are 27.5" x 2" puncture-resistant tires and you get riding experience that makes you feel in full control.
With its 15-inch seat post tube, this bike is sure to be a hit with shorter riders. The 275 lbs capacity allows for heavier riders or riding with cargo, using one or more of the optional rack accessories.
Looking at all the features this e-bike includes, the RadCity 5 ST is a great deal.

Pro's
Stable, comfortable posture makes it easy to climb aboard and ride for miles.
Predictable handling, the power from the 750W motor is nice and moderate at low speed with plenty of torque for climbing.
Rad's reputation is a plus. They are one of the biggest DTC e-bike brands for a reason
The hydraulic disk brakes worked great for us and made it feel very safe.
Great battery efficiency for riding many miles between charges..

Con's
The LEDs on the left side are not very bright and are a bit hard to decipher in direct sunlight.
Aventon Pace 500.3 Step-Through
Lightweight, Comfortable Ride, Quality Components, Great For Seniors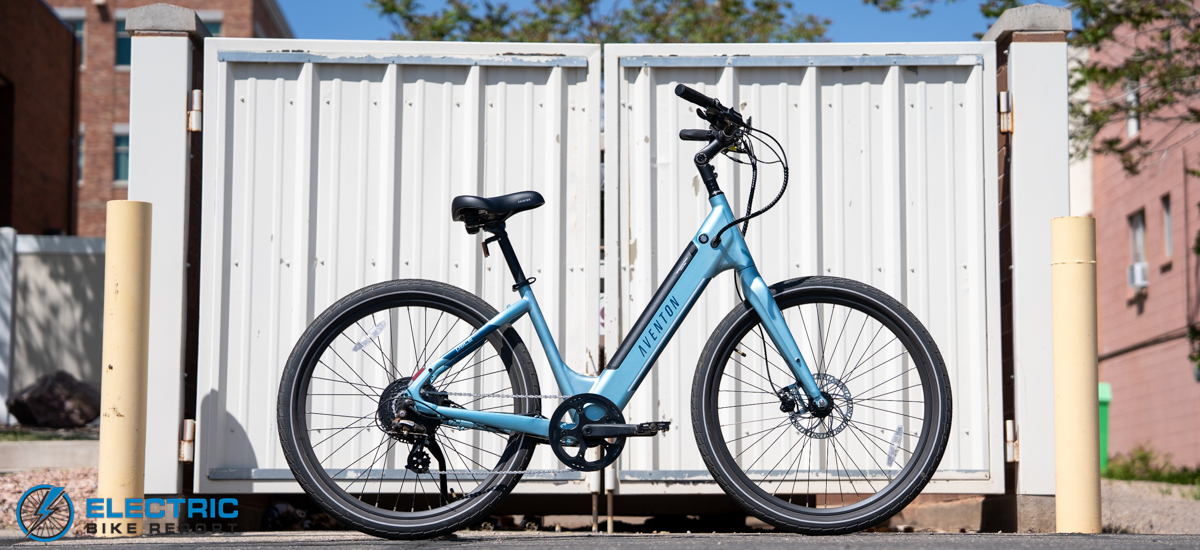 As we age, we lose muscle mass and generally with that fleeing muscle, strength. One of the details we keep a careful eye on as we evaluable e-bikes for seniors is their weight, which is why we are leading off with the Aventon Pace 500.3 Step Through. This e-bike weighs in at just 52 lbs., which is light for an e-bike in this price range.
Another detail we like about the 500.3 ST is its 16-in. standover height. This isn't the lowest standover height in this roundup, but it is low enough to merit mention.
The upright positioning and nimble handling made this bike feel more like a city commuter as we maneuvered around sharp corners and obstacles. The Shimano Acera 8-speed makes pedaling pretty pleasant in every gear. Stylish but simple looking, the Pace 500.3 ST has two frame sizes – medium and large, in four available colors.
The Aventon Pace 500.3 ST ships as a Class 2 e-bike with a maximum speed of 20 mph either on pedal-assist or throttle. With Aventon's smartphone app, the Pace 500.3 ST can be set up as a Class 3 e-bike, and the throttle and PAS can take you up to 28 mph. The Pace 500.3 ST offers a good balance of comfort and power. Its 500w motor dishes out power when you need it, and the 614Wh battery will take you up to 60 miles.
The Pace 500 ST's 500-watt rear hub motor, 5-level pedal assist system and throttle offer a great mix of cruising speed and acceleration – when you need it. We never felt like the bike wanted to storm ahead and shake us out of our seats – something less experienced riders will definitely like. The Zoom hydraulic disc brake system
Rolling this 52-lb. lightweight down the road on 27.5" x 2.2" Kenda multi-purpose tires, stopping is managed with the help of Tektro hydraulic disc brakes, which automatically shut off the motor when in use. Also keeping you safe are the integrated headlight and taillight.
This e-bike satisfies the needs of most senior riders with its reliable performance, good design and a comfortable ride. Whether you're an experienced rider looking for something more casual, or someone getting back into riding after a long hiatus, we think you will have fun riding this e-bike. Aventon has dealers throughout the US and also ships bikes to buyer's homes. Some assembly is required.
Check Best Price | Read The Full Review | Watch Video Review

Pro's
500W hub motor provides the power necessary to accelerate up to speed and climb hills, while weighing less than a 750W motor
614Wh battery can take you up to 65 miles on a single charge
Upright seated position makes it easy for the rider to see what's going on around them
Adjustable stem makes sizing a snap for rider comfort
Zoom hydraulic brakes provide safe stopping power
8-speed Shimano Acera drivetrain offers a wide range of gears for different terrain
Rear rack can carry 55 lbs of cargo.

Con's
A suspension fork and/or seatpost would increase rider comfort
Commuters may not like the additional expense to add a rear rack and fenders
Electric Bike Company Model S
A USA-made cruiser with more customization than any other e-bike and the peace of mind of industry leading warranties.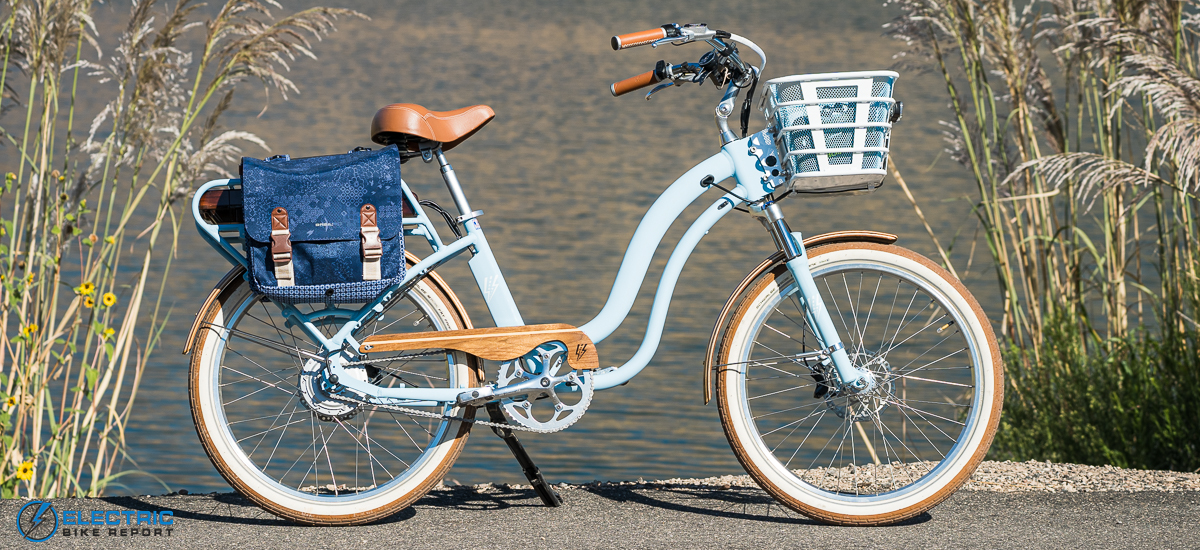 The Model S, from the Electric Bike Company, is great for seniors, combining a classic look with quality components on a bike virtually anyone can ride. Its welded rear rack, with a 55 lbs capacity, is great for carrying groceries, picnic goodies, and even a bike seat for the grandchild. Add an optional front rack, and you can carry another 45 lbs of fun.
Powering you along with goodies at hand is a powerful 500W motor. It has a 10-year warranty, which is among the best in the industry. The 576Wh battery can provide enough energy for 60 miles of riding in between charges.
Cruisers are the easy chairs of the e-bike world. Thanks to their backswept bar and short reach cruiser riders get to sit almost perfectly upright, reducing or even eliminating the strain that leaning forward places on the rider's neck.
Speaking of rider comfort, the big saddle provides support and cushioning in equal measure. A 7-speed drivetrain will help flatten the hills and getting up those hills will be easier than with those cruisers of yore in part because the Model S is constructed from aircraft aluminum rather than steel. And with a weight rating of up to 420 lbs., it can carry a rider plus a load of groceries and still have strength to spare.
Among the many options available when ordering are an anti-theft alarm, a suspension seat post for smoother rides, and a variety of cargo carrying items, like the basket shown in this photo. The Electric Bike Company sells directly to consumers, which means this bike arrives fully built, making it convenient for seniors who aren't comfortable using tools.
All in all, you get a lot of value with this superbly built e-bike.

Pro's
10-year warranty on motor – great value.
Great riding control and stability for new and returning riders.
Smooth, reliable power from the 500w motor.
Impressive 65 mile range from the 48v 18Ah battery.
Color LCD display was easy to see while riding, giving pertinent details.
Good stopping power from Tektro Dorado hydraulic disc brakes.
Weight capacity 420 lbs, welcomes most riders, regardless of weight.
Optional suspension seat post smooths the bumps, and many accessories for customizing rider needs.

Con's
We would like to see an optional suspension fork for smoother rides.
High priced bike (but it does feature high quality components.)
Lectric XP 3.0 ST
Folding frame convenience and affordability makes e-biking more of a reality for seniors
There's a reason why Lectric Bike's XP 3.0 is one of the hottest e-bikes on the market. It combines category-leading affordability, an easy-to-use design and the ability to fold for storage in small spaces, making it an ideal response for anyone who has decided to downsize their life.
Both the step-through and high-step versions of the XP 3.0 sell for around $1000, so it's great for anyone living on a limited budget. Lectric uses proven components on both models, giving you more for your money.
The XP-3.0 is a class 2 e-bike, which means the throttle and pedal assist system (PAS) help this bike reach a top speed of 20 mph. Its 150-lb. cargo-carrying capacity is another prime feature, enabling you to carry your grandchild or other youngster, as well as a decent amount of goodies to add to the fun. The XP 3.0's overall capacity is 330 lbs, meaning this bike can take on a lot.
The 500-watt motor has more than enough power to move this bike, and the 500Wh battery offers a range of up to 45 miles on a single charge. Rolling on 20 x 3-in. all-terrain tires, the short wheelbase and low-profile provides good handling and good overall control. This e-bike is claimed to accommodate rider heights from 4'10 to 6'1."
This e-bike is well-suited for senior riders in its ease at shifting, thanks to the Shimano Tourney 7-speed shifter, and the easy pedaling provided by the efficient gear range. With this being a more affordable ebike, the XP 3.0 uses mechanical brakes that stop almost as well as hydraulic brakes. One of the benefits of having less expensive brakes is the lower cost in maintaining.
Considering all the options that come on this bike, such as folding frame, good power and range, and cargo capacity, the XP 3.0 defines "competitively priced." This is the most affordable e-bike on our Seniors list.
Check Best Price | Read Full Review | Watch Our Video Review

Pro's
Few bikes are as easy to store and transport as the XP 3.0
The 500W motor produces a peak output of 1000w and with 55 Nm of torque on tap is has spirited acceleration and impressive climbing ability
Easy to pedal with the 11-28T gear range providing balanced motor engagement with your pedaling
Decent stopping power with the low cost, low maintenance mechanical brakes.
The 50mm-travel coil spring fork does a great job of absorbing bumps in the road
Carry a passenger, groceries, or fun picnic or BBQ stuff with this bike's 150-lb cargo capacity

Con's
Can't remove the battery key when riding, which increases the risk of losing the key when parked
Blix Sol Eclipse
Custom design, sturdy construction, and technology that lasts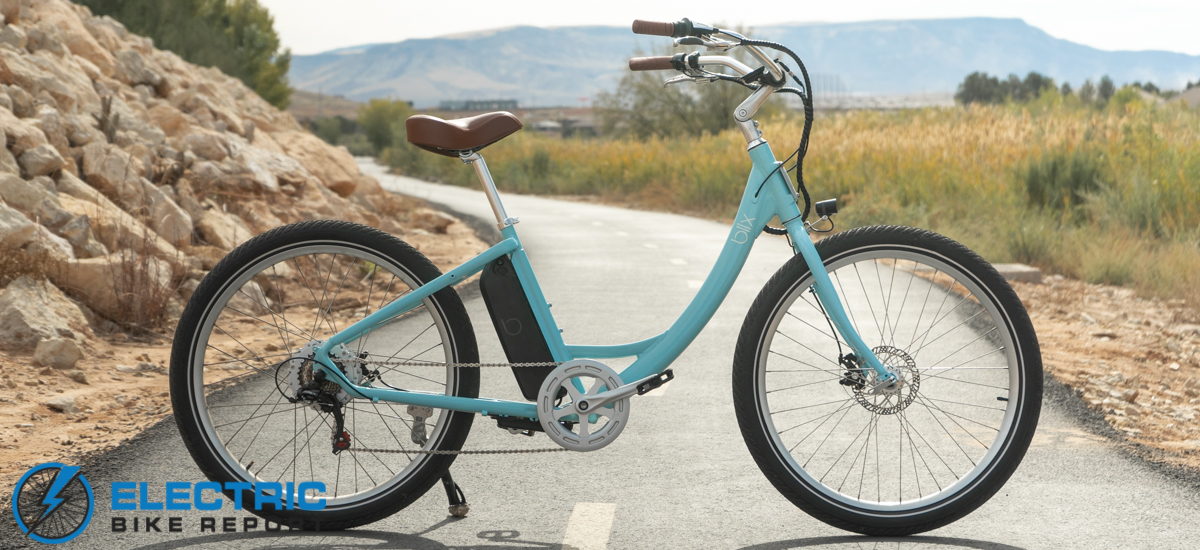 Combining comfort, stability and control, the Blix Sol Eclipse is a classic step-thru beach cruiser that you will likely want to ride often. Enhancing its stylish looks, its powerful 750-watt motor makes climbing hills a breeze. It comes with a throttle to give you that extra oomph when you need it.
This is a bit more stripped-down than many cruisers we see; it doesn't come with fenders, a rear light or rear rack. For some seniors that will be a feature, not a bug, as those items increase an e-bike's weight. The Blix Sol Eclipse weighs just 56 lbs., making it yet another (relatively) lightweight option for riders concerned about handling a heavy e-bike.
Pedal assist power comes in five levels, each one designed to help you safely reach a specific speed between 10-20 mph. Powering the motor is the 614Wh battery that can take you up to 45 miles between charges. The 17-inch medium/large frame is said to fit riders between 5 feet 1 and 6 feet 2, and this bike has a comfy wide seat that will encourage you to extend your rides.
Designed to provide an upright riding position, this bike is great for casual cruising down any street, path, or trail. The Sol Eclipse comes with a front cargo rack (50 lbs. capacity) and a rear rack (55 lbs. capacity) that will help carry groceries, or a little one in style. The total capacity is 270 lbs., and most child bike seats can be mounted on the rear rack. Total weight of this e-bike is 56 lbs., which makes lifting a little easier than other cruiser e-bikes.
A great feature is the USB charging port you can use to charge your smartphone or other electronic accessory. The Blix Sol Eclipse is a quality bike at a budget-friendly price, so if you're looking for a simple e-bike that is easy to ride and will provide you tons of fun, then you should consider this as your next e-bike.
Check Best Price | Read Full Review | Watch Our Video Review

Pro's
Great for easy, leisurely rides – you'll want to ride this e-bike a lot!
7-speed Shimano drivetrain will make hills easy to tackle thanks to the 14-28T cassette and 48T chainring
750W brushless, geared hub motor has the power to deliver riders to cruising speed
Quality components, competitively priced
The combination of comfy seat and upright riding position will keep someone relaxed on long rides
Stylish-looking beach cruiser, available in 4 colors

Con's
We found PAS 1 and 2 to be somewhat underpowered, and we mostly used PAS 3 – 5
Lectric XP Trike
One of the most affordable e-trikes anywhere happens to be extremely capable for helping seniors take a ride.
Let's say you want to ride an e-bike but your balance isn't what it used to be. And let's say you've got a doctor who advises you to stay active in order to maintain your health. What's a senior to do? Well, an adult e-trike is just the ticket. The Lectric XP Trike combines the affordability and ease-of-use of Lectric's popular e-bikes with the reassurance of an e-trike.
Remarkably, the Lectric XP Trike is no more expensive than many consumer-direct e-bikes, and it includes a number of features that make it ideal for seniors who may have previously thought that e-bikes weren't an option for them.
The Lectric XP Trike shares in common with cruisers the upright seated position that allows the rider to keep their spine straight (and comfortable). The pedals are shifted slightly forward so that pedaling recruits more of the rider's hamstrings and glutes, which tend to remain stronger in older riders than their quads do. Buyers can also order a backrest that allows anyone who needs a bit of back support to remain comfortable and stable as they ride.
Lectric made some excellent design choices with the XP Trike to make sure it's easy for seniors to use. It has a very low standover height of just 13.8 in., which means anyone with stiff knees or hips will only need to lift one foot roughly 14 in. in order to mount the XP Trike. The choice to go with 20-in. wheels also helps to keep this e-trike's center of gravity low, making it stable in turns.
Lectric limits the XP Trike's top speed to 14 mph in order to make cornering as stable as possible. This is still quick enough to get around the neighborhood or across town. This is a simple e-trike to operate, in part, thanks to their decision to go with a single gear, a choice that makes sense for something with a 14 mph top speed.
The 500W brushless, geared hub motor has more than enough power to get the rider up to speed, whether by pedal assistance or throttle. That's right, this is a Class 2 e-trike, which is to say it comes with a throttle so if your legs get tired, you have an insurance plan for getting home. It can be handy for getting going if that first pedal stroke requires too much oomph.
Powering the 500W hub motor is a 672Wh lithium-ion battery. This is a bigger battery than we often see with this size motor and it was a great choice because e-trike's give up a bit of efficiency due to having three wheels on the ground. Remarkably, the XP Trike weighs only 69.5 lbs., which is a fine achievement considering many e-bikes weigh more than that. Lectric estimates that most riders will get as much as 60 mi. of range per charge.
One of the wonderful benefits of an e-trike is their carrying capacity. Load up a basket and there's no worry about balancing with the extra weight until you're up to speed. Bigger riders concerned about the strength of an e-bike will likewise appreciate the 415-lb. carrying capacity and its ability to comfortably support riders as large as 330 lbs, making it ideal for NFL retirees. Regarding non-rider payload capacity, the front basket can hold up to 35 lbs. and the rear basket can accommodate up to 75 lbs. That's a week's-worth of groceries in most households.
Check Best Price | Read Full Review | Watch Our Video Review

Pro's
One of the most affordable, quality electric trikes on the market.
Designed with safety in mind, capping top speed at 14 mph.
Unique free wheel design makes this trike handle better and much safer in turns.
Great ergonomics: seat, back rest, grips, handlebar reach, leg extension to the pedals – all designed for max comfort.
Powerful 750w motor overtook every hill we needed to climb.
Depending on your speed and reliance on the motor, range is between 25-59 miles.
Size convenient for getting through doorways and storing at home or in car.
Folding design makes it easier to transport and store when not using.

Con's
There's nothing wrong with a front hub motor, but the pulling sensation is a bit different than the push sensation you get from rear hubs and mid-drives and might take a little adjusting to.
Specialized Turbo Como 3.0 IGH
Premium quality, top performance, and no greasy mess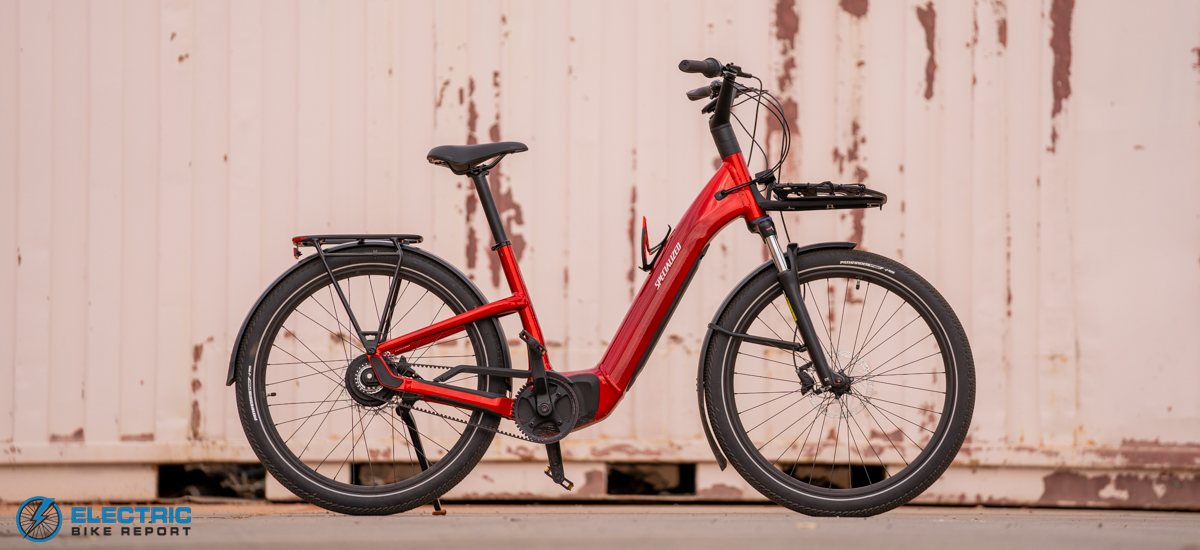 For the senior with a bit more disposable income and a desire for a higher-quality experience the Specialized Turbo Como Internal Gear Hub (IGH) 3.0 offers riders the combination of an easy-to-ride e-bike backed by the considerable manufacturing and design expertise of Specialized.
Specialized is known for excellence in a number of areas, but one of the standout features of the Turbo Como IGH 3.0 is that they produce it in three different sizes, giving it a greater capacity to cover a wide range of rider sizes than any one-size-fits-all e-bike. Specialized says that this e-bike will cover riders from 5 feet up to 6 feet 3. This will be especially helpful for riders who need an e-bike that will fit them, rather than them fitting the e-bike. Anyone with stiff joints will benefit. Also handy: an exceptionally low 14-in. standover height.
Propelling this Como 3.0 is the Specialized proprietary Rx Street Tune 250-watt mid-drive motor, made by Brose, which supplies Specialized with all of its proprietary motors. This throttle-less Class 3 motor has a pedal assist system (PAS) that will take you to a top speed of 28 mph. Specialized makes several different versions of the Turbo Como, but the one we've selected here is our favorite due to its internally geared rear hub. The Enviolo Continuously Variable Transmission (CVT) allows the rider to make minute changes in gearing to suit the terrain with just a slight twist of the grip.
Specialized powers the motor with a 530Wh lithium-ion battery, which, when paired with a 250W motor, will yield plenty of range. Another notable feature of the Turbo Como 3.0 IGH is the presence of a torque sensor, which means that the rider will have power the moment they push down on the pedals, rather than needing to wait for the cadence sensor found on most e-bikes with hub motors to kick the motor to life. It makes this a much more fun and responsive e-bike.
The 27.5" x 2.3" Pathfinder Sport Reflect tires handle great and keep you in control. You can use this e-bike for commuting and for cargo. Front and rear cargo baskets can enable you to carry up 75 lbs. (30 lbs. front, 45 lbs. rear) for a total of 275 lbs.
The Specialized Como 3.0 IGH is like the Cadillac of commuter e-bikes for seniors. That means the quality build and components are reflected in the total price. But you know you're getting a high quality e-bike when you buy from them, which says a lot about the overall value.
Check Best Price | Read Full Review | Watch Our Video Review

Pro's
Specialized makes some of the best-handling e-bikes on the market; riders will enjoy the feeling of grace they impart
250w proprietary mid-drive motor produces great power, and 50Nm of is more than enough when combined with the gears to tackle any hills
Comes in three sizes to accommodate a wide range of rider statures
530Wh lithium-ion battery gives rides exceptional range; some estimates are as high as 90 mi.
The Enviolo CVT shifts easily and makes it easy to find the right gear for any road
Awesome stopping power with the Shimano BR-MT200, hydraulic disc brakes, 180mm front and 160mm rear rotors

Con's
Some riders will be turned off by the lack of a throttle
The handlebar position offers very little adjustment
Blix Packa Genie
Carry grandkids and groceries on a top-performing cargo bike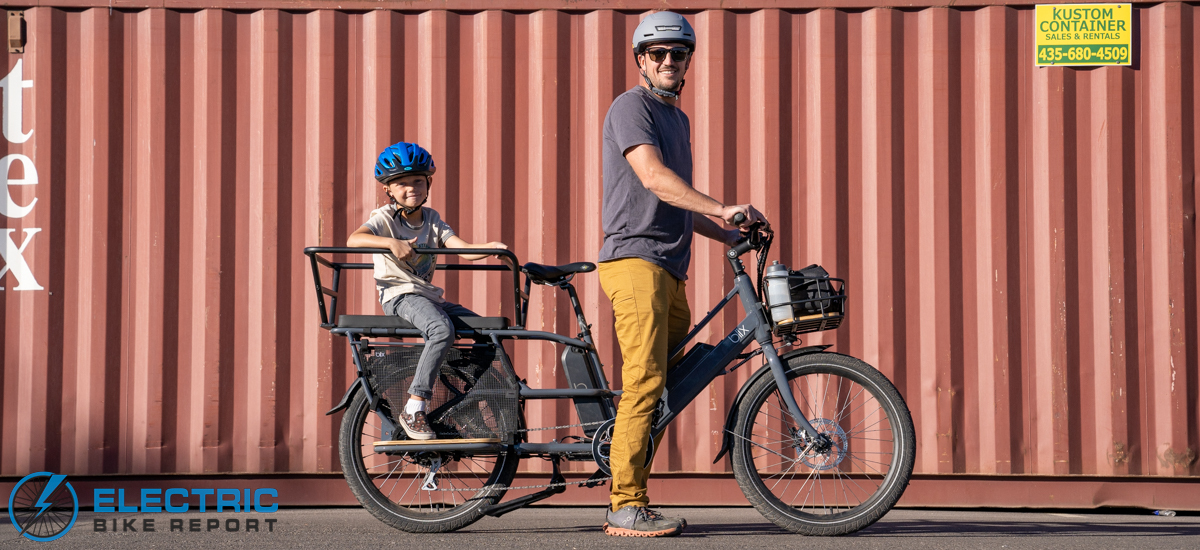 The Blix Pack Genie e-bike is a cargo e-bike ideally suited to seniors. For the active senior who wants to be able to enjoy fun outings with grandkids, this is a station wagon of a different flavor. The stability and control this bike offers is surprising when considering its size. The rear cargo capacity allows you to carry 150 lbs. or up to two grandkids.
You get a lot of power from the 750-watt rear hub, which really matters when you're carrying the extra passenger or cargo. Energy for the motor comes from the 614Wh lithium-ion battery. Riders planning to carry kids or other loads who are worried about range can order it in a double-battery configuration which Blix estimates could give riders up to 80 mi. of range per charge.
Stopping ability is provided by the Bengal hydraulic disk brakes. Changing gears is through the Shimano Acera 7-speed, making pedaling easier and the ride more fun. Blix chose 24-in. wheels rather than 20-in. wheels because they offer better stability at speed without sacrificing good maneuverability. The 24" x 2.4" puncture-resistant tires cushion you from the bumps and rough parts of the road. This bike can take a 250 lbs rider weight, and its total weight is 75 lbs.
Thanks to a modular design, buyers can configure it with a variety of seats, grab bars, running boards and baskets. Someone could keep baskets on it most of the time for errand-runs and then mount some bench seats for the grandkids when they come visit.
The Blix Packa Genie really offers a lot of value for your money, especially when you consider the basic one-battery e-bike which sells for under $2000.
Check Best Price | Read Full Review | Watch Our Video Review

Pro's
Good quality, value-priced e-cargo bike that lets you carry up to 400 lbs (up to 200 lbs of cargo)
Great handling for an e-cargo bike. Riding around I easily forgot that the bike is 81" long
Lots of accessories, making it easy to load the bike up with cargo and/or kids
Very long range with dual battery setup (up to nearly 80 miles in our real-world range test)
Powerful climbing hills, even when loaded up with weight
Good, quality components (hydraulic disc brakes, Shimano drivetrain)
Easy to get on/off thanks to 24" wheels and low, 19.4" step-over frame

Con's
This is me being super nit-picky, but I'd like to see a slightly larger front chainring. On PAS 5 you really don't have to pedal much at all to get the bike cruising at 20 MPH.
You can do so much with this bike, and there are a ton of accessories already. I just want more – specifically some type of large cargo basket for the rear rack.
Evelo Galaxy Lux
A Comfortable Cruiser that Combines Accessibility With Luxurious Tech for Top-Notch Riding Experience
The Evelo Galaxy Luxx makes our list of best step-through e-bikes for seniors based on some very winning features. This is a full-featured commuter that is ideal for recreational rides and running errands and thanks to a step-thru frame it is easy to mount and dismount.
First, this e-bike features a mid-drive motor, but not just any motor. It is driven by a 500W Dapu mid-drive that produces 100Nm of torque. This is double the power of most mid-drive motors, meaning this e-bike will provide stellar assistance to riders who want the thrill of a mid-drive motor's responsiveness but want a bit more muscle than most mid-drives offer.
Power to the motor comes from the 557Wh battery which Evelo estimates will take you up to 55 miles between charges.
For anyone who was ever intimidated by shifting gears on a bike, the Evelo Galaxy Lux is an e-bike that won't intimidate. Rather than a bunch of cogs with a derailleur and shifter on the handlebar, this e-bike is equipped with an Enviolo CVT plus their automatic shifter that changes gears for the rider based on how fast they are pedaling. It's a truly automatic transmission for e-bikes.
Evelo equips the Galaxy Lux with front and rear lights and fenders, a rear rack and kickstand, making it ready for any sort of duty straight out of the box. Thanks to a step-thru frame design the standover height is a very reasonable 16.5 in.
Check Best Price | Read Full Review | Watch Our Video Review

Pro's
Enviolo's continuously variable planetary transmission provides effortless gear changes and low maintenance.
Peppy 500-watt mid-drive motor still provides a traditional riding experience.
Low step-over makes it easy to hop on.
Lightweight build, easy to maneuver, transport and store.
Quality components give added value, especially Evelo's 4-year, 20K mile warranty.
Smooth, predictable motor engagement with pedaling, enables safe speed selections.
Classic styling harkins to an earlier era of bicycling, but with modern amenities.

Con's
More expensive, but you're getting a higher quality electric bike.
Riders unfamiliar with CVT gear hubs may face a learning curve; plus upshifting is difficult in the first 500 miles.
Aventon Aventure.2 ST
An E-bike for Seniors Wanting To Roam And Explore Off Road, While Having a Powerful E-Bike For The Roads
Whether you're a senior looking for an alternative to your car or just a fun way to get around, the Aventon Aventure.2 ST, is a versatile e-bike that will allow a rider to run errands, explore backroads and light trails as well as conquer the neighborhood. Thanks to front suspension and 4-in.-wide tires the Aventon Aventure.2 ST offers riders a ride that is more comfortable than most, a point worth considering for anyone who needs to avoid too much jostling.
Aventon has been making noticeable upgrades to their e-bikes. Among the quality touches that Aventon gave the Aventure.2 ST are the inclusion of a torque sensor to make the motor more responsive and their electronics were certified to UL's 2849 standard, the most comprehensive safety rating given to e-bikes.
The Aventon Aventure.2 ST is powered by a 720Wh lithium-ion battery that is estimated to offer riders up to 60 mi. of range per charge.
This step-thru e-bike has a standover height of 18.8 in., making it easy to mount even with joints that are a bit stiff.
The Aventon Aventure.2 ST has a stout frame made from hydroformed aluminum with a hauling capacity of 400 lbs. There is tons of versatility with what you can carry thanks to optional accessories. It comes equipped with a solid package of accessories, including front and rear lights, fenders, a rear rack and a kickstand.
The 750-watt motor really wowed us with its performance, thanks in part to that torque sensor. Distributing power from the bike chain is the 8-speed Shimano drivetrain, which worked well with the motor when pedaling in low gears, up uphills, and flat straightaways. Hydraulic disc brakes provide terrific control.
Check Best Price | Read Full Review | Watch Our Video Review

Pro's
Cool styling, serious versatility and a 400-lb. capacity, there is much to like about this e-bike
The included accessory package makes it a ready-to-go commuter
Thanks to 4-in.-wide tires, it can go most anywhere to satisfy the explorer in anyone
Comes in two frame designs—traditional and step-thru—and each frame comes in two sizes to fit a broad range of rider heights
Aventon's smartphone app gives riders additional control over their e-bike and allows riders to track their riding and more
The addition of a torque sensor makes the motor much more responsive

Con's
At 77 lbs., it's relatively heavy as e-bikes go
While we like the calm handing, someone looking for a nimble-handling e-bike may want to look elsewhere
Rad Power Bikes RadTrike
A Well-Balanced Trike That Thinks Through Users Needs While Balancing Costs
The Lectric XP Trike is by no means the only exciting e-trike on the market; the Rad Power Bikes RadTrike comes from one of the biggest makers of e-bikes here in the States. This electric trike features a very smart design, loads of versatility and some features that make it perfect for seniors who may want the added stability of a third wheel.
The Rad Power Bikes RadTrike is a bit different from some other e-trikes in ways that may especially appeal to seniors. For starters, it has one of the lowest standover heights on the market, just 13.4 in. Also, for anyone not sure if they want to make an additional investment in a backrest, but thinking it's a feature they would probably like, this e-trike ships with the backrest included as standard equipment.
The folks at Rad Power Bikes chose to go with 18-in. wheels, a smaller size than is common. This served two purposes. First, it helped lower the standover height, and second it lowers this e-trike's center of gravity, making it more stable in turns.
Boosting riders up to speed is Rad Power Bikes's 750W brushless, geared hub motor which has been speed limited to a maximum of 14 mph in order to ensure stability in turns. And rather than include a complicated drivetrain, Rad Power Bikes elected to position the hub motor in the front wheel, improving this e-trike's handling.

Pro's
One of the most affordable, quality electric trikes on the market.
Designed with safety in mind, capping top speed at 14 mph.
Unique design makes this trike handle better and much safer in turns.
Great ergonomics: seat, back rest, grips, handlebar reach, leg extension to the pedals – all designed for max comfort.
Powerful 750w motor overtook every hill we needed to climb.
Depending on your speed and reliance on the motor, range is between 25-59 miles.
Narrow enough to fit through many commercial doorways
Folding design makes it easier to transport and store when not using

Con's
A torque sensor would be a great addition to this e-trike as it would better manage motor engagement with the pedaling, and make more efficient use of the battery
How we picked the best e-bikes for seniors
There are undoubtedly many seniors who read the above list and scoff because the bikes we chose are too laid back or aren't fast enough.
That's fine, we've got recommendations for other e-bikes (like electric fat bikes and high-speed commuters) that might suit your tastes better. But while what makes someone a "senior" is nothing more than their age, there are certain considerations that often come up when we get asked for our opinion on the best e-bikes for older riders. Those considerations often involve mobility constraints, concerns over balance and flexibility and whether a bike's riding position is too aggressive. Oftentimes, on top of any one of those considerations, this is that person's first time back on a bicycle in a long, long time.
This list was made with those seniors in mind.
We used a few key criteria to compile this list, mainly:
Stability and comfort: Comfort and how stable they feel on the bike is often high on the mind of older riders. Bikes that earn a spot on this list shouldn't just be supportive, they should invoke a feeling of confidence in corners and over varying terrain.
Quality and components: We evaluate each bike's spec sheet to make sure manufacturers are making good component choices; a good bike is much more than its frame.
Value: What are you getting for your money? Are the components better than average and is the craftsmanship on par? We also account for things more intangible than parts bolted to the bike, such as quality customer support, brand reputation and the availability of good in-person service.
Power and range: How fast does the bike go and how far can I ride on a single charge? These questions are often the first on the mind of someone shopping for a new e-bike so they're at the top of our mind, too.
Was it built specifically with seniors in mind?: This may seem like an obvious one, but we tried to find e-bikes built specifically for older generations of riders. Do these design characteristics make sense and are they executed well?
This list does not cover every single bike on the market today that would be a good option for seniors and older riders. In fact, I think most of the EBR staff would argue that almost any e-bike would be a good option for seniors. But, based on a plethora of reader questions (we get TONS of questions about e-bikes for seniors), we compiled this list of our recommendations that we feel are suited best for the fast-growing demographic of older e-bike enthusiasts.
Summary: Electric Bikes Keep Seniors Active, Happy And More Healthy
I've spent most of my life riding bicycles, and I like knowing that electric bikes are there to keep me riding no matter my age.
E-bikes are sometimes called the great equalizer of cycling. Cycling, as a sport and a mode of transportation, was formerly reserved for the (relatively) young and fit; those unfazed by hills and long durations of physical exertion. But e-bikes, thanks to their small motor and battery, make it so that anyone — no matter their age, fitness level or ability — can enjoy going for a bike ride. E-bikes make hills feel flatter, accelerations easier and give riders the power to choose exactly how much they want to ask of their bodies when riding a bike.
I like to think of it as the democratization of bikes.
Few demographics have been more impacted by e-bikes than the older generations of riders. Not only do they give existing cyclists the power to continue riding at any age, it's helping people who haven't ridden a bike in years rediscover the sport. They're less intimidating, more forgiving and can give you the sensation of turning back the clock to a version of you that used to do laps around the neighborhood on a one-speed bicycle.
We've spent hours testing with many of the bikes on this list, testing their braking, handling and acceleration to demonstrate how they handle in the real world. So if you're a senior on the hunt for an e-bike, you've come to the right place.
Now you've seen all our picks for the best electric bike for seniors in 2023. Are there others you think should make the list? Let us know down in the comments section below!
Related Articles:
Reader Interactions