Electric Bike Company Model A Review, 2023
A casual, low-cost chopper-style cruiser for commuting or coasting along the beach.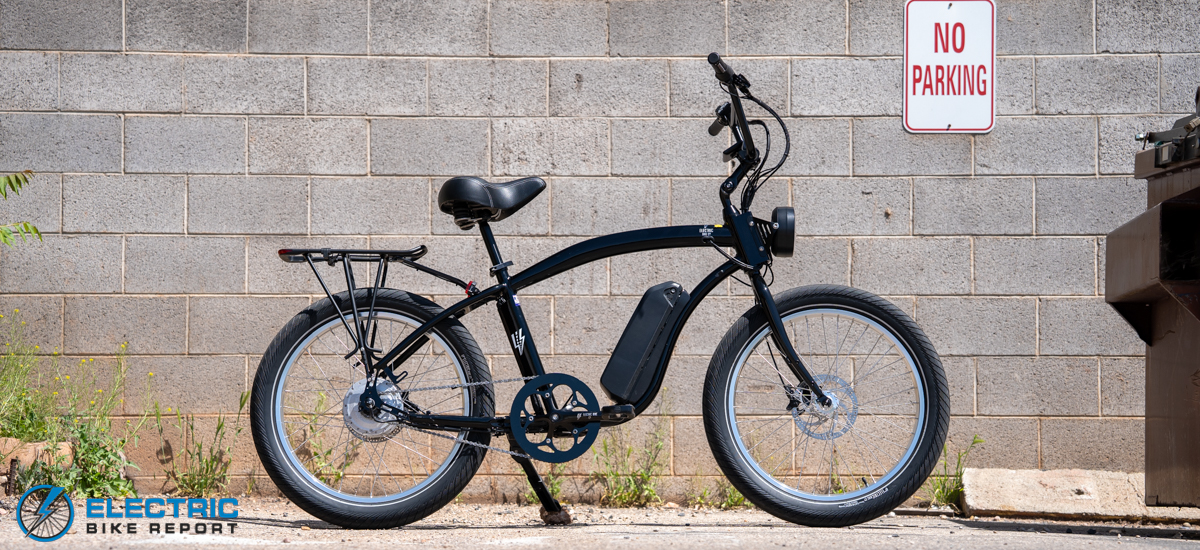 The iconic Electric Bike Company (EBC) should be well-known to fans of the beach cruiser style. Their e-bike models almost exclusively display the category's defining retro curves, and all feature upright positioning and big, squishy saddles for long-lasting comfort on casual rides. The EBC Model A doesn't break the mold (too much), but it also doesn't break the bank! We take a look at this basic-but-still-feature-packed cruiser in this Electric Bike Company Model A review.
With e-bike costs coming down over time, we've started to see a new wave of models in the $1,500 price range that include once-uncommon features such as turn signals and cargo racks. The Model A is one such e-bike, with an included package of commuter-friendly features we always appreciate, and quite a few extras we don't often see.
Did we mention this bike's affordability? Until now, Electric Bike Company models have started around the $2,000 mark, with costs potentially increasing quickly depending on what customization options are selected. In contrast with the company's other bikes, the Model A keeps things simple on the customization side of things – but this makes it super budget-friendly!
While many of the bike's components come from overseas, the Model A (like all EBC bikes) is painted, assembled, inspected, and tested in the USA. When you support the Electric Bike Company, you're also supporting an American brand with a personal, hands-on approach that stands behind its products by offering an excellent warranty.
Keep reading for more in-depth information on this cost-friendly cruiser in our review of the Electric Bike Company Model A!
Bike Category:
Cruiser / Commuter
Class 2 E-Bike:
Throttle and Pedal Assist up to 20 MPH (can be unlocked to Class 3 for Pedal Assist up to 28 MPH)
Electric Bike Company Model A Video Review

Pros
The Model A is affordable! Until the release of this model, Electric Bike Company did not offer an e-bike for less than $2k. We're happy to see their e-bikes becoming more accessible at a lower price point while still being feature-rich.
It offers solid value with a good set of desirable features – including a full package of included commuter-friendly accessories – that is becoming more common on e-bikes in the $1,500 price range.
It's made in the USA! Like all EBC e-bikes, the Model A is assembled at the company's factory in Newport Beach, California.
Reliability! EBC offers a 5-year warranty on the battery, and a 10-year warranty on the frame and motor, meaning that you shouldn't have any problems – but if you do, you can rest assured that the company will have your back.
Tons of safety features! An automatic sensor for the light system, a built-in user agreement in the display, and a default to a deactivated pedal assist system are just a few of its myriad safety-focused elements.
The Model A is beautifully simple to operate. With a single-speed drivetrain, an intuitive pedal assist system (PAS), and a throttle, riders can get up to speed easily without worrying about shifting.
It ships fully assembled! A quick handlebar adjustment is all that is required before hopping on and taking the bike for a spin!

Cons
We love all of the features packed into the Model A (especially at its price) but the separate modules for many of its controls leave the cockpit feeling a little cluttered.
ELECTRICAL SPECS & FEATURES
Battery : 48V, 12 Ah (576 Wh)
Display: Color LCD display, multi-level, compact user-friendly screen with USB outlet
Motor: MXUS 48V, 500W (750W peak) rear-hub motor
Headlight: 8" diameter headlamp with 120 lumens, powered by the battery, controlled from the LCD screen
Taillights: Rear safety LED lights, powered by the battery, controlled from the LCD screen
Pedal Assist: 5-stage PAS
Range: 50 miles
Throttle:Twist throttle
Weight & Dimensions
Claimed weight: 58 lbs.
Maximum rider weight: Up to 420 lbs.
Maximum load on rear rack: 27kg / 59.5 lbs
Components & Accessories
Brakes: Bengal Ares Hydraulic Disc Brakes w/ motor disconnect and 2-piston calipers, 180mm rotors (front and rear)
Fenders: Not included
Fork: Rigid Steel 1-⅛" fork w/ threaded steerer tube
Frame: 6061 Aluminum
Drivetrain: Direct (single speed)
Grips: Locking hand-stitched vegan leather, Aluminum secure ends for non-slip
Saddle: Custom, leather, 300 x 300 x 100mm thick, high-density foam, elastomer bumpers for support and comfort
Handlebar: Aluminum BMX Riser Street style for comfortable upright cruising position
Kickstand: Non-slip sole & wide reinforced rubber foot, prevents slipping and sinking
Pedals: EBC aluminum, integrated bearing pedals, with comfort non-slip rubber
Tires: 24"x3" Rhino Tires
Electric Bike Company Model A Review: E- Bike Overview
The Model A is somewhat of a departure from the norm for Electric Bike Company. On one hand, the bike's frame reflects the same traditional beach-cruiser styling that is embodied by most of the models in the EBC lineup. On the other hand, the Model A stands out; instead of the casual, swept-back cruiser handlebars, the Model A uses a BMX-style riser bar. And instead of a rainbow of color options and trim packages, the Model A currently comes only in black, and only with a single, standard trim package – although EBC has plans to eventually combine the Models A and X into a single, more customizable design.
For now, a single entry-level trim package gives the Model A a chopper-style appearance that's more aggressive than the typical EBC cruiser. It also means that, for a company that typically offers a zillion levels of customization on each of their bikes, the Model A is much simpler to produce. On the consumer side, this means savings! The Model A is priced at roughly $1,500 – which is a minimum of $500 cheaper than any other EBC model (not considering any additional customization options).
Despite its low price – and even as a standalone model – the Model A doesn't sacrifice on features! The bike currently comes only in a single-speed configuration, but it balances that out by including a throttle and a 5-stage pedal assist system (PAS). Additionally, it includes a variety of details that will appeal to commuters and casual riders alike; lights, turn signals, a cargo rack, a horn, a full-color LCD display – and more! We've seen some of these elements appearing more often on e-bikes in the Model A's price range, but not all of them are commonplace – especially not all together on the same bike.
We at
Electric Bike Report
are also impressed by the fact that the Electric Bike Company builds all of their e-bikes right here in the USA! Not only does an American presence inspire more confidence than the myriad of unknown foreign brands on the market, but all EBC bikes are also backed up by a solid warranty. The company offers a 30-day warranty on paint and fading, a 5-year warranty on their batteries, and a 10-year warranty on their motors and frames. To be clear; many of the Model A's components are made overseas, but each bike gets plenty of hands-on care from members of the EBC team, as they are painted and assembled on American soil. Each bike is also inspected and tested before shipping, and they arrive fully assembled and ready to ride.
The Electric Bike Company's Model A brings a lot to the table in terms of looks, features, and affordability – but does its ride feel and performance live up to that already high bar? Let's talk numbers as we examine the Model A's results in our battery of testing!
Electric Bike Company Model A Review: Circuit Speed Test
The Electric Bike Company Model A ships as a Class 2 e-bike, with an MXUS 500W rear-hub motor that offers throttle control and pedal assistance up to 20 miles per hour. The bike can be unlocked to Class 3 mode with pedal assistance up to 28 miles per hour, but we did not perform any of our measured testing in this setting. It also has a single-speed drivetrain with a 58T chainring and an 18T cog – which is a key element of the Model A that came into play throughout our testing.
My first lap with the Model A with no motor assistance was honestly fairly difficult due to that large chainring. This makes the bike much tougher to get going than a multi-speed model, and also requires quite a bit of effort to pedal at low speeds – I even had to stand to get enough leverage to make it uphill even on our circuit's small incline!
While this may seem like a flaw, it is actually a very intentional feature of single-speed EBC bikes like the Model A; the idea is that the user will make use of the throttle to get up to speed, and then pedal once they feel comfortable. The use of a single-speed drivetrain helps to keep costs down on the Model A, and also requires less maintenance (cassette replacement) than a multi-speed system. The bike's 5-stage pedal assist system gives riders a wide range of flexibility with how hard they wish to work, and the large chainring also helps to keep them engaged with the drivetrain at higher speeds.
This brings up a potential flaw in our approach on this specific test. For the sake of consistency, we typically do not make use of the throttle, so our average speeds on the EBC Model A likely do not reflect what would be seen under real-world conditions. Our data does, however, still highlight the difference made by the bike's motor at different PAS levels – which is the real point of why we perform the Circuit Test!
With those things in mind, the Model A was expectedly tough to get moving and pedal uphill even with motor assistance all the way through PAS 3. The experience became much easier in PAS 4 and 5, as the motor engaged more forcefully in these settings and did a lot of the heavy lifting.
The EBC Model A's motor uses a cadence sensor, which I personally thought felt a little on the slow side for a bike with such a large chainring, but I did like the fact that (regardless of using throttle or pedal assist) the motor's input did build gradually instead of all at once. This helps to make sure the bike feels safe and always under your control. Additionally, Electric Bike Company does offer the option for a torque sensor on the Model A – which is (currently) the only direct customization option when ordering the bike.
We also appreciated the fact that the Model A's throttle is tied into its pedal assist system. This means that lower PAS settings will cap the throttle speed at various levels, and the bike will need to be in PAS 5 to reach the throttle limit of 20 miles per hour. This means that the rider doesn't need to hold the throttle at a specific position to maintain a specific speed, which can be difficult over long periods of time; you can set your speed through the PAS and just go!
Our data for this test (mostly) shows a pattern that we like to see: a linear progression in average speed between PAS settings. This indicates that there are intuitive increases in motor assistance between settings, which translates to better user-friendliness. We might prefer to see more of a boost in PAS 1 and more difference between PAS 4 and 5, but overall, we think the flexibility of the Electric Bike Company Model A's ride is exactly what it should be!
Electric Bike Company Model A Review: Range Test & Battery Performance
The range of an e-bike is one of the most important factors to many consumers, so we consider it a critical part of our examination in this Electric Bike Company Model A review. The company advertises a range of 50 miles on a single charge of the bike's UL-certified, 48V, 576 Wh battery, so we performed our Range Test (explained above) to validate their claim.
As I covered in the previous section regarding our Circuit Test, we observed that the Model A's motor did not contribute much assistance in PAS 1. For this reason, our first Range Test of the Model A was performed in PAS 2, which we feel is a more practical minimum level of input. In this setting, we pedaled for 54.2 miles. We also tested the bike in PAS 5 to see how far it could go while providing the maximum level of assistance, and traveled a total distance of 30.3 miles.
Overall, our testing supported EBC's claim for the Model A, although there is one caveat. As I mentioned previously, the bike has been designed so that its throttle will be employed regularly to get up to speed. Once again, we did not use the throttle, and relied only on our own leg power to pedal the bike for the duration of our range tests. As such, our range results are likely a bit greater than they would have been had we used a mix of pedal assistance and throttle.
30-50+ miles is a respectable range on any bike, and these results met – and possibly even exceeded our expectations based solely on the motor and battery specs. With a 500W motor and a 576 Wh battery, the Model A should – in theory – travel for just over an hour in its max PAS setting. We were able to ride for two and a half! This is even more impressive considering that 576 watt-hours is slightly on the smaller side of things in terms of capacity.
Electric Bike Company Model A Review: Hill Test
For our Hill Test (explained in the graphic above), we pedaled the EBC Model A up our test path in PAS 5, and also took a second trip up using only the bike's throttle. In PAS 5, the Model A traveled up the slope in 1 minute and 21 seconds. On just throttle power, the bike successfully made the climb in just under two minutes.
Both results are firmly on the slow side when comparing the Model A's performance to that of similar e-bikes from other brands. Interestingly, however, the Model A lines up very closely with other EBC bikes – likely because they have similar motors from the same manufacturer.
Our test hill is extreme – this is why we chose it – so the fact that the Model A was able to make the climb earns it our seal of approval regardless of how long it took to get there. The bike proved itself to be capable in our demanding test environment, which means that it will likely be able to handle more average inclines with ease.
To touch back on our findings in our Circuit Test, the large chainring and absence of a cassette means that the Model A does struggle on hills in lower PAS settings, but in PAS 4 or 5 (or when using the throttle) riders should not expect much difficulty.
Electric Bike Company Model A Review: Safety and Brake Test


Both wheels of the EBC Model A are equipped with two-piston Bengal Ares hydraulic disc brakes on 180mm rotors. These performed very well, giving the bike an average stopping distance of just 18'-3"! This is significantly better than any other cruiser-style e-bike we have tested at this time – and even beats the current running average across all of the bikes we have data for.
This performance is great, but does the Model A's feel reflect these results? In general, yes! In our experience, the bike can occasionally lock up and slide a little, but it doesn't feel like it's at all dangerous or out of control. Even when skidding, the Model A feels surprisingly stable.
With perhaps the most important safety feature of the bike covered, let's unpack its other details. This bike, like all EBC models we've reviewed, is almost overflowing with small but significant elements that add up to an impressively safe ride; and in my opinion, this is where the Model A truly shines!
First – and speaking of shining – the bike includes an uncommonly thorough light package. The large 8" headlight has both a high and low beam setting for better illumination. It has three taillights for increased visibility from behind; the large taillight includes a brake light, and the two smaller lights on the seat stays function as turn signals.
Second, the Model A includes an electronic horn to better signal pedestrians, motorists, and other cyclists.
Third, each time the bike is turned on, its display requires the acceptance of a user agreement. This helps to protect families who lend their bikes to friends or companies who rent fleets of e-bikes in the event of any unfortunate circumstances. The bike also defaults to a setting that requires holding the minus button to engage the pedal assist system. While I personally kept forgetting about this, I appreciate the fact that it means the bike will never take off unexpectedly on you.
Next, the Model A uses 24"x3" puncture-resistant Rhino tires. These are a full 3mm thick, which helps to repel any sharp debris on the road and reduce the likelihood of getting a flat. We love this feature of the Model A, and would love to see thick tires used more often on other e-bikes!
Additionally, there's an added level of safety from Electric Bike Company's general approach to building their e-bikes. They make all of their wheels on-site, assemble all of their bikes by hand, inspect every component, and test each unit before shipping. All bikes even come with an authentication card that includes the name of its mechanic, its serial number, and its date of assembly. This allows for more personal ownership of the work by the EBC team members but also a more human connection between the company and the consumer; I was told by the company's owner, Sean, that customers can speak directly with the mechanic who worked on their bike when they receive it if they have any questions or concerns.
I'm not currently aware of any other e-bike brand that offers such a comprehensive approach to safety or a similarly personal level of interfacing with their customers. Color me impressed with the company as a whole – but extending this degree of care to such an affordable bike as the Model A is certainly going above and beyond.
Electric Bike Company Model A Review: Ride Comfort & Handling, Cockpit, and More
To round out this EBC Model A review, let's examine the rider experience more directly. In terms of contact points, the Model A does well!
Its large pedals accommodate a wide variety of foot/shoe sizes. The pedals also include a rubberized surface for better grip. Speaking of grip, the bike (like all EBC models) features faux / vegan leather grips that are stamped with the company's logo. We're not the biggest fans of grips of this style because they tend to be fairly slippery with gloves or sweaty hands – but they do look good.
The bike's BMX-style riser bar is unusual on an EBC cruiser – these usually include the style's trademark swept-back handlebars – but I personally much prefer the Model A's setup. The bike's stem is adjustable, and the riser bar adds a second point of rotation, so the height and reach of the handlebars are highly adaptable to the rider!
The Model A also comes equipped with the company's custom, extra-wide, and densely-padded saddle that we've come to know and love. We generally consider EBC bikes to be some of the most comfortable e-bikes we have tested, and their saddles are a huge contributing factor to that opinion.
A quick side note: the EBC Model A currently offers no customization options for its handlebars, grips, and saddle. When the company consolidates the Model A and Model X, there will be a much wider selection of options. Customers will be able to choose from more dedicated chopper-style accessories, classic cruiser-style options, and a few additional alternatives.
When it comes to handling, the Model A's current chopper-style setup with 24" wheels certainly comes into play. Electric Bike Company's other models offer 26" wheels (as well as 24") that are again more common on a cruiser-style bike. The Model A's smaller wheels won't handle bumps as well (though the 3" diameter tires will help with this), but they are more maneuverable. Overall, I thought the Model A's handling was about what I expected from a bike of its size – it was good while also being somewhat unremarkable.
Next, let's dive into the bike's controls and cockpit layout. The bike's control panel, its turn signal switch, and its horn button all mount to the left handlebar. The right handlebar hosts the twist throttle and the high/low beam selector for the bike's headlight. I really love all of the bike's features! But I'll also be up front about the fact that I personally think the Model A could use some improvement here. Considering the Model A's price point, its level of safety and functionality is excellent – but the spread of buttons and switches on the bars has the unfortunate side effect of leaving the cockpit feeling cluttered. I've tested e-bikes with many of these same features condensed into a single, smaller panel, and I think the Model A would benefit greatly from a similar setup.
Finally, I want to give the Electric Bike Company props for including an MIK-compatible cargo rack. This is, in my opinion, a great bonus feature that allows the Model A to be used effectively for students or commuters. The MIK system allows for quick and secure mounting of a massive range of cargo bags or baskets from a variety of manufacturers who have adopted this standardized system. If you purchase an MIK-compatible accessory for the Model A, you can rest easy knowing that it will fit your bike.
Electric Bike Company Model A Review: Summary / Where to Buy
Coming from an established and reputable brand, the Model A's price of around $1,500 is an excellent starting point! Its affordability was the first thing that initially leapt out to us because we know that consumers were craving a budget-friendly option from EBC for quite some time prior to its release.
The company could have easily backed off when it came to the features they decided to include on the Model A – but they didn't. The bike is packed full of tons of elements that give it excellent functionality, an impressive level of trustworthiness, a solid degree of comfort, and uncommonly edgy looks (for a cruiser).
On top of that, the Model A is accompanied by Electric Bike Company's personal approach, incredible attention to detail, hands-on involvement, and an uncommonly great warranty.
We think the bike's cockpit layout could be improved, but this is a fairly minor critique when considering how much the Model A offers. We also understand the tradeoff between customization options and price – and we look forward to seeing the combined and much more customizable version of the bike when it is combined with the Model X.
In summary, we think the Electric Bike Company Model A is a great choice for fans of cruiser styling and positioning, but who might want a more aggressive-looking ride. This extends to those looking for a purpose-oriented e-bike for commuting to school or work, but also to those who might just want to take casual, fun rides around the neighborhood.
The Model A is a cool, reliable e-bike that exemplifies EBC's trademark approach while maintaining a seriously budget-friendly price tag.
Happy Riding! Make sure to let us know if you have any questions down in our comments section or if you think we left anything out in this review of the Electric Bike Company Model A.
Reader Interactions