New Bafang E-Bike Mid-Drive Systems Offer Energie Cycles Upgrades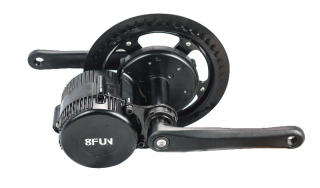 Starting in January 2014,
Energie Cycles
will offer the new Bafang 350 watt mid-drive motor package on the 2.6t and the 500 watt mid-drive system on the 2.6tm, adding as much as five times the torque while slightly reducing the overall weight.
As strategic partner with Suzhou Bafang Electric Motor Science-Technology Co., Ltd, Rechargeable Power Energy North America and its e-bike brand Energie Cycles are bringing the latest motor technology to the two top models of the bike line.
The new mid drive system developed by Bafang offer a powerful upgrade to the traditional brushless wheel hub design by offering as much as 73 foot pounds of torque through the Shimano 7-speed gear system. This is a dramatic change over the typical 20 foot pounds of torque delivered from the wheel mounted motor. Even with the maximum speed of 20 miles per hour (legal North American e-bike speed), the combined output of the mid-drive power utilizing the full range of gears gives riders tremendous power to climb hills, navigate favorite trails and improve battery efficiency while cruising.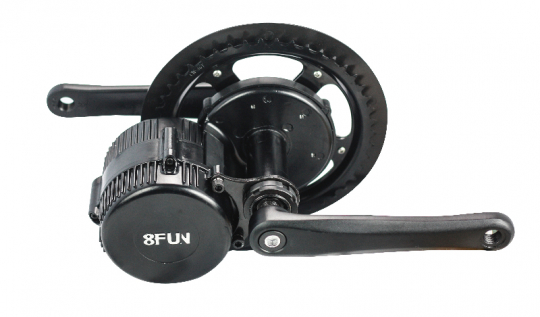 The new BBS-2 system from Bafang is unique in that it fits directly into a standard 68mm bottom bracket of a bike frame without any additional modifications. The new motor package includes a built-in sine wave controller which can handle 24, 36 and 48 volt power sources. The motor is available in sizes from 250 watt to 750 watt.
The new upgraded models will be called the 2.6td (350w) and will retail for $2650.00 and the top of the line 2.6tm upgrade will be called the 2.6tmd (500w) and will retail for $2875.00. Both will continue to use Energie Cycles industry leading 36 volt 16Ahr battery pack which offers an advanced microprocessor technology, USB charging and diagnostic port and secondary battery smart sensing system. All models will be on display at the 2014 Consumer Electronics Show, in January.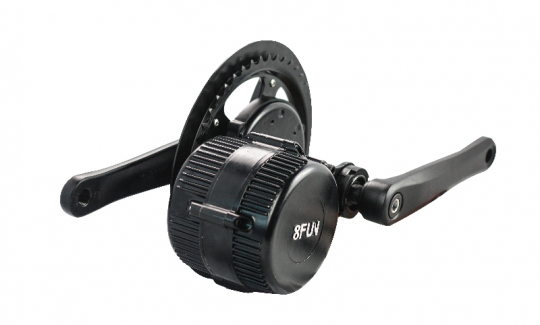 BAFANG MID DRIVE DISTRIBUTION PROGRAM 
In addition to offering completed mid-drive e-bike packages, RPE will be stocking the Bafang Mid Drive motor packages in our Las Vegas facility for authorized Energie Cycle dealers to be able to purchase these motors in quantity for quick ship deliveries. Dealers with bike projects are already placing advance orders to come in the next container due in December.
Energie Cycles – Is a trademarked brand of "Built In America" electric power assist sport bicycles under Rechargeable Power Energy North America, LLC. The line utilizes top brands and sources products from leading suppliers which are shipped to Las Vegas for assembly. The company provides sales and technical support to its dealer network from the 12, 500 square foot facility. The website for the line is www.energiecycles.com
Rechargeable Power Energy North America, LLC – is a leading portable power research, development and testing facility based in the US to deliver advanced battery pack design for Shenzhen B&K Battery's global sales and distribution network. The extensive staff of engineers and designers work with clients around the globe to develop primary and rechargeable power solutions for a wide range of products. The website for the company is www.rechargeablepowerenergy.com
Contact: Ray Verhelst Number: 1-702-353-0433 Email: [email protected]
3975 West Post Road, Las Vegas, Nevada 89118 USA –
1-888-456-9410 Intl Direct: +17025290252
www.RechargeablePowerEnergy.com
P.S. Don't forget to join the Electric Bike Report community for updates from the electric bike world, plus ebike riding and maintenance tips!
Reader Interactions