A Pro Cyclist's Perspective on Electric Bikes – Interview with Rahsaan Bahati [VIDEO]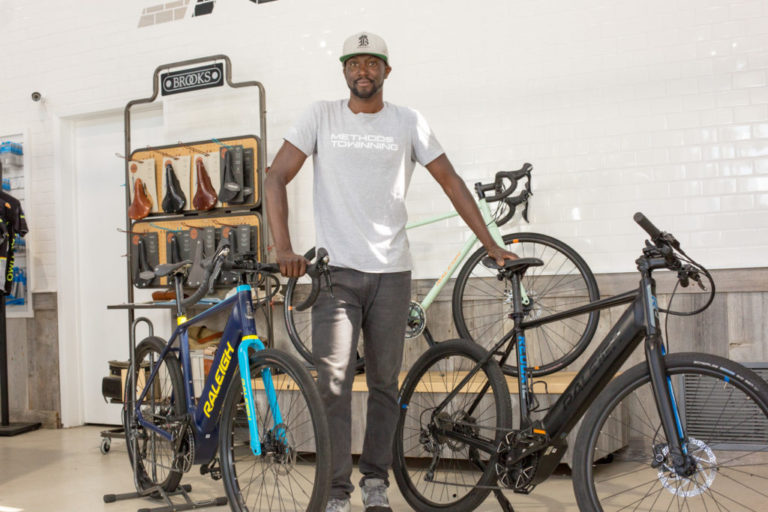 Rahsaan Bahati is a seven-time US championship professional cyclist who currently provides coaching to bike racers and supports inner city youth with his Bahiti Foundation.
And he is all about eBikes!
I had a chance to interview Rahsaan about his 21 year racing career and get his perspective on eBikes.
Also, Rahsaan recently received a custom Raleigh Redux iE with drop bars to fit his racer riding style as he commutes around the Los Angeles area. The included video will give you a closer look at this speedy eBike!

Enjoy the interview and video with Rahsaan!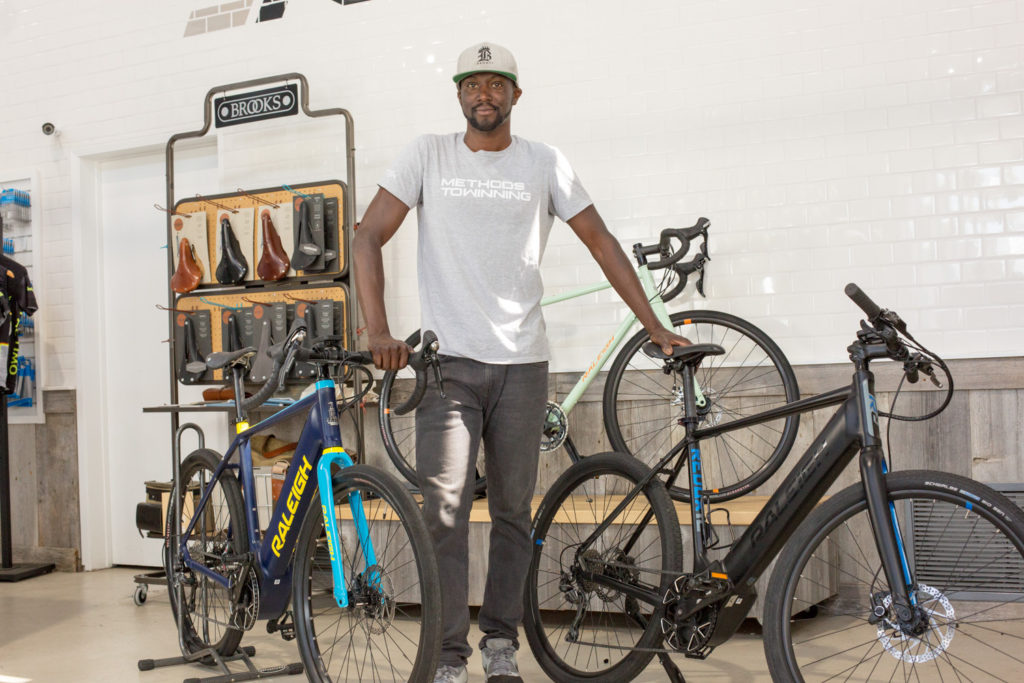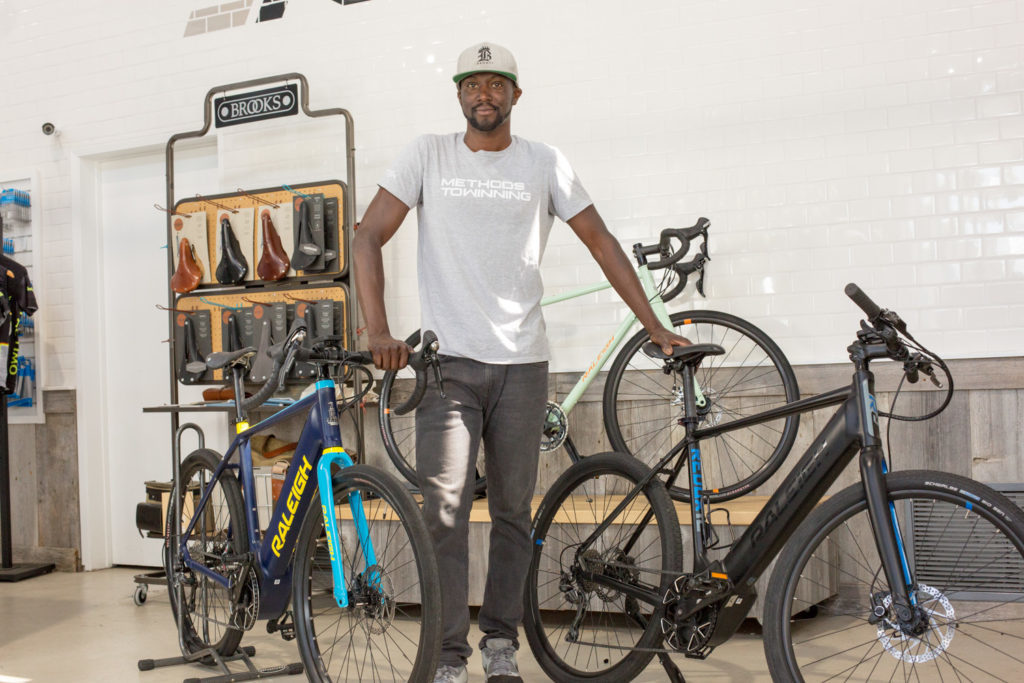 Could you please tell us about your background in cycling? How did you get started and what are the highlights of your career so far?
I was introduced to the sport of cycling from my 6th grade English teacher Mr. Reggie Gorman. Because I assaulted him with an eraser by hitting him in the face with it, he took the high road and offered my parents and I a chance to play Golf or ride bikes to blow off some steam.
My initial thought was "bikes", it has to be motor bikes. Little did I know it was bicycles.
Too much dislike I was entered into an after school program at Cal State Dominguez Hills where the 1984 Olympics were held for Velodrome Racing.
6 months into the program I fell in love with this sport and haven't turned back.
My greatest cycling accomplishment would be winning the 2008 CSC Invitational in VA.
How were you introduced to electric bikes?
My introduction to e-bikes came when I started working at the Raleigh Santa Monica Bike Shop.
However, after meeting Larry Pizzi (President of Raleigh Electric) and learning more about eBikes and how it could benefit me in so many ways, Raleigh Electric decided to sponsor me with a Raleigh Redux IE bike to see what a recently retired pro cyclist would think.
And I absolutely love it! Not only is it a replacement of my car, I save in so many ways. Often times we're so used to massive consumptions we forget that life can be very simple and my eBike has identified ways to simplify my life.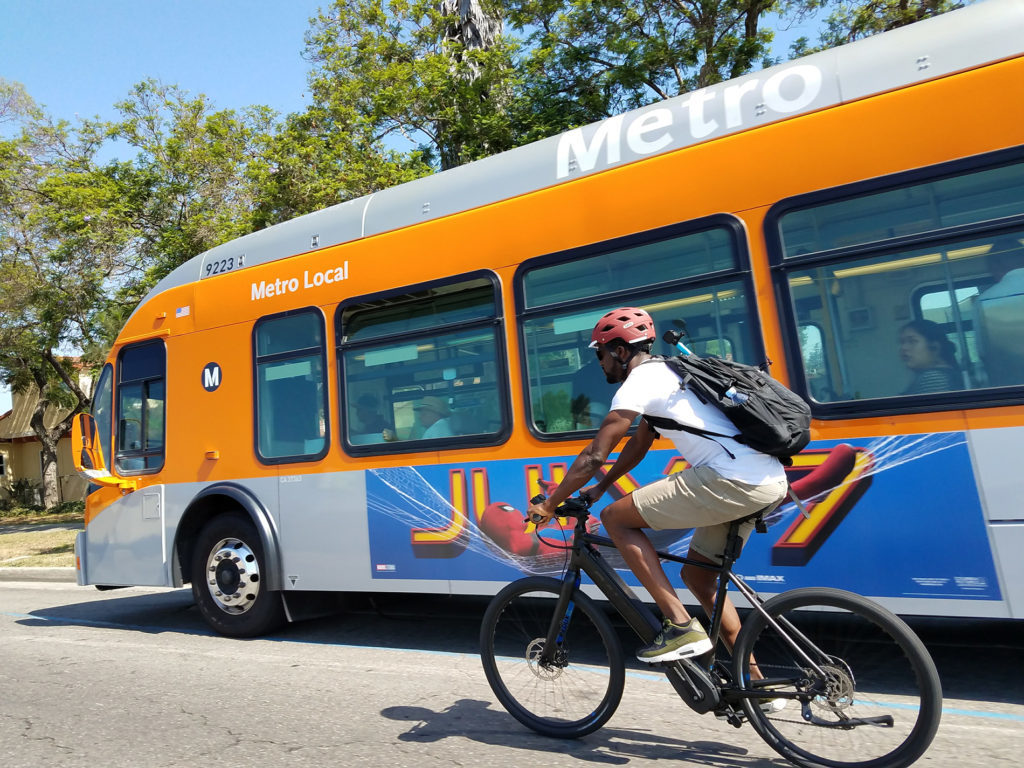 What do you use your eBike for?
My eBike is for transportation. 99% of the time that I'm on my Raleigh Redux iE it's for getting from point A to B as quickly and safely as possible.
Have you been surprised to find new uses for your eBike?
The only thing that surprises me is that more people are NOT on eBikes, however I know that will change as time passes along with the efforts of Raleigh Electric.
From your perspective as a pro cyclist, what are the main advantages of an electric bike?
The main advantages I see would be transportation. Oftentimes pro cyclist have to hold down a job in order to subsidize the lack of salary from bike racing.
Because an eBike is a timesaver, I can move around quickly, allowing me to get home or to training quicker.
I'm 100% a believer in eBikes.
You recently received a new custom Raleigh Redux iE. Could you tell us more about your custom ride?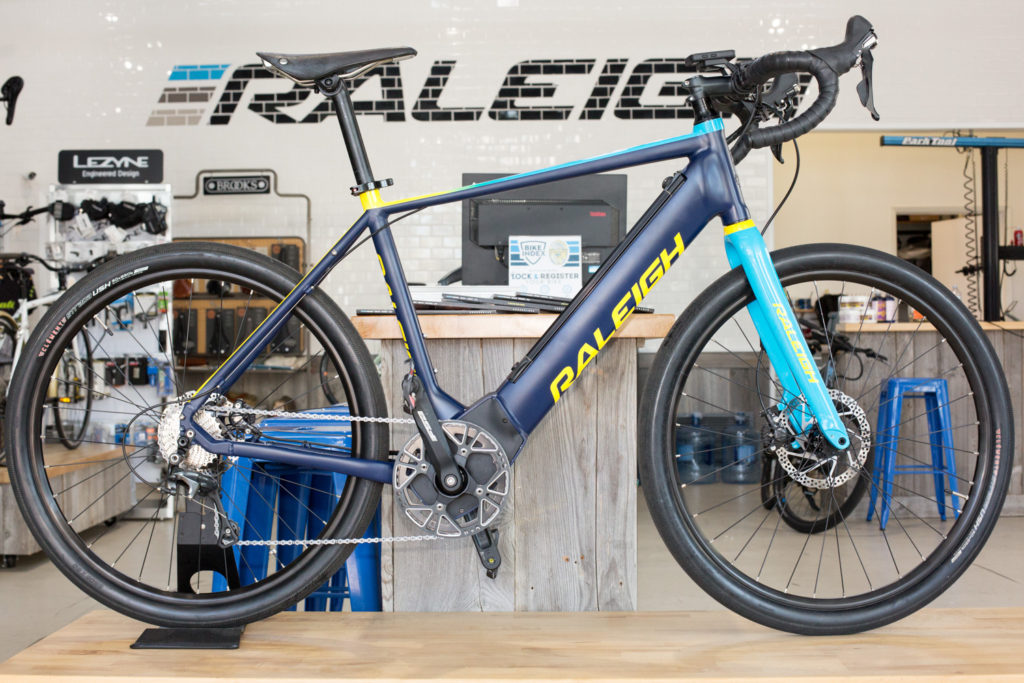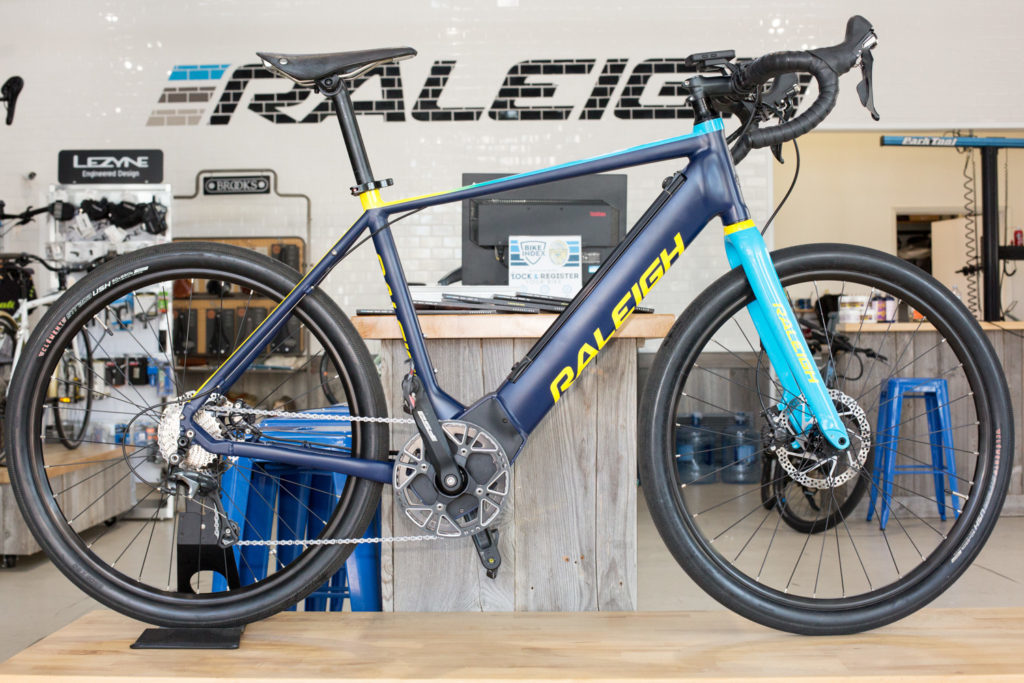 The custom Raleigh Redux was a collaborative effort with Raleigh Electric and myself.
Ironically, my Bahati Foundation/Methods to Winning Cycling Club has a new jersey very close in color to the Raleigh colors so it was almost a match made in heaven.
Lastly, Raleigh Electric wanted to build a bike with standard drop bars given that I have spent the last 21 years racing road bikes. The project has been amazing and the bike came out fantastic.
Here is a video of the new custom Raleigh Redux iE for Rahsaan Bahati:
Have some of your friends and family started riding eBikes too?
Because of my recent indulgence with eBikes, I have gotten my friends and family on eBikes. The best way to introduce someone to an eBike is to have them ride it. There is no other way.
Your Methods To Winning business provides coaching to bike racers. Do you think an eBike could be a useful tool for the training of bike racers? (For example: motor pacing, easy days while riding at race pace. etc.)
The short answer here is YES!!! I have so many ideas I want to incorporate in my coaching while using my Redux iE however I'm going to keep those close to me until I have proven they work.
Could you tell us about the mission of your Bahati Foundation?
The mission of the Bahati Foundation is to inspire inner-city youth through Education, Music and Sports. As of late we have spent more time working with the students in the STEM (Science, Technology, Engineering, and Math) 2 field.
Do you think eBikes will become a part of your foundation's message?
I soon hope to partner with Raleigh Electric and other companies that depend on STEM for their product. The idea has been put on the table and now its figuring out if it makes sense.
I would love to bring eBikes to the "hood" and give the youth yet another opportunity to be on a level playing field.
What is your vision of the future for electric bikes? Do you see more people using ebikes on a daily basis?
I 100% see more people using ebikes. Eventually they will be looked at the same way cars are looked at. You can get a eBike loan from a bank, you will be required to have insurance, registration, plate, etc.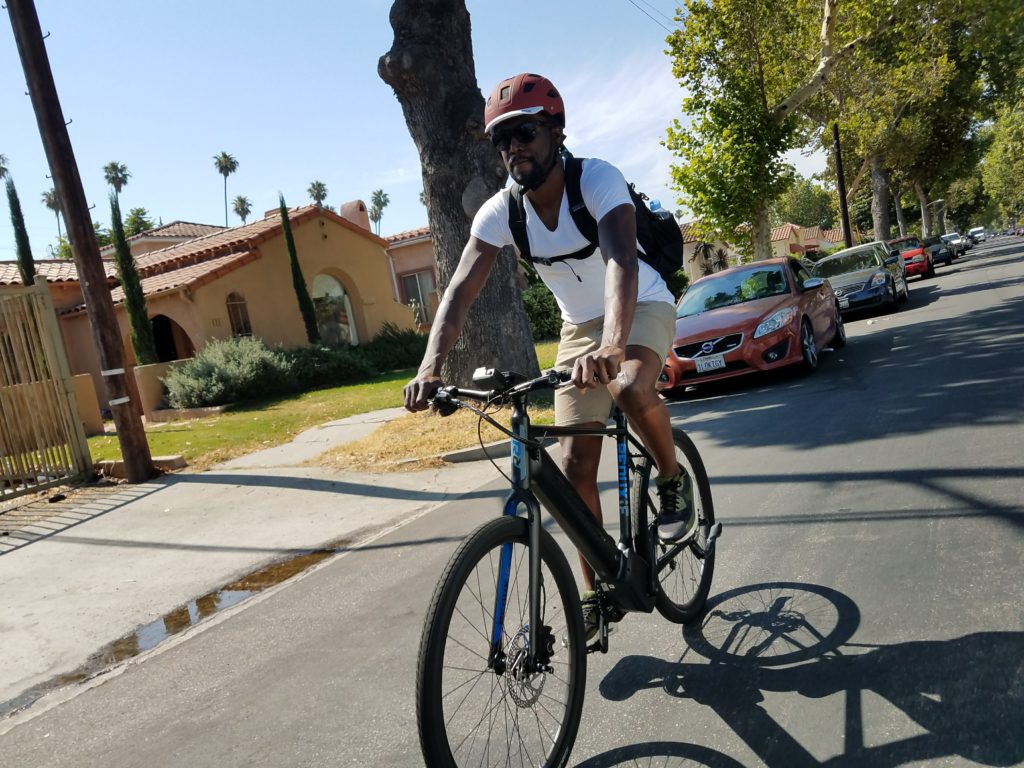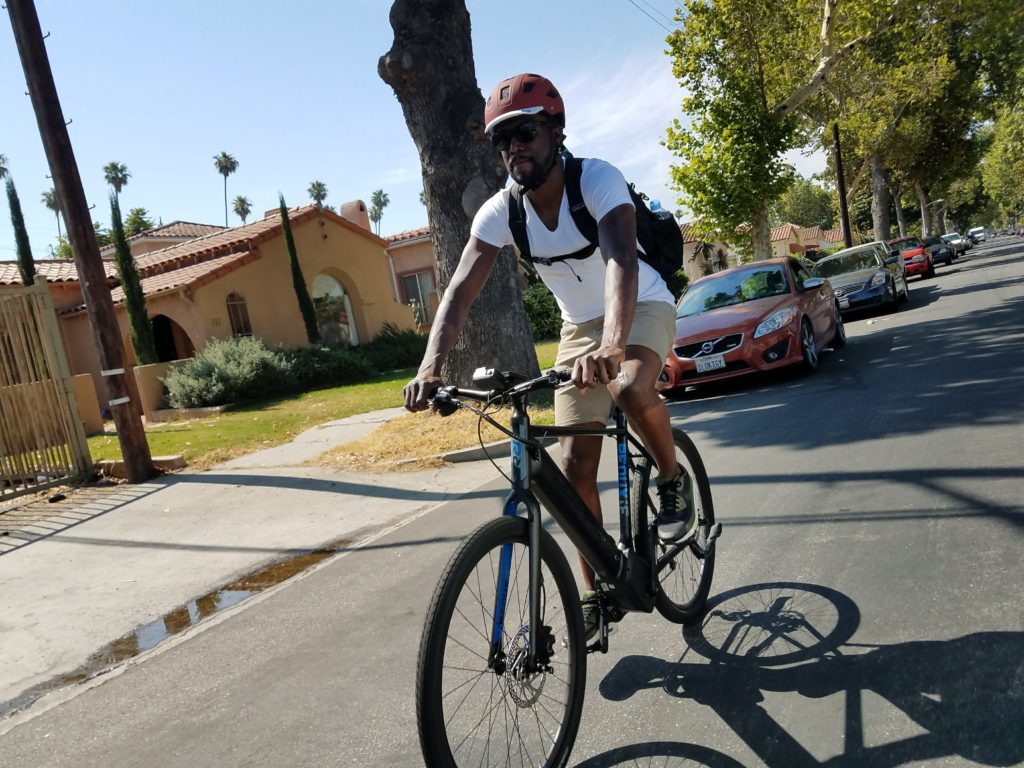 You can follow Rahsaan Bahati at:
Thanks to Rahsaan Bahati for this interview and we look forward to seeing him inspire more people to ride!
Also, here is the full review of the Raleigh Redux iE.
-Pete
P.S. Don't forget to join the Electric Bike Report community for updates from the electric bike world, plus ebike riding and maintenance tips.
Reader Interactions