2015 Polaris Electric Bikes [VIDEO & PICS]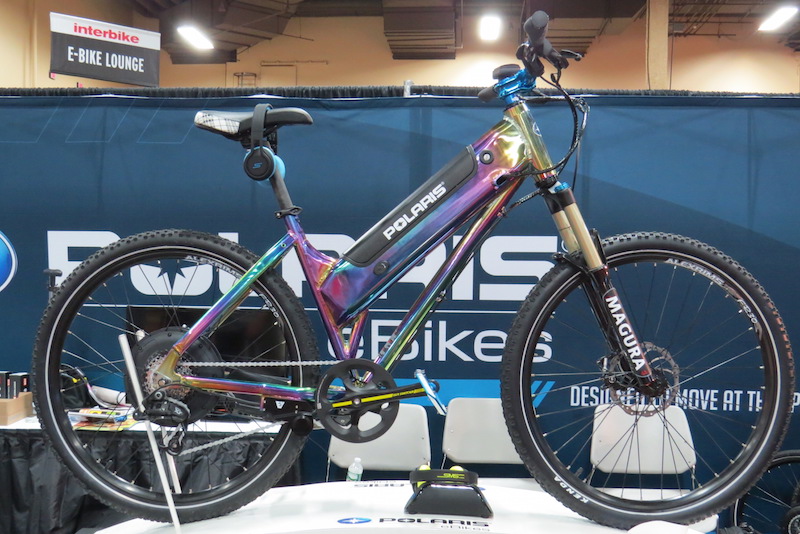 Polaris is bringing a new line up of e-bikes to the US market for 2015.
Some of the notable bikes are the Diesel DL818 with the wild "titanium oxide" color scheme and 2 new fat e-bikes: the Sabre EV505 and the Nordic EV 506.
For 2015 Polaris has also made some significant changes to their electric assist system.
Their lithium batteries are housed in the large toptube/downtube of the frame.
Their pedal assist system reads your pedaling cadence and power output along with what gear you are in and blends that together to provide you with the proportional level of assist.
They have also developed a number of regen modes; one includes activating the motor regen by backpedaling.
All of the new Polaris e-bikes feature a powerful 750 watt direct drive rear hub motor.
Here is more info on the new Polaris e-bike technology.
Alright, let's take a look at some of the new Polaris e-bikes from Interbike (the largest bike show in the US):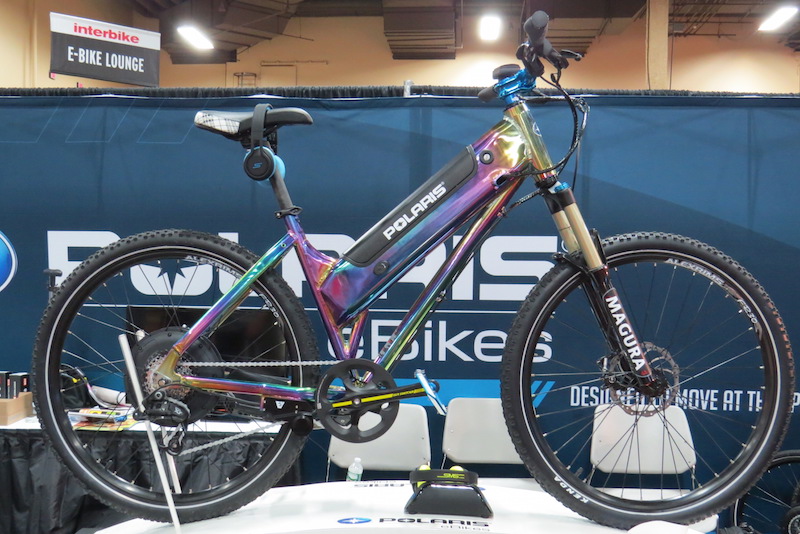 The "titanium oxide" color scheme on the Diesel DL818 is definitely an attention getter! The Diesel assists up to 25 mph with it's 750 watt motor.  This e-mountain bike is decked out with a Magura suspension fork and hydraulic disc brakes, a SRAM drivetrain, Kenda tires, and more.  The Diesel DL818 is priced at $3,999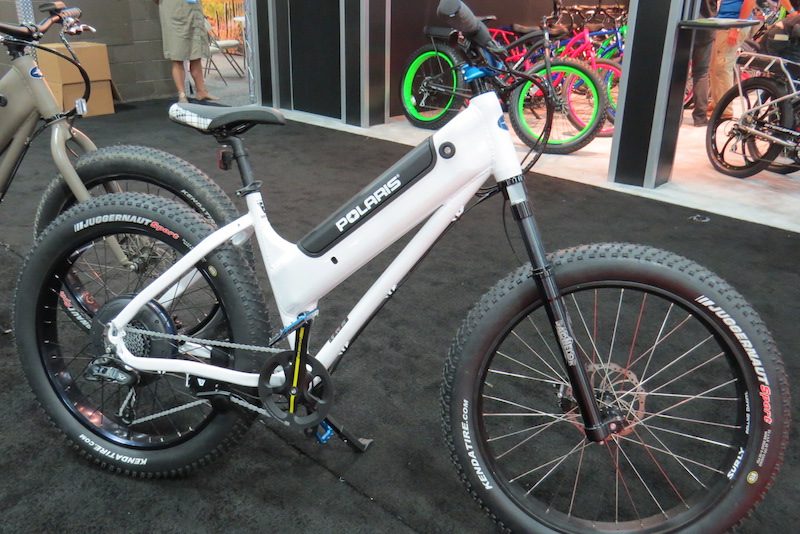 The Nordic EV506 is a "fat" e-bike with the Kenda Juggernaut 4″+ wide tires for riding on sand, snow, or almost any terrain you can think of.  The Nordic also features the new Rock Shox Bluto suspension fork designed for fat bikes, a SRAM drivetrain, Magura hydraulic disc brakes and more.  The Nordic is priced at $4,799.  Top assisted speed is 18mph.
The Sabre EV505 is the more affordable Polaris fat electric bike at $3,499. To hit the more economical price it doesn't have the suspension fork and the component spec is more of a moderate quality.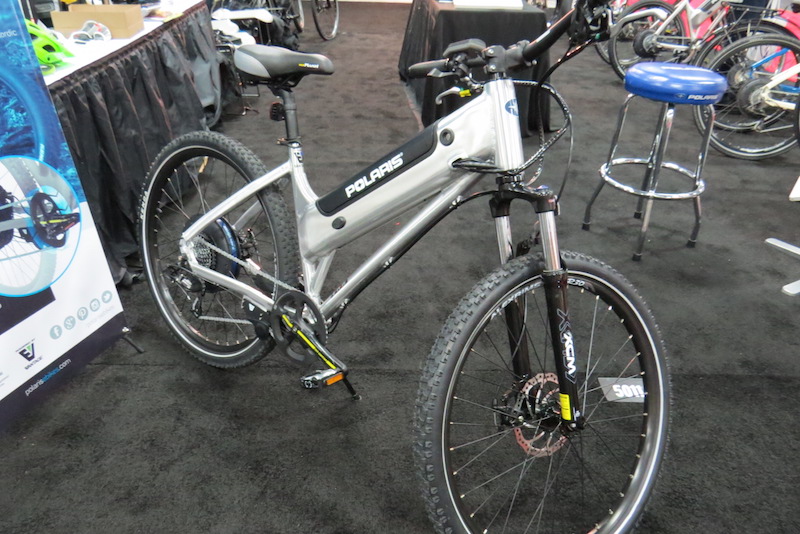 The Terrain EV503 is a 27.5″ wheel e-mountain bike with a moderate quality selection of components from SRAM, Suntour, and Tektro. It is priced at $2,499.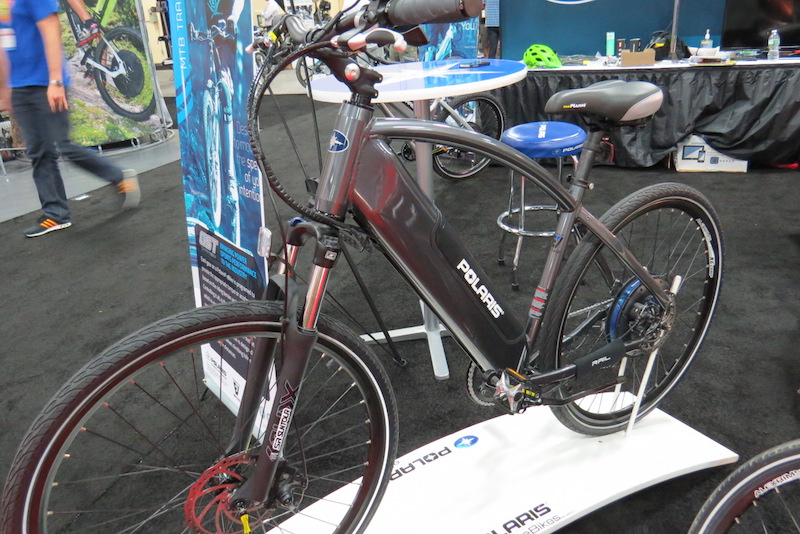 The Rail EV501 has the larger 700C wheels and it looks like it will be a good around town commuter / weekend cruiser. This e-bike with SRAM, Suntour, and Tektro components is priced at $2,499.
The Course EV512 is a high speed (25 mph) city/ touring style e-bike and it comes equipped with a bunch of accessories (rack, fenders, etc.) right out of the box. The EV512 is priced at $2,999.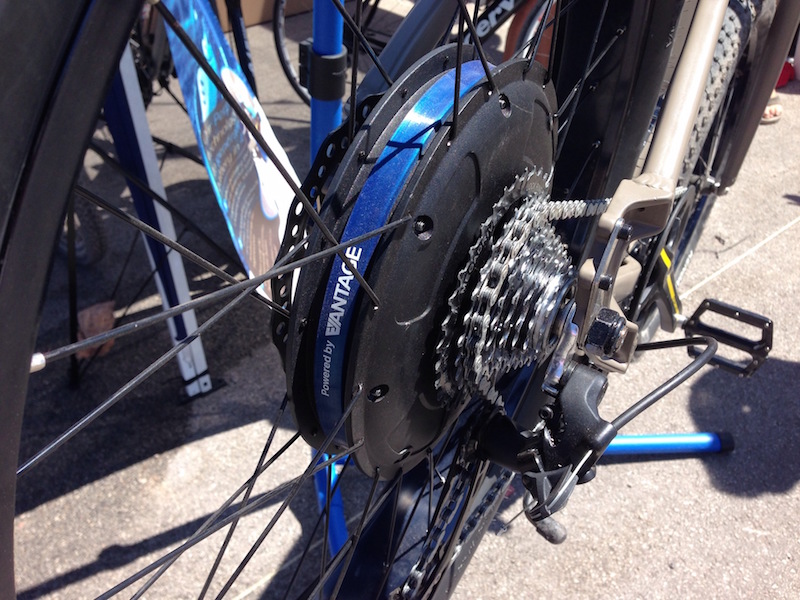 Here is a close up of the 750 watt DuoDrive direct drive rear hub motor.
And here is a promo video from Polaris:
That was just an overview of some of the new e-bikes from Polaris for 2015.  There are a few more on their website that were not shown here.
That's it for now. Stay tuned for more e-bike news and reviews.
P.S. Don't forget to join the Electric Bike Report community for updates from the electric bike world, plus ebike riding and maintenance tips!
Reader Interactions