Wisper 705 Torque Electric Bike Ride Impressions [VIDEO]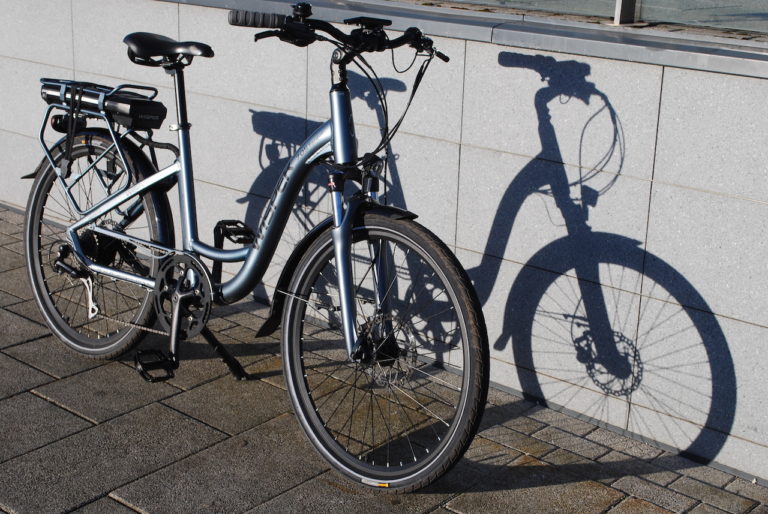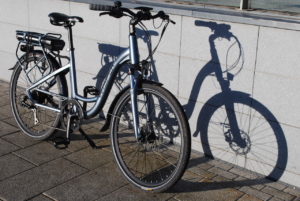 The Wisper 705 from the UK is an unusual e-bike as it is that rare breed, an e-bike with a hub motor and torque sensor.
In case you don't know, e-bikes tend to be split into two camps; those with a torque sensor that responds to pressure on the pedals and those with a pedal motion (cadence) sensor that, as the name suggests, simply respond to the movement of the pedal cranks.
E-bikes with torque sensors tend to ride in a more 'bike like' fashion as the power responds in proportion to the power applied to the pedals, whereas motion sensor bikes send the same amount of power to the motor (dependent of course on your power setting), regardless of the pressure applied to the pedals.
This means motion sensor bikes can feel less subtle to ride than a torque sensor equivalent, as well as being less economic with your precious battery power.
In fact, the Wisper 705 Torque has both types of sensor and you can opt to use whichever one you like. It also has the option to use a throttle giving the rider even more options on how to ride this very impressive bike.
The Wisper Range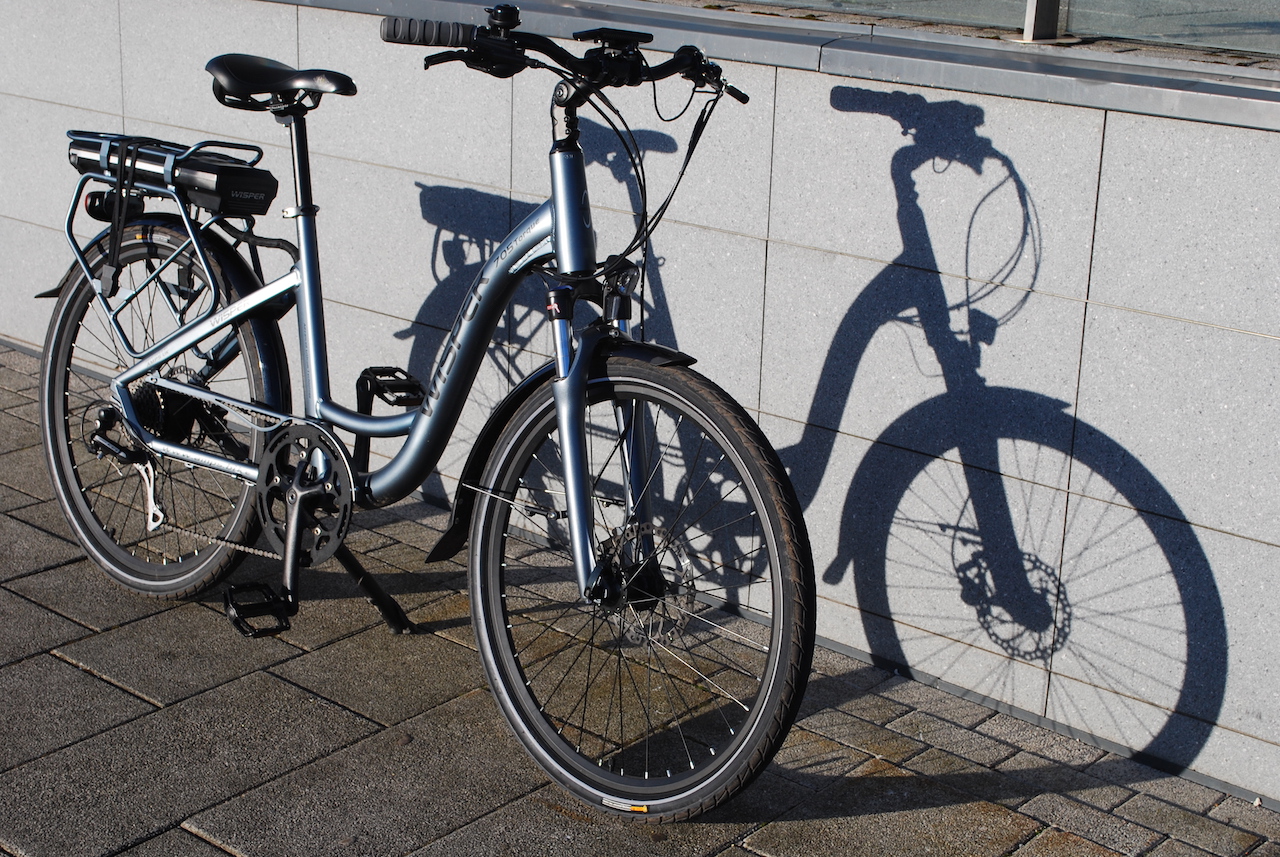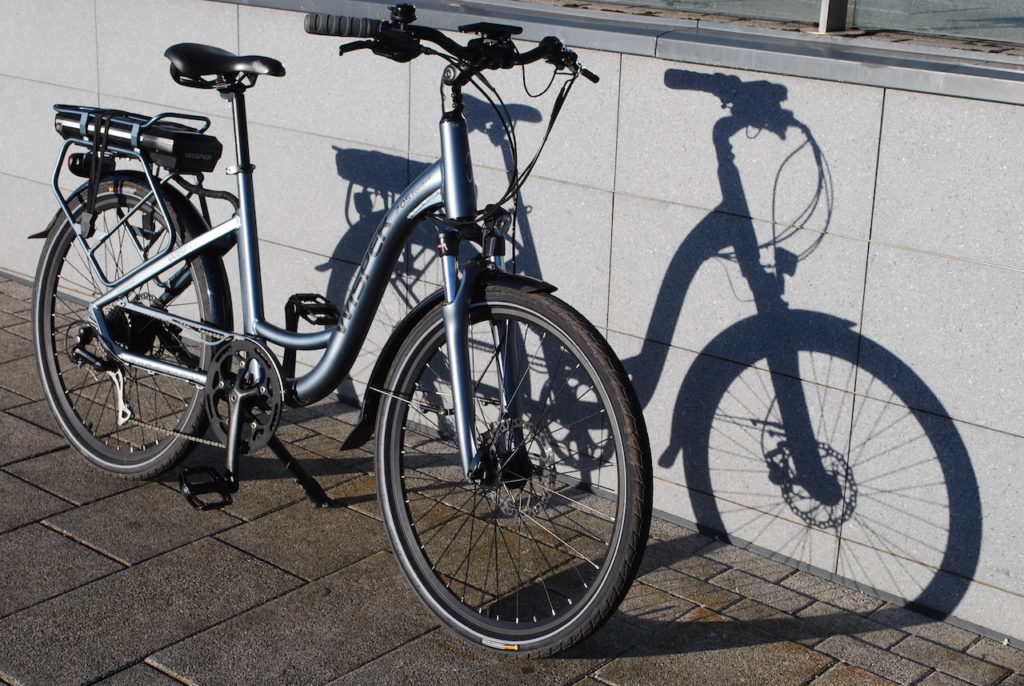 But more of the riding options later, let's first take a look at Wisper's range. Wisper has a long track record of producing e-bikes for the UK market and has traditionally concentrated on the budget end of the market (in today's prices that means bikes under the £1300 price mark). They are made by AMPS bikes who have also imported other brands but Wisper are their own brand.
Wisper's SE range, has three models (705se step-through, 905se crossbar and 806se folding bike in various formats) and these have identical frames and battery packs to the Torque range but they lack the Torque's torque sensor and hence the price range is lower at £1099-1399 (US$ 1370-1750).
The Torque range have some upgraded components, such as drive train and brakes but most important is the addition of a torque sensor. There are three Torque options, mirroring the SE range; step-thru, crossbar and folding with prices ranging from £1599 to £1799 (US$ 1990-2240) depending on battery option.
The Bike
First of all here is a video walk through of the Wisper 705:
Our test bike is the step-thru Torque variant (the 705SE) with a geared rear hub motor from AKM and rack mounted battery with Samsung cells.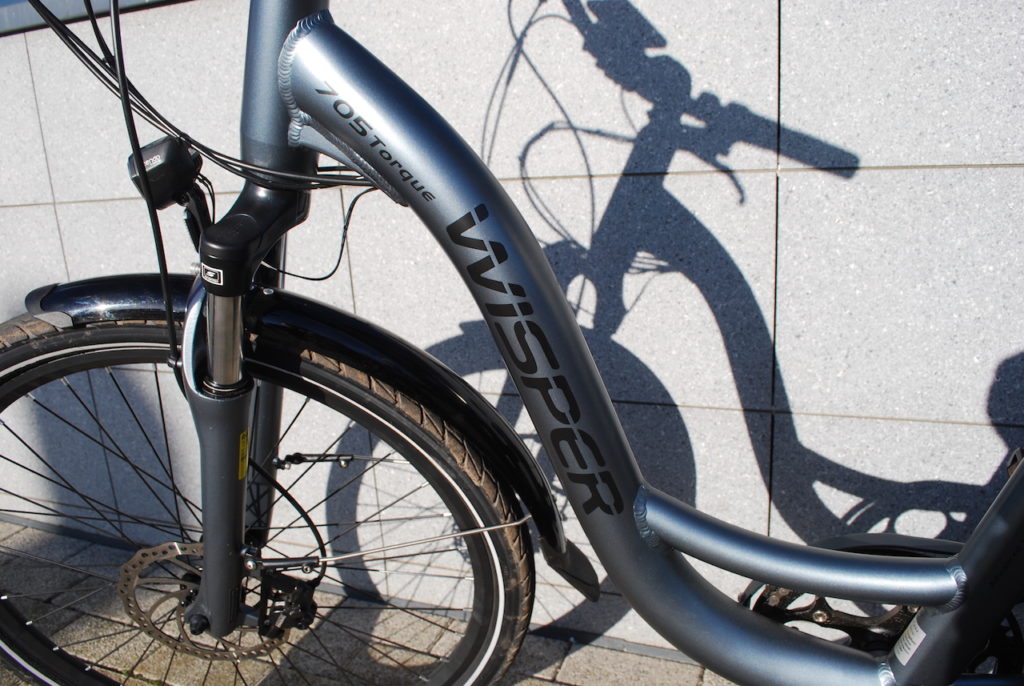 Step thru frames are extremely practical and we had riders from around 5′ 4″ up to 5'9″ using this bike quite comfortably, and it should accommodate taller riders too. It's simply a case of adjusting the saddle height so pedaling feels comfortable and getting an allen key to the adjustable handlebar stem so that the reach suits you.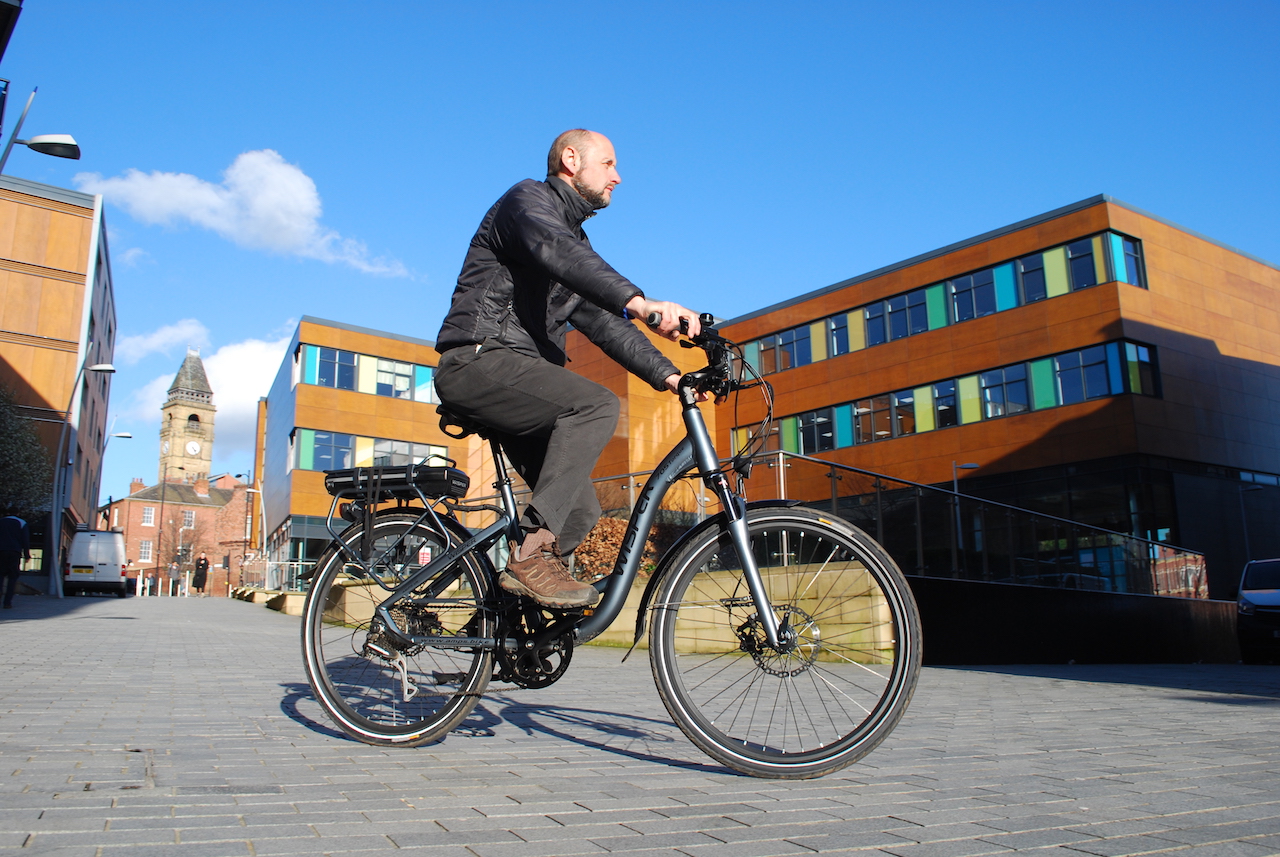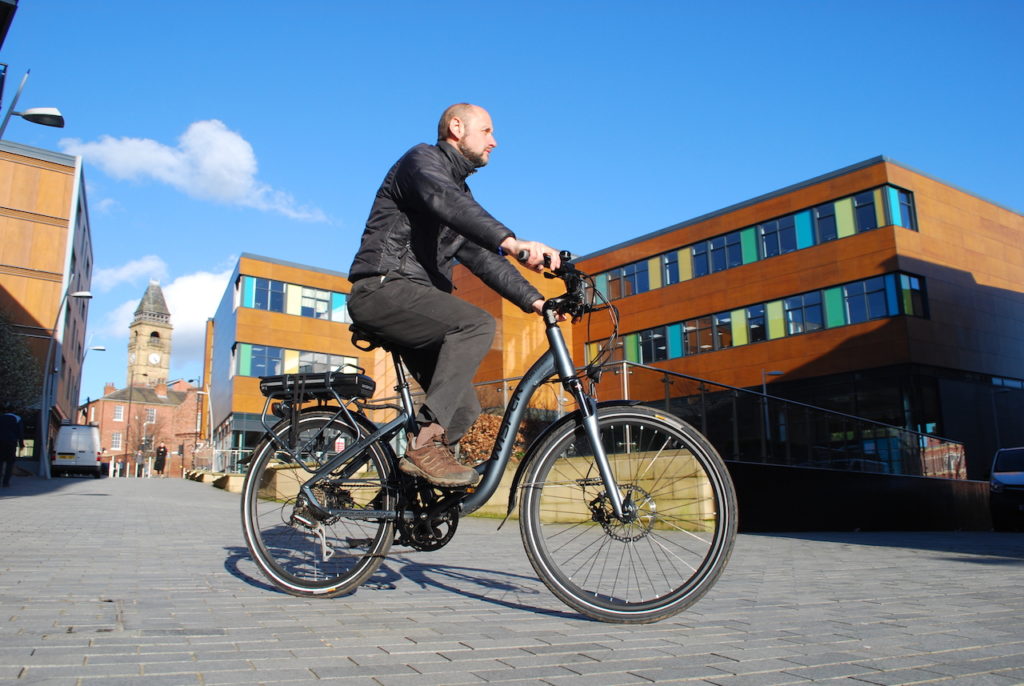 Frame height is actually 47cm (from centre of pedal crank to top of seat tube). In practice there is a lot of seat post height adjustment, with seat height off the ground ranging from 86cm to 103cm, so it really should fit a really wide spread of heights.
Comfort and sure, secure handling are also major themes on the 705 Torque.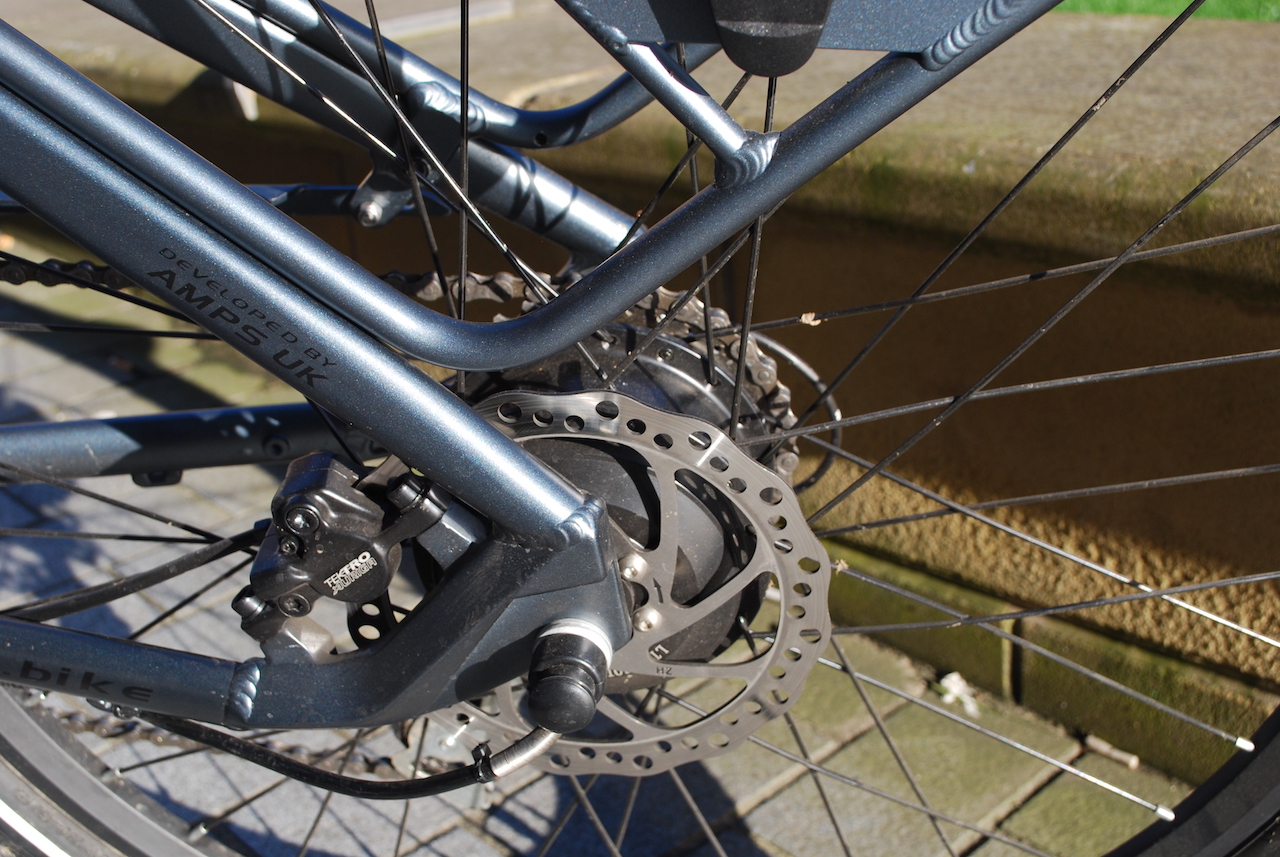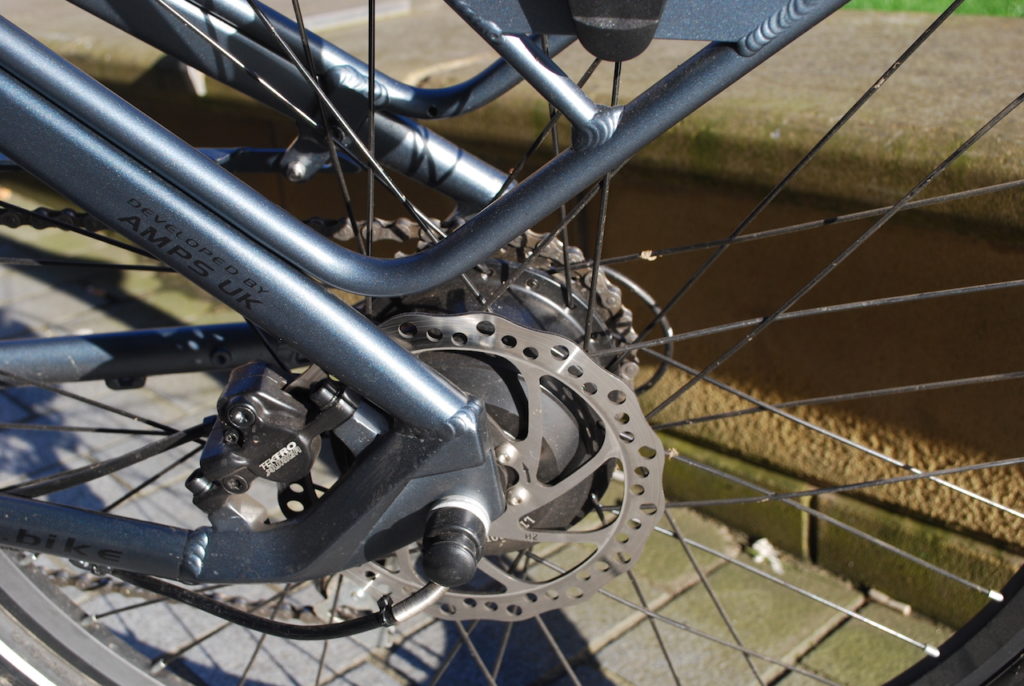 It comes with Tektro Auriga hydraulic disc brakes and we found these provided nicely modulated braking and superb, safe stopping even at high speed.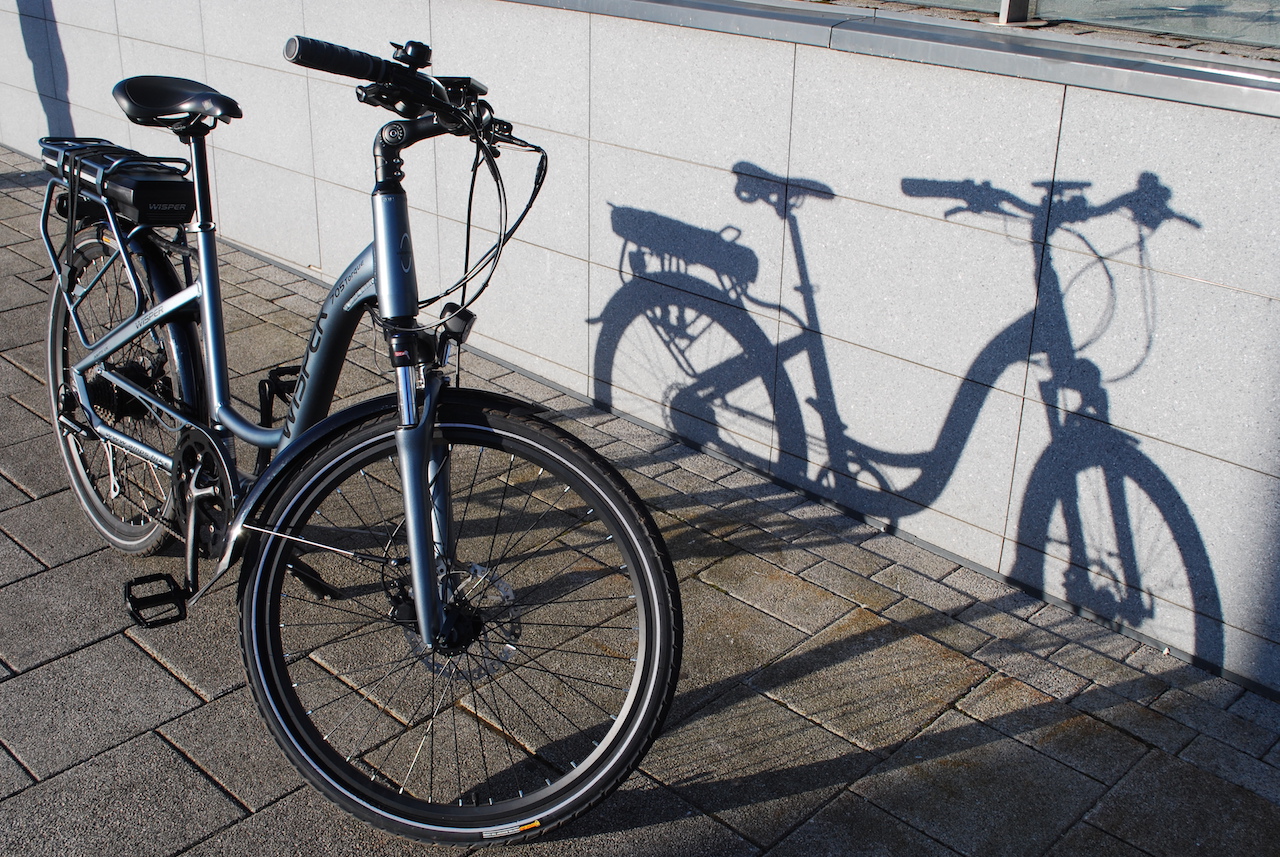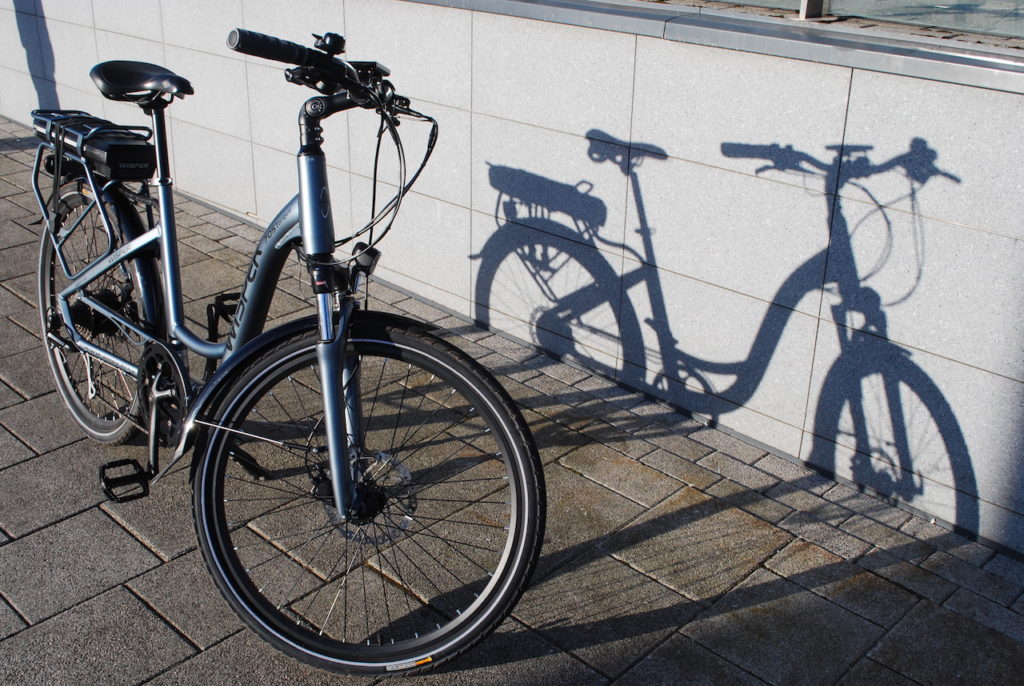 The Suntour suspension forks (a maker of generally budget forks but with a good name for reliability and usability) have a useful lockout feature you can reach down and turn 180 degrees to make the forks rigid for riding on smoother surfaces. They also have adjustable pre-load, though we didn't use this feature as we found them adjusted about right for rider weights.
Kenda 26″ x 1.95″ tyres are a good choice for commuting on rougher roads and even not-too-rough dirt roads – they even out smaller potholes and add some comfort over narrower tyres as well as having some puncture protection built into the fabric of the tyre. If you have plenty of smooth tarmac and concrete in your area you could easily swap them for narrower higher pressure models.
There's a wide and quite comfortable saddle with a useful handgrip built in for lifting the bike up steps and so on.
The 705 Torque has eight Shimano Acera derailleur gears; the Acera is a mid to bottom end derailleur but more than adequate for a reasonably powerful e-bike (e-bikes need less gears than non-powered equivalents due to having assist) and it provides nice smooth shifting when using the trigger shifters on the front handlebars. The 290% gear range is fine for all but the most extreme of hills.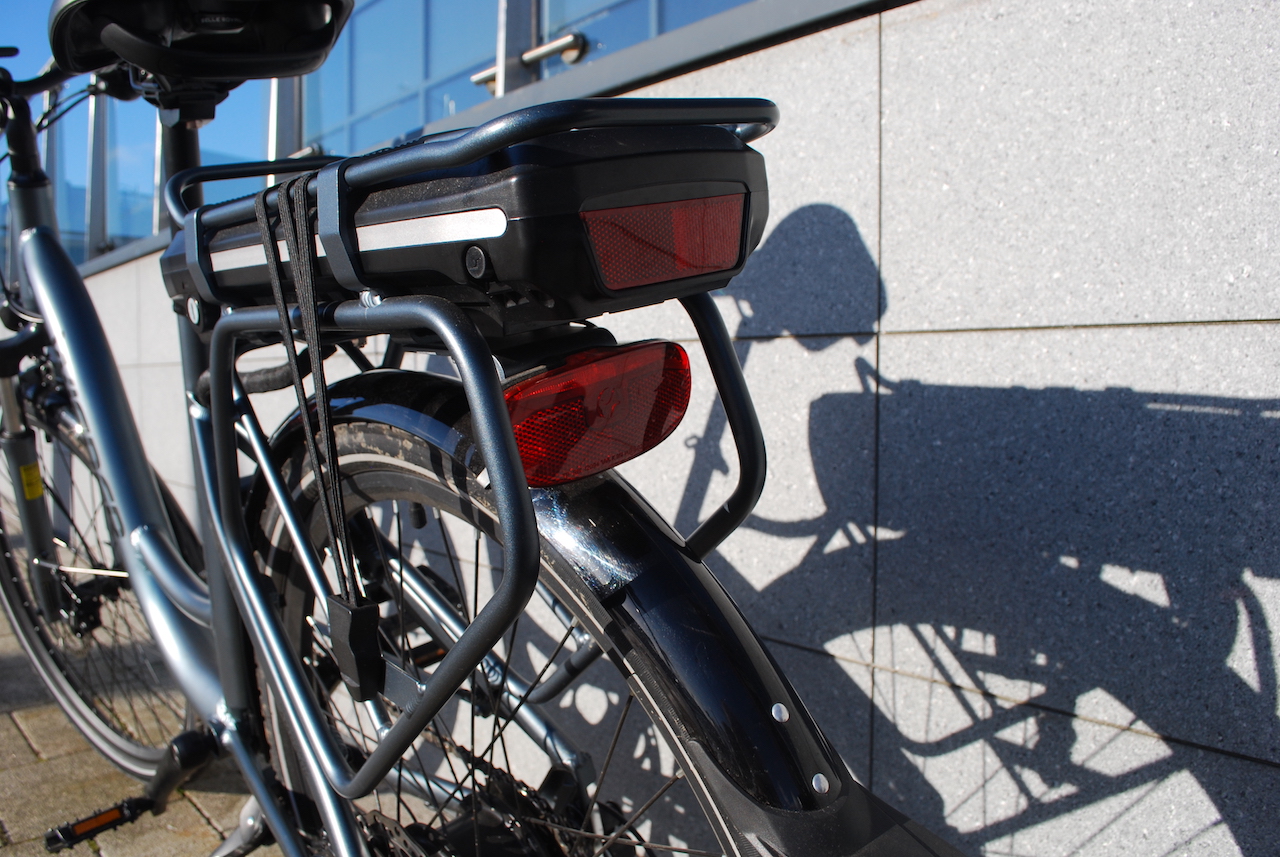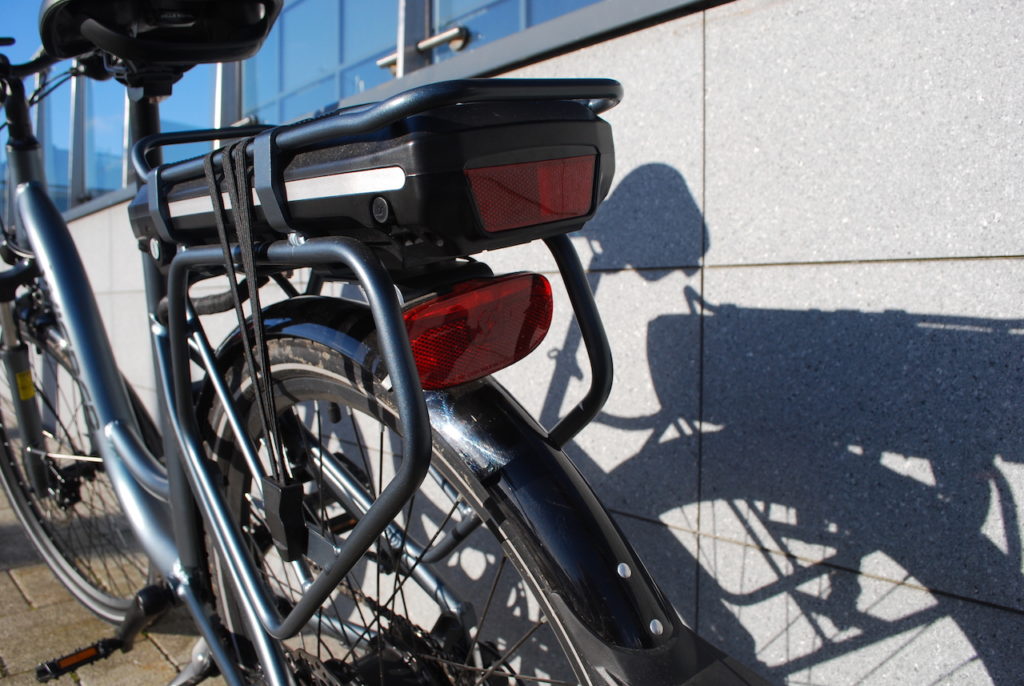 Sticking to the practical theme there are full mudguards and a kickstand and a rear rack. Lighting is courtesy of nice powerful LEDs easily turned on and off at the handlebar control and powered from the main battery.
The front light is a Spanninga Kendo; again a good choice of a 'budget' light – certainly not the cheapest brand and known for reliable, well performing lights.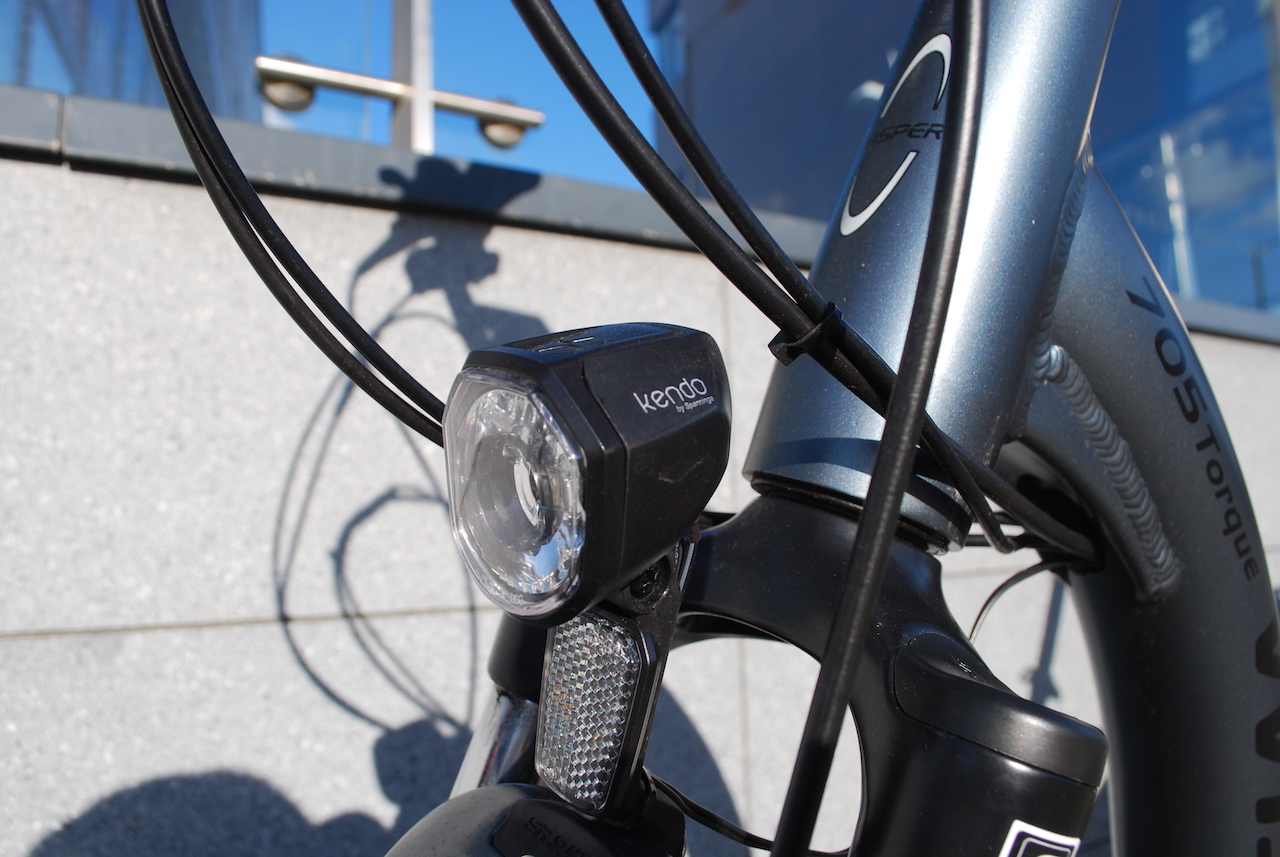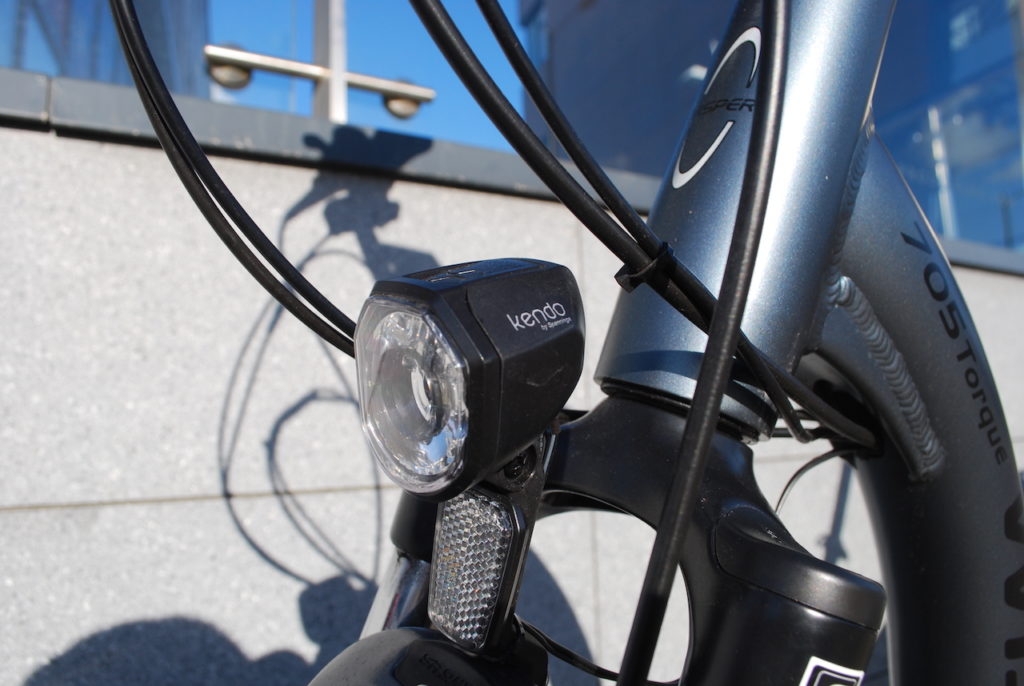 The front light is more than adequate on unlit streets and tracks with a nice spread of light. It's nicely placed above front wheel to stop blinding oncoming traffic and has an easily alterable vertical angle of direction to light up what you want in the road ahead.
All in all this is a great range of practical features that suit the 'everyday' riding that a commuter or leisure rider would want to undertake. The bike also looks slick, with frame-concealed cabling and a lovely graphite grey finish plus a distinctive rear rack design that looks integral to the frame (even though it is bolted on via four chunky looking well-hidden bolts).
The Assist System
Assisted riding is provided by a small but fairly powerful geared rear hub motor and power from the battery is fed to it via a frame concealed cable.
The rear wheel can be removed to change an inner tube or for other repairs relatively easily, just by unplugging a connector (the handlebar display is removable in this way too).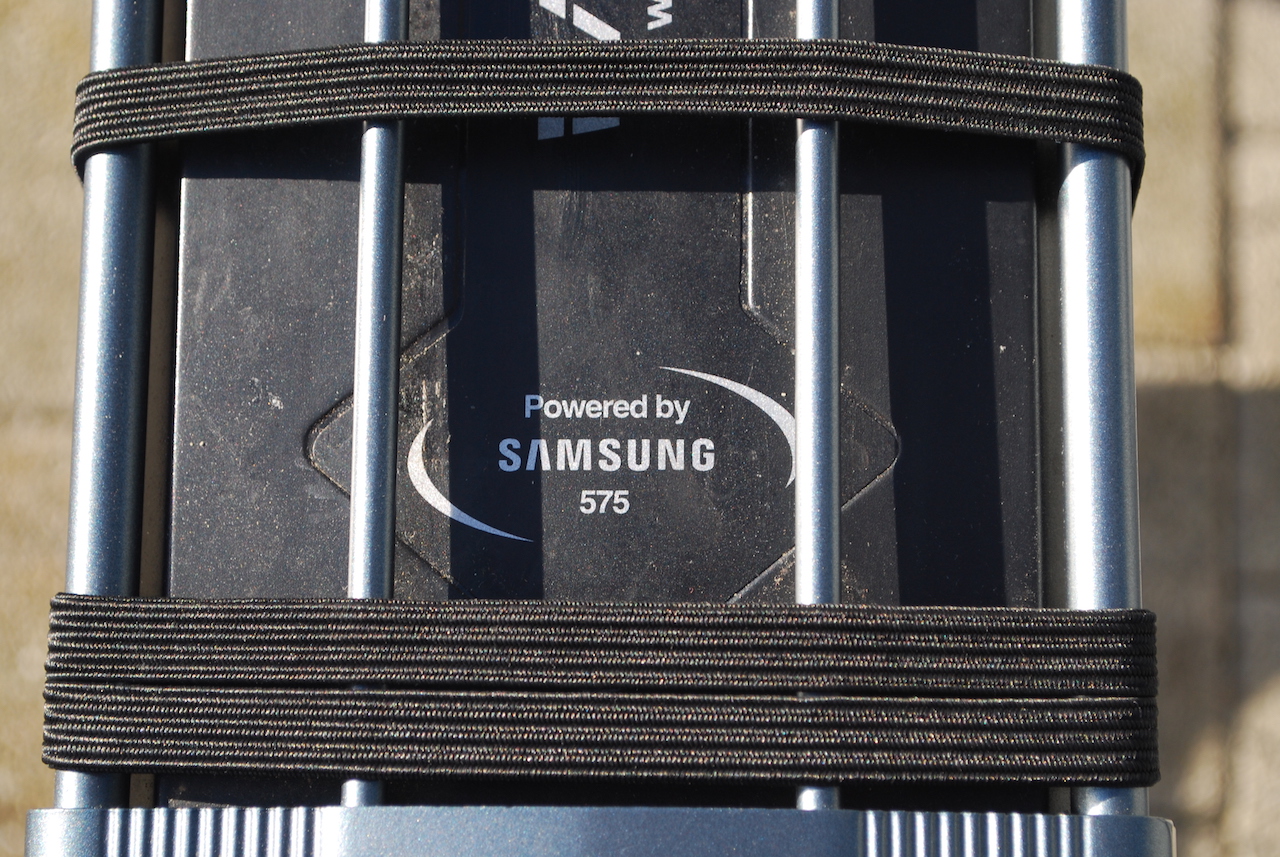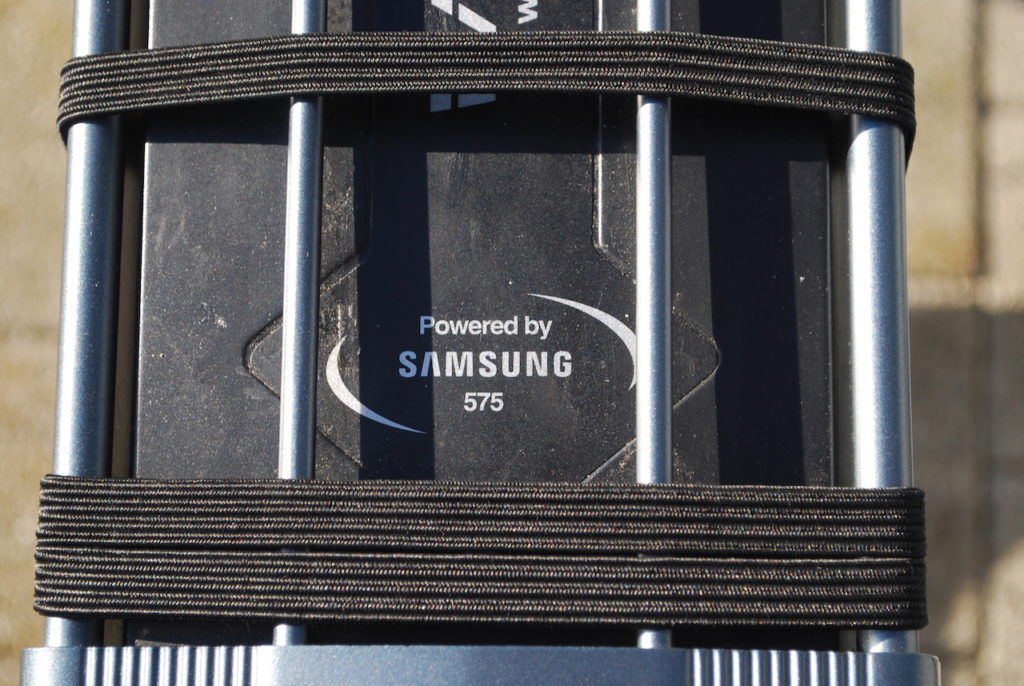 Our test model featured the larger battery option at 575Wh (as against the smaller capacity option of 375Wh) and it fits neatly and very snugly into the rear rack assembly. You just operate the key lock and slide the battery backwards to remove it for charging off the bike (charging on the bike is also an option).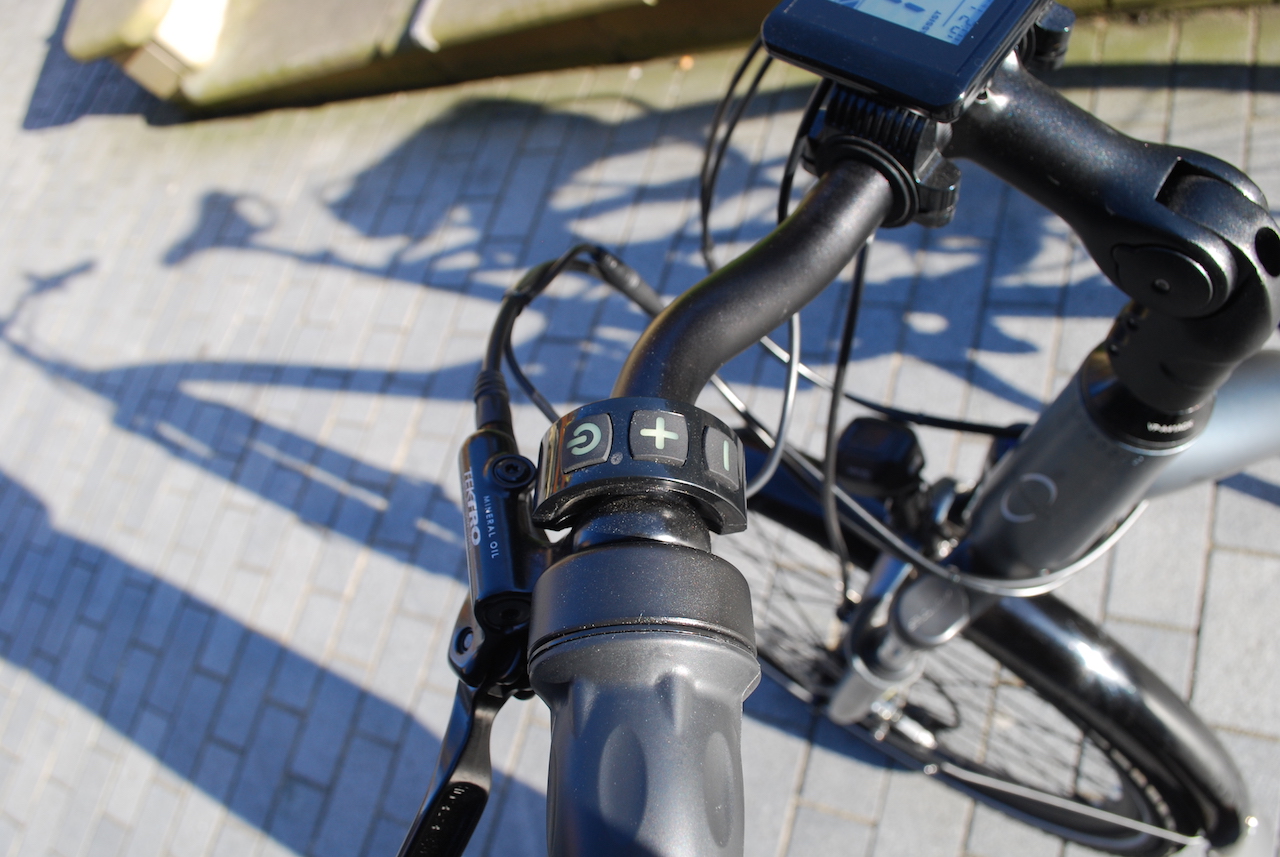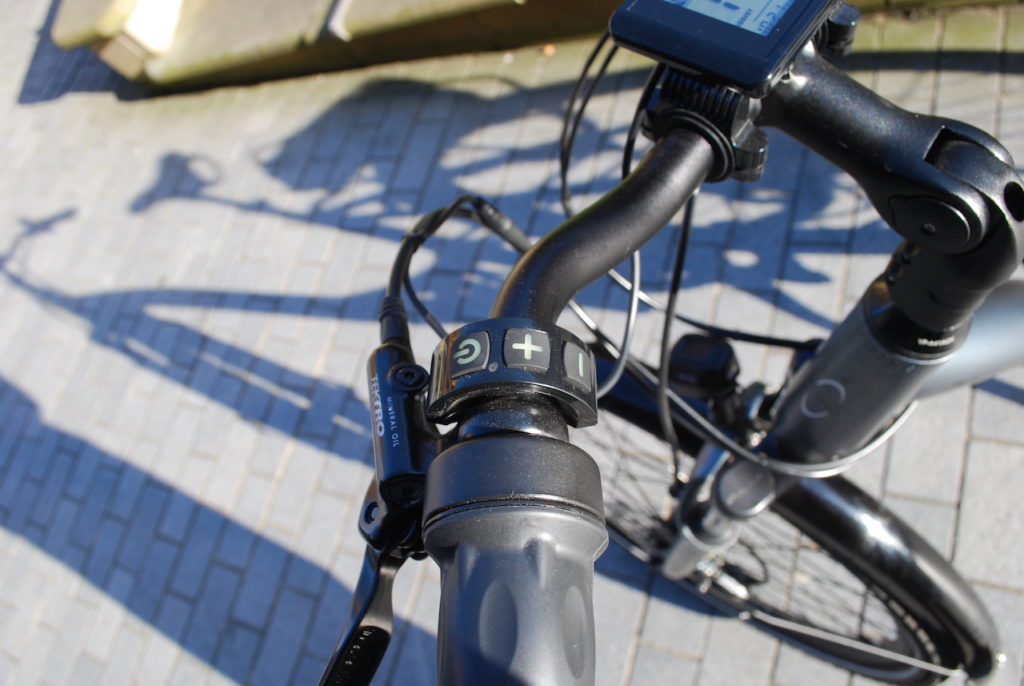 Simply power up using the on/off button and select your assist level with the + and – buttons; all very obvious and intuitive using the nice large LCD display.
The assist mode needs a bit more explanation; this is a pedelec bike – you need to pedal for the power to kick in – but there are several ways of doing this. Modes 1 to 4 are pedelec modes that utilise the torque sensor in the bottom bracket.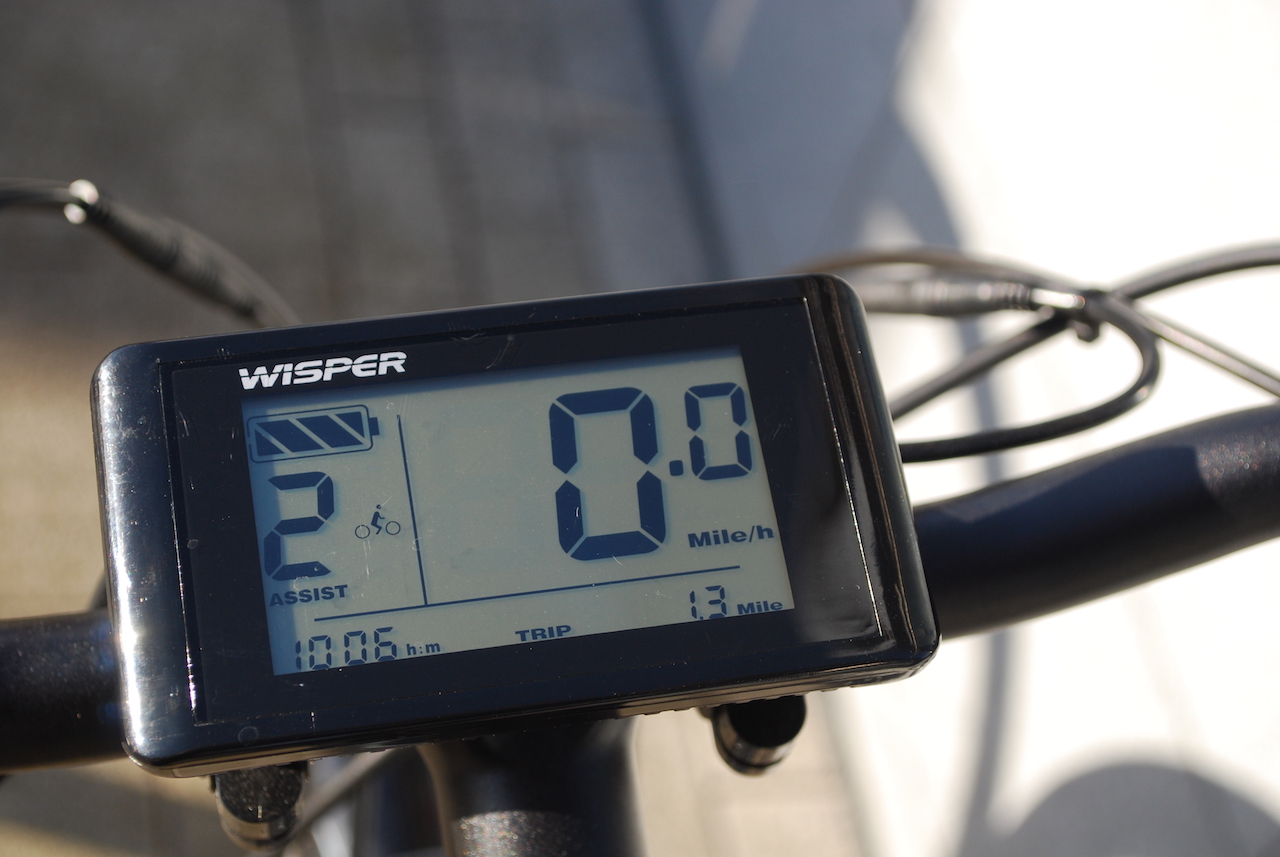 We used levels 1 and 2 for smaller hills and more sedate around town riding whilst 3 and 4 were ideal for steeper hills and faster riding on the open road.
The torque sensor worked very well, with power kicking in as needed, though it wasn't as sensitive as, say a Bosch or a Yamaha system, so a little more pressure on the pedals was needed.
The 'F' level switches from torque sensor to motion sensor; this doesn't give you the 'proportionate' power you get from the torque sensor where the power is in relation to the pressure you are putting on the pedals; the motor just kicks in whenever you are pedalling.
Wisper say this is for cycling on the flat where you may not be applying much pressure to the pedals but still want plenty of power.
In practice (and as Wisper say) this mode uses up battery capacity quicker than torque sensor mode, though perhaps it does give more power (or at least less pedalling effort).
In practice we didn't find it that useful but there may be those that might well, for example if you have a weaker pedaling action through disability or injury.
Perhaps even more useful if you have a weak pedaling action is the throttle found by the left handgrip. Because UK law now falls in line with European law the throttle can't be used on its own as a so-called twist and go – that means you need to be turning the pedals to have the throttle working.
You don't need to be pressing on the pedals very hard for the throttle to work however, you just need to be rotating the pedals, so this gives you a fair amount of assistance with less pedal input; of course the less pedal effort you put in the shorter the battery range.
As mentioned, the Torque sensor needs a bit more pressure on it than some other models, so in some situations the throttle can be pressed into service if the torque sensor does not pick up due to a lack of pedal pressure and can also be useful in this respect.
Ride Summary
In practice this assist system performed well over the UK's Pennine foothills where 10% grade slopes are not uncommon and occasional steeper slopes can be found too. We used torque assist level 3 and sailed up most Pennine hills by utilising the lower gears at around 10-12mph. Throttle or level 4 can be used if a few mph more are really needed.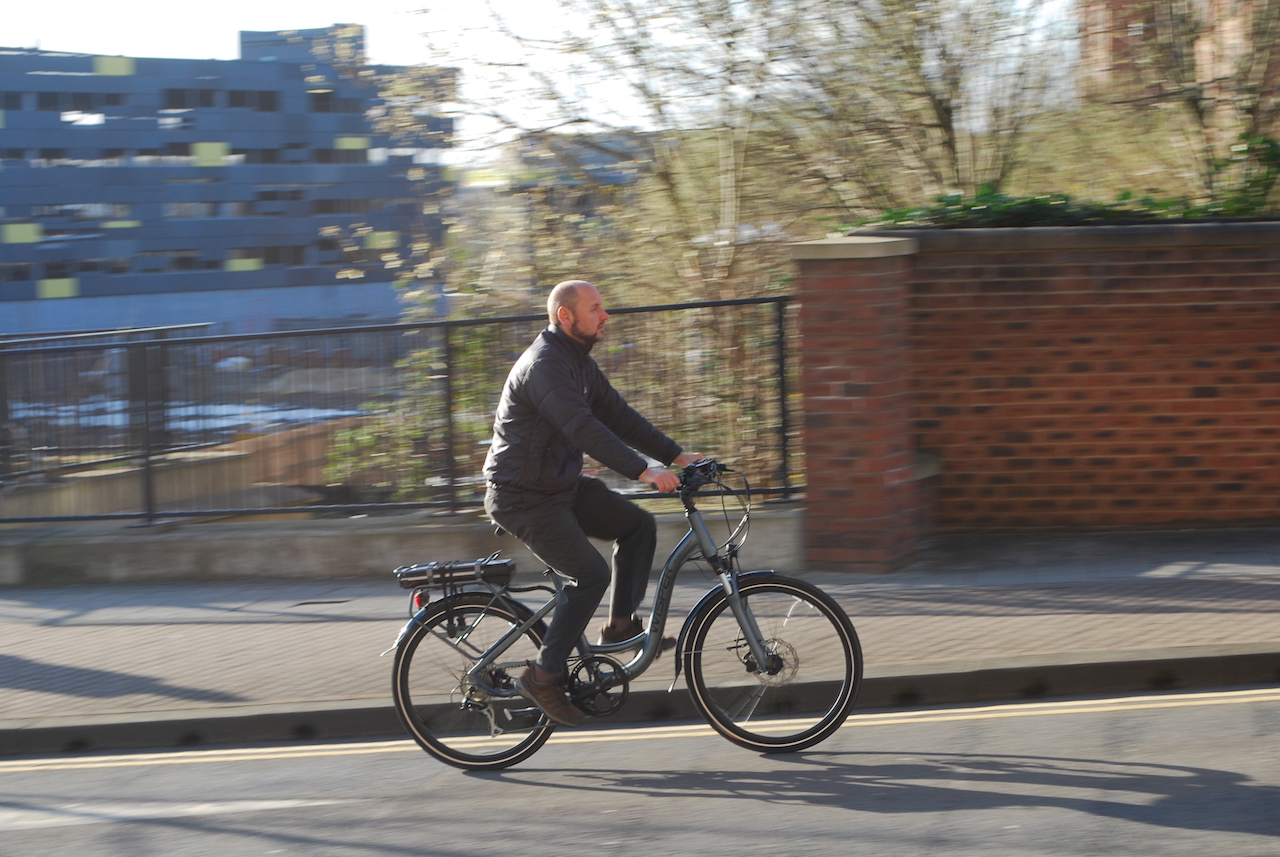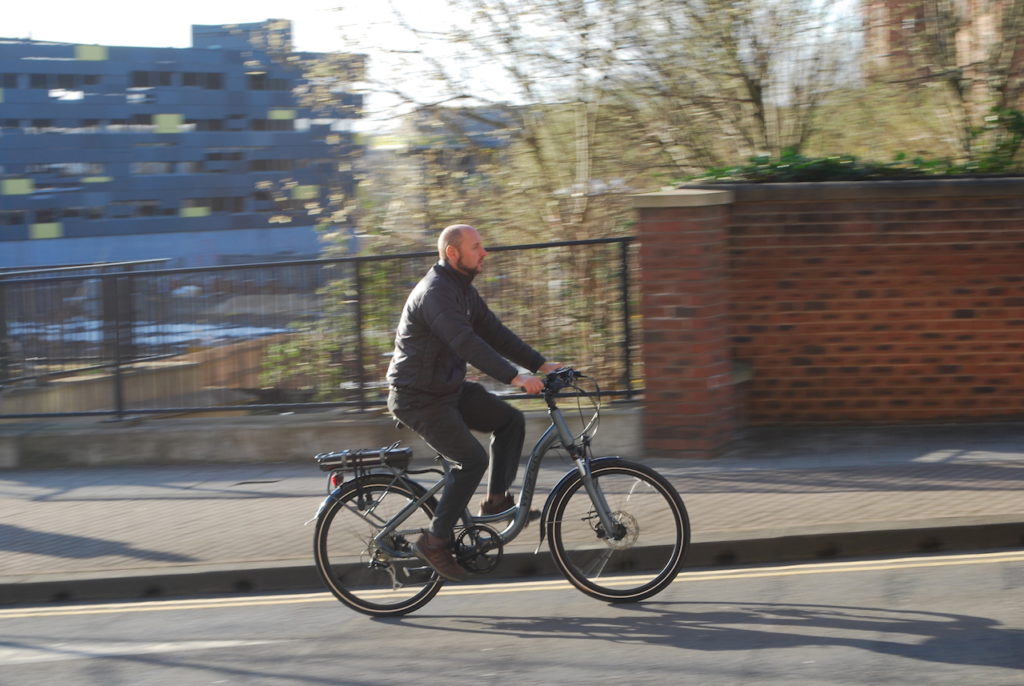 The Chinese made AKM motor was Wisper quiet and the 575Wh battery option on the test bike gave a range in the region of of 40-50 miles depending on riding and weather conditions over topography that ranged from moderately to very hilly (test rider: 50 year old male at 69kg / 10 stone 12lbs).
The bike itself gave a comfortable and very sure footed ride, helped greatly by the Tektro Auriga hydraulic discs which offer plenty of quick stopping power but are also nicely modulated should you just want a feather of braking power to keep under control on steep descents.
With the broad, cushioning tyres and front suspension forks this bike combines very sure-footed handling, even on fast descents, with a lot of comfort and practicality.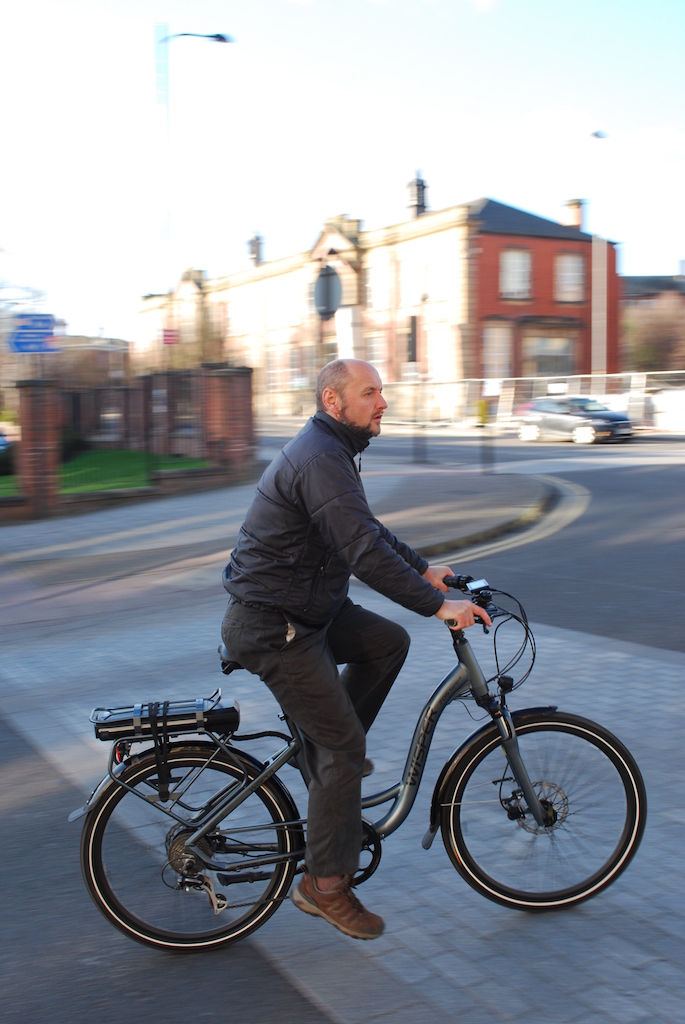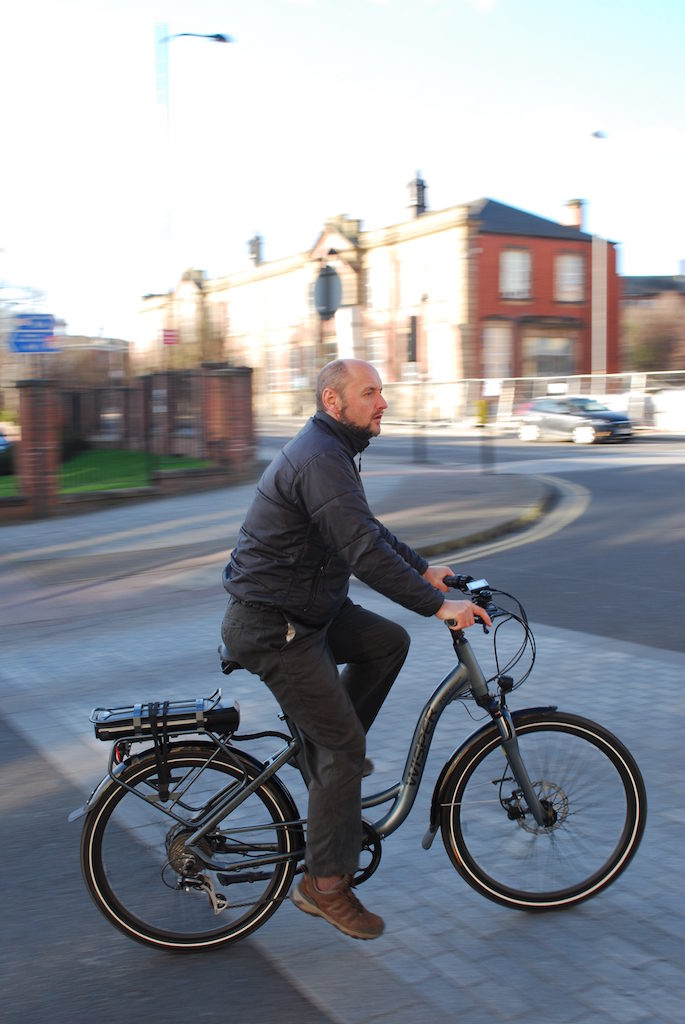 At speeds above the UK assisted limit of 15.5mph you do feel the fact it isn't really designed as a speed machine; on some e-bikes you can easily squeeze out an extra mph or two of non-assisted effort without too much effort, but the payoff for not being able to do this with the Wisper is the extra comfort.
There is also a very useful walk function on the bike which means the motor powers you up to around 4 mph when you are off the bike, for example if you are pushing it up a steep bike ramp alongside steps. This kicks into action by pushing and holding the minus button.
The LCD display has two modes – one showing trip distance (this can be 'noughted' so its handy for range testing or just to see how far on with your route you are), and the other is an odometer showing the total mileage the bike has travelled.
In both modes you get a speed indicator, assist mode, battery capacity indicator and the time.
All nice and simple and very useful info.
The only real gripe during the test riding was the difficulty of gauging the capacity left in the battery using the LCD battery indicator on the display; at lower capacity levels it swung through several bars depending on whether you are using a lot of power or not and at very low levels the motor power cut out up the steepest hills in high power – but I am guessing this was simply the protection circuit telling us the battery was virtually empty and there was still enough power to get home with if we dialled the power down a bit. A more reliable check was to press the capacity button on the top of the battery, though this wasn't possible during riding.
Maintenance, Guarantees and Backup
Maintenance looks largely straightforward; 26″ wheels mean it is easy to get economically priced replacement tubes and tyres and most crucially batteries are guaranteed for two years. All the electric elements are 'plug and play' so they can be replaced should one part of the system fail.
All in all the Wisper 705 Torque is an extremely capable and well-equipped commuting and leisure machine at a popular price point.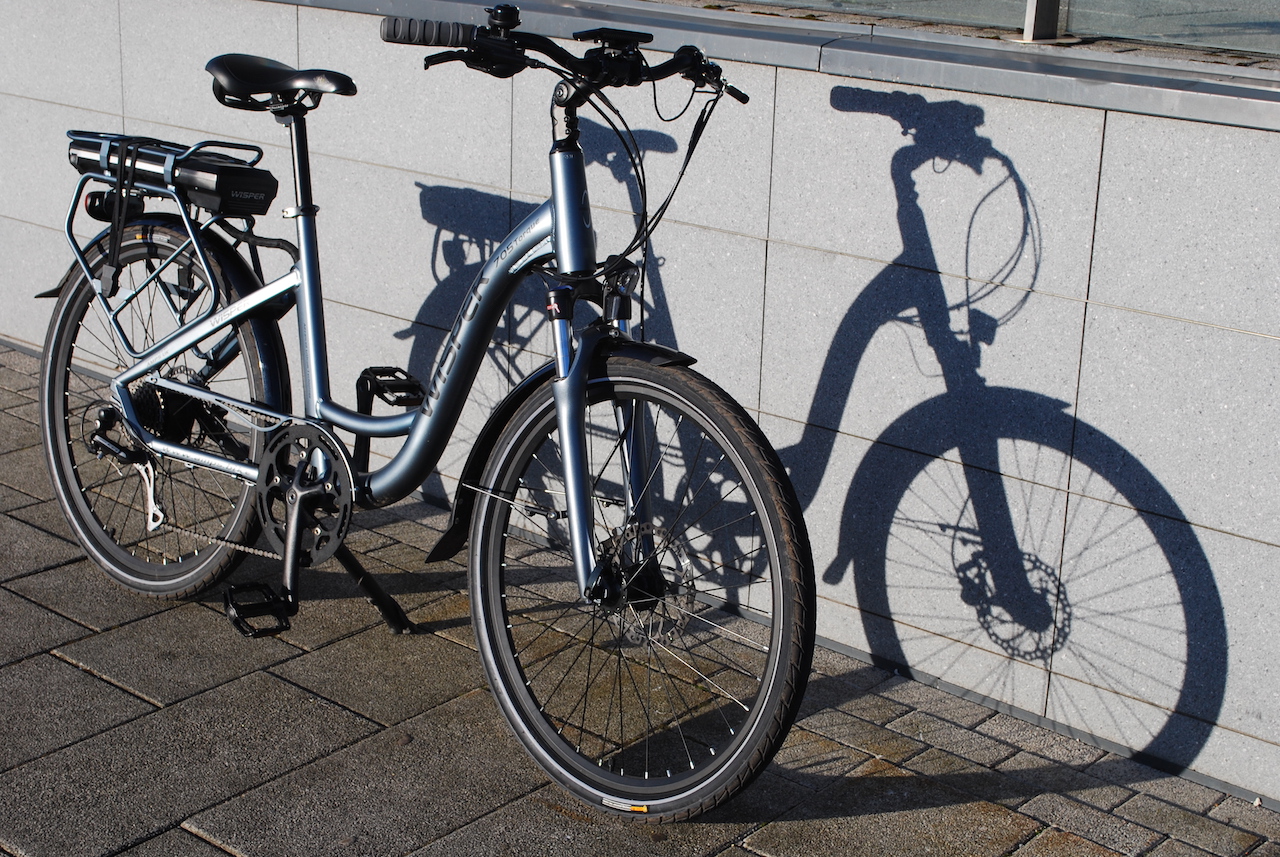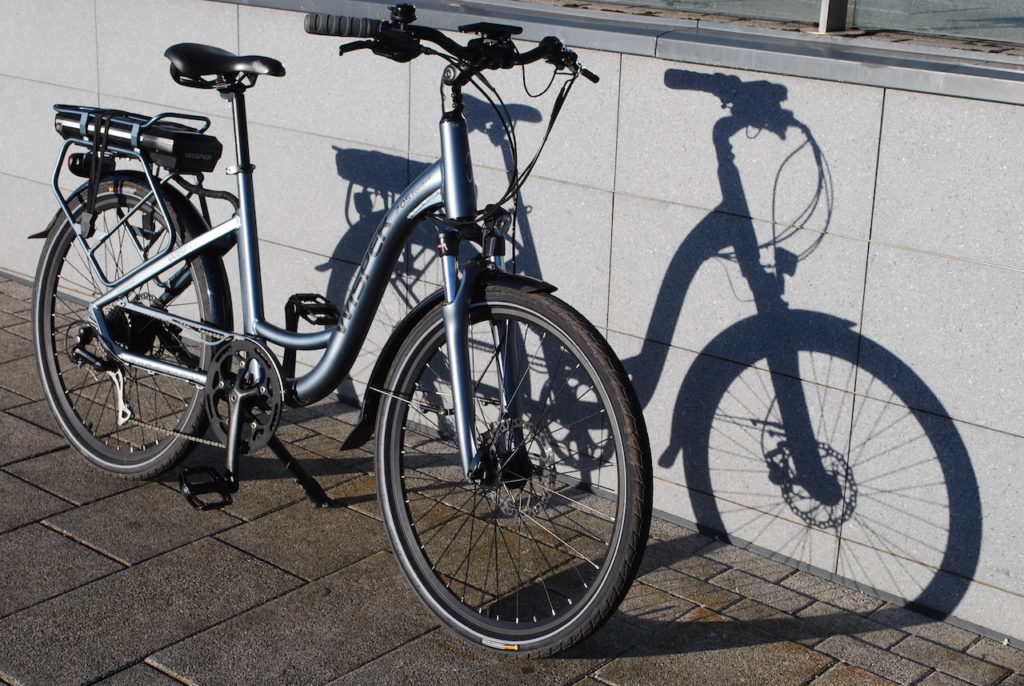 Spec Summary
Frame: Hand welded, 6061 Alloy T4 and T6 tempered
Fork: Suntour NEX/SR with lockout adjustable suspension forks with preload adjustment
Motor: AKM 250W 50Nm brushless rear wheel drive.
Battery: Lithium-ion 375Wh (3kg), 575Wh (4kg). Deep sleep mode helps protect battery during times of non-use. Both batteries interchangeable between the 7 8 and 9 series Wisper bikes.
Gears: Shimano Acera 8 speed derailleur with Sunrace 11t – 32t rear cassette. 52 tooth chainring with 170mm cranks.
Brakes: Tektro Auriga Hydraulic vented disc brakes, 180mm front and 160mm rear.
Wheels: Alloy double walled 26" x 1.5
Tires: Kenda 1088 26" 1.75 high puncture resistance with wall reflector
Saddle: Selle Royal
Seat Post: Promax 350mm black anodised aluminium
Handle Bars: Promax black anodised alloy with ergo support grips
Headset: PROMAX MA-595 adjustable.
Stem: Promax black anodized alloy with adjustable height and reach.
Lighting: Front: Spanninga 36V 15W LED. Rear: 36V light. Both powered from bike e-system.
Kickstand: Black anodised alloy
Test Bike Weight: 24.36 kg
Weight Capacity: 135kg/290lb/20st 9lb
Price: £1599 to £1799 (375Wh and 575Wh battery options respectively)
Available from Amps Electric Bikes Ltd
Stay tuned for more e-bike news & reviews and thanks for reading!
-Richard
Review Note: Each company pays a fee for a review on Electric Bike Report because of the considerable amount of time that it takes to provide an in-depth review of each eBike. A lot of time is spent on the full range test with distance & elevation profile, the wide variety of detailed pictures, in-depth video, and the write up with the specifications, ride characteristics, pros, cons, and overall thoughts. The reviews on Electric Bike Report are focused on providing you with a detailed "virtual" look at each eBike to help you determine if it is the eBike for you or not.
P.S. Don't forget to join the Electric Bike Report community for updates from the electric bike world, plus ebike riding and maintenance tips!
Reader Interactions