VIDEO Interview with Iceland Challenge Electric Bike Team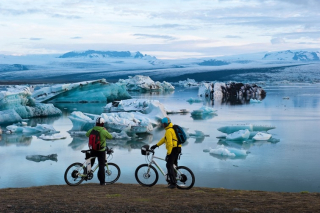 How does riding
eFlow electric bikes
around Iceland sound? Well that is what the
Pedelec Adventures
team from Germany did this summer in a tour called
Iceland Challenge
!
Susanne Brüsch and Ondra Veltrusky and their team members Uwe Schlemender and Andreas Gutmann set out on their latest adventure to show the world what is possible with electric bikes.
This year at Interbike (large bicycle tradeshow in the US) I had a chance to catch up with Susanne, Uwe, and Andreas and ask them about their adventures in Iceland.
Unfortunately, Ondra was not able to attend Interbike, since he was "on duty" as a captain on a sailing yacht in Croatia!
In the following video interview, the team talks about the unique landscape & daylight hours (!), their adventures, the challenges, how the eFlow bikes held up to the harsh conditions, and more!
Here is the Iceland Challenge documentary trailer to give you a feeling of what the tour was like.
And here is the interview with Susanne Brüsch, Uwe Schlemender and Andreas Gutmann from Pedelec Adventures.
The full length documentary film of the Iceland Challenge will be available this holiday season, 2013.
Checkout this post for a BUNCH of amazing pictures from the Iceland Challenge.
P.S. Don't forget to join the Electric Bike Report community for updates from the electric bike world, plus ebike riding and maintenance tips! 
Reader Interactions