The New California E-Bike Law & Electric Mountain Bikes
By Morgan Lommele, E-Bikes Campaigns Manager at PeopleForBikes.
On October 7, 2015, California Governor Jerry Brown signed A.B. 1096, legislation that clarifies the regulation of electric bicycles in California. This new law means that riding an electric bicycle on bikeways is no longer illegal in California.
The bill designates three classes of e-bikes and distinguishes lower speed electric bicycles that reach motor-assisted speeds of up to 20 miles per hour (Class 1 and 2 electric bicycles), from higher "speed pedelecs" which have motors that provide assistance up to 28 miles per hour (Class 3).
This class system allows the use of lower-speed e-bikes on bicycle paths, and also provides local authorities with the flexibility to regulate different types of e-bikes based on their needs.
This new law, effective January 1, 2016, only applies to Class I, II, III, and IV bikeways in California. For more information about particular access on each of those bikeways, visit this link.
Many have asked how this affects eMTB access on trails in city, county, and state parks. The important distinction is that this law applies only to the California Vehicle Code.
State, county and city parks are managed outside of the vehicle code, just as the federal land management agencies. "Bicycle path or trail, equestrian trail, or hiking or recreational trail" is commonly used in the Vehicle Code, and is the preferred way to discuss path/trail access, even for paved or soft-surface bikeways.
In short, the Vehicle Code does not regulate trails in the State Parks. Trails are regulated separately by parks departments, which control access. This law does not clarify where eMTBs can be ridden on trails in city, county, and state parks.
In an effort to better understand the potential social and environmental impacts of eMTBs and support management recommendations for eMTB use on trails, the Bicycle Product Suppliers Association and PeopleForBikes have partnered with the International Mountain Bicycling Association (IMBA) on this research related to the expanded use of eMTBs on trails.
IMBA has completed the field-testing and initial analysis of soil displacement for its Soil Displacement Study, which was conducted along bike-optimized trail segments on BLM land in Western Oregon. The fieldwork included establishing sample sites, taking baseline measurements, running mountain bicycles, eMTBs, and motorcycles on test tracks, and sampling at defined intervals.
Soil and environmental conditions were consistent throughout the testing. Statistical analysis and review of the data are still underway, and IMBA expects the final report to be ready by the end of 2015.
IMBA is also working other projects that could become tools to manage eMTBs on trails, including a survey for federal, state, and local land managers to assess the awareness and concerns regarding eMTB use on singletrack trails; compiling and clarifying policies regarding the use of eMTBs around the country; compiling state and local rules and regulations regarding eMTB use on natural surface trails; and engaging with a social scientist and research firm to assist in a review of current literature about user conflict.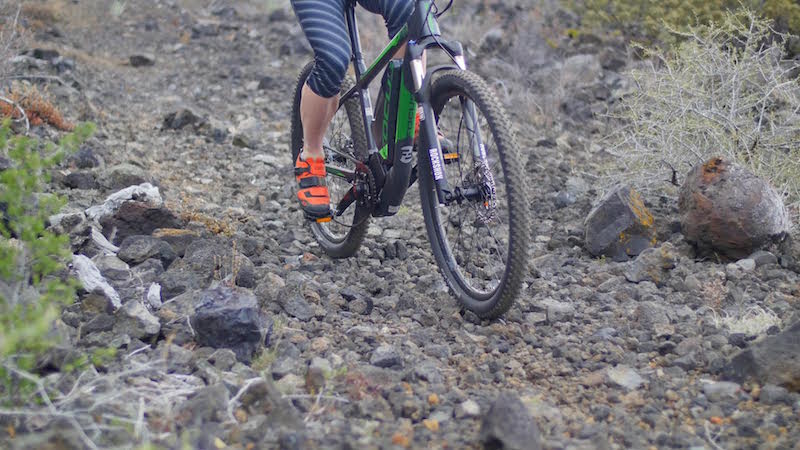 Thanks to Morgan Lommele,E-Bikes Campaigns Manager at PeopleForBikes, for the latest on the new California e-bike law and electric mountain bikes.
Stay tuned for more e-bike news!
P.S. Don't forget to join the Electric Bike Report community for updates from the electric bike world, plus ebike riding and maintenance tips!
Reader Interactions