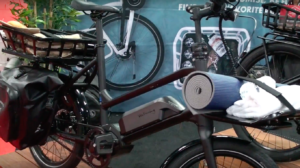 In this second part of the new 2018 electric bikes report you will see videos of the latest eBikes from: Haibike, Copenhagen Wheel, Smartmotion, Nidec, Surface 604, Wallerang, Vintage, Velec, Tempo, and Karmic.
Make sure you checkout the other parts of this report from Interbike with new eBikes from:
Part 1: Yamaha, BESV, BULLS, ProdecoTech, Raleigh, Electron Wheel, Stromer, Bosch, eProdigy, and Xtracycle.
Part 3: Easy Motion, Haro, Blix, Shimano, Focus, Bafang, BionX/Elby, and Alizeti.
Part 4: Riese & Muller, Genze, Biomega, IZIP, Magnum, Tern, and Urban Arrow.
Enjoy the videos! [Read more…] about 2018 eBikes: Haibike, Copenhagen Wheel, Smartmotion, Nidec, Surface 604, Wallerang, Vintage, Velec, Tempo, Karmic [VIDEOS]