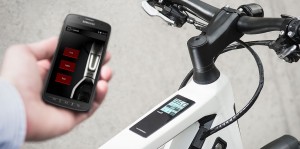 By Gary Kaye.
At the Interbike tradeshow in Las Vegas, the biking industry showed off some amazing technologies to make biking easier, safer, and more fun.
Of course, if you are someone who thinks that a bike should be two wheels and no frills, you can probably skip this.
Shiftless
One of the tricky parts of today's many speed bikes is shifting. Many bikes have gear sets with 27 or more gears. Some have as many as 81 (three in front, three in an internal rear cassette, and nine on the rear hub).
But now, three companies have various designs that streamline the process and make it far less intimidating. [Read more…] about Biking Goes Hi-Tech – New Technologies For Two Wheels