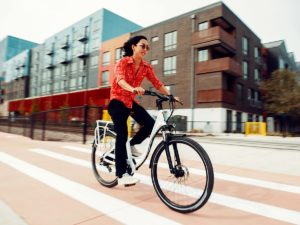 If you are a regular e-biker you will know the kind of conversation; you chat with an interested onlooker about your e-bike, giving them all the details about range and how the motor works, how good it is at helping you cycle effortlessly up hills.
They seem so interested they are on the cusp of rushing out and buying one.
Then the deflating question and answer, 'How much?'…..you reply 'Around X,000'…then the doubtful look appears, or maybe even the pained expression or the remarks such as 'well I could get a second-hand car / motorbike for that..'
Don't let such conversations deter you in persuading others – e-bikes are a great investment whatever way you look at it and here we'll prove it.
Let's start with some obvious general points overlooked by those who see an e-bike price tag and question whether it has one too many zeros. [Read more…] about Electric Bikes – One of the Best Investments You Can Make [VIDEO]