Rad Power Bikes RadRunner 3 Plus E-Bike Review – 2023
The "Be What You Want It To Be" E-Bike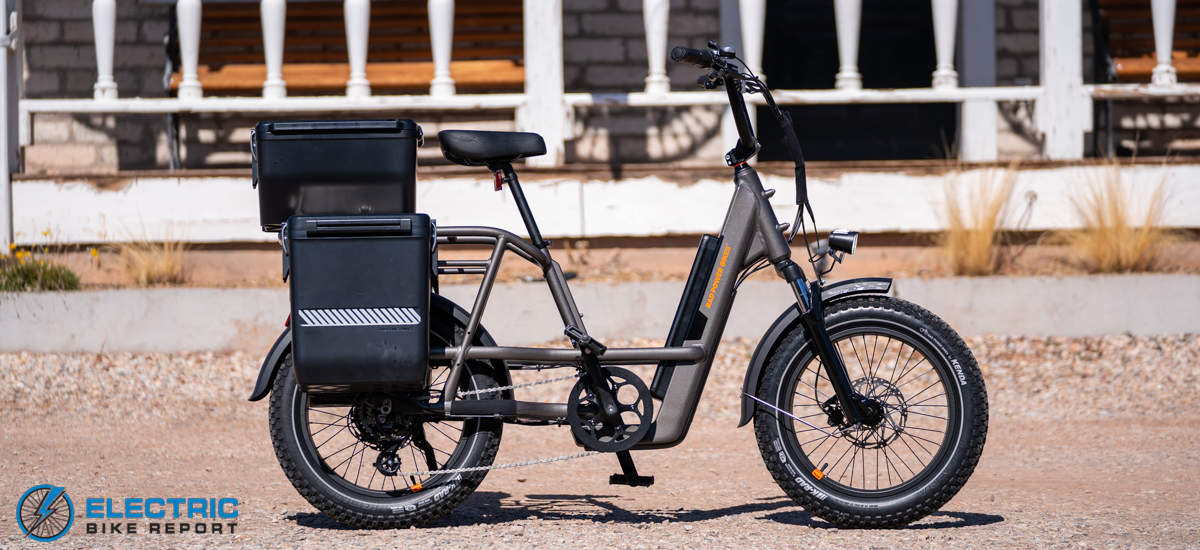 In this review of Rad Power Bikes' new RadRunner 3 Plus electric bike, you will learn how this bike has evolved from its predecessors to become one of the best all-purpose e-bikes around. E-bike popularity is soaring to new heights, and more new riders want an e-bike that satisfies a variety of needs – anything from running errands to dropping off their youngest at pre-school, to commuting to the office, and even riding for fun on the weekend. Multi-purpose e-bikes are the "in" thing now, and the RadRunner 3 Plus fills that need beautifully.
This is a Class 2 electric bike, meaning it will travel up to 20 mph using pedal assist or throttle. Some of the features this bike shares with its RadRunner brethren include its 750-watt rear hub motor, and 20" x 3.3" tires. All three have step-thru frames, but the RadRunner 3 Plus sports a new and improved frame that gives it better handling and boosts its total carrying capacity to 350 lbs, making it better for carrying cargo than the earlier models.
Rad Power claims that the motor modifications make this bike accelerate 10 percent faster than the RadRunner Plus on hills, and it engages better with the rider's pedaling. The new styling makes this bike look more modern than its siblings, thanks to the semi-integrated battery mounted on the bottom tube, and overall aesthetics comparable to Rad's City and Rover models.
Keep reading and you'll discover the unique qualities that make this bike special, including our real world performance test results in our RadRunner 3 Plus review.
Class 2 E-Bike:
Throttle and pedal assist up to 20 mph
Rad Power Bikes RadRunner 3 Plus Video Review

Pros
One of the most versatile e-bikes on the market. It can commute, haul, cruise – you name it. The frame styling, 350 lbs payload capacity and available accessories make it adaptable to whatever you need an e-bike to do…
…The available accessory packages leave you wanting for nothing. Optimized second passenger setups (adults or kids), heavy-duty hard shell panniers with locks for fighting the elements or thieves, and the debut of the Rad Trailer that's Runner 3 Plus compatible for taking another 100 lbs of cargo or pets with the pet trailer insert.
The longer rack and higher weight capacity makes this the most capable Runner to date. It's even roomier for hauling passengers & cargo.
New and improved frame design is stronger and stiffer than its siblings, giving improved handling while still fitting 4'10" to 6'2" riders.
It's arguably the best feeling Runner to date. The motor provides great acceleration, and does very well on hills. Handling with the BMX-style riser bar is top notch and has a well-balanced feel on the 3.3" tires.
Everybody can pick their preferred pace thanks to appreciable jumps in speed along the PAS levels.
Plenty of comfort from top to bottom: 17" standover height, new and improved saddle, 60mm travel on the suspension fork, upright riding position, and more add up to a ride that's easy on the rider.
While not yet available, the fact that you'll soon be able to add a second battery under the rear rack that will double your range will be such a welcome feature!
It's a bike that has style and function. Previous Runners didn't look this sleek, and the semi-integrated battery should be a blueprint for how to see the battery in a way that doesn't feel like the e-bike is from 2018.

Cons
It's a bit nitpicky since overall the looks department got a huge upgrade, but the cable management could be better as there are a lot of exposed connections, and the paint job looks nice but there's just one color available.
Previous Runner models had a dual-leg kickstand while this model uses a single-sided one. It's generally easier to use than the dual-leg one, but for those loading the bike with cargo the upright angle provided from the dual-sided one was more convenient.
ELECTRICAL SPECS & FEATURES
Motor: 750W rear hub motor, 5:1 planetary gear reduction
Battery: 672 Wh, 14Ah
Controller: 48V, 750W
Charger: 48V, 2 Amp
Display: speedometer, odometer, PAS level, motor watts, trip time, clock
Lights: LED headlight, taillight with brake light
Pedal Assist: Intelligent 5 level pedal assist with 12 magnet cadence sensor
Range: Estimated 25-45+ miles per charge (40-72+ km)
Throttle: Half twist throttle
Wiring: Water resistant connectors and wiring harness
USB Ports: Optional, sold separately
Weight & Dimensions
Claimed weight: 75.5 lbs.
Weight capacity: 350 lbs.
Rider Heights: 4'11" – 6'2″
Frame Size: 18″
Handlebar Reach: 13.8″
Seat Height: 28″ – 37″
Standover Height: 17″
Total Length: 72.5″
Wheelbase: 46.8″
Handlebar Width: 27.9″ (710 mm)
Components & Accessories
Brakes: Tektro Hydraulic HD-E350, 180 mm front and rear
Drivetrain: Shimano Altus MD310 7-speed. DNP 7-speed freewheel, 11-34T.
Shimano: SL-TX50-7R, thumb shifter
Crank Set: 170mm, 48T
Chain: KMC Z7, 132 links
Fork: RST Spring Fork, 60 mm travel with preload adjustment and lock-out
Wheels: 20″ x 3.3″ Kenda K905 tires. Double-Wall aluminum rims, 57mm wide
Spokes: 12-gauge, stainless steel, black
Frame: Aluminum 6061 alloy
Handlebar: Aluminum alloy, 710 mm wide, with 8.7″ rise, 22 degree sweep
Stem: 50 mm + 30º (35 mm rise)
Headset: Semi-integrated, 1-1/8″ straight steerer tube
Pedals: CrMo axle, forged aluminum standard 9/16″ x 20 TPI threading
Saddle: Cushioned saddle with adjustable height backrest
Seatpost: 390 mm x 27.2 mm, 31.8mm clamp
Fenders: Full-coverage front and rear, hardware included
Grips: Ergonomic comfort grips made of imitation leather
Kickstand: Side-mounted, adjustable lean angle
Racks: Rear: Integrated, 120 lb (54 kg) carrying capacity
Bell: Yes
E- Bike Overview – Rad Power Bikes RadRunner 3 Plus
First released in 2019, the newest version of the RadRunner electric bike – the RadRunner 3 Plus – is like an apple tree bearing its best fruit in its fifth year. But where apples have a limited place on the menu, this medium frame fat tire utility e-bike can be whatever you want it to be: utility bike for getting around town, cargo bike for picking up groceries, starter e-bike for your teen, and even a fun campground hop-around.
Evolving in a good way from it's siblings, the RadRunner 2 and RadRunner Plus, this bike retained some of the same key features of past versions, like a step-thru frame, 750-watt motor, 20" x 3.3" tires, BMX handlebar for upright riding posture, and the "I can do it," spirit.
Adopting the same Shimano Altus 7-speed from the RadRunner Plus gives adequate gearing ranges while also being easy to shift and easy to pedal at any speed. It also provides a wider power band for the motor. The 11-34T cassette is a good size for hill climbing and for largely eliminating the feel of ghost pedaling at all but the top motor-assisted speed of 20 mph (where it's only barely noticeable).
Unique to this model is the newly designed frame, which added tubing between the bottom tube, on through to the seat tube, and ending at the seat stay. This makes the RadRunner 3 Plus handle better, while also making it much stronger for passengers and cargo. The RadRunner 3 Plus now accommodates payloads up to 350lbs.
Rad also refined the suspension fork, shortening it from 80mm to 60mm travel to make pedaling easier when going uphill and for carrying goodies on the rear rack. Shortening the fork from 80mm to 60mm may seem counterintuitive, but this bike is not designed for serious off-roading so it doesn't need longer travel for absorbing big bumps. By shortening the travel on the forks, this provides a more controllable ride, especially for heavier riders.
The shorter forks still feel great for smoothing out roads as they take the edge off, and since the geometry keeps the rider fairly upright you don't lean into your palms too much anyway meaning your hands and wrists don't tire easily. You can also lockout the fork should you wish.
Switching from the narrower and taller handlebar (680mm wide, 10" high) to a wider and shorter handlebar (710mm wide and 8.7" high), gives greater control while also providing a slightly lower profile that makes turning better. The reach runs a tad short, but you can adjust the front-to-back tilt of the handlebar to help dial it in to you.
Rad made a great choice upgrading the brakes from mechanical disc to hydraulic disc brakes. Some noticeable advantages are greater stopping power (the details are coming up in our brake test), better brakes are safer for heavier payloads, and the improved performance when feathering the brake on turns and temporary slowdowns, like dodging pedestrians, dogs and slower bikes.
While not exclusive to the RadRunner 3 Plus, Rad Power Bikes also debuted an optional 25 lbs Rad Trailer, with 16-inch wheels, that's suitable for hauling heavier loads (up to 100 lbs) that need to stay closer to the ground, like 50 lb fertilizer or a furry, four-legged friend with the help of a pet trailer insert.
Additionally, there are a a whole host of panniers, baskets and more you can add to get the full use of the cargo capabilities, or you can make this a an e-bike for two with the rear seat mount or attach on an available child seat.
The locking panniers we were sent for testing are extremely handy for securing your valuables and keeping them dry. You can really load this bike up for going to work, doing some long hauling, and even ride to your favorite picnic or camping spot.
The frame now has two reinforcing tubes connecting the bottom tube to the seat tube for added strength and stiffness. The wheelbase length increased by only 1 ¼ inch from the Plus model, but the bike feels noticeably bigger – in a good way. It just feels more stable, and the roomier rear rack accommodates larger panniers, or makes for the most ample leg room allowed for passengers found on a Runner model yet.
Circuit Speed Test – Rad Power Bikes RadRunner 3 Plus
We do a circuit test to see how the pedal assist engages at each PAS level on the bike. We ride around a one mile loop, or "circuit," completing one lap for each level. The first lap we do with no pedal assistance, and then we move up one PAS level per lap, pedaling at a consistent – and not strenuous – pace. We time each lap and calculate the average speed for each level.
As a Class 2 e-bike, with a 750 watt rear hub motor, and weighing 75.5 lbs, we expected this bike to have decent power and ride a bit better than a cargo bike. We were surprised at how well this bike pedaled with no motor assistance (afterall, who likes pedaling an e-bike with no power?). Averaging the first lap, with no power, at 12 mph, this bike felt lighter than other e-bikes we've tested that weighed as much and included wider tires (3.3"). Credit the better-rolling-than-expected checkerboard pattern of the tire tread. So, this excited our interest in seeing how well this bike would ride with PAS.
We were stoked at just how great the RadRunner 3 Plus accelerated at each PAS level! This e-bike surged to 14 mph for most of the PAS 1 lap (averaging 13.8 mph due to the course incline). Our satisfaction continued at each PAS level, with our average speed increasing by around 2 mph. Topping off in PAS 5, at an average speed of 19.3 mph, the RadRunner 3 Plus proved to us that it can really go if you want it to!
The motor's acceleration feels good regardless of what PAS level you're in. I've personally ridden 12 different models of Rad e-bikes, and one element I've come to appreciate is how reliable the motor kicks in. The acceleration is "third bear" to me. Not too fast, not too slow, but just right.
The RadRunner 3 Plus uses a cadence sensor to operate its motor, meaning it's measuring when the pedals are turning to know to kick in some juice. It's about as dialed-in feeling a cadence sensor as you'll find, as the Runner 3 Plus always kicked in within a pedal stroke or less. You'll also find that the center display (Rad has a unique design with two LCD screens) shows your wattage output at any given moment. I love this and wich all e-bikes showed this. It better helps you get a sense of how hard you're pushing the bike and helps you better know when to ease up for the sake of battery life.
Range Test & Battery Performance – Rad Power Bikes RadRunner 3 Plus
One of the most common questions we get is, "How far does this bike go on a single battery charge?" That's why we test ride all e-bikes at the minimum and maximum PAS levels. The minimum PAS test tells us what the absolute furthest this bike's battery can provide usable power to get you to your destination. Impressed by the RadRunner 3 Plus' performance in the Circuit Test, we decided to use PAS 1 for the minimum PAS Range Test.
Equipped with one 48-volt 14 amp-hour (672 watt-hour) battery, the RadRunner 3 Plus is claimed to have a range of 45 miles. This e-bike put smiles on our faces by going much further than we expected. In the minimum PAS test, using PAS 1, this bike went 60.19 miles. We like it when a manufacturer gives a conservative estimate – it gives us more confidence in the reliability of their data when testing.
The maximum PAS test tells us how far the battery will take you when you have to use the highest amount of pedal assistance. Riding at PAS 5, and again contributing only basic pedaling, the RadRunner 3 Plus completed 26.43 miles before conking out. This was a really respectable result, especially considering this is a utility/cargo bike, not a lightweight commuter e-bike. It's worth noting that the last bar of the 10-bar readout had noticeable power loss, but that's not uncommon on e-bikes either, and the total mileage here is what counts the most. Good job, Rad Power Bikes!
With more than respectable range from our tests (and remember, your results may vary depending on a host of factors) we also like what's on the horizon with the Runner 3 Plus. Rad announced they're in the works on a second battery you can mount under the rear rack to double your range. The prospect of pedaling a 75lbs bike on your own should the battery die can scare some people off of taking longer trips. We're always happy to see brands come up with solutions for letting people ride further with fewer instances of needing to charge up the batteries.
Hill Climb Test – Rad Power Bikes RadRunner 3 Plus
The Hill Climb test is on a local trail, called Hell Hole Trail, 0.33 mile long and a 12 percent average grade. We scale our test hill twice — once using only the throttle and once on the highest pedal assist setting. This tells us how strong the bike is on its own, and with rider assistance.
Any e-bike worth its salt will help you climb a hill with ease, or just climb it for you altogether. So naturally, we were hopeful that the 750W motor of the RadRunner 3 Plus would deliver – and deliver it did.
Truth be told, Rad motors are some of the most consistent of any Brand we've tested. We have 11 hill tests worth of data (Runner 3 Plus included) now across all our Rad Power Bike reviews and, excluding the RadTrike, they are all within 10 seconds of each other on the PAS test.
Rad even claimed the Runner 3 Plus' 750W hub motor should climb hills 10% better, and although it's a little hard to compare as our Runner hill tests were all done by different testers, we did see it get the fastest ever PAS result to date.
Bikes like the Runner 3 Plus without a motor would NEVER make it up a hill like hell hole. The modest 7-gear range, wide 3.3" wide tires, and upright riding position are all working against you if you're riding a non-motorized bike on a hill. So when you can enjoy all the benefits and non of the drawbacks of the design thanks to a motor that can climb even intense steeps it just makes the utility style bike that much better for the user.
Brake Test and Safety – Rad Power Bikes RadRunner 3 Plus
Earlier I noted how stable this bike feels when riding. The brake system is a big part of that, as I discovered in my time of riding this bike and with our brake test results.
Here at EBR we bring bikes up to 20 mph (the class 2 limit) before quickly pulling the brake lever for an immediate stop, and then measuring the distance it took to reach a complete stop. We run this test multiple times for a clean average. The Tektro HD-E350 hydraulic disc brakes with 180mm rotors, we were able to bring the bike to a stop at an average distance of 20'8".
This average is about 2 feet shorter than comparable e-bikes and this can really instill confidence in the rider, knowing that.
The brake system also represent a hard upgrade from previous models. The hydraulic disc brakes are a first whereas older Runners featured mechanical disc setups.
The test results are nice, but we happened to have two real-world anecdotes from testing this bike out that help better illustrate the value of good brakes:
First, during my initial test ride I performed a few brake slams from high speeds to get a feel for how it would do, and I feel like I slowed down without deviating from my line even a single degree. I even finished in a seated track stand that I was able to hold for a few seconds – it's just a well balanced bike and does a good job slowing the rider down in a hurry if needed.
Second, when my colleague Forrest from the Electric Bike Report staff rode around town, during the school rush hour, he had to stop abruptly when a car pulled in front of him. There was no planning, as opposed to a brake test. He just reacted. Fortunately, the brakes did a fabulous job stopping very quickly, and all he had to do was smile and say, "I'm okay," to the embarrassed driver as she pulled away.
None of us look forward to having close calls when we ride. I am a strong believer in paying attention to my surroundings, and not letting myself get distracted when I ride. It's really comforting to pedal onward, knowing that this bike has got my back!
Ride Comfort & Handling, Cockpit, and More – Rad Power Bikes RadRunner 3 Plus
Like any product that has numerous features and individual parts, this bike earns its merits with the smaller details, too, including those touched by your hands. The cockpit layout has a lot to do with the exceptional comfort and control riders will enjoy with the RadRunner 3 Plus.
To start, Rad Power Bikes made a great decision putting a wider handlebar (710mm) than what your normally find on this type of e-bike. Wider bars make the bike easier to steer, and easier to handle when slaloming around daily obstacles. It also helps provide a slightly lower profile than the earlier RadRunner models, making turns cleaner and diminishing that sense of being top-heavy.
One thing we would like to see Rad do in the future, is offer and adjustable stem on this bike's steering head. This will help taller riders and riders with shorter arms a chance to adjust the handlebar better to meet their comfort level.
Speaking of comfort, the saddle is MUCH improved from the old RadRunner Plus. To be blunt: it was one of my least favorite saddles to date as padding was thin, the shape was odd, and there was zero adjustment beyond raising or lowering the seat post. The saddle is more traditionally shaped, and generously padded. The nose is a bit wider than most, making me notice it more than is typical, but it wasn't uncomfortable by any means. I'm still dubbing it an improvement.
If you like faux leather grips then you will be happy with the ones on this bike. They are ergonomically designed to comfortably fit your hands. Word of caution, though, if you like to ride barehanded, then you will want to keep your hands dry from perspiration or rain. Faux leather tends to be slippery to handle when wet.
But all in all, the rest of the cockpit layout works with this bike. The PAS display unit is easy to operate and read information from on either screen. The brake levers are durable and easy to pull on. The integrated lighting system (fork-mounted headlight, brake light in the rear fender) is bright and makes your immediate surroundings easier to see as it gets darker outside, while also making it easier for others nearby to see you. And there's a bell included to warn folks up ahead that you're coming through.
Most riders can count on having a quality ride with this bike, as it's easy to step through and sit down on, the handlebar reach should satisfy most riders, and everything you need to touch for riding this bike is set in a way that should seem second nature to operate.
Summary / Where to Buy – Rad Power Bikes RadRunner 3 Plus
I've often described the original RadRunner Plus, and RadRunner Two as e-bikes I could recommend to somebody even if I knew nothing about them. It fits most people, is easy to use, handles well, features a super reliable motor and can be tailored to your needs with all the accessory configurations. If you're dreaming up a bike that would work for most people, I just described it. It covers age ranges and use cases across the board.
The RadRunner 3 Plus continues that trend of being an e-bike I recommend to just about anybody based off of how easy it is to use, fun to ride, and adaptable to the needs of the rider with the plethora of ways to outfit it.
There's a lot that the bike does well. Beginning with the power range on the 750w rear hub motor, it engaged well with the rider at each PAS level. The acceleration levels were predictable and consistent. We never felt like this bike was trying to pull away from us.
The 14 amp-hour battery worked great providing suitable power to travel a longer range than expected. If you plan to ride this bike often and to considerable distances, then you will likely be happy with the results – or you can soon equip it with more range with the upcoming second battery.
The Shimano 7-speed drivetrain shifts easily, provides a workable range of gearing, no matter what your speed and pedal difficulty is, and it came close to eliminating the ghost pedaling at top speed issue we find with so many e-bikes. An eighth gear would be welcome in the future, but the lack of one now in no way holds the bike back.
Safety is enhanced, and riding ability improved thanks to the great stopping power from the Tektro brakes. I mentioned our staff's experiences, and how this gave usgreater confidence when riding this bike, knowing it would do a great job stopping when needed.
Stability and handling are assisted by the excellent suspension forks, shortened to 60mm travel to make uphill pedaling and cargo hauling easier, and safer. The new frame design, extending tubing from the bottom tube across to the seat tube and seat stay tube, are a great solution for strengthening the frame, giving a stiffer ride, and making this bike more able to safely carry a passenger and/or cargo.
But with this one 17" frame size, and 20" wheels, this bike's overall geometry still makes this bike super comfortable for most people to ride. And the simple design of the cockpit layout makes it easy to ride. The bottom line is that this bike is built by one of the leading e-bike companies in the US. They have been building e-bikes longer than most companies on the planet, so you will know you're getting a bike that will be reliable and is sure to satisfy a lot of your needs.
Happy Riding! Make sure to let us know if you have any questions down in our comments section or if you think we left anything out in this review of the RadRunner 3 Plus.
Reader Interactions