KBO Hurricane Review, 2023
Summary Review: KBO Hurricane
For current pricing on the KBO Hurricane click here.
When we reviewed the KBO Hurricane electric commuter bike, one of our main takeaways is that it's a standard bike first and an electric bike second. The Hurricane does a good job of not overwhelming the rider with loads of wattage and power.
Instead, it seems to give the rider assistance in the background which makes for a very organic feeling e-bike. With a sleek design and low weight, the KBO Hurricane is a great commuter for those who don't want to spend lots of money on an e-bike.
We found the Hurricane is also good for those who still want to get a good workout on their ride. With only 250W of sustained power, the Hurricane is never going to take over for the rider which we found to be a refreshing experience.
Balling on a budget? Don't want to look like you're on an e-bike? Don't want a heavy bike? If you answered yes to any of these questions, check out our review of the KBO Hurricane.
Bike Category: Commuter/ Road style e-bike
It's built around a road bike frame and has a flat bar convenient for commuting.
Bike Class: Class 1
Class 1: Pedal assist, up to 20 mph

Pro's
The KBO Hurricane is a very sleek and stealthy design. It does not appear to be an e-bike at first glance.
The Hurricane is only 36 lbs and handles just like a standard road commuter.
It feels like a normal bike first, and an electric bike second. The assistance is in the background of your ride.
The gearing is a good difficulty for going fast but not having to push too hard.
Frame feels stiff and well made, there was no unwanted flex or softness.
We always got a good workout when pedaling the KBO Hurricane.

Con's
The Hurricane is not a strong hillclimber, it's tough to keep going on any steep hill.
Braking power is not as prevalent as we'd like to see.
The fender installation is tedious and frustrating.
ELECTRICAL SPECS & FEATURES
Battery: 36V, 9.6Ah Lithium-ion battery with Panasonic cells
Display: LCD backlight display
Motor: Sustained 250W brushless geared motor with 350W peak
Headlight: 36V LED front light
Taillights: No
Peal Assist: PAS Levels 1-3
Range: 20~40 Miles
Throttle: No
Weight & Dimensions
Battery weight: 6 lbs
Claimed weight: 36 lbs
Real weight: 35.2 lbs (no fenders)
Maximum rider weight: 275 lbs
Dimensions: 70" x 32" x 24" (Total Length x Minimum Seat Height x Handlebar Length)
Components & Accessories
Brakes: Mechanical disc brakes with 160mm rotors.
Fenders: Aluminium full coverage
Fork: Rigid alloy fork
Frame: 6061 aluminum frame
Gearing: Single speed belt drive
Grips: Rubber lock on grips
Saddle: Sturdy and comfy saddle (Selle Royal Nebula)
Handlebar: 610mm alloy bar
Kickstand: Heavy duty aluminum
Pedals: Alloy pedal with reflectors
Tires: 700*32C road tires
Performance Review: KBO Hurricane
Acceleration / Speed
The KBO Hurricane isn't going to break any land-speed records, even in its highest assistance level, but that was okay with us considering the fact that the Hurricane only has a 250W motor and a single speed drivetrain.
When riding in assistance level 1 or 2, it's apparent that the motor isn't doing much. When riding in level 3 it's powerful enough to keep you moving with relative ease. Because of the single speed design we got up to speed within a couple of cranks and were able to maintain that speed because of the 250W motor.
When riding the KBO Hurricane on flat ground we topped out around 20 mph and it was pretty easy to hover around 17-18 mph when in assistance level 3.
Range Test
The KBO Hurricane has one of the smaller battery and motor combinations we've seen. Due to the conservate motor and battery combo I personally wasn't expecting to get as far as I did. It took me 23.71 miles on full assist before it finally ran out of charge. I rode at an average speed of 16.9 mph which isn't too bad considering the Hurricane only has a 250W motor.
One thing worth noting is the Hurricane does not like to climb up steep hills. In fact, it actually seems to hate it quite a bit. It took just about everything I had to pedal the Hurricane uphill due to its single speed gearing. With that being said, I understand the Hurricane isn't intended to be a hill destroying powerhouse. It's definitely made for pedaling around flatter urban areas.
When we test rode the Hurricane on the lowest assistance level we reached 36.2 miles on a single charge. While this result was okay it was quite a bit lower than the claimed 53 mile maximum distance. The Hurricane doesn't do much in the way of assistance when it comes to its lowest pedal assist level, as our test rider only had an average speed of 12 mph.
I personally can't see myself using the first two assistance levels on the Hurricane, they just don't do enough for me. It's already plenty tough to climb hills in the highest assist level; unless you're looking for an absolute leg buster of a workout I'd recommend pedaling the Hurricane on the highest assist level at all times.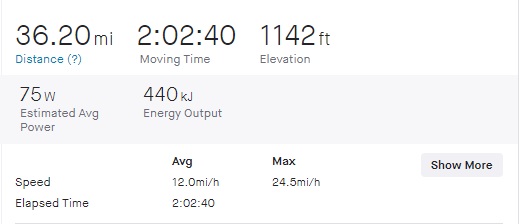 Circuit test
As I mentioned earlier the Hurricane isn't going to break any land speed records, but I still felt like it was plenty quick for its intended use. I was forced to put down a decent effort uphill, as the gearing is definitely tailored towards higher speeds and because of that I felt like I was working harder than the motor on the lowest assist level.
Assist level 1 is very much in the background, and only gives you a gentle push. I had an average speed of 15.1 mph which was only 2.5 mph faster than the Hurricane turned completely off.
Assist level 2 felt like I was putting down a lot of power on a standard road-commuter, but it was actually the motor kicking in when I needed it to. While I prefer riding the Hurricane in PAS level 3, I believe PAS level 2 is the best setting to use for a longer ride because it keeps your average speed up but doesnt suck the life out of the battery.
Level 3 helped me pedal with an average speed of 18.6 mph around our circuit which felt plenty fast for me. Regardless of if I was going uphill, downhill or was cruising on a straight away the average speed didn't seem to fluctuate very much.
Yes, there are definitely faster e-bikes I've ridden but there aren't a lot of e-bikes that felt this acoustic and natural below me.
Hill Test
One word: Sufferfest.
You're going to have to earn it on the Hurricane, and any steep hill is going to be a challenge due to the small motor and single speed drivetrain. While I love a good challenge, the KBO Hurricane hit me with a big one when I wasn't expecting it.
Based on all the miles I had done previous to trying our hill climb test I was expecting to get up the hill fairly quick, but I was wrong. It didn't take long for me to realize I was going to be in a world of hurt if I wanted to pedal the Hurricane all the way to the top. Me being me, I went for it and after 1:32.00, and a 200 bpm max heart rate I managed to make it.
While my experience on the hill climb was rather unpleasant, I cant bag on the Hurricane too much for its result. The gearing is good on straight aways and moderate inclines for the same reason it's tough on steeper hills. Had the gearing been any easier, I would have used the battery life quicker and my average speeds would have definitely dropped on the ride overall. The Hurricane also only has a 250W motor which simply isn't enough power to fly up our hill test like some higher wattage e-bikes can.
Handling (cornering, slow speeds, safety on bike, etc.)
We're always fans of minimalistic road-esque e-bikes, and excited to see the way they feel below us. The KBO Hurricane was no different. With a very lively feeling when pedaling, and a sporty geometry it didn't take long for us to envision using the Hurricane as a stealthy commuter that'd be great for zipping around town.
Because of the fully rigid frame, and the thin 700x32c tires we didn't hit corners at full speed most of the time, but we got back up to top speed for those same reasons. The Hurricane proved to be easy to maneuver overall, and the 36 lb weight was one of the main things helping us keep it under control.
The only place the Hurricane felt like it was out of its element was on steep hills. The single speed gearing and small motor definitely don't add up to make the Hurricane a hill-killer. Aside from the tough gear ratio on climbs, the Hurricane feels as we hope it would — stable, light and sporty.
Ride Comfort
Because of the KBO Hurricane's sporty geometry, it's not going to be the most comfortable for long days in the saddle, but we understand that it's not designed to be a comfort bike/cruiser.
The Hurricanes ride experience is based around efficiency, and it simply isn't designed around a leisure comfort oriented approach. While it may be lacking in the comfort category, it makes up for that with its nimble handling and speedy geometry and gearing.
Those who plan on riding anywhere between 5-15 miles are really going to appreciate the ride experience of the Hurricane. Mileage within that range seems to be just short enough that bodilly fatigue isn't setting in, yet long enough to show how efficient the Hurricane truly is.
KBO Hurricane Specs/Features: Electrical Components
Motor
The KBO Hurricanes 250W motor is very much a background motor in the sense that it's never going to take over for you completely when riding. When I took out the Hurricane for the first time I was slightly underwhelmed with the power, but with some miles I came to appreciate the conservative power output the motor offered.
For me, it felt like I was riding with a strong tailwind all the time. Well, most of the time that is. The Hurricanes motor isn't the best for uber-steep hill climbs. Because of its single speed drivetrain and only 250W of power, it took a lot of physical force to get the Hurricane up our test hill without putting a foot down.
Overall I didn't mind the lack of hill climbing ability as it added a good workout, and challenge into my test ride. With that being said, the hill climbing ability is still something worth noting. Those who don't want to pedal forcefully, or that live in areas such as San Francisco will definitely need an e-bike with more power or easier gearing than the KBO Hurricane.
Battery
Similar to the motor, the Hurricane's 36V, 9.6Ah battery isn't the biggest or most powerful that we've seen; but bigger isn't always better. One thing I've learned in my time working in the e-bike space is that more wattage and amp-hourage isn't always better or needed. The best e-bikes I've tested have a good power to weight ratio.
An e-bike could have a 52V battery and a 1200W motor, but if it weighs upwards of 70 lbs then it isn't going to perform as well as a 50 lb bike capable of 500W of power. The Hurricane is an example of a good ratio; the lightweight battery complements the motor very nicely.
The smaller battery is a key component keeping the Hurricane below 40 lbs, it's also integrated quite nicely into the frame. The battery integration is sleek enough that most won't be able to tell the Hurricane is an e-bike until they ride it.
Pedal Assist / Throttle (when applicable)
I spent quite a bit of time riding the Hurricane in all three assistance levels and turned completely off. Even without looking, it didn't take long for me to tell what assistance level I was in based on feeling.
The first assistance level seems quite underpowered, even by the Hurricane's standards, and I honestly couldn't see myself ever riding in level 1 on my own time. With the low levels of power it gave off level 1 simply just seemed underwhelming. While level 1 was 2.5 mph faster than the Hurricane completely off I would have liked a little more power to show me the bike was on, and helping.
Level 2 was a good balance of physical effort and assistance from the bike. Level 3 was definitely the most reasonable to use as it felt like I was being rewarded with speed for keeping the cranks spinning. With none of the assistance levels using too much battery, I definitely see most people only riding the Hurricane in assistance level 3.
Because the Hurricane is only 36 lbs, it isn't the end of the world (or ride) if you run out of battery life on the trail. Aside from steep hills, it's more than likely you'll still be able to pedal to your destination.
Display
The main talking point of the display is the fact that it's barely there in the first place. When it comes to e-bike displays it doesn't get much more lowkey than the Hurricane. Simple is definitely better in this instance, and the display fits the overall theme of the Hurricane very well.
With only two buttons it doesn't take much practice to figure out the display and how to interact with it. I'd actually like to see more e-bikes implement a smaller display like KBO has on the Hurricane; it's completely out of the way until you want to use it. The only con of the display I found is that it can be a bit hard to read if it's bright outside.
KBO Hurricane: Components and Accessories
Brakes
The braking power was not very strong on the KBO Hurricane, and this is definitely one area I'd like to see some improvement in the future. While the underpowered theme of the Hurricane is good overall, brakes are definitely an area I prefer an overpowered setup.
It really boils down to safety, and for the KBO's intended use a set of stronger brakes would definitely improve the overall performance. The stronger the brakes, the more confident I am riding at speed, and because the Hurricane wants to hover above 15 mph a majority of the time stronger brakes would be a nice addition to the bike as a whole.
Frame
The frame design is quite standard at first glance, but on further inspection you'll notice lots of minor details that are actually quite neat. For example, the way the seat stays wrap around the seat tube and continue into the top tube looks really cool and it seems to be a pretty strong structural design as well.
The chainstays have a unique curve to them that some riders may find annoying, a couple of our test riders noticed their heel rubbing against the chainstay from time to time. I personally didn't have this issue.
Fork
Similar to the frame, the fork is built of 6061 alloy. However, it did differ from the frame in the sense that the fork did seem to have a bit of flex to it, especially when grabbing the brakes hard. I would have liked to see a little bit thicker design on the Hurricane; I think it would help alot with absorbing the chatter and feedback from the road, not to mention your steerpath would be a lot more consistent and predictable with a stiffer fork.
The flex that I felt when braking was pretty minor overall, but it was definitely noticeable. I'd be curious to see how a short travel suspension fork would change the performance and experience of the Hurricane overall. While the design of the Hurricane definitely doesn't scream "suspension fork," I do wonder how one would feel compared to the rigid fork.
Drivetrain / Shifting
In my opinion, the most unique characteristic of the KBO Hurricane is definitely the single speed belt drivetrain and the way it feels. The rubber belt chain has a softer feeling than a standard chain does, and I found it made pedaling the bike feel a little smoother and softer.
The gear ratio on the Hurricane is great for moderate inclines and cruising through town, but as you know by now the Hurricane isn't made to conquer your town's steepest hill. I am curious about the longevity of the belt drive setup relative to a chain, and I guess time and mileage will tell which performs best.
Contact Points
The aggressive positioning of the Hurricane felt great for getting low and hammering out the miles. However, if you are looking for a comfort based ride it's probably not the Hurricane. For me, the hard grips and saddle felt a little bit unforgiving for my riding position.
My sit bones and hands can definitely handle a little bit of discomfort, but because the Hurricane is an e-bike that most riders will go farther than they would on a standard bike, a little bit of extra cushion on the saddle and grips would go a long way.
The 610mm handlebar width was a little thin for me personally, but I'm coming from a mountain bike background where I'm used to using 800mm bars. My logic is a little wider grip would reduce upper body fatigue and improve handling. I'm not thinking drastically bigger either, a 650-680mm bar would be perfect.
The alloy pedals were a nice touch, they have a unique shape relative to other pedals we are used to using. These pedals have plenty of grip, and are built good enough to withstand some big pedal strikes.
In all, the KBO Hurricane wasn't quite as comfortable on the key contact points as I was hoping for, but it also wasn't unbearable. Also keep in mind componentry such as grips, saddles, and pedals are easy to swap out if you cant seem to mesh with the stock parts.
Tires
The 700x32c road bike tires kept the rolling speed high and provided me with the feeling of efficiency throughout my time on the Hurricane. These tires felt just wide enough to dampen some of the rougher roads I was riding on, but I personally think they could be a little wider.
I figure if you have motor assistance you might as well push around more traction (i.e. a bigger tire). I personally think a 35c tire would be the best of both worlds for the Hurricane, but it really comes down to your preference.
Extras / Accessories
I'm not going to lie, we got a little bit frustrated trying to instal the fenders. Dropping out a rear hub motor wheel is tedious as it is, let alone when you have to undo the belt drive setup. Because of the frustration we gained from trying to install the fenders we ended up leaving them off, and honestly I prefer the looks of the Hurricane without them.
Aside from that, you get a surprisingly solid water bottle cage, multitool and a heavy duty kickstand. KBO gives you quite a bit of additional accessories with the Hurricane, which is cool to see considering the price that you're paying.
KBO Hurricane Summary Review / Where to Buy
The KBO Hurricane showed me that bigger isn't always better and that the wattage to weight ratio is more important than wattage overall. Yes, the Hurricane struggled on the steep hills but everywhere else it held its composure and offered me a smooth, natural feeling experience.
The KBO Hurricane proves that you don't have to create the biggest and baddest e-bike to create a good riding experience. While a highly powered fat tire e-bike is going to be a lot of fun, it's not the only type of fun electric bikes can offer. With the Hurricane, the motor assistance is in the background and doesn't get in the way of a natural feeling ride.
Within a couple of miles the ride experience of the Hurricane would silence the "e-bikes are cheating" crowd and put smiles on their faces. You can't get away from pushing the pedals on the Hurricane and because of that it makes it a true cyclist's ebike.
I'd relate the feeling of the Hurricane to how I feel on my best day out on the mountain bike. My legs feel like they're ready to push a little harder, and the tempo never drops below "hauling ass" levels of average speed. Both rides provide ride experiences that totally immerse you within what you're doing; it's just you, the bike, and the synergy created between the two.
KBO uses a direct to consumer business model. If you're interested in checking out the KBO hurricane click the button below for pricing.
Whether you're on the fence about buying an e-bike, deciding whether or not to commute to and from work, or simply looking for a bike to stack up the miles on the KBO Hurricane will definitely tailor to those needs. Because of its stealthy looks, low price point, and organic feeling the Hurricane is definitely on my list for budget e-bikes to consider.
Reader Interactions