Ride1UP 700 Series ST Review, 2023
Keep up with friends or with traffic on this affordable commuter.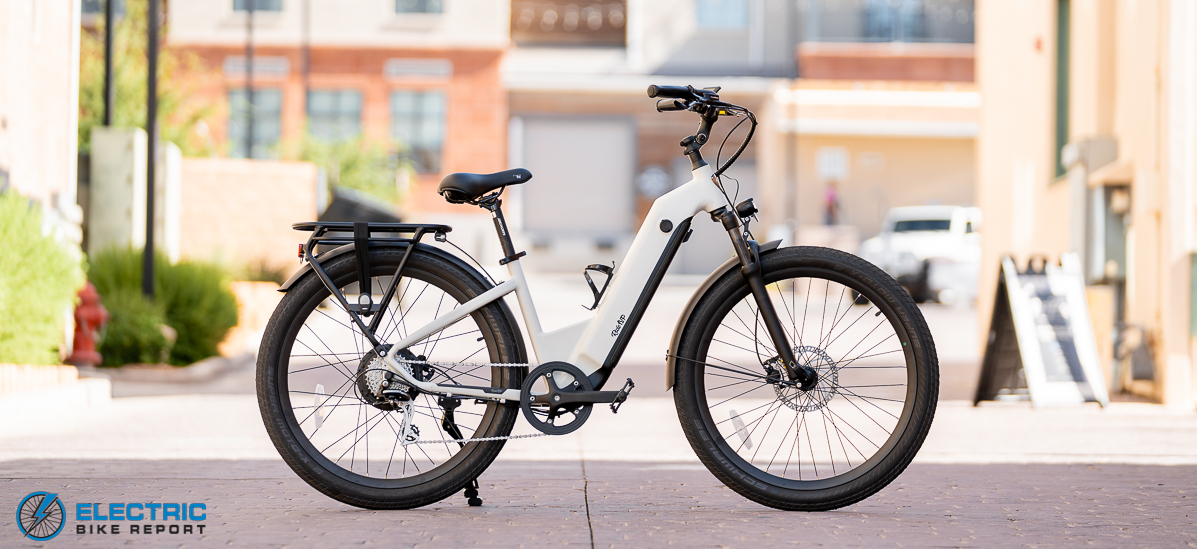 Of the many pieces of advice consumers regularly hear, "You get what you pay for," is common enough to be a cliche. The thing is, it's not always true, which is why shopping for any major purchase can become a hobby.
Ride1UP's e-bikes
have served as consistent examples of e-bikes that deliver more per dollar than most. When we look at e-bikes that are comparable to Ride1UP's models in terms of spec and features, what we generally find is that the Ride1UP model saves buyers $100-$200. In our Ride1UP 700 ST review we will showcase what makes this e-bike such a terrific value.
Riders looking for a commuter that can keep up with the flow of traffic will find the Ride1UP 700 ST to be a satisfying experience; it didn't have any trouble reaching a cruising speed that would allow a rider to keep up with the flow of traffic from light to light. This step thru variant makes popping forward at stops all the easier too.
A 750W brushless, geared Bafang hub motor provides the muscle necessary to reach 28 mph on pedal assist, which is no small feat (and uncommon for me, speaking as a 230 lbs rider). Powering it is a 720Wh battery that provides plenty of range but is also light enough that this e-bike weighs less than 70 lbs.
The Ride1UP 700 ST is a ready-to-go commuter, coming equipped with front and rear lights, alloy fenders and a rear rack. Just add saddle bag.
Hitting value-oriented price points usually comes with a trade or two. It may come in the form of getting a more powerful motor but not receiving a rack or fenders. With Ride1UP, we can usually determine where they made their trades to hit the price point, but the sacrifices tend to be minor and feel like no real loss. The 700 ST only really lacks sizing options, and the assembly isn't harder than most, but includes a few more steps than the average.
The overall spec on the Ride1UP 700 ST delivers a reliable ride again and again thanks to features like an 8-speed Shimano Acera drivetrain and Tektro hydraulic disc brakes. We also like that Ride1UP chose 27.5-in. wheels which roll faster and handle better at speed than smaller wheels.
It's a great ride on it's own, but feels better when considering its price tag. For all the Ride1UP 700 ST has going for it, read the full review below.
Class 3 E-Bike:
Maximum assist speed of 28 mph, includes throttle
Ride1UP 700 ST Video Review

Pro's
Provides a quality ride and good performance for a couple hundred less than most with similar spec.
Enjoy the speed you want from your ride. It has a balanced speed profile from mellow to blazing depending on your PAS setting.
This commuter is ready-to-go thanks to the included rack, fenders, front and rear lights plus kickstand
720Wh battery gives a range of 25-45 mi., depending on the PAS level, solid range for a powerful e-bike
8-speed Shimano Acera drivetrain offers a wider range of gears than most e-bikes in this price range, thanks to its 11-30 cassette
Tektro hydraulic disc brakes with 180mm rotors give the sort of stopping power to give a rider confidence in commuter traffic
This Class 3 commuter can actually reach 28 mph, unlike some e-bikes that claim to go fast, but struggle to reach speeds north of 20 mph

Con's
We wish they would offer this step-thru frame in two sizes. Riders taller than 6′ should look at the XR model
It's not so much a con as a note: assembly is easy enough, but takes longer than most (plenty of instructions from Ride1UP to not get you lost though).
ELECTRICAL SPECS & FEATURES
Battery: 720Wh Samsung
Display: Color LCD
Motor: 750W brushless, geared Bafang hub motor, 60Nm torque
Controller: 15A DMHC
Headlight: 80 Lux
Taillights: Spaninga Luceo
Peal Assist: 5 PAS levels

Range: 30-50 mi. Depending on rider, terrain, surface, etc.
Throttle: thumb button
App: N/A
UL Certification:N/A
Weight & Dimensions
Claimed weight: 62 lbs.
Rider height range: 5 feet to 6 feet 2
Maximum rider weight: 300 lbs.
Maximum load on the rear rack: 50 lbs.
Total payload capacity: 300 lbs.
Components & Accessories
Brakes: Tektro hydraulic disc brakes, 180mm rotors
Fenders: Hardened alloy
Fork: 100mm-travel Mozo coil spring w/hydraulic lockout
Frame: 6061 aircraft aluminum
Drivetrain: 8-speed Shimano Acera
Grips: Velo, faux-leather, lock-on
Saddle: Selle Royal Freeway Plush Gel
Handlebar: Alloy, 25mm rise

Kickstand: Included
Pedals: Wellgo, alloy with reflectors
Tires: WTB Groov-e, 27.5 x 2.4-in.
Ride1UP 700 ST Review: Speed Test
On our speed test, the Ride1UP 700 ST performed admirably, giving us the sort of experience that we think people want when they purchase a Class 3 e-bike. It isn't uncommon to have to really move the pedals to see some e-bikes hit that promise 28 mph, but in practical use fail to live up to the marketing copy. Not so with the 700 ST.
With the motor off, we found a reasonable cruising speed of 11.2 mph. That's in line with what we experience with most e-bikes. PAS 1-3 all dish out nice manageable speeds that can help you move a little or a lot. Newbies and vets alike will appreciate the distinct feel at each PAS setting
Here's where the fun begins for the experienced to hardcore crowd. PAS 4 gives riders the sort of speed that makes commutes zip by with the speed of 24.4 mph. We suspect that for many riders PAS 4 will probably satisfy their need for speed. That's because in PAS 5 we reached a speed of 28.1 mph.
We experienced a certain amount of ghost pedaling in both PAS 4 and 5. That's because the gear required to go 24 or 28 mph is rather large, and there are only two ways to address that. The first is to add a larger chainring, a 52t perhaps, which would result in a loss of low gear for hills (not dynamite) or to go with a 9-speed drivetrain that would offer a cassette with a wider gearing range, and that would drive up the price of this e-bike. The solution that Ride1UP settled on is pretty reasonable considering the price point they wanted to hit with the 700 ST.
Ride1UP 700 ST Review: Range Test
The Ride1UP 700 ST is equipped with a 750W hub motor and a 720Wh battery. In our experience, manufacturers set riders up for solid range any time they achieve a close to 1:1 ratio of watts and watt/hours. E-bikes with hub motors need a battery close to equivalent in size to the motor if riders are to be able to handle longer round-trip commutes.
For our first test of the 700 ST's range, we rolled out in PAS 5 and covered 25 mi. at an average speed of 25..3 mph. Translation: blazing fast. And not just blazing fast, but also, respectable range.
In our long-range test in PAS 1 we saw 45 mi. roll by at an average speed of 14.6 mph. Not record-breaking, but a solid result, but here we do have to ding the 700 ST slightly because Ride1UP claims on their website that the 700 ST will achieve between 30 and 50 mi. At PAS 5 that's a margin of error of 20 percent, but at PAS 1 that margin shrinks to 10 percent. And hey, results could vary and hit the mark depending on the rider and where they ride it.
Bottom line: We think their range estimates were made in good faith, and even if we didn't match those numbers, the Ride1UP 700 ST sports a big enough battery to satisfy all but those with the longest commutes.
Ride1UP 700 ST Review: Hill Test
It takes a special kind of dedication to want to ride up Hell Hole. Sure, bike racers might see a ⅓ mi., 12 percent climb as fun, but for most of us, we only climb a hill like that when it can't be avoided. Put another way, having a throttle can almost make you forget what a crazy hill it is.
With the throttle alone, the Ride1UP 700 ST ascended Hell Hole in 1:48. That makes for an average speed of 10 mph. While it isn't our fastest recorded time, we like to remind our readers that we encounter plenty of e-bikes that can't make the whole ascent on throttle alone. Simply finishing the climb on throttle is an achievement. Kudos to the 700 ST.
Once we added our legs to the effort, so to speak, the 700 ST climbed Hell Hole in a much zippier 1:21 for an average speed of 13.4 mph. That's quick enough to pass most of those previously mentioned bike racers.
These results are a testament to the Bafang hub motor's ability to generate 60Nm of torque. With a hub motor, torque will determine how the e-bike performs on a hill more than any other feature. This was again a nice performance.
Ride1UP 700 ST Review: Brake Test

It used to be that we stopped pretty aggressively—weight back, skidding, steering to stay upright—what is known as a panic stop. These days, we stop like normal people who maintain a reasonable speed so that they don't need to stop yesterday.
Our three efforts resulted in a stopping distance of 23 feet. Our current average of similar is 22 feet 4 inches for similarly equipped e-bikes. So while this stopping distance is longer, 8 in. is pretty negligible. Bear in mind, this is what we would call normal stopping conditions. Should someone find themselves in a fix, there is more braking power to be had.
Ride1UP 700 ST Review: Ride Quality
Here at Electric Bike Report, we review lots of commuter e-bikes. Commuters are arguably the biggest category in e-bikes and we see all the variations that companies have tried. We previously reviewed the 700 XR, which features a traditional diamond frame. One of the reasons we like reviewing both the traditional frame and the step-thru when a manufacturer offers them is to note how the two e-bikes differ in rider comfort.
With the ST version of the 700, the rider's position changes some. The effective top tube length is 12mm greater, which is the opposite of what we would expect to see for an e-bike meant to be friendlier to smaller riders. But here's the thing: The overall reach from seat to handlebar is notably shorter with the ST than with the XR thanks to two important choices that Ride1UP made. First, the stem on the ST is 3cm shorter than the one on the XR. Also, the handlebar features a fair amount of backsweep, which is more in keeping with a cruiser than a commuter. Those two components make the reach to the bar modest.
Ride1UP claims riders from 5 feet tall up to 6 feet 2 inches can ride the ST. As we often note, the extremes of those height recommendations can be, well, optimistic. At 6 feet 1, I'm near the upper limit on what they say is workable. I could make it my daily ride, but I'd take a larger frame of the ST if they had it. Yes, the XR is designed for me, but I love the convenience of a step-thru frame, especially if I pull up in front of a market or restaurant, I like not having to swing one of my sizable legs around like Bruce Lee. Lookout!
I definitely appreciated the 100mm-travel suspension fork. It makes a difference on rougher roads and any time I hit a bump. It features a lockout dial which was handy for any time I wanted to get out of the saddle. .
Another pleasant surprise I experienced with the Ride1UP 700 ST was just how responsive the cadence sensor was. Most cadence sensors take the better part of one complete pedal stroke to kick into gear; this was quicker, helping me get rolling more quickly and arriving at cruising speed sooner.
Ride1UP 700 ST Review: Summary / Where to Buy
As we said at the outset of our review, this commuter is a one-stop solution for the person who wants to commute by e-bike.
Earlier, we mentioned that the Ride1UP 700 ST has a motor powerful enough to keep up with the flow of traffic. That deserves a bit more explanation. An e-bike doesn't need to go 35 or 40 mph to keep up with cars. All an e-bike has to do is get from one light to the next on the same cycle as the cars it is tailing. If the distance is less than a mile between lights, someone riding an e-bike can zip away from the intersection and while the cars will pass the rider, the rider can often arrive at the next light before it turns green, thus staying on the same light cycle as the nearby cars.
Staying on the same light cycle as the cars offers another benefit. Once the drivers in the right lane have seen the rider a couple of times many drivers will begin to keep an eye out for the rider, thereby increasing the rider's safety.
The best part? In urban areas with lots of lights, a rider rarely needs to go more than 24 mph to keep up.
One detail we sometimes struggle with regarding more value-positioned e-bikes can be the 7-speed drivetrains they are often equipped with. Those drivetrains don't offer a large gear range, usually, just 200 percent. The 700 ST has a gear range of nearly 300 percent. Where this matters is for people who live in hilly places like San Francisco, Seattle or Boston. Riders in Chicago or Miami won't suffer from a narrow gear range in the same way someone living near Beacon Hill would.
It's always a pleasure to run across an e-bike that delivers unqualified value to shoppers. There's nothing like reviewing an e-bike that lacks any, "Yeah, but…."
Riders looking for a commuter that will allow them to park their car, save on gas and get a bit of exercise not to mention a better view of their community would do well to take a long look at the Ride1UP 700 ST.
Happy Riding! Make sure to let us know if you have any questions down in our comments section or if you think we left anything out in this review of the Ride1UP 700 ST.
Reader Interactions