Regaining the Freedom to Ride With an Electric Bike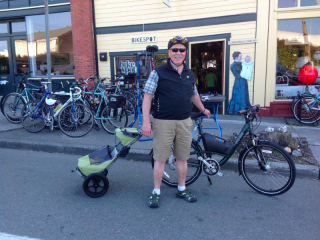 This is a guest post from Cathy Lau of Ohm electric bikes.
When injuries take away your ability to cycle where and when you like, sometimes, you can regain your freedom to ride with an electric bike.
Blake Thomson discovered this just last year, after spending 30 frustrating years unable to ride on anything but flat terrain, after a car accident crushed his foot flat "like a pancake."
With his OHM, Blake can now ride wherever he likes.  Here's how he describes his experience:
"In 1981, I was in a horrific car accident. One of the injuries I experienced was having my heel bone crushed. Normally, the heel is shaped like a shoe, and the accident left it like a pancake.
Eight months of compression casts helped put the bone sort of back to where it had been before.  However, the very limited range of motion and muscle atrophy my foot had gone through made my right foot a lot weaker and less mobile than my left foot.
I tried to go cycling, but was frustrated a lot. I tried using lighter bikes, but they were not stable enough.  I did get a bike that was stable, but my riding was limited mostly to places that were flat.
Biking made me feel like I had 1 and ⅓ feet, as my left foot did most of the work, especially for getting over hills and starting up the ride.  Because I live in a hilly area, I did not do that much biking.
Technology has improved a great deal and so I started researching different brands and technologies.
I bought the OHM in July.  It has let me ride again regardless of what the terrain is. The pedal assist feature balances my "feet" which makes riding a real pleasure.  Going home up the hill no longer requires any consideration. I just do it.
I also bought a Burley Travoy trailer and with the two I can shop and go around town while getting my exercise.  The bike is very stable while I am riding it, so its weight is a big plus.  I also do five to ten mile recreational rides several times a week when the weather cooperates."
So don't lose hope if you feel like biking is not cooperating with your body.  A high performance electric bike may be just the thing to let you cycle freely again.
End of guest post from Cathy Lau.
Has an electric bike made it easier for you to enjoy riding a bike again?  Please share your story in the comments section below.
Thanks!
-Pete
P.S. Don't forget to join the Electric Bike Report community for updates from the electric bike world, plus ebike riding and maintenance tips!
Reader Interactions