Populo Sport Electric Bike Review Part 2: Ride & Range Test [VIDEO]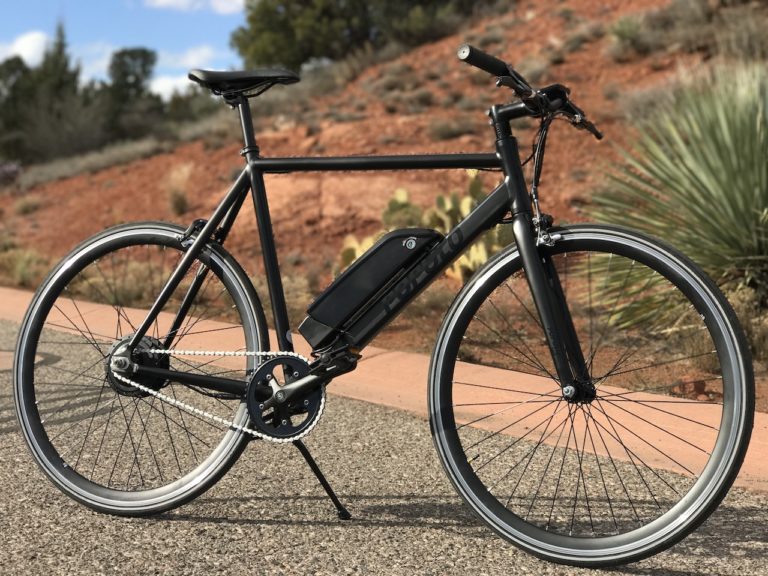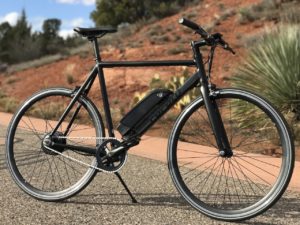 After many miles on the Populo Sport it has proven to be an agile, lightweight and affordable eBike at $999.
At 35.7 pounds this hybrid style eBike is one of the lighter eBikes on the market too and you can feel that when you ride this efficient road style eBike that glides on the road and carves into corners.
In this second part of the full review you will get an idea of the ride characteristics, range test results, pros, cons, and overall thoughts on this electric bike.
Make sure you check out part 1 of this review with large pictures and specifications to get a detailed look at this e-bike.
What you can expect from the Populo Sport:
To get acquainted with the Populo Sport, checkout this video:
The following are some operational videos from Populo about the Populo Sport.
Unboxing and assembly video.
Setup and operation of Populo Sport.
Removing the rear wheel.
Riding the Populo Sport
: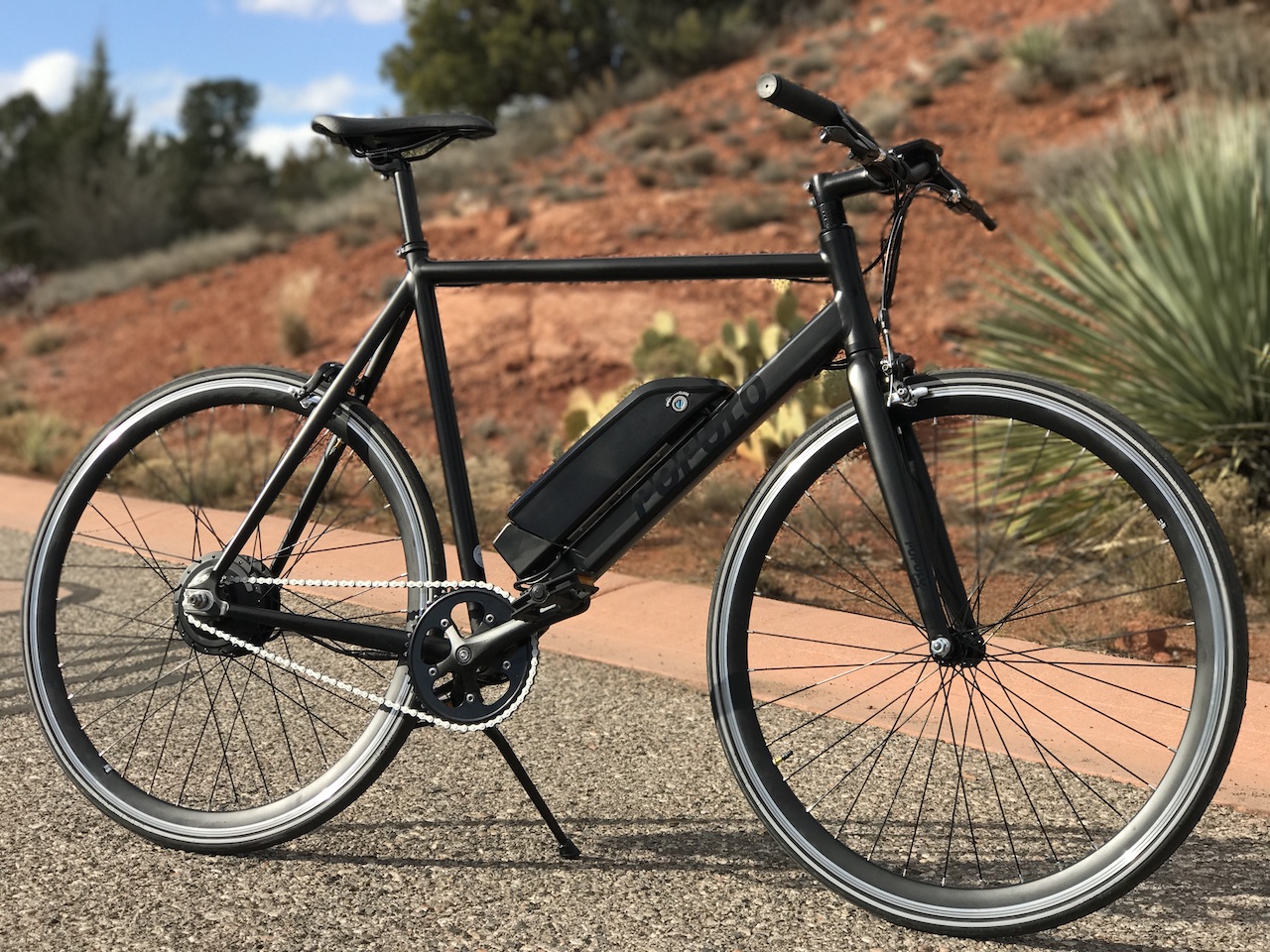 Overall there are some characteristics of the Populo Sport that really stand out when riding this electric bike. To summarize they are:
Light (35.7 pounds), agile, and efficient ride feel
Clean looking eBike
Simple and efficient
The Look & Feel of the Populo Sport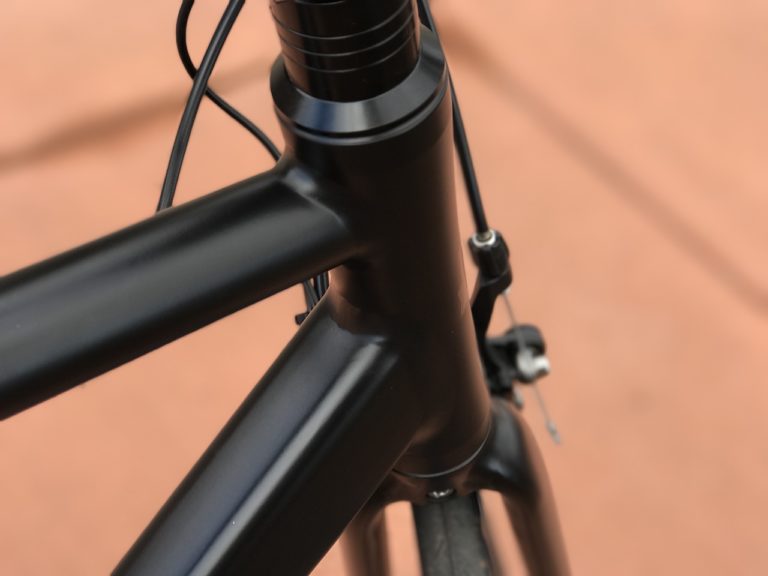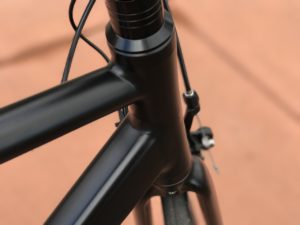 One of the highlights of the Populo Sport is the double butted 6061 aluminum frame with smoothed welds around most of the frame for a very clean look.
The tubes have the appearance of a continuous look between tubes that is similar to carbon fiber frames.
The aluminum fork also has the smoothed welds for a cohesive look with the frame and the low profile integrated headset.
Internal cable routing within the frame tubes also adds to the clean look of the Populo Sport. I tested the first version of this bike that did not have water bottle or rear rack mounts but the latest version of the Populo Sport will have these built into the frame.
The Populo Sport comes in 3 different sizes (small, medium, large) fitting riders from 5′-1″ to 6′-2″ tall and 3 different color options (Matte Black, Polish, and Gloss Blue).

Like a road bike the Populo Sport has a performance ride style with a stretched out and somewhat hunched over fitness position.
If you are looking for a more upright position an adjustable stem can help to dial in your preferred handlebar height.
The flat handlebars provide a comfortable and simple ride style when compared to drop bars that are found on most road bikes.
Narrow road bike type 700c wheels carve into the corners and they have a smooth gliding feeling that is characteristic of a classic road bike ride. An efficient ride is what the CST 700C x 28 tires are all about and they roll very well.
Both front and rear tires have a reflective sidewalls that help with being visible at night.
While I didn't have any flats while testing the Populo Sport it would be a good idea to use a tube sealant like Slime if you live in an area with a lot of sharp objects in the road (glass, thorns, etc.).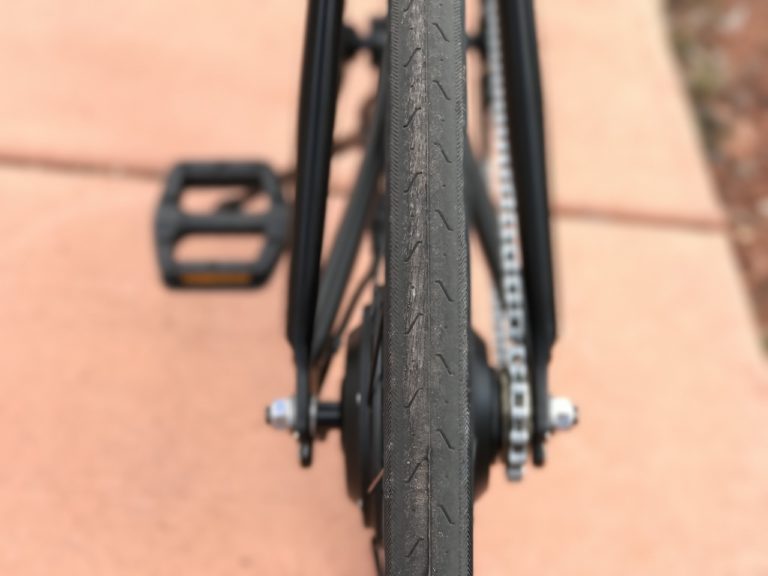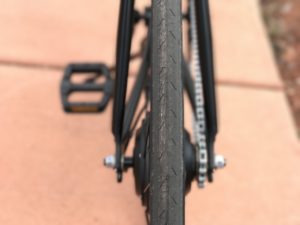 The combination of its lightweight (35.7 pounds), narrow tires, and flat bars creates a very agile ride feel that makes it a nice bike for dense urban areas.
The Populo Sport is definitely not a laid back cruiser, it is ready for carving the corners and weaving through the city congestion.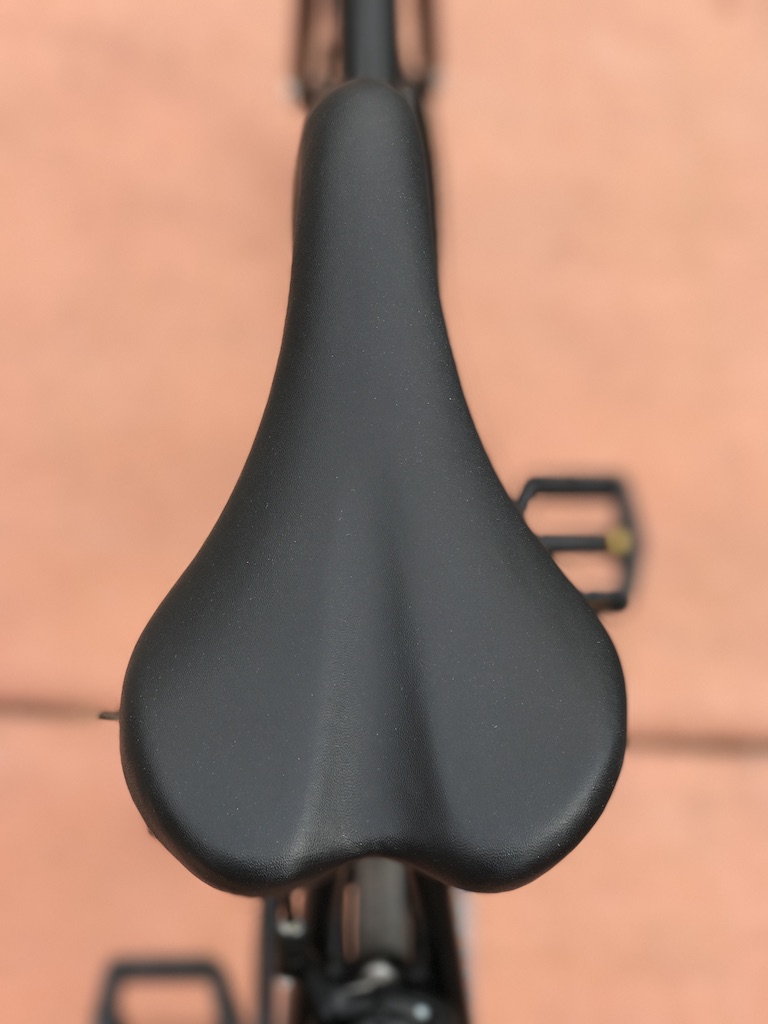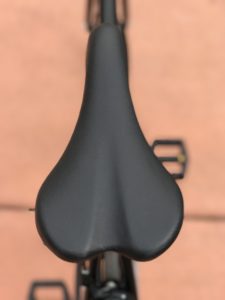 The saddle has a narrow performance style profile which fits the look and ride style of the Populo Sport well. This is a good saddle for performance, sporty riding but it is not the most comfortable saddle for just cruising around.
The combination of the road bike tires with the rigid aluminum frame and fork and performance style saddle provide for ride that transmits all the bumps and cracks of the road to your body. For a more comfortable ride I recommend a suspension seatpost for most eBikes with a rigid frame (hardtail).
Like all bicycles, you generally trade comfort for a light and efficient bike.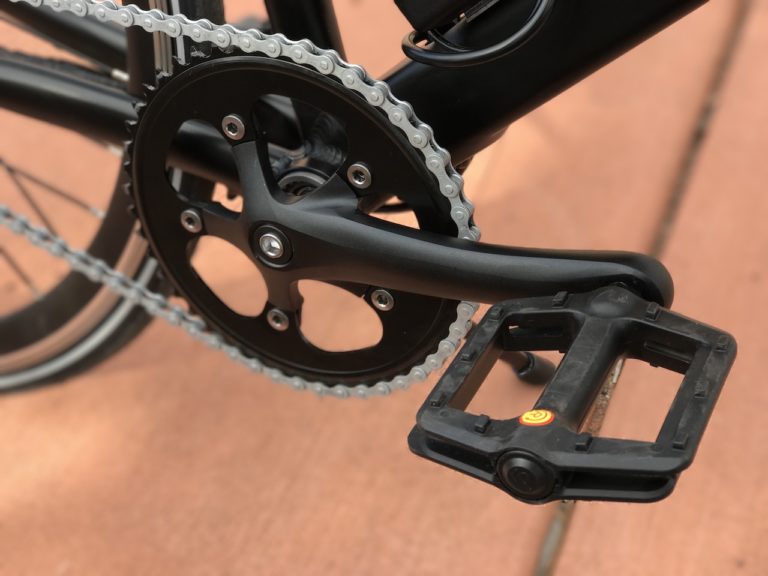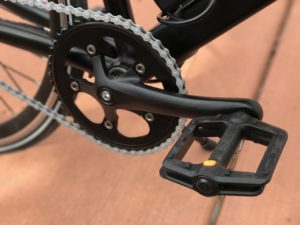 A single speed gear comprised of a 46t chainring and 16t cog creates a pretty tall gear that is good for riding up to the max assist speed of 20 mph, but it can be a tough gear for getting up to speed from a full stop. Thankfully the electric assist is very helpful when getting the Populo Sport up to speed.
Once up to speed the efficient Populo Sport comfortably cruises around 20 mph with or without assist. The road bike tires and the single speed gear ratio make it an easy bike to cruise around on without assist if you choose.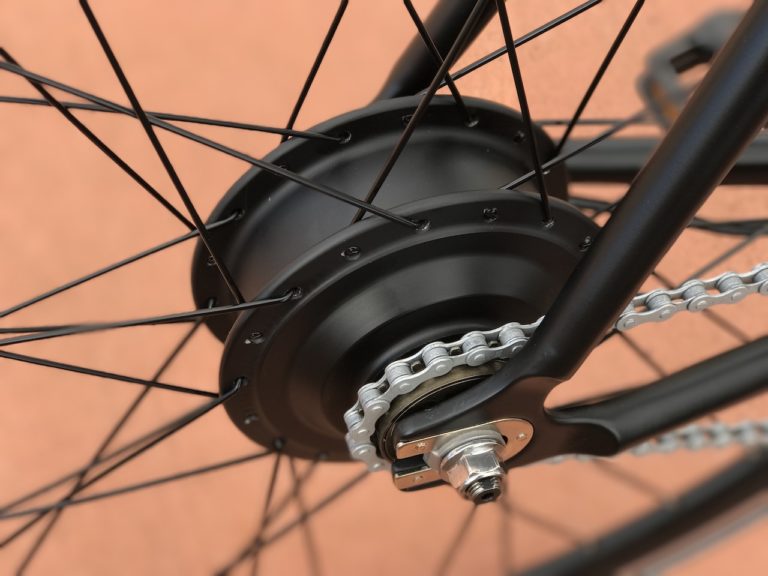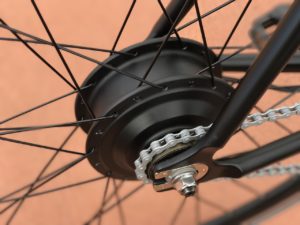 The Populo Sport is equipped with a 250 watt geared rear hub motor that is relatively small in size and blends into the look of the bike very well.
Like all geared hub motors it does create some noise from the internal planetary gear system. The noise is in the medium range compared to other eBikes that I have tested.
A 36 Volt 8.7 ah (313 watt hours) lithium battery pack that uses Panasonic cells is located on the downtube of the frame. This location is good for overall bike handling because the 4.7 pound battery is centered and relatively low on the bike.
This lighweight (35.7 pounds) eBike with central weight distribution is also convenient for picking the bike up to load on a car rack.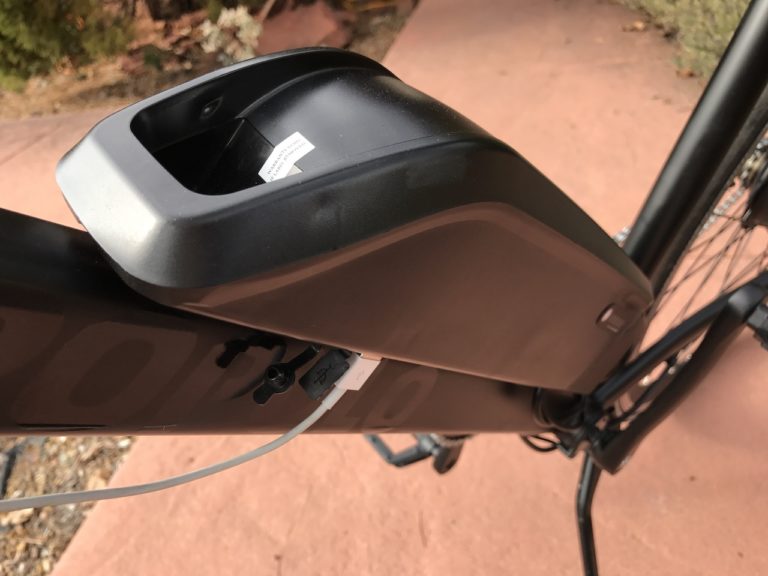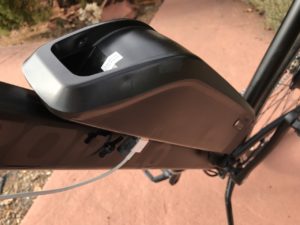 Charging the battery can happen when it is on the bike or when it has been removed from the bike. Supplied keys unlock the battery from its frame mount on the downtube.
On bumpy rough roads the battery pack made a bit of a rattling noise and it may have come from the battery connection to the frame.
A USB port is located on the top left underside of the battery and it can be used for charging smartphones, tablets, and other USB charged devices on the go. That can also be used when the battery is either on or off the bike.
The Populo Sport is a pedal assist only eBike, there is no throttle option. Within the pedal assist function of the bike there are 3 driving modes (Eco, Normal, Power) with 8 levels of pedal assist each.
24 different pedal assist options can sound overwhelming but I found that I picked one of the Driving Modes (Eco, Normal, Power) that I normally kept the bike in and then just varied a few of the pedal assist levels during my normal rides. The variety of these pedal assist levels in a way give you 24 simulated gear options.
There is also the walk mode that provides assist up to ~3.7 mph and it helps when you are walking the bike up a steep hill or stairs. It is activated by holding the + button on the display.
The pedal assist is activated with a cadence sensor system that senses when the cranks are turning. The pedal assist system on the Populo Sport starts to provide assist within about a quarter turn of the cranks. When you stop pedaling the assist continues for about a second and it is not the most intuitive ride feel. If the brakes are engaged the brake lever switches will cut the assist immediately but that is not always the most convenient thing to do while riding.
Torque sensor based systems generally have a more intuitive feel because they blend proportional motor assistance based on your pedal power. Torque sensor systems are generally more expensive so the cadence sensor is used to keep the overall bike price down.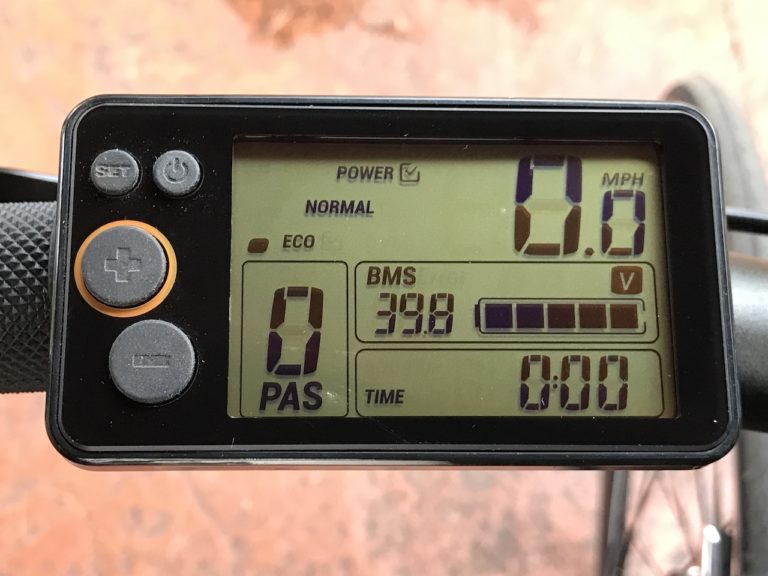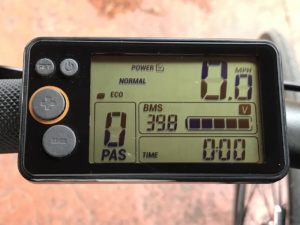 The LCD display provides a lot of information like the driving mode, pedal assist level, speedometer, odometer, trip odometer, battery level with voltage reading, energy consumption, and error diagnostics.
The energy consumption is a nice feature for monitoring how much assist you are using and it can be used to help you maximize range by focusing on using more pedal power and less assist.
Important info like the current speed and pedal assist level are shown in a large format for easy visibility at a quick glance. A backlit feature makes it easy to see day or night.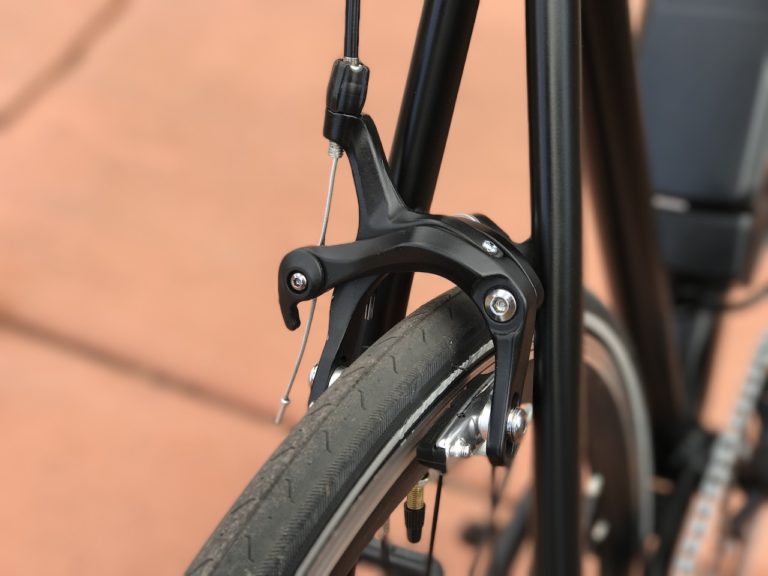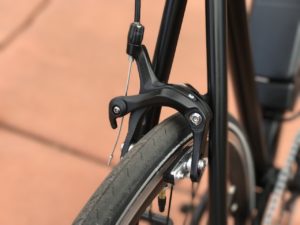 Slowing the Populo Sport down is handled by the Tektro EL550 brake levers and caliper brakes front and rear. These brakes offer pretty good stopping power and they have built in switches that will stop the assist once the brake levers have been engaged.
There is a grippy rubber material on the Tektro brake levers that provides a comfortable feel while helping with grabbing the brake levers in wet conditions.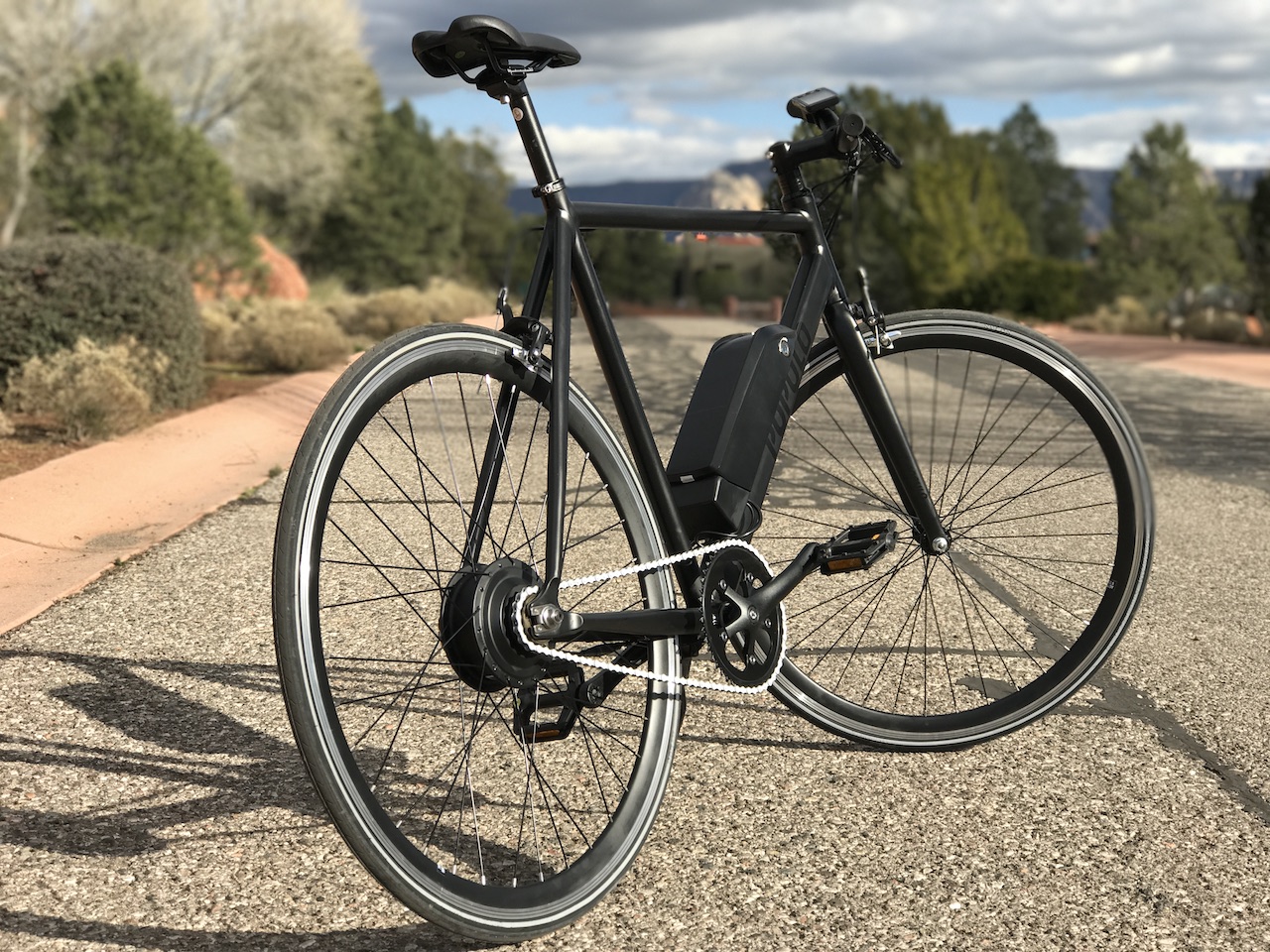 Okay, let's see how the Populo Sport did out on the open road!
Populo Sport Range Test Results:
Here is the real world information on how the Populo Sport electric bike performed on a riding circuit that includes hills, flats, traffic, wind (when available) etc.
While testing these bikes I like to put them through the toughest conditions to see where their bottom line is in regards to range and speed. I tested the Populo Sport in the Power drive mode with the highest pedal assist level with relatively easy pedaling.
Range: As you can see from the GPS info that I recorded, the Populo Sport traveled 22.6 miles and did a total elevation gain/loss of around 2,200 ft. Considering that I weigh 190 lbs and I pedaled very lightly this is pretty good range for a 36 Volt 8.7 ah battery pack (313 Watt Hours) with a 250 watt motor.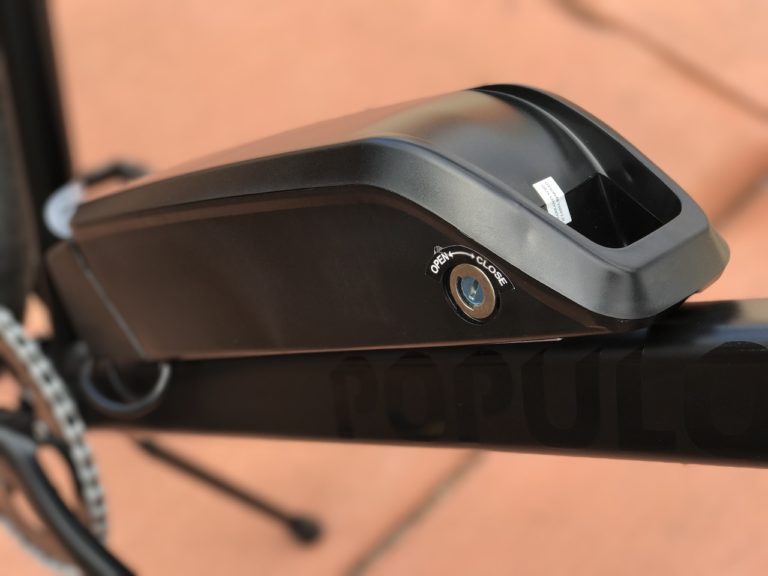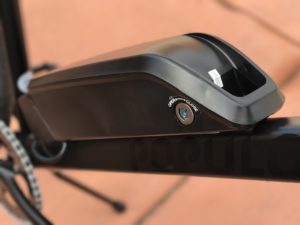 Watt hours are the total energy in a battery pack and it is based on the volts x amp hours of a pack. This is a way to compare the size of the "gas tank" of electric bikes.
Please keep in mind that if you pedal more, weigh less than me, ride slower and/or you use the bike in terrain that is not as hilly you will get more range. These results are from tough testing.
Speed: The Populo Sport will assist up to 20 mph.
Weight: The Populo Sport tips the scales at 35.7 lbs which is very light for an electric bike. Removing the battery brings it down to around 31 pounds which makes it a little easier to load onto a car rack.
The weight distribution of the Populo Sport is pretty good because the battery is relatively low and centered on the bike with the rear hub motor making it slightly back heavy.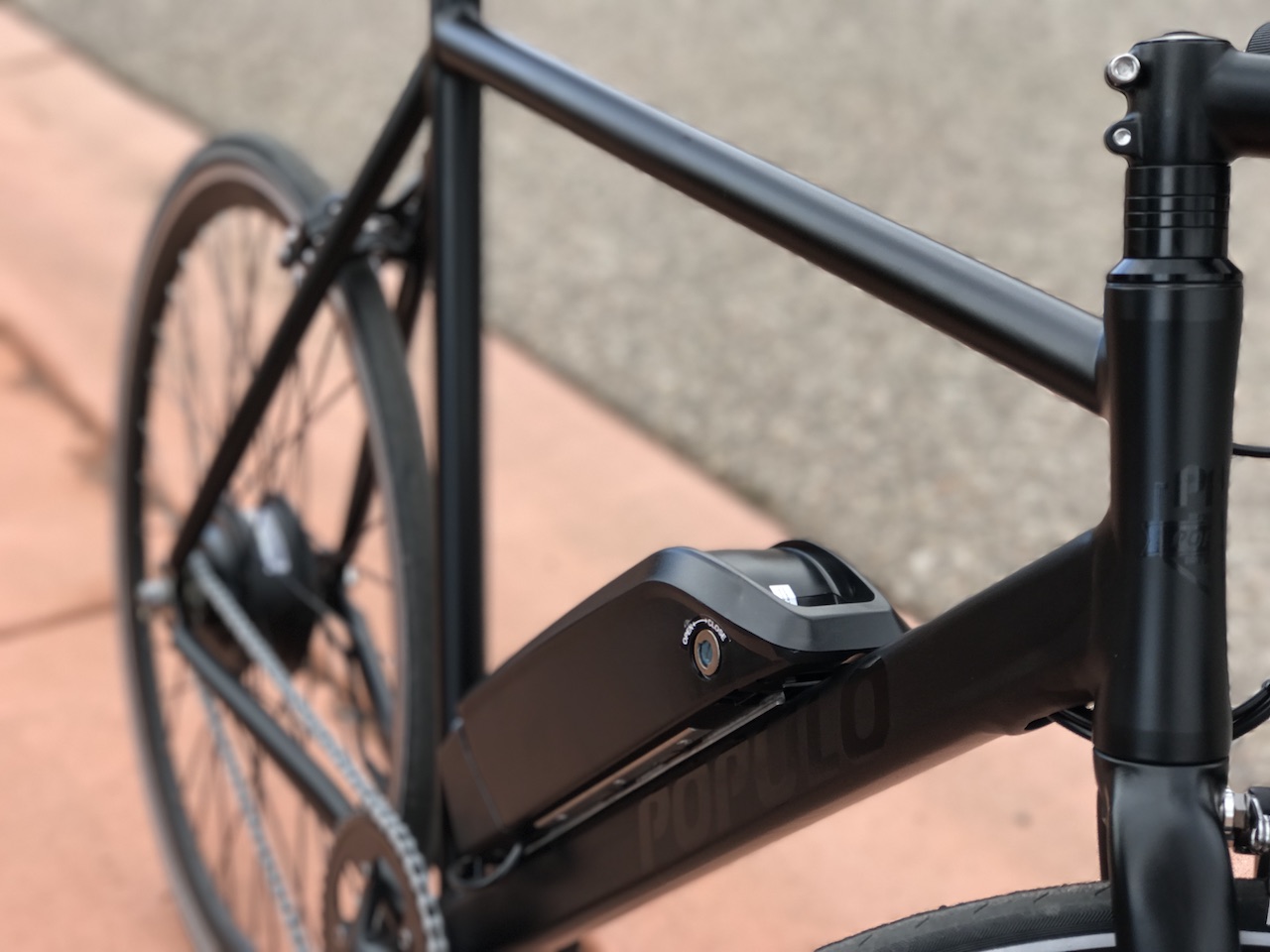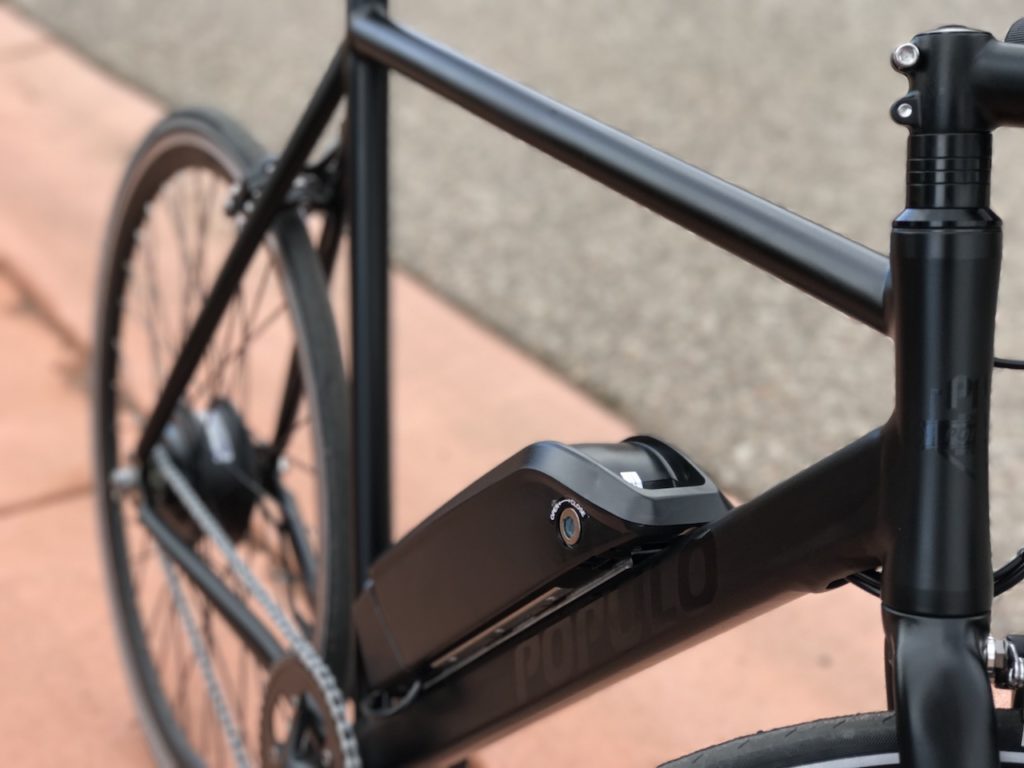 Pros:
Lightweight: At 35.7 pounds the Populo Sport is one of the lighter stock electric bikes on the market. It feels light and efficient when you ride it and it is also fairly easy to pick up for carrying up stairs or loading onto a car rack.
Range: 22.6 miles with around 2,200 ft of total climbing on the highest assist level is pretty impressive for a modestly sized 36V 8.7ah (313 Watt Hours) lithium battery. The Populo Sport does a good job of keeping the weight of this eBike down while providing a large enough battery to cover a regular commute or country ride.
Price: $999 is a great price for an electric bike.
Cons:
Noise: Like almost all geared hub motors this one makes noise and you should be aware of that if you are adverse to noise on your bike. The noise level is in medium range compared to other eBikes. The battery also makes a bit of a rattling noise when riding the bike over rough roads.
Pedal assist: The assist continues for about a second after you stop pedaling and this is not an intuitive ride feel. It would be nice to have this adjusted to stop as soon as you stop pedaling.
Conclusion: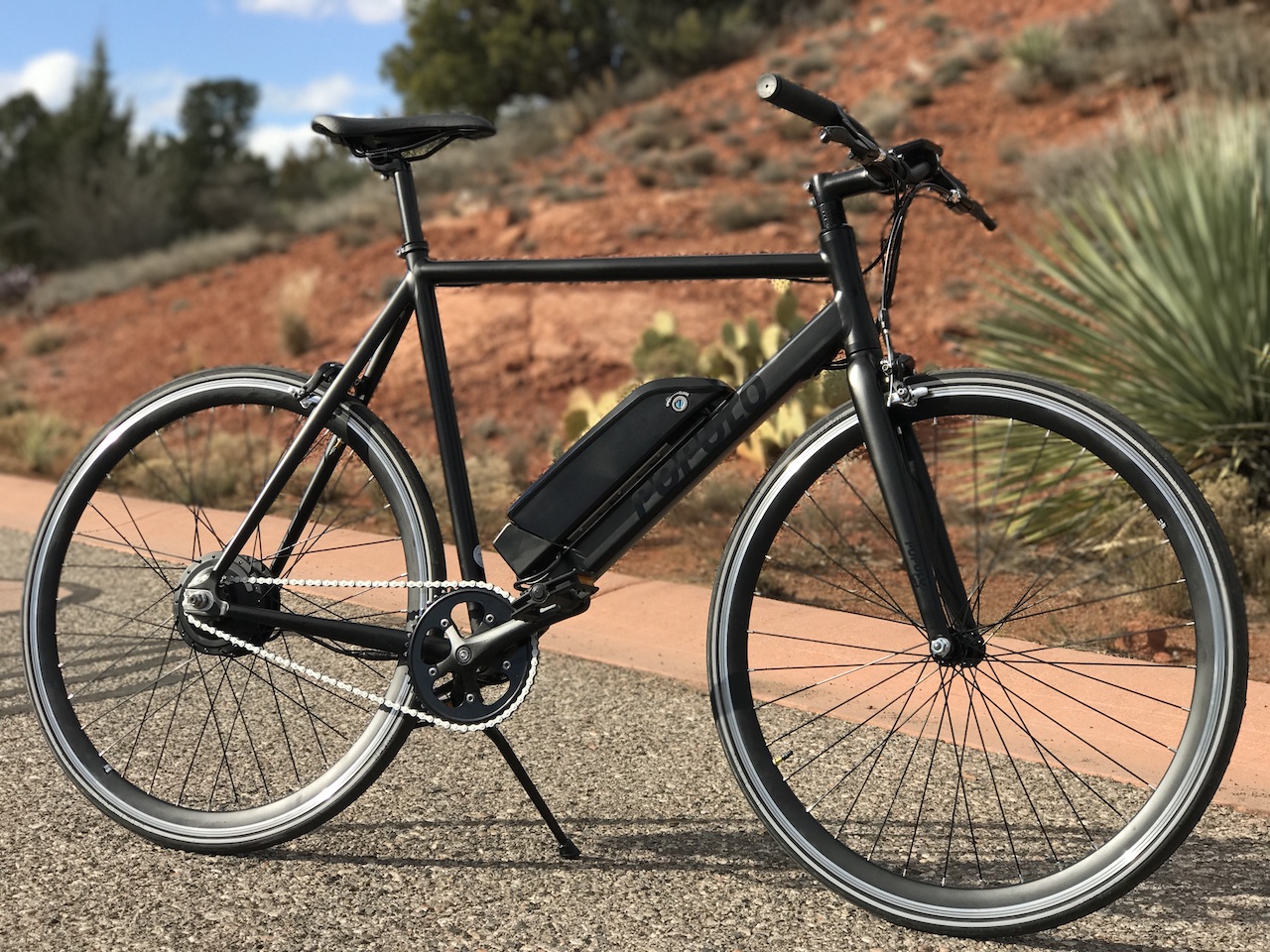 Overall the Populo Sport is an impressive performance style eBike with an equally impressive price of $999.
This agile, simple, and lightweight hybrid style eBike is a good fit for you if you are looking for a quick way to navigate the city or enjoy the open road.
Please keep in mind that this is a relatively short term test. This testing can't really give you the long term review of durability and reliability. My thoughts on the quality of this bike are from previous experiences with similar bikes. If you own this bike and have some input on the long term durability, please share your comments with the Electric Bike Report community below.
Where to buy a Populo Sport? Check with Populo for a dealer near you.

Do you have any questions about the Populo Sport? Do you own a Populo Sport? Please share your thoughts in the comment section below.
Thanks!
-Pete
Review Note: Each company pays a fee for a review on Electric Bike Report because of the considerable amount of time that it takes to provide an in-depth review of each eBike. A lot of time is spent on the full range test with distance & elevation profile, the wide variety of detailed pictures, in-depth video, and the write up with the specifications, ride characteristics, pros, cons, and overall thoughts. The reviews on Electric Bike Report are focused on providing you with a detailed "virtual" look at each eBike to help you determine if it is the eBike for you or not.
P.S. Don't forget to join the Electric Bike Report community for updates from the electric bike world, plus ebike riding and maintenance tips!
Reader Interactions