My Cancer, My Breath, My Electric Bike Journey
By Stephen D. Rappaport.
I lost my cycling fitness overnight. Having ridden 100+ miles a week for years, I struggled after two, breathing hard, short of breath.
I couldn't go on. I returned home, taking the flattest way, even cutting through a neighbor's yard to avoid the 10-degree grade to my hilltop home.
The fatigue, I thought, might be related to a recent medication change. My doctor stopped that, but my energy and ability never returned. He ordered a blood test. He called the next day.
"You're not going on vacation tomorrow. You're seeing the head of blood cancers on Monday." "Can't it wait a week?" "No!"
Monday came. The doctor seemed nervous. He didn't know me but had news to break. He told me plainly: "You have leukemia. Where do you want to be admitted?"
We discussed options. I chose. He called, turned to me and ordered: "Go now." "How long should I expect to stay, 2-3 days?" "No. Expect 3-4 weeks. Don't go home and pack. They're waiting for you." My three-year journey to full-time e-biking started then.
My hematology-oncology team, doctors and others specializing in blood cancers, provided excellent care and treatment consisting of chemotherapy, a bone marrow transplant, and extensive followup. The leukemia went hastily into remission, the transplant took, all followups showed the right kinds of progress.
I got back on the back just one year after diagnosis. Returned to the gym, and rode in the fundraising ride for my cancer hospital, joined by my two sisters who traveled to Connecticut from California.
A few months later, I started feeling tired and short of breath again. Many tests and consultations revealed that I developed a complication from the transplant that reduced my lung capacity.
Dispiriting doesn't describe the feeling. My identity includes being a cyclist. I started riding 10-speeds at 19 and kept at it for the next 45 years, cycling for pure pleasure, fitness, life balance, and advocacy.
It took a year to stabilize things. I couldn't ride, but pulmonary rehab helped me regain some fitness and breathe better. Early on, my wife pushed me around in a wheelchair, or I used a cane.
I never asked for the lung capacity lost percentage, but whatever the amount, it'll never come back. I chose to go by how I feel instead. I may still lose more. The lung problem is incurable.
All we can do is keep it where it is or slow its progression. Fitness helps. But there's one frightening prospect: a double lung transplant might be needed if we lose control. I'm committed to avoiding that fate. I'm not sure I would go through with it even if I could.
I became well enough to resume riding; however, I was too compromised to pedal any of my mechanical bikes any distance at all without gasping for air. I had to switch to an e-bike.
Five years ago, I worked for an Asian company that manufactured e-bike motors for retrofits and production builds. Through that relationship, I met Pete of Electric Bike Report and many builders interested in e-bikes.
David Levy of TiCycles and I bonded over e-bikes at the 2014 edition of NAHBS in North Carolina. I really liked him, his vision for electric bikes, what he was building, and how he constructed them.
Until my diagnosis, I thought I would have Dave put together a rando bike for me to celebrate my 70th birthday. Nearing semi-retirement, I saw myself doing brevets in places I always wanted to ride and visit. But after the diagnosis, we collaborated on creating an e-rando bike.
We had a plan, but the build turned out to be a journey. We spec'd the geometry, drivetrain, Shimano Steps motor, the cockpit, and all the other bits but just as the torch was getting hot Shimano announced a successor model. So we waited for the E6100 to become available. More on that in a few minutes.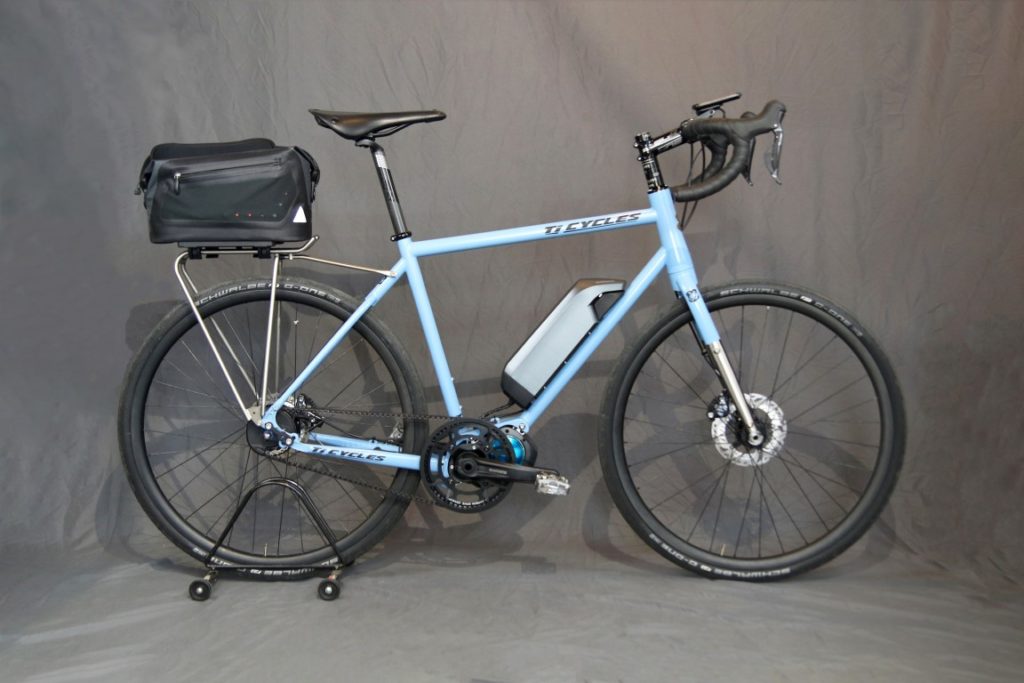 Why did a custom e-rando bike make sense for me, what did we spec, and why did we choose what we did? Most of the answers tie to my lung issues.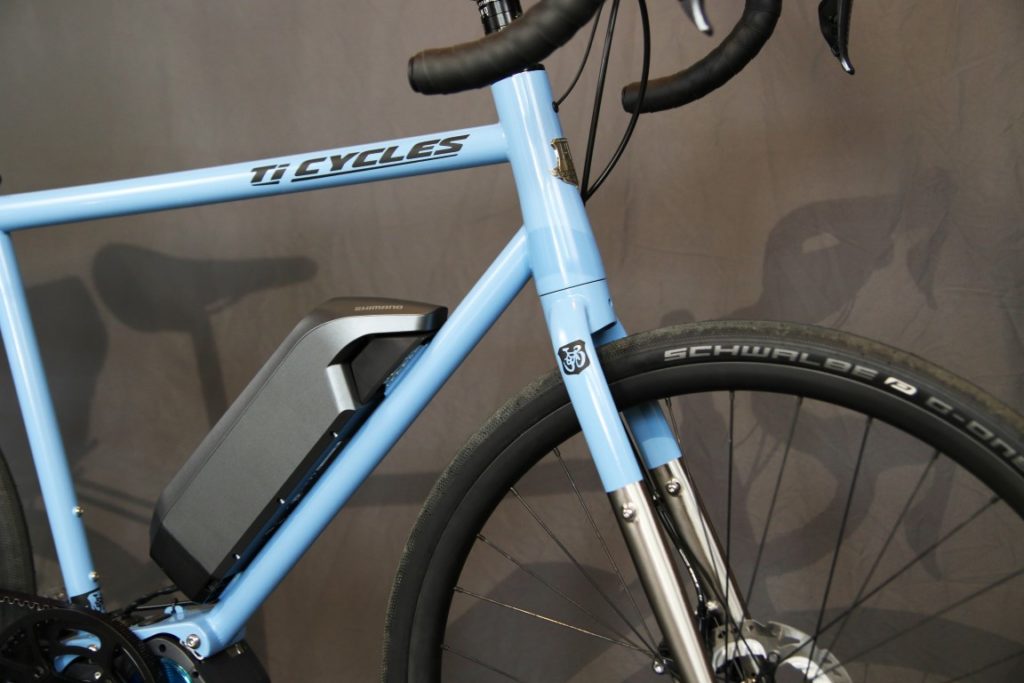 Dave's guidance was immensely valuable: He tailored the design and component choices to meet my needs, condition, and limitations. Here's how we outfitted the bike:
Rando frame geometry based on fit data I supplied. Taller head tube for a more upright position.
Lightweight steel tubing, with bosses for racks and fenders
Titanium fork (It's a TiCycles bike after all)
Shimano Steps E6100 motor and downtube battery
Shimano SC-6100 Display, and EW-EN100 Bluetooth dongle/motor controller
Gates Carbon Drive
Shimano cranks, Shimano Dual Platform Pedal (SHIMANO PD-M324)
Ultegra Di2 road shifters (R8050)
Shimano Alfine 8 speed Di2 hub (S7051)
Shimano hydraulic brakes
FSA cockpit: FSA K-Force Compact Road Handlebar, SL-K stem, SL-K Carbon SB20 Seatpost, FSA Power Touch tape
Light Bicycle 650B Flyweight rims (carbon), HiFi Fidelity Disc front hub
Schwalbe G-One Speed 30mm tires
Tubus Airy rack and Ortlieb trunk bag
Powdercoat
How would this configuration help me? I couldn't find a comparable e-bike, so custom made sense.
Exerting myself, even just bending over to pick something up, causes shortness of breath. The Alfine hub and Gates belt drive save me from the post-ride chain, derailleur, and cassette/chainring cleanings.
By making the bike as light as we could in steel, I'm able to lift it the short height onto the platform hitch rack installed on my car or put it in the work stand.
The 650b wheels sit the bike lower, making it easier for me to reach the ground, to be comfortable when stopped, and to make restarting easier.
Dual-sided pedals provide the option of flat or cleated shoes, while the trunk bag lets me carry the medical extras I need.
Overall, the bike has an attractive, cleanly cabled, understated road bike look.
Back to the Shimano Steps journey. After checking constantly for months I learned Shimano released the updated motor. Upon this news I contacted Shimano to see if they could expedite a unit to Dave. Shimano got on it. That part was done.
The shifters, however … Dave built e-bikes using the original Steps E6000 motor with road components. All worked fine.
When he went to setup e-rando, the road components couldn't be integrated. He kludged together a solution using the flat bar buttons.
Dave shipped the bike to me with the road shifters set on the bars and the buttons attached to a gadget stalk affixed to the steering tube. This meant I could start riding the bike with that and later change over after Shimano released the updated firmware and E-tube Project software that allowed the Ultegra Di2 shifters to work with the Steps E6100.
Eventually, they did. I removed the buttons, wired in the shifters and finally had the bike we set about creating. Truth be told, I wasn't too keen on the bike with the temporary solution – the wiring was ugly, reaching for the buttons was awkward. It wasn't fun. But now it was the bike we pictured.
After spinning at 90+ for decades, my reduced lung capacity put a stop to that. Today I turn the pedals comfortably between 60 and 70 rpm; any past cycling fitness is a distant memory.
I figured if I am to enjoy riding e-rando, I had to become adept at slower cadence cycling. Using High mode and selecting gears according to terrain while keeping the right amount of force on the pedals seems to be the ticket.
I'm doing what I can to rebuild strength, though several of the prescribed medications work against that. I practice a lot, looking to dial-in that magic balance of effort, assist, and terrain. My goal is to ride as normally as possible without having to stop and catch my breath.
Riding by feel is helping me get there. We first set up e-rando with Shimano's display unit, which gives ride data: speed, cadence, gear, battery level, and time.
The display works very well, but it distracted and preoccupied me. I glanced at it often to see what gear I was in, my speed, or cadence. Some of this was newness, but too mental a cycling experience: I wasn't just riding.
Fortunately, Dave sent the Bluetooth dongle/motor controller (SC EW-EN100) along with the bike. I disconnected the display, removed the base which served as the Di2 A junction, hooked in the Bluetooth, which is an A junction, and connected the shifters and motors all together with a junction box I ordered (JC41).
Now I had an "old-fashioned" e-bike from the pre-cycle computer era that I can ride intuitively., changing gears when I feel like it. This setup will pair with Shimano's E-Tube Ride smartphone app and other devices.
Yes, it's tempting to hook in my iPhone and view the ride data. Counterbalancing that urge though is a greater appreciation of the surroundings I'm cycling through instead of adding to daily screen time.
I wish I could assuredly say that e-rando will stave off the potential ill effects of my lung condition.
There's no doubt it will improve my fitness and enjoyment of life, and that's what e-bike's do for everyone.
By Stephen D. Rappaport
Reader Interactions