Moustache Samedi 27 Xroad 5 Spec Review 2020

Looking for a sturdy crossover bike that is well-built and fun to ride? In this spec review, we'll look at the Moustache Samedi 27 Xroad 5. This stylish ebike is French-engineered with a Bosch Performance Line CX motor, Bosch 625Wh PowerTube battery and Shimano 11 gear groupset. Moustache has branded this an XRoad bike, which means it is suited for urban roads or light trails. The Xroad 5 maintains the European feel of a stable Class 1 ebike but adds a 40mm suspension seatpost and 100mm of front fork suspension for increased travel and comfort. You can ride this around town loaded with cargo, or you can enjoy a bit of gravel or off-road playtime! The suspension keeps the frame buoyant and fun to ride while the added accessories such as fenders, lights, rear cargo rack, and five PAS levels make this a safe option for city riding as well.
Bike Category: Class 1: Pedal assist to 20mph. No throttle.
Who It's For: Riders looking for a powered and progressive commuter for chic urban riding with a touch of off-road flair
Bike Specs
Model: Xroad 5
Frame: 6061 T4-T6 Alloy, variable thickness hydroformed tubes, Bosch PowerTube battery integration (horizontal), integrated cable routing
Fork: Suntour, Mobie 25 Coil, LOR, w/preload adjustment & lockout function, 100mm travel
Motor: Bosch, Performance Line CX 250W – 85 Nm, higher dynamics in response and agility – Weight & form factor reduction
Battery: Bosch, PowerTube 625Wh with 4Ah Bosch charger
Display: Bosch, Intuvia central mount with separate control unit – 5 modes (Eco, Tour, Sport, Turbo, Off) – « Walk assist » – Information available offline – USB port to charge a phone, MP3 player, etc.
Derailleur: Shimano, Deore, RD-M5120-SGS, 11-speed
Chainring: FSA, Alloy, 38T w/chainguard
Cassette: Sunrace, CSMS7, 11-42T
Chain: Sram, PC1110, 11-speed w/Powerlock
Shifters: Shimano, Deore, Rapidfire Plus for flat handlebar
Crankset: Moustache, Alloy, 170mm
Brakes: Shimano, MT200 hydraulic disc brakes 180mm front & 160mm rear
Rims: Moustache, Alloy, double wall, 32H
Tires: Hutchinson, Python, 27.5×2.10
Saddle: Selle Royal, Shadow Ergonomic w/Gel
Seatpost: Suspension, Alloy 31.6mm, 350mm, 40mm travel
Seat clamp: Moustache, Alloy, 34.9mm
Handlebar: Moustache, Ergonomic, Alloy, 680mm, 25° backsweep
Stem: Moustache, Alloy, 90mm Adjustable
Headset: FSA, No 57-B
Grips: Ergonomic, dual-density
Headlight: Spanninga, Axendo, 80 lux, powered by main battery
Taillight: Spanninga, Presto2Guard, powered by main battery
Wheel lock: AXA, Block XXL, same key for framelock & battery lock
Kickstand: Moustache, adjustable
Mudguards: Moustache, Alloy, double wall design, w/alloy stays
Rear Rack: Moustache, Alloy, QL3 low-rider carrier, MIK Bag/Accessories compatible
Pedals: Alloy with plateform and reflectors
Warranty: 5 years frame and Moustache Bikes fork – 2 years motor, battery (or 500 cycles) and accessories
Sizes: Small, Medium, Large, X-Large
Color: Metallic Red, glossy
Bike Features
6061 T4-T6 Alloy Frame

Moustache has upgraded the frame on the XRoad 5 with variable thickness hydroformed tubes that allow for the fully integrated Bosch PowerTube battery on the underside of the top tube. The frame has clean, integrated cable routing

Front Fork Suspension and Suspension Seatpost

The Suntour 100mm travel front fork has both preload adjustment and lockout function, so you can ride it around town with minimal bounce or loosen up the suspension for those off-road jaunts!

Bosch Performance Line CX Motor 250W – 85 Nm torque

Moustache only uses Bosch motors and the Performance Line CX is both quiet and capable. Paired with the 625Wh battery, this is a very capable power system

4Ah Bosch charger

We love that Moustache has included a 4Ah charger. For a battery this size, you really need it and it's not that much larger or heavier than the standard 2Ah charger.

The Bosch Intuvia Display

The XRoad 5 is center mounted for good visibility and has five levels of assist: Eco, Tour, Sport, Turbo, Manual and Walk assist. The display computer also has a USB port to charge a phone, MP3 player, etc.

Integrated lights, fenders and rear rack included standard

This crossover bike really offers the best of both worlds with the comfort of added suspension but the features needed on a city commuter such as lights, fenders and a rear rack.
Pros:
The XRoad 5 is a fun ride; it zips through traffic and tactfully manages light terrain such as dirt, grass or gravel.
Integrated front and rear lights allow you to see and be seen in traffic
This is the top-of-the-line XRoad model from Moustache; it has the largest motor and battery combo in their XRoad lineup
The XRoad 5 combines some comfort elements with the upgraded power and range of the Bosch power system. This gives riders a great combination of power, comfort, durability and handling.
Suspension seat post adds rear comfort and the front fork suspension is both adjustable and lockable depending on rider weight and terrain
There are several frame sizes in the XRoad 5 lineup and Moustache has a step-thru version of the XRoad 5 as well.
Cons:
The bike weighs just over 60 pounds and is a bit heavy for a distance commuter or cross country bike. The upgraded motor and battery combo add a bit of this weight, but it can feel heavy when navigating terrain, working uphill or when fully loaded.
The battery is on the underside of the downtube and could be subject to impact if you fall or hit the front of your bike.
The bike is on the higher end of the price range at just over $4500 and can only be purchased through authorized dealers, which makes it harder to buy and test ride.
In-Depth Spec Review
Frame
The XRoad 5 frame combines a sturdy frame with 100mm of suspension in the front fork for added comfort. As a crossover bike, the XRoad 5 is designed to get you through town — and maybe over some rolling grass at the park or even a bit of trail riding. For urban riding, it is the perfect bike. The XRoad 5 handles curbs and pavement seams smoothly. We love the internal wiring that tucks brake and shifter cables into the main frame. The battery is also integrated into the downtube which streamlines the frame for a stealthy look. The 11 speed gear range is responsive and syncs well with the five assist levels so you have seamless power and shifting. You get both front and rear fenders and integrated lights for the perfect commuter set-up. The XRoad is marketed as a crossover bike so it can do a bit of off-roading, but it isn't quite as well suited for this. Granted, you'll feel capable and the bike handles well, but it is a bit heavy and the fenders, while perfect for city streets, can clang a bit on jagged trails. The weight of the bike also limits some of its off-road functionality. However, the XRoad 5 handles deftly on uneven but not overly rough surfaces like packed dirt, gravel or grass.
Motor & Battery
The Moustache XRoad 5 is a Class 1 bike with up to 20mph pedal assist.
Moustache only uses Bosch motors and this Performance Line system is the largest found in the XRoad lineup. The motor is designed for commuting, which emphasizes efficiency and range over torque, however, it still has good power — especially in the higher modes. This particular Bosch system is quieter than its sister models, so you can quietly maneuver through traffic and pedestrians without projecting heavy motor noise. The motor is tucked inside the crank arms and well protected.
The battery is housed on the underside of the downtube protected by a plastic shield cover that clips into place. There are both benefits and a few drawbacks with this design. We love how the battery seamlessly integrates into the downtube for both convenience and aesthetics. A lock on the frame holds the battery in securely. However, the battery can be a bit tricky to get in and out, and the shield on the underside of the downtube is subject to more impact than it would be on the top side. But you do get a lot of power here and while the 625Wh battery may add a bit of weight it also seriously extends your range.
The battery can be charged on or off the bike. If you are commuting, taking the battery inside to charge during the day is a nice option. We also love that Moustache includes a 4Ah charger which will charge your battery in less than half the time of a standard 2Ah charger.
Display/Assist Modes
The Intuvia display is center mounted on the handlebars for perfect visibility. This display is larger than comparable ones we've used. It is easy to see and navigate. Readouts include MPH, battery power, distance, time, and PAS level. The Intuvia display is removable and has a USB charger so you can charge your phone while commuting.
Gears/DriveTrain
The XRoad 5 features a 11-speed drivetrain with 11-42t cassette and rear derailleur which holds the chain tight and in line. The drivetrain is well powered, and all components are Shimano so they align seamlessly. The handlebar shifter is unique; you can hear it click when you adjust the gears and it's a bit wider than standard shifters so we found it much easier to use. The drive system incorporates both torque and speed sensors, which further streamlines shifting with assist levels.
Brakes
Moustache has included Shimano hydraulic disc brakes, 180mm in the front and 160mm rear. The brakes work well to counteract the XRoad 5's speed. Sometimes eBike brakes are insufficient to fully stop a motorized bike, but these Shimano brakes easily control the XRoad 5's power. You could argue that a bike of this weight and power should have 180mm both front and rear, but we don't find the 160mm rear discs to limit the braking power on the XRoad 5.
Suspension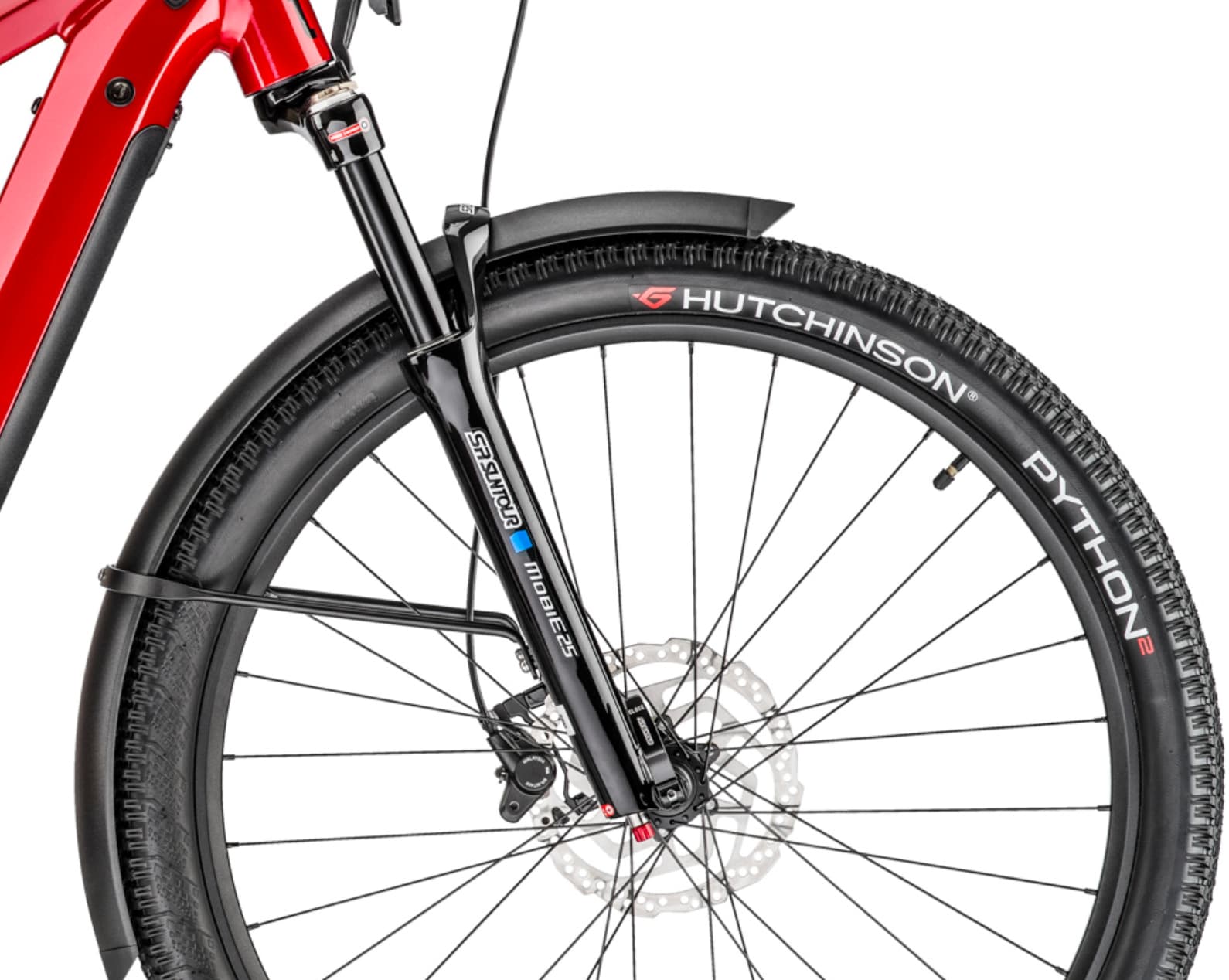 100mm of suspension on the front fork adds just a touch of travel for dirt trails, grassy hills, or other light terrain you may encounter. The XRoad 5 is sturdy enough to sustain normal topography with relative ease. The widened tires and street-tread facilitate smooth urban riding.
Pedals
Moustache flat commuter pedals with grip tape and side reflectors are great for both comfort and visibility.
Pedals
Moustache flat commuter pedals with grip tape and side reflectors are great for both comfort and visibility.
Wheels and Tires
The XRoad 5 has Hutchinson, Python tires 27.5 x 2.10" for enhanced stability and road traction. The 27.5" size lifts you up enough to navigate and see what's ahead while the 2.10" width is just enough for some traction but doesn't slow you down.
Frame Lock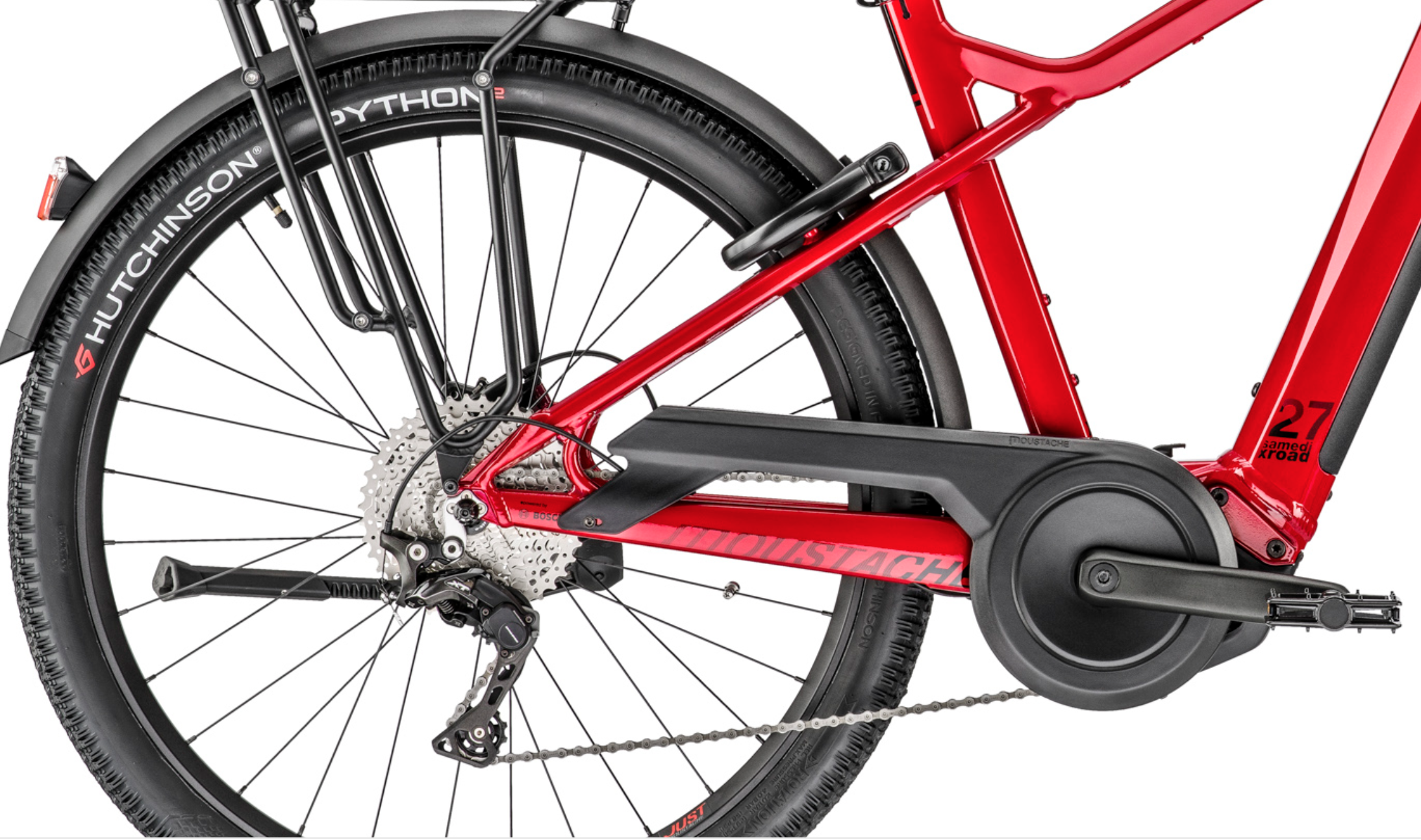 The Moustache XRoad 5 has a keyed frame lock just above the rear seat stay that will lock the bike so it can't roll. The key for this is the same as for the battery which is nice. The frame lock is a handy security feature when you are running into the cafe or library real quick and want to quickly secure your bike. In Europe where ebikes are more ubiquitous on city streets, locking systems have been integrated onto the bike for added security which we love.
Accessories/Upgrades
The XRoad 5 includes some essential commuter accessories such as integrated front and rear lights, which can be turned on or off via the handlebar control. There is also a rear-mounted kickstand which doesn't collide with the pedal, and impressive front and rear fenders. These fenders extend all the way down the rear wheel with good coverage on the front as well. Both sturdy and durable, the fenders keep your clothes and drivetrain clean from debris, rocks and dirt. The rear rack looks small, but it will actually support up to 55 pounds, so it is a nice addition. One of our favorite features is the suspension seat post. This makes riding the bike much more comfortable without compromising frame integrity. You get hardtail stability with just enough seat suspension for comfort.
Recommendation
The Moustache XRoad 5 is an exceptional crossover urban commuter/off-road eBike. It is sturdy, well-built, high spec'd, with a quiet motor and respectable range. This isn't the lightest or the cheapest bike, but you know you are getting value with the Shimano components and Bosch power system. Moustache has been around for nearly ten years and has a reputation for quality and durability. However, the XRoad can only be purchased through authorized dealers and may be hard to find in the states. Test riding a bike can be a challenge as well unless you live close to a dealer. It's worth the extra effort though if you are looking for European quality and design with a bit of suspension and added comfort.
P.S. Don't forget to join the Electric Bike Report community for updates from the electric bike world, plus ebike riding and maintenance tips!
Reader Interactions