MOD City + Electric Bike Review – 2023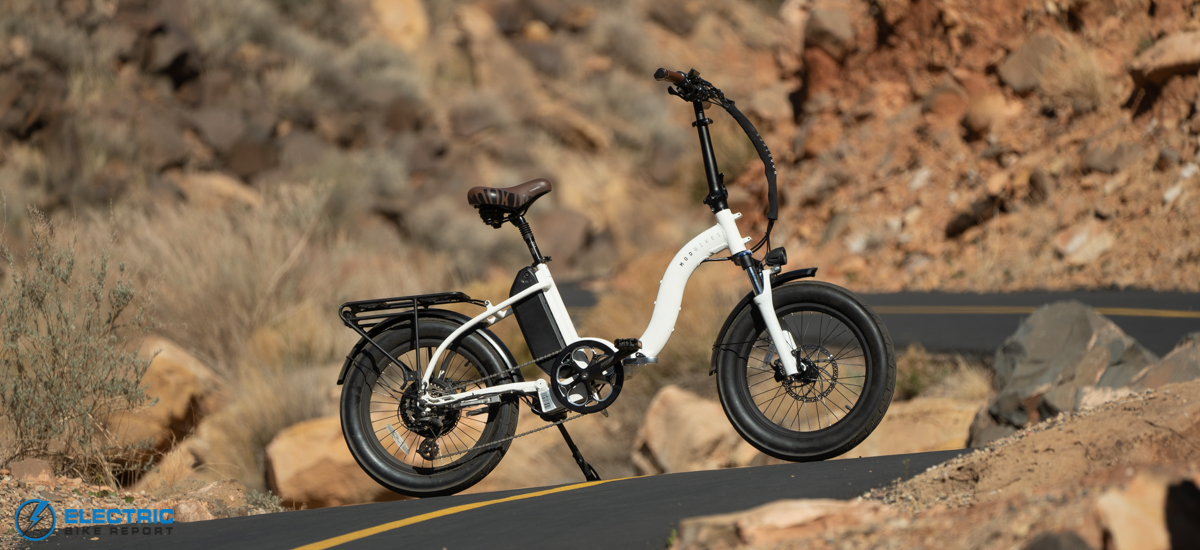 Powered by a 500W rear hub motor and built around a frame that folds down into a relatively compact cube, the MOD City+ electric folding bike is designed to be functional and fun no matter where you plan to keep it.
In this MOD City+ review, we test this electric folding bike's hill climbing ability, battery life and more to get an idea of how it performs in the real world.
Unlike the mid-drive powered MOD Berlin, another MOD electric bike we reviewed earlier this year, the MOD City+ uses a 500W rear hub motor that's peppy and makes 60Nm of torque. It's spec'd with a 7-speed drivetrain, hydraulic disk brakes and it's affordable at less than $2,300 MSRP.
And though it's a folding bike, it's not overly small. Like many of the affordable electric folding bikes we review, the MOD City+ has a wheelbase and overall ride feel that's much more similar to its full-size siblings.
So how does this bike stack up? We put it to the test to find out.
Bike Class:
Class 3, pedal assist to 28 mph and throttle assistance to 20 mph

Pro's
The MOD City+ is the quickest stopping e-bike we've tested thus far. It's Tektro Auriga disc brakes work wonderfully well.
It's available in a high step and low step frame design. The bike we reviewed is a low step MOD City+.
The 500W rear hub motor is surprisingly powerful. It easily cruises at 24 mph or quicker and had very little trouble with our test hill.
I'm a stickler for seats, and while this is a personal preference, I was surprised at how much I liked the Selle Royal gel saddle.
The 576Wh battery gave the 500W motor a respectable range that should get you anywhere you need to go.

Con's
MOD claims the City+ can be folded in 15 seconds. Maybe with practice, but we found the City+ to be a bit slower. Like other affordable folders, it's a little cumbersome.
There's no strap or clamp to secure the two halves of the bike while folded, making it tough to lift while keeping the bike from opening up.
ELECTRICAL SPECS & FEATURES
Battery: 48V, 12Ah (576Wh)
Display: LCD Display
Motor: 500W rear hub motor, 60Nm of torque
Headlight: Integrated
Taillights: Integrated
Peal Assist: 5 pedal assist levels, cadence sensor
Range: Up to 45 miles
Throttle: Thumb throttle
Weight & Dimensions
Claimed weight: 65 lbs
Maximum rider weight: 265 lbs (payload capacity)
Maximum load on rear rack: 55 lbs
Components & Accessories
Brakes: Tektro Auriga e-comp hydraulic disk brakes w/180mm rotors front and rear
Fenders: Included
Fork: Mozo 50mm suspension fork
Frame: 6061 Aluminum
Drivetrain: Shimano Altus 7-speed
Grips: Faux leather ergonomic grips with lock-on
Saddle: Selle Royal gel saddle
Handlebar: Aluminum riser bar
Kickstand: Included
Pedals: Folding pedals
Tires: Kenda K-shield 20" x 3.0"
MOD City+ Review: Bike Overview
Powered by a 500W rear hub motor and a 48V, 12Ah (576Wh) battery, the MOD City+ is surprisingly quick for an electric folding bike.
It's a Class 3 e-bike, so it can reach up to 28 mph on pedal assistance and its throttle can power the bike until 20 mph.
The folding mechanism is fairly standard of what we see on affordable electric folding bikes. It uses a simple clasp and hinge mechanism to hold the bike together, which works fine but can feel a little clunky if you're not used to using it. The handlepost also folds as do the pedals. All packed down, the MOD City+ measures out to be roughly 42 in x 15 in x 26.5 in, plenty small to fit into the trunk of a car or an under-floor storage area in an RV.
Stopping the bike is a very nice set of Tektro Auriga e-comp hydraulic disk brakes that clamp on a set of 180 mm rotors front and rear. There's also a Mozo front suspension fork with 50 mm of travel and an EXA Form suspension seatpost that helps take the edge off bumps.
Finally shifting is handled by a Shimano Altus 7-speed drivetrain, which is fairly standard issue on a bike of this pricepoint.
MOD City+ Review: Motor Performance, Speed and Acceleration
The MOD City+'s 500W motor is surprisingly peppy for an electric folding bike.
It's a Class 3 motor, so it can reach a top pedal assisted speed of 28 mph and a max throttle assisted speed of 20 mph, and it has no problem achieving either of those. It also has plenty of power to clear steep hills, but we'll dive more into its hill climbing ability in the hill climb section of this review.
The City+ comes with five pedal assist settings, and to sample the performance of those settings we did a lap using each one on the Electric Bike Report circuit. We also did a lap with no motor assistance at all to get an idea of how the bike pedals.
What we found were pretty typical results. The unassisted lap was fairly slow, just under 13 mph, and from there we saw a progressive increase in speed as we increased assistance. On its final lap, in PAS 5, the MOD City+ laid down a 22.3 mph hot lap — pretty good for a folding e-bike.
MOD City+ Review: Range Test & Battery Performance
To test the 48V, 12Ah (576Wh) battery's range, we put the MOD City+ through two range tests, the first on PAS 2 and the second on PAS 5.
In the PAS 2 range test the MOD City+ made it 49.11 miles at an average speed of 12.1 mph. On the second test, in PAS 5, the bike lasted for 22.31 miles with an average speed of 17.2 mph.
Compared to the other affordable electric folding bikes we've reviewed, those are solid results. Two things to point out in that data are that the MOD City+ has a fairly quick average speed in the PAS 5 range test that's near the 19.7 mph average we recorded on the Rad Power Bikes RadMini 4. The MOD also outperformed the range of the Blix Vika+ in the low PAS test by a margin of several miles.
MOD City+ Review: Hill Test
It was anybody's guess as to how well the MOD City+ was going to perform on our test hill Hell Hole, but if you guessed it was going to do well, you'd be right.
It's been pretty hit and miss on how well 500W rear hub-powered e-bikes have fared on Hell Hole recently, particularly in the throttle-only portion of the test. We've seen many 500W e-bike struggle on steeper sections under motor power alone, some have outright failed.
The MOD City+, though, didn't miss a beat in either the throttle only test or PAS 5 test.
Using the throttle, the MOD City+ climbed Hell Hole in 1:48.00 with an average speed of 10 mph. With the help of my legs in the PAS 5 test, its time improved to 1:23.00 with an average speed of 13.1 mph. Those are both great results that are comparable to other bikes in its category.
I'll also note that the MOD seemed to struggle very little on the steep sections, which is in contrast to some other 500W e-bikes we've reviewed that either began to vibrate or audibly strain under the effort. From my perspective as the rider, I was also impressed by how little effort I had to give in the PAS 5 test to really see an improvement in speed. It's a solidly climbing e-bike.
MOD City+ Review: Brakes and the Brake Test
February 2022 appears to be the month of broken brake test records, as for the second time in exactly one week of bike reviews, our all-time braking record has been broken.
Though this record is usually bested by a matter of inches, the MOD City+ smashed the old record by over a foot.
Over the course of five full-power stops from 20 mph, the MOD City+ came to a stop at an average distance of 9-feet-9-inches, which is a full 15 inches shorter than the previous record set by the Rad Power Bikes RadCity 5 Plus just a week prior.
That super short stopping distance is a testament to not just the performance of the Tektro Auriga hydraulic disk brakes, but also the super grippy Kenda tires. There's no model name on those tires, but they're a semi-slick tread pattern, 3-inches wide and have a very square profile that almost looks like a motorcycle tire. The tires and brakes combined made for formidable stopping power.
MOD City+ Review: Ride Comfort, Handling and Cockpit
As far as ride quality and comfort goes, not all electric folding bikes are created equal — especially if you're a taller person like myself.
The MOD City+, however, was notably comfortable and fit me well. While it does fold down to a compact size, the MOD feels quite a lot like a full sized e-bike when riding. It's got a decently long wheelbase and the folding handlepost is adjustable to give you as upright of a ride as you'd like.
The version of the MOD City+ we reviewed was actually a step-thru model, which made the bike just a little bit easier to get on and off of (folding e-bikes are already pretty easy to step over). Additionally I appreciated the 50mm suspension fork and suspension seat post, which helped smooth out the road.
Handling wise, electric folding bikes typically have some idiosyncrasies that take some getting used to and the MOD City+ was no exception to that rule. Mainly, this can be felt in the steering, which due to the small 20-inch wheels and fairly steep head tube angle can at times feel a little twitchy. Not so twitchy you can't get used to it, but it is different from a full-sized bike.
MOD City+ Review: Summary / Where to Buy
For those with limited space or who can't carry an e-bike on a car rack, an electric folding bike can be the difference between being able to have an e-bike or not having one at all.
The MOD City+ is an example of a good affordable option if you need a bike that folds. It far outperformed my expectations in our testing, particularly in the hill climbing section and brake test. It's an all-around good solid performer, but it's an absolute standout in those two tests.
We also can't close out this review without giving the Mod City+ a round of applause for setting a new record in our brake test. It didn't just break the record, it utterly smashed it by over a foot, which is pretty cool to see.
Overall, we really liked the MOD City+. It's a high-performing electric folding bike that's a solid value and looks pretty good to boot.
MOD sells the MOD City+ online through the button above and will ship the bike directly to your door.
'Happy Riding, make sure to let us know if you have any questions down in our comments section or if you think we left anything out in this review of the MOD City+.
Reader Interactions