Rad Power Bikes RadMini 4 Review 2022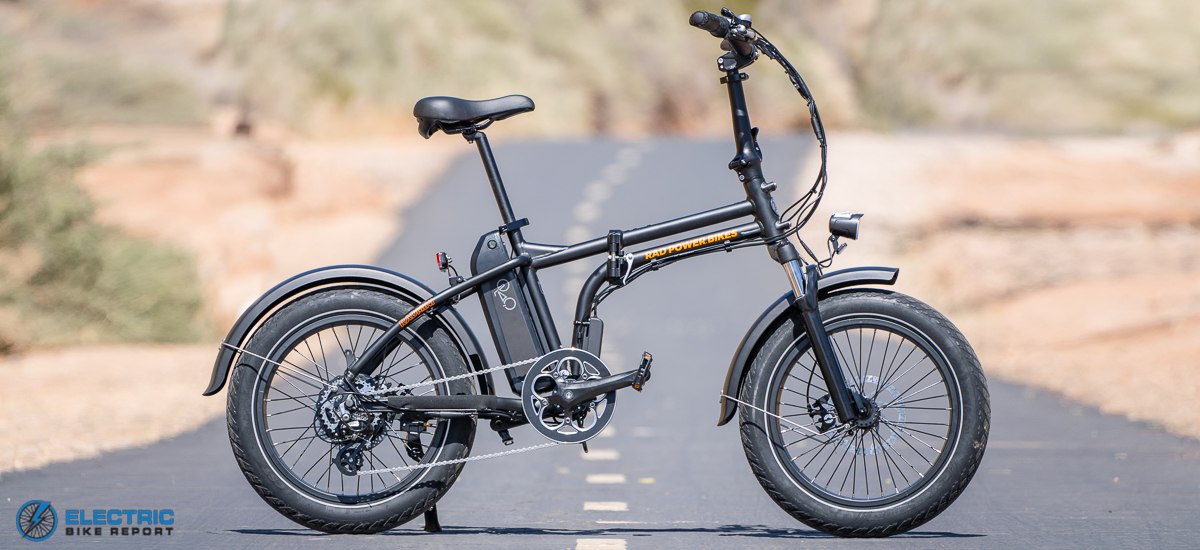 Rad Power Bikes RadMini 4 Review: Summary
When I heard that we were reviewing the RadMini 4 I wondered if I was going to be able to tell the difference between its performance versus other foldable fat tire e-bikes.
I asked myself, "How much can the performance of a foldable fat tire e-bike really vary from one brand to another?" And I soon realized that they can vary in performance and experience quite a bit more than I was initially anticipating.
Testing and reviewing the Rad Power Bikes RadMini 4 showed us that not all foldable fat tires are created equal. With seemingly more refined engineering than lots of its competitors and smoother rolling tires, it didn't take long for us to see the edge the RadMini 4 has on some other foldable fat-tire e bikes.
We quickly learned that cruising, and commuting are a couple of the activities that are even better when the Rad Power Bikes RadMini 4 is involved. Because of its 20-inch wheels and a foldable frame the RadMini 4 is ready to go wherever you are, without taking up too much space.
I had a lot of fun reviewing the RadMini 4, and it definitely provided me with a more polished experience than I was expecting.
Bike Category: Foldable/Fat Tire
Bike Class: 2
Throttle Assist, up to 20 MPH
*NOTE: The Rad Power Bike RadMini can be configured to a Class 3 setting, raising the top assisted speed to 28 MPH. Be sure to consult your local e-bike laws before making any changes to the factory settings.

Pro's
The smooth tires roll quicker and quieter than any other fat-tire folding bike we've tested so far.
The RadMini 4 feels very stable and connected to the pavement.
We all agreed that the battery placement is better than lots of competitors for convenience of folding the bike up.
We noticed that the RadMini 4 feels like one piece more than the other foldable ebikes.
Rad Power Bikes have created a very quiet, comfortable, and efficient ride.
The RadMini 4 surprised us with its hill climbing ability. There may be something to those smaller wheels!

Con's
We all agreed that the saddle isn't the most comfortable, it kind of feels like you're sitting on two tennis balls.
Our taller riders noted that It's a pretty cramped reach for taller/lankier people.
Seatpost clamp is too close to the battery for convenience, they get in the way of each other.
ELECTRICAL SPECS & FEATURES
Battery: 48V, 14Ah (672Wh) with Lithium NMC Samsung 35E cells, rated for 800 charge cycles
Display: Backlit LCD with charge indicator, speedometer, odometer, trip odometer, pedal assist level, wattmeter, and more
Motor: 750W brushless geared hub motor with 80 Nm of torque, 5:1 planetary gear reduction
Headlight: Standard Rad Power Bikes LED headlight
Taillights: Integrated tail light with brake light
Peal Assist: Intelligent 5 level pedal assist with 12 magnet cadence sensor
Range: 30-50mi +
Throttle: Half twist throttle
Weight & Dimensions
Battery weight: 8lbs
Total bike weight: 68lbs
Maximum rider weight: 275lbs
Maximum load on rear rack: 50lbs
Unfolded Dimensions: 68" x 32.5" x 27.5" (Total Length x Minimum Seat Height x Handlebar Width)
Folded dimensions: 28″ x 22″ x 41″
Components & Accessories
Brakes: Tektro Aries (MD-M300), Tektro 180mm front and rear
Fenders: Front and Rear
Fork: Spring fork, 80 mm travel, with lockout and preload adjustment
Frame: 6061 aluminum
Freewheel: 7-speed freewheel, 11-34T
Gearing: 7-Speed Shimano Altus
Grips: Durable imitation leather ergo
Saddle: Plush with lifting handle
Handlebar: Custom formed aluminum, 25″ wide, 2.5″ rise
Kickstand: Heavy-duty aluminum with wide plastic foot
Pedals: forged aluminum folding platform with reflectors, standard 9/16″ x 20 TPI threadin
Tires: CST Big Boat 20″ x 3″, puncture-resistant liner
RadMini 4 Review: Performance
Acceleration / Speed
The RadMini 4 holds its own when it comes to its ability to accelerate quickly, and from our experience it's pretty quick for its size. From our testing this appears to be because of the 80Nm of torque that the motor can produce, that combined with a 20-inch wheel makes for some quick acceleration.
Because the wheels are smaller they may not hold their speed as well compared to some larger wheel sizes, but when it comes to getting up to speed they're a great size to do so. Relative to other foldable fat tires, the RadMini 4 feels smoother sailing when riding it around the higher speeds. In all, the RadMini 4 is plenty fast for being a foldable fat-tire e-bike, and it really seems to come alive when riding through tight corners and up steep hills.
Range Test
The RadMini 4 comes with a 48V 14.0Ah battery, which is decently large for the size of the bike itself. We put the RadMini 4 through the ringer by testing out its battery range in two different test reviews.
The first test was done on maximum pedal assist, while pedaling the whole time, and the second test was done on the lowest pedal assist level while pedaling the whole time.
On our maximum pedal assist test we reached 31.86 miles with an average speed of 19.7mph before the battery finally died. On our lowest pedal assist level we reached 53.47 miles with an average speed of 14.1mph before the battery died. Our findings confirmed that the RadMini 4's battery lasts quite a long time, especially in the lower assist levels.
Those who plan on commuting on their RadMini 4 won't have anything to worry about when it comes to the range of the battery. On top of that, the watt meter helps riders moderate power output while on their ride.
Circuit test
When we took the RadMini 4 on our 1 mile circuit test it showed us a few characteristics that are common amongst other Rad Power Bikes we've reviewed. The main one being a consistent jump between assistance levels.
The RadMini 4 averages a 1.48mph difference between the assistance levels with the biggest being between PAS levels 2 and 3, which was a 3.8mph jump. Generally there will be one assistance level that jumps up quite a bit from its predecessor and we appreciated that the jump was right in the middle of the pedal assist options. When it comes to speed, the RadMini 4 showed us it can hang with its bigger-wheeled counterparts without any issues.
Hill Test
The infamous "Hell Hole" hill climb takes e-bikes to their max power output due to the average grade of over 12%. Because of the in-your-face steepness of the hill, the strong e-bikes are set apart from the weak and we were curious to see how the RadMini 4 performed.
Because of its 20-inch wheels and 68lb weight, we didn't see it being the best for hill climbing but to our surprise it was the exact opposite. The RadMini 4 ended up with some of the better results we've seen, especially for foldable fat-tire e-bikes.
With our test rider pedaling in Maximum Pedal Assist the whole time the RadMini 4 set a blazing time of 1:12:00, up there with some of the faster and more powerful e-bikes we've taken on Hell Hole. The Throttle-Only test was just as impressive, as the 1:29:00 time is faster than some pedal assist e-bike results we've gotten.
So, what makes the RadMini 4 such a good hillclimber? It boils down to the 80nm of torque the hub motor is able to produce, and the fast rolling tires. In simpler terms, the motor has no issue keeping the rear wheel moving regardless of the steepness. It was great to see, and feel a hub motor designed specifically for the RadMini 4, because of it we had a lot higher performance than we were initially anticipating.
Handling (cornering, slow speeds, safety on bike, etc.)
The RadMini 4 provided us with lots of stability, and nimble handling on corners. We all agreed that the front end of the RadMini 4 feels a lot lighter than similar bikes from different brands.
Because of that, it's a lot easier to pop up a curb and dictate where the front end is pointing. This bike definitely feels safe and that's mainly due to its low standover height and wide tires. The CST Big Boat 20×3.0 tires are definitely a nice touch that improves the handling experience quite a bit, the fast rolling tread pattern merged with the 3 inch width provided us with a good median of traction, control, and rolling speed.
Ride Comfort
The riding position on the RadMini 4 has a lot of variance, as it's adjustable in a couple of spots. When I had it set up for my height (6'0") the riding position was quite comfortable as far as my back position, and leg extension. The saddle did feel a tad bit funny though.
The shape of the saddle makes it feel like you're sitting upon two tennis balls that don't squish down very much. The foam, or rubber on the inside simply just seems too stiff for the shape of the saddle. Aside from that the RadMini 4 feels great, and can be adjusted to any rider's specifications and preferences.
Rad Power Bikes RadMini 4 Review: Specs/Components
Motor
The RadMini 4 uses a 750W brushless geared hub motor with 80Nm of torque, from our testing this motor starts to show its true power and capability around pedal assist level 3, where it's easy to cruise above 20mphr without working too hard.
I really noticed the motors power when pedaling up steep hills, the 80Nm of torque is quite apparent as the RadMini 4 didn't seem to have any issues holding onto some speed while going uphill. There really is something to the smaller wheels being easier for the motor to rotate, and because of this you don't feel nearly as much stress on the motor when using it.
Battery
We were happy to see that Rad Power Bike stocked the RadMini 4 with a larger battery. With folding bikes it's common to see smaller batteries that improve the convenience of moving around the bike.
Rad Power Bikes nailed the placement and performance of the 48V, 14Ah battery and we reached over 30 miles on max assistance before it finally ran out of charge. As you can see in our range test data the RadMini 4 can hold onto a charge for quite a while. It took us over 53 miles to finally deplete the battery when on assistance level 1. Considering the size of the wheels and weight of the bike, that's a respectable result for the RadMini 4.
Pedal Assist / Throttle (when applicable)
Rad Power Bikes has always seemed to do a good job when it comes to calibrating distinguishable assistance levels, 1 & 2 are rather conservative while levels 3,4 & 5 are where the RadMini 4 comes alive.
As shown in our circuit test, the change between assistance level 2 and 3 was quite the jump. In assistance level 2 I averaged 16.5mph, while in assistance level 3 I averaged 20.3mph. I also noticed a large difference on the amount of wattage the bike was producing between the two levels.
The RadMini uses a 12 magnet cadence sensor that feels smooth and consistent relative to some other bikes that use a similar design. Similar to the pedal assist level calibration, we feel Rad Power Bikes has nailed down their process for smooth engagement when pedaling.
The RadMini 4 uses a half twist throttle that's located on the right side of the handlebar. Rad Power Bikes uses the grip-twist throttle design quite a bit, and I was happy to see that this was just a half twist design. Because of the half twist design I was able to keep my hand in a comfortable position while using the throttle, rather than putting my hand out of place in an attempt to engage it fully.
Between the 5 pedal assist levels and the throttle you'll have plenty of ride-customizing options to choose from. I personally found myself using pedal assist level 4 and 5 the most, because who doesn't love some speed?
Display
RadPowerBikes has proved to us that they always do a good job with creating a simple, yet effective display interface. While it's by no means an iPhone display, it's plenty good for us and the RadMini 4's intended use.
This backlit display comes with a charge indicator, speedometer, odometer, trip odometer, pedal assist level visual, wattmeter, and more. My personal favorite feature is the watt meter, which tells you how hard the bike is working and how to optimize the RadMini 4's battery life.
Even if you're not a tech genius, the interface is pretty straightforward to use. With a couple of rides you'll likely figure out if you dont straight away.
RadMini 4 Review: Components and Accessories
Brakes
We are pretty used to seeing the Tektro Aries (MD-M300) brakes on bikes at this point, and the reason you'll see them so often is because they work well and aren't going to break the bank. While these Aries brakes have been on multiple bikes we've tested, they never feel exactly the same.
In the case of the RadMini 4, the calipers are paired up with 180mm rotors front and rear. The bigger the rotors, the more the stopping power, especially when paired with smaller wheels like on the RadMini 4.
When we performed our brake test, we stopped from 20mph five times and took the average distance it took to stop. Our average ended up being 18'3", which is respectable considering the smooth tread pattern on the tires and the weight of the RadMini 4.
The Aries brakes felt solid overall, they didn't stand out in any particular way, and they consistently stopped us at a rate that felt comfortable. Mechanical disc brakes like the Tektro Aries provide a wide array of adjustments for how hard, or soft the caliper bites the rotor. For the sake of consistency we had the brakes set up somewhere in the medium ground.
Frame
The RadMini 4 uses a 6061 aluminum frame that folds in the center. I kept having to remind myself that I was on a foldable bike, because it definitely didn't feel like it.
The RadMini is a bike first, and a folder second, which is definitely appreciated considering some of these other manufactures foldable e-bikes base their whole existence around the fact they can fold, vs how they ride.
With foldable bikes the question of stability and structural integrity always arises, and in the case of the RadMini 4 it feels as if it's not a foldable bike when riding it. I like where they decided to place the battery on the RadMini 4, it keeps the weight below the saddle as opposed to in the center of the frame (where the folding clamp is). Because of this, the front end of the RadMini 4 felt much more lively than competitors' foldable fat-tire e-bikes.
Fork
Having some suspension up front definitely added to the experience of the RadMini 4. Because of the additional "squish" I was able to go a lot faster on off road terrain than I was initially anticipating.
The tires do a great job of absorbing chatter and giving the RadMini 4 traction as it is, add a suspension fork to the mix and you've got yourself a smooth sailing foldable fat tire.The RadMini really seemed to shine on gravel roads with the occasional sand pits; there wasn't much of an issue plowing through the softer terrain. The fork is a spring fork, has 80mm travel and comes with a lockout and preload adjustment. Nice and squishy!
Drivetrain
The RadMini 4 uses a 7-Speed Shimano Altus drivetrain paired up with a large 48-tooth chainring to help you keep your momentum up. I think this drivetrain is just fine, it has a plenty wide range for steep hills, and pushing the bike faster on straight aways. I would personally switch the shifter to be underneath the handlebar, as opposed to on top of it.
My thumbs appreciate the convenience and ergonomics of an under the bar shifter, it's quicker, more natural, and better looking in my opinion. The over the bar shifter isn't the end of the world, and it still works great. However, I'd be willing to bet the masses prefer the under the bar shifter just like I do.
I think the 7 speeds paired up with the power the RadMini 4 can produce will be a good combination for lots of riders. It worked well for me!
Contact Points
How are the contact points on the RadMini 4 you ask? Pretty good overall, but there is definitely something up with the saddle. The saddle feels like you're sitting on two tennis balls that refuse to squish — maybe our team has weird butt-anatomy but we all agreed that it just felt wonky.
Aside from that, we liked the other contact points. The grips are comfortable and the handlebar width feels like the right width for the bike's intended use. Overall the RadMini 4 is quite comfortable, but that saddle does need some alterations in our opinion.
The foldable pedals aren't the largest platform but they live up to their expected standards. They seem to be well made and able to withstand pedal strikes well.
Thankfully all contact points mentioned are changeable, and inter-swappable with parts you may prefer over the stock ones. Because of this, we aren't too worried about the saddle not being our favorite. All of us have enough bike knowledge to swap it out for another one without much issue.
Tires
Non-chunky fat tires? This isn't very common, but we like it! The CST Big Boat 20″ x 3″ tires come with a puncture-resistant liner and are an absolute hoot to ride on. I was curious if the smoother tread pattern would cause me to slide out easier, but they hold traction really well especially when on-road.
As you heard me mention the RadMini 4 really thrives on gravel, which was interesting to me considering the on-road oriented tread pattern. Another great thing about these tires is the sheer amount of air they're able to hold.
Because of that, you'll have a large array of tire pressures you can run. If you are planning on riding your RadMini on the beach, a lower pressure will keep it from digging itself into a hole; if you're doing a ride on your local paved trail a higher pressure will keep your tires fast rolling.
Extras / Accessories
The RadMini 4 comes with plastic fenders that provide full coverage from debris and puddles, and it also comes with lights in the front and rear to increase visibility overall. With a heavy duty kickstand and optional storage rack the RadMini 4 is ready to suit your cargo-related needs.
RadMini 4 Review Conclusion / Where to Buy
The RadMini 4 showed us that not all foldable fat-tire e-bikes are created equal, some are considerably smoother rolling and longer lasting than others, the RadMini 4 being a perfect example.
As we've noticed with other Rad Power Bikes, it's the way the components work in unison that really make a noticeable difference relative to other e-bikes with similarly-tiered componentry.
The rear hub motor tuned specifically for the RadMini 4 made the bike come alive and the combination of 750W of power and 80Nm of torque provided us with a hill climbing machine that also accelerated quite well. We also really liked the feeling that the CST Big Boat 20×3.0 Tires and the smooth rolling they provided us with.
With plenty of additional accessories on Rad Power Bikes' website available for the RadMini 4, you can design yours based around your lifestyle and preferences. With that, and the amount of adjustment and versatility already included with the RadMini 4 you can have a truly unique build which is another pro of going with Rad Power Bikes.
The RadMini 4 exceeded our expectations in every test category aside from the brake test, where it still put up respectable numbers. The components seem to work in unison, giving it an edge over lots of other companies' foldable fat-tire bikes on the tests. While it isn't measurable quantitatively, the handling of the RadMini 4 is far more playful and nimble than we were anticipating. We believe it's due to the battery placement being on the back side of the bike as opposed to in the center. Because of the placement the front end is easier to lift up curbs and maneuver around corners and technical terrain.
In all, we've discovered that the RadMini 4 is a great "do it all bike." While we wouldn't recommend taking it on mountain bike trails, the RadMini 4 is ready for off-road exploration and tackling steep hills you've avoided in the past.
With minimal storage space needed, maximum convenience is created thanks to the RadMini 4's well thought out design. Don't want to be held to one style of riding or one terrain? Low on space but high on life? Consider checking out the Rad Power Bikes RadMini 4 at the link down below.
Reader Interactions