MOD Black Electric Bike Review 2023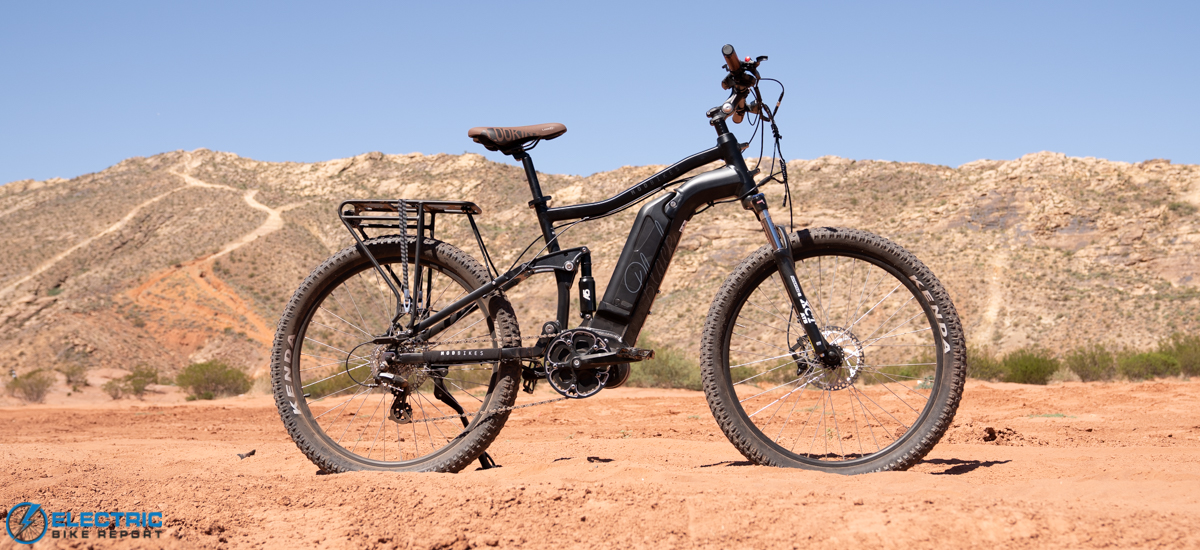 E-bikes by their very nature are versatile products. The addition of a motor to a bike allows you to go further and ride more diverse areas regardless of what style of bike you have. But while you can commute on a mountain bike, or have a beach cruiser be your cargo hauler, there is no better solution to true versatility than purpose-building a bike for it. Making a bike that effortlessly achieves multiple ride styles requires thoughtfully assembling a parts that lets you ride in two worlds. And that is exactly what the MOD Black bike we're reviewing here sets out to do: be as capable a commuter as it is a trail bike.
That's a pretty ambitious task for any bike maker to undertake – heck, it's hard enough to really nail one style of e-bike let alone two. But MOD seems to have done their homework on pulling in the best elements of both styles while giving the bike a signature look that doesn't feel haphazardly slapped together. Instead, you get a unique bike that fits nicely in a spot all its own amongst some of the other MOD e-bikes we've reviewed, and it gives consumers a chance to purchase one bike that can satisfy different wants and needs.
In our MOD Black review, we will take a look at how this bike does at being both a commuter and off-roader. We'll be evaluating their choice to spec a 350W mid-drive Shengyi that produces 90Nm of torque as well as our battery of performance tests. The Samsung battery offers 557Wh of charge; we will see how its range stacks up. And of course we'll weigh in on the suspension, tires, shifting, braking and more.
Bike Category:
Commuter / Trail Bike
Bike Class:
Class 3, no throttle
MOD Bikes Black Video Review

Pro's
The 350W mid-drive motor with torque sensor does a great job matching motor output with rider effort
The 557Wh Samsung battery that pairs to the motor yielded some of our most impressive range results to date
With 90Nm of torque, it is a quite capable on many hills
Front and rear suspension provides a very comfortable ride on or off road
The PAS levels allow a rider to fine-tune the amount of assistance they receive

Con's
The faux-leather grips aren't the best for offroad use. While testing we had our hands slip a few times
Shimano Altus drivetrain isn't well-suited to real off-road use, in part because it lacks gears low enough for steep hills
ELECTRICAL SPECS & FEATURES
Battery: MOD Samsung Powerpack – Li-ion 48V 11.6Ah (557Wh)
Display: MOD BIKES S2 Smart Display w/USB port
Motor: MOD DRIVE 350W (Peak 650W) brushless Mid Drive, 90 Nm of torque – Shengyi
Headlight: Integrated wide beam LED 300 lumen
Taillights: Integrated LED
Peal Assist: Smart 0-9 level torque sensor
Range: Up to 60 miles / 96 km
Throttle: N/A
Weight & Dimensions
Claimed weight: 66 lbs.
Maximum rider weight: 265 lbs.
Maximum load on rear rack: 55 lbs.
Components & Accessories
Brakes: Zoom – Hydraulic Disc with 180mm Rotors w/cutoff switch
Fenders: N/A
Fork: SR Suntour XTC, 80 mm Travel
Frame: 6061 aluminum, rear shock EXA Form
Drivetrain: Shimano ALTUS 7 speed
Grips: Faux Leather Grips w/locks
Saddle: Selle Royal – freeway gel
Handlebar: Aluminum Alloy, 700mm
Kickstand: Aluminum, heavy duty, adjustable
Pedals: Wellgo, aluminum
Tires: Kenda 27.5″ x 3.00″
MOD Bikes Black Review: Bike Overview
If you take only a quick glance at the MOD Black maybe the commuter aspects stand out: the included rear rack, nice upright seating angle, the kickstand. Or maybe your eyes gravitate instead towards the full suspension frame and knobby tires that are hallmarks of dirt trail-oriented bikes. It's clearly got defining traits that suggest it is either style.
The end result to me feels like a commuter more on the cushier side, with capabilities to allow you to play in the dirt as desired, or if your definition of a commute includes well-traveled dirt roads then it would fit the need to a T.
MOD equipped the Black with a 350W mid-drive motor meant to take in paved roads and dirt areas alike. The motor helps make commutes quick and efficient and is capable of aiding the rider navigate dirt roads and terrain. Riders can better control the bike's response to riding situations because the torque sensor of the mid-drive motor bases its output in proportion to the rider's effort. Pedal lightly on the roads and it'll feel like a constant tailwind, or pedal hard up a small dirt climb and it'll kick in as you need it.
Providing power to the MOD Black is a 557Wh Samsung battery that integrates into the frame. It isn't the most seamless battery you'll find, but the cursive detailing on it makes it standout in a nice way.
Other notable componentry include a 7-speed Shimano Altus drivetrain which offers a reasonably wide gear range for tackling climbs and hills. The Kenda 27.5 x 3-in. tires provide plenty of traction and add to the comfort the suspension provides. Stopping power on our model was provided by Zoom hydraulic disk brakes and 180mm rotors – a pair brake setup we've seen a lot of that stops nicely.
The MOD Black is a feature-laden e-bike and comes with both lights and a reliable rear rack capable of carrying 55 lbs..
MOD Bikes Black Review: Motor Performance, Speed and Acceleration
The MOD Black is a Class 3 e-bike with no throttle, a configuration that is not super common. The MOD Black mid-drive motor is made by Shengyi, a Chinese maker of quality e-bike motors. It will produce an average output of 350W and turns with 90Nm of torque. Governing its response is a torque sensor which enables it to respond more proportionally to a rider's effort.
We didn't notice much lag in response between when a rider begins pedaling and when the motor begins to turn. It's a better experience than what you get on e-bikes with hub motors and cadence sensors.
What we noticed in our circuit testing with the MOD Black were noticeable steps in assistance from the 14.5 mph average of PAS 1 up to the 22.5 mph average in PAS 5. The difference between PAS 4 and PAS 5 gave a notable kick.
The MOD Black showed spirited acceleration and thanks to its torque sensor, a rider can modulate their effort and the bike will respond proportionally. That is one of our favorite features of mid-drive e-bikes—that when a rider eases off the pedals, the motor backs off as well.
MOD Bikes Black Review: Range Test & Battery Performance
One of the features we love about mid-drive motors is that they use power very efficiently. A 350W mid-drive motor can easily compare in performance to most 750W hub-drive motors; often, they climb better. The MOD Black is equipped with a 48V, 557Wh battery. On paper, those numbers look good, but out in the real world, it was a different story.
In our range test the MOD Black slayed. Killed. Destroyed. In PAS 5 our test rider covered 30 mi (29.6) at an average speed of 18 mph. We review e-bikes that can't cover 30 mi. with maximum assistance at a nice 18.6 mph clip.
That was plenty impressive, but in PAS 1, our test rider was out for the better part of the day (poor guy was out there almost six hours). He covered a whopping 84 mi. Yes, 84 mi., and the MOD Black carried an average speed of 15 mph.
To put that performance in perspective, very few e-bikes we review eclipse the 60-mi. mark. The MOD Black is the first e-bike to my memory that we've reviewed to go more than 70 mi. without some sort of dual battery setup. For some commuters, the MOD Black could enjoy two weeks of riding before a recharge. So why include such a powerful battery? Well, one reason is that riding on unpaved surfaces demands more power than riding on pavement, and taking off down a dirt road isn't much fun if the rider needs to turn back after 10 mi.
A brief word on those average speeds: Most e-bikes, as they reach the end of their charge, will tend to slow down. It's kinda like when a three year old slows just before falling asleep. As a result, many bikes that cruise well for most of the battery's charge don't ultimately deliver a great average speed because they slow so much in those final miles. With an average speed of 15 mph in PAS 1 and 18 mph in PAS 5, the MOD Black delivered impressive performance across the battery's entire charge.
MOD Bikes Black Review: Hill Test
Of all the tests we do with an e-bike, finding out how powerful it is on Hell Hole is one of the more enjoyable aspects of bike testing. Unlike our circuit test or range test—which take time to perform, the hill test unfolds in less than two minutes and says much about how powerful the bike is. The results often surprise us—light bikes have struggled and utter elephants have conquered the test. That's what makes this test such a delight. There's no guessing.
The MOD Black lacks a throttle, so we only performed the PAS 5 test and on that the result was solid. It climbed Hell Hole in 93 seconds for an average speed of 11.7 mph. We want to stress that while this result isn't especially fast, simply completing the climb is an achievement.
We are far less concerned with how quickly a bike climbs Hell Hole than whether or not it can climb the hill. Simply making it up is an achievement. Most riders will be satisfied if they encounter a hill and their e-bike drives them over the top without coming to a stop and being forced to push the bike the rest of the way.
What is notable about the performance though is that it was a smooth sailing experience. It required a bit of effort on our part, but that's part of the joy of torque sensors: they demand rider input. It's also worth pointing out that anything situated for off-road rides shouldn't be too power heavy. Go to fast up a loose dirt hill and you may not like the results as you try to hang on for dear life. With that in mind, I'd say the hill climbing performance is fitting for the type of bike the MOD Black is.
MOD Bikes Black Review: Brakes and the Brake Test
Any time we see hydraulic disc brakes on an e-bike, we are pleased. The extra weight that comes with a motor and battery make an e-bike a bit tougher to slow than a traditional bike. The MOD Black came with Zoom hydraulic discs paired with 180mm rotors, and levers that include motor cutoff switches.
In our testing, we found that the average stopping distance for the MOD Black was 20 feet 8 inches. This is a greater distance than we found in our recent test of the MOD Easy, and we need to explain why a heavier bike (the Easy) stopped in a shorter distance.
Previously, our testing went for a panic stop—ultra-hard braking, to the point of skidding. We've realized that it's not a measurement that will reflect the real-world experience of our reader, so we changed how we do the test, which is now done seated and braking as hard as possible but without skidding.
With that explained, we believe the MOD Black did reasonably well. We noticed that the brake spec'd is a lighter weight model often seen on lighter weight bikes and paired with a 160mm rotor. There are certainly e-bikes out there in a similar price range with more powerful brakes, but these did the job.
MOD Bikes Black Review: Ride Comfort, Handling and Cockpit
Because this e-bike enjoys both front and rear suspension it bears the traits of an eMTB. Upon a bit more inspection we find that the suspension fork offers only 80mm of suspension and MOD does not reveal how much travel the rear suspension provides. That lack of info and the relatively short travel (100mm is on the short side for today's mountain bikes) of the fork spell out that this is a bike that can handle a dirt road, but isn't going to win any Red Bull contests.
All that said, this is a full-suspension bike and as such, it offers about as much comfort as a rider can hope to find. The fact that the saddle is fairly firm (a firm saddle actually offers better support) is difficult to object to thanks to the very cushy ride of the frame and fork.
One of the best features of a full-suspension e-bike is how the suspension improves its handling, which it does by doing a better job of keeping the wheels on the ground. No, this isn't an e-bike that we would recommend taking off a 4-ft. jump, but on a bumpy and rutted dirt road, the suspension improves the bike's handling significantly.
We would like to see some instructions included on how to properly set up the suspension. When the frame and the fork are set to the wrong air pressure, riding a full-suspension bike can feel a bit like being on a pogo stick, simply bobbing up and down. When suspension is set up properly, a rider can hit a bump and while the bike might rise a bit, it will largely absorb that bump and keep rolling. What correctly set suspension won't do is bounce like a superball.
The MOD Black has a fairly traditional flat bar, which is to say it has a bit of backsweep for good ergonomics, but all of the rise is in the adjustable stem which is meant to allow riders of to MOD's claimed 7′ tall.
MOD Bikes Black Review: Summary / Where to Buy
The MOD Black is an e-bike equipped to do more than stick to the pavement. Its combination of 3-in.-wide tires and front and rear suspension make it suitable to a variety of unpaved surfaces. With a price tag firmly in the mid-range tier, it's more expensive than many similarly equipped bikes and that owes to the fact that the MOD Black is built around a mid-drive motor and plenty of features.
The 350W mid-drive motor might seem underpowered were it a hub motor, but positioned at the crankset, rather than the rear wheel, and turning up to 90Nm of torque, this e-bike has the power to go most anywhere, paved or not.
Again, the MOD Bikes' aim of being both commuter and off-road is largely achieved so long as you remember that the short travel of the suspension fork and the budget-end rear suspension travel make this bike a solid all-terrain e-bike but not quite a true eMTB.
Shopping in the $3000-$4000 price tier is a big jump from the more affordable, sub-$2000 e-bikes that dominate the market and considering some of those bikes are marketed as off-road-worthy, we are far more confident steering riders to an e-bike like this should their intended riding terrain lack pavement. There are broad swaths of America's heartland that are dominated by roads composed of dirt or gravel, or both. The MOD Black would make an excellent daily driver for anyone who needs to cover some gravel before reaching pavement.
We developed great affection for the MOD Bikes Easy which we recently reviewed. The MOD Black is a significantly different bike meant to do something far different for a very different rider. As an exercise in creating an e-bike meant to fill the needs of riders, this is a fine machine.
'Happy Riding, make sure to let us know if you have any questions down in our comments section or if you think we left anything out in this review of the MOD Black.
Reader Interactions