Juiced RipCurrent S Review, 2023
A Bike That Lives Up To Its Name: This Popular Sport-Utility E-Bike is a Speedy & Fun Ride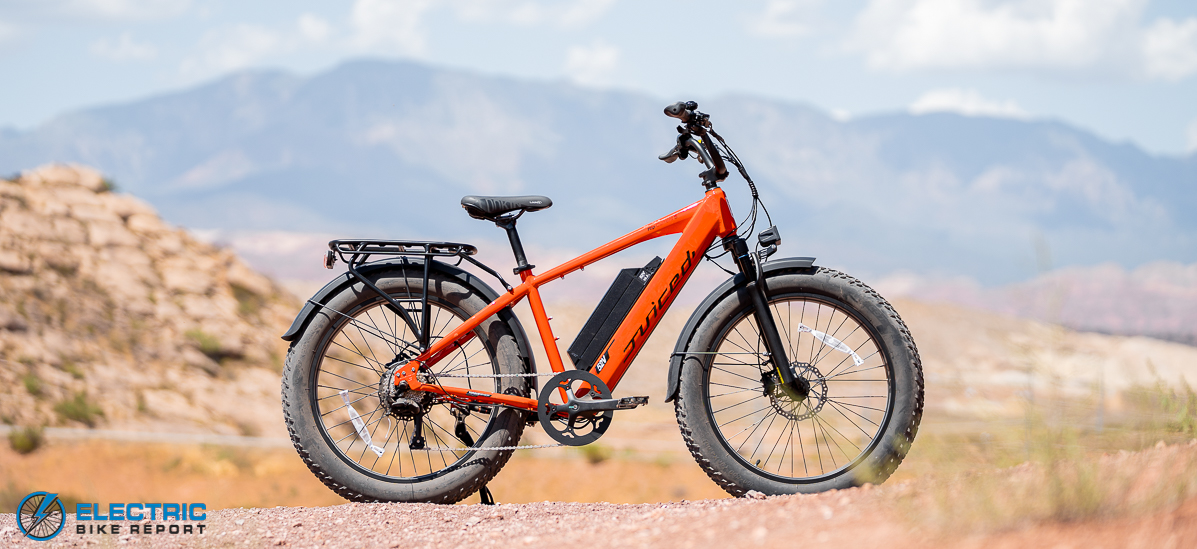 You've probably seen some Juiced e-bikes riding around you. Often times you have to squint to see them; Juiced bikes are known for moving so quickly that the branding may appear to blur a little. And that was a theme throughout our review of the Juiced RipCurrent S – a bike that got up to and held speed well.
This durable all-terrain bike combines a powerful 1000-watt motor, with air fork suspension, and a 19.2 Ah battery that can take you 70+ miles (we almost reached 90 miles on one of our rides!). Among the noteworthy features is the torque sensor that helps the hub drive motor deliver the power you need, when you need it. It also helps the battery economize for greater mileage, so instead of wasting energy you're using it more efficiently.
Not only is the RipCurrent S an real eye-opener with its features and performance, but it's also surprising many with its price (check our link for the up-to-date amount). This is a bike that can give you a lot in performance and value without taking a lot from your wallet. You get the speed, distance and handling you've been looking for without the sacrifice of paying a higher price, which is a huge draw of the RipCurrent S.
To reach this price point, Juiced included some off-brand components, like the suspension, gearing and brakes, to keep the price down, but all while still giving you a good ride. In our performance review of the Juiced Ripcurrent S we'll show you how well their parts pairing worked in producing an all-terrain e-bike that is a lot of fun to ride.
Bike Category:
All-terrain
Unclassified (Motor > 750W):
Ships with throttle and pedal assist up to 20 mph (can adjust to higher pedal speeds)
Juiced RipCurrent S Video Review

Pros
Quick acceleration from a stop, and promptly reaches top PAS level speeds with the 1000W Bafang motor.
Ride up to 70+ miles on a single charge with the safer, UL-certified 19.2 amp hour battery.
Air fork suspension delivers better quality ride, easier to adjust, and less likely to bottom out compared to the coil spring forks we normally see on bikes in this price range.
Immediate motor engagement with your pedaling, and balanced output makes pedaling feel more natural, thanks to the cadence and torque sensors.
Precise shifting and clean gear changes with the LTWOO 9-speed.
Easy to find the right size bike with the frame offered in 3 sizes (16.5" medium, 18" large, 20" XL).
The overall package makes this a good value for an all-terrain e-bike.

Cons
This bike could be prohibited on some public trails due to its 1000W motor.
The stock 2-amp charger takes up to 10 hours to charge the large 19.2Ah battery. We would like to see Juiced offer a 3-amp charger to shorten the charge time.
ELECTRICAL SPECS & FEATURES
Motor: 1000W rear hub (1300W peak), 80 Nm peak torque
Battery: G2 52V/ 19.2Ah / 995 Wh, SGS Certified to UL 2271
Charger: 2 amp charger
Controller: 9 transistor / 25 amp (peak)
Display: advanced LCD display
USB charger: optional
PAS: 5 levels, PAS 1 – 5
Sensor: cadence & upgraded torque sensors
Throttle: thumb throttle
Classification: ships as Class 2 (can also be set as Class 1 or 3)
Weight & Dimensions
Weight Capacity: 300 lbs
Bike Weight: 80.5 lbs (with battery)
Battery Weight: 12 lbs
Components & Accessories
Frame: 6061 custom aluminum heat-treated
Brakes: Logan HD-E500 hydraulic disc, 180mm rotors
Gearing: LTWOO 9-Speed, 11-34T cassette
Shifter: LTWOO trigger shifter
Chainring: ProWheel 52T
Crank: aluminum CNC, 170 mm
Wheels: 26″ x 4″ double walled aluminum

Tires: 26″ x 4″ CST off-road tires
Fork: Air suspension, 80mm travel
Handlebar: Custom short moto bar, 6" rise, 720mm, 31.8mm clamp
Stem: 40mm length, 28.6mm, 1 ⅛" threadless
Grips: Ergonomic lock-on grips
Headlight: 1050 lum LED
Tail Light: Star Union rear LED
Pedals: Platform pedals
Seat: Selle Royal, A306 URO
Seat Post: 31.6 mm diameter
Mud Guards: Front & rear fenders
Mirrors: Optional
Rear rack: 50 lbs. capacity
Horn: Bell included
Juiced RipCurrent S Review: Speed Test
How fast can the Juiced RipCurrent S go at each PAS level? We answer this question through our two-part Speed Test. In the PAS Speed Test we soft pedal at each PAS level over a flat section of our test course. The chart above details how the RipCurrent S can accelerate quickly from a dead stop. The speed gains are separated evenly, with an average speed gain of 3.7 mph per PAS level – which wowed us and made us want to keep riding.
Each speed increase between PAS levels was at least 3.5 mph (from PAS 1 to PAS 2), and not more than 3.9 mph (from Eco mode to PAS 1). If you've seen a lot of e-bikes like us, then you might be scratching your head when looking at this bike's PAS set up, going from Eco to PAS 1, 2, and 3, and then topping off at "S mode" (with "S" standing for "Sport"). Perhaps this is meant to remind us how different this bike is.
The 52-volt system and 1000-watt motor play a big role in the PAS power output that helped this 80 lbs fat tire bike accelerate so quickly, especially when compared to the 48V, 750W motors we so often see. We like seeing this kind of consistency because it shows a careful and measured motor tuning. We also like its predictability because you always want to know what kind of power you're going to get – it makes for a better ride and it's safer for you and everyone else you're riding around.
Having nine gears to choose from also helps the bike produce consistent top speeds in each PAS level. As far as 9-speeds are concerned, the range from the 11T top gear cog to the 34T bottom gear isn't that broad (I'm used to seeing more than 40T on the bottom two gears on a 9-speed cassette), but their closeness makes shifting easier because the chain faces less resistance when changing gears.
In our second Speed Test, the Throttle Speed Test, we clock how long it takes to go from 0 mph to 20 mph, using the throttle and no pedaling. This tells us what kind of raw power the motor alone produces. The RipCurrent S went from zero to 20 mph in 11.6 seconds, which was okay. What impressed us more is this bike reached 15 mph in only 6.35 seconds. Since this is a new test here at the EBR, we don't have a lot of results to compare to, but I know from experience that traveling from 0 mph to 15 mph in under 7 seconds is quite quick.
The L-TWOO gearing set up, including its shifter and derailleur, are among the parts we don't see as often, but the performance proved to be decent. Their A5 9-speed derailleur and trigger shifter delivered really crisp, clean shifts to each gear – something I wish I could say about the other 9-speeds I've tested on other bikes in this price point. Over time, we will see how well this product holds up with regular riding wear and tear – but so far so good in our experience.
Juiced RipCurrent S Review: Range Test & Battery Performance
Ending your ride because the battery is drained can be a disheartening moment. Battery range is a big deal with most riders, and that's why we do two range tests on our test bikes. Our Range Test includes two parts: testing the range while using the motor's lowest pedal assist level, and the second is measuring the range when pedaling with the highest pedal assist level from the motor.
Using the Eco mode in the lowest PAS test, the RipCurrent S's new 52-volt, 19.2 amp-hour battery took our test team 89.97 miles, in a time of 6:46, and average speed of 13.3 mph. This was almost 20 miles further than the 70-mile distance Juiced predicted. We've seen impressive range results from other 19.2Ah batteries, usually on bikes that were lighter and had thinner tires (less resistance).
In our second range test, pedaling the entire time in S-mode (the 5th and highest PAS level on this bike), our test rider Brenden went 42.68 miles, which was again impressive and beat the 35-mile limit we had originally expected. Averaging 22.11 mph. Brenden completed the test in 1:56.
Another great feature about this battery, and something all-terrain riders can appreciate, is the IP65 rating confirming it's resistant to dust and low pressure water sprays. Also, kudos to Juiced for getting SGS labs to certify the battery's safety, via the UL 2271 certification.
Juiced RipCurrent S Review: Hill Test
In the Throttle-Only Test, as the name indicates, using only the throttle and not pedaling, we see how much raw power the motor can curry up for hillclimb. He reached the top in 1:28, with an average speed of 12.3 mph. Making it to the top is always commendable when doing this test – some e-bikes don't make it.
In the second test, Justin pedals up Hell Hole using the maximum PAS level – the S mode – to help him reach the top. No surprise he reached the top in this test, too, in a time of 1:14 and with an average speed of 14.7 mph. Keep in mind, when pedaling in this test Justin contributes only basic, light pedaling, at a level of intensity where he can carry on a conversation without becoming winded – which is how he does all the tests.
Juiced e-bikes are known for their speed, and a big reason for their popularity. Speedsters will appreciate how the 1000W motor really bolts ahead in its initial acceleration. But different from past models is it's dialed in discipline to use energy wisely to help achieve a longer range. This explains why the bike's pace peters out after you reach around 15 -16 mph.
The display confirmed the 1000W of power – he could read that on the display screen. We didn't get a reading on the motor's maximum torque, but we're not doubting the 80 Nm claim from Juiced. But what surprised him, and us, was how the motor never reached the peak 1300W output that Juiced claimed is the motor's maximum wattage. We were only able to peak at 1100W. Either way, this bike topped Hell Hole in both tests, and that was our goal.
Juiced RipCurrent S Review: Safety and Brake Test

Are the brakes good, safe, and reliable? Looking at the higher speeds e-bikes reach, it makes sense for us to take a long look at the braking ability of our test bikes. In the EBR Brake Test our test rider, Griffin, pedals the RipCurrent up to 20 mph and then hits the brakes to get the bike to safely stop. We measure the stopping distance and then retest at least two more times to calculate the average braking distance.
The Rip Current S's average stopping distance was 21'9" on the brake test, which was a decent result when compared to similar e-bikes. The brakes are the Logan HD-E500 hydraulic disc brake system. Sporting the standard size 180mm rotors, and dual piston calipers, these brakes performed well during all of our performance tests.
The RipCurrent S shares a lot of similarities with the other bikes we brake tested, so the main difference between this bike's brake test result and the others is the actual brake system itself; the Logan brakes performed really well and showed us they can do the job.
Juiced RipCurrent S Review: Ride Quality
What does the RipCurrent S feel like when riding? As an all-terrain fat tire e-bike, the large frame version we rode felt like an e-bike that's bigger and heavier than average. Our riding position was mostly upright in a high position, similar to when you're riding a cruiser. The 720mm wide BMX-style handlebar has a six inch rise, meaning most riders will sit up high.
The handlebar is only adjustable in swivel forward and back by loosening the 4-bolt clamp on the steering head. This helps address reach issues, although it could leave you with the handlebar slanted forward or aft more than you might like. But this should not be much of an issue since the RipCurrent S comes in three frame sizes: medium 16.5", large 18", and X-Large 20", making this bike pretty easy to size to its rider. The ergonomic rubber hand grips were very welcoming to my hands, providing great grip, even with my sweaty palms. The control switches and levers were also easy to handle.
The generic air suspension fork, which gave 80mm of wheel travel, provided acceptable damping when hitting bumps, potholes and dirt roads. During my brief time on soft sand, loose rock and medium sized moguls I thought about the fancier suspension fork I could put on this bike with the money I saved on the price. But the fork is't a game changer, and (knowing me) I would end up continuing to ride on the stock fork.
There's no rear shock nor suspension seatpost, leaving all the suspension duties to the tires, fork, and the riders' physical flexibility. Your butt gets relief from the plush Selle Royal A306 URO saddle. Bike weighs 80.5 lbs. tire width 4″, size 26″, knobby tread.. fenders to keep you clean, and a rear rack for carrying things like school or work bags.
Rolling on 26" x 4" CST knobbies that helped me maintain positive traction all throughout, my pedaling felt very productive on all surfaces, and when working with the gearing. Gear changes were precise and never left me waiting for the chain to finally click in. Using a 11-34T 9-speed cassette gives this bike a fair gear range while also keeping the shifting clean and quick.
As mentioned before, the motor's engagement with the rider's pedaling worked superbly in our tests. For many riders, this is usually the most important part of our ride quality test. Every rider had his or her preference with motor engagement (meaning not everyone will always be happy with their bike setup), but we think Juiced did a really good job of tuning out RipCurrent S to satisfy most riders.
Hopefully, this review of the RipCurrent S's ride quality helps you get a clear sense of what you can expect when you hop on this bike. To see our ride quality video on this bike check out this link.
Juiced RipCurrent S Review: Summary / Where to Buy
To me, it feels like the folks at Juiced had a clear picture in mind when they designed the RipCurrent S a few years ago: make it powerful, make it fun. The 1000W motor is a big deal to riders and shows how the company is not afraid of being bold in their designs. It's a romping good time, but remember to check if your riding locations have restrictions on e-bikes with motors larger than 750W, for this could limit where you can ride.
The RipCurrent S is competitive in performance, while also keeping the price down. The RipCurrent S appears to be armed with an amiable assortment of components for a good ride.
There isn't much about this bike that we think we'd change, except for giving owners a 3-amp charger to help fill up the larger-than-most battery would be nice.
Thanks for reading this review of the Juiced RipCurrent S. To learn more about current pricing and how to order this bike, please click the link above. Feel free to leave feedback below.
Happy Riding! Make sure to let us know if you have any questions down in our comments section or if you think we left anything out in this review of the Juiced RipCurrent S.
Reader Interactions