Juiced Bikes RipCurrent S Electric Fat Bike Review Part 2: Ride & Range Test [VIDEO]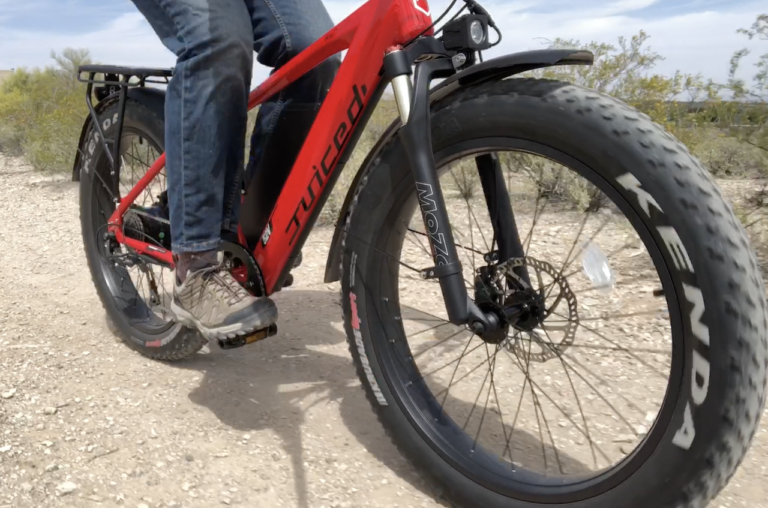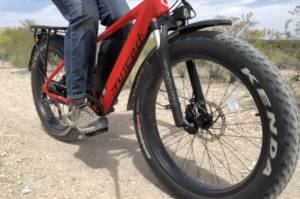 The Juiced Bikes RipCurrent S is a fast, powerful, and stable eFat bike that is a solid daily commuter and off road adventurer.
It is an eFat bike that has impressive range capabilities along with high performance riding of up to 28 mph with pedal assist.
With pricing starting at $1,699 the RipCurrent S packs in a lot of value with the solid aluminum frame, high capacity battery, powerful Bafang motor, Shimano drivetrain, hydraulic disc brakes, and full accessory package.
In this second part of the full review you will get an idea of the ride characteristics, range test results, pros, cons, and overall thoughts on this electric bike.
Make sure you check out part 1 of this review with large pictures and specifications to get a detailed look at this e-bike.
What you can expect from the RipCurrent S
To get acquainted with the Juiced Bikes RipCurrent S, checkout this video:
Riding the
RipCurrent S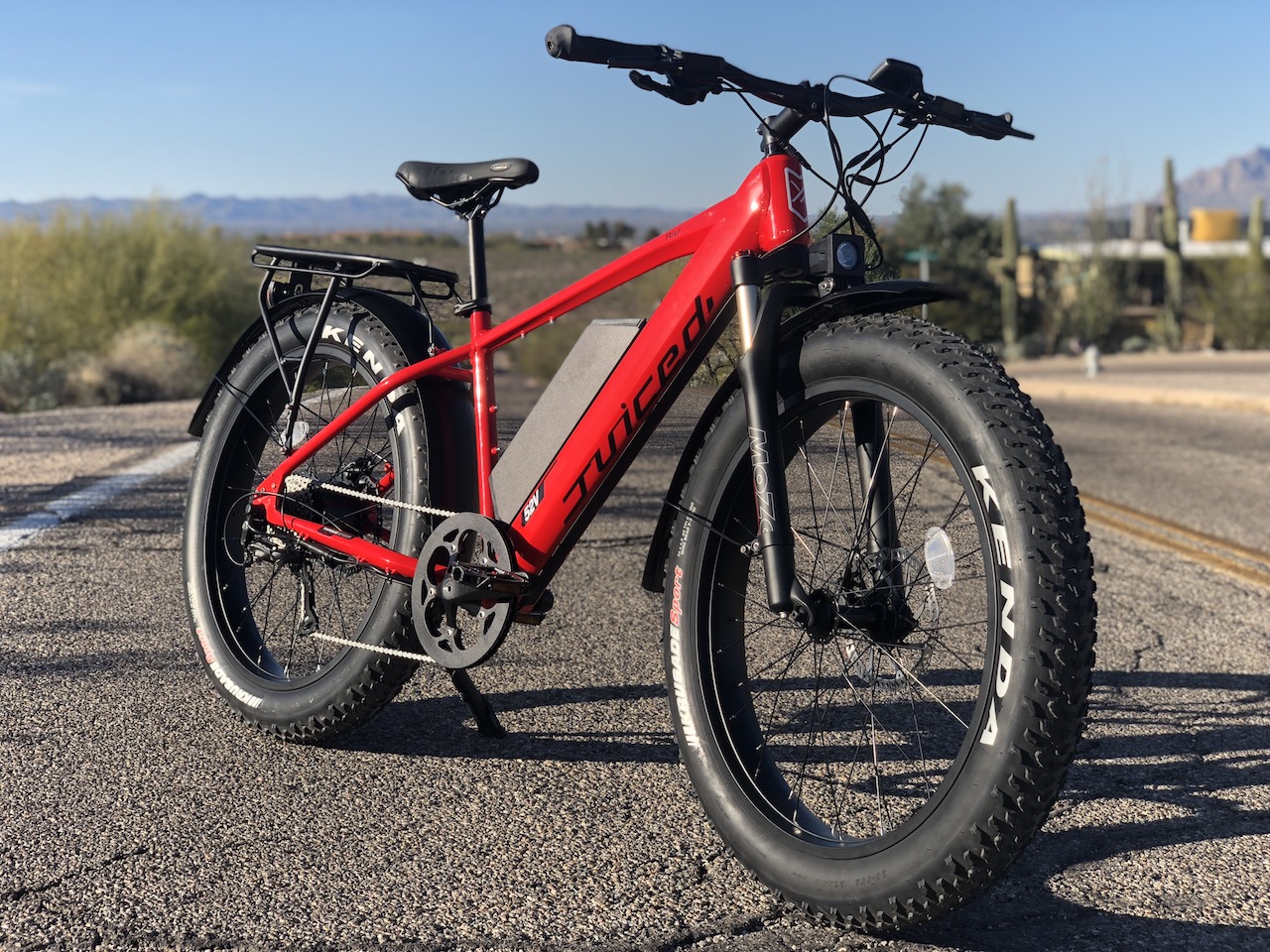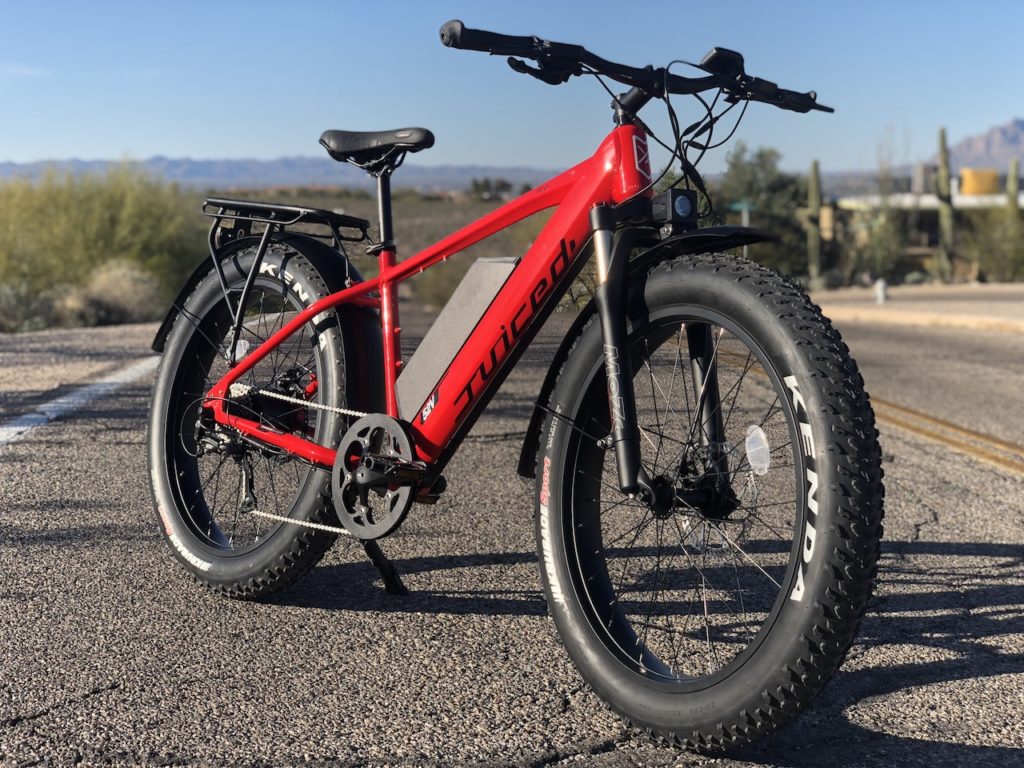 Overall there are some characteristics of the Juiced Bikes RipCurrent S that really stand out when riding this electric fat bike. To summarize they are:
4″ wide tires for a super stable ride in all conditions
Powerful 750 watt motor with pedal assist, throttle, & cruise control
3 battery options with a lot of range
The Look & Feel of the RipCurrent S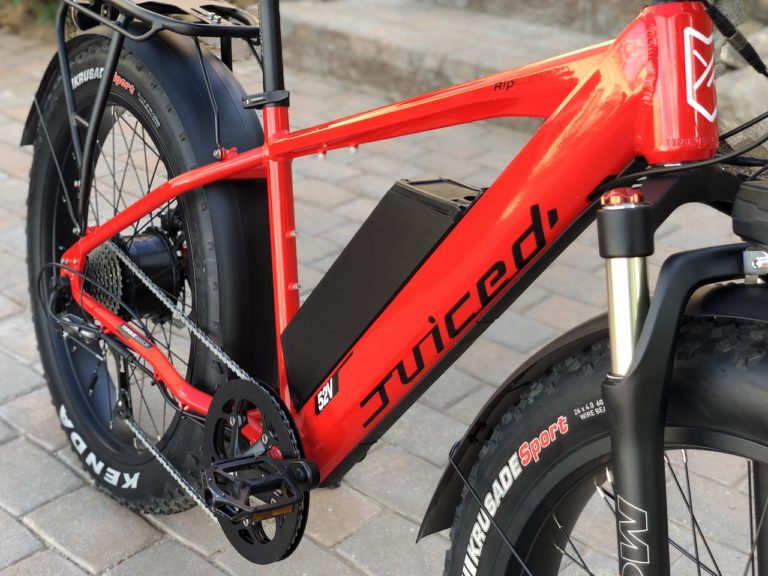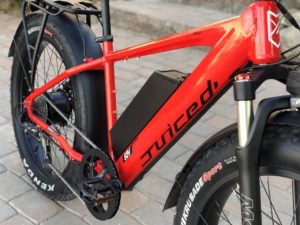 The RipCurrent S definitely has a bold look, especially in the bright red color!
The 4″ wide fat tires, large battery, and wide handlebars give the RipCurrent S a stout look and feel.
Also, for a fat eBike it has a unique look with its full accessory package that is ready for the daily commute.
Those accessories can also be very useful when out exploring new areas.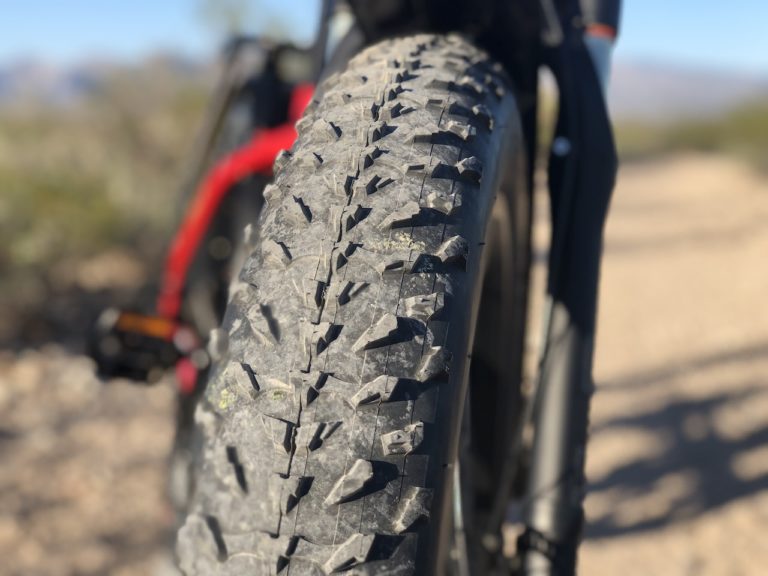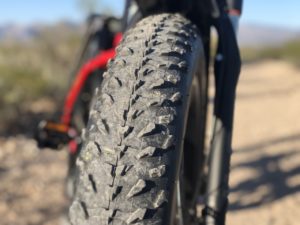 The frame is constructed of hydroformed aluminum tubing that has been shaped to mold around the large tires, integrate the high capacity battery into the downtube, and provide a solid overall structure.
There are 3 different frame sizes that are offered:
Medium 16.5″: fits 5′ 5″ to 5′ 9″
Large 18″: fits 5′ 8″ to 6′ 1″
X Large 20″: Fits 6′ 0″ to 6′ 4″
It is impressive to see a fat eBike offered in so many different size options.
The 4″ wide Kenda Krusade Sport tires have substantial clearance in the frame and fork to clear mud and snow.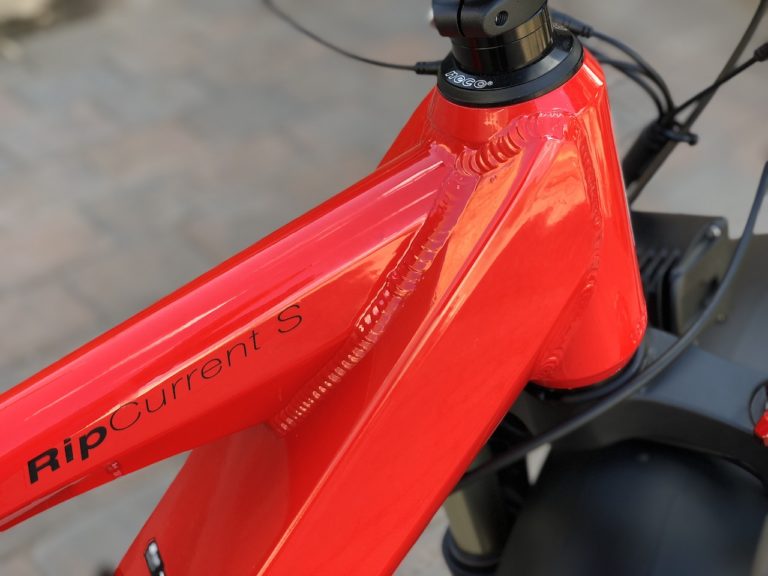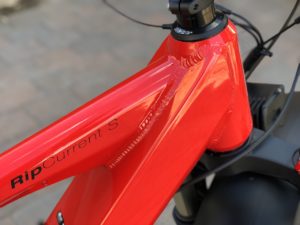 The large rectangular downtube houses the high capacity lithium battery for good centered and low weight distribution. This is an ideal location for the handling characteristics of the bike.
The downtube also makes up a solid structural element as it wraps around the headtube and creates a large platform for the top tube connection.
Juiced Bikes is all about high capacity lithium batteries and the RipCurrent S is offered in 3 different battery options.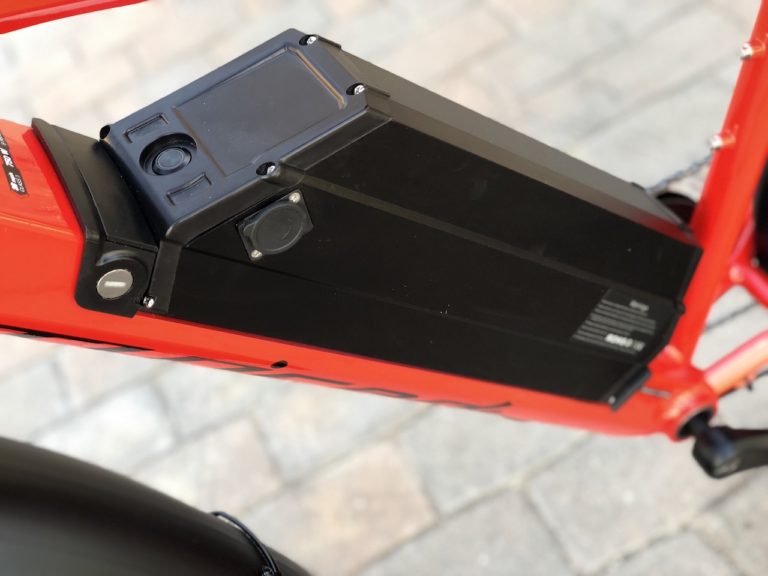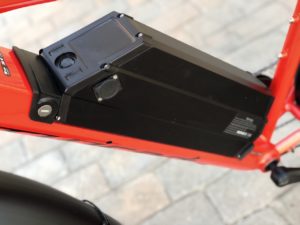 The following pricing is for the complete bike with that battery option.
48V 13ah 624 Wh lithium battery: $1,699 USD
48V 19ah 920 Wh lithium battery: $1,999 USD
52V 21ah 1.092 Wh lithium battery w/ GPS tracking: $2,999 USD
One unique frame feature is the easy access internal cable routing in the downtube of the frame.
There is a rubber gasket that runs down the bottom center of the downtube and it can be removed for easily accessing the cable routing if needed.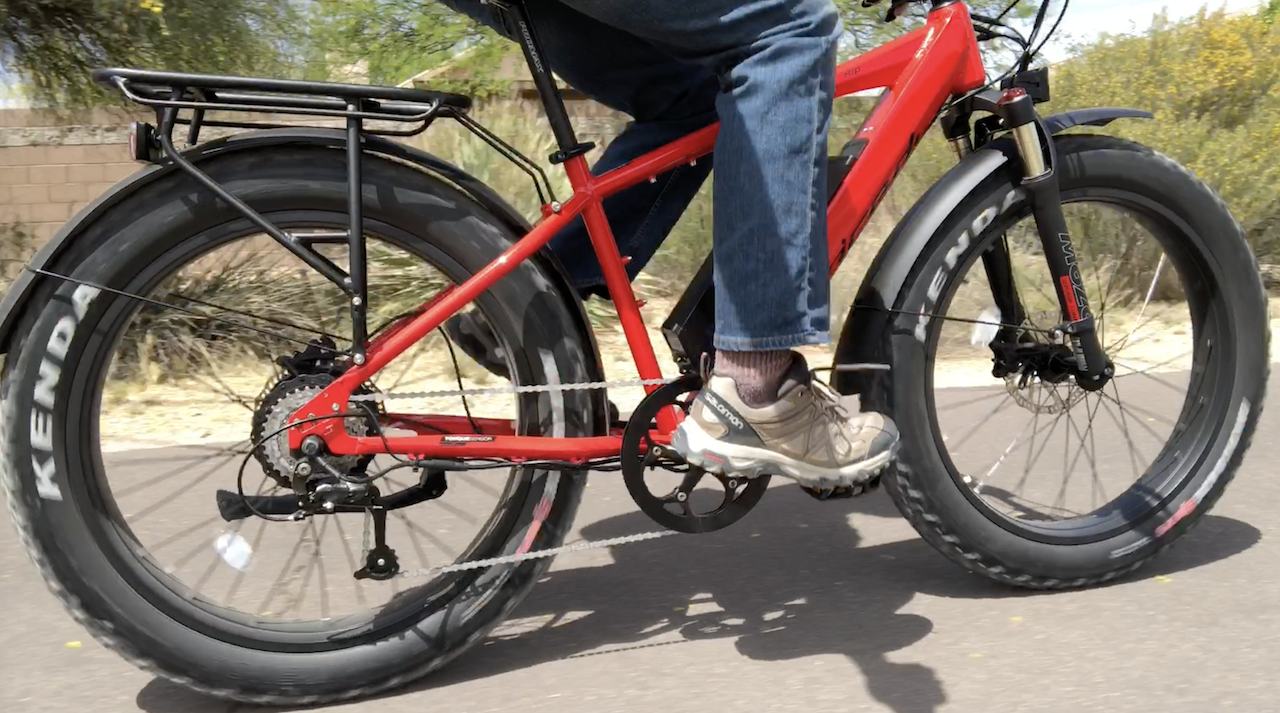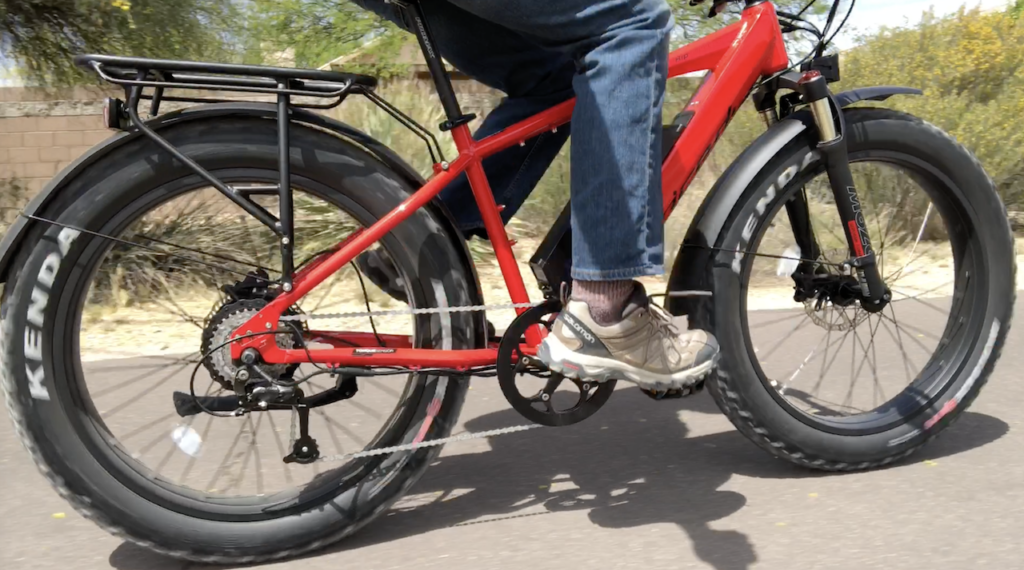 The Juiced Bikes RipCurrent S is a very stable bike with its large 4″ wide off road tires.
Fat tires have so much air volume that there is a significant amount of built in suspension effect to the tires themselves when they are run at lower pressures.
The lower pressures also help with the tires ability to mold over rough terrain and provide an amazing amount of traction.
In addition to the built in suspension and amazing traction, fat tires can also handle sand and snow better because the large tire patch that contacts the ground can "float" on the terrain compared to cutting into it like a narrower tire.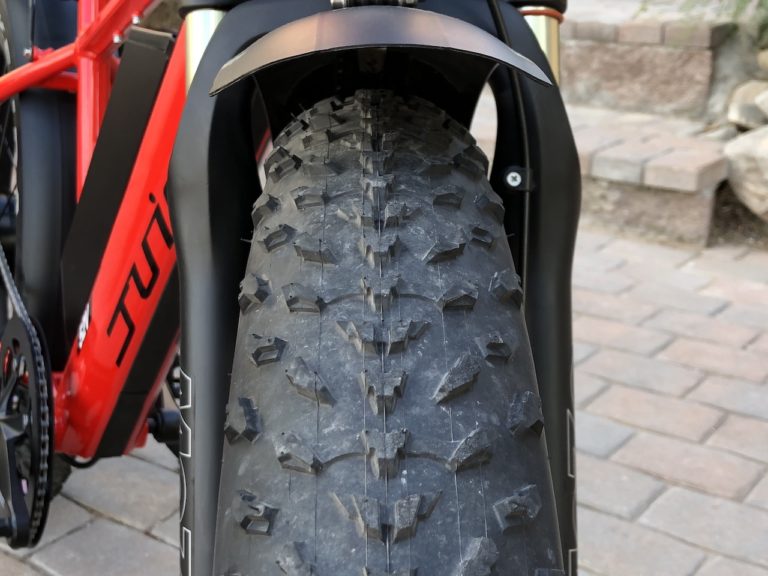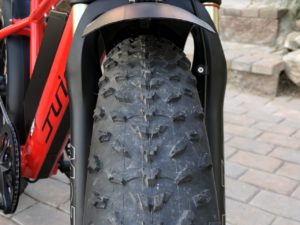 Here are some tire pressure recommendations for different terrain:
Sand and Snow: + or – 8 psi
Hard pack to muddy roads/trails: 12-15 psi
Urban riding: 20-30 psi
It is important to experiment with the different tire pressures for the terrain you are riding while considering your weight and riding style. 1 or 2 psi can make a big difference in the way a fat bike feels.
If you are running them at the lower tire pressures the bike does feel a bit sluggish in the corners when compared to traditional mountain bike tire sizes.
It is when carving into a turn that is most noticeable because you can feel the larger mass of these big wheels as you are cornering.
This video compares the attributes of a Fat bike vs. Plus (2.6″ to 3″ wide) bike tires.
The outer diameter of a Fat bike tire is relatively close to a traditional 29er tire diameter so they can roll over a lot of obstacles well and the built in suspension helps to absorb rocks and roots.
Another benefit is that pinch flatting the tube is much less likely than narrower tires because of that large air volume that can absorb impacts without pinching the tube on the rim.
In addition the Juiced Bikes RipCurrent S can be set up with a tubeless system that eliminates the inner tube and pinch flat potential. A tubeless system (Orange Seal for example) uses tape to seal the rim and a sealant to seal many voids in the tires, including cuts from small objects like thorns, glass, and other small objects.
Now let's take a closer look at the ride position of the Juiced Bikes RipCurrent S.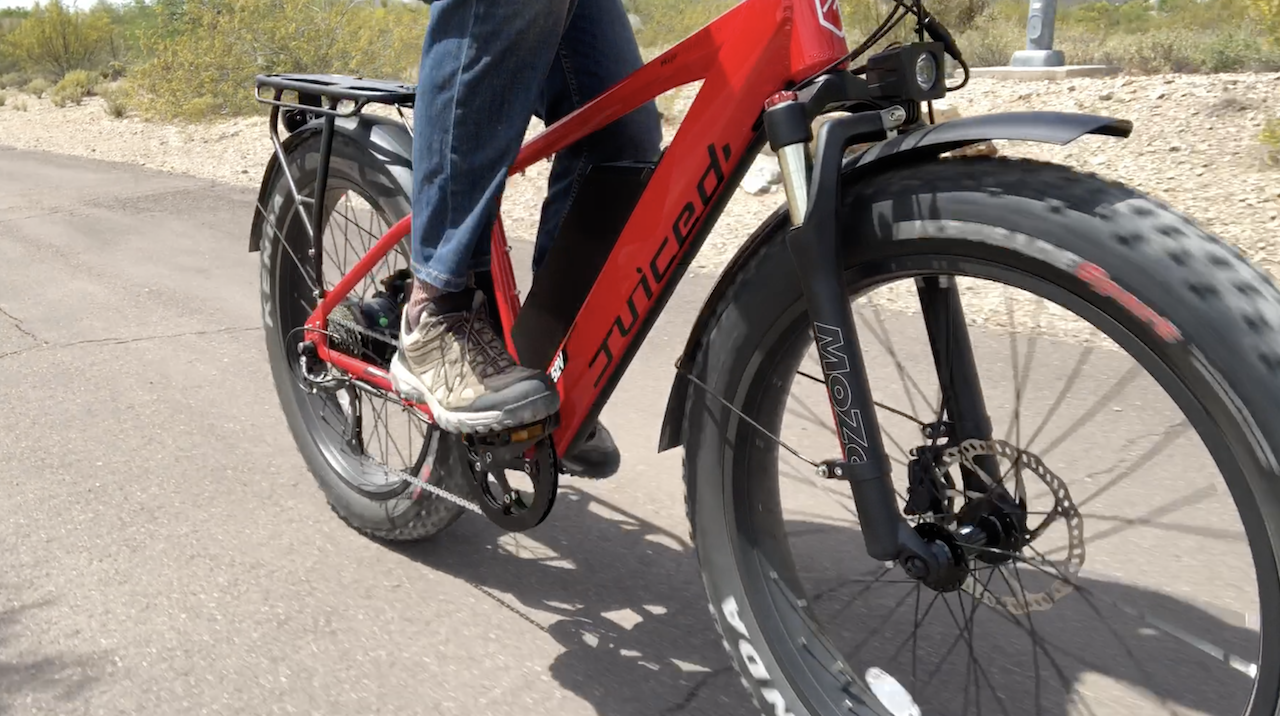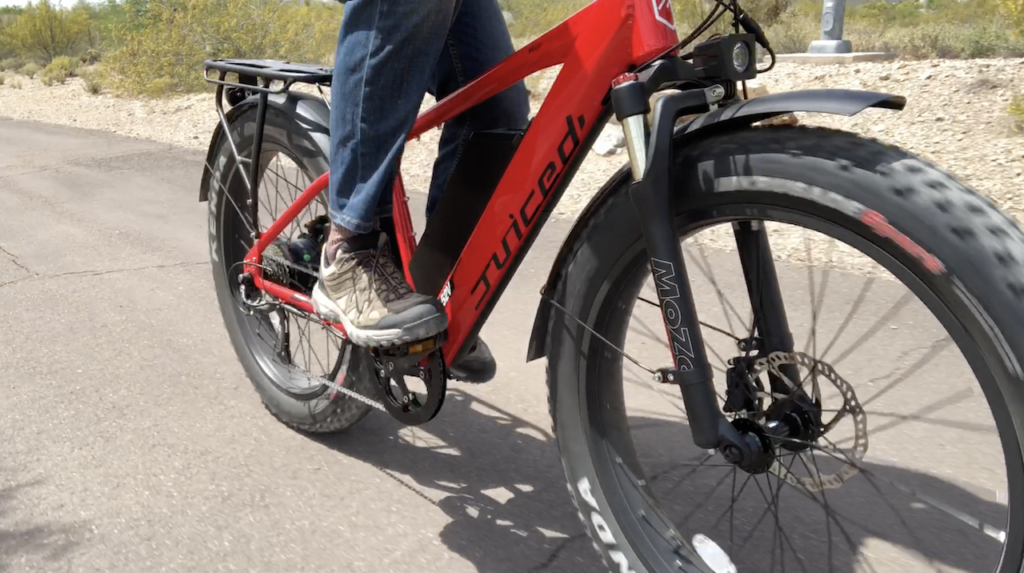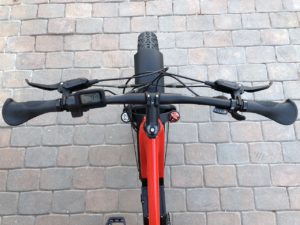 The RipCurrent S does have a performance style ride position that is slightly hunched over. If you want a more upright position an adjustable stem can be added for shorter reach and a higher handlebar height.
Wide handlebars and the fat tires create a feeling of solid stability. The lock on ergonomic grips also provide a stable ride feeling and the "wings" offer wrist support.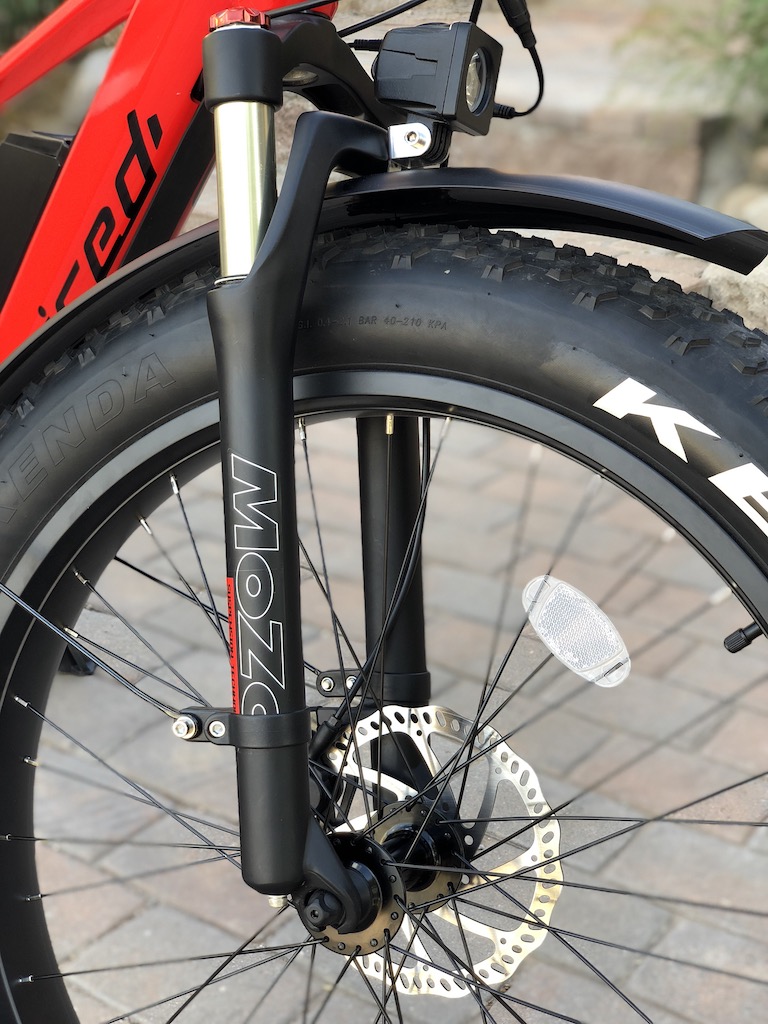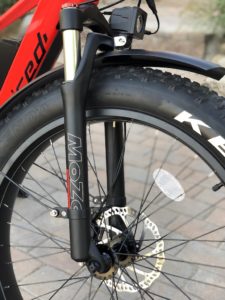 While the 4″ wide fat tires do provide a lot of built in suspension there is also a MoZo 80mm (3.2″) travel suspension fork that smooths out some of the rougher terrain.
The MoZo fork feels smooth and it is highly adjustable with its air spring to fit your weight and riding style.
There is a lockout dial on the left side of the fork that makes riding more efficient on smooth roads by preventing the fork from moving up and down when you are standing out of the saddle and pedaling hard.
At the back of the bike is the Selle Royal Lookin gel saddle that is a performance style with a relatively narrow width. The gel provides quiet a bit of cushion and it is comfortable for a lot of riding conditions.
If you want to add even more suspension Juiced Bikes offers a suspension seatpost in their accessory line up. At the higher speeds it is nice to have a suspension seatpost to smooth out the ride.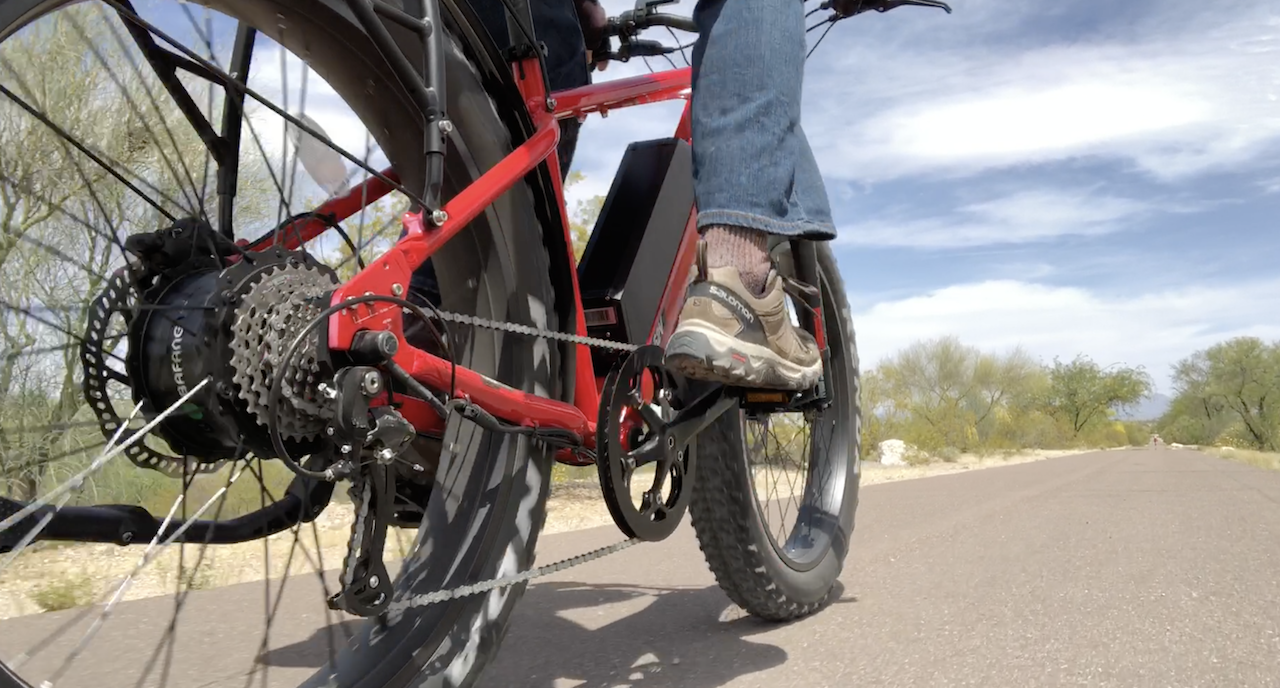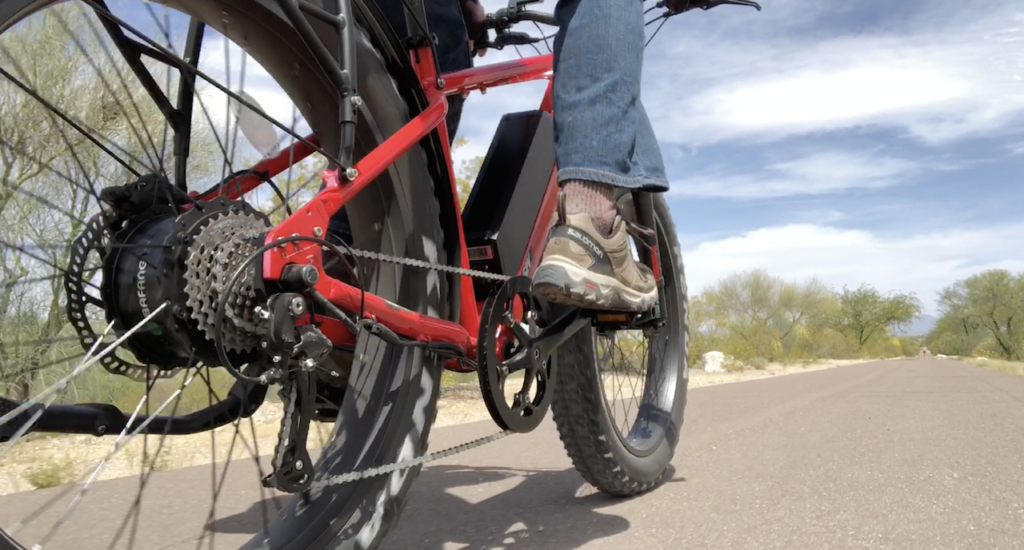 Now let's take a look at the electric assist system.
Juiced Bikes went with a powerful 750 watt Bafang geared rear hub motor to add pedal assist and/or throttle assist to the RipCurrent S.
The Bafang motor provides up to 80 Nm of torque for handling tough off road terrain and quick accelerations.
The powerful 750 watt motor does a good job of getting up to 28 mph quickly in the higher pedal assist modes and it also really helps when riding in power robbing sand or snow.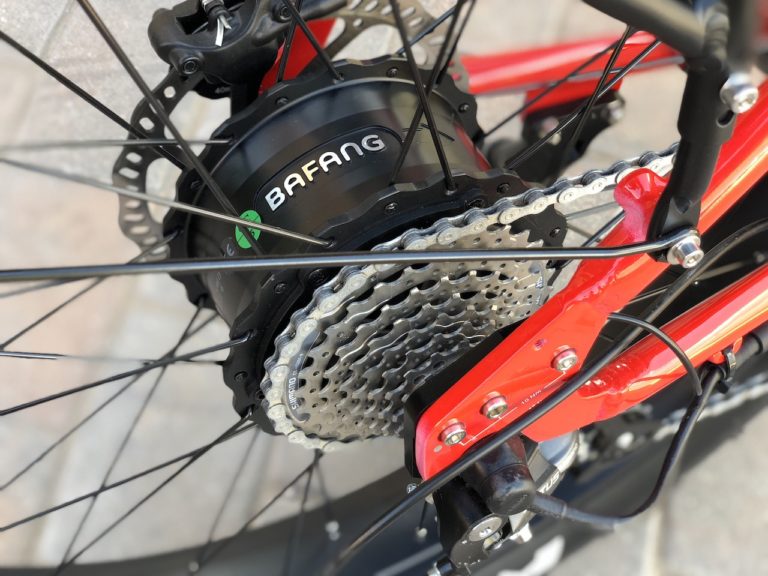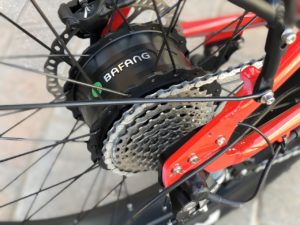 In the Class 3 setting the RipCurrent S can maintain impressive speeds (~25 mph) on moderate climbing grades.
The motor does create some noise that is typical of most geared hub motors. At the higher speeds the noise dissipates a little with the wind noise.
There are 5 levels of pedal assist that are adjusted with (+) and (-) buttons on the display: ECO, 1, 2, 3, Sport
In addition to a cadence sensor, the RipCurrent S also uses a torque sensor to provide the proportional assist.
Torque sensors measure your pedal power and provide a proportional assist based on the pedal assist level you are in.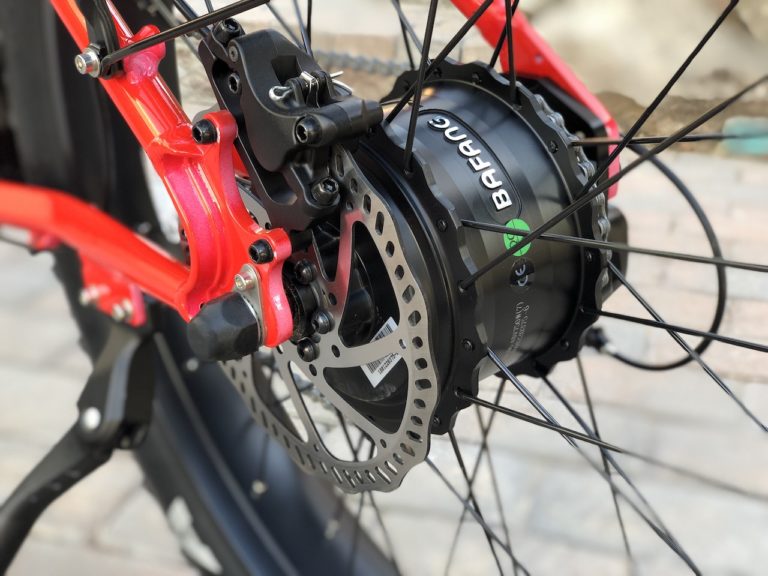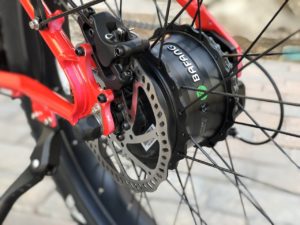 This is an intuitive way to blend the motor power with your pedal power.
The assist kicks in pretty quickly once you start pedaling but it does continue to assist for a second after you stop pedaling which can be a strange sensation if you are not used to it.
Levels ECO and 1 are pretty mellow assist and they are well suited for leisurely cruising around the neighborhood, in congested areas, or when riding technical terrain.
Levels 2 and 3 definitely provide more of a solid boost and they can really give you consistent power for climbing moderate hills.
The Sport level is the turbo boost! It provides quick acceleration up to 28 mph and it can maintain the ~25 mph when climbing significant hills. This level also drains the battery the quickest!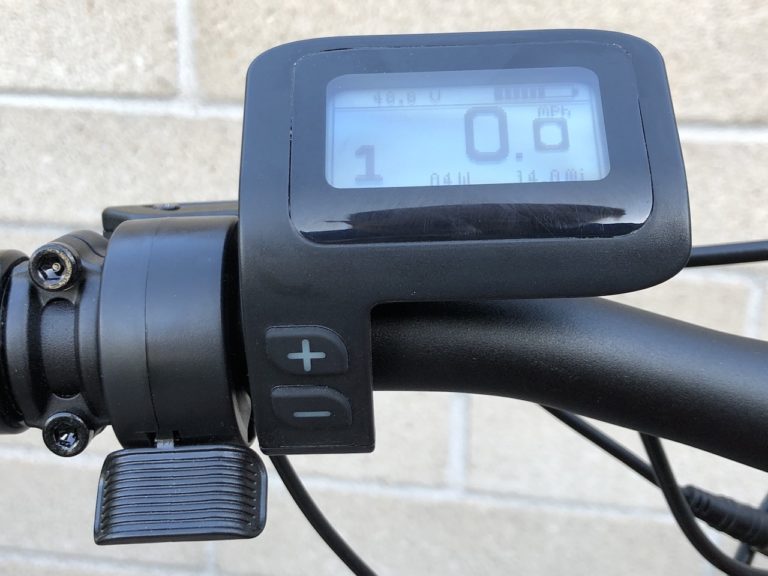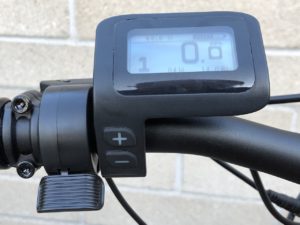 There is also a thumb throttle that can be used with or without pedaling.
In fact it can add a "Throttle Assist Boost (TAB)" to the pedal assist feature for help with accelerating from a stop to get through an intersection quickly.
The throttle feature will provide power up to 20 mph. You can use the pedal assist up to 28 mph if you are in an area where a Class 3 electric bike is allowed.
The thumb throttle has a lot of variability in its range from just a little assist all the way up to a bunch of power all at once.
In addition to pedal assist and the throttle the RipCurrent has a few other unique features like cruise control and walk mode.
The cruise control can be set at any speed below 20 mph and is deactivated when the brake is applied, pushing any button on the display, or when adding any additional throttle.
I found that to be a nice feature when riding on wide open roads with long stretches without stop signs or stop lights.
The walk mode is useful when walking with the bike uphill or up stairs. It provides up to around 3 mph of assist for climbing.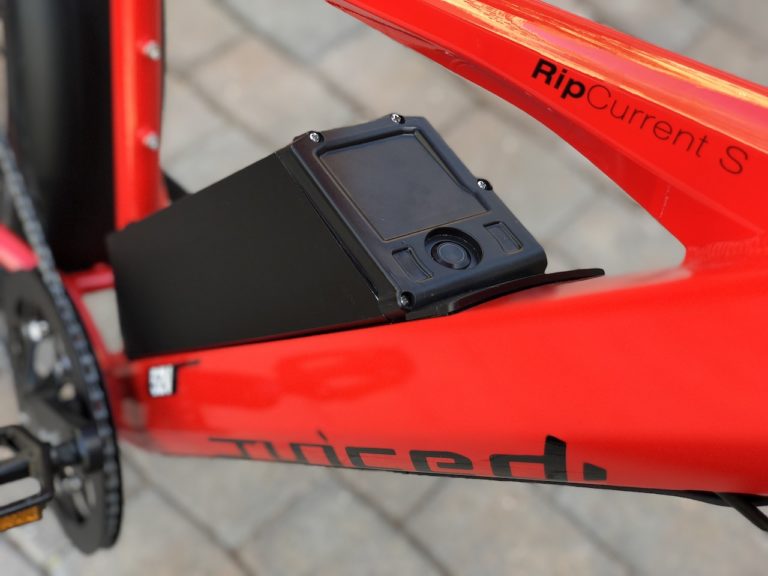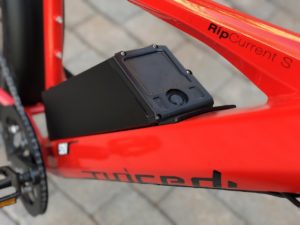 Next up is a closer look at the high capacity battery options that Juiced Bikes offers with the RipCurrent S.
The high capacity battery packs is a big highlight for the RipCurrent S as well as many Juiced Bikes.
Here are the battery capacity options with pricing for the whole bike:
48V 13ah 624 Wh: $1,699 USD
48V 19ah 920 Wh: $1,999 USD
52V 21ah 1,092 Wh w/ GPS tracking: $2,999 USD
The 48V battery options offers a lot of range at an economical price when compared to other eBikes in the market.
The 52V system adds more speed and more torque and a lot of capacity for more range. See the range test results later in this review.
The 52V 21Ah lithium battery also comes with GPS tracking built in.
With an app (Windows, Mac, iOS, Android) you can locate the bike if it is stolen. You can also set up a motion trigger, Geo fence trigger, and speed threshold trigger with alerts sent via text, push notifications, or email.
There are also other useful features offered with the GPS tracking. Here is more detailed information on the 52V battery.
The battery is located in an ideal location on the downtube for low and centered weight distribution. That helps with overall handling of the bike.
The 48V 19ah battery weighs 9.6 pounds and the 52V 21ah battery weighs 12.6 pounds.
With the battery removed the RipCurrent S weighs 64.5 pounds and the total weight with the 48V 19ah battery is 74.1 pounds and the total weight with the 52V 21ah battery is 77.1 pounds.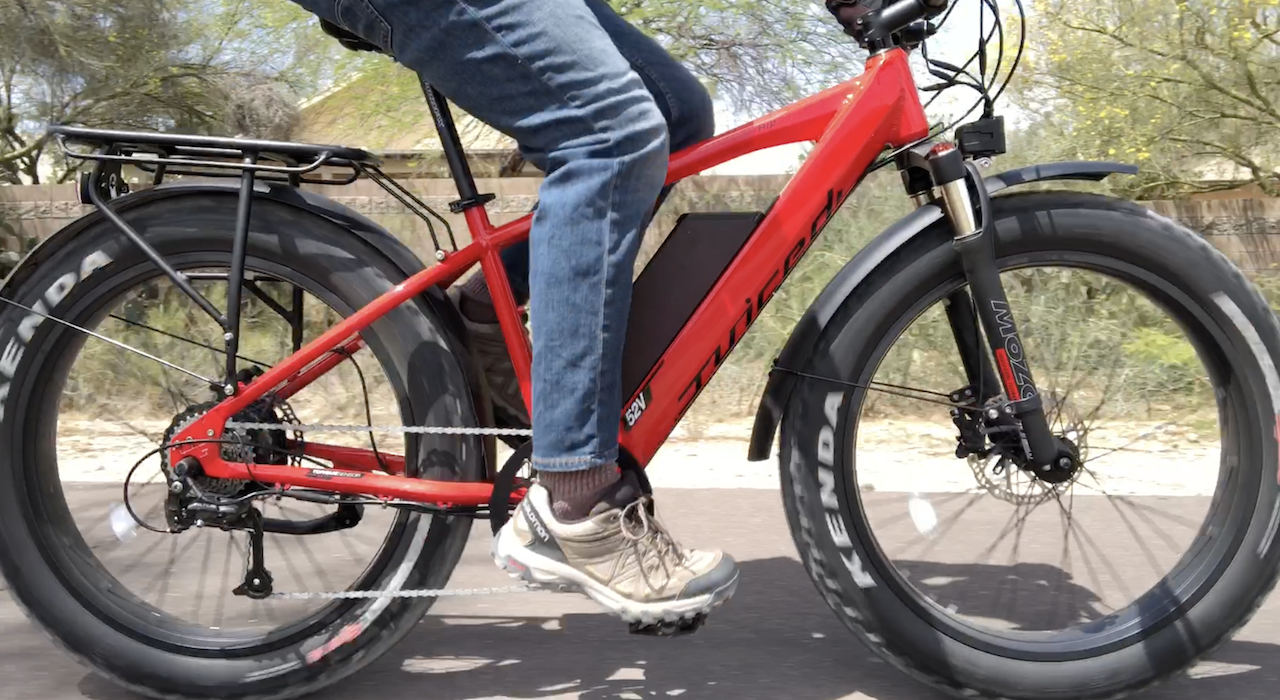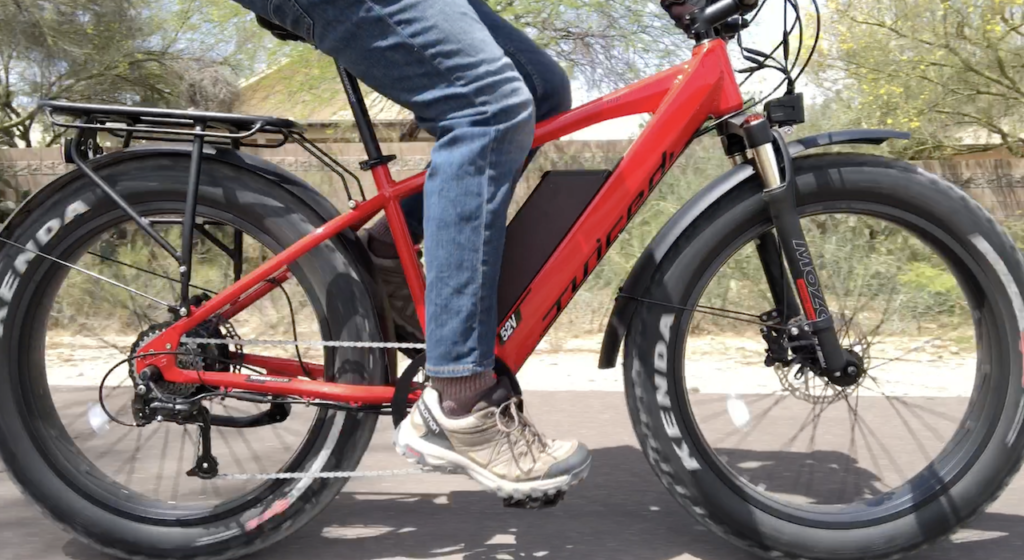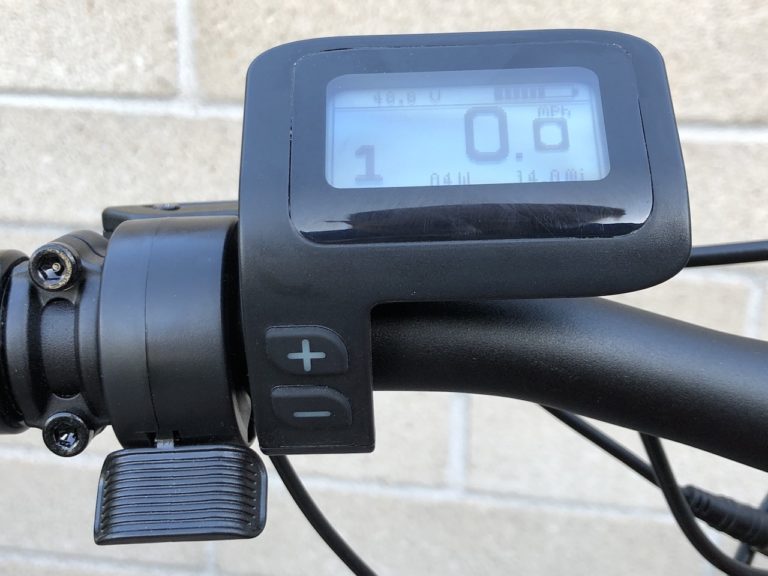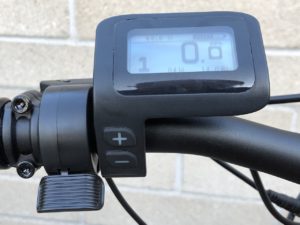 Okay, now let's take a look at the control center for the Juiced Bikes RipCurrent S.
The left side LCD display provides information on:
Battery level & voltage
Trip distance
Current speed
Pedal assist level. There are 5 levels of pedal assist: ECO, 1, 2, 3, Sport
Watts that the motor is providing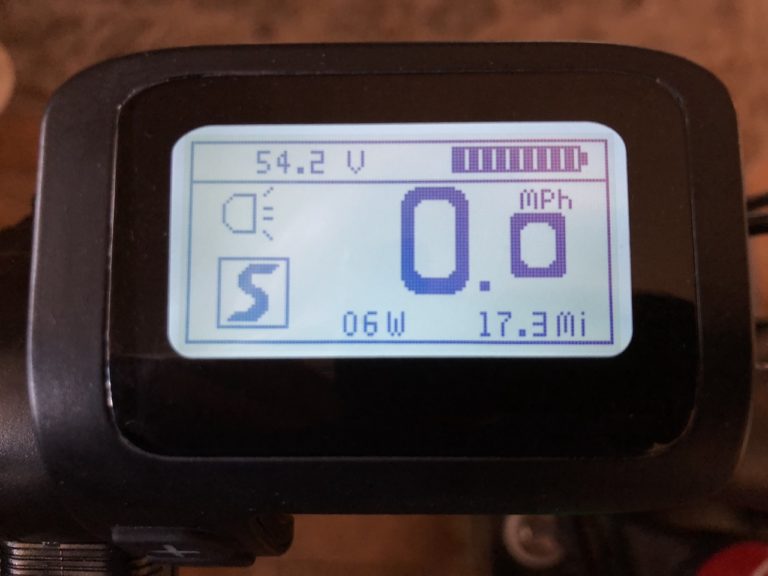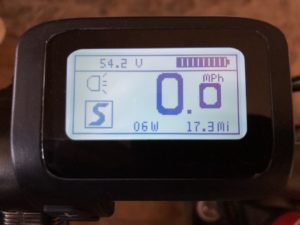 There is a backlit option for riding in low light and it can be turned on by holding the + button on the control pad for a few seconds.
That also turns the headlight on.

The speed, pedal assist level, and battery level are pretty easy to see but the rest of the information is in small text that is pretty difficult to see at a quick glance while riding.
If you really want to geek out the display has a second screen (Advanced Display Mode) that gives you more stats on the bike. Here is a look at that additional info:
It is interesting to look at these different stats while riding the bike to see how your pedal power changes what the assist system is providing.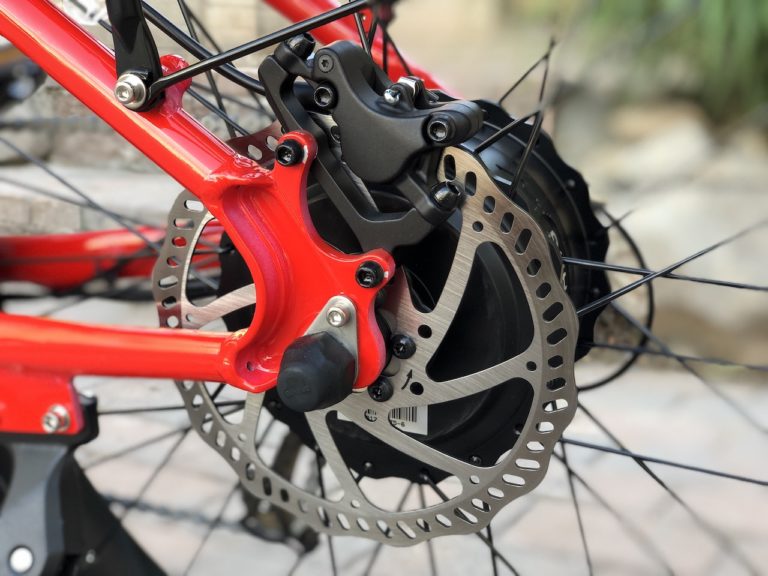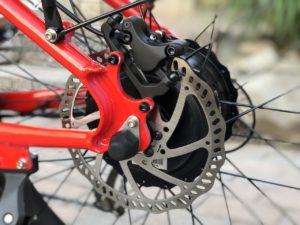 To keep the speed in check Juiced Bikes went with a hydraulic disc brake system from Star-Union.

This is a lesser know brand in the bike world but the brakes do provide substantial stopping power with that solid feeling that hydraulic brakes are known for.
There are 180mm disc rotors front and rear and that is a good size considering that they are slowing down very large wheels front and rear.
The brake levers have sensors that will stop the motor assist when the brakes are engaged.
There is brake lever reach adjustment feature that helps to fit the levers to your hand size.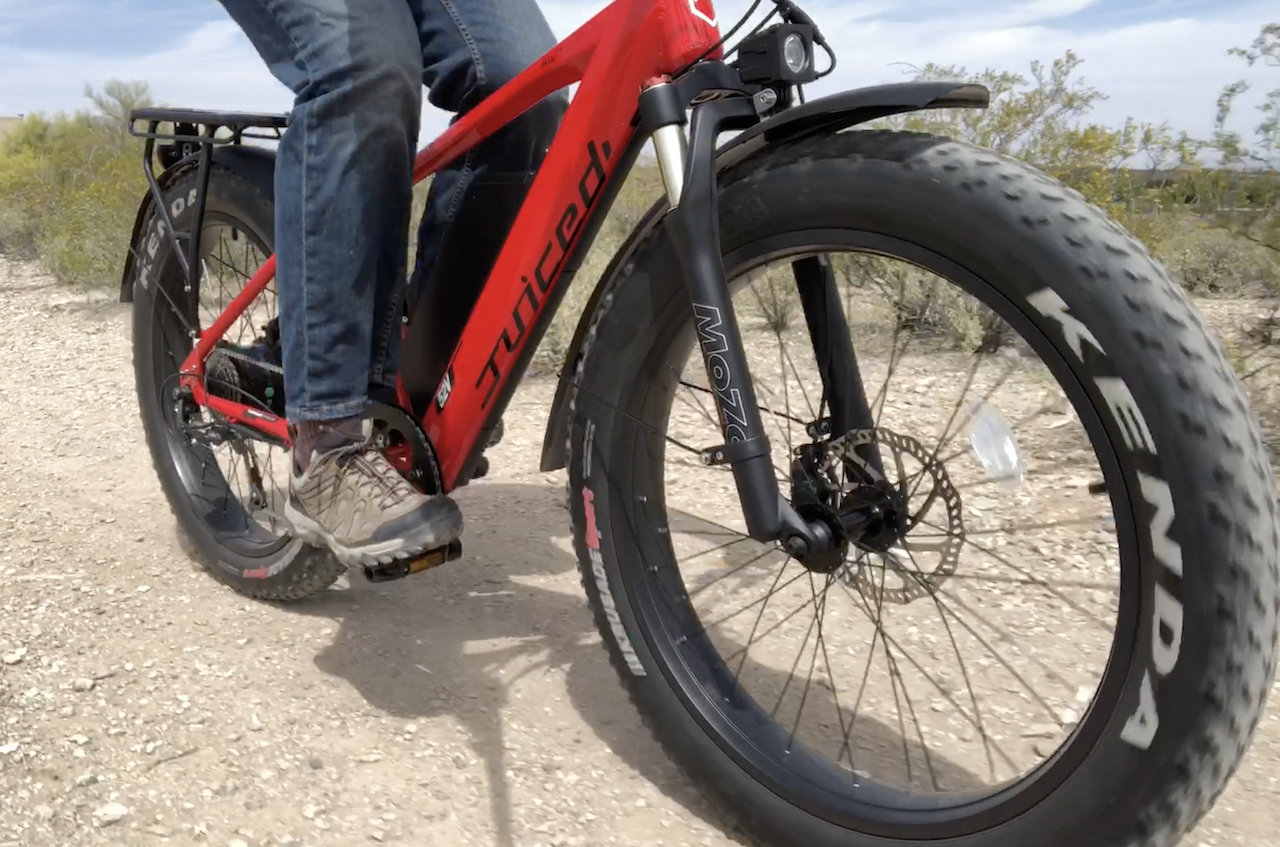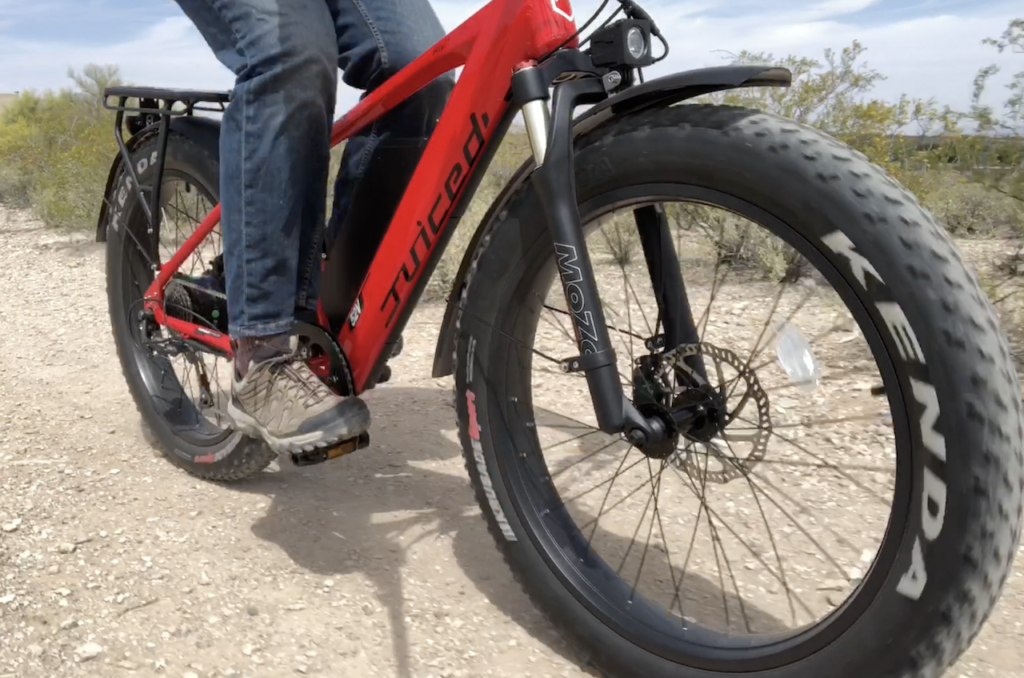 The accessory package is another highlight of the RipCurrent S that really sets it up to be a solid commuter and adventure eBike.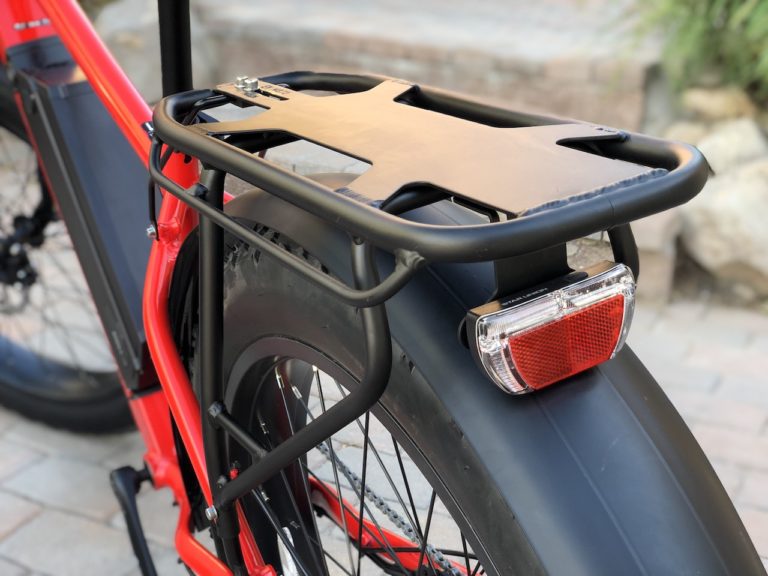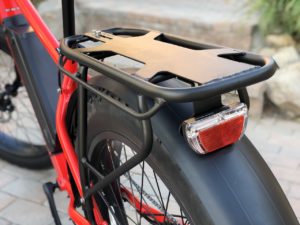 Full coverage plastic fenders are nice for riding in wet weather and they add some style to the bike.
The rear aluminum rack is set up to carry bags and/or baskets on the top and sides.
There is a 1,050 lumen headlight that does good job of lighting the road and it runs off of the eBike battery so you don't have to worry about charging it separately.
A rear LED taillight attached to the rear rack and it has solid and flashing modes for being visible on the road. It runs off of 2 AAA batteries.
Okay, let's see how the Juiced Bikes RipCurrent S did out on the open road!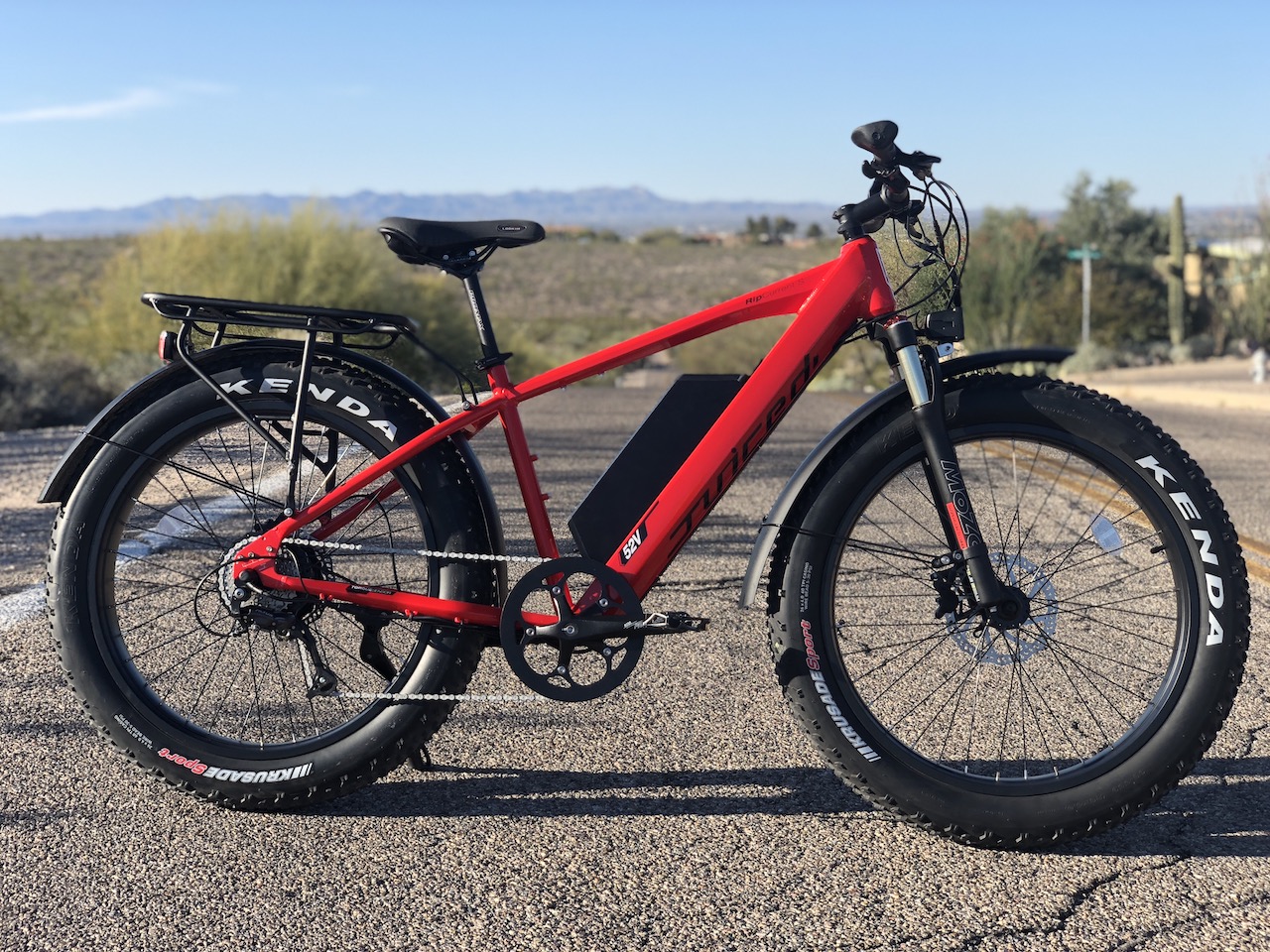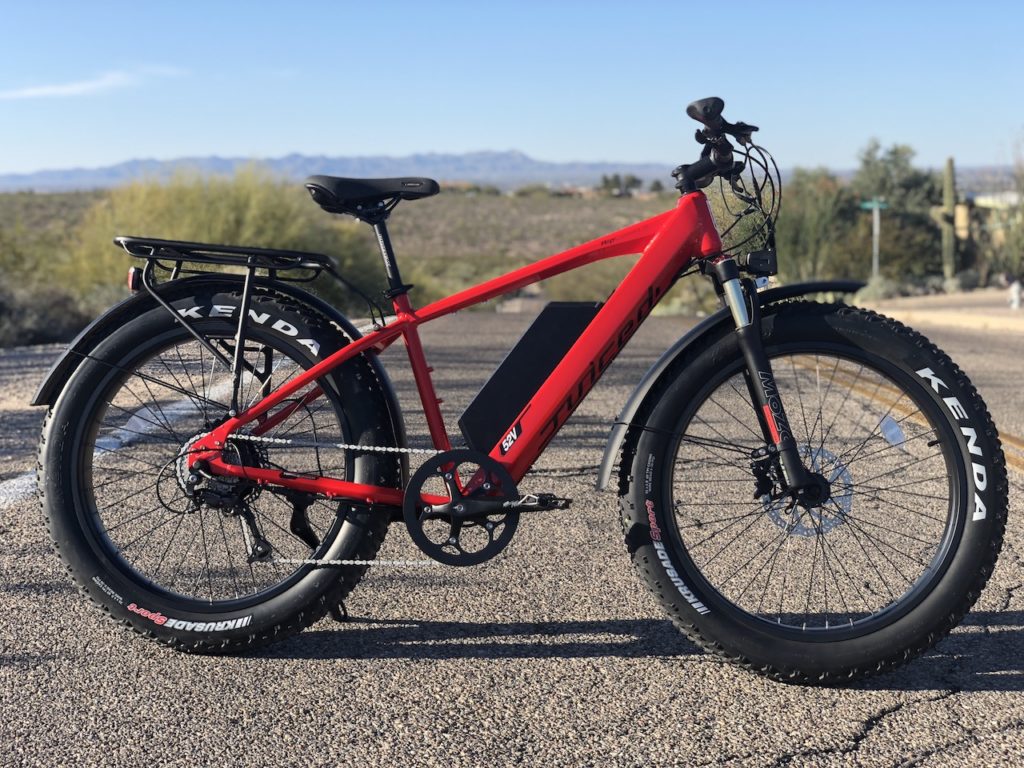 Juiced Bikes RipCurrent S Range Test Results:
Here is the real world information on how the RipCurrent S electric bike performed on a riding circuit that includes hills, flats, traffic, wind (when available) etc.
While testing these bikes I like to put them through the toughest conditions to see where their bottom line is in regards to range and speed. I tested the RipCurrent S in the highest pedal assist level (Level S) with average pedaling on paved roads.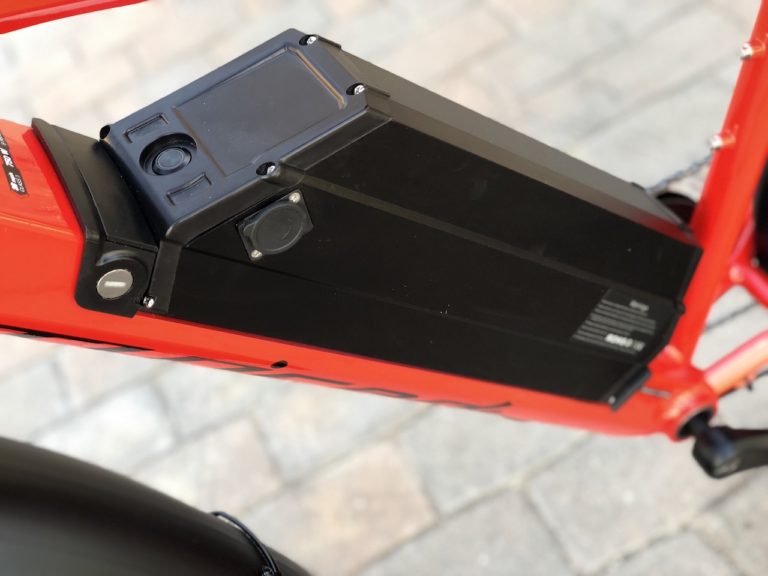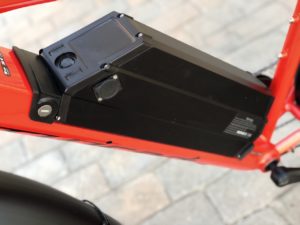 Range: As you can see from the GPS info that I recorded, the RipCurrent S traveled 43.3 miles and did a total elevation gain of around 3,300 ft. Considering that I weigh 190 lbs and I pedaled with an average pace this is good range for a eFat bike (4″ wide off road tires) with a 52 Volt 21 ah battery pack (1,092 Watt Hours) with a 750 watt motor assisting up to 28 mph.
Watt hours are the total energy in a battery pack and it is based on the volts x amp hours of a pack. This is a way to compare the size of the "gas tank" of electric bikes.
Please keep in mind that if you pedal more, weigh less than me, ride slower and/or you use the bike in terrain that is not as hilly you will get more range. These results are from tough testing.
Speed: The Juiced Bikes RipCurrent S will assist up to 20 mph with pedal assist only and/or throttle (Class 2 eBike). For areas where it is allowed it can be set to a Class 3 configuration of pedal assist only up to 28 mph.
Weight: The RipCurrent S tips the scales at 77.1 lbs (with the heaviest battery 52V 21ah) which is on the heavier side for an electric bike. Removing the battery brings it down to around 64.5 pounds.
The weight distribution of the RipCurrent S is somewhat back heavy because the motor is in the rear wheel while the battery is low and centered on the bike.

Pros:
Powerful eFat Bike: The RipCurrent is a fast and powerful eBike with its 750 watt motor and up to 28mph of pedal assist. That power can be useful for flying around town and for powering through sand, snow, etc.
Impressive Range: Juiced Bikes is all about high capacity batteries and the RipCurrent S comes with 3 impressive battery options that can deliver a lot of range. This is impressive because fast eFat bikes are not the most efficient bikes on the market and the high capacity battery options help to offset that.
Price: With a starting price of $1,699 the Juiced Bikes RipCurrent S offers a lot of value with its large battery, powerful 750 watt motor, solid aluminum frame, suspension fork, hydraulic disc brakes, and full accessory package. The other price points are also impressive for the size of battery that comes with the bike.
Cons:
Heavier: At 77.1 lbs (with the heaviest battery 52V 21ah) this is on the heavier side for most electric bikes. Removing the battery helps a little but it is still 64.5 pounds.
Motor Noise: The Bafang motor does make some noise that is typical of most geared hub motors. That motor noise dissipates a little as you get to the higher speeds due to wind and tire noise.
Conclusion: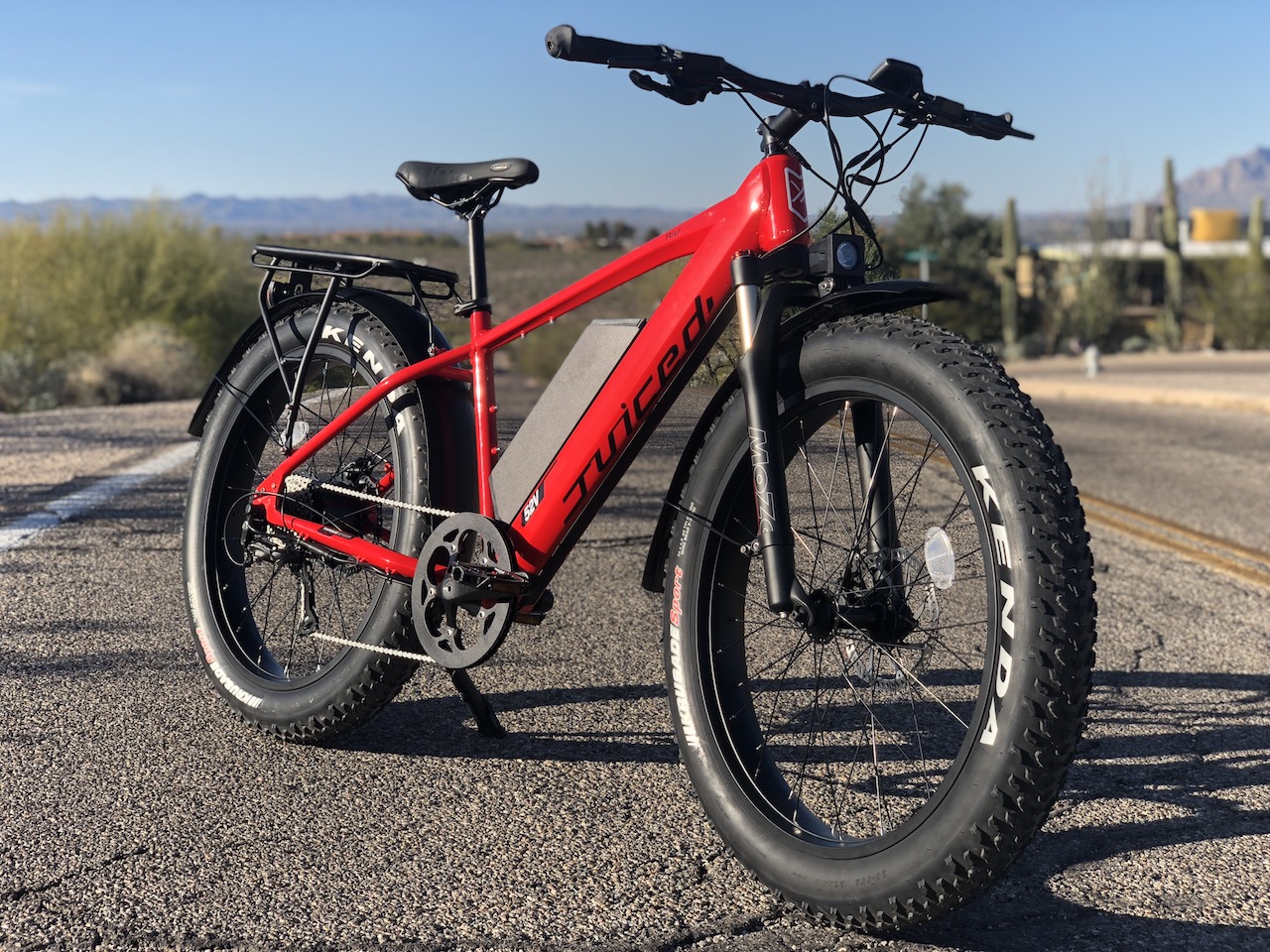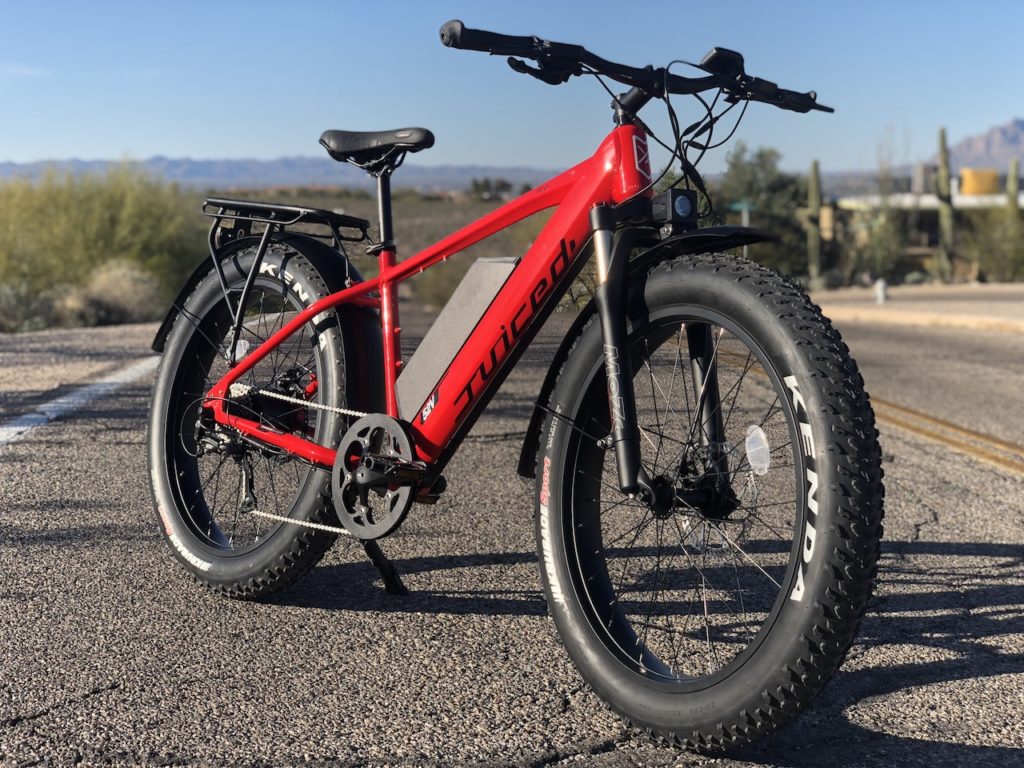 Overall the Juiced Bikes RipCurrent S is a fun and stable eFat bike that can be used in many ways from the daily commute to off road adventures.
With up to 28mph of pedal assist, high capacity battery options, and the 4″ wide high volume tires, the RipCurrent S is a commuter that stands out from the crowd.
The RipCurrent S value is impressive with the solid aluminum frame, high capacity battery, powerful Bafang motor, Shimano drivetrain, hydraulic disc brakes, and full accessory package.
The following is the pricing of each bike configuration with free shipping (lower 48 states) and monthly payment options as well.
48V 13ah 624 Wh lithium battery: $1,699 USD
48V 19ah 920 Wh lithium battery: $1,999 USD
52V 21ah 1.092 Wh lithium battery w/ GPS tracking: $2,999 USD
Please keep in mind that this is a relatively short term test. This testing can't really give you the long term review of durability and reliability. My thoughts on the quality of this bike are from previous experiences with similar bikes. If you own this bike and have some input on the long term durability, please share your comments with the Electric Bike Report community below.
Where to buy a Juiced Bikes RipCurrent S? Check with the Juiced Bikes website.

Do you have any questions about the RipCurrent S? Do you own a RipCurrent S? Please share your thoughts in the comment section below.
Thanks!
-Pete
Review Note: Each company pays a fee for a review on Electric Bike Report because of the considerable amount of time that it takes to provide an in-depth review of each eBike. A lot of time is spent on the full range test with distance & elevation profile, the wide variety of detailed pictures, in-depth video, and the write up with the specifications, ride characteristics, pros, cons, and overall thoughts. The reviews on Electric Bike Report are focused on providing you with a detailed "virtual" look at each eBike to help you determine if it is the eBike for you.
P.S. Don't forget to join the Electric Bike Report community for updates from the electric bike world, plus ebike riding and maintenance tips!
Reader Interactions