iGo Elite Electric Bike Review Part 2: Ride & Range Test [VIDEO]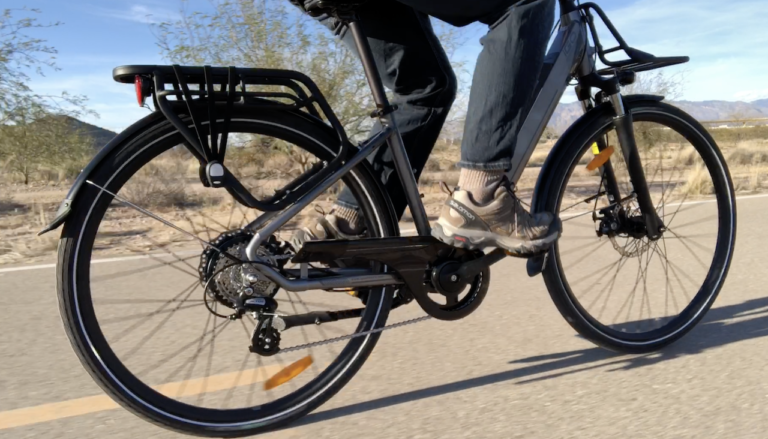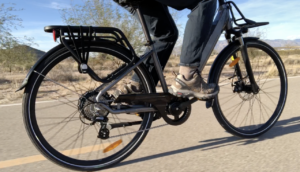 The iGo Elite is an easy riding step thru electric bike that is powerful, comfortable, and offers impressive range.
It's a very adjustable bike that can fit most people and their preferred riding styles.
The full assortment of accessories including sturdy front and rear cargo racks makes this an eBike that is ready for everyday commuting and fun rides.
At $1,799 the Elite offers a lot of value with all of its features and accessories.
In this second part of the full review you will get an idea of the ride characteristics, range test results, pros, cons, and overall thoughts on this electric bike.
Make sure you check out part 1 of this review with large pictures and specifications to get a detailed look at this e-bike.
What you can expect from the iGo Elite:
To get acquainted with the iGo Elite, checkout this video:
Riding the iGo Elite: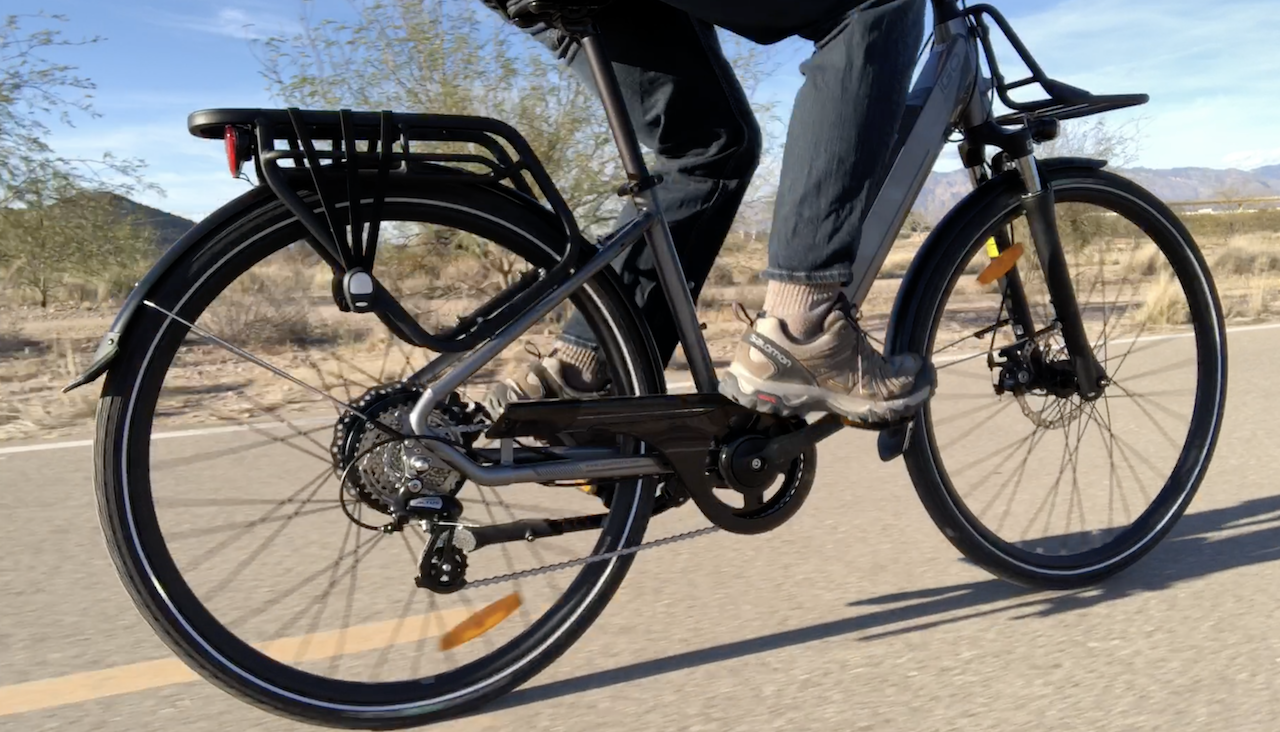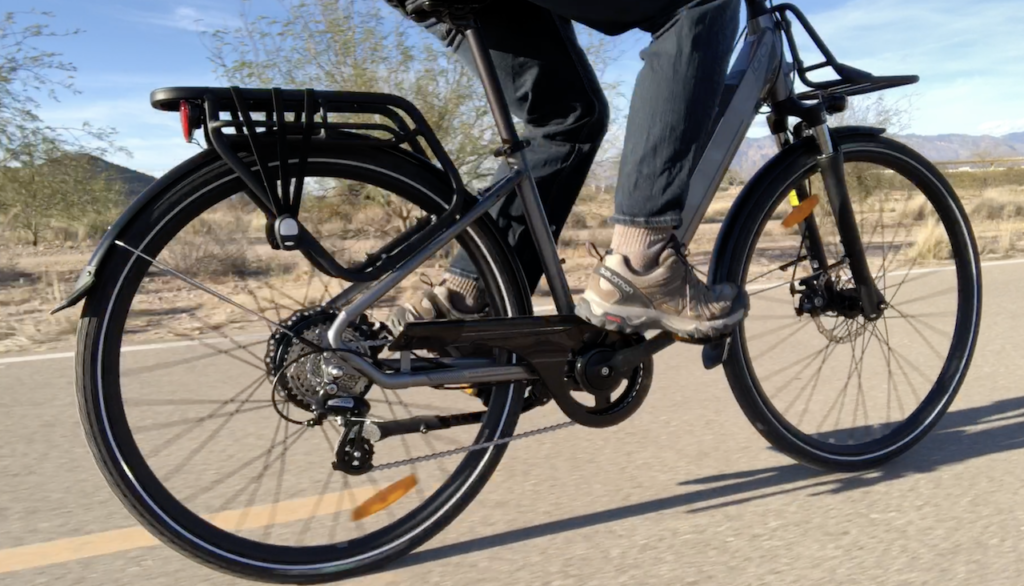 Overall there are some characteristics of the iGo Elite that really stand out when riding this step thru eCommuter. To summarize they are:
Easy get on and go step thru design
Powerful motor with impressive range for long commutes and fun rides
Very adjustable fit for a comfortable ride style
The Look & Feel of the iGo Elite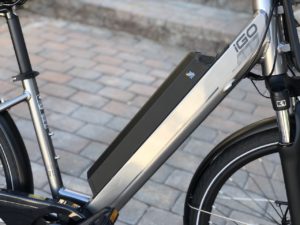 The new frame design is one of the biggest highlights of the Elite. It has a very large step thru area that makes it very easy to get on and off the bike.
iGo uses a single downtube with the clean integration of the 48V 13ah lithium battery built into the downtube.
That design has a very clean look and offers some protection of the battery in the frame tubing. The clean look is continued with internal cable routing through the large downtube of the frame.
Step thru eBikes are convenient for the ease of getting on and off the bike but for most designs it does create some additional flex in the frame with the elimination of the top tube found on triangle frame designs.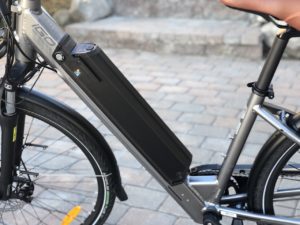 That flex is most noticeable when cornering quickly from side to side on the Elite. For many typical riding conditions it is not very noticeable.
Many iGo electric bikes, including the Elite, use their Ergofit design that will fit riders of either gender from 5'-0" to 6'-2" to be able to ride comfortably. iGo electric bikes are designed and tested in Montreal Canada.
The Ergofit frame design has a relatively short seat tube height with a long seatpost for a lot of variability for different leg lengths. The handlebar reach and height is easily adjustable with the Promax stem.
The widely adjustable fit works well for dialing in how you want the bike to fit you and it is also beneficial if you are sharing a bike with family members and/or friends.
I am 5′-11″ with a long inseam and the Elite fits me well.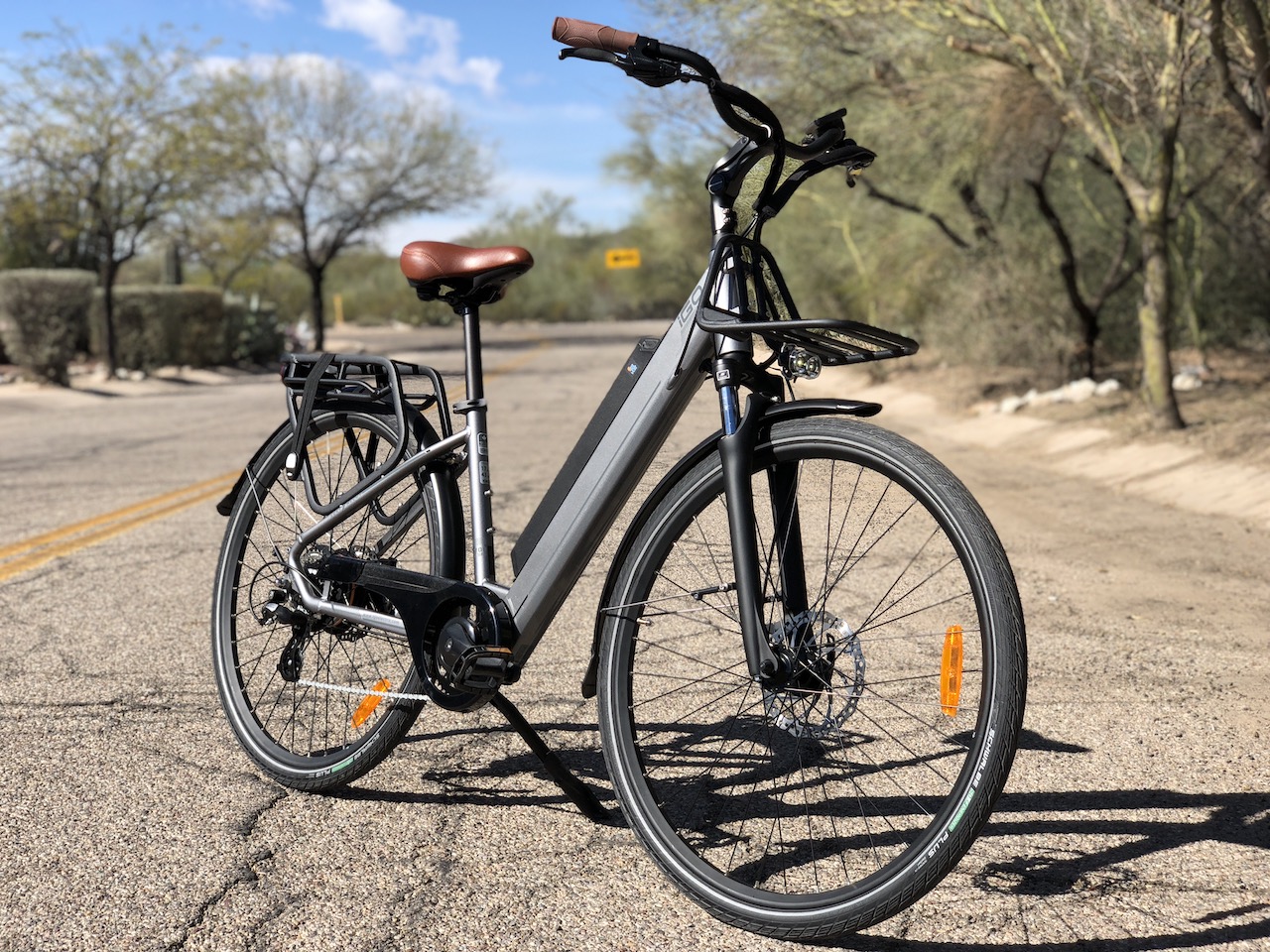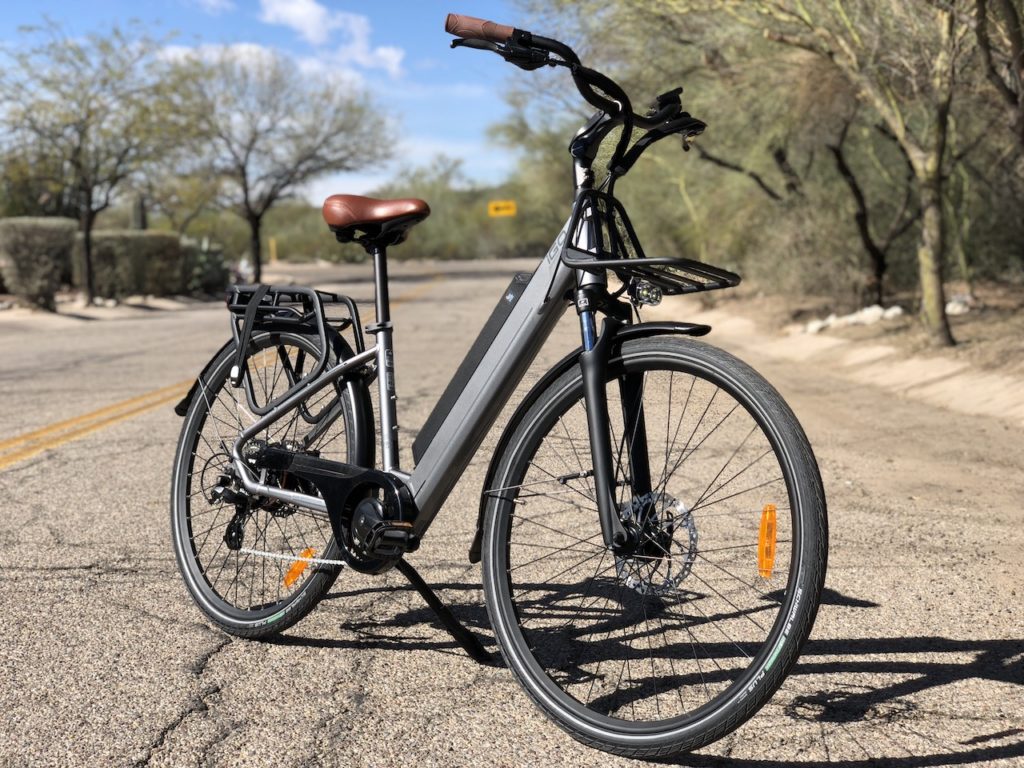 The general Elite ride position and feel is upright and comfortable. The upright position is very nice for seeing everything around you and for also being seen by others.
Upright eBikes provide a comfortable ride feel but they are not as efficient when compared to a more aerodynamic performance ride position (hunched over).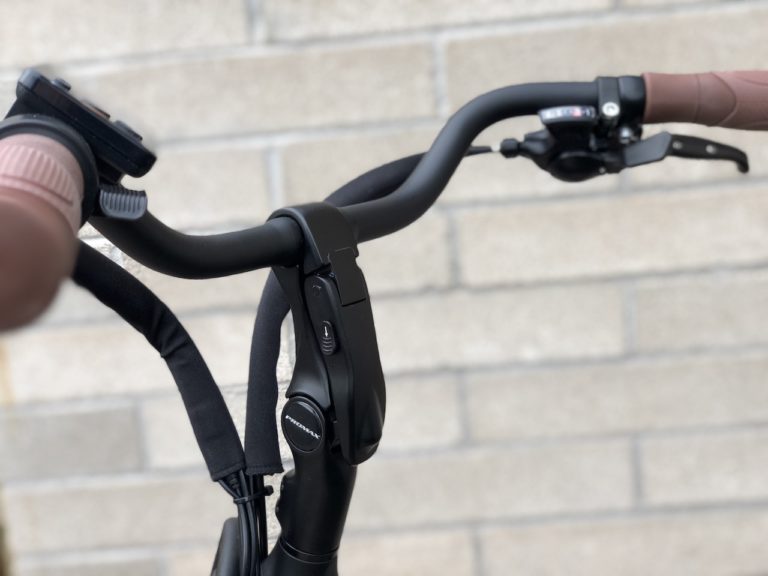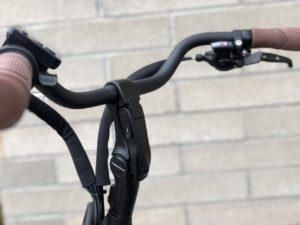 The Promax stem has a quick release lever that allows you to easily change the handlebar from a low and long reach position to very high with short reach and everything in between.
It is very easy to adjust the stem and that is helpful for trying different positions to find the one that is just right for your fit and comfort. Please see Part 1 for a closer look at the adjustable stem.
The swept back handlebars provide a solid feeling of control over the bike and they do have a couple inches of rise that contributes to that upright comfortable positioning.
The rubber grips have a comfortable cushion feel that also adds to the stable ride feel.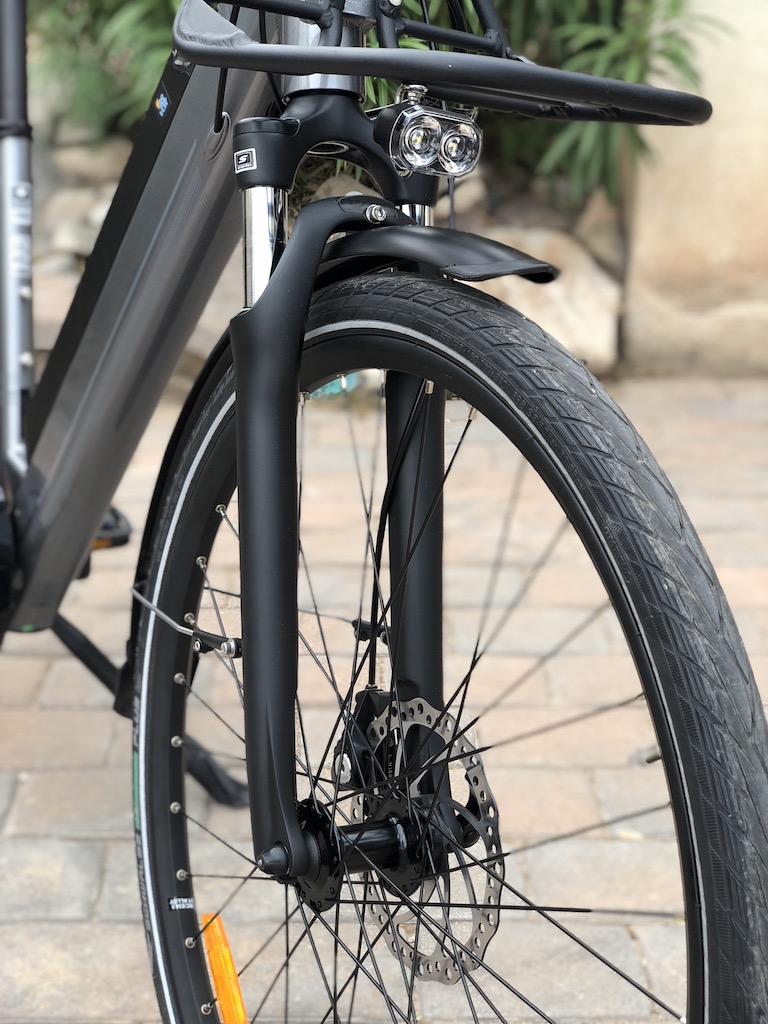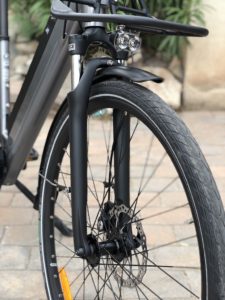 A Suntour suspension fork does a nice job of smoothing out rough patches in the road.
It has a very supple feel that absorbs a lot of small cracks and bumps in the road.
The seat has a mid width comfortable profile and the color and style matches the handlebar grips well.
If you ride on relatively rough roads a good upgrade for the Elite would be a suspension seatpost.
A suspension seatpost is a great match with a suspension fork and balances out the shock absorption on the front and back of the bike.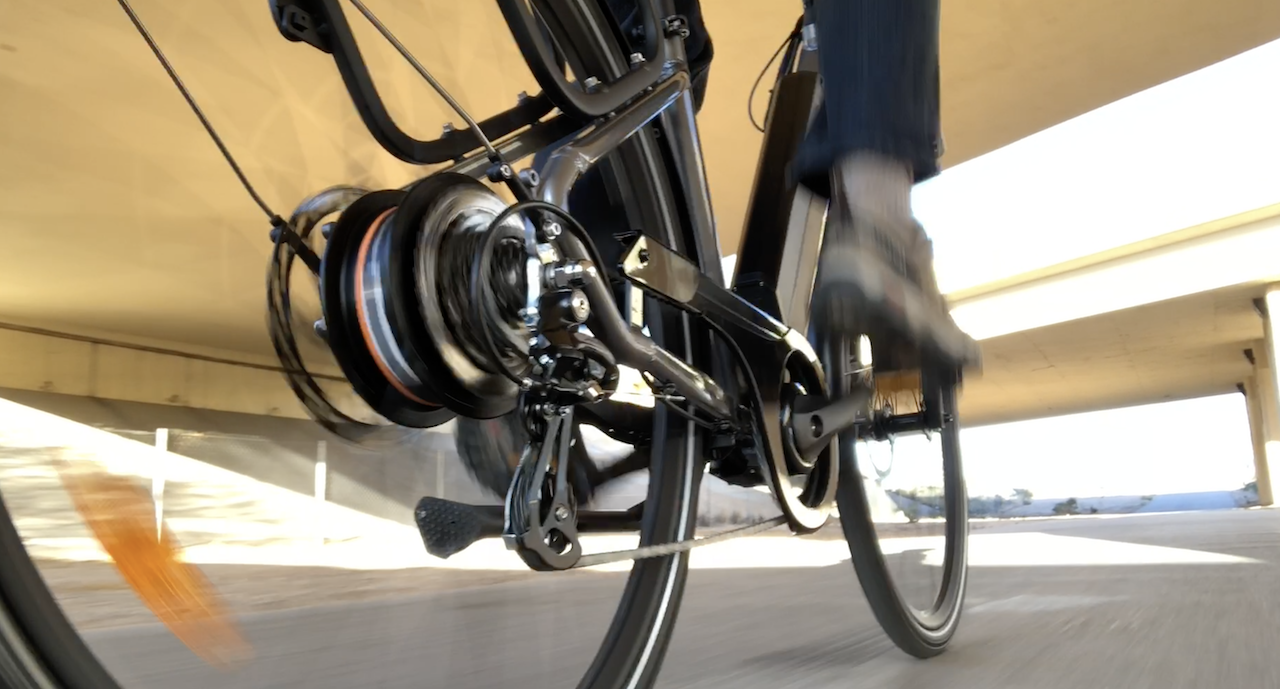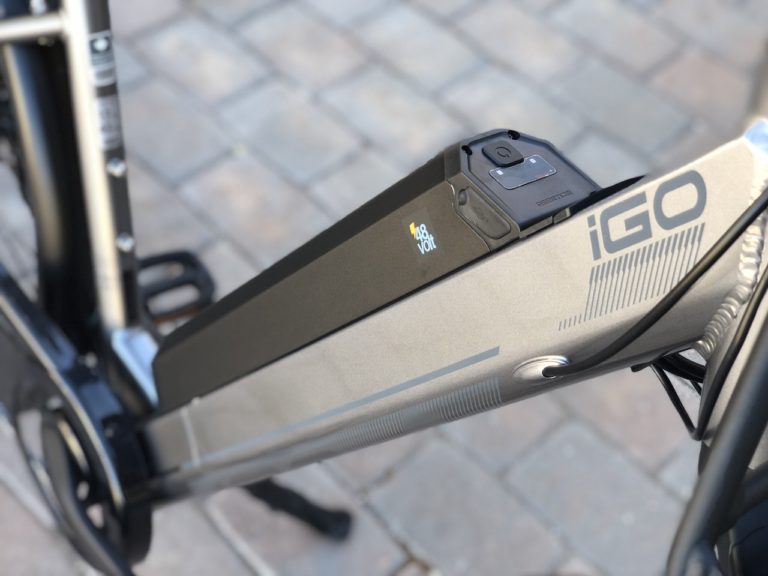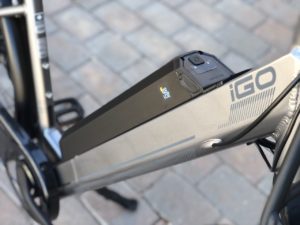 Now let's take a look at the electric assist!
A 500 watt geared rear hub motor with the 48V system provides a surprising about of kick at the higher assist/throttle levels.
The Elite can quickly get up to 20 mph and comfortably maintain that speed on moderate inclines.
The transition between adding and stopping assist is a bit abrupt at the higher assist levels. You can definitely feel the kick from the 500 watt motor as the assist is added to your pedal power!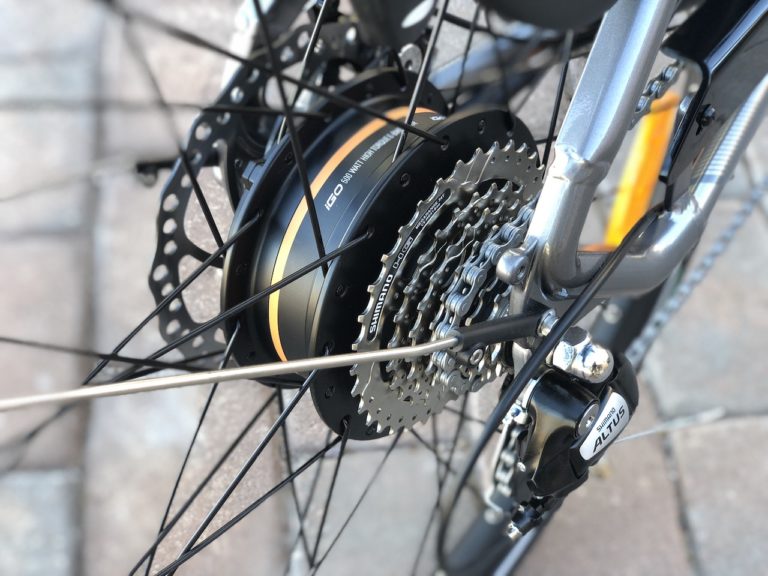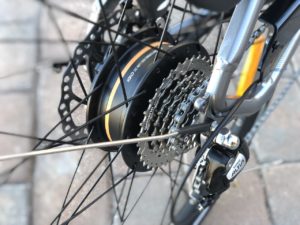 At the lower assist/throttle levels the Elite provides a more easy going ride feel and smoother transitions when the assist is added or stopped.
Like almost all geared hub motors there is a moderate amount of noise from the motor. It is mainly noticeable in the higher assist/throttle levels. At the lower assist/throttle levels you can only hear it when getting started.
iGo offers both pedal assist and throttle options with the Elite and with a max assist speed of 20 mph it makes the Elite a Class 2 electric bike.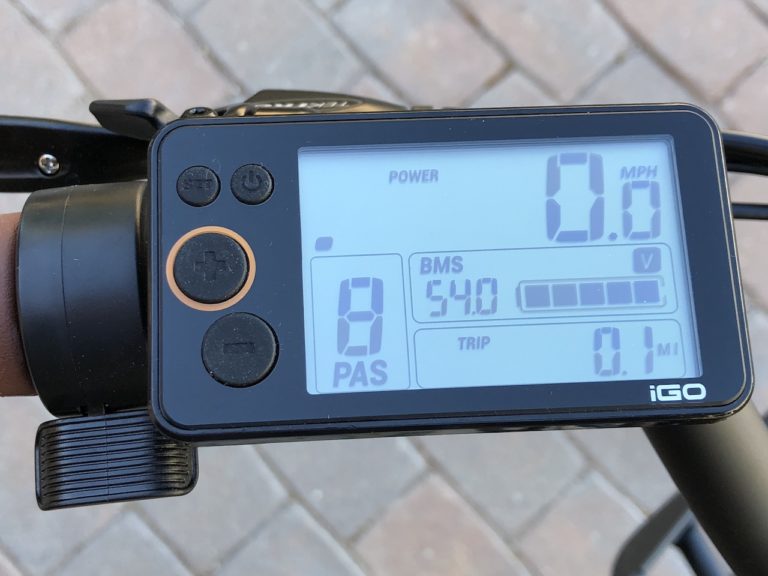 There are 3 different driving modes that are changed as you go through the 8 total pedal assist levels:
Eco = Low motor power, extended battery range. Pedal assist levels 1-3.
Normal = Average motor power, average battery range. Pedal assist levels 4-5.
Power = High motor power, lower battery range. Pedal assist levels 6-8.
The pedal assist feature uses a cadence sensor system.
There is a thumb throttle just to the left of the display and this allows you to cruise along with or without pedaling.
The throttle has a lot of variability in the power from just a little to full power and everything in between. It is similar to adjusting the volume dial on a radio.
At the lower pedal assist levels you can use the throttle to give you an extra boost when you want. For example, quickly getting through an intersection or for help with getting over a short steep hill.
There is a walk mode that provides assist up to a few mph and it helps when you are walking the bike up a steep hill or stairs. It is activated by holding the + button on the display.
The large LCD display on the left side of the handlebar shows the driving mode, pedal assist level, speedometer, odometer, trip odometer, battery level with voltage reading, and error diagnostics.
Important info like the current speed and pedal assist level are shown in a large format for easy visibility at a quick glance. A backlit feature makes it easy to see day or night.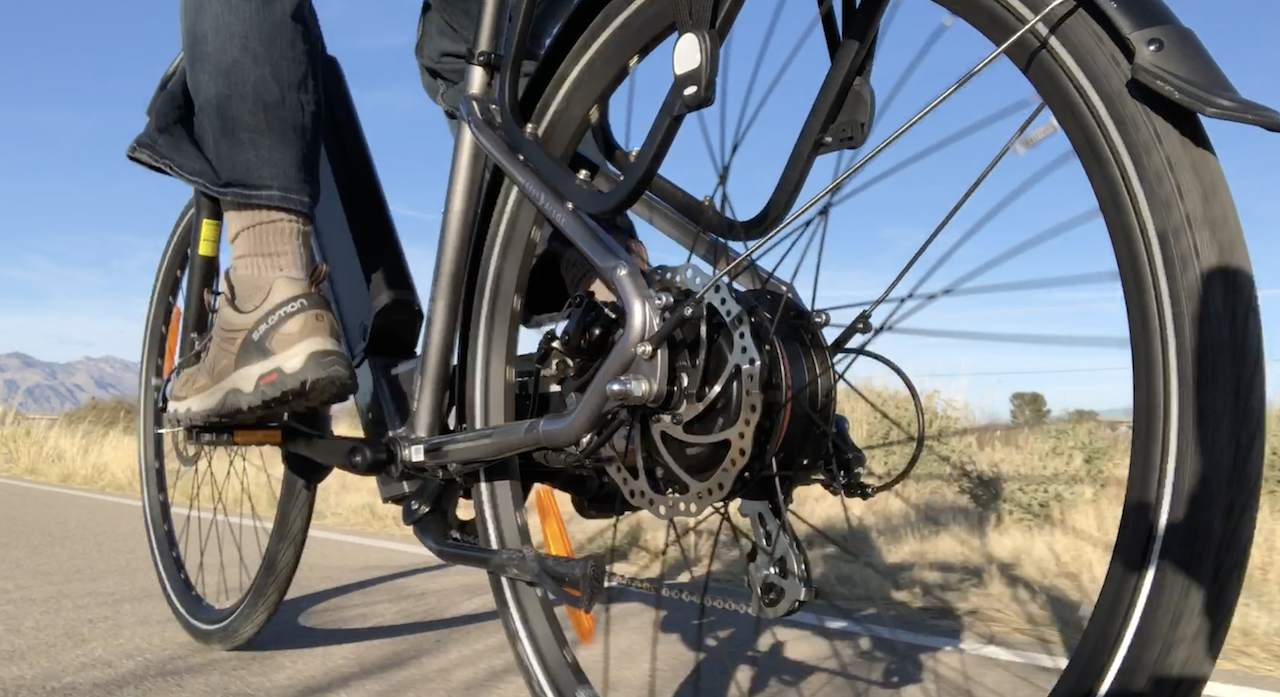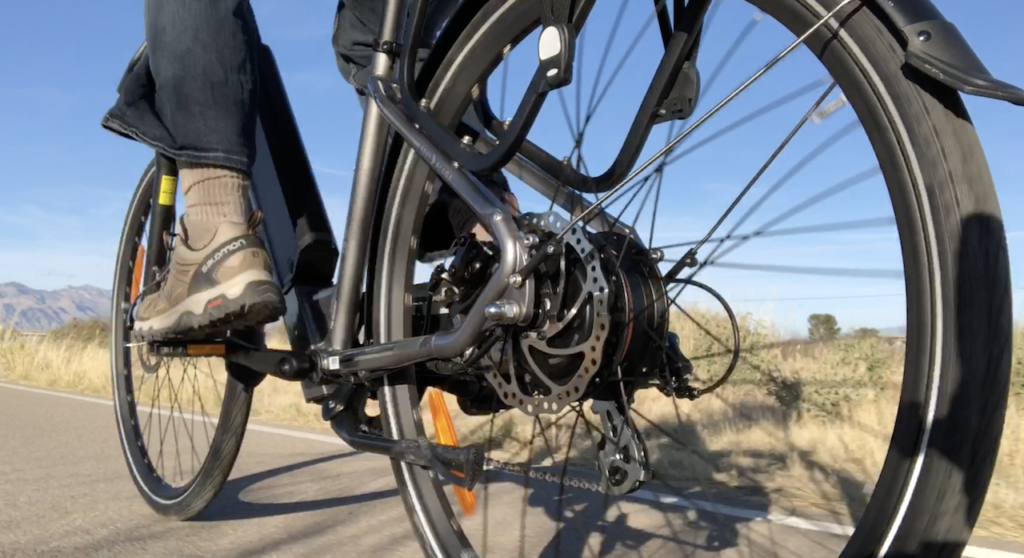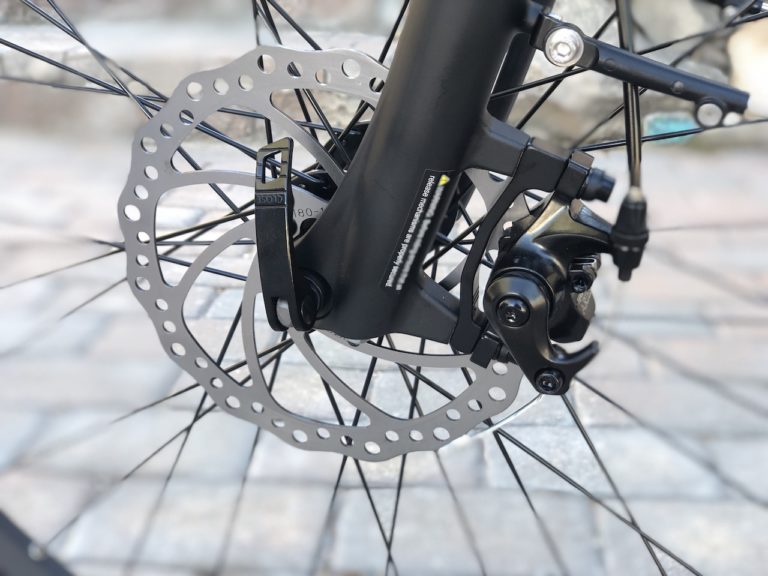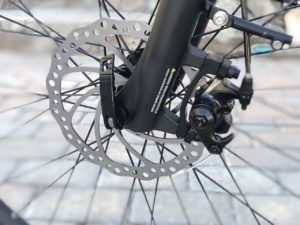 Tektro Aries mechanical disc brakes with 180 mm rotors handle speed management on the Elite. These mechanical discs offer solid stopping power and the brake levers have built in switches that will stop the assist once the brake levers have been engaged.
There is a grippy rubber material on the Tektro brake levers that provides a comfortable feel while helping with grabbing the brake levers in wet conditions.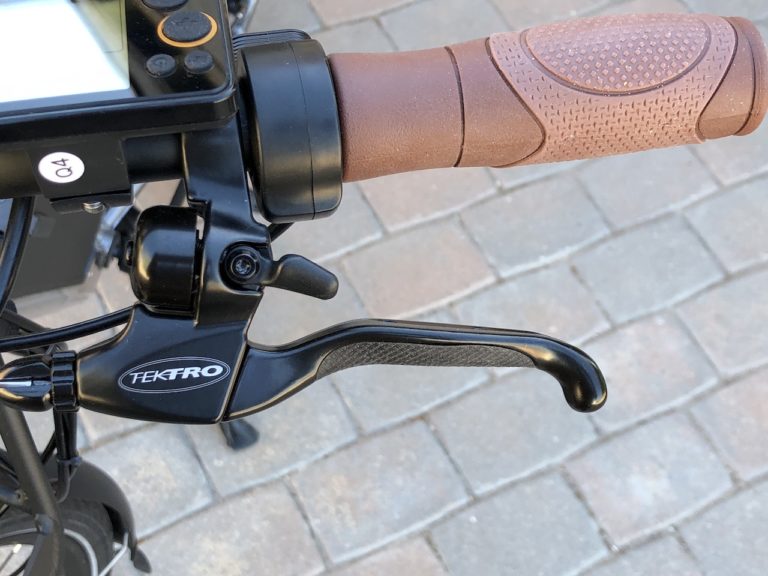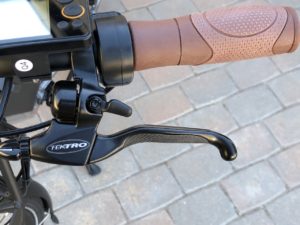 And there is a bell built into the left brake lever! The small lever near your index finger makes a ring of the bell quick and easy.
iGo spec'ed the durable Schwalbe Energizer Plus tires with Greenguard 5 puncture protection, 28″ x 1.5″ (700C x 38) on the front and back of the Elite.
These tires have a smooth profile that gives the Elite a very efficient gliding feel. Reflective striping on the sidewalls of the tires help with being seen while riding at night.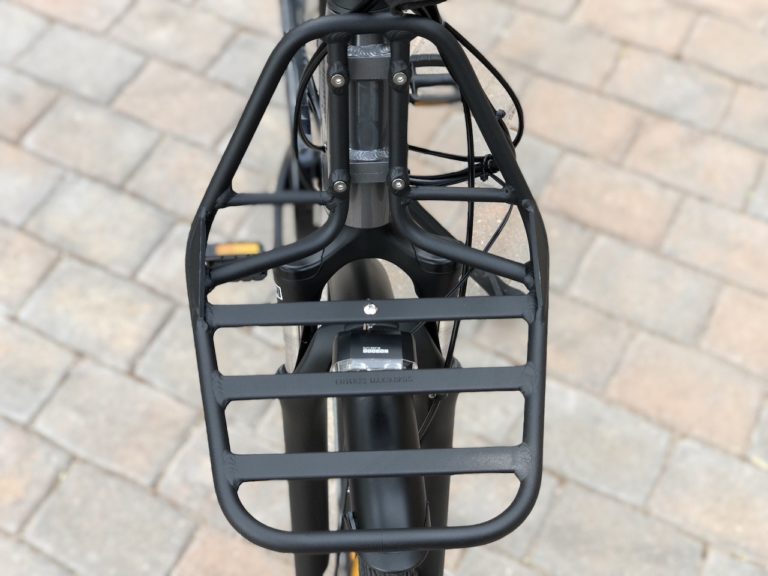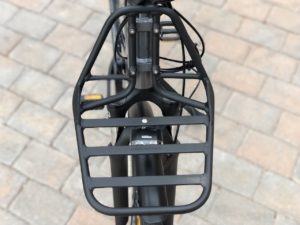 iGo went all out with the accessories on the Elite to make this an eBike that is ready for the daily commute, errand runs, and long fun rides.
The front and rear aluminum racks have a solid bolted connection to the frame of the Elite that has a structural benefit but it also creates a clean look.

The front rack can handle 20 pounds of cargo and has a roughly 10″ x 10″ platform area for objects that can be secured with a mesh bungie cord net. A basket could also be attached to the front rack.
55 pounds of cargo can be loaded on the rear rack and it is designed to work with bags, panniers, baskets, etc. with its multiple points of attachment.
Both the front and rear rack can be removed from the bike by loosening 4 bolts on each rack.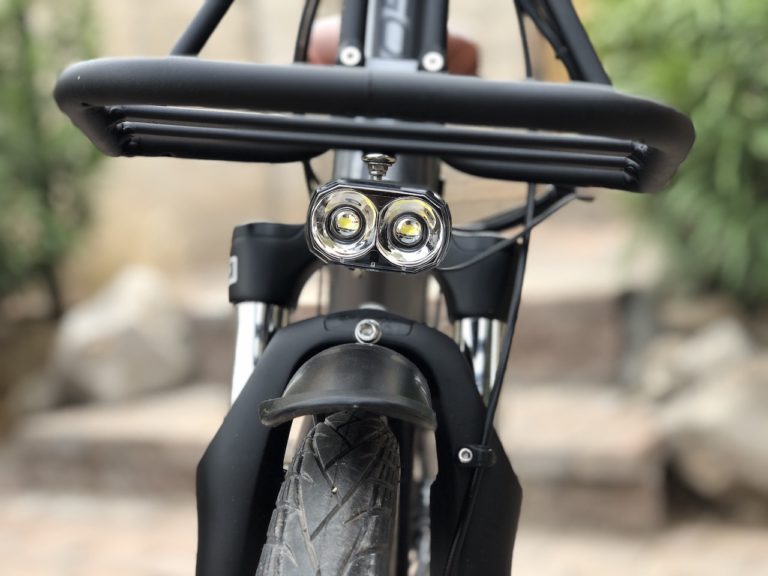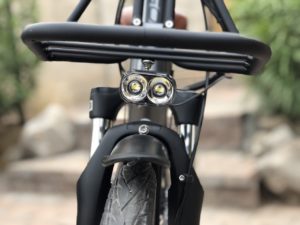 Lighting the way is handled by a dual beam LED headlight that is mounted under the front rack.
A rear taillight is housed in the rear rack. Both the front and rear lights are powered by the eBike battery so you don't need to worry about charging separate batteries for the lights.
There are full coverage plastic fenders front and rear and they each have a mud flap at the ends. The rear fender does make a little noise when going over rough roads and it would be nice to have an additional support for that.
To round out the accessory package there is the kickstand that has an adjustable height so that you can adjust the lean of the bike as you want.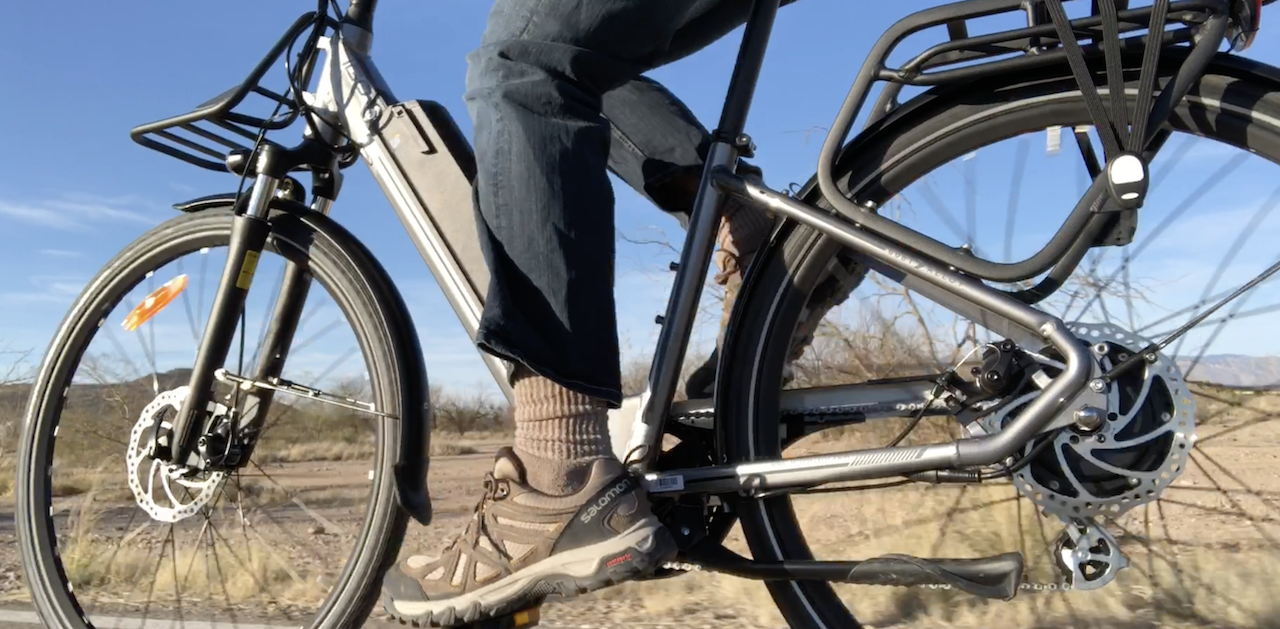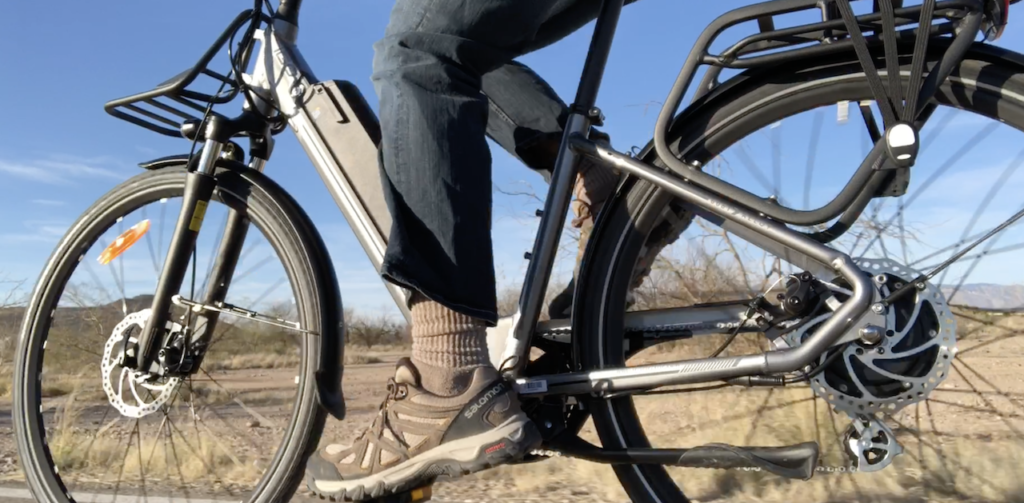 iGo Elite Range Test Results:
Here is the real world information on how the iGo Elite electric bike performed on a riding circuit that includes hills, flats, traffic, wind (when available) etc.
While testing these bikes I like to put them through the toughest conditions to see where their bottom line is in regards to range and speed. I tested the iGo Elite in the highest pedal assist level (8) with average pedaling.
Range: As you can see from the GPS info that I recorded, the iGo Elite traveled 32.8 miles and did a total elevation gain/loss of around 2,700 ft. Considering that I weigh 190 lbs and I pedaled an average pace this is good range for a 48 Volt 13 ah battery pack (624 Watt Hours) with a 500 watt motor.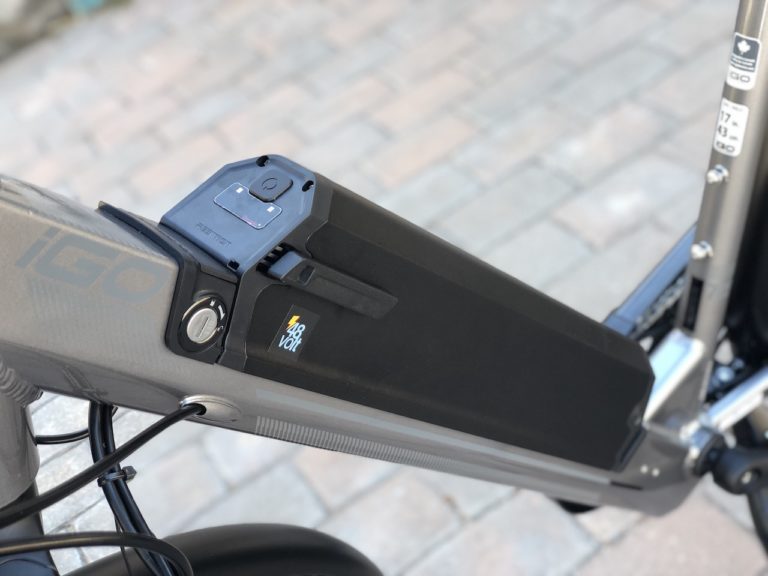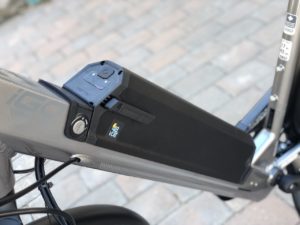 Watt hours are the total energy in a battery pack and it is based on the volts x amp hours of a pack. This is a way to compare the size of the "gas tank" of electric bikes.
Please keep in mind that if you pedal more, weigh less than me, ride slower and/or you use the bike in terrain that is not as hilly you will get more range. These results are from tough testing.
Speed: The iGo Elite will assist up to 20 mph with pedal assist and/or throttle which makes this a Class 2 electric bike.
Weight: The Elite tips the scales at 61.7 lbs which is on the heavier side for an electric bike. Removing the battery brings it down to around 52.9 pounds which makes it a little easier to load onto a car rack.
The weight distribution of the iGo Elite is pretty good because the battery is relatively low and centered on the bike with a rear hub motor making it slightly back heavy.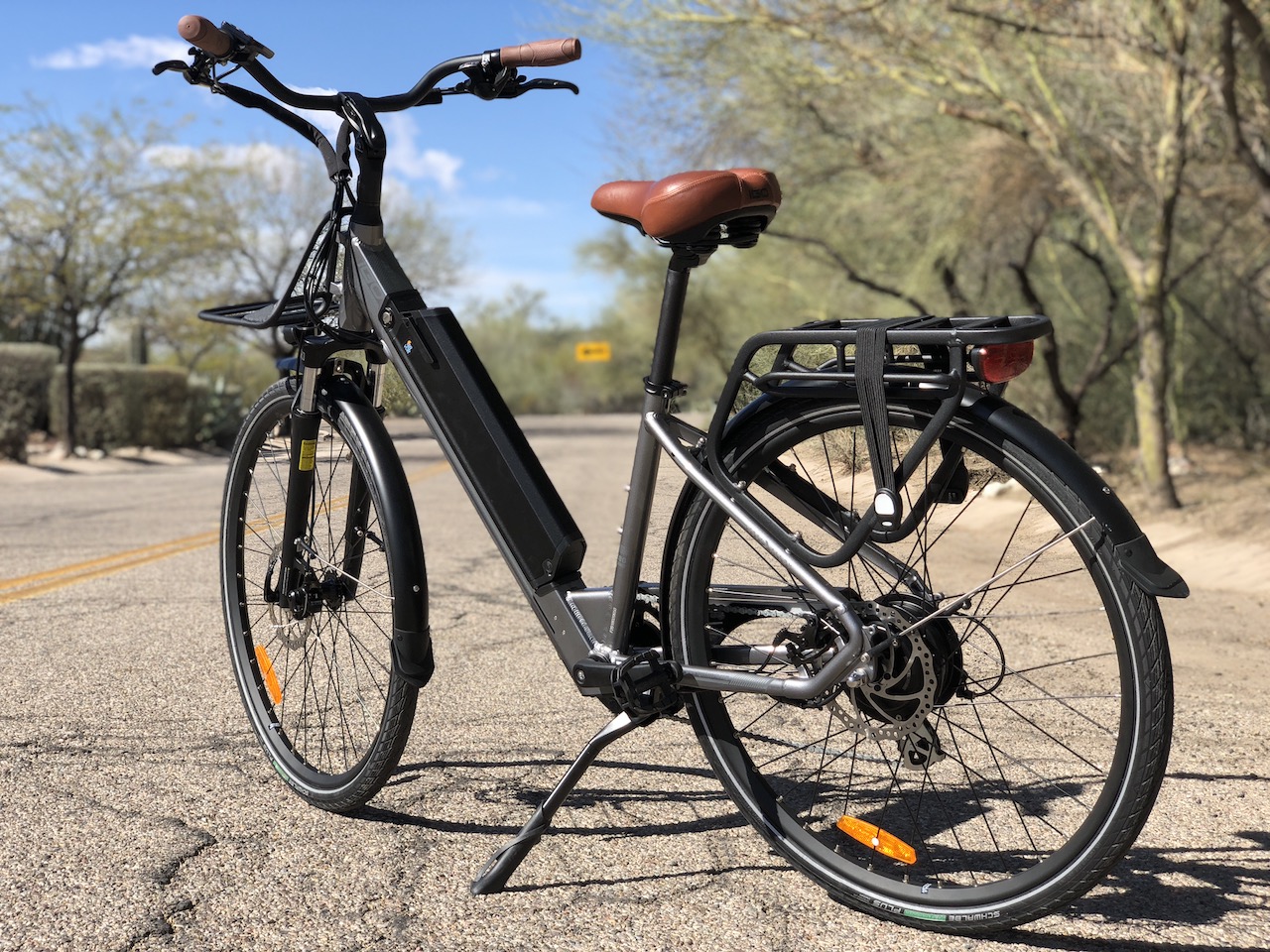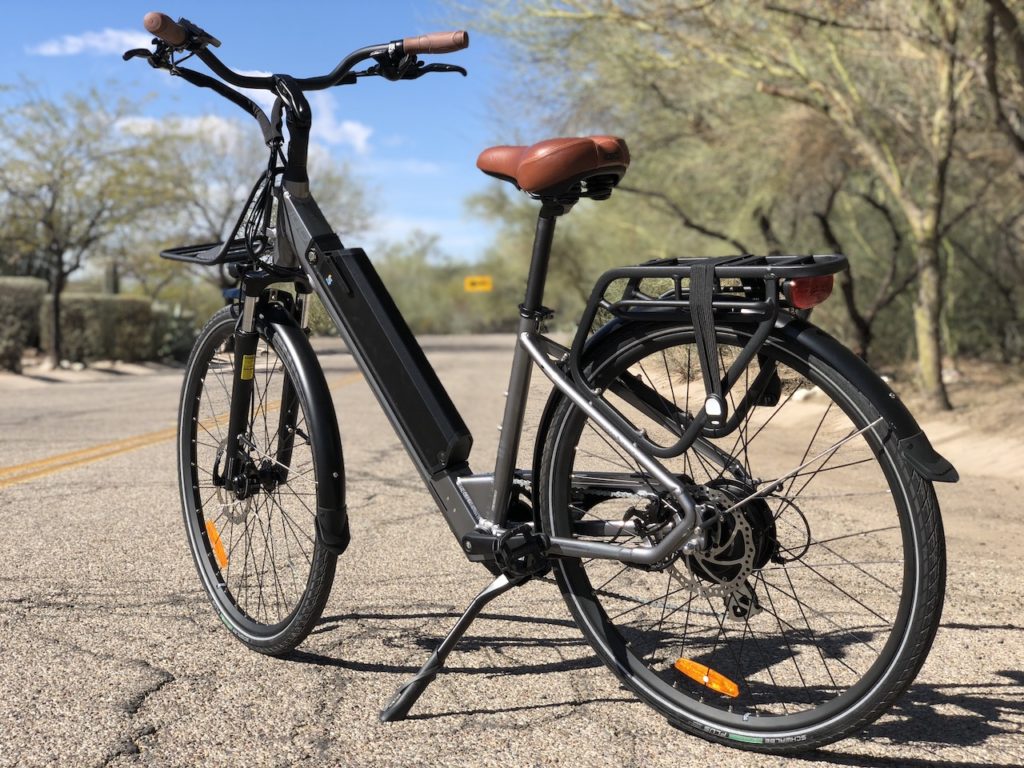 Pros:
Easy Riding: The new step thru frame design makes this bike very easy to get on and ride and it has a very clean look with the single downtube design and battery integration. The upright riding position is comfortable and adds to the easy ride feel.
Versatile Fit & Ride Style: The Ergofit design can fit many riders and it can be easily adjusted to fit your riding style. That is also helpful if you have family or friends that want to ride the Elite.
Powerful & Long Range: At the higher assist/throttle levels the Elite has a surprising amount of kick with its 500 watt geared rear hub motor and 48V system. The 48V 13ah lithium battery provides a lot of range. In the tough range test it went nearly 33 miles with 2,700 ft of climbing. You can expect even more range at lower assist and easier riding terrain.
Price: $1,799 is a good value considering the large battery with Samsung cells (672 Wh), components from Shimano, Suntour, Schwalble, Tektro, and the full assortment of accessories including the front & rear racks.
Cons:
Frame Flex: Like many step thru bikes there is some frame flex that results from the missing top tube. That flex is most noticeable when cornering quickly from side to side on the Elite. For many typical riding conditions it is not very noticeable.
Heavy: At 61.7 pounds the Elite is on the heavier side for electric bikes.
Motor Noise: At the high assist/throttle levels the geared rear hub motor does create some noise.
Conclusion: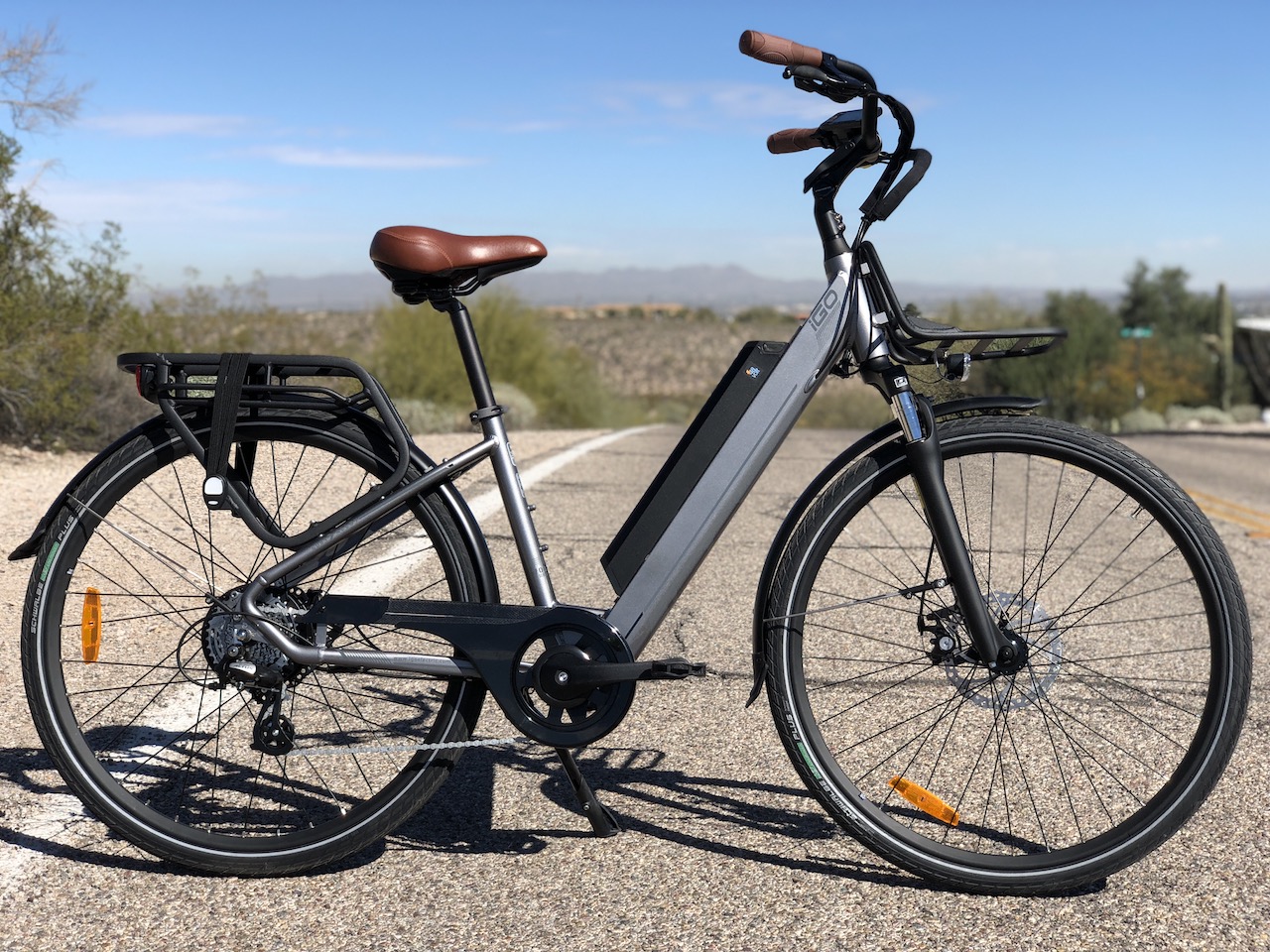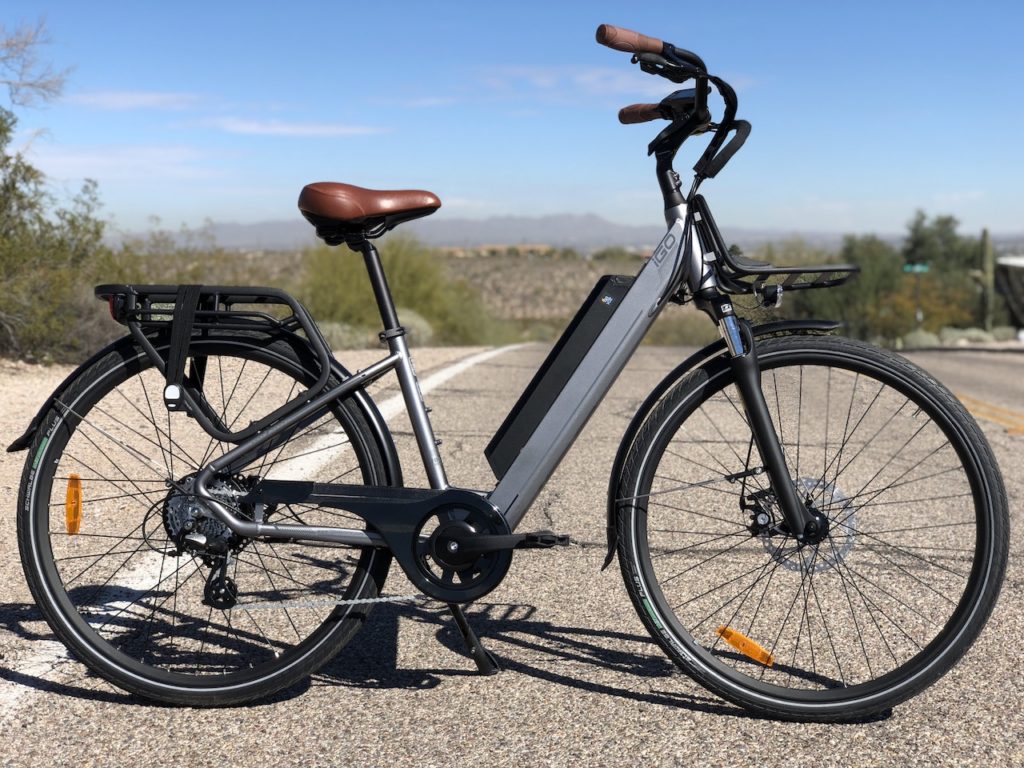 Overall the iGo Elite is an easy riding step thru that has a comfortable feel and it offers a lot of range.
The Elite has a lot of adjustability to fit you well and it can also be adjusted to provide a wide array of ride performance. The 500 watt geared rear hub motor with the 48V system can provide a lot of kick at the higher assist/throttle levels while the lower levels provide an easy going ride feel.
It is really well set up for commuting, errand running, and longer fun rides with its full assortment of accessories that include the sturdy front and rear cargo racks.
At $1,799 the Elite offers a lot of value with its solid eBike features and full assortment of accessories.
Please keep in mind that this is a relatively short term test. This testing can't really give you the long term review of durability and reliability. My thoughts on the quality of this bike are from previous experiences with similar bikes. If you own this bike and have some input on the long term durability, please share your comments with the Electric Bike Report community below.
Where to buy an iGo Elite? Check with iGo for a dealer near you.

Do you have any questions about the iGo Elite? Do you own a iGo Elite? Please share your thoughts in the comment section below.
Thanks!
-Pete
Review Note: Each company pays a fee for a review on Electric Bike Report because of the considerable amount of time that it takes to provide an in-depth review of each eBike. A lot of time is spent on the full range test with distance & elevation profile, the wide variety of detailed pictures, in-depth video, and the write up with the specifications, ride characteristics, pros, cons, and overall thoughts. The reviews on Electric Bike Report are focused on providing you with a detailed "virtual" look at each eBike to help you determine if it is the eBike for you or not.
P.S. Don't forget to join the Electric Bike Report community for updates from the electric bike world, plus ebike riding and maintenance tips!
Reader Interactions