Gocycle GS Electric Bike Review Part 2: Ride & Range Test [VIDEO]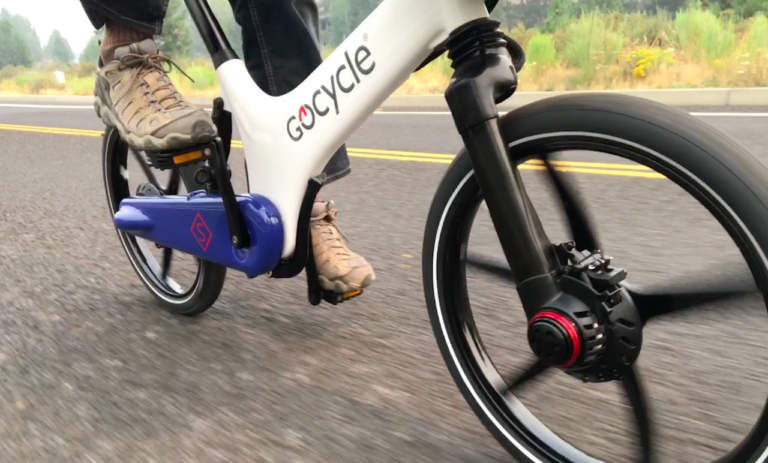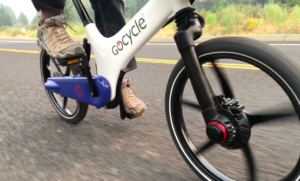 After putting the Gocycle GS to the ride test it has proven to be much like other innovative Gocycle's, yet at a more economical price of $2,799 (on sale for $2,499 in October).
It has a lot of Gocycle high tech features (magnesium frame & wheels, smartphone ride customization, one sided wheels, etc.) while keeping with the Gocycle experience of being easy to ride with almost no maintenance to worry about.
The GS has the same folding capabilities and it is lightweight (37.5 pounds) like the G3 for easy storage and transportation, while maintaining its design of fitting like a full sized eBike.
Like other Gocycle's the GS is an agile city commuter eBike that can handle the full commute to work or it can be used in combination with mass transit. It is also a good eBike for exploring the open road.
The Gocycle GS is priced at $2,799 USD (on sale for $2,499 in October) at the time of this review.
In this second part of the full review you will get an idea of the ride characteristics, range test results, pros, cons, and overall thoughts on this electric bike.
Make sure you check out part 1 of this review with large pictures and specifications to get a detailed look at this e-bike.
What you can expect from the Gocycle GS:
To get acquainted with the Gocycle GS, checkout this video:
Riding the Gocycle GS: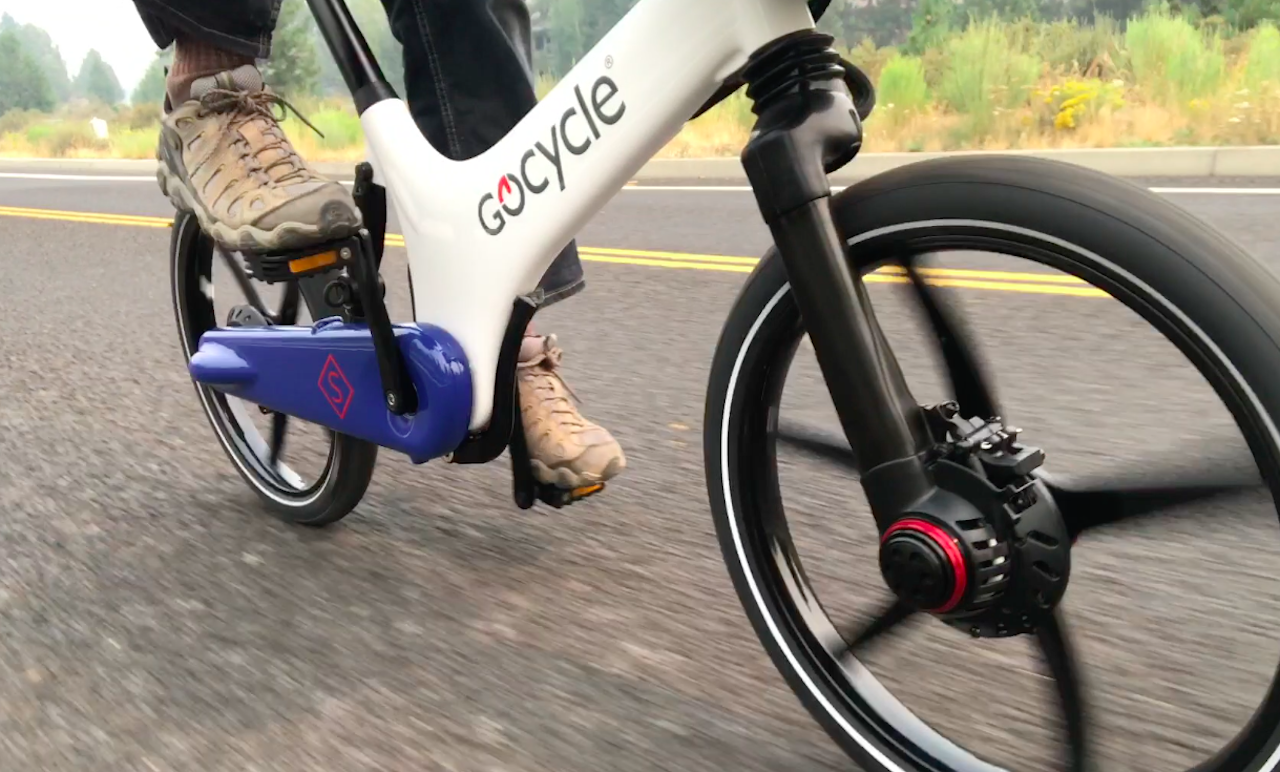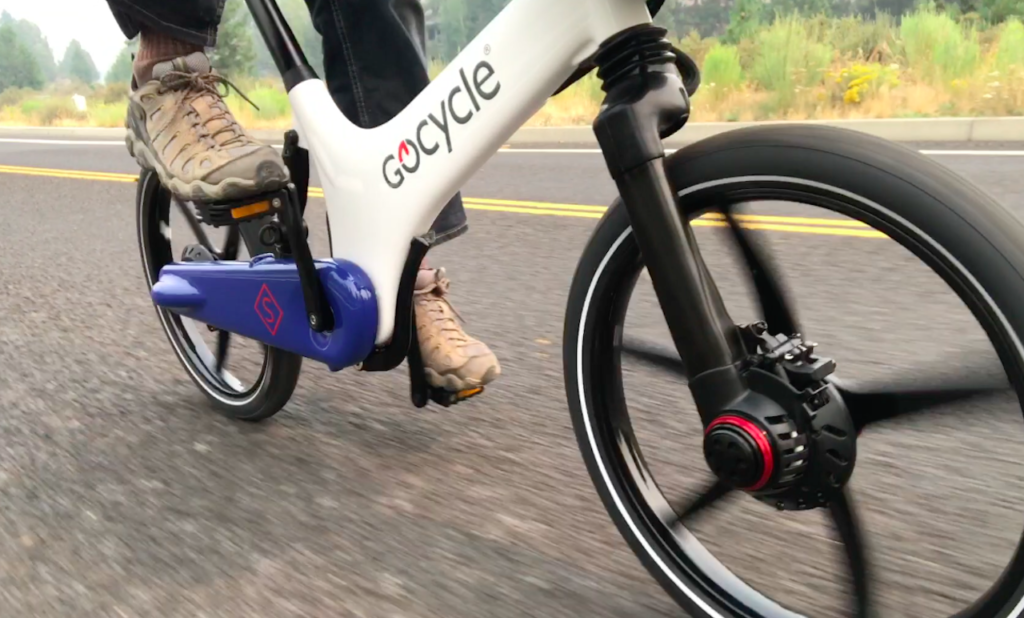 Overall there are some characteristics of the Gocycle GS that really stand out when riding this pedelec. To summarize they are:
Compact eBike with full size bike characteristics
Lightweight and very portable
High-tech at an economical price
The Look & Feel of the Gocycle GS
A Gocycle is definitely a head turning eBike with it's futuristic styling and compact size. There are not many bikes that look like the Gocycle!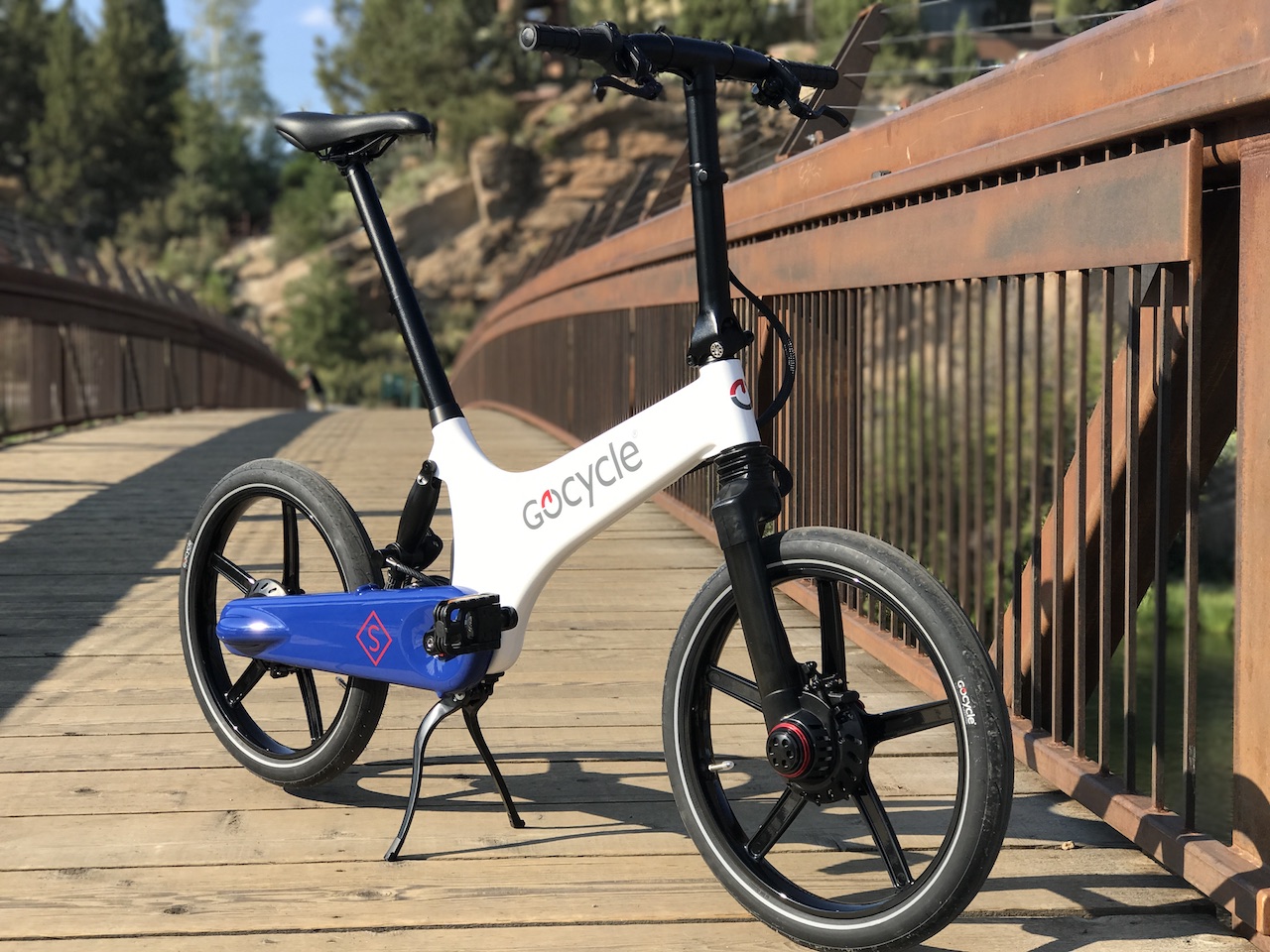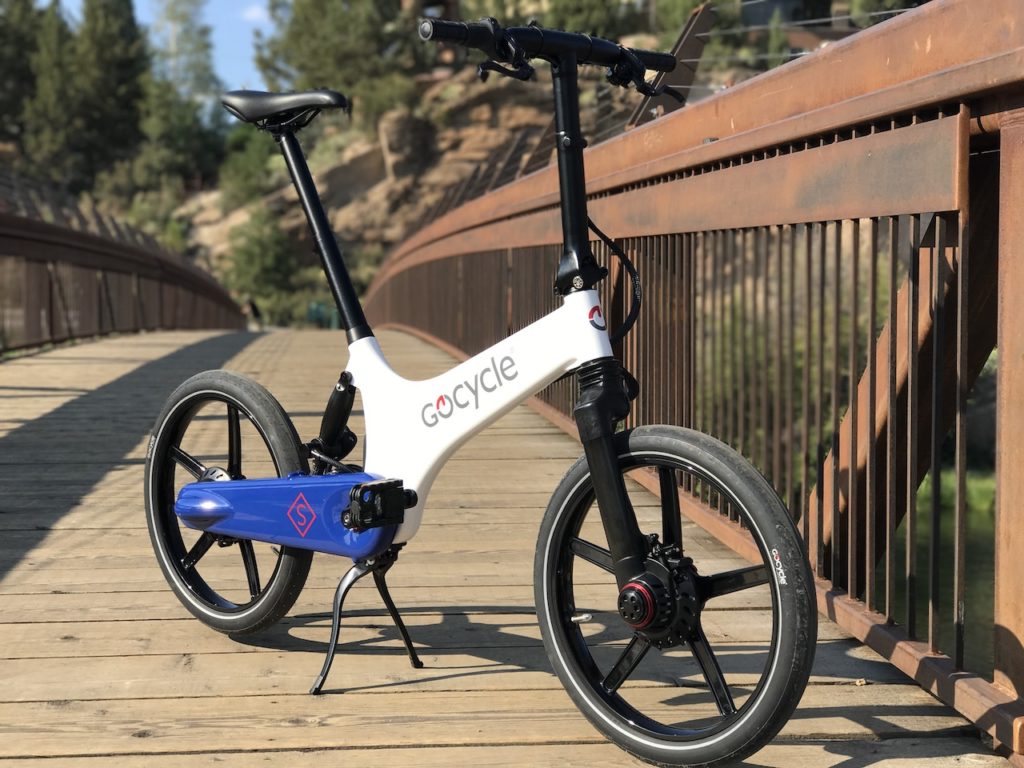 The clean design makes it stand out from a typical electric bike and in a lot of ways it is hard to tell that it is an eBike.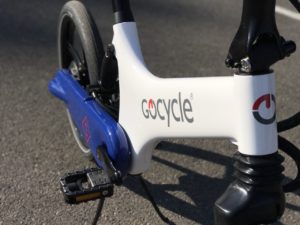 The battery is housed inside the frame, the drivetrain (chainring, chain, gear system) is enclosed in the Cleandrive, and the front hub motor is so compact that it is hard to tell that it is even a motor.
While the Gocycle is a sophisticated and high-tech eBike it provides an easy to get on and go ride feel.
The Gocycle GS has been designed to fit riders from 6'5" to 5′ and you can order a compact seat post that will fit rider heights down to 4'6".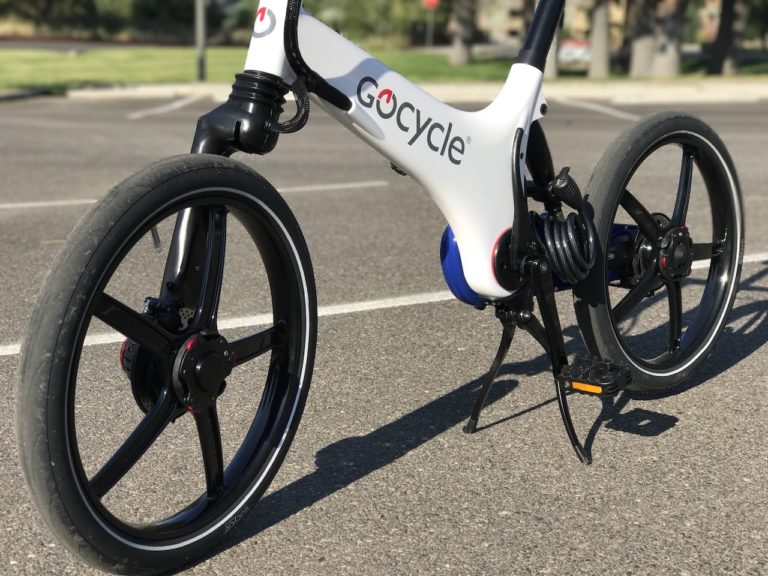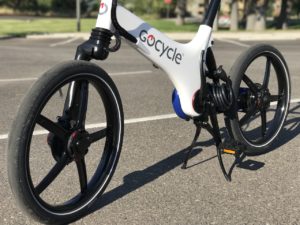 The low step over frame with small wheels make it easy to throw your leg over and get on the bike. The handlebar fore aft position has 2 positions that can be adjusted with the quick release skewer.
The location of the seat and handlebars have been designed to match a full size bicycle.
At 5′ 11″ I felt very comfortable riding the Gocycle GS on longer rides. One main difference compared to a full sizes bike is the handlebar width on Gocycle's are a bit narrow and that does create a feeling of quick steering.
That is pretty typical of folding bikes so that they can maintain a compact size when folded. Narrower handlebars are also beneficial when riding in congested urban environments because they are easier to maneuver in tight areas.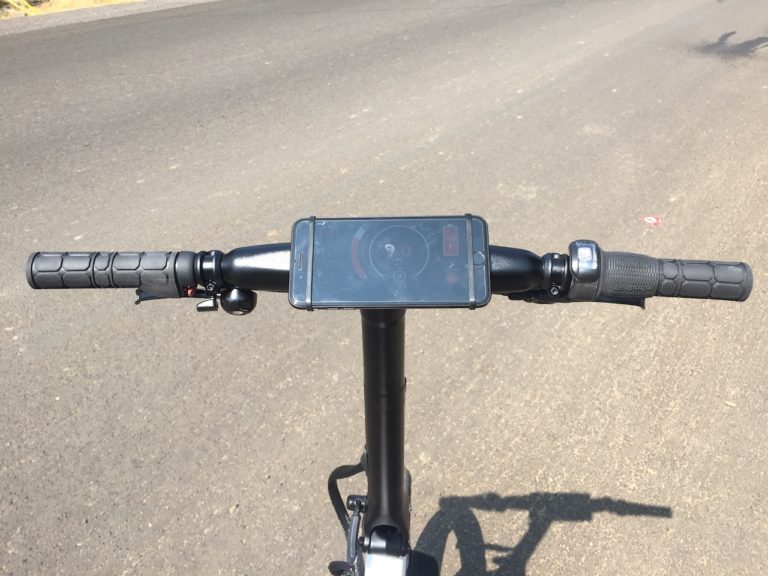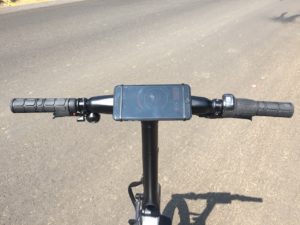 Following along the lines of high-tech, the Gocycle GS uses your smartphone as the wireless (Bluetooth) display with the GocycleConnect App that works with both iPhones and Android phones.
This is also one of the ways Gocycle shaved some cost compared to their G3 model that has a LED display built into the handlebar.
In direct sunlight it was hard to see my phone display (iPhone 7 Plus with glass screen protector) but that may depend on the type of smartphone and screen cover that you use. For most riding conditions I could see the phone display pretty well.
The GocycleConnect App is the way to change and even customize your pedal assist modes and it provides a bunch of interesting information.
Here is a break down of the different assist modes:
City: Offers a moderate amount of assist and is pedal assist only (you have to be pedaling). You can get a quick boost up to max speed using the red power button but you also have to be pedaling. This is a nice mode for getting to work with minimal sweat.
Eco: This is a similar mode to City except that it does not provide as much assist. Eco mode is good for getting more of a workout and longer overall range.
On Demand: This is a throttle only mode that adds assist with the red button when you want it. The Gocycle pedals remarkably well without assist because it uses a freewheeling geared hub motor and because it is a lightweight electric bike. The On Demand mode works well for getting a little help when accelerating or climbing a hill.
Custom: With the GocycleConnect App the Custom mode also allows you to easily adjust:
The top speed of the assist (up to 20 mph)
Pedal assist only or pedal assist & throttle
At what pedal power the assist starts & at what pedal power it provides max assist.
It may sound like a lot of features but the GocycleConnect App makes it easy to dial in to your preferred riding style.
The Custom mode is one of the coolest features of Gocycle's because you can dial in how you want the bike to perform and you can save your own riding modes for regular use.
You can make the Gocycle kick in with a lot of power for zipping around town but you will see how that can use up your battery pretty quick.
With another mode you can set it to add assist when you really need it, for instance when you start climbing or hit a big headwind.
And with all of those you can vary the max speed when the assist stops.
The Custom assist modes are another highlight of Gocycle's and adds to their overall versatility.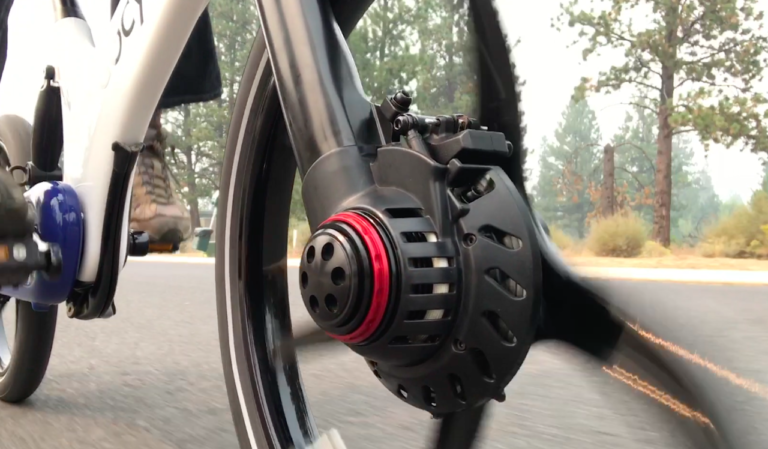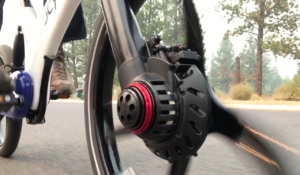 The front hub motor that provides the assists is so compact that it blends in with the overall look of the bike very well. It is hard to tell that there is even a motor.
Even though it has a compact size it can provide 500 watts of continuous power! It is a geared hub motor and like all geared motors it does create some sounds that is more noticeable as a front hub motor.
Front hub motors have some unique riding characteristics that the rider needs to get used to. One of the cool features is that they create a 2 wheel drive eBike by adding power to the front wheel while your pedal power adds to the rear wheel.
On loose and steep terrain there can be a tendency for Gocycle's traction control to limit power to the front wheel if it detects it is losing grip; for example if there is not enough weight over the front wheel. I have found that after a few rides I become more aware of putting more weight over the front wheel to maintain traction.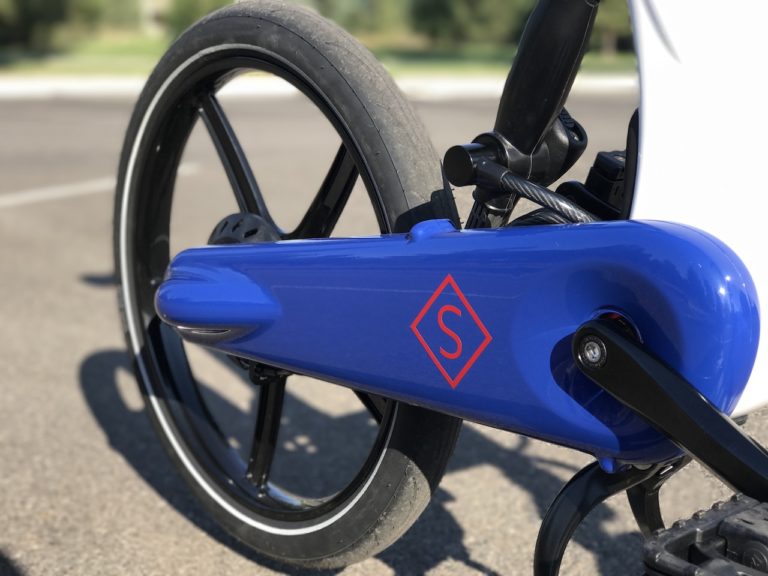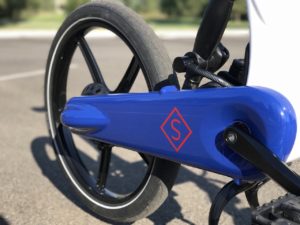 Powering the rear wheel is your pedal power that is leveraged by a Shimano Nexus 3 speed internally geared rear hub, which is a patented Gocycle design.
It is enclosed by the Cleandrive shrouding that also encloses the chain for a super clean system that Gocycle claims will not need maintenance. No more greasy pant legs!
A 3 speed Microshift grip shifter on the right side of the handlebars clicks through the gears that provides enough range to climb steeper hills and cruise up to around 20 mph.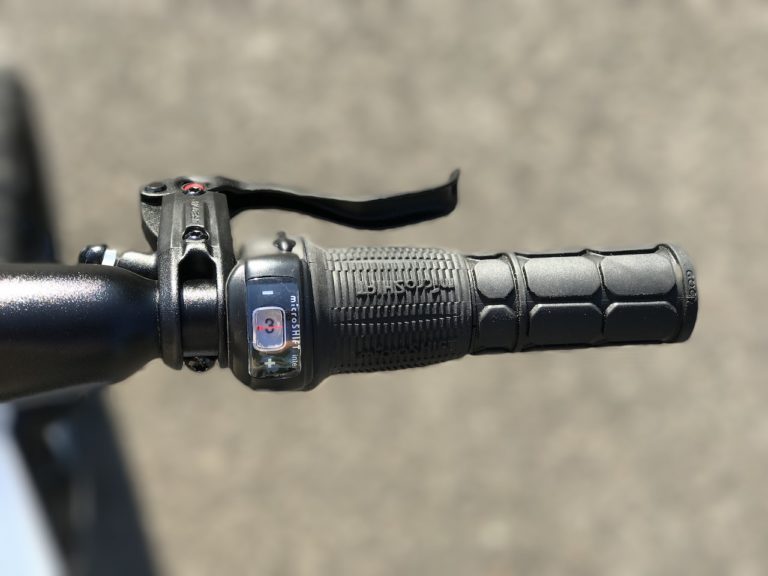 The shifter has a solid click to each gear and one of the cool things about an internally geared hub is that you can shift even when you are not pedaling. That means that you can shift to the best gear for accelerating from a stop, when you are stopped. Most internally geared hubs don't shift well under full pedal power so you do need to ease up on your pedal power a little before shifting.
Gocycle's have quick and nimble handling that is helpful when riding in the city. They are very easy to maneuver through congested areas and the low step design makes getting on and off the bike easy.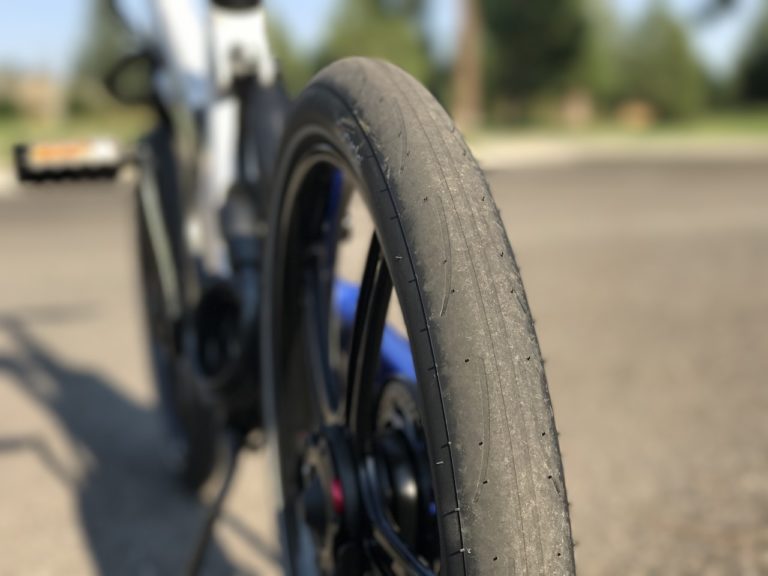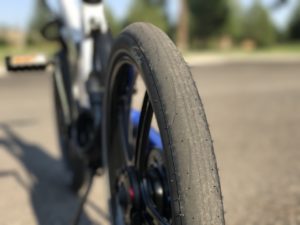 The lightweight (37.5 pounds) and balanced designed makes picking the bike up a lot easier than many other electric bikes.
The Gocycle GS has a solid cornering feel because of the wider tires, low and balanced weight distribution, and full size bike handlebar and seat locations.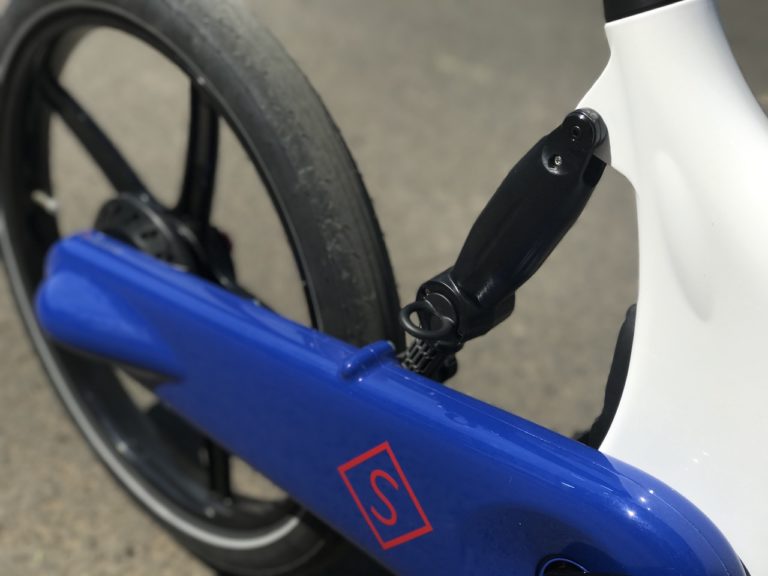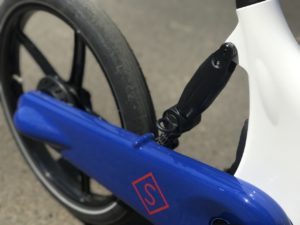 Gocycle's are pretty comfortable bikes to ride thanks to the 1″ rear suspension and the relatively large volume tires (20″ x 1.75″).
There is no suspension in the front which can be a bit rough but lowering the front tire pressure can help to smooth out the ride.
The 20″ wheels are good for providing a compact design and a quick and nimble ride feel but they don't roll through rough areas as well as larger wheels. You do need to be on the look out for potholes and other rough patches of road when riding a 20″ wheel bike.
One of the cool things about the injection moulded magnesium Gocycle Pitstopwheels® is that they will never need to be trued! This is another highlight to the low maintenance aspect of Gocycle's.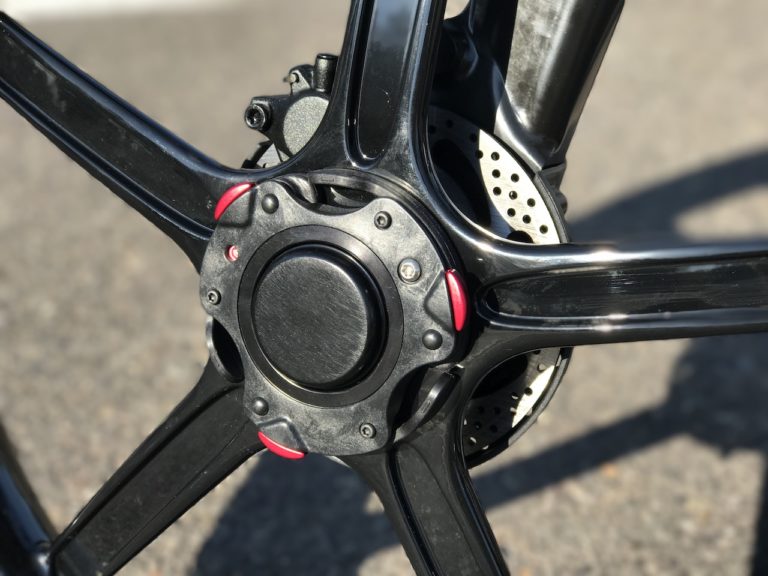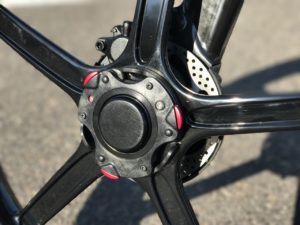 The Pitstopwheels® 3 lever quick release system makes removal of the wheels very easy for folding the bike or repairing a flat tire. The wheels can also remain on the bike for repairing a flat tire because of the one sided wheel design.
Gocycle also includes an anti-theft bolt kit that you can install in each wheel to "lock" them on the bike. They use a special tool for removal that is included with the Gocycle.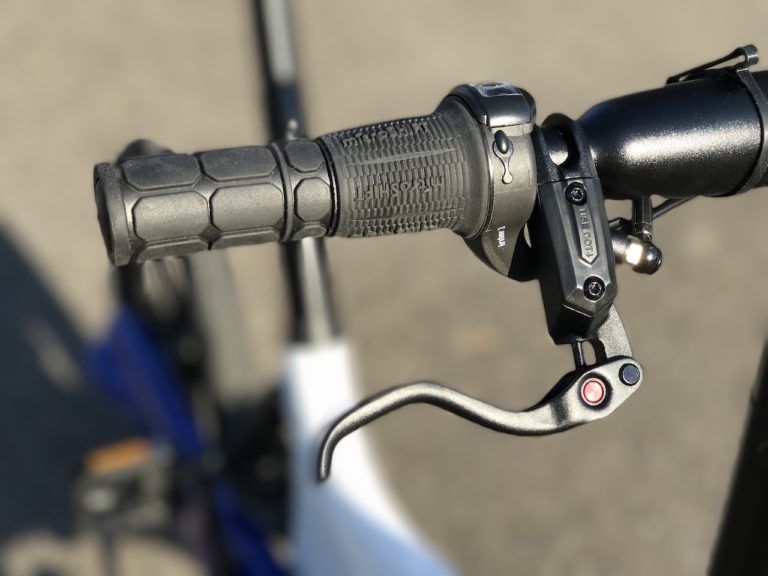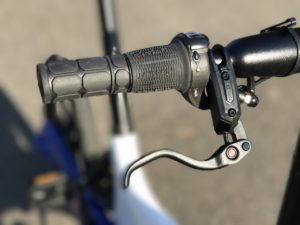 Slowing the Gocycle GS down is handled by front and rear hydraulic disc brakes that provide solid stopping power. The discs are protected by plastic shrouding which also adds to the clean look of the GS.
The brakes have a solid feel with progressive modulation that has a smooth range from a little bit of power to fully locking up the brakes.
And when you are done riding the Gocycle folds up easily for transportation (car, RV, boat, etc.) and/or storage.
The Pitstopwheels® come off, the Cleandrive easily folds, the handlebar easily folds down, the pedals fold, and the seat & post are lowered. Here is a video of the folding process and a look at the carrying case:
The Gocycle GS is designed with a maximum recommended weight limit of 220 pounds which includes the rider weight plus luggage.
The Gocycle can handle up to 250 pounds but it "may reduce product service life."
The full statement on the weight is: "This product has been designed with a maximum recommended weight limit of 100kg (220lbs) for the rider, clothing and all luggage, and is intended for use on paved roads. For rider and luggage weight 100-115kg (220-250lbs): riding style, road condition, tire pressures and luggage position may reduce product service life. Luggage weight should not exceed 10% of total rider and luggage weight. Never exceed rider and luggage weight of 115kg (250lbs) at any time. Exceeding this limit will void all warranties and may result in the product being unsafe for operation."
Alright, now let's take a look at how the GS did in the full range test.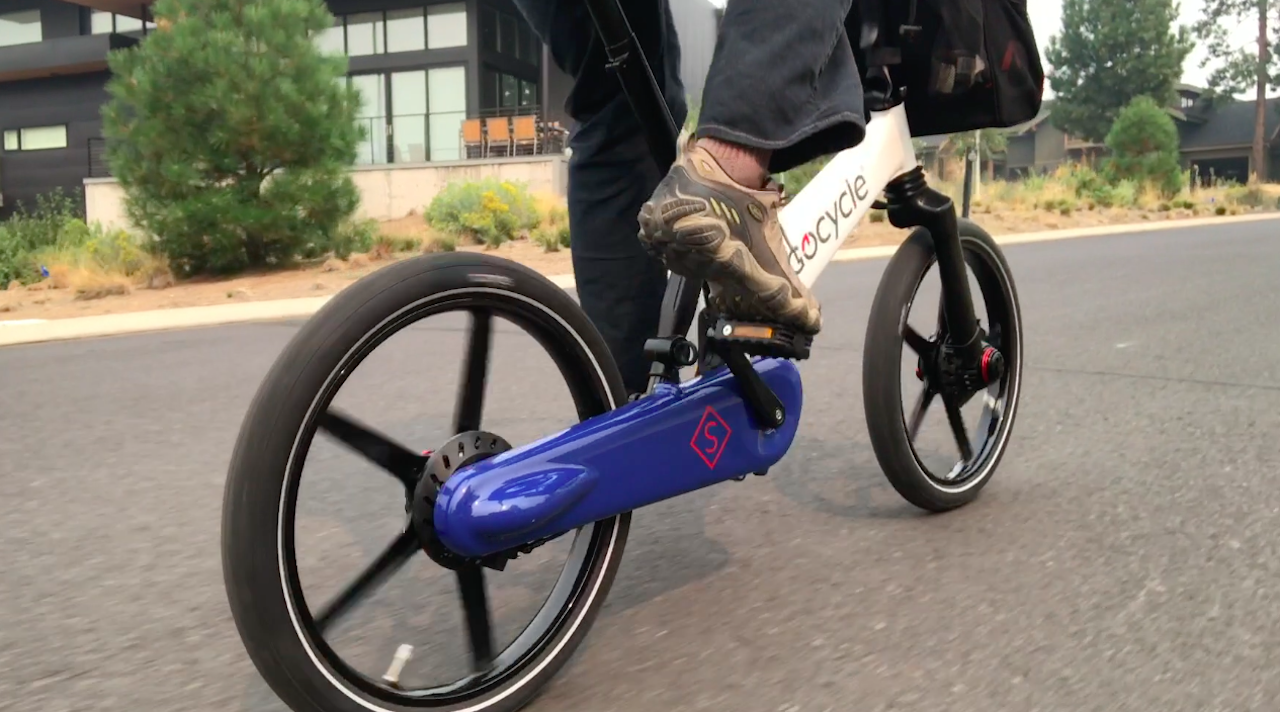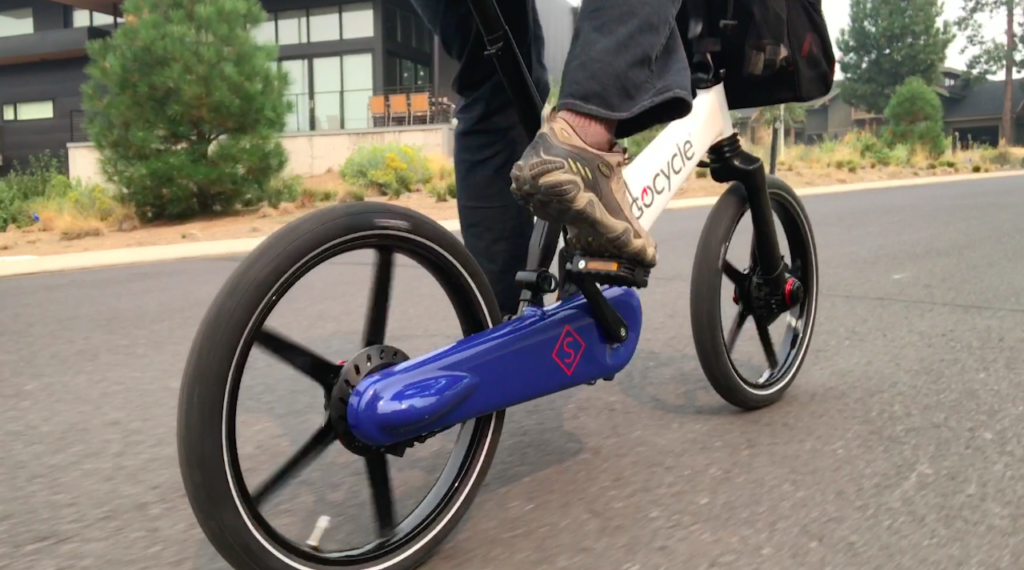 Gocycle GS Range Test Results:
Here is the real world information on how the Gocycle GS electric bike performed on a riding circuit that includes hills, flats, traffic, wind (when available) etc.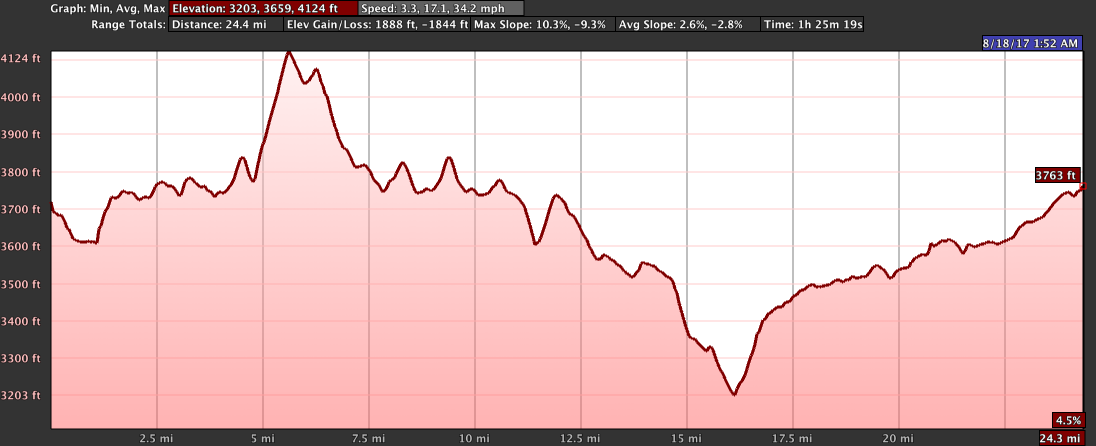 While testing these bikes I like to put them through the toughest conditions to see where their bottom line is in regards to range and speed. For this test I used the City Mode adjusted to 20 mph max.
Range: As you can see from the GPS info that I recorded, the Gocycle GS traveled 24.2 miles and did a total elevation gain of around 1,900 ft. Considering that I weigh 190 lbs and rode with average pedal power this is good range for a 22 Volt 13.5 ah battery pack (297 Watt Hours) with a 500 watt motor assisting up to 20 mph.
Watt hours are the total energy in a battery pack and it is based on the volts x amp hours of a pack. This is a way to compare the size of the "gas tank" of electric bikes.
Please keep in mind that if you pedal more, weigh less than me, ride slower and/or you use the bike in terrain that is not as hilly you will get more range. These results are from tough testing.
Speed: The Gocycle GS will assist up to 20 mph.
Weight: The Gocycle GS tips the scales at 37.5 lbs which is very light for an electric bike!
The weight distribution of the Gocycle GS is very balanced because the battery is housed within the main frame and front hub motor is pretty light. This makes carrying the Gocycle GS up stairs and loading into a car very easy.
Pros:
Easy to Ride: Gocycle has really focused on making all of their bikes easy to get on and ride. The setup instructions on the GocycleConnect app are easy to follow and you can quickly have the bike setup and ready to ride. There are a lot features built into the Gocycle GS but it is also a bike that you can get out and ride with the basics. The more in depth information and features are there if you want to get technical.
Custom Assist Modes: This is one of the more unique features to Gocycle's and it is nice to be able to create your own custom ride modes that fit your riding style. It is easy to create these custom modes and it is fun to play around with the different options.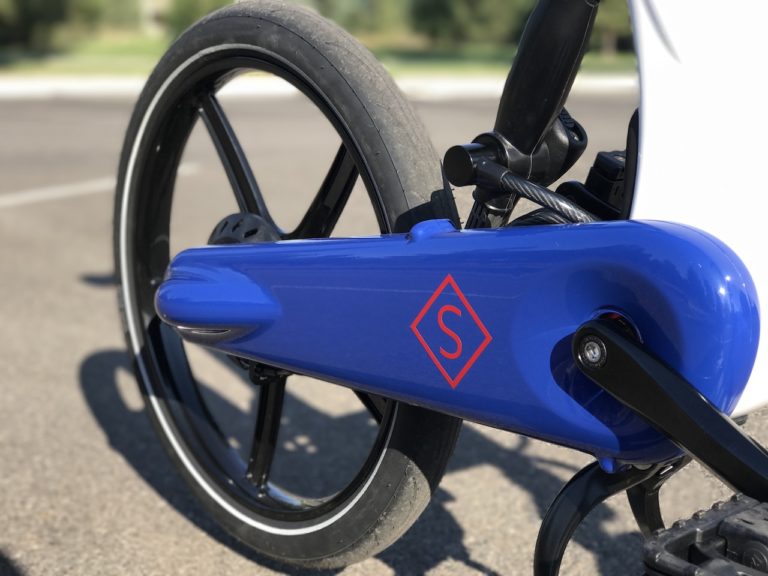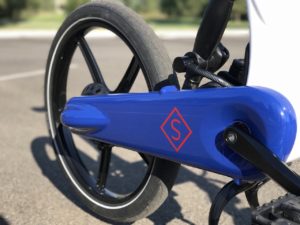 Low Maintenance: All Gocycle's are designed to take the worry out of bike maintenance and the GS follows that same philosophy. The only regular maintenance is checking the tire pressure. The Cleandrive eliminates chain maintenance and keeps your pant legs clean!
High Tech & Economical: The Gocycle GS is the economical Gocycle at $2,799 and it offers a lot of features found on the top of the line G3 that is priced at $4,499. You get the advanced magnesium frame with internal battery, one sided quick release magnesium wheels, customizable ride style with smartphone app, Cleandrive system, hydraulic disc brakes, and more.
Cons:
Motor Noise: The geared front hub motor does have some noise. There is more noise when the motor is working hard (accelerating and climbing) but it is quieter when it is up to cruising speed. For those that are noise adverse this is something to be aware of.
Weight Limit: The maximum recommended weight limit of 220-250 pounds weight limit (rider & luggage) will prevent a certain amount of people from riding the Gocycle.
Conclusion: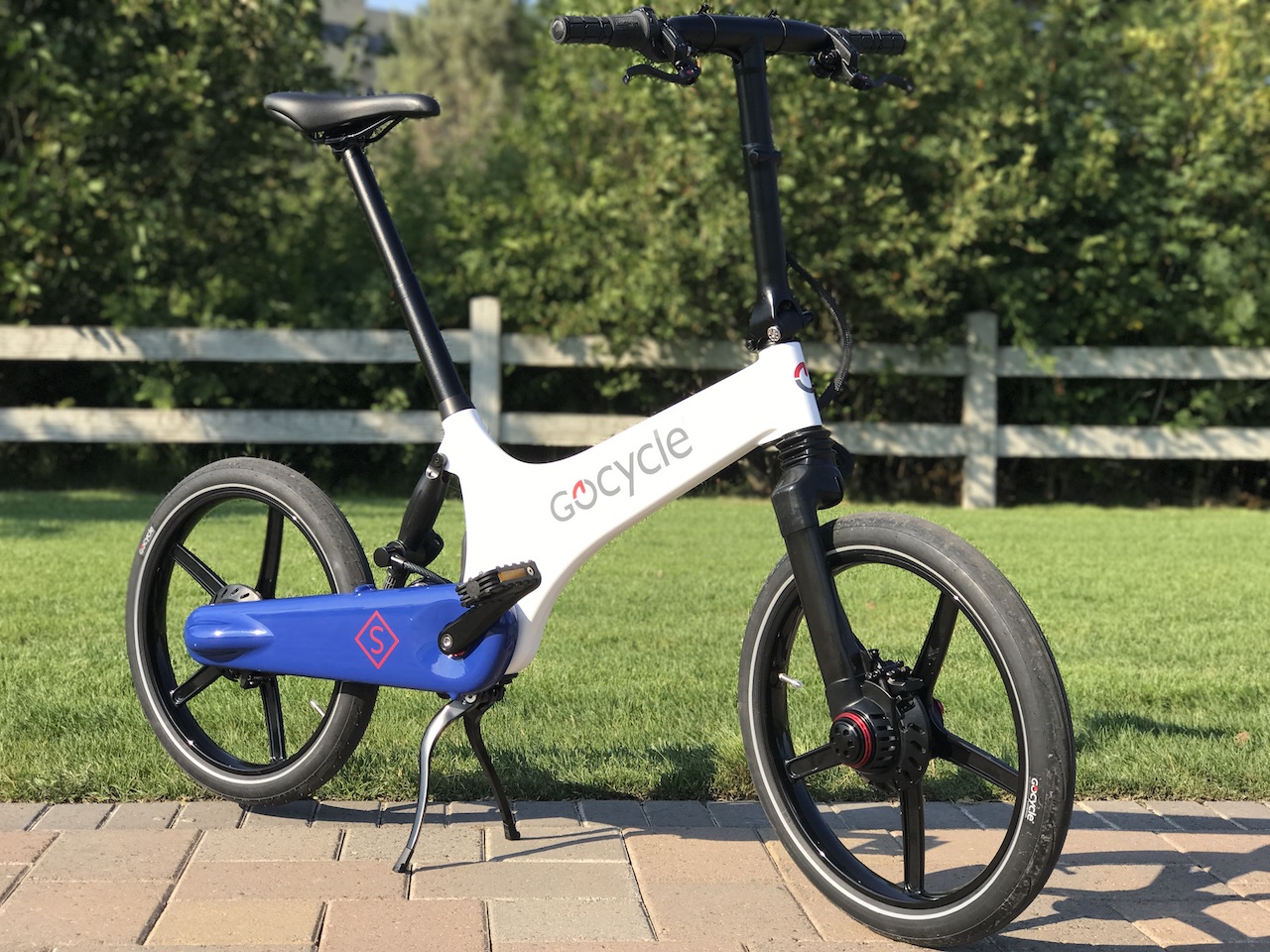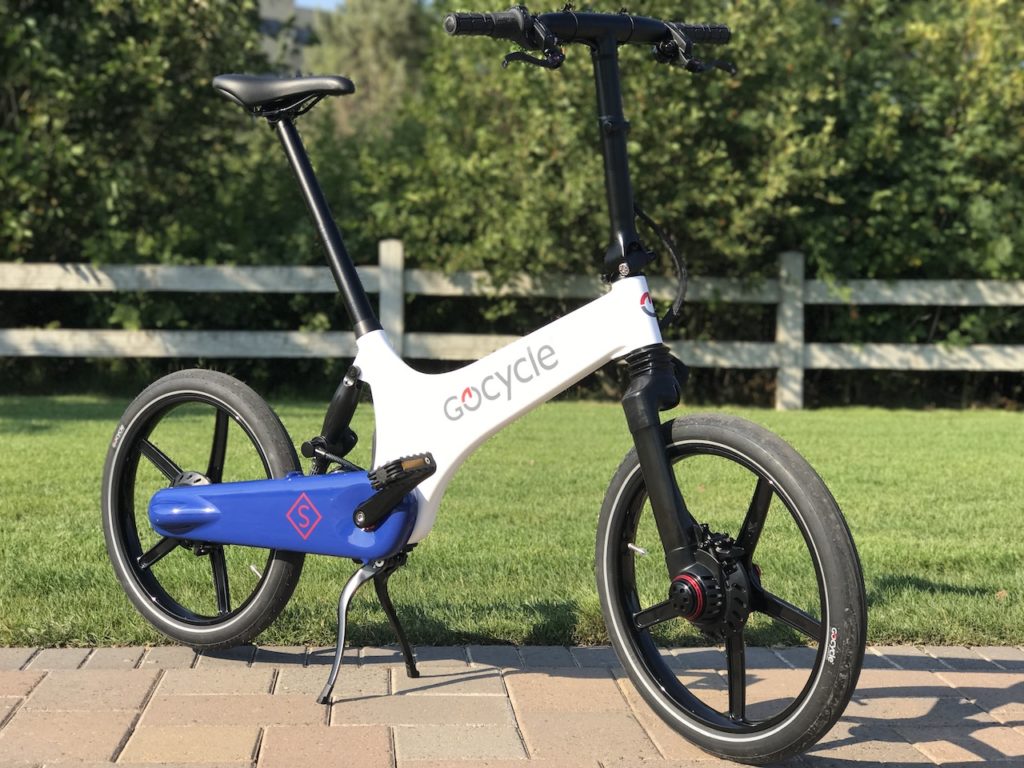 Gocycle has done a great job of taking a lot of the great features from their G3 and translating them into a more economical version that is the GS. The Gocycle GS is an innovative high tech bike that is easy and fun to ride. It is also a very clean and super low maintenance eBike.
Like other Gocycle's it is great for commuting, errand running, and riding on the open road. It is also light, compact, and foldable which makes it a versatile eBike for transport (car, RV, boat, etc.) and storage.
At $2,799 (on sale for $2,499 in October) it is the economical Gocycle that offers a lot of the innovative features found on the more expensive G3.
Please keep in mind that this is a relatively short term test. This testing can't really give you the long term review of durability and reliability. My thoughts on the quality of this bike are from previous experiences with similar bikes. If you own this bike and have some input on the long term durability, please share your comments with the Electric Bike Report community below.
Where to buy a Gocycle GS? Check with Gocycle for a dealer near you or order directly from them on their website.
Do you have any questions about the Gocycle GS? Do you own a Gocycle GS? Please share your thoughts in the comment section below.
Thanks!
-Pete
Review Note: Each company pays a fee for a review on Electric Bike Report because of the considerable amount of time that it takes to provide an in-depth review of each eBike. A lot of time is spent on the full range test with distance & elevation profile, the wide variety of detailed pictures, in-depth video, and the write up with the specifications, ride characteristics, pros, cons, and overall thoughts. The reviews on Electric Bike Report are focused on providing you with a detailed "virtual" look at each eBike to help you determine if it is the eBike for you.
P.S. Don't forget to join the Electric Bike Report community for updates from the electric bike world, plus ebike riding and maintenance tips!
Reader Interactions