Getting the E-Bike Word Out! The Interbike Electric Bike Media Event [VIDEOS]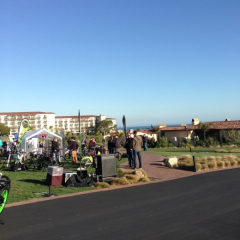 Post from Electric Bike Report correspondent Brett Thurber, co-owner of The New Wheel electric bike store. 
Why is America so behind in using the bicycle as transportation and what can we do about it?  I've written before about a problem we have in the land of the free: you can choose any mode of travel you'd like as long as it has four wheels and a combustion engine.
In 2012, the budget for the U.S. Department of Transportation was over $122 billion, with a paltry $6 billion allocated to cycling. Very often the barriers to cycling as transportation are due to poor infrastructure and have the cumulative effect of reducing a glorious mode of transportation into just another sport.
And while sport is all fine and good, it also skews the market: it wasn't long ago that if you went into a bike shop and told them you wanted a commuter bike they would look at you like you were crazy. You want to ride with cars?
So now we have something called an electric bicycle, a technology that is revolutionizing the way people move themselves everyday all over the world. Could this be the answer to the American car culture cul-de-sac?
Could this technology not only liberate us to explore our neighborhoods, cities and environs on a human scale as opposed to driving by in a metal box, but also free our paychecks by giving us financial independence from our automobiles and vastly reduce our ecological footprint? Will technology lead the way?
Interbike Electric Bike Media Event
held in Palos Verdes, California February 13, 2013. Put on by the folks at Interbike – organizers of North America's largest bicycle convention – and hosted by nine manufacturers, the media event was the first major showcase of electric bicycle technology for the cultural arbiters of this nation.
For the inaugural year, an impressive roster of big publishers were present, representing a hefty circulation of 18 million – USA Today, Men's Journal, Bicycling Magazine, US Magazine, and O Magazine to name a few. Almost just as important, the gathering was a clear signal that the cycling industry was ready to accept electric bicycles as their own.
The electric bike movement, though, seems somewhat different: you can't just refurbish a classic Schwinn and bomb down hills. To attain a suitable level of reliability and practicality, sophisticated technology is key, and it requires lots of time and investment to get right.  So, this time the manufacturers are driving the industry forward, hoping to get the public to give their bikes a try.
All those in attendance understood that they were all gathered together to help nudge America toward a test ride.
The next morning was bright and beautiful. Nine ebike manufacturers (Pedego, Prodeco, Currie Technologies, Pete's Electric Bikes, Easy Motion, Electra, Solex, Kranked Bikes) had their EZ-Up tents unfurled, presentation materials available, and bikes ready to ride. Each one represented a very different element of ebike innovation: from simple townies to full suspension mid-drive mountain bikes.
Before getting started on test rides, we were fed, caffeinated and educated on the history and possibilities of the electric bicycle by the publisher of EVWorld.com, Bill Moore.
I sat next to a reporter for Bicycling Magazine, a publication he described to me as all about spandex but looking to branch out. This was the right place for fresh ideas and lifestyles around cycling.
Kranked E-Bike
sporting a 1200 Watt E-Go mid-motor integrated onto a carbon full suspension Santa Cruz downhill bike. "This would fit the bill for our readers," he remarked to me as I met him at the bottom of the hill on a fast three wheeled bike from
Pedego
.
The bike he was riding was the first electric bike he had ever tried, and like so many other first time test riders, he was truly impressed. I couldn't help but think how exciting it was that finally the industry was able to provide a range of electric bicycles that were able to catch the imagination of taste makers like the people at Men's Magazine.
Bikes Belong
, the leading national bicycle advocacy organization in the country.
In his presentation, Mr. Maier spoke not about electric bicycles specifically, but about cycling advocacy generally. His point was simple: bikes are good culturally, environmentally, psychologically, physiologically and economically, and it is going to take public policy and advocacy to give the cycling industry, and by extension the electric bicycle industry, wings.
Back in Palos Verdes, the day had been spent talking about incredible technology, but Mr. Maier refocused the conversation on a larger issue: that technology is only as good as the bike networks available. You could go back and fourth about what comes first, the ebike or the infrastructure, but the wonderful thing that Interbike did by including Bikes Belong was that they made the event much more than just a day to try some new high tech toys; they helped bring to the foreground the ethical backbone of the cycling and e-cycling industry, underscoring that the adoption of the electric bicycle is a political and social undertaking, not only a matter of personal consumption.
Interbike's Electric Bike Media Event did something remarkable this week: it didn't just show off great technology; it also framed the electric bicycle movement as a key component in the fight for human scale transportation.
For us, the early adopters of these amazingly efficient human/electric vehicles, it presented a call to action: to contact our local representatives to tell them how we use bicycle infrastructure not only on the weekends but every day and to proudly advocate for electric bike technology.
At the end of the day, improving society is what is at the heart of the daily bicycling movement, and as long as we dream big, and we bring Men's Magazine along to dream big with us, we will find success.
The electric bicycle is here, it's fun, and it's going to make America a better place.
Here are more video interviews from the event:
Here are a few more articles covering the Interbike Electric Bike Media Event:
Thanks to Brett Thurber from The New Wheel e-bike store in San Francisco California for the coverage of the Interbike Electric Bike Media Event!
P.S. Don't forget to join the Electric Bike Report community for updates from the electric bike world, plus ebike riding and maintenance tips!
Reader Interactions