Eskute Voyager Review, 2021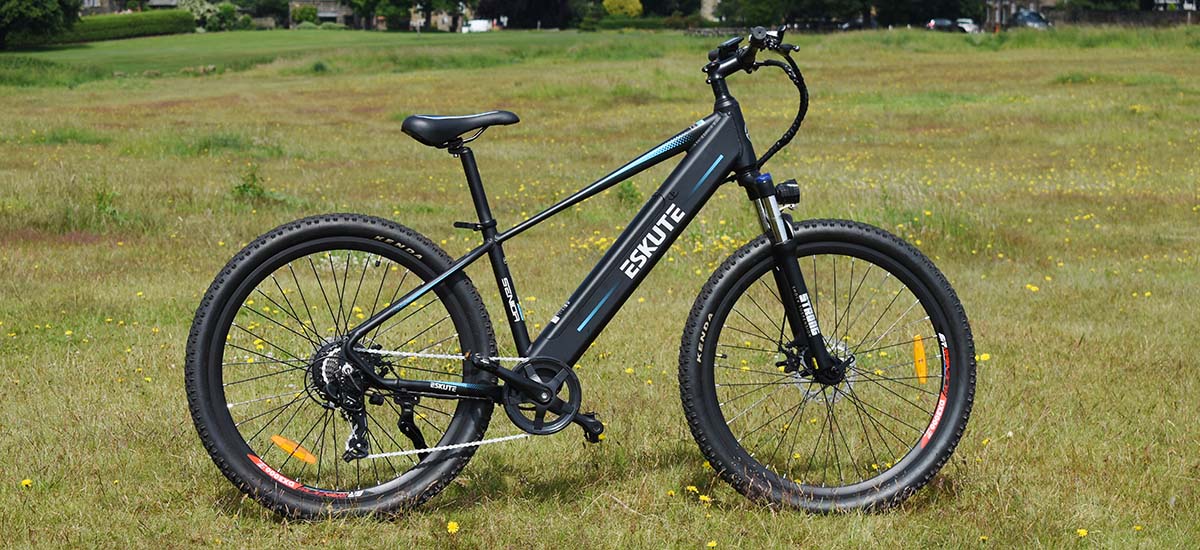 Eskute Voyager Review: Summary
The Eskute Voyager is the companion bike to the Wayfarer – which EBR has also reviewed – but is a trail e-mtb, unlike the Wayfarer which is a city e-bike.
So whilst it doesn't have the pannier rack or rear light of the Wayfarer it gets a bigger capacity battery to go with the same, dependable Bafang rear hub motor and it also has lockout front suspension (which the Wayfarer lacks) and grippy-looking Kenda 27.5 x 2.1 inch knobbly tires. It also has the same very attractive £999 price tag.
And like the Wayfarer, the spec is of course budget as it packs the same Zoom cable operated disc brakes and the same 7-speed Shimano Tourney derailleur gearing.
In our experience reviewing e-bikes, budget off-road e-bikes are perhaps a more difficult feat to pull off but Eskute look to have made a good start on paper by using a larger capacity battery for those energy-sapping trails and also using a 48V electric drive system, with the potential for more 'on tap' power delivery in contrast to the 36V Wayfarer, all of which makes sense.
But how would it measure up to taking on my local trails?
Bike Category:Hard trail leisure/trail eMTB – Leisure orientated geometry for comfortable trail riding

Bike Class:
Class 1 / EU-UK spec
Pro's
Great value
Battery very well-integrated into frame
Provides comfortable but, for a budget hub motor, pretty powerful trail riding
Powerful front LEDs and kickstand are practical and useful features
Con's
Mechanical disc brakes needed some bedding in to be most effective
Battery bar capacity display not very accurate or useful
ELECTRICAL SPECS & FEATURES
Battery: 480Wh frame-integrated, removable
Display: Key Display KD21C – LCD with customisable power settings
Motor: Bafang rear hub motor RM G020.250 rated at 32Nm torque
Headlight: LED powered from main battery
Pedal Assist: Pedal movement sensor (PAS) and optional throttle (throttle supplied but not connected)
Range: 42.8 miles on minor roads, paths and softer farms tracks and fields
Weight & Dimensions
Battery Weight: 3.4kg / 7.5lbs
Total Bike Weight: 24.8kg / 54.7lbs
Maximum rider and luggage weight: 120kg
Maximum load on rear rack: N/A
Dimensions: 1020mm x 1830mm
Components & Accessories
Brakes: Zoom cable operated disc brakes, 160mm rotors
Fenders: Non fitted but
Fork: Steel sprung front suspension with lockout and compression adjustment.
Frame: Aluminium alloy
Gearing: 40 tooth unbranded chainwheel, Shimano Tourney, 7 speed derailleur gears
Grips: Unbranded, rubber, friction fit
Handlebar: Unbranded 660mm alloy riser bars
Kickstand: Yes
Pedals: Wellgo, Plastic body with alloy cage
Tires: Kenda 27.5 x 2.10"
Eskute Voyager Review: Performance
Acceleration/Speed
The Voyager comes with five default levels of power setting and though you can customise these I left them as is – they are set to give approximately 50,60,70,80 and 95% assistance. In practice I only tended to use the bottom three levels as I felt they provided more than enough power in most circumstances.
Had the derailleur gearing been lower I would have been tempted to try steeper off-road climbs, with the power full on, more often.
As with most pedal motion systems, the key is to keep the pedals spinning reasonably quickly to keep the power coming. As long as you could do that there felt to be plenty of power coming from the Bafang rear hub motor, and the bike easily conquered our 15% test climb.
On a three-quarter mile long constant climb the Voyager felt to have plenty of climbing power; the 48V system certainly felt to have more oomph than the 36V system on Eskute's city bike, the Wayfarer.
As with all reasonably powerful motors it achieved three minutes on our standard three-quarter mile long climb at a moderate 5% average gradient at 15mph. This is certainly slightly better than quite a number of other hub motor e-bikes I've tried including ones that were rather smaller but also ones where the power delivery system wasn't set up as well.
Whilst the 36V Wayfarer achieved a similar time the Voyager felt even easier to ride up and I was only mildly out of breath, even though there was a slight headwind.
Emphasising its greater power up really steep climbs, the Voyager achieved our very short 15% climb some 5 seconds quicker than the Wayfarer; a glance at the Watts meter on the display showed why, with the Voyager consistently offering peak power of 930 watts and the Wayfarer some 730 (both in the highest power setting). Again the advantages of a 48V system are clear.
Range Test
The Voyager returned a range of 42.8 miles with 2767ft of climbing on a range of minor roads, canal towpath and railpath and moderately challenging bridleways through farmland.
This is about in line with expectations for the 480Wh battery, especially given that a significant minority of the test range riding was on softer going, over farm fields and on rather muddy tracks which need more energy to get over than tarmac. Similarly the wider knobbly tires on the Voyager take more energy than narrow slick tires found on city models and some hybrids.
Perhaps most significantly it is a 48V system so the extra watts of power it can generate over and above a 36V system will also certainly impact on the range if it used up steeper hills on the top power setting; after all that's the price you pay for greater performance as outlined above.
Handling
The Voyager was a nice easy bike to ride on-road and the geometry and handling felt very much as you would expect from a mid-size conventionally diamond frame bike. The 27.5" x 2.1" mtb tyres were well matched with the suspension fork that also featured compression adjustment and lockout. This all meant you could adjust the fork settings to match conditions, whether on road or off road.
There was quite a lot of rain around at the time of the test riding and some tracks were a little slippery but the aggressive tread of the tires and the front suspension meant mud, rocks, tree routes and bumpy farm tracks posed no problems at all.
As we've stressed in the video, the Voyager is not – and is not designed to be – a full-on e-mtb as more expensive mid-drive models from other manufacturers are. Rather, I would class it as a 'trail' or 'leisure' e-mtb, so rougher trails are it's meat drink and you can ride all day long on them on this bike (think poorly maintained canal towpaths and railpaths and farm tracks that motor vehicles go on). However you will find its limits on very bumpy and very steep tracks where the relatively low torque of the rear hub motor (compared to high end mid drives) and the narrow range of gearing will let you know when you are venturing into terrain beyond its capabilities.
Despite that qualification this is a great bike for trail and moderate e-mtb riding and I found the handling easy and confidence-inspiring on moderate trails and tracks.
Comfort
Fittingly for a leisure style e-mtb the Voyager has a very comfortable saddle, acceptable rubber grips which won't let your hands slip off the bars even in the wet, even if not the most comfortable compared to ergonomic models; all in all there is plenty of cushioning effect on rougher ground as described above.
The geometry is much more average than the taller and more stretched out Eskute Wayfarer which EBR has also reviewed and so will suit smaller as well as larger riders. The 16.5 inch / 42cm frame is small to average and the smaller distance between the seat and handlebars and the comfortably uptilted handlebar stem meant the riding position was quite upright and comfortable, especially for an e-bike with sporty credentials. My 5' 8" frame found it very comfortable, with a slightly leant forward position ideal for sporty riding.
There's around 6" / 15cm height adjustment on the seatpost which will give a very low seat height for very small riders (I measured it at around 80cm off the ground). Eskute say that the bike is suitable for riders between 160 – 200cm (5'3″to 6'7″).
As described in the handling section,, the compression adjustment on the fork helped with comfort, especially going off-road.
Specs/Features: Electrical Components
Motor
The Bafang rear hub motor RM G010.250 is rated at 32Nm torque and has a stated weight of 3kg / 6.6lbs – whilst it's certainly not Bafang's most powerful motor but it didn't seem to matter too much in the hill climb test as you can see from the impressive hill climb results.
You can't really go wrong with a Bafang motor provided the manufacturers have chosen the right spec for your e-bike. Bafang make some of the best budget hub motors in the e-bike world in terms of reliability and efficiency, especially when twinned with a good electronic control system as is the case on the Voyager.
Battery
The large capacity 480Wh battery is a stand out feature, especially given the £999 price tag of the bike.It's not just good value and will give you good power delivery and extra range compared to lower voltage systems, it also looks really well-integrated into the frame and really solidly constructed, with a robust alloy casing.
Being 48V it is somewhat heavier and larger than the 36V version on the Wayfarer. The Voyager battery weighs around 3.4kg or 7.5lbs compared to the 2.6kg / around 6lb battery on the Wayfarer.
For the extra weight you get around a third more capacity. The higher the voltage of your e-bike system – in theory – the greater the current can be drawn safely from it without overheating and damaging the battery. As we found in the performance test, that turned out to be the case.
The overall weight of the Voyager is 24.8kg / nearly 55lbs – around the same as the Wayfarer which is fully equipped – so in that sense the bigger more power-capable 48V battery adds weight.
The whole bike is IPX5 rated meaning it has a waterproof rating to resist anything except high pressure jets of water – it's always important never to use a pressure washer on the electric components of e-bikes. That rating is of course particularly reassuring when it comes to the battery – it means in wet and muddy conditions that means you shouldn't get significant amounts of water and dirt getting onto the battery contacts.
Pedal Assist / Throttle
The pedal assist uses a very neatly integrated ring of magnets around one of the pedal cranks that activate the motor on turning the pedals. This takes a little while to kick in and stop on starting and stopping pedaling, but we are only talking pretty brief intervals. Nevertheless it makes for smoother power delivery if you can keep the pedals turning all the time on a steady climb.
Similarly the motor cuts out shortly after you have stopped pedalling and there is little run-on of motor power after stopping pedalling. I felt under control and like the sensing system was accurate and doing a good job. For added security there are power cut outs on the brake levers that immediately cut the motor power as soon as you hit front and rear brake levers.
The Wayfarer is an EU compliant pedelec with a speed limit of 15mph.Eskute supply a throttle that can be retrofitted but note this would turn it into a twist and go model that would not be EU compliant. I tried it and it worked fine – you just need to make a change in the display settings to turn it on. It only worked on level 0 power assist so I couldn't configure it to work with the pedal assist levels, only instead of them. It felt reasonably powerful up hills, but not moreso than using the PAS settings anyway.
Display
The display (Key-Display KD21C) has clear, large LCD info and easy to control buttons. It has a wide range of metrics often found on e-bikes; odometer, trip time and distance plus max and average speeds. The battery capacity meter has five 'battery bars' and isn't the most accurate design (% is more helpful in telling you just how much power you have left but that doesn't figure on this display).
However, the display has better functionality than many other displays as it also shows watts of power being produced by the motor and lets you also customise many aspects of the motor system's performance, so you can change settings to fine tune some aspects of the performance to your needs.
Components and Accessories
Brakes
The Zoom mechanical disc brakes were OK. From the get go the front brake felt to provide a decent amount of stopping power but I still had to squeeze both brakes pretty hard to stop at all quickly. Over time they improved and the front brake got a lot better, perhaps suggesting the brake pad had roughed up and was gripping the front rotor much better. The rear rotor remained a little spongy and ineffective but when both were used together there was certainly a decent amount of stopping power. If it's anything like the Wayfarer the rear brake just needs more time to bed in and get more traction from the pad, so I would be very disappointed if it didn't improve more over time.
Frame
The aluminium 6061 frame comes in one size which I measured at 16.5" / 46cm, which is pretty average. The sloping top tube will help riders get on and off easily. I've covered more detail on recommended rider heights in the Comfort section above. The bike frame has comfort geometry too, meaning the headset / handlebar stem is set pretty high compared to the seat to give a fairly upright riding position.
The frame looks very well made, with strong weld joints. The battery is housed neatly in the main 'downtube' The overall matte black finish looks pretty slick too.
Fork
The front fork is described on the website as Partner suspension. Unlike on Eskute's city model there is both pre-load and lockout adjustment. I felt this transformed the usability of the fork – I could dial in more or less compression to make the suspension harder or softer according to the surface I was travelling over and lock it out on tarmac to make the ride stiffer and more efficient. On the softest setting it help even out some pretty bumpy surfaces, for example riding along the edges of wheat fields which were little more than rutted, rough earth.
At the end of the day it's still a budget fork so don't expect the ultra-quiet, ultra smooth performance of a high end air-sprung model. There is still the odd rattle from it, especially at speed over rougher surfaces. But to me it made far more sense to spec this particular budget fork on this design of bike than the one fitted to Eskute's Wayfarer city bike.
Drivetrain
The Shimano Tourney seven gear derailleur system performed without fault – changes were reasonably quick and precise. My only quibble was that lower gearing might have been more appropriate on this e-mtb, where much lower speed maneuvering and hillclimbing is likely to be needed than on a city e-bike, which the gearing ratios are more akin to.
Contact Points
I found the spongy own-brand saddle super comfortable and combined with the large volume tyres and front suspension gave a really comfortable ride.
The rubber friction fit grips were adequate, if not quite a comfy as some ergonomic designs – there was certainly enough purchase on the handlebars to feel you were under control. The metal cages on the Wellgo pedals also gave plenty of traction for your feet, even when pedalling hard over slightly rougher ground.
Tires
The Maxxis Forekaster 27.5×2.1" knobbly tires felt really grippy in all conditions – in the wet and dry and on and off road. I couldn't really fault them.
Extras / Accessories
The Voyager came with telescopic mudguards though I confess I forgot to fit them during the testing period. E-mtbs don't often feature kickstands so the one on the Voyager was particularly welcome.
There is no rack but there are mounting points for one near the rear drop outs (as well as mounting points for rear stayed mudguards too), though no rack attachment points near the seatpost, so you would have to get an appropriate design of rack and change the seatpost clamp.
For touring or very long day rides you might want to think about an extra battery as the £179 cost for a spare looks tremendous value. Even if you don't ride all day it might be worth thinking about as a 'backup' for when the first battery starts to degrade, as all lithium ion batteries will do if charged and discharged a lot in regular use over the years.
Summary Review / Where to Buy
£999 is simply a great price for the Eskute Voyager, especially given the high-quality frame with integrated battery and the 48V motor system with a good-size 480Wh battery. To make it even better value you can use the EBR promotion code of Bikereport50 to get a further £50 discount.
Eskute were also quite open with us about how their global supply chain works. Their parent company is based in Shenzhen, China but they have a factory in Poland where bikes available in the UK are assembled. They also have warehouses in Poland (EU shipping) and a UK warehouse (5-10 days delivery time in the UK by Hemes carrier).
Eskute are selling direct from their website and offer a 1 year warranty on the major components including motor and battery (good to see as two years offered as it now really a common industry standard for a battery guarantee). There's also a 1 year warranty on more 'consumable' components and all the detail is here.
Reader Interactions