Eskute Wayfarer Review, 2021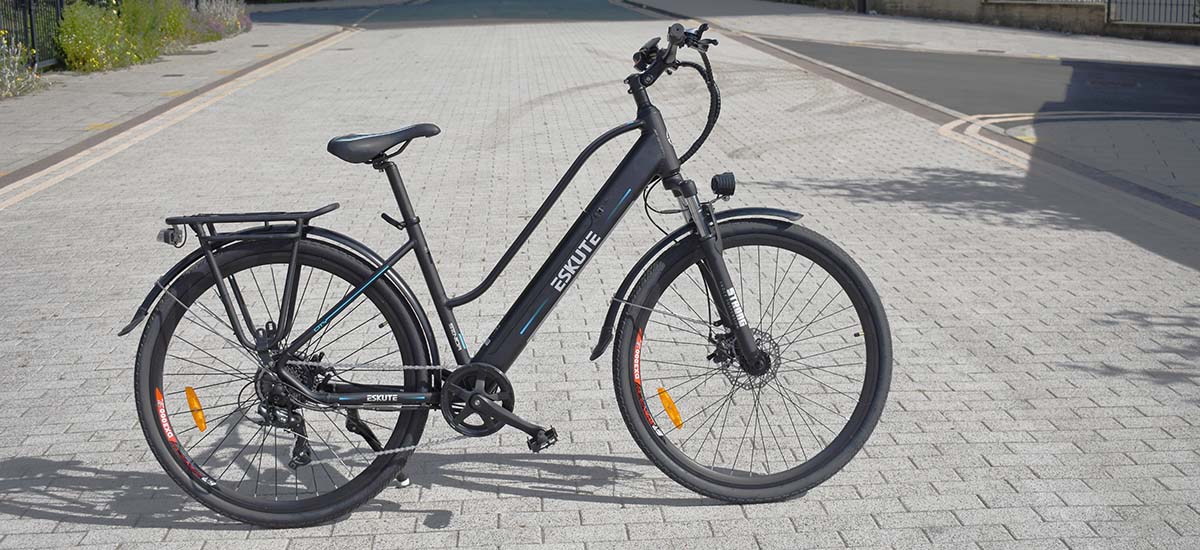 Eskute Wayfarer Review: Overview
The Eskute Wayfarer from the UK is a fully equipped town bike with a frame-integrated battery and a great price of £999.
There aren't too many e-bikes of any description at this price that we've reviewed, let alone ones like the Wayfarer which come with hard-wired lights, sturdy pannier rack, full mudguards, front suspension and electronic horn.
It's clearly designed to be easy to use and comfortable, with low-step frame, plush saddle and adjustable handlebar stem.
The spec is of course budget and you wouldn't expect anything else at this price, but features well-respected names from the Bafang rear hub motor to the Shimano derailleur gearing.
On paper it looks superb value but how would it measure up to our real world testing?
Bike Category:
City e-bike – Fully-equipped with step-over frame
Bike Class:
Class 1 / EU-UK spec
Eskute Wayfarer Video Review
Pro's
Great value
Great range of equipment – mudguards, lights (front and rear hardwired to main battery), kickstand and rack
Battery very well-integrated into frame
Good hill climbing
Display lets you customise some motor and battery performance metrics
Con's
Poor performing rear brake
Front fork lacks a lock out control which would improve performance
ELECTRICAL SPECS & FEATURES
Battery: 360Wh frame-integrated, removable
Display: Key Display KD21C – LCD with customisable power settings
Motor: Bafang rear hub motor RM G010.250 rated at 32Nm torque
Headlight: LED powered from main battery
Taillights: LED powered from main battery
Pedal Assist: Pedal movement sensor (PAS) and optional throttle (throttle supplied but not connected)
Range: 36.8 miles with 1,837 ft of climbing at an average of 14.2mph
Throttle: Not fitted (retrofit option supplied but riders should only local traffic laws)
Weight & Dimensions
Battery Weight: 2.65kg / 5.8lbs
Total Bike Weight: 24.9kg / 54.9lbs
Maximum rider weight: 120g / 265lbs
Maximum load on rear rack: 25kg / 55.1lbs
Dimensions: 1100mm – 1160mm high (depending on angle of adjustable handlebar stem) x 1920mm long
Components & Accessories
Brakes: Zoom cable operated disk brakes, 160mm rotors
Fenders: Plastic, unbranded, with steel stays
Fork: Steel sprung front suspension without lockout
Frame: Aluminium alloy
Gearing: 40 tooth unbranded chainwheel, Shimano Tourney, 7 speed derailleur gears
Grips: Rubberised, unbranded
Handlebar: Unbranded 660mm alloy riser bars
Kickstand: Yes
Pedals: Wellgo, plastic body with alloy cage
Tires: Unbranded 28" x 1.75" (47-622)
Eskute Wayfarer Review: Performance
Acceleration/Speed
I customised the power levels by reducing them to three (for more detail see Display section below) and set these at 45%, 75% and 95% respectively. The bottom level was only really used for maneuvering at low speed, for example on crowded shared use routes and I never really felt the need for the extra half an mph provided by the top level.
So that meant the bike felt happiest nipping around in level two and on the flat accelerates quickly and pretty quickly on all but the steepest of hills. The main proviso was that I needed to keep the pedal spinning quite quickly; as a pedal sensing system it needs the cranks to be moving speedily at all times if you want to keep the optimum amount of power coming. It's not how hard you stand on the pedals but if you are spinning quickly enough that will determine how much power you get. Occasionally the system didn't seem to be picking up the fact the pedals were spinning quickly, but stopping and starting them again righted things.
On a three-quarter mile long constant climb the Wayfarer consistently achieved the distance in three minutes meaning it can climb a moderate 5% average gradient at 15mph. This was slightly better than quite a number of other hub motor e-bikes I've tried including ones with similar Bafang rear hub motors, showing that factors like bike gearing and control electronics are just as important as a pretty powerful motor – like the Bafang on the Wayfarer certainly is.
Most impressive of all, I wasn't trying too hard up the hill and felt only mildly out of breath at the end; this was in the top power setting which I had also set to deliver max power using the controller settings, as described in the Display section below.
On a steeper but much shorter 10% to 15% gradient I needed to stand up on the Wayfarer's pedals whilst in bottom gear but still this is a good result – a number of budget e-bikes I have tested in the past wouldn't have completed this climb.
Range Test
The Wayfarer returned a range of 36.8 miles over a moderately hilly test circuit including some easy railpath riding on an unsealed surface, climbing 1837feet in the process and averaging 14.2mph. I toggled between power settings and turned the motor off on downhill sections, using the power to give me just enough power to stop me struggling but also letting me get a mild workout.
This range shows pretty good efficiency for the system compared to other e-bikes with the same Bafang rear hub motor. For example, it was very much on a par with the E-movement Thor, which achieved 36.65 miles with 2255ft of climbing though in rather less windy conditions and with a bigger 374Wh battery pack).
Handling
In general the Wayfarer was predictable and easy to control in just about all conditions, helped by the large and stable 28" wheels and the pretty upright riding position.
There are a couple of caveats to this. Firstly, the budget front fork really didn't help if using both front and rear brakes, especially around corners, as the front end control felt a bit indistinct due to the movement of the front suspension (covered in more detail in the Fork section below). It's no worse than some other budget forks but it's just one reason why I think many budget suspension forks would usually be best replaced with regular 'solid' ones. Secondly as it's quite a big bike and I wouldn't really recommend it for riders any smaller than my 5'8" height – you risk stretching to reach the bars and also having too much weight towards the back of the bike, again making handling feel a little light and indistinct. However, larger riders would no doubt feel much more at home at when cornering at speed and on fast downhills.
Specs/Features: Electrical Components
Motor
The Bafang rear hub motor RM G010.250 is rated at 32Nm torque and has a stated weight of 3kg / 6.6lbs – that's certainly not Bafang's most torquey 250W motor but it didn't seem to matter too much in the hill climb test as the Wayfarer returned very similar figures e-bikes with the Bafang's next model up, the RM G020.250 rated at 45Nm torque (3.3kg / 7.3lbs).
You can't really go wrong if a Bafang motor provided the manufacturers have chosen the right spec for your e-bike, as they are some of the best budget hub motors in the e-bike world in terms of reliability and efficiency, especially when twinned with a good electronic control system as is the case on the Wayfarer.
Battery
The 360Wh battery is very well integrated into the frame and weighs some 2.65kg / 5.8lbs. Pound for pound that is a little heavier than, say, a Bosch battery, but the Wayfarer battery appears very well solidly constructed indeed. It has an alloy body and a press button check for capacity with blue, green or red indicating which third of the battery capacity you are using. A handy feature when the battery bar display on the handlebar bounces around so much.
It locks into and out the frame with a very solid click and stays very solidly in place without any rattle, but at the same time it's easy and 'fiddle-free' to get in and out of the frame. Mechanically speaking at least, it really does feel to have Bosch-like quality. All most impressive.
I achieved a virtually full charge in about 4 hours from the 2amp charger with the extra 1% slow top off charge taking another hour or so – about what you would expect.
Pedal Assist / Throttle
Like just about all PAS systems that use magnets to sense the pedal crank movement and set the motor in motion, it takes a little time for the motor on the Wayfarer to kick in after you have started pedalling – but we are only talking very brief intervals. By keeping the pedals spinning pretty quickly in an appropriate gear you are maximising the output you can get from the motor.
Similarly the motor cuts out shortly after you have stopped pedalling and there is little run-on of motor power after stopping pedalling. I felt under control and like the sensing system was accurate and doing a good job. For added security there are power cut outs on the brake levers that immediately cut the motor power as soon as you hit front and rear brake levers.
The Wayfarer is an EU compliant pedelec with a speed limit of 15mph. It is also supplied with a throttle that can be retrofitted but note this would turn it into a twist and go model that would not be EU compliant.
Display
The display (Key-Display KD21C) has clear, large LCD info and easy to control buttons. It has a wide range of metrics often found on e-bikes; odometer, trip time and distance plus max and average speeds. The battery capacity meter has five 'battery bars' and isn't the most accurate design (% is more helpful in telling you just how much power you have left).
However, it's particularly useful and has better functionality than many other displays as it also shows watts of power being produced by the motor and lets you also customise many aspects of the motor systems performance so you can change settings to fine tune some aspects of the performance to your needs.
There are three levels of rider-programmable settings:
The first lets you select basic display settings such as miles or km and the brightness of the display's backlight – all useful stuff.
The second level of settings lets you change the wheel diameter and shouldn't be changed from the default.
The third is the most useful as amongst many other settings it lets you change how many power levels you want (3,5,7 or 9) and the amount of power delivered for each of the respective levels. I much prefer a small number of levels to simplify the riding experience so changed down straight away from the default 5 to 3. A large number of levels are really quite redundant on budget bikes like this with a volt-based controller, where all you are really doing is increasing the max speed the controller will let you go at.
The battery capacity icon on the display consists of five bars but like many displays of this kind it is of very limited use; the bars disappear under heavy load but reappear when you back off the power, though they will disappear over time too. It's really only an extremely approximate guide to the capacity left in the battery.
At least I got a couple of miles warning that battery was approaching flat from the display; it went from one bar showing to flashing empty at about 34 miles and still managed to deliver a few hundred watts of power up the hills until the last half mile home – here the power cut in and out and only delivered a few tens of watts. It certainly didn't feel it was doing the battery any good so I decided it had reached its max effective range at just over 36 miles.
There is a walk assist feature activated by pushing and holding down the minus button on the display. This puts a few watts of power through the motor, turning it at low speed without the need for the pedals to turn. It's designed to help when you are dismounted but need to push up steep inclines that might otherwise prove too much, such as access ramps of flights of stairs. It's not particularly powerful but it does help a little in helping you push up and over such obstacles.
Components and Accessories
Brakes
The Wayfarer features Zoom mechanical disk brakes. Zoom appear to be a pretty budget brand (I noticed they appear to be selling hydraulic disk brakes for US$15 per set!) and they also appear on e-scooters. When set up properly and of decent quality there is certainly nothing wrong with cable operated disk brakes as they can provide a step up in power from the likes of V-brakes and they also suit hub motor e-bikes as you are not going to need to replace a rim on the hub motor wheel because of wear and tear from rim brakes.
Whilst hydraulic disk brakes give a more sophisticated and controlled braking experience, mechanical systems as on the Wayfarer have their advantages too – maintenance tends to be easier and replacement cheaper than on hydraulic systems that may need bleeding or seals replacing etc.
At first the mechanical disk brakes on the Wayfarer felt fairly ineffective as you had to squeeze both brakes pretty hard, suggesting that perhaps they might not have been set up and adjusted properly or that the brake pads themselves needed wearing in it to allow them to get more 'bite'. They certainly needed improving.
Over time the front brake got a lot better, perhaps suggesting the brake pad had roughed up and was gripping the front rotor much better. The rear rotor remained rather spongy and ineffective but when both were used together there was certainly a decent amount of stopping power. Eventually it did seemingly bed in though and improved in power.
At first I tried cleaning the disk rotors themselves with alcohol to clear any grease or oil that might have been on there and tried several sessions of just braking repeatedly and hard to try and rough the brake pads up.
Frame
The aluminium 6061 frame comes in one size which I measured at 18" / 46cm. It comes with a lowered top top and I measured the step-over height on this at 21". It is quite a large frame and there is plenty of height adjustment on the seatpost – from the ground to the top of the seat at its max height is 38" which should certainly accommodate the biggest riders out there.
The frame looks very well made, with strong weld joints. The battery is housed neatly in the main 'downtube' whilst there is a reassuring strong looking reinforcing sloping toptube with a flattened profile that adds strength whilst keeping the step through element to the frame. The step-thru height is not as low as some but it certainly makes the bike much easier to step over and get on than a regular diamond-frame model.
Fork
The front fork is described on the website as Partner suspension. There is no pre-load or lockout adjustment on it meaning that it is at the budget end of budget forks. It did an OK job of ironing out humps and bumps as it was quite easily compressed. However, over bigger bumps it felt rattly and the rebound damping wasn't great, meaning it felt to bounce back up rather quickly. It didn't help braking feel particularly controlled either.
Generally speaking, I would prefer it if all budget forks were replaced with 'solid' non-suspension forks and larger volume tyres that have some suspension effect themselves so the bike just feels more in control, plus you save a bit of weight and (perhaps) cost too. This isn't a criticism of the forks on the Wayfarer; they are just what you would expect on a very budget bike and I can see why some riders might prefer to have that suspension, despite the fact it doesn't give the most sophisticated ride out there.
Drivetrain
I have loved the budget Shimano Tourney seven gear derailleur system on every bike I have tried it on and the Wayfarer is no exception. It doesn't give you the biggest range of gears out there but the changes are pretty clean and quick and feel pretty easy. What more can you ask of a budget derailleur system on a city e-bike?
Contact Points
I found the spongy own-brand saddle super comfortable and combined with the adjustable handlebar stem (that can be altered for a very upright ride) and the large 28" x 1.75" commuting style tyres meant a luxurious-feeling ride.
The rubber friction fit grips were adequate, if not quite a comfy as some ergonomic designs – there was certainly enough purchase on the handlebars to feel you were under control. The metal cages on the Wellgo pedals also gave plenty of traction for your feet, even when pedalling hard over slightly rougher ground.
Tires
The unbranded 28 x 1.75" commuting style tyres felt reasonably fast and gave plenty of grip round corners. They also apparently feature puncture protection.
Extras / Accessories
The Eskute Wayfarer comes packed with useful accessories ideal for practical city riding. There is a very sturdy rear rack that has dropped rails so you can also easily fit an oversized rack top bag on and the rack itself it rated at an impressive 55lbs / 25kg – few racks are rated any higher and plenty have a lower weight rating. At 13mm diameter the rails were just small enough to accommodate both my Vario fitting hookover panniers and the older, smaller hook system on my Carradice panniers.
There are front and rear LED lights – the front gives plenty of light even on unlit roads and paths
Summary Review / Where to Buy
At £999 this is undoubtedly a very good value e-bike, especially when you consider the high quality frame with integrated battery and the host of carefully thought out accessories you get with it. OK, you don't get the bigger batteries and more efficient performance you get on much higher price models, but for a budget e-bike it's one of the best I've seen at delivering bang for your buck and being a comfortable and practical city ride into the bargain. To make it even better value you can use the EBR promotion code of Bikereport50 to get a further £50 discount.
£169 is a similarly very good price for replacement batteries so it would also be tempting to buy a second backup and keep it only lightly used for if / when the first battery starts to degrade, as all lithium ion batteries will do if charged and discharged a lot in regular use over the years.
Eskute were also quite open with us about how their global supply chain works. Their parent company is based in Shenzhen, China but they have a factory in Poland where bikes available in the UK are made. They also have warehouses in Poland (EU shipping) and a UK warehouse (5-10 days delivery time in the UK by Hemes carrier).
Eskute are selling direct from their website and offer a one year warranty on the major components including motor and battery (good to see as two years offered as it now really a common industry standard for a battery guarantee). There's also a 1 year warranty on more 'consumable' components and all the detail is on Eskute's warranty page here..
Reader Interactions