eMTB Racing Arrives In North America At The Sea Otter Classic [VIDEO]
On Friday, April 15, 2016 the Sea Otter Classic in Monterey, CA held first ever electric assist mountain bike (eMTB) in North America.
The race was enhanced with support from sponsors Bosch and Haibike.  Bosch even put up a special prize of $5,000 for the winner of the Industry Challenge eMTB Race to donate toward the charity of their choice.
The eMTB course was set on a section of the pro XC course and laps took about 7 minutes to complete. Over the last 25 years, the dirt hills on the inside of the world famous Laguna Seca race track have witnessed some of the best mountain bike racing in North America.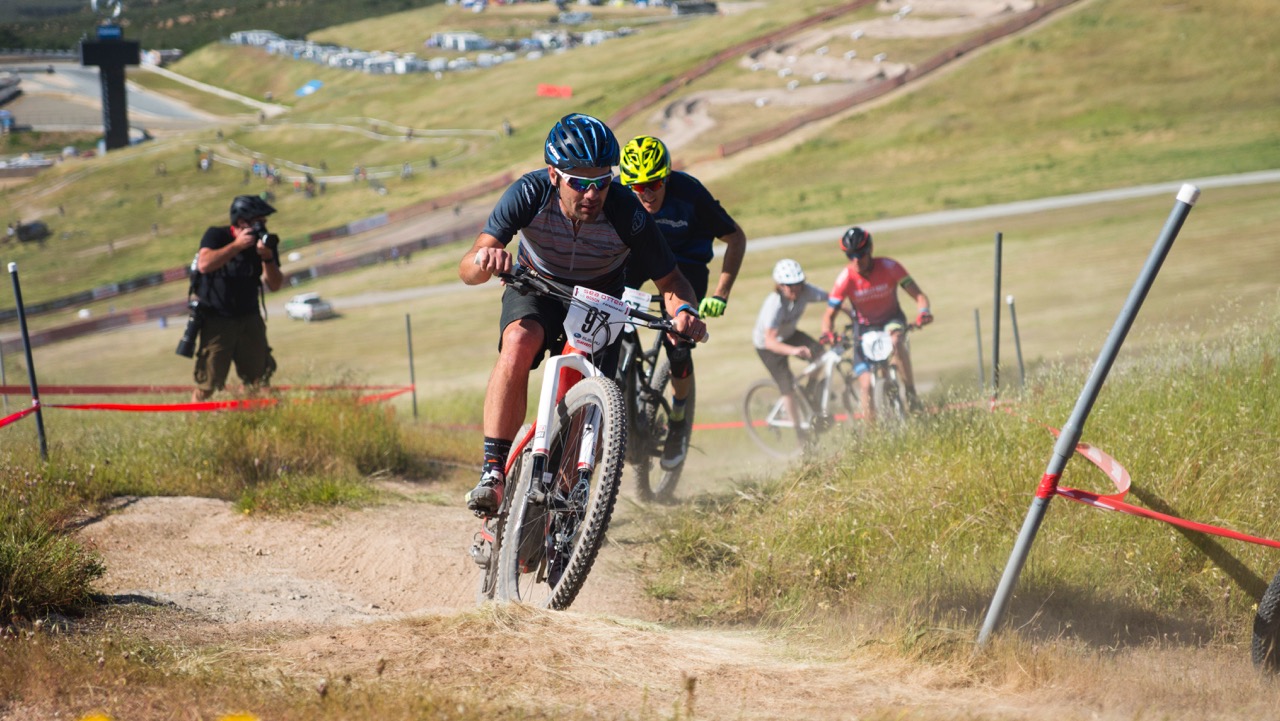 From cross country events to short track and dual slalom, nearly every high-level off-road rider eventually pays a visit to the Northern California venue. In 2016, Laguna Seca and Sea Otter saw the dawn of eMTB racing on this continent and the response was unanimously positive.
Never before had the Sea Otter seen such a wide range of riders on one starting line.
There was world champion xc rider Cristophe Sauser. Haibike and Bulls ebikes fielded some of their top world cup talent. They were joined by multi-time world cyclocross champion and world cup mountain bike xc winner Mike Kluge, now in his 50's. Mountain bike racing pioneer Joe Murray was on the line.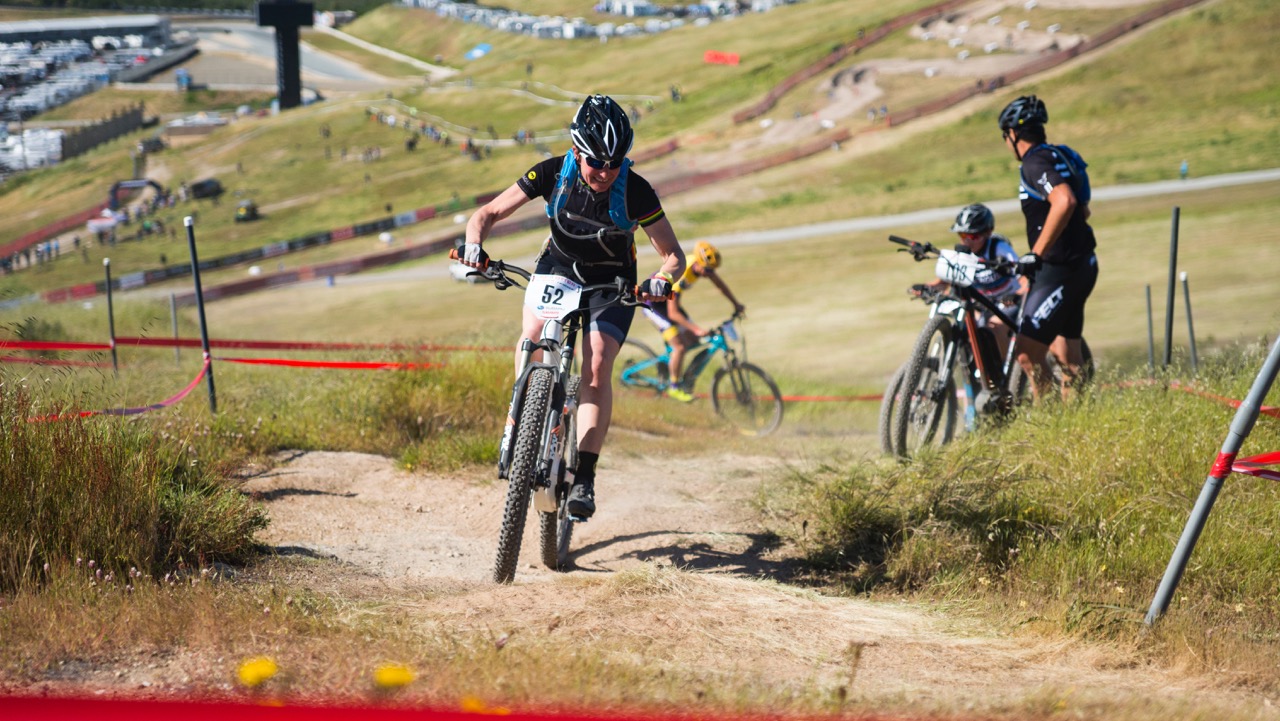 The women's field was headed up by a former world champion in cross country, Ruthie Mathes.
The eMTB field didn't just consist of highly experienced legends, though. Teenagers to riders in their 60's and 70's were represented.
There were a couple of riders dressed as Chiquita bananas.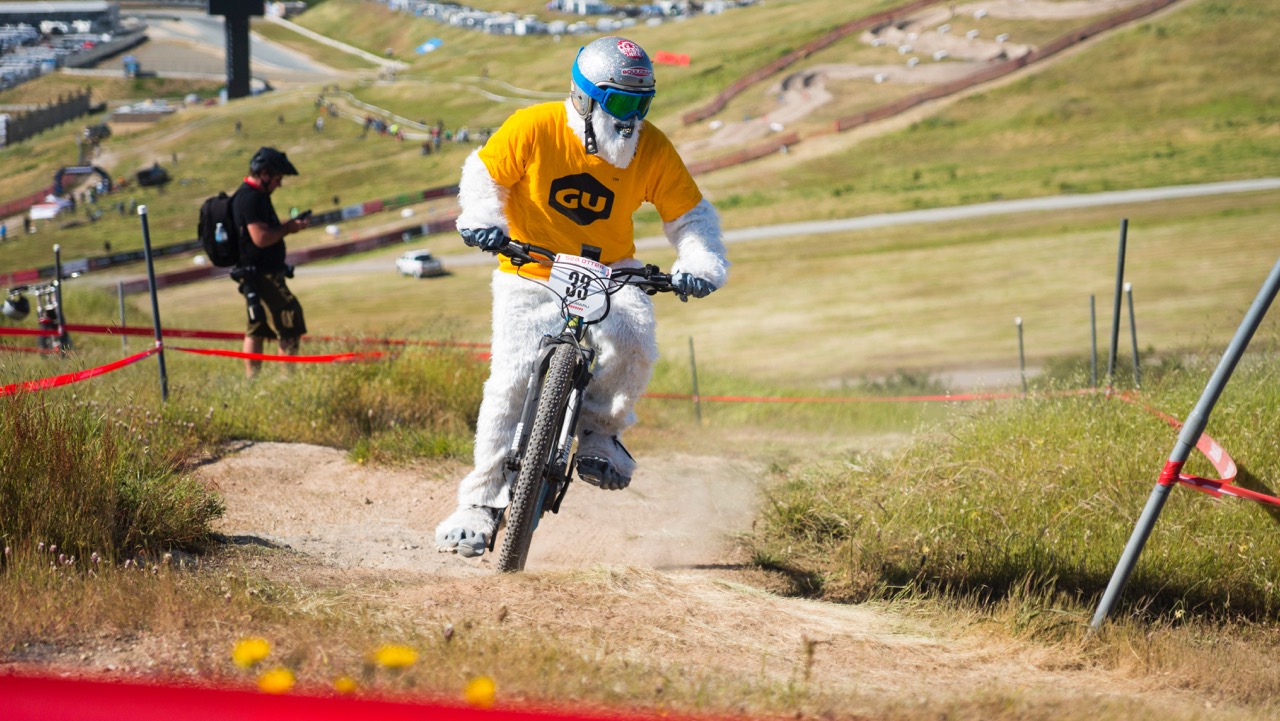 There was a white, furry abominable snowman wearing a GU jersey. There were well known cycling magazine editors. Thrown in for good measure was Team Giant rider Carl Decker, who did the race on a standard dual-suspension bike.
While no one knew exactly what to expect, it was evident the course would quickly force gaps between riders. After climbing for a couple of minutes, the first descent quickly entered a two-stage rock garden that gave many riders fits and offered an entertaining vantage point. With no fewer than six loose, off camber corners per lap, riders with smooth course management and higher cornering momentum built their advantages.
While Haibike's Xavier Marovelli and Mehdi Gabrillargues tore at the front of the race, Specialized rider Christophe Sauser was able to mitigate their lead to less than 10 seconds. When Sauser eventually latched onto the leaders, he wasted no time created a gap of his own.
Sauser pushed his lead to over 15 seconds before settling his rhythm. Sauser went on to win, laying claim to yet another historic first.
In the Bosch Industry Challenge category, Mike Kluge finished with a 31 second victory over local rider Dillon Santos.
The fastest women finishers was Hannah Barnes, posting 45:25. She was followed by Madison Geiger at 46:24, Kelly Chang at 46:40, Denise Silva at 48:19, and Industry Challenge winner Mathes who arrived in 48:44.
Over the loudspeaker at the finish, exuberant riders spoke of having the most fun they'd ever had in a mountain bike race. Sauser explained why he felt eMTB racing was a great fit for any rider, regardless of racing experience, and believes the sport's future is extremely bright.
Scott Paul, a 62 year old racer who took 8th in the 60+ race, summed up much of what this first eMTB race displayed. "I wouldn't be out here if it wasn't for an e-mountain bike", Paul said. "I got to race with my buddies, I got some incredible exercise, and I had a blast alongside some really accomplished athletes. This is easily the best time I've ever had at a race."
Gil Norman took the 60+ event, followed by Steven Robertson and 73 year old racer Dutch Knapp.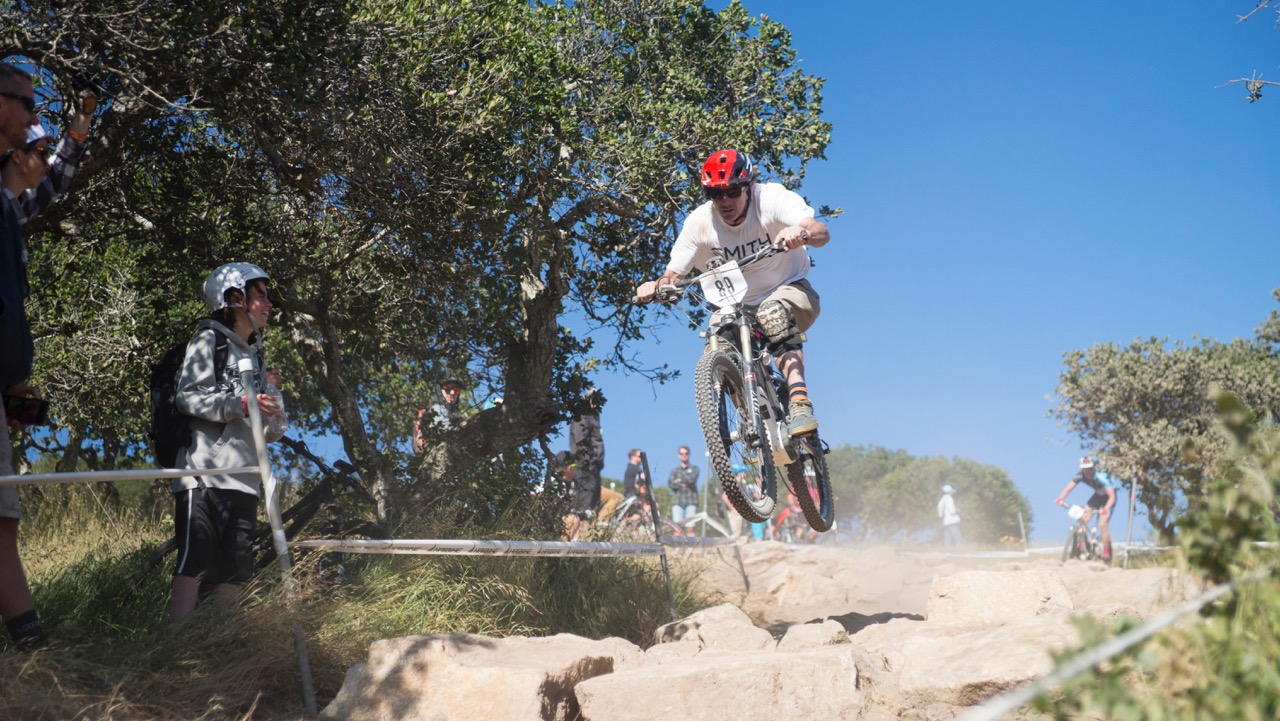 Scott Paul touched on a topic that many racers, including Cristophe Sauser, also were talking about. They were tired. The race, like any cycling event on a circuit like this one are, wasn't easy.
Racers, from complete newbies to world champions, were challenged on a bike in new ways. They explained how the eMTB allowed them to get the most out of the event. They could go as hard as they wanted.
When they needed some respite, they could take it, and it allowed them to press on. When they needed to get out of the way of a faster rider, they didn't feel like they didn't belong on the course.
They were able to do the things on the course they needed to to feel like they belonged there. Faster riders still had to deal with plenty of traffic on the course, but that even added to their own enjoyment of the race.
In the end, the first eMTB race held in North America was an eye opener. Racers, with their friends, families and spectators, all experienced a new level of "inclusion" in the sport of mountain bike racing.
The cycling industry present at Sea Otter saw participation and enjoyment on a scale that awakened them to a segment they now need to pay attention to. Sea Otter event organizers no doubt witnessed the same things.
If they didn't come away with a new understanding and respect for the ways the eMTB can bring people together, there were many others watching who did.
eMTB racing has arrived on these shores and looks very much like it will be here to stay.
P.S. Don't forget to join the Electric Bike Report community for updates from the electric bike world, plus ebike riding and maintenance tips!
Reader Interactions