Survey Says: Electric Bikes Enable More People to Ride Bikes, More Often!
The results are in from a recent electric bike survey: 55% of those surveyed had ridden a traditional bike weekly or daily.  That jumped to 93% after they bought an e-bike!
6% of those surveyed had not ridden a bike as an adult.  With an electric bike, 89% of those now ride daily or weekly!
Those are just a few of the stats from an e-bike survey that was directed by John MacArthur, Sustainable Transportation Program Manager at the Oregon Transportation Research and Education Consortium (OTREC).  John is also a research associate at Portland State University (PSU).
Mr. MacArthur recently presented the survey results and some general e-bike education in a webinar called " E-Bikes: Generating the New Wave of Cyclists".  The webinar was presented to the Initiative for Bicycle & Pedestrian Innovation (IBPI) group that OTREC & PSU promotes.
From these results it is evident that more people are riding bikes more often with electric assist.
And here are some other interesting stats from the survey:
35% don't avoid hills on their electric bike and 31% take a more direct or higher traffic route.  30% say they take a lower traffic or less direct route.
73% ride to different destinations on their e-bikes than they did on a standard bike.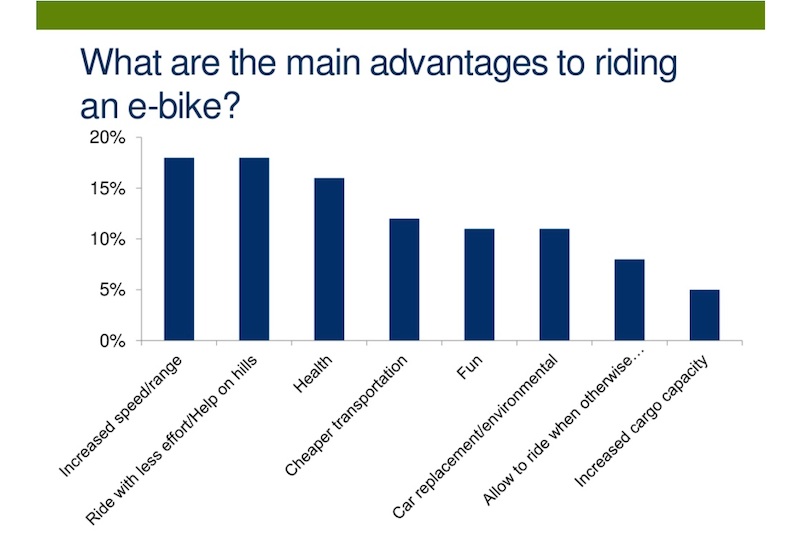 Here are some of the comments from the survey participants on how an electric bike has helped them:
"To replace 95% of car trips and make commuting fun" 
"To encourage me to ride longer distances and be able to keep up with family & friends who were more fit"
"I use the e-bike primarily as a substitute for the car where I would have otherwise have driven a car.  I can carry my son and a week's worth of groceries."
"I have bad knees( I'm retired, 68 years old). If I pedal a bike my range is limited by pain to about 5 to 6 miles. The e-bikes has a range per charge of 30 to 35 miles."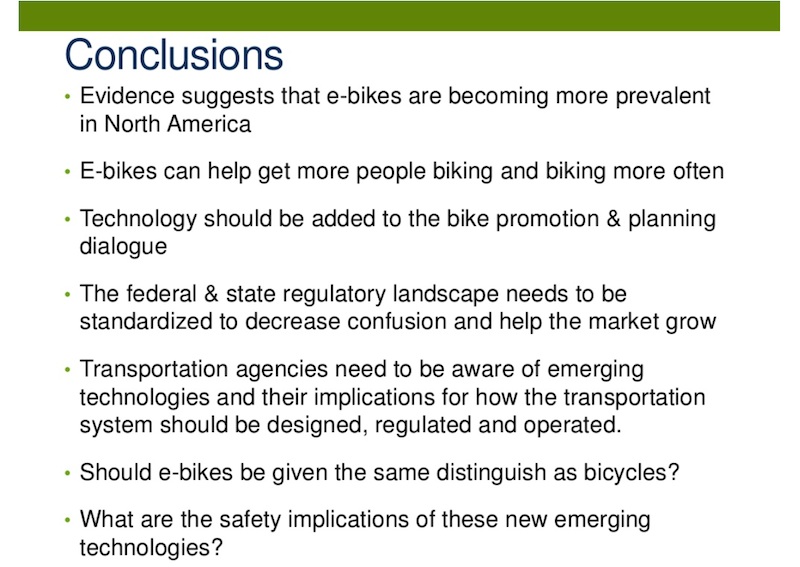 Here is the slide show of the webinar:
And here is the video version of the webinar with John MacArthur presenting:
Mr. MacArthur's research does not stop here. "Drive Oregon and Kaiser Permanente Northwest have developed a program to give e-bikes to Kaiser employees at three Portland region campuses for trial use. The program's primary goal is to test user acceptance of electric-assist folding bicycles (IZIP E3 Compact) as a first/last mile commuting solution and be able to communicate positive stories to a broad range of workplaces to help reduce single occupancy vehicle (SOV) use."
"This e-bike evaluation study can provide valuable insight into the potential market, user characteristics and barriers to adoption."
So what do you think?  Do the results of this survey correlate with your e-biking experiences?
Please leave your comments in the section below.
Thanks!
-Pete
P.S. Don't forget to join the Electric Bike Report community for updates from the electric bike world, plus ebike riding and maintenance tips!
Reader Interactions