eBike News: Shimano Updates, Brose eMTB Motor, Friction Drive Kit, Instant Charge Battery, Pinarello, & More! [VIDEOS]
In this week's eBike news roundup:
Shimano eMTB System in North America
Improvements to both Shimano STEPS Systems
New Juiced Bikes
New Brose eMTB Mid-Drive Motor
Economical Alizeti Friction Drive System
Pinarello Electric Mountain Bike
World Record eBike Ride with Dog
New "Instantly Rechargeable" Battery
Volvo Commits to Electric Vehicles
And Much More!
New eBikes & Systems
Shimano eMTB in North America & More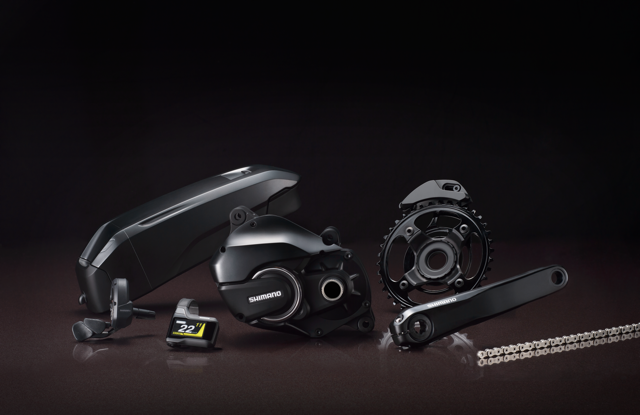 The Shimano E8000 mid-drive system will be available on electric mountain bikes in North America sometime this year. You can expect to see it on bikes from BESV, BULLS, Focus, and more.
The Shimano eMTB system adds some new features to their assist levels. "Updated firmware adds tuning options to boost and trail modes New firmware allows E8000 riders to tune their Boost and Trail modes with High, Medium and Low settings across three different riding styles—Dynamic, Explorer and Custom—while on the trail (via Bluetooth) or at home.
In Dynamic mode, the Boost setting (the maximum assistance level from the SHIMANO STEPS MTB system) will give riders a high level of pedal assistance while in Trail mode, riders will get a low level of assistance (relative to that mode). Eco mode will still give the lowest, most conservative assistance level with only one setting."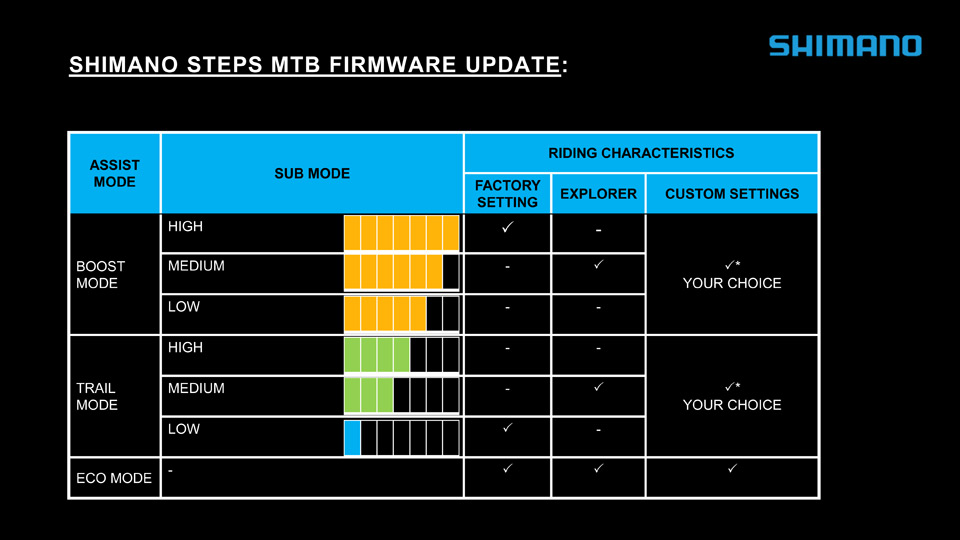 "The new Explorer mode gives a medium level of Boost assistance and a medium level of Trail assistance, plus Eco mode. As most e-bike riding is done at a comfortable Trail pace, this is designed to boost normal riding pace but scrub off some top end speed for more control in tight technical sections.
In the Custom mode, riders can program their own preferences. so for example a rider may choose a conservative low Boost and low Trail mode to conserve battery and extend riding time, or a high Boost and high Trail mode to maximize speed.
What each setting provided in Dynamic mode—and will continue to provide in Explorer and Custom mode—is to deliver you a variable level of assistance depending on the force applied to your pedals, which is displayed by the graph on the E8000 computer display. The difference now is that riders can choose how that graph looks, essentially where and when the peak input of power comes in.
Furthermore, all these settings can be adjusted and applied to the SHIMANO STEPS MTB system via the E-TUBE computer, tablet or phone app, so you can customize your e-bike ride in the workshop or on the trail like never before."
Here is more about the Shimano STEPS MTB system.
Here are some videos of the new eMTBs that will feature the Shimano E8000 system:
BESV
BULLS
Focus
Haro
Shimano E6000 System Upgrades
The Shimano E6000 system also features some new upgrades with new brake rotors and speed sensor placement.
"New for 2017 is a Speed Sensor (SM-DUE11) with a magnet that attaches discretely behind the rear rotor to bring e-bike integration to the next level.
This means that riders using one of two new (RT-EM900-M/800-M) 160mm or 180mm disc brake rotors on their e-bikes can use the new securely positioned rotor speed sensor and magnet bracket instead of the rear wheel (SM-DUE10) sensor and spoke magnet, providing a more robust and durable system with a more accurate way of monitoring riding data and performance.
The magnet bracket sits between the rotor and the hub while the speed sensor can be fixed to the inside of the chain stay.
The new speed sensor is compatible with both STEPS MTB E8000 as well as City/Light Off-Road E6000 series.
The e-bike specific rear rotor is compatible with CENTER LOCK disc brakes between 8 to 11-speed bikes.
Simplified lighting. As the e-bike market becomes more diverse, Shimano now offers a new Drive Unit (E6002/12) into which riders can now simply plug in their compatible front and rear lights to the motor's 2-Amp ports without needing to use any special adaptors (such as a SMDUE01 unit).
This simplified and logical design means that the ebike becomes ever-simpler to 'plug and play' and more importantly, gives riders the extra safety benefit of a large capacity battery to brightly light their way through city streets and urban paths.
The new Drive Unit also features an improved Walk Assist function. Riders can simply push and hold any switch button for 3-seconds to propel the bike forwards at walking pace. This can be especially helpful when carrying the bike up steep inclines. The new Drive Unit can be used with Shimano's manual shifting components, hub gears (Alfine or Nexus, with an automatic shifting feature) or Di2 components.
The crank arm now comes more clearance for shoes thanks to a sleeker profile on the 170 or 175mm versions. Meanwhile the STEPS City switches (SW-E6010-L/R) are updated with a more ergonomic and intuitive design. Switches on the left take care of choosing assist modes, with the middle button operating the cycle computer displays. With a Di2 system the large buttons on the right hand side switch take care of up and down shifts whilst the smaller middle button takes care of switching between automatic and manual shifting.
The rotors with the new speed sensor, the switches, drive unit and crank arm will be available in August 2017.
Here is more about the Shimano STEPS City system.
New Juiced Bikes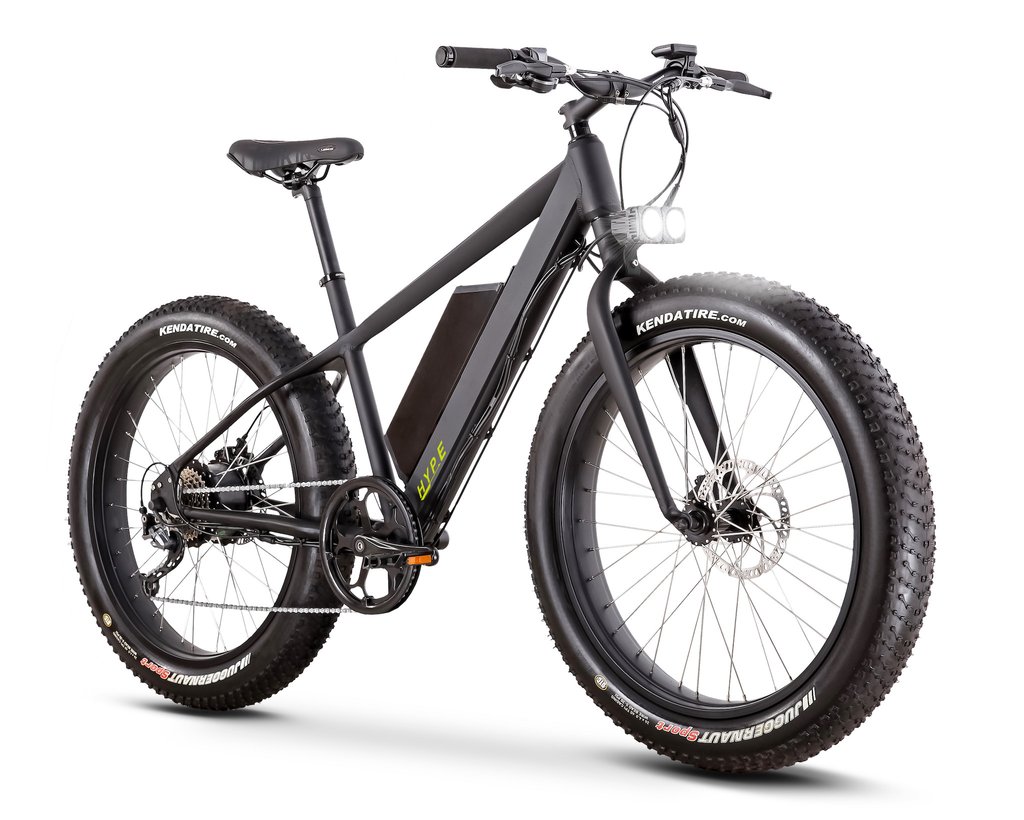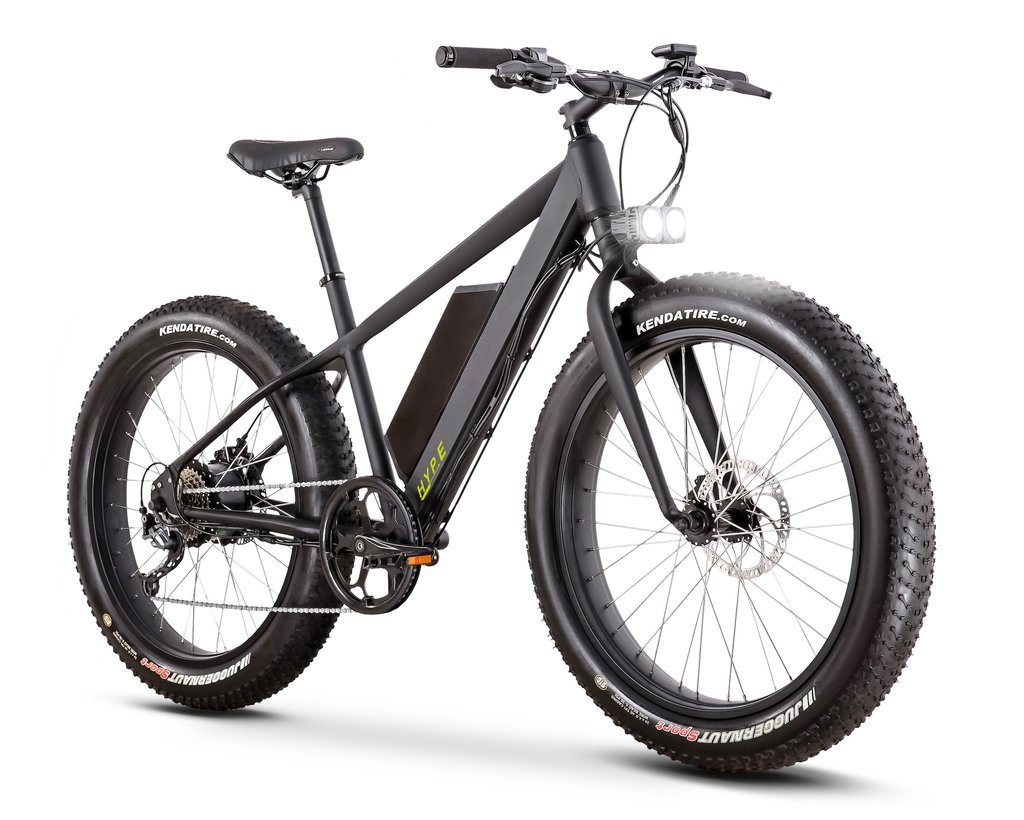 Juiced Bikes is rolling out their new HyperFat electric fat bike (4″ wide tires) soon with a 750 watt rear hub motor and battery options that go up to 48V 21ah (1,008 watt hour) lithium battery! It can operate as a class 3 speed pedelec with assist up to 28 mph and there is an off-road only option too. The Hyperfat eBikes start at $1,699.
Juiced is also working on their new Cross Current S that is a Class 3 speed pedelec that will be released soon. This eBike also features several battery options with impressive capacity. The starting price for this eBike will be $1,699. Here is a link to more info on the Cross Current S.
Pinarello Electric Mountain Bike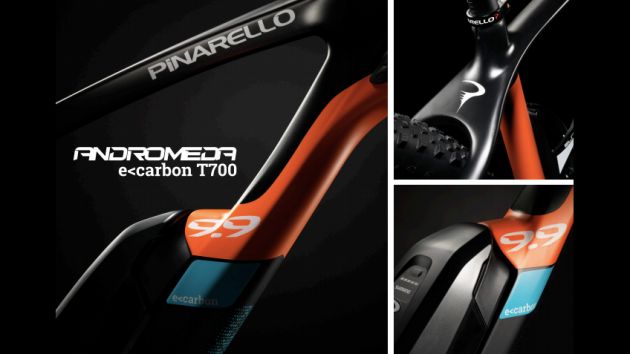 Pinarello is a very high end Italian bike company that has suprised many in the traditional cycling world by announcing their new Andromeda electric mountain bike. It features a carbon fiber hardtail frame, Shimano E8000 eMTB system, 29 x 3.0 plus size tires, and more. Bike Radar has more on this high end eMTB.
New Brose Drive S for eMTBs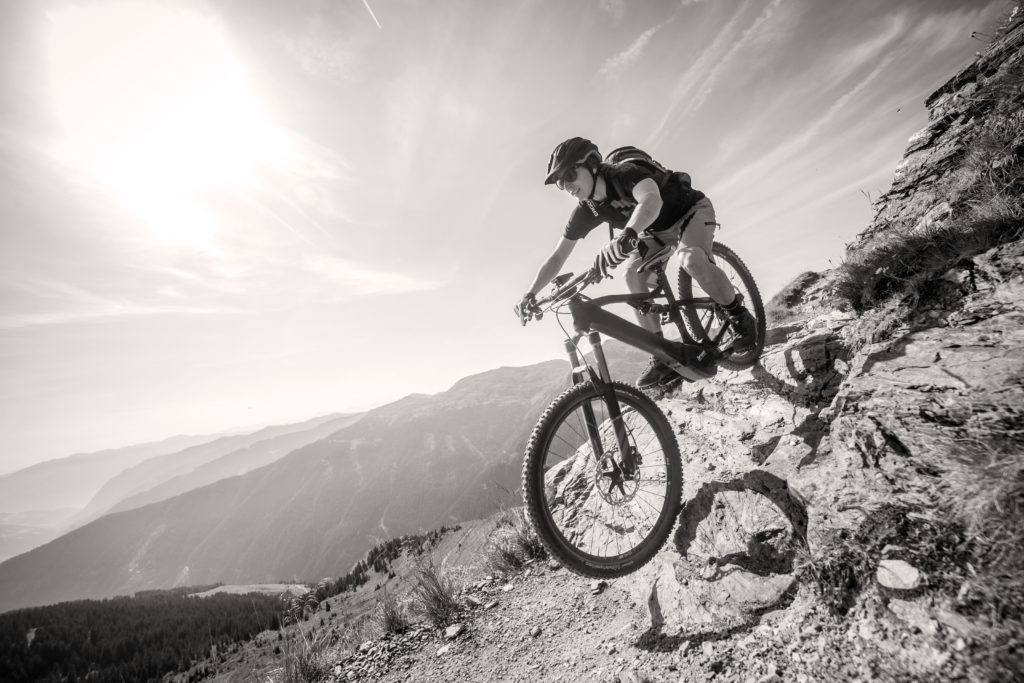 Brose has launched their new Drive S for electric mountain bikes that provides 15% more torque in the cadence range of 60 to 90 rpms.
If the motor is switched off or the battery is exhausted, the gears and motor are decoupled via a freewheeling function – the bike can be ridden in the style of a classic bicycle without any resistance from the motor.
"With the Drive S, we aimed for increased power and efficiency. However, it was important to us that bicycles with Brose drives do not turn into mopeds, but rather can be ridden in the style of a classic bicycle with a natural riding feeling, balance and control," explains Horst Schuster, Head of Marketing and Sales at Brose Antriebstechnik.
The new Drive S motor is the same size as their current line up of Drive T (pedelec up to 20 mph) and Drive TF (speed pedelecs up to 28 mph) mid-drive motors.
And like the existing Brose motors it is stated to be very quiet with no vibration. It can be used with different displays and battery options (selected by the bike brand). Like all Brose motors it will be in "Made in Germany" in Berlin.
Economical Alizeti Friction Drive System
Here is a simple and economical (starts at $699) way to add electric assist to an existing bike. Checkout the video for an overview of the Alizeti 300C eBike system:
https://youtu.be/TluKpn5OCr0
Some of the highlights are:
Friction wheel with specially designed wet / dry formulation
Up to 20 mph assist with 500 watt motor with 3 different levels of assist
Regeneration option
24V 11.6ah lithium battery weighing 2.5 pounds. Option to add second battery.
Smartphone application
Motion activated anti-theft system with audible siren, strobe lights, code protected system components, lockable tailgate, security screws
Front LED headlight, rear turning, stopping and warning strobe light
Optional speaker with Bluetooth connectivity
Total weight with battery and motor 11 lbs.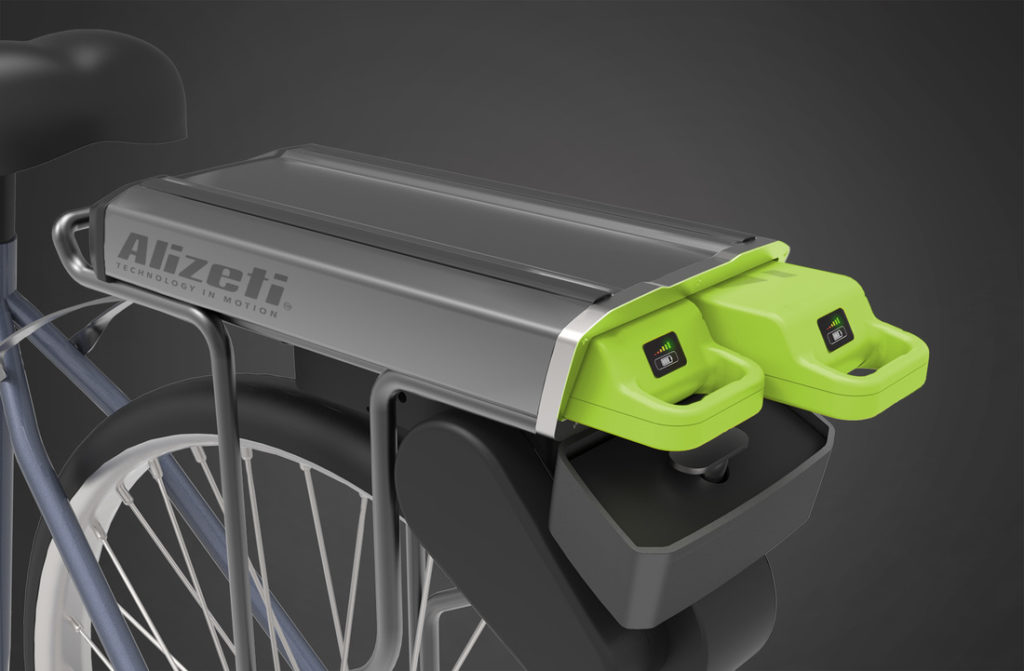 Learn more about the Alizeti eBike system.
Get Inspired
Bixby & Mike Close to Finishing World Record Ride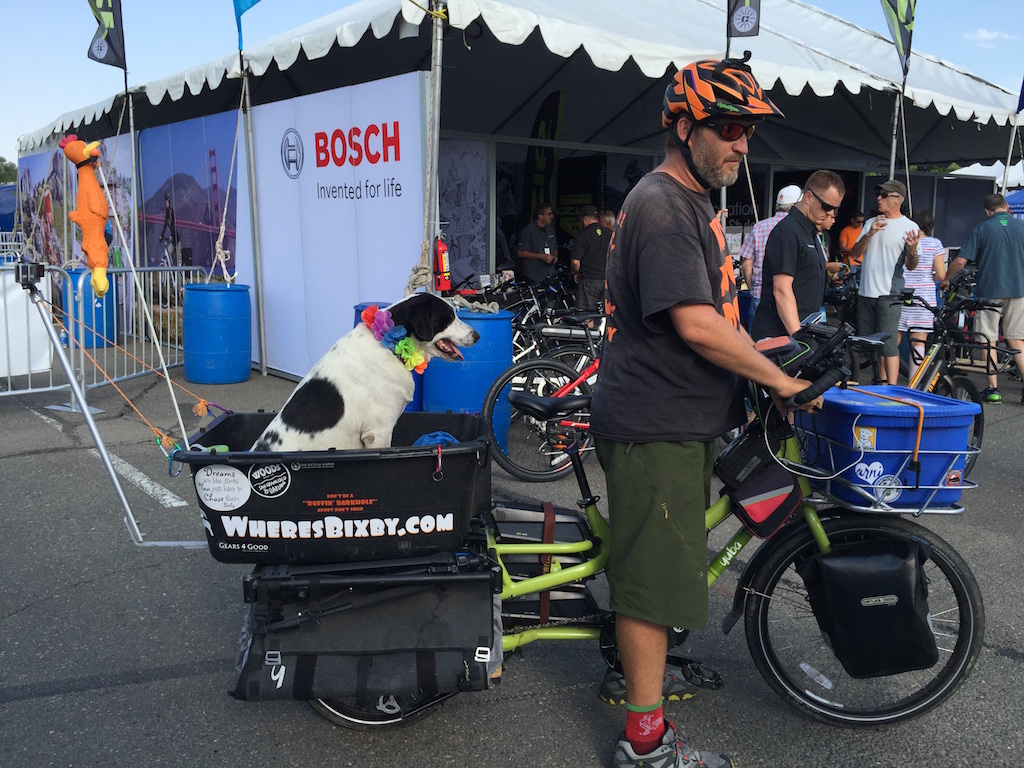 Mike Minnick and Bixby are getting close to wrapping up their world record ride around the US and here is an article about their journey from the Santa Cruz Sentinel. And here is a video interview with Mike at the beginning of their wild adventure!
And checkout their website at Where's Bixby?
New Battery Tech
Instantly Rechargeable Battery
Purdue University has announced a new battery technology that could provide a way for the electrolytes to be swapped out for a very quick charge. It has the benefits of being safer, potentially less expensive, use of existing gas station infrastructure, and charge times similar to filling up a car with gas.
https://youtu.be/LskSvhrjSjE
From John Cushman, Purdue University distinguished professor of earth, atmospheric and planetary science and a professor of mathematics "Instead of refining petroleum, the refiners would reprocess spent electrolytes and instead of dispensing gas, the fueling stations would dispense a water and ethanol or methanol solution as fluid electrolytes to power vehicles,"
"Users would be able to drop off the spent electrolytes at gas stations, which would then be sent in bulk to solar farms, wind turbine installations or hydroelectric plants for reconstitution or re-charging into the viable electrolyte and reused many times. It is believed that our technology could be nearly 'drop-in' ready for most of the underground piping system, rail and truck delivery system, gas stations and refineries." Cushman said.
Learn more about this innovative Flow battery system.
Please note that it could take a long time for this kind of technology to make it to market (if it ever makes it). Overall it is exciting to think about how this could revolutionize the electric mobility industry.
Infrastructure
Solaroad in California and France
Solaroad has announced that their paving system with built in solar panels will be installed soon in California and France. Here is a quick video to give you an idea of what Solaroad is:
https://vimeo.com/111570431
Electric Vehicles
Volvo Cars to Be Electric or Hybrid Electric by 2019
Okay, this is not directly about eBikes but it is interested to see a shift in the auto industry towards electric vehicles. Volvo announced that they are phasing out pure gas/diesel cars by 2019 and that all of their cars will have some form of electric drive system (pure electric or hybrid).
Here is a video from the Wall Street Journal about Volvo, the soon to be delivered Tesla Model 3, and more.
Stay tuned for more e-bike news & reviews and thanks for reading!
-Pete
P.S. Don't forget to join the Electric Bike Report community for updates from the electric bike world, plus ebike riding and maintenance tips.
Reader Interactions