eBikeNews: Tern Speed Model, Norco eFat, Light Eovolt Folders & Much More! [VIDEOS]
In this week's news:
New Tern Speed Pedelec for the US Market Only
Power Through Winter with Norco's New eFat Bikes
Eovolt Expands Folding Range
Limited Edition eBikes from Tony Ellsworth and French Heritage
eCargo Bikes Delivering Food Over Christmas
EU Sustainable Battery Law Mooted
New eBikes and eBike Systems
Tern Go High Speed With New HSD S11
Tern have announced their first Class 3 e-bike and it's coming to the U.S. market first. The HSD range are mini-cargo bikes and the HSD S11 features the Bosch Performance Line Sport motor, which allows the bike to reach assisted speeds of up to 28 mph. The Performance Line Sport boasts 65 Nm of maximum torque and boosts the rider's pedal input as much as 300 percent to create a smooth – it is a moderated version of the most powerful Bosch speed pedelec motor, the Performance Line Speed. The HSD S11 has an MSRP of $4,199 (U.S. dollars) and will arrive at U.S. dealerships in January 2021.
Get Ready For Winter with Norco's Bigfoot VLT eFat Bikes
Canadian bike company Norco recently launched their 2021 e-fat bike range comprising the Bigfoot VLT1 and Bigfoot VLT2 
Both bikes feature huge 4.6″ wide Terrene Cake Eater tires on 26-inch rims for floating over snow, mud and sand whilst the main points of difference are: 
Manitou Mastodon suspension fork with 100 mm suspension travel on the VLT1, rigid fork on the VLT2

Shimano Steps E8000 mid-drive rated at 

250W / 70 Nm torque and max 15.5mph assist on the VLT1 and Steps E7000 (250W, 60Nm and 15.5mph) on the VLT2

630Wh battery on the VLT1 and 500Wh on the VLT2.
RRPs of $6499 and $4999 respectively
Eovolt Lightweight Electric Folder Expands Range
Eovolt's expanded range of e-bikes was officially launched at the Prodays Paris Bike Show in September and these will be rolled out to shops in Europe and the UK in the course of 2021. Interesting looking new models include:
Eovolt City 4 Speed
This new version of what was previously only available as a single speed still has a neat, compact fold and a claimed weight of 14kg. Like the other City models it has a 230Wh battery concealed in the seatpost which is easily removable. UK RRP is £1649.99 (compared to the £1399.99 of the single speed model).
Eovolt City X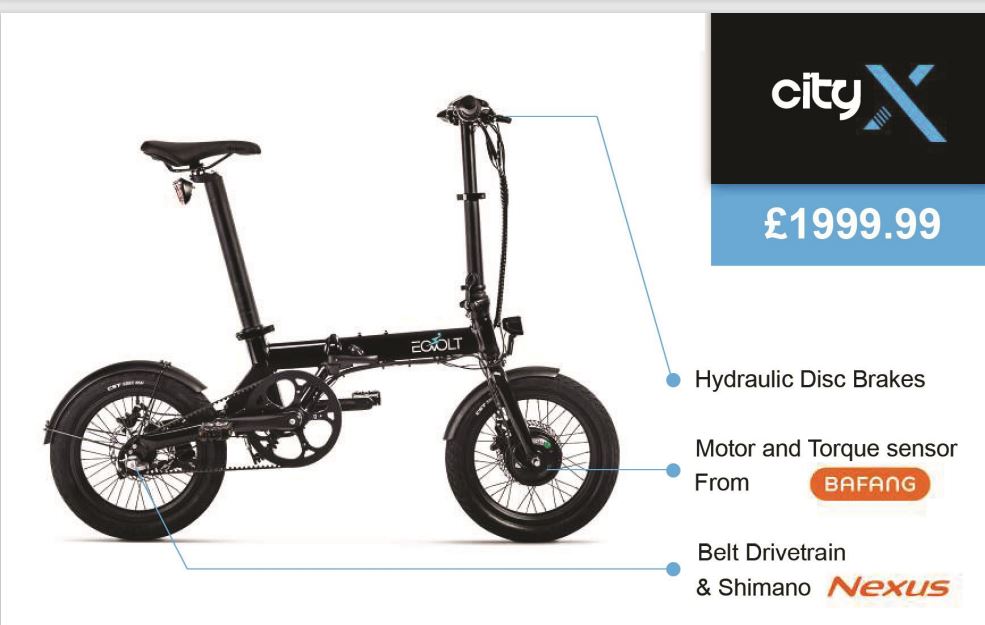 This higher spec version of the City model features torque sensor, belt drive and three hub gears with a UK RRP of £1999
Eovolt also make a larger and heavier 20″ wheeled version, the Confort, that comes with a bigger 504Wh battery and for 2021 this will also come in a premium version with a Bafang hub motor / torque sensor combo and suspension fork the bike branded the Confort X. Respective prices are £1999 and £2249.99.
See the UK catalogue below for more details.
Check out how the battery is removed and the bike folds in the French-language video below:
[youtube https://www.youtube.com/watch?v=pJ09yFbf8dw&w=560&h=315]
Two Limited Edition Specials
Although limited edition e-bikes are, naturally at the top end of the price scale, they can throw up some interesting designs. EBR has picked up on a couple.
Ellsworth Handcrafted Bicycles has been selling handcrafted bicycles, especially MTBs, since 1991. With the new 20mph class 1 Radiant Carbon, renowned designer Tony Ellsworth has now branched out into urban e-bikes with this limited run of 360 very distinctive e-bikes that have been successfully funded on Indiegogo and are now reportedly shipping to customers. They are still available to order at The Ride Bikes at US$6995.
The unusual frame has single sided front forks and asymmetric rear ones. The carbon-framed bike also features integrated lighting, Shimano mid-drive, belt transmission and stepless Enviolo gearing. Disappointingly the weight of the bike is not specified.
[vimeo 461129116 w=640 h=360]
Ateliers Heritage Bike are based in Annecy in the French Alps and produce the retro-motorcycle styled Heritage model, which is in fact a fully legal Euro-spec pedelec with assist limited to 15.5mph. The Shimano Steps E6100 mid-drive and the 504Wh battery are cleverly placed together to keep weight very low and central the carbon-fibre bodied 'petrol tank' is in fact a storage box. This electric bike is equipped with a Shimano Alfine 8 Di2 8-speed hub gear that shifts automatically. It is priced at just under 9000. euros
[youtube https://www.youtube.com/watch?v=ltGYIC2OxK8&w=800&h=450]
eCargo Bike Uses
eCargo Bikes Step Up To Deliver Food at Christmas
A couple of schemes from the UK demonstrate just how e-cargo bikes can be so useful both socially and sustainably.
'Bosch eBike Systems has collaborated with Food Connect to help redistribute surplus food throughout lockdown and beyond. Food Connect is a food redistribution initiative, first active in Milton Keynes, that was founded by London-based charity Hubbub in June 2020. With the help of a mini-fleet of Bosch-powered e-cargo bikes, including an Urban Arrow Cargo XL and a Tern GSD with a large trailer, and financial support from Bosch eBike Systems, the programme shares food with the local community that would have otherwise gone to waste.'
The article adds that during the summer virus lockdown Food Connect delivered more than 2,000 food parcels to vulnerable households and those who were self-isolating, diverting more than 21 tonnes of food from waste and saved over 1,700 food miles in 16 weeks. It will continue to collect and redistribute food during the Christmas period,
Bikebiz also reported on how Birmingham City Council just its first batch of e-cargo bikes. Manufactured by Raleigh, they will be used by the Active Wellbeing Society (TAWS) to support community food deliveries in the lead-up to Christmas.
The article adds 'In May this year, Birmingham was one of the local authorities to secure funding to run an e-cargo bike pilot scheme. The pilot, a long-term lease programme that includes maintenance and training for 13 e-cargo bikes and seven e-cargo trikes, will provide a basis for the wider take up of e-cargo vehicles in Birmingham.'
Charrli Refills by eBike
Alternative transport magazine A to B reports that 'A new pilot scheme called Charrli, describing itself as 'the milkman for British eco-brands', is delivering shampoos, conditioners and soaps to London postcodes by e-bike in reusable glass bottles. Products are ordered online, and delivered in a reusable tote bag, which can be left out for the empties to be returned for cleaning. Here's Charrli's own explanation of how it all works.
Norway's CityQ To Clean Cars
Both the idea and the actual design for Norway's City Q has been around for a while: 'CityQ is a new type of ebike – a high tech, weather protected ebike. A bike looking somewhat like a car, and with downsized car technologies and capabilities.
"In order to replace car traffic with cycling, cities need this type of innovation. Only 30% of us cycle in bad weather. CityQ makes cycling more convenient. And similar to electric cars we replace mechanics with software and connectivity. As with a Tesla car or your smart phone, CityQ can be repaired, updated and added newfunctionalities via the web – by automatic software updates and new App versions," according to founder of CityQ, Morten Rynning.
There are now a growing number of such mini-pedelec cars vehicles including Germany's Bio-Hybrid and the UK's EAV though they have yet to achieve widespread popularity and commercial success.
But now car cleaning startup company UpSteam has ordered 10 customized CityQ ebikes. The project started this autumn, and the firstCityQ cargo ebike will be delivered early 2021. The project has been awarded a Norwegian – Estonia grant – ICT Green. Following the initial order, the parties intend to partner to offer CityQ for rent and lease.
"UpSteam is a green clean tech company, so replacing our own car traffic with cycling makes sense. And with CityQ we can bring all our equipment by ebike – and not having to worry about traffic, parking or car free areas. It is efficient, sustainable and innovating – aligned with our UpSteam mission," says Martin Kristerson in UpSteam.
Battery Watch
EU Commission Battery Legislation
Cycling Industry News tells us about the proposed EU battery legislation as the European Commission aims 'to modernise battery legislation to align with moves to promote green economies and align with it Circular Economy Plan':
'With this proposal, the Commission also aims to boost the circular economy of the battery value chains and promote more efficient use of resources with the aim of minimising the environmental impact of batteries. From 1 July 2024, only rechargeable industrial and electric vehicles batteries for which a carbon footprint declaration has been established, can be placed on the market.
To close the loop and maintain valuable materials used in batteries for as long as possible in the European economy, the Commission proposes to establish new requirements and targets on the content of recycled materials and collection, treatment and recycling of batteries at the end-of-life part. This would make sure that industrial, automotive or electric vehicle batteries are not lost to the economy after their useful service life.
To significantly improve the collection and recycling of portable batteries, the current figure of 45% collection rate should rise to 65% in 2025 and 70% in 2030 so that the materials of batteries we use at home are not lost for the economy. Other batteries – industrial, automotive or electric vehicle ones – have to be collected in full. All collected batteries have to be recycled and high levels of recovery have to be achieved, in particular of valuable materials such as cobalt, lithium, nickel and lead.'
Bosch eBike Systems CEO Looks Ahead to 2021
Bike Europe just featured this interview with Claus Fleischer, Bosch eBike Systems CEO. Amongst much else Fleischer commented that, outside of their original core markets of Germany, Austria, Switzerland and the Netherlands a second group of countries – France, Italy and the UK – are also coming to prominence for the rapid uptake of e-bikes.
Asked about a potential shortage of Bosch motor systems for 2021 e-bikes, after the massive demand and supply chain disruption of this extraordinary year, Fleischer was reassuring, commenting 'From our side we can say that we don't see a shortage for us. We did our home work over the past two years, we invested a lot in our production, logistics capabilities and worked closely together with our suppliers. I would say 'never say never' as there can always be one part missing on the short term, but for 2021 we are fully stuffed with capacity and we have a high inventory. All products are available and we are capable of shipping everything.'
He added slightly ominously though that ' I think the shortage in the market will come from the mechanical components.'
Stay tuned for more e-bike news and reviews and thanks for reading!
-Rich
Reader Interactions