Tour of the E-BikeKit Headquarters With CEO Jason Kraft
Jason Kraft is the CEO of Electric Bike Technologies and he recently invited me to tour their headquarters and assembly facility that is located just outside of Philadelphia, PA.
Electric Bike Tech offers a variety of moderately priced electric bike kits (E-BikeKit™) and electric trike kits (E-TrikeKit™).  They focus on providing kits that have a lot of features for the money.
It was great to get the personal tour from Jason and learn more about this US electric bike kit company.
Jason started the company in 2008 and he has been growing and improving the Electric Bike Tech product line ever since.  He has a background in the financial world and he recognized that e-mobility is a growing industry as more people look for economical transportation solutions.
It seems that things are going well at E-BikeKit because they just began distributing their kits to traditional bike shops via J&B Importers; a well know bicycle parts distribution company.
To give you a better idea of the what E-BikeKit headquarters is like, here is a video with Jason Kraft giving us the tour; enjoy!
Okay, now let's talk a little more about the types of kits that E-BikeKit sells.
E-BikeKit offers geared or direct drive hub motors with different power options.
To make the installation easy they offer the kits with a complete wheel. Most of the motors are offered in a front or rear wheel with size choices of: 20", 24", 26", 29" (700c).
And speaking of wheels, E-BikeKit hand builds every wheel at their PA assembly facility!  They use a machine that aids in assembling the wheel, but the truing is done completely by hand.  Jason Kraft realized that this is the best way to provide a high quality wheel build to his customers.
In order to provide a range of economical to modestly priced kits, E-BikeKit offers both lead acid battery and lithium battery options.  The lead acid battery option can be a good way to get into an electric kit without putting down a lot of money.
The lithium battery option provides a lighter kit with better overall kit performance (longer battery life and more consistent motor power), but they do cost more.
E-BikeKit also offers a variety of battery sizes to keep prices low for people who may not need a lot of range.
E-BikeKit assembles their lead acid batteries at their facility.  They assembly the cells and make sure that they are always getting the proper charge before being shipped to the customer.  Jason said that this has improved the quality of their batteries.
Their lithium battery options are provided by AllCell Technologies from Chicago, IL.  AllCell also assembles their lithium batteries in the US with their proprietary cell structure.
The ease of installation is a priority for E-BikeKit and it shows with thorough instructions, videos, and extra parts (a thumb throttle and twist grip throttle) to make sure that the kits fit almost any kind of bike and rider preference.  All of the kit's have unique plug-n-play connectors that make installation very easy.
For an in-depth look at a few E-BikeKit's, checkout my reviews:
The E-BikeKit 350 watt geared hub motor on the Critical Cycles bike and
The 500 watt direct drive hub motor on the TerraTrike Rambler.
One of the cool new features of the E-BikeKit's is the LCD display that is easy to read and use.  A display of this quality is not found on too many other kits in this price range.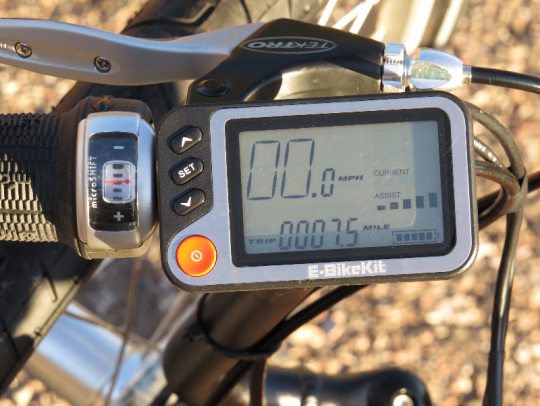 Jason is also very focused on electric trike kits that provide electric mobility to people with disabilities and/or who cannot ride a bicycle.  The E-TrikeKit is fairly economical with a lead acid battery and simple display.  It also has a reverse function that is pretty handy.
So that is an overview of the Electric Bike Tech company.  But it doesn't end there!  Jason "lives" electric mobility.  He has a electrified tandem that he uses to ride with his family and his kids enjoy driving their E-BikeKit "truck"!
While I was in the Philadelphia area I also had a chance to tour the downtown area and some of the neighborhoods.  I am happy to report that Philly has done a good job with providing bike infrastructure to it's citizens!
There were many bike lanes and designated bike routes that a lot of riders were using.  The bike lanes that were painted green really stood out and some bike lanes had a buffer area between them and the car lanes.
Bike locking structures were through out the city and I even saw a business that advertised "Bikes Welcome".
Another impressive aspect of the city is all of the mass transit options that are available: subway, train, bus, etc.  When you combine that with a bike, it makes for a city that is easy to navigate without a car.
Overall it was a great trip to Electric Bike Tech headquarters and Philadelphia, PA.
Here is a link to the E-BikeKit website with more info about their kits and the company.
-Pete
P.S. Don't forget to join the Electric Bike Report community for updates from the electric bike world, plus ebike riding and maintenance tips!
Reader Interactions