eBike Trips & Tours: Mallorca, eMTB in the Alps, Cotswolds, Germany, France, Albania, Macedonia, Vietnam & Cambodia [VIDEOS]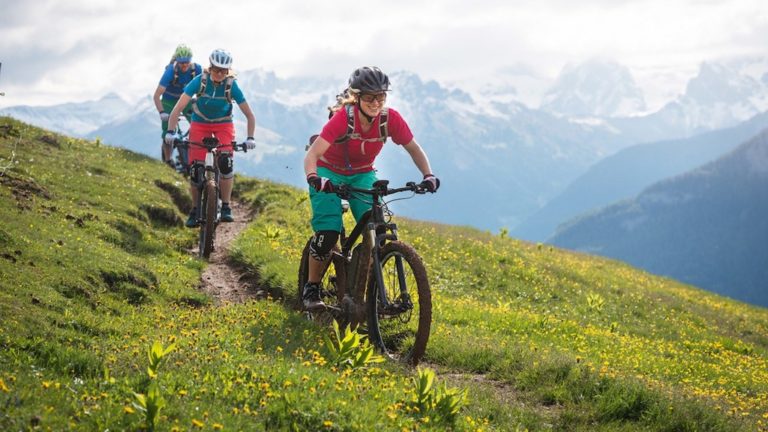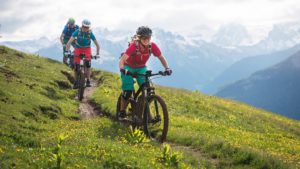 Here is the second installment of our E-bike Trips and Tours feature series. You can read about:
Catch the winter sun in Spain's Mediterranean island of Mallorca
Head down Germany's most popular river
Hunt for treasure through some of the UK's most idyllic villages
Discover the Alps with Shimano and Bosch
Get off the beaten track in Albania, Macedonia, Vietnam & Cambodia
And more!
Winter Sun Options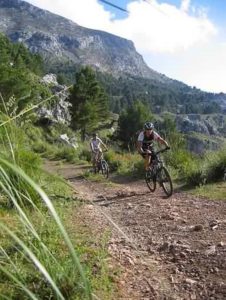 For winter cycle holidays Spain's Balearic Islands are a firm favourite with road riders who want to keep to their training schedule whilst enjoying much warmer weather than that found further north in Europe at that time of year (Mallorca boasts an average of 300 plus days of sun each year).
Now the area is open to holidaying e-bikers via Cycology Travel Ltd who say they offer 'the ultimate in five-star luxury cycling holidays to sun-soaked Mallorca for passionate cyclists and their significant others.'
E-bikes available in Mallorca are from Trek (including from 2018 Trek's full-suspension eMTB).
There are also e-bike options for holidays to southern Portugal using Cube's Reaction Hybrid and the Focus Aventura Pro.
Germany's Most Popular Cycling Holiday


If you're not an expert on German geography you might not have heard of the Elbe river but it's so highly thought of in Germany itself that it is the country's leading cycle leisure route.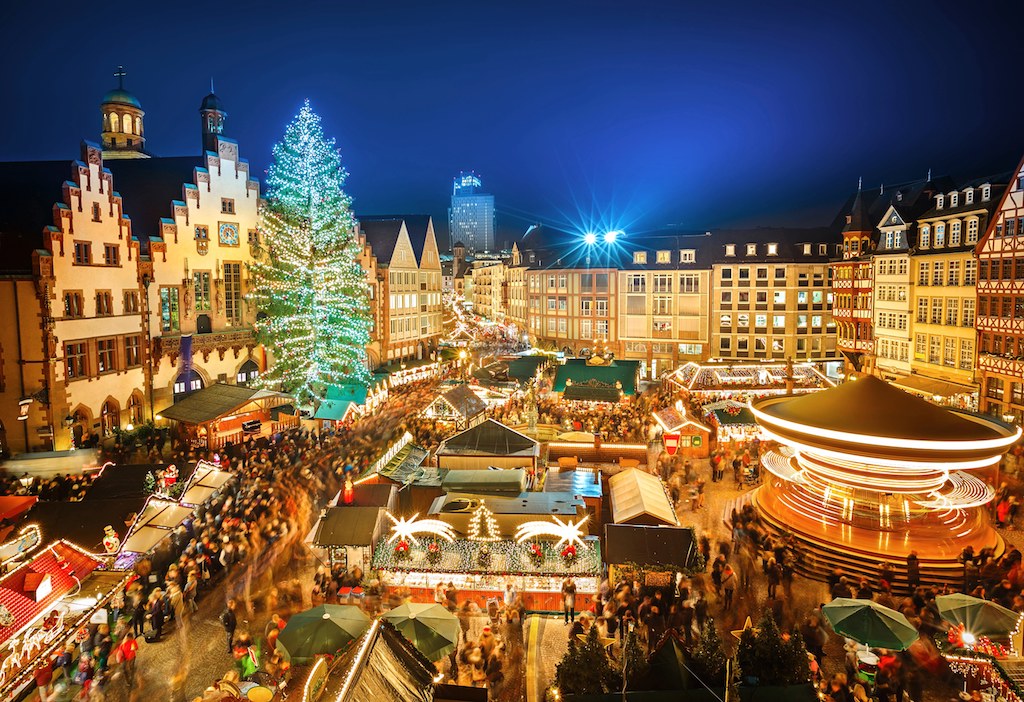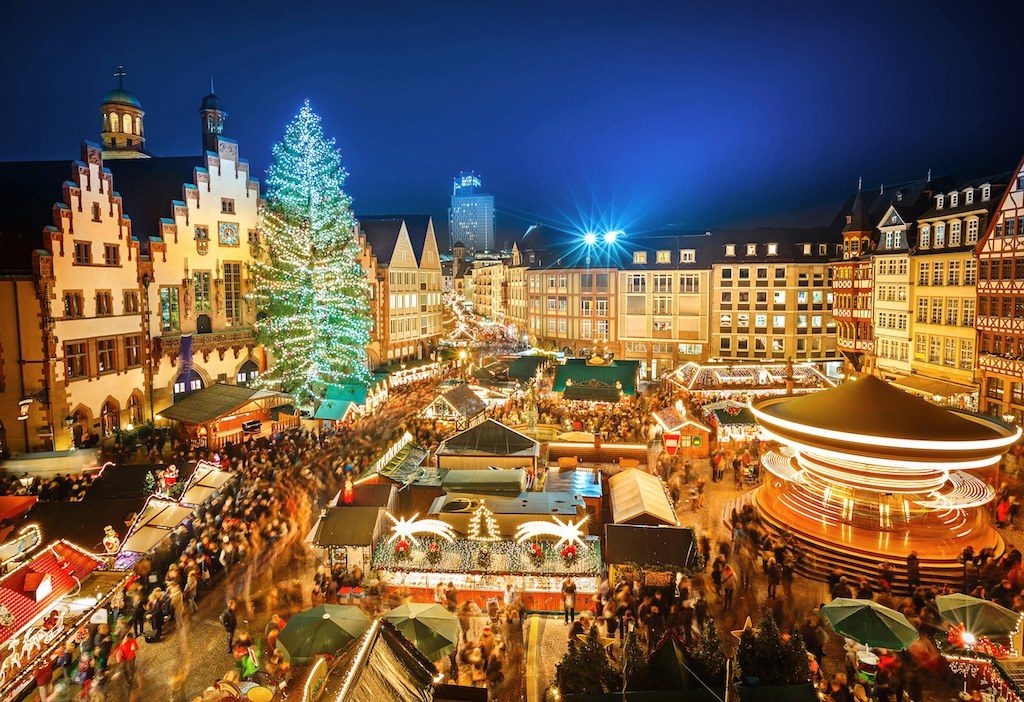 UK-based Wheel2wheel have this self-guided offering that lets you sample Dresden (destroyed in WWII but painstakingly rebuilt in classical style), Meissen pottery and the Reformation city of Wittenberg.
Treasure Trail in the UK's Beautiful Cotswolds with Pedego
The Cotswolds is one of the most attractive areas in the UK, famed for its small villages of honey coloured stone and beautiful rolling countryside.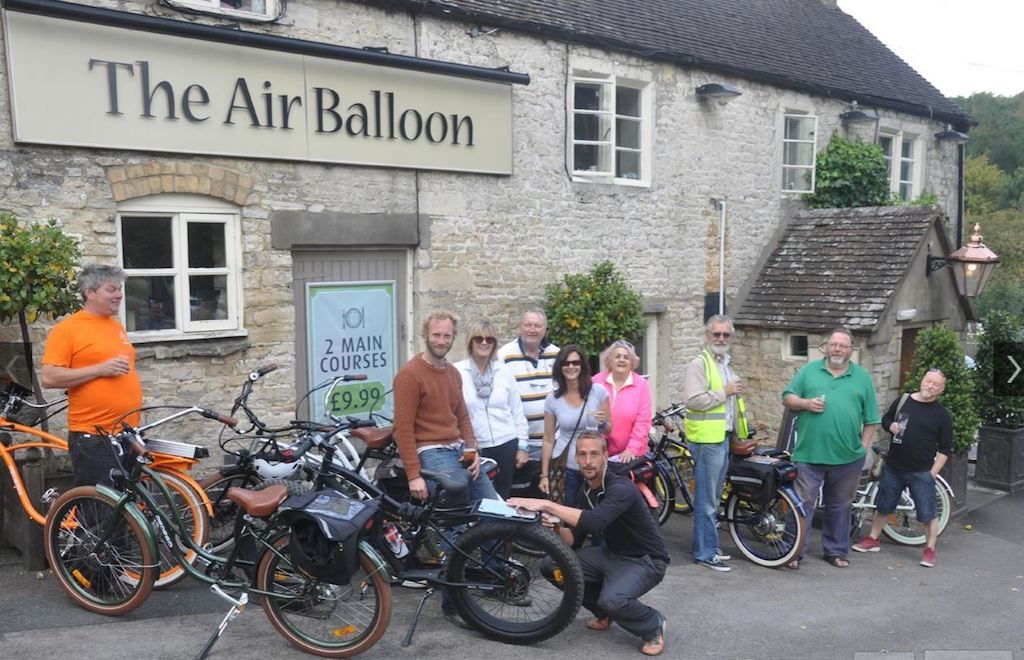 A fleet of Pedego e-bikes (including e-tandems) are used for a fun trip, riding round to spot clues on a treasure trail and enjoying some fine English pubs into the bargain. The trip gets great reviews.
Accommodation is not included but is bookable at the official Cotswold tourist info website.
Hidden Europe – Albania
Cycle Albania offer very interesting sounding tours through this little explored country.
The company offers three tours that cover attractions as varied as the ancient city of Skoder, fjord-like scenery, massive hydroelectric schemes (fittingly for an e-bike tour virtually all the country's electricity is generated by water power…), snow-capped mountains and inviting beaches.
Biketours.com are based in the Chattanooga, Tennessee but specialise in working with European partner companies to provide European cycle holidays.
They are big on e-bikes and as well as the destinations that might spring to mind also offer this great looking tour through Macedonia, one of the least modernised countries in Europe but with great touring country in the high Balkan mountains.
eBike Through Cambodia and Vietnam
The UK's Explore offer e-bike options for Vietnam and Cambodia.
In Vietnam you can visit Hanoi, Hue, Old Saigon and the natural beauty of Halong Bay.
The Cambodia and Vietnam option lets you e-bike between the world famous Angkor temple and the wondrous Mekong Delta through jungle scenery.
Ride With the Help of Some of E-bikes Biggest Players
Several of the big e-bike players want to get as many of you on e-bikes and enjoying their potential to bring you magnificent scenery and thrilling riding beyond the reach of motor vehicles.
Shimano's eMountain Bike Experience
Billed as 'a memorable day of cycling across the southern Alps' from Naturns to Sexten (both in Italy).
https://youtu.be/9_h0MrvZ_xE
Uniquely it also gives you the opportunity to test out the latest e-MTBs from the top names in the industry. 29th May – June 2nd 2018 – book here.
Bosch's Uphill Flow Trail
This isn't an organised e-bike holiday but a chance to see what Bosch thinks is the best way to try out its e-mtbs.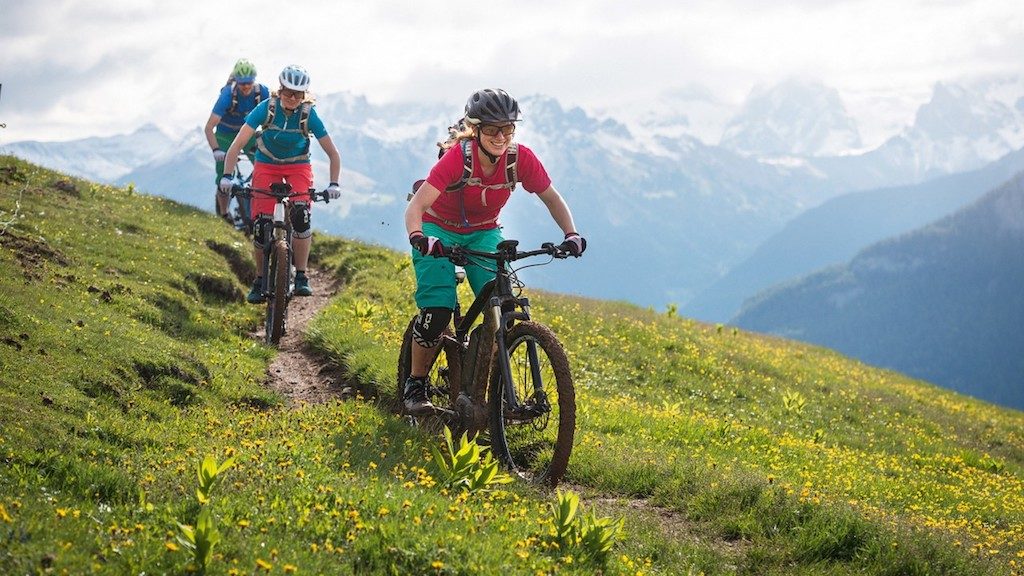 If you can make your way to the Geisskopf Bike Park east of Regensberg and Munich in Germany's Bavarian Forest you will find twelve regular MTB trails plus the Bosch eBike Uphill Flow Trail, specially designed to suit the wishes of eMountain bikers.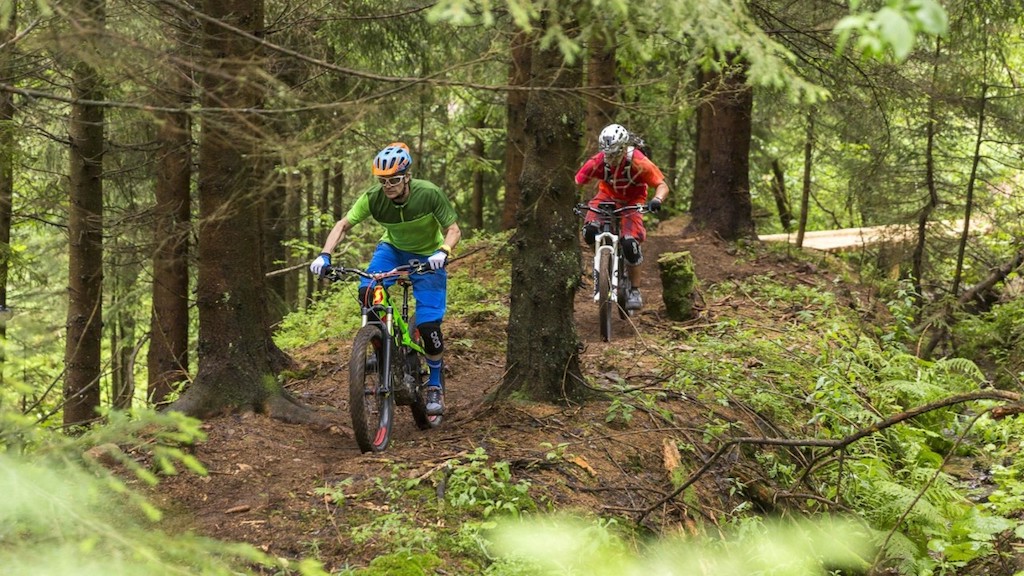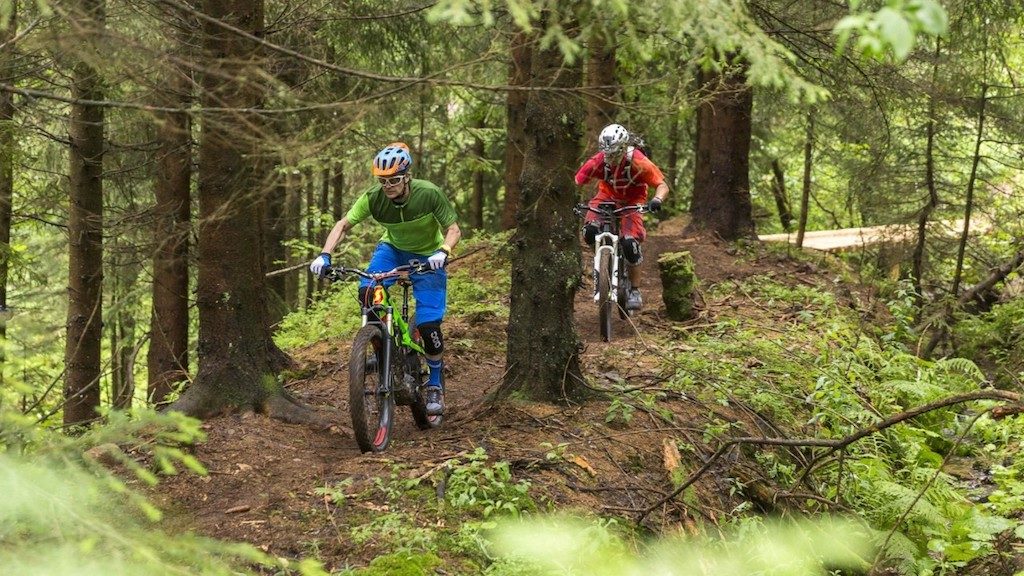 "The Uphill Flow Trail offers new sporting challenges for died-in-the-wool eBikers and ambitious beginners as well as families" say Bosch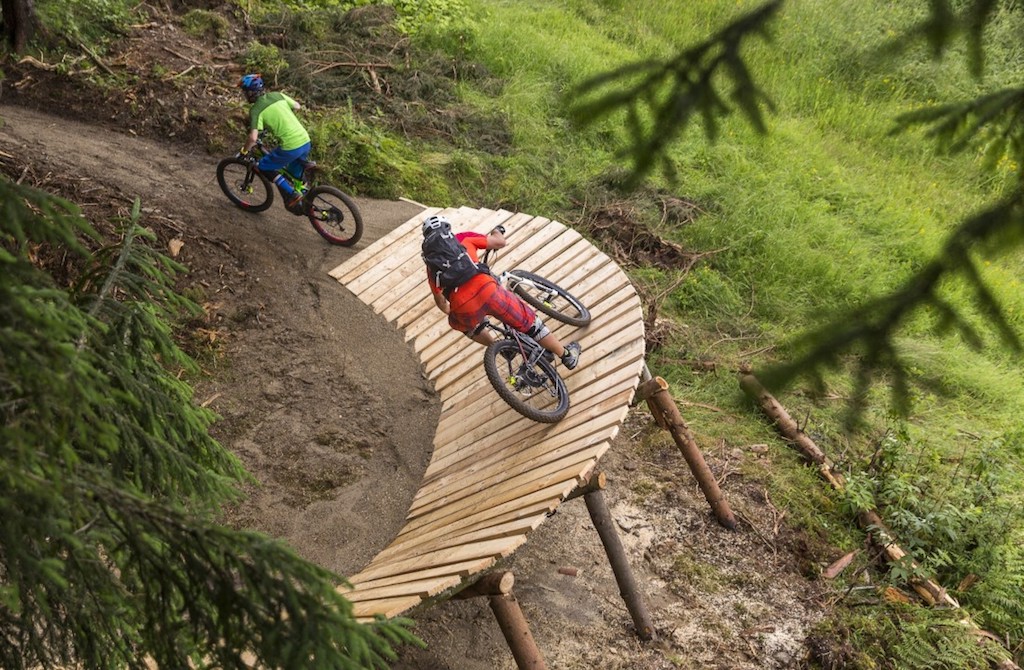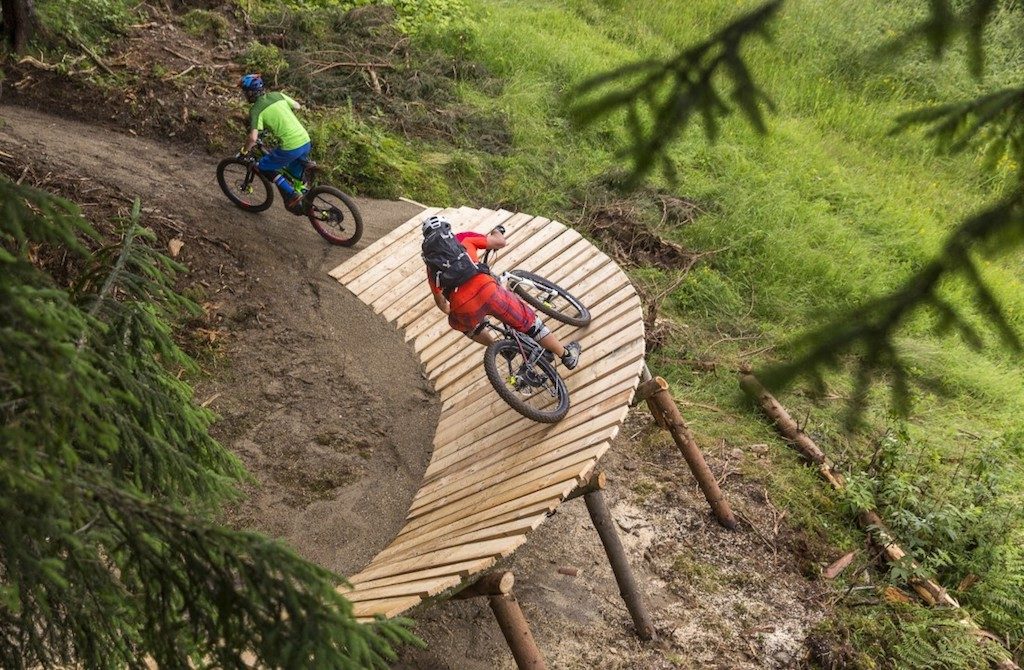 "With a number of variations and specifically integrated components such as banked curves, wave combinations and wall rides, the trail is also designed for different levels of ability."
Visit Austrian Alp E-bike Paradise with Kalkhoff and Focus.
Focus and Kalkhoff are the main e-bike providers to the E-bike Holiday programme and this break in the Austrian Kitzbüheler Alps caught my eye.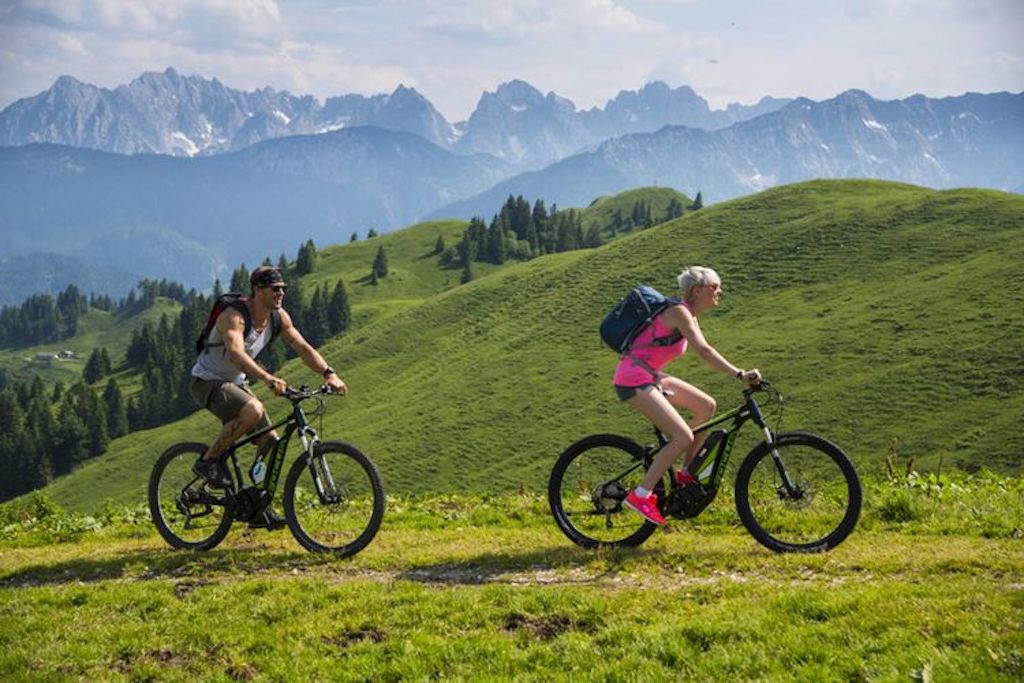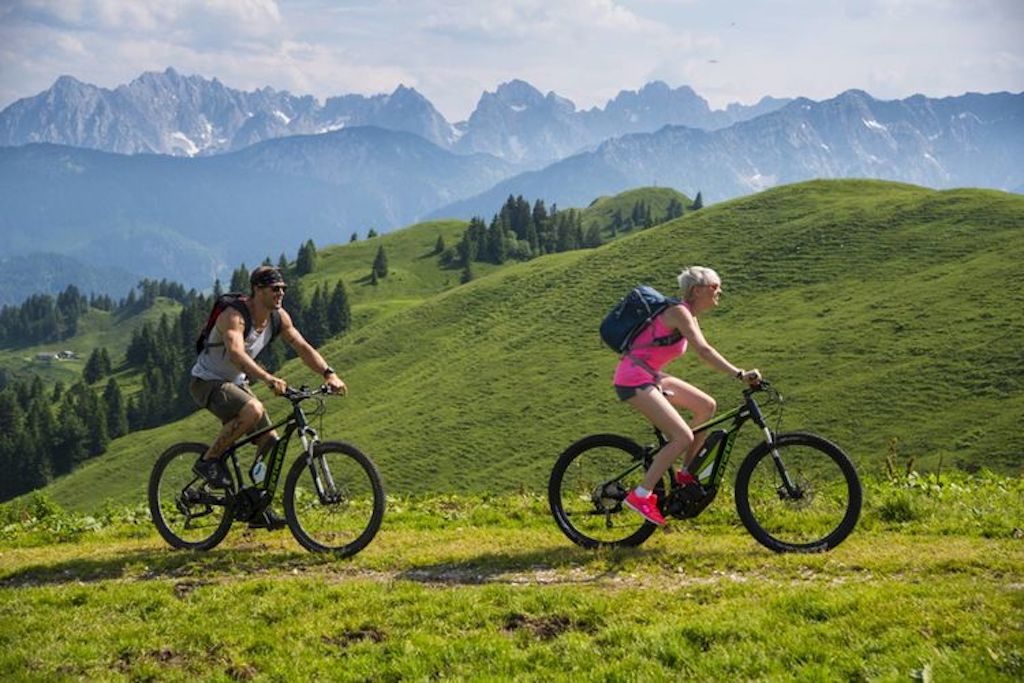 The area boasts over 1000km of trails, more than 300 e-bikes for hire at 37 rental station, 79 recharging stations and 44 e-bike-hotels. In short, it claims to be the biggest e-bike area in the world! More detail on the particular regions covered here.
Here's a video of the 2017 e-bike festival that took place in the area – it's German language but gives a flavour of the spectacular scenery.
Also outdoor swimming looks to be popular as it is in much of southern Germany in spectacular surroundings – take a look at this example from the Kaiserwinkel area of the Kitzbühel Alps.
Region Portes du Soleil Working With Bosch
The Kitzbüheler Alps may have a rival for best e-biking area in Europe; France's Portes du Soleil currently majors in winter sports but now e-mtb could provide a major summer activity as the resort is working with Bosch to build more e-mtb specific trails and provide hire infrastructure and info.

'The Portes du Soleil destination was one of the first to promote eMountainbiking. Last year we had more than 120 eMountain bikes riding the mountain bike trail Pass'Portes. The trend is clearly towards eMTB, and this prompted us to devote a specific leg to this new segment," Benoît Cloirec, Events Officer of Portes du Soleil, said.
In the next two years two further e-MTB trails are to be added, one in the Vallée d'Abondance in France and one in a Swiss destination. eMountain bikers can look forward to trails specifically geared to their needs.
More Mountain are based in Morzine in the Portes du Soleil area and can arrange holidays in the area including e-MTB hire.
We have just scratched the surface of the many great places to ride and hopefully this has given you some inspiration to explore new places to ride and enjoy.
Stay tuned for more eBike trips ideas!
Please feel free to share some of your favorite places to ride in the comment section below.
Thanks
-Richard
P.S. Don't forget to join the Electric Bike Report community for updates from the electric bike world, plus ebike riding and maintenance tips.
Reader Interactions